If watching a Broadway show in NYC was a last minute plan, there's no better place than a TKTS Booths to score a good bargain. There are 4 TKTS Booths spread out across the boroughs of New York making it convinient for you to grab tickets closest from where you are. Here's a quick guide on the South Street Seaport TKTS Booth.
For more details on shows availablity of TKTS tickets , tips, and other insider tricks - visit our parent TKTS NYC booths page or browse these 40 most frequently asked questions about TKTS .

South Street Seaport TKTS Booth
---
The TKTS South Street Seaport ticket booth is located at the corner of Front and John Streets, at 190 Front Street.
At the TKTS South Street Seaport ticket booth, you can get :
Same-day discount tickets to evening performances
Next-day discount tickets to matinee performances
For live updates on the TKTS shows available at the South Street Seaport Booth today and discount rates on each show, head here.
Quick Facts About The South Street Seaport TKTS Booth
---

Payment Methods Accepted
The TKTS South Seaport Booth accepts cash, as well as Visa, MasterCard, American Express and Discover cards. Some Off Broadway shows require cash only.
Additional Fees
All tickets sold at the TKTS Times Square Booth are subject to a $6.00 service charge per ticket. Additional non-TDF service charges may also apply to some tickets.

Ticket Purchase Limit
A single person can only purchase 6 tickets at a time from the TKTS South Seaport Booth. This rule is strictly followed across all booths.
TKTS South Street Seaport Hours & Wait Time
---
This booth sits in one of NYC's most crowded areas, and thus, sees the most traffic. The line gets especially busy about an hour before opening. Expect a long line and wait time.
For Same-Day Evening Performances and Next-Day Matinee Shows
Monday : 11:00 AM to 6:00 PM
Tuesday : 11:00 AM to 6:00 PM
Wednesday : 11:00 AM to 6:00 PM
Thursday : 11:00 AM to 6:00 PM
Friday : 11:00 AM to 6:00 PM
Saturday : 11:00 AM to 6:00 PM
Sunday : 11:00 AM to 4:00 PM
Note, matinee tickets are sold only on the day before the performance at TKTS South Street Seaport.
Discounted Tickets For Shows At South Street Seaport TKTS Booth
---
Browse the shows for which you can grab TKTS tickets at the South Street Seaport Booth. If you don't lucky with TKTS tickets, then grab discounted tickets to these current favourites from Headout! Getting To South Street Seaport TKTS Booth
---
Via Subway
J, Z, 2, 3, 4, 5, A, C to Fulton Street
A, C to Broadway - Nassau, walk 4 blocks East and 3 blocks South
Via Bus
M15 downtown on 2nd Avenue to South Street Seaport
Via Car
The actual TKTS booth is on Front Street, which is a pedestrianized street that does not allow any vehicles in. The closest parking garages can be found at the following locations:

Edison Parking
2 Peck Slip
New York, NY 100 38
Ph - 212-791-9810

Icon Parking Systems
243 Pearl Street
New York, NY 10038
Ph - 212-962-8374
Best South Street Seaport Restaurants
---
While you're in the vicinity, why not grab a bite? Here's our curation of the best South Street Seaport Restaurants, located at a walking distance from the TKTS booth.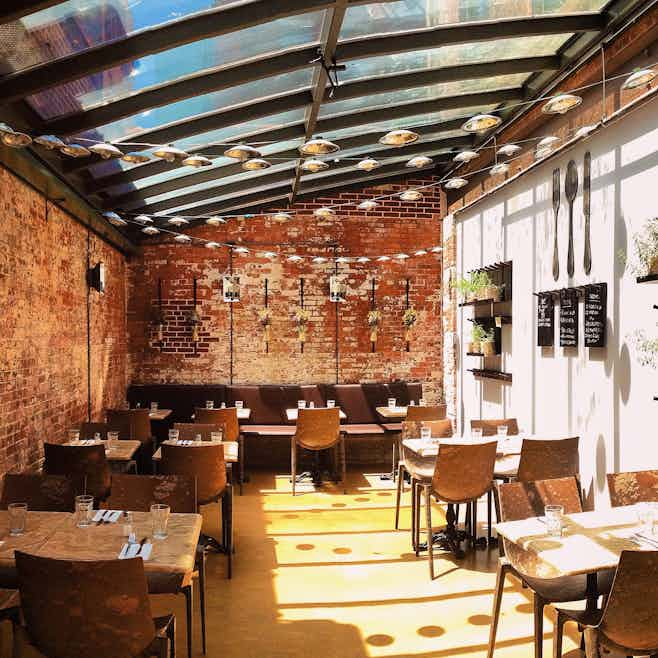 Barbalu
Barbalu is a family run Italian restaurant run by a couple of husband and wife, housed in the space where their hurricane-ravaged restaurant, Barbarini Alimentari once sat. Recommended Dishes Eggplant caponatina ($14); tiramisu ($7)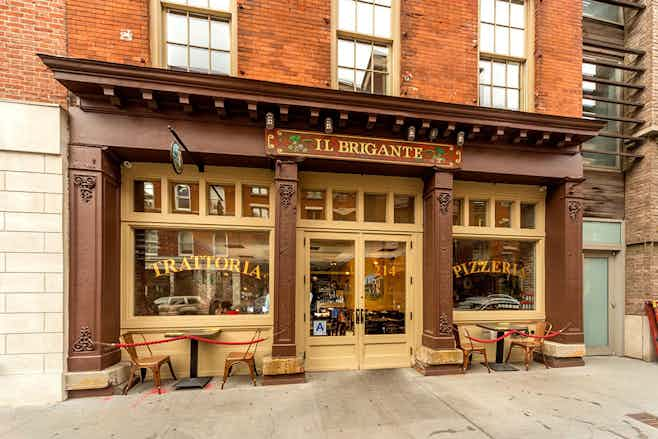 Il Brigante
Il brigante / Restaurant was created with the goal of replicating some of the tastes and traditions of southern Italian cuisine, using the freshest and best quality ingredients to make simple and authentic Italian fare.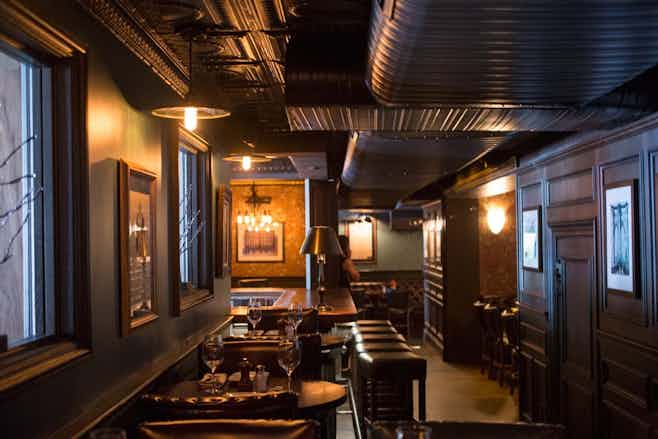 Trading Post
The Trading Post is a classic American Restaurant and Bar. Located in an elegantly restored 1840 Greek Revival building; the food here will take you on a tour of trading routes both past and present-day.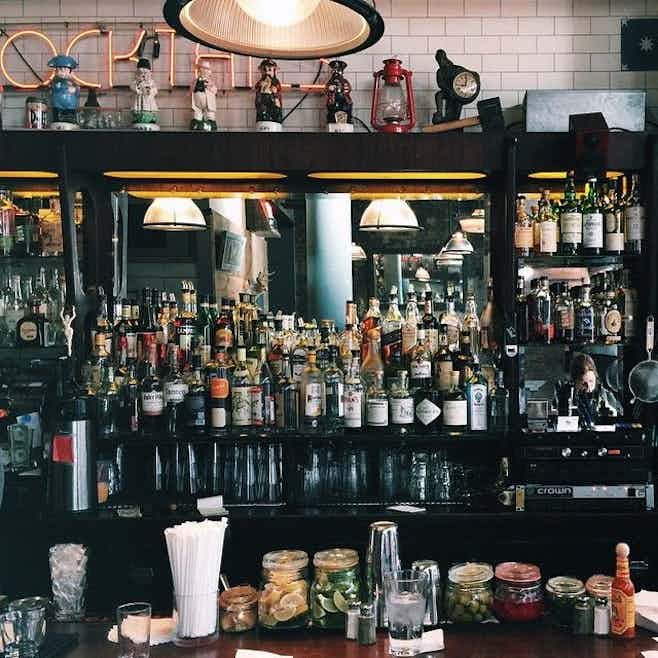 Fresh Salt
Beloved by locals, Fresh Salt is one of the rare neighborhood bars in the tourist heavy South Street Seaport area. They have a great selection of beers and happy hours running from 4 PM to 8 PM, everyday of the week! Grab a drink before standing in queue maybe?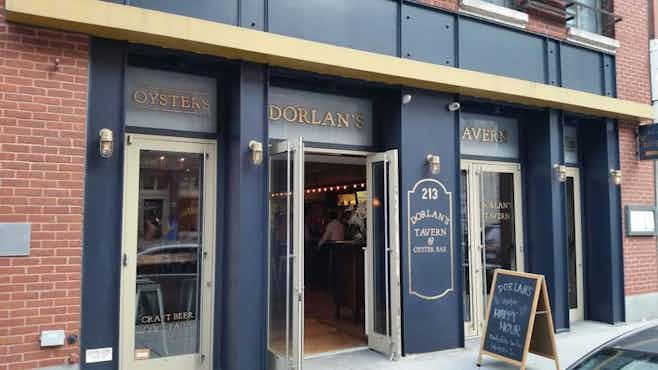 Dorlan's Tavern & Oyster Bar
Dorlan's Tavern & Oyster Bare is the social and culinary heart of the revitalized South Street Seaport. In the spirit of the taverns that graced the Seaport and welcomed its travelers and workers for generations, Dorlan's offers good food, good drinks, and good company.

Other NYC TKTS Booths - Try Your Luck Here Too!
---
​

If you miss out on tickets at the South Street Seaport TKTS Booth, why not check out the other 2 TKTS booths in the city? Note, the Downtown Brooklyn TKTS has permanently closed, as of September 2018.
More Broadway Guides
---
For more Broadway information, here are some helpful quick links!