Situated off of Singapore's southern coast, Sentosa Island offers a stunning view of the city, with tons of fun activities! From thrilling rides to a day out with animals to beaches, this island truly has it all. And what better way to cap this fun day out, than to watch a show that'll leave you stunned. No, we're not exaggerating when we say this.
Wings of Time is an award-winning outdoor night show that'll blow your mind away! It has everything you've ever dreamed of, and then some more. The world's first permanent night show, Wings of Time is set in an open sea and features an incredible display of music, lasers, 3D projection mapping, and pyrotechnics! Talk about an insane display!
Planning to visit Wings of Time? Here's everything you need to know!
Wings of Time in a Nutshell
---
Opening Hours
Monday to Friday: 7:30 pm
Saturday and Sunday: 7:30 and 8:30 pm
Know before you go
Best time to visit - Late evenings
Starting Prices for Wings of Time Tickets - S$18
Suggested duration - 20-30 minutes
Location - Sentosa Island, Singapore

Address
50 Beach View, Singapore 098604
Get there
Why Visit Wings of Time
---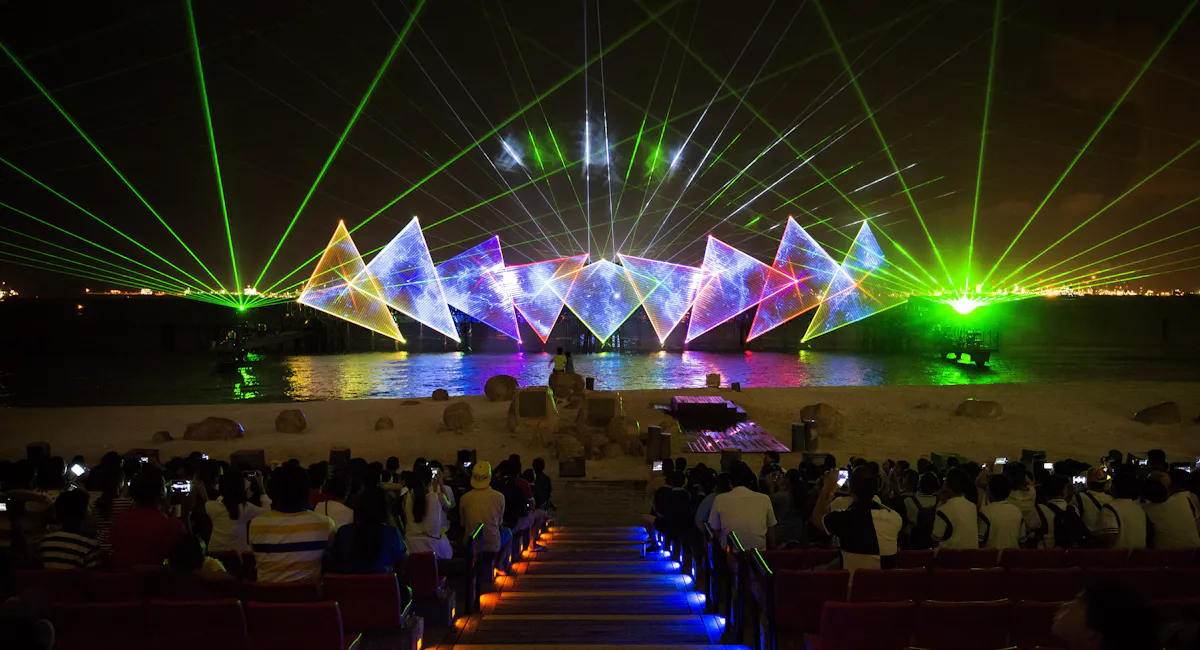 Who doesn't like musical acts, colorful fountains and laser shows? What makes Wings of Time particularly special is the way the show makes use of the calm and tranquil atmosphere of the seaside, as well as the incredible facilities engineered by its artists.
The simple backdrop of the sea and a series of pyramid-like structures are efficiently made use of to meticulously construct the tale by illuminating them with a myriad of colors, mystical water jets and fountains, flame bursts, fireworks and magnificent music that is bound to stir up a variety of emotions. Since the show takes place at night, the slowly darkening sky and the theatrics of the narration add to the beautiful lights effects and pyrotechnics that make this show a multi-sensory, resplendent must-watch for children and adult alike.
Wings of Time Tickets - Which One Should You Buy?
---
Wings of Time is a favourite among tourists and locals alike, as it IS the perfect way to end a day with a beautiful sunset and tons of mind-blowing things. Hence, long waiting lines are natural. Here are the top rated Wings of Time tickets you can buy, so you can save time and dime:
Buy your Wings of Time tickets on Headout and get upto 10% off using the code: GOSNG
Wings of Time: The Story
---
Hosted by the mystical, pre-historic bird Shahbaz and his friends Rachel and Felix, the story takes you on a journey through exotic lands, while exploring artistic interpretations of the British Industrialisation Revolution, the Silk Road era, Mayan Pyramids, Underwater World and African Savanna.
Watch and uncover nuances of the plot as the friends discover more about themselves, and find the courage to be more than who they think they were. This magic of this tale of friendship, determination and bravery, narrated with the help of state-of-the-art sound systems, water works, projection mapping and colorful laser images will stay with you long after the show ends.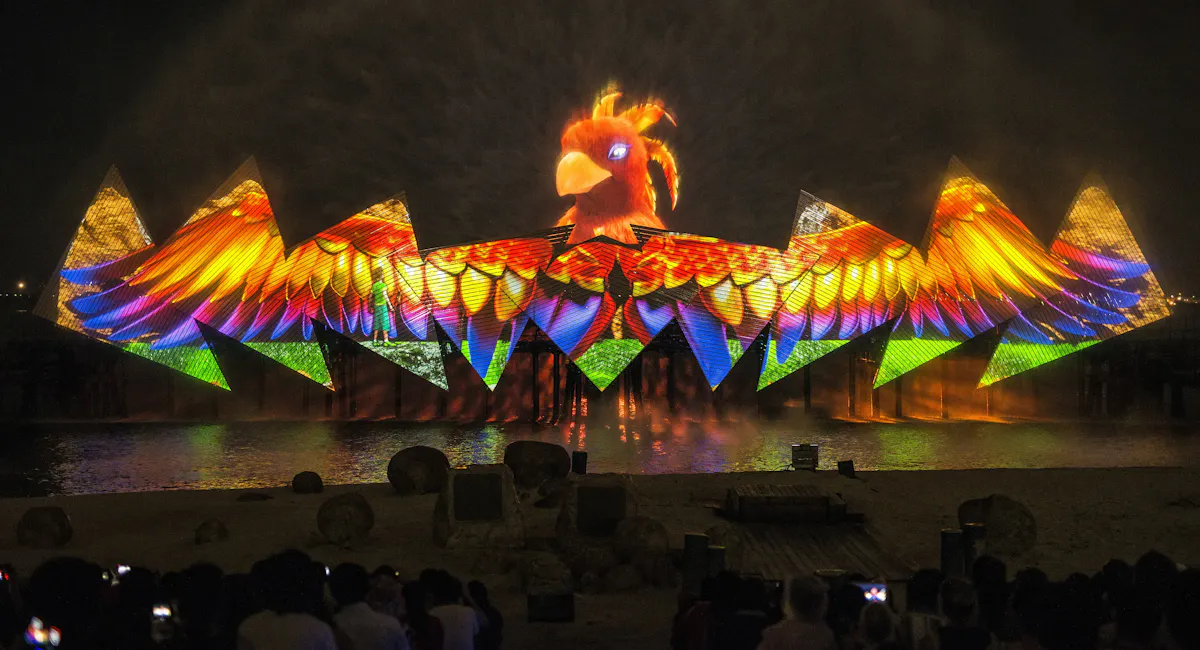 Plan Your Visit
---
Wings of Time Opening Hours
Wings of Time has one show at 7:30 pm from Monday to Friday, and two shows at 7:30 ns 8:30 pm on Saturdays and Sundays
Getting to Wings of Time
A train to Harbourfront station, and then the connecting Sentosa Express to the Sentosa Beach Station should take you to the location.
Another interesting way to get to the show, is by the Singapore Cable Car! Alight at Sentosa, take the Sentosa Express from the Imbiah Station to Sentosa Beach Station, and head down to Siloso Beach. Voila, you've made it!
Best Time To Visit Wings of Time
While there is no perfect time to visit Wings of Time - it's an established fact that the views and vibes are best during sunset. Ideally, it's also the perfect time to bump into a plethora of people. If you're someone who loves beating the crowd, sometime during a weekday, should be the best time to visit.
Things to do near Wings of Time
---
Here are some top attractions which are located near Wings of Time Singapore, that you should add to your itinerary.
Wings of Time Singapore: Insider Tips for Visiting
---
During the weekdays (Monday to Friday), there's only one show at 7:30 pm — make it in time!
Tickets for the show are non-refundable, and non-cancellable, be it rain or shine. In summary: check that weather forecast before you book your tickets.
Seating for the show is first-come first-serve, so you know you have to make it in time.
Finding the right seat for the show is key. While you don't want to be too far away, you also don't want to be too close. The first two rows are splash-zones! Don't say we didn't warn you!
---
Wings of Time Singapore: Reviews!
---
This show is filled with so much. Fireworks, waterworks, light works and sound works! Must see while in Sentosa!
This is an absolute recommended watch while in Singapore! It plays out in Sentosa near the beach station. The set will look very ordinary before the show starts. However, once the show starts, the light works, the laser projections, the pyrotechnics, the water jets, the beautiful music all combine to create a colorful and mind boggling show. This will surprise you and hey, if you arrive early, you can walk along the beach!
Pruthesh, TripAdvisor, January 2018
---
Wings of Time Singapore Guide
The Wings of Time is a 20 minute show. Add in 10 minutes to find the best seats, and it shouldn't take you longer than 30 minutes!
Wings of Time is a show that's performed at Sentosa Island, every evening at 7:30 pm. Twice during the weekends!
Wings of Time is a story about a mystical, pre-historic bird Shahbaz and his friends Rachel and Felix who take you on a journey through exotic lands, while exploring the artistic interpretations of several important eras.
No, your tickets for Wings of Time are not cancellable, or refundable. Wings of Time is a show that plays irrespective of rain or shine, and the show must go on!