A river-themed wildlife park where you can experience the majesty of iconic rivers while making some new animal friends? We're not making any of this up! The River Safari Singapore is a wildlife sanctuary spanning over 12 hectares, home to freshwater habitat of world rivers like the Amazon, Mississippi, Mae Klong, Nile, and more
The reserve features a setup which allows you to explore the wildlife park on foot and end the experience with a magical cruise that traverses the park's gentle waters, where you can spot a myriad of aquatic animals like the endangered giant Mekong catfish. You will also get an opportunity to meet the resident giant pandas Kai Kai and Jia Jia at the Giant Panda Forest
River Wonders in a Nutshell
---
Handy information
| | |
| --- | --- |
| ⏰ Suggested Duration: | 3 hours |
| ☀️ Best Time to Visit: | Mornings |
| 🎟️ River Wonders Singapore Tickets | S$39.90 |
| 🚇 Nearest MRT | Khatib |
Must-see
Giant Panda Forest
Amazon River Quest
Wild Amazonia

Things to know
Constructed in: 29 November 2012
Location: Mandai Wildlife Reserve
No. of animals: 11,000
Total area: 30 acres

Opening Hours And Address
Daily 10 AM - 7 PM

Address
80 Mandai Lake Rd, Singapore 729826
Get there
Why Visit River Wonders?
---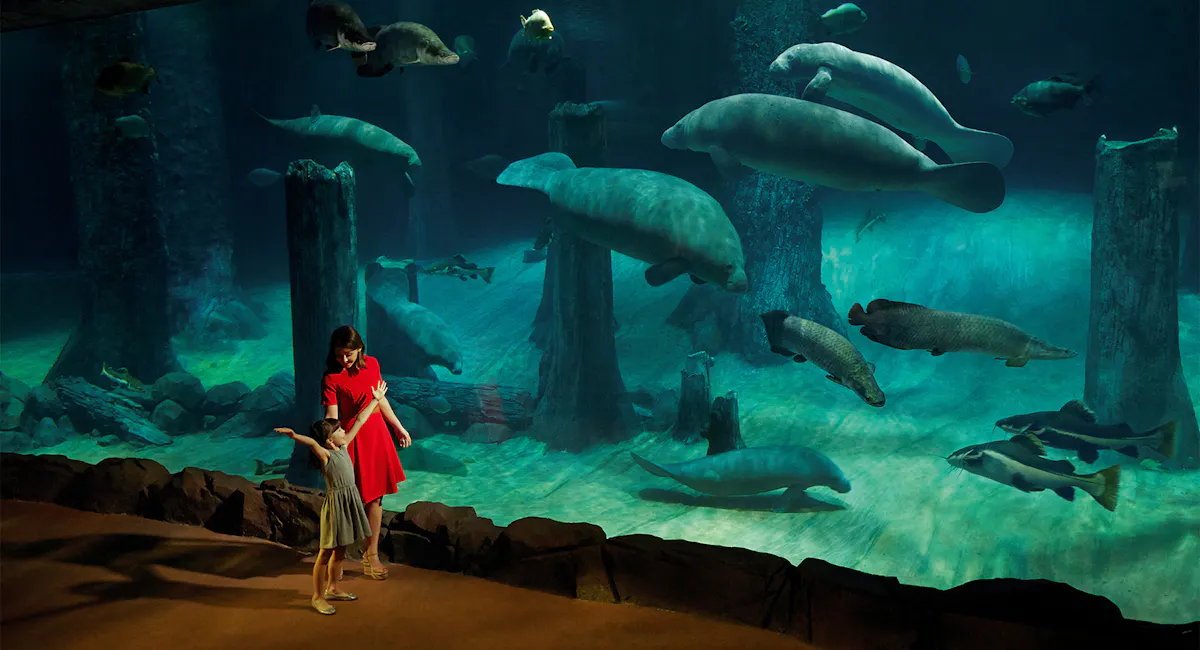 Unique Fauna: Housing over 6000 animals across 200 species, and 400 plant species, River Safari Singapore is an experience you just cannot miss! Out of the 200 animal species present in River Safari, 40 are threatened, making the place even more special.
Learning Experience: Understand the ecology of rivers and their significance to our planet. Interactive exhibits at River Wonders ensure an educational experience for visitors of all ages.
Thrilling Adventure: You can explore the park along the Mississippi, Congo, Nile, Ganges, Mekong and Yangtze rivers, where you can get a good look into the freshwater aquariums and the rich walk-through exhibits.
Conservation Efforts Beyond being just a fun experience for families, River Safari Singapore takes active part in global conservation efforts pertaining to many species of flora and fauna.
Recommended River Wonders Tickets
---
River Zones At River Wonders Singapore
---
The most popular, and for good reason, attraction in River Safari Singapore is the River Zones. You'll get to experience the following iconic rivers: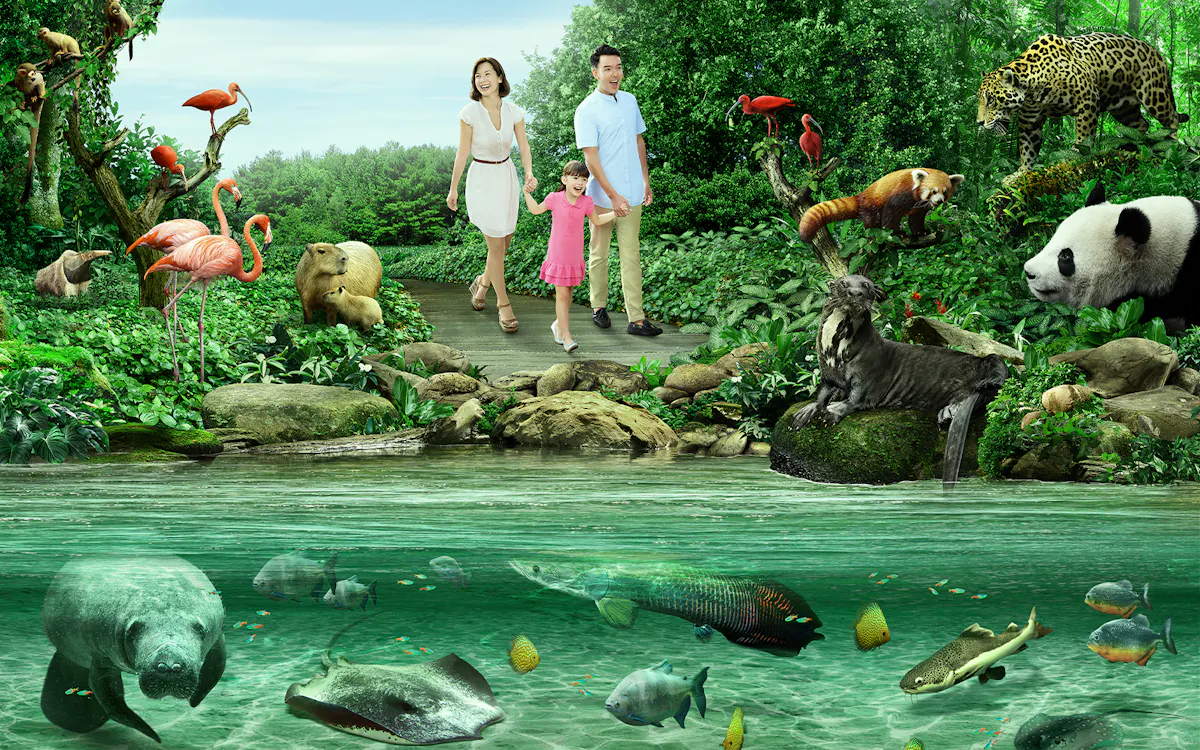 Mississippi: This exhibit features a range of North American wildlife from the world's fourth longest river. Packing a powerful bite are the alligator snapping turtles and their cousins, the common snapping turtles.
Congo: The Congo River, also known as the Zaire River, is one of the largest rivers in the world and the deepest (220 m at one point!). Here you can discover colourful fish species like the Congo tetra, giant freshwater puffer etc.
Nile: Regarded as the longest river in the world at 6800 km, the Nile's water resources are shared by about 11 countries, particularly Egypt and Sudan. Here you'll discover the African arowana, tigerfish, and giraffe catfish.
Ganges: Strange, mysterious, and holy at the same time, the Ganges river is revered by Hindus and home to the unusual Indian gharial, frog-faced softshell turtle, and the intriguing goonch catfish.
Mekong: Mekong River, the closest to Singapore, is the lifeline of countries in the region like China, Burma, Cambodia, Thailand, Laos, and Vietnam. It is a powerful source of clean energy, and humongous river life like the monster giant catfish and the freshwater stingray.
Yangtze: The Yangtze River is the longest river in Asia and third in the world. It has been deeply intertwined with the history, culture and economy of China for centuries. Exhibited here are the ancient sturgeon, giant salamander and the Chinese alligator.
Highlights Of River Wonders Singapore
---
A key attraction of River Safari Singapore, the Giant Panda Forest offers a delightful little experience. Here, you can meet lovable giant pandas Kai Kai and Jia Jia in a climate-controlled biodome that simulates their natural habitat. The Giant Panda Forest is also home to the rare red panda, so watch out for them while here.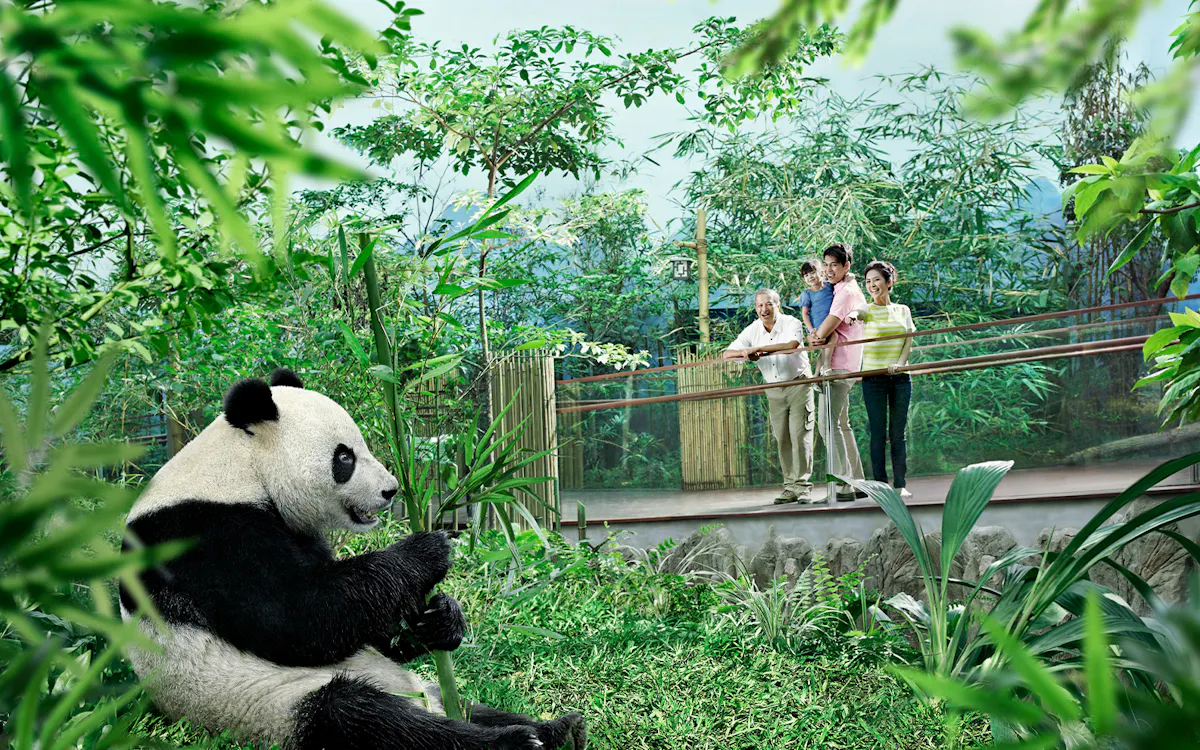 End your day of exploration and discovery by hopping on the River Safari Cruise to enjoy and relax after a fun-filled day. Look out for scenic photo opportunities as you gently cruise along the upper Seletar reservoir. The best part? There's no height restriction for the cruise, which means everyone in your family can come along for this adventure.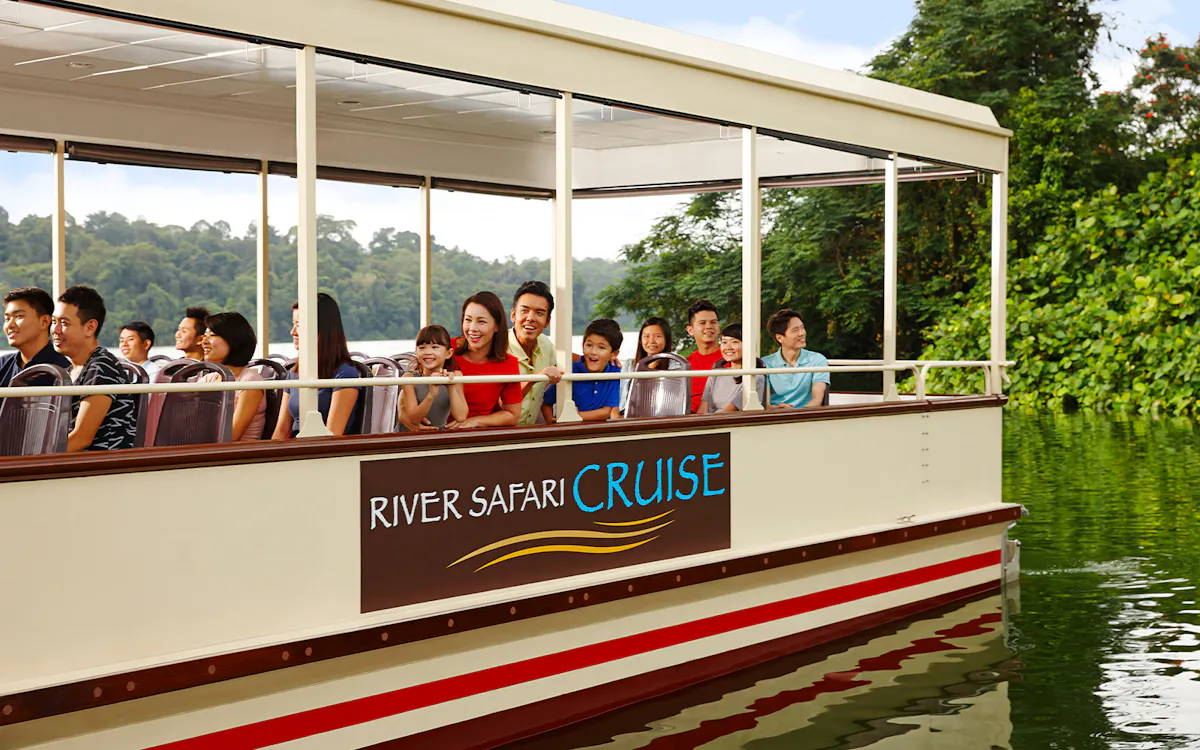 Experience the marvelous and mysterious Amazonian boat adventure with Amazon River Quest. Designed to simulate a journey along the Amazon River, your keen senses will come into play here. Try and spot the well-camouflaged and elusive wildlife hidden among the lush vegetation. Highlights include the Brazilian tapir, jaguar, and the giant anteater!

The Squirrel Monkey Forest will give you ample opportunities to get really close to these small, adorable animals, native to Central and South America. Unlike other animals, squirrel monkeys are generally quite curious, which means you won't have to strain your eyes looking for them in the camouflaged natural surroundings.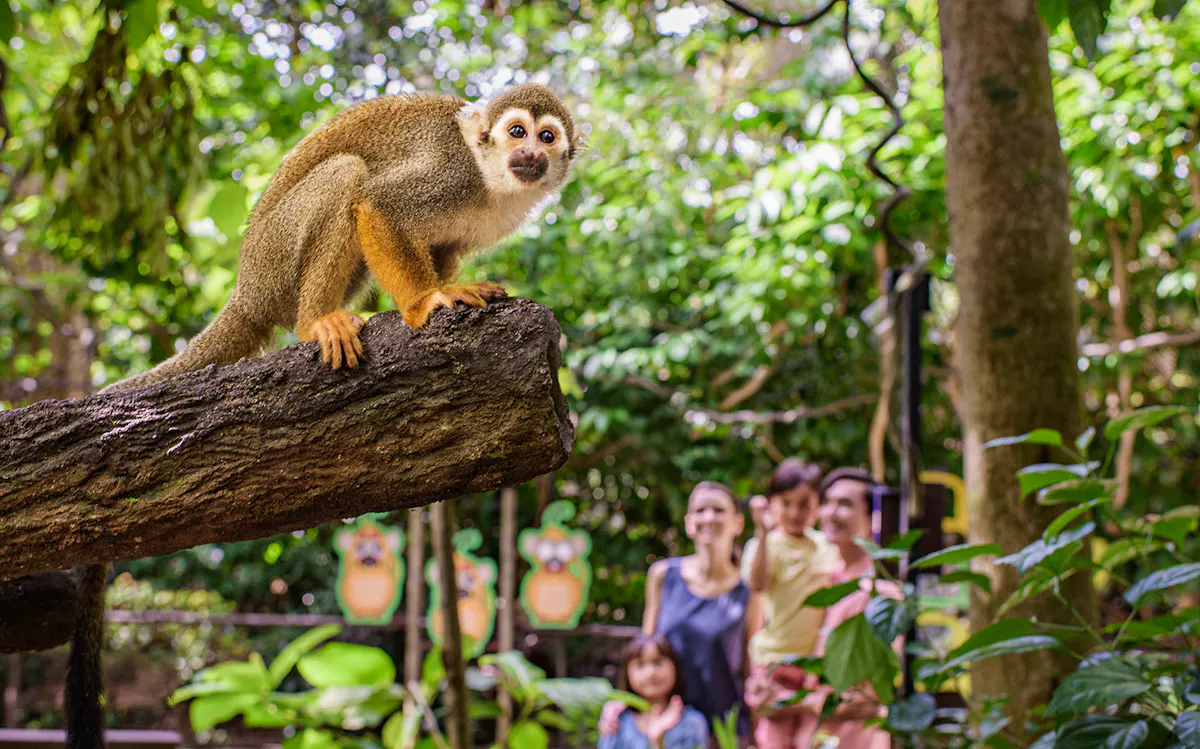 In the world's largest freshwater gallery, get a special view of remarkable aquatic animals in an underwater ecosystem that mimics the submerged Amazon. You'll get to witness red-bellied piranhas, manatees, electric eel, black-finned pacu, motoro stingray, arapaimas, and giant river otters!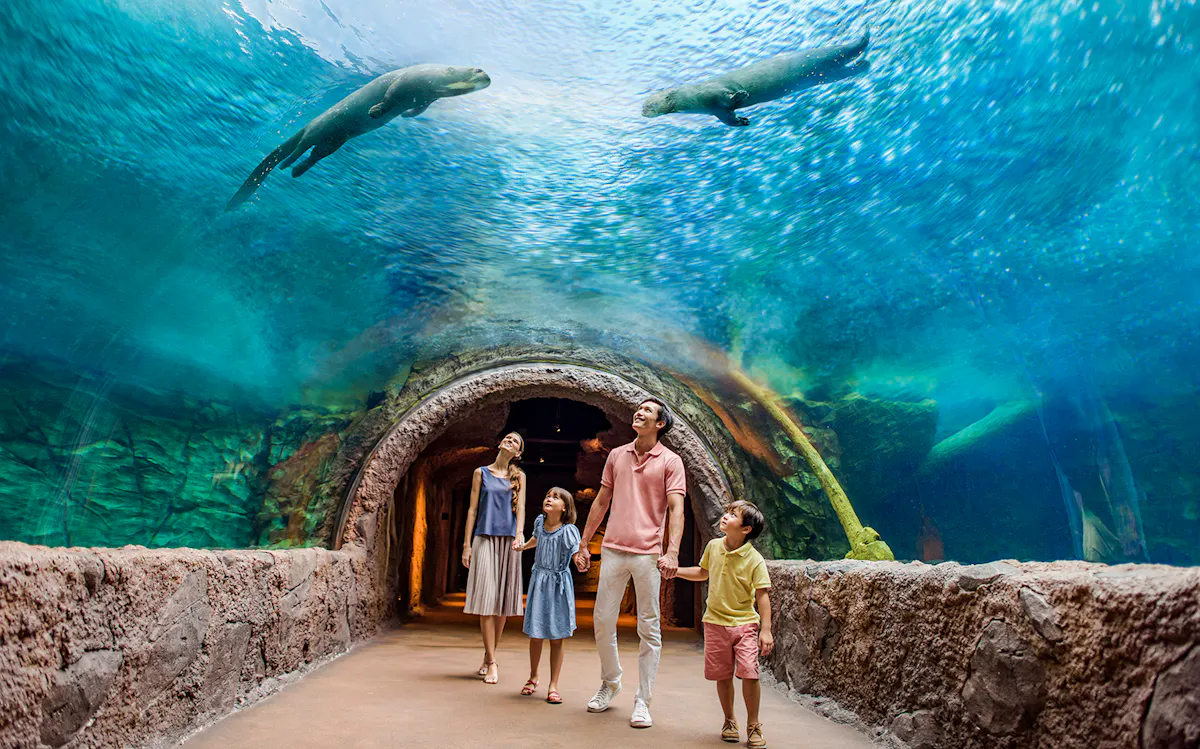 Best Time To Visit River Wonders
While there is no perfect time to visit River Wonders - it's an established fact that the views and vibes are best during sunset. Ideally, it's also the perfect time to bump into a plethora of people. If you're someone who loves beating the crowd, sometime early afternoon, or late evening should be the best time to visit. Additionally, read about best time to visit Singapore before you plan!
River Wonders Singapore Opening Hours
---
River Wonders is open from 10 am to 7 pm, everyday
Getting To River Wonders
To come to Singapore River Wonders by public transport, take the MRT Red Line and transit to a connecting public bus such as no. 927 and no.138. If you're coming by car take the SLE towards Mandai Road and reach Mandai Lake Road.
Other Attractions Around River Wonders Singapore
---
Here are some top attractions which are located near River Wonders, that you should add to your itinerary.
Facilities available at River Wonders Singapore
---
ATM: POSB & UOB ATM machines are available at the Singapore Zoo main entrance.
Lost & Found: If you've lost an item in River Wonders, contact River Wonders Visitor Services for assistance.
Nursing Rooms: They can be found at Entrance Plaza, Pavilion Capital Giant Panda Forest, Boat Plaza, and Amazon Flooded Forest.
Diaper Changing Facilities: Available at Entrance Plaza, Pavilion Capital Giant Panda Forest, Boat Plaza, and Amazon Flooded Forest.
Mobility Access: Rent a stroller (S $15), wagon (S$18), electric scooter (S$ 20), or a wheelchair (complimentary).
In-Park WiFi: Look for 'PARK_FREE_WIFI' to get connected for free.
First Aid: Ask the uniformed staff. Automated External Defibrillators (AEDs) are also available at Entrance Plaza, Pavilion Capital Giant Panda Forest, and Boat Plaza.
Lockers: Rental lockers are available to store your belongings.

Small locker (45H X 43L X 28.5W cm) is S$5 for the first 3 hours, and S$1 for every additional hour or part thereof.
Large locker (60.5H X 43L X 35.5W cm) is S$10 for the first 3 hours, and S$2 for every additional hour or part thereof.

Left Baggage: Large suitcases can be placed at the Rental Services counter. Services start at S$10 for the first 3 hours and S$2 for every additional hour or part thereof.
Prayer Room: Assistance is available at the park's reception counter.
Rain Gear: Ponchos and umbrellas are available for purchase at the gift shop.
River Wonders: Rules & Regulations
---
While it might seem enticing, please stay away from all areas that are marked restricted. Venturing into prohibited areas is not allowed and can be highly dangerous.
Be compassionate towards all the animals you come across. No feeding or teasing animals is allowed.
Make sure that you're seated and have your hands and feet inside the boat at all times during the amazing boat rides.
River Wonders is a smoke-free park. If you absolutely must smoke, please proceed to the designated smoking area located outside the park.
You are not allowed to film footage inside the park for commercial use, unless you have official consent from River Wonders.
Your pets or plants are not allowed inside River Safari Singapore. This is done to ensure that the animals inside the park stay safe.
No flash photography is allowed inside the park. Please switch off the flash before you take any pictures, because the bright light can disturb the animals.
River Wonders Singapore Tips
---
There's a lot to see and do at River Safari Singapore, so it would be best to plan your day in advance. You'll need at least half a day to completely explore the park, so plan accordingly and make the most out of your visit!
While there's no official best time to visit River Safari, our recommendation would be during the winter or early summer. Since there's a lot of walking around to do, avoiding the sun is in your best interest.
If you are visiting the park during the summer, don't forget to bring your sunglasses and lather up your skin with sunblock or sunscreen.
If possible, try and visit the park during weekdays since it'll be less crowded as compared to the weekends, giving you time to explore everything at your own pace.
River Safari is primarily a wildlife reserve so make sure to apply some insect repellent before you start exploring the park.
Bring along adequate drinking water for your trip to River Safari. There's a bit of walking involved and you don't want to be dehydrated. If you didn't bring any water, there are water dispensers you can get drinking water from.
Singapore River Wonders FAQs
---
How much is the ticket for River Wonders?
What are the Singapore River Safari timings?
How do I reach the Singapore River Safari?
How long will it take to complete River Safari park?
How many types of boat rides are there in River Safari?
How long will boat rides in River Safari take ?
What all can you do at River Safari Singapore?
Are there any rules for the Singapore River Safari?
Is River Safari inside Singapore Zoo?
Are there services available to go around River Safari?
What is the River Safari ticket price for children and senior citizens?
River Wonders Singapore Guide