Singapore is an incredible city, with lots to offer - there is always something for everyone. One of the most attractive tourist destinations, loved by children and adults, is the Singapore Zoo. Locally known as the Mandai Zoo, the massive nature enclosure that is the Singapore Zoo, spreads over an area of 28 hectares. The zoo that sits within Singapore's densely forested central catchment area was opened to the public on 27th June, 1973. The sprawling landscaped open spaces characterise the space and provide a naturalistic home for all the animals inside. With Singapore Zoo tickets, get the unique opportunity to see over 315 animal species, 16% of which are categorised as threatened; the zoo is divided into six zones that are replicas of different habitats from across the world.
Singapore Zoo in a Nutshell
---
Opening Hours
Singapore Zoo is open from 8:30 am to 6 pm, everyday (last entry at 5:30 pm)
Rainforest Kidzworld is open from 9 am to 5:30 pm, everyday
Know before you go
Best time to visit - Mornings, or late afternoons
Starting Prices for Singapore Zoo Tickets - S$44
Suggested duration - 3 to 4 hours
Location - 80 Mandai Lake Rd, Singapore

Address
80 Mandai Lake Rd, Singapore 729826
Get there
Why Visit Singapore Zoo
---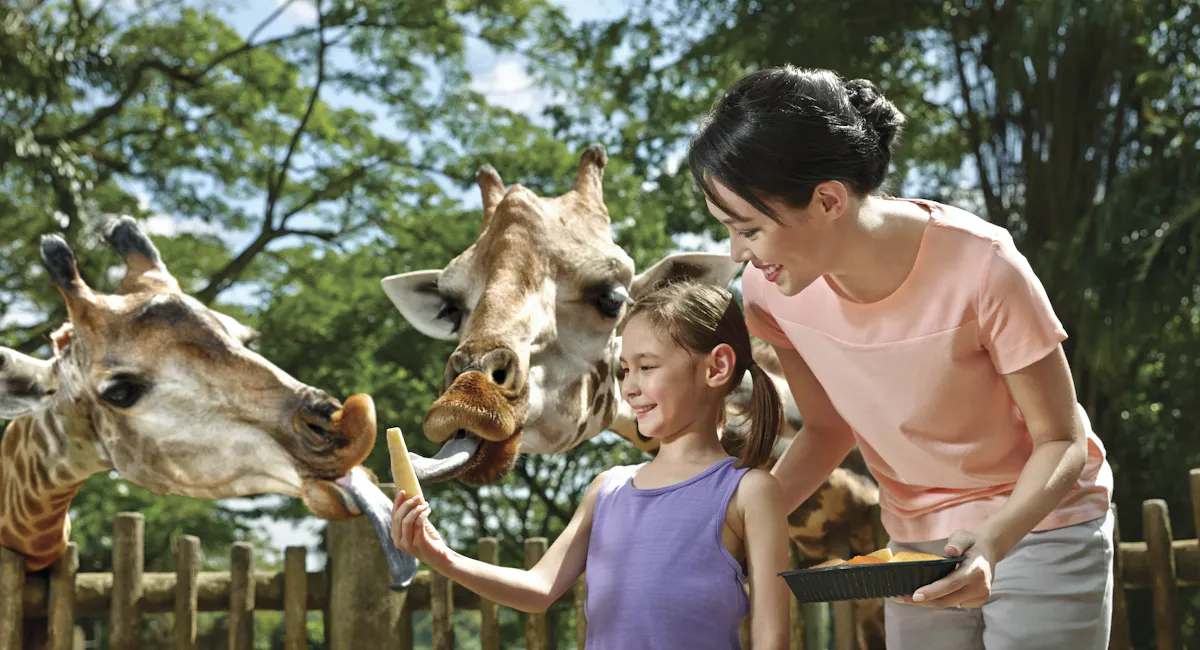 1.The Singapore Zoo spans 28 hectares, and is home to over 315 species of animals. If that's not reason enough, we don't know what is!
2. At the Zoo, you can not only see the animals in their natural habitat, but also interact witht them, and learn more about them while you're at it!
3. The park is an ideal visit for all groups across ages, it is ideally something for everyone.
Singapore Zoo Tickets - Which One Should You Buy?
---
Singapore Zoo is a favourite among tourists and locals alike, as it IS the perfect way to end a day with a beautiful sunset and tons of adventure. Hence, long waiting lines are natural. Here are the top rated Singapore Zoo tickets you can buy, so you can save time and dime:
Buy your Sinagpore Zoo tickets on Headout and get upto 10% off using the code: MANDAI8
Top things to do at Singapore Zoo
---
One of the best and fun ways to explore the Singapore Zoo is on a tram. The tram traverses through all the zones in the zoo and offers a unique opportunity of learning about the many animals in the zoo through the running commentary. Some of the trams are also wheelchair accessible. This option is often preferred by travellers as it is way more comfortable than walking the distance and you don't miss out on any part of the zoo.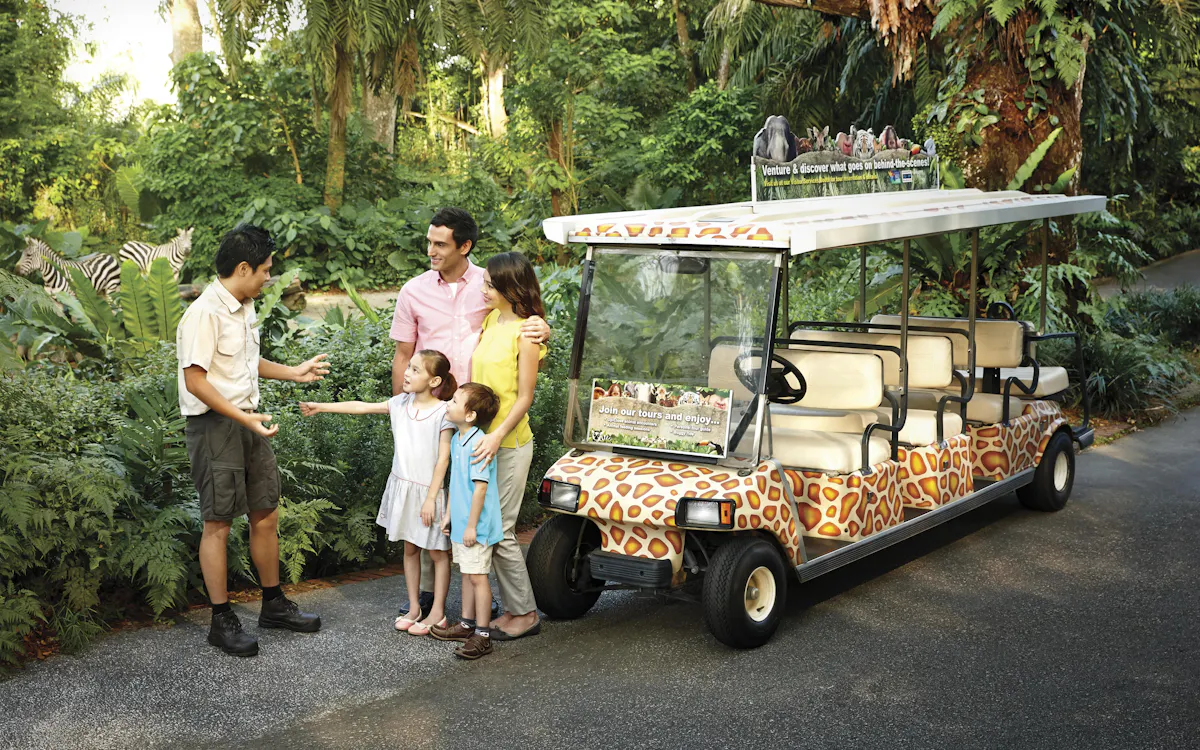 The Fragile Forest is a 20,000-cubic metre biodome that is a replica of a tropical rainforest. This enclosure is home to various feathery, and spineless animals that sit camouflaged in the greens. You can spot amphibians and invertebrates like the four-lined tree frog, rhinoceros beetles, whistling ducks in the freshwater pond, chattering parrots, and crowned pigeons. Among the other exotic animals that inhabit the biodome are- fruit loving Malayan flying foxes, lemurs, white-faced Saki monkeys, two-toed sloth, Toco toucan, Prevost's squirrel, and golden lion Tamarins. An immersive experience at the biodome will have you preparing food for the bats and busting myths about the creepy crawlies- a fun exercise indeed!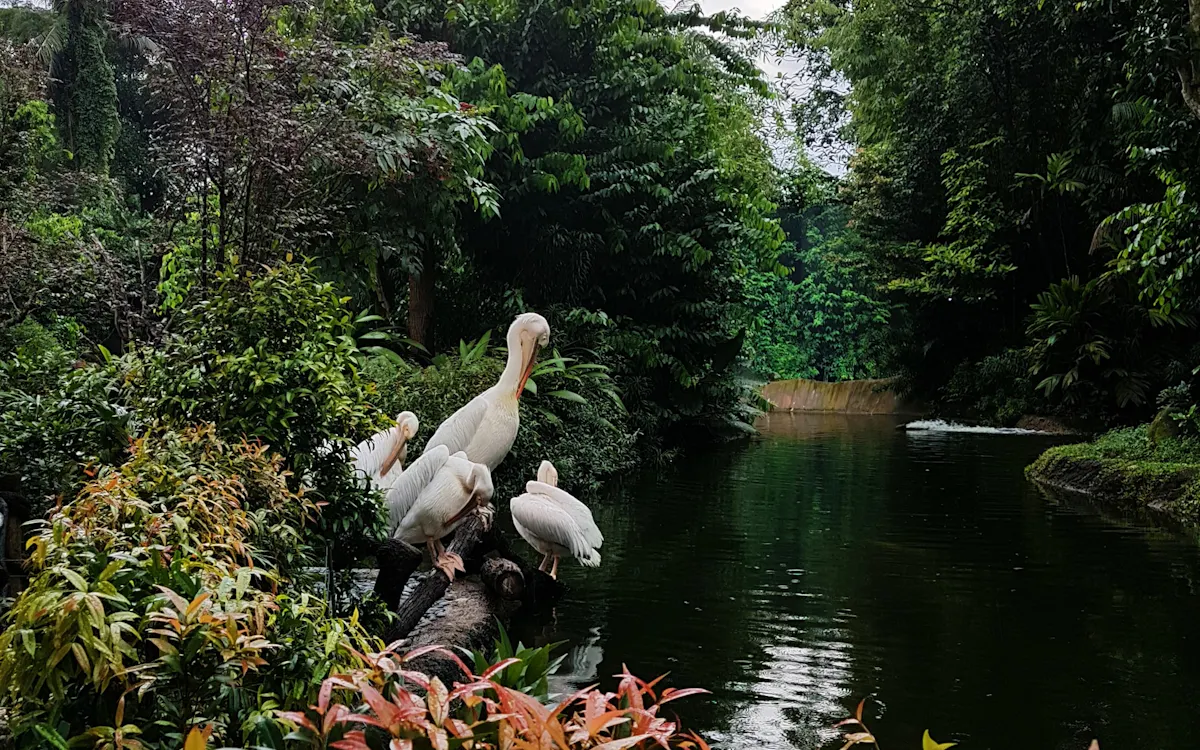 3

Great Rift Valley of Ethiopia
The Great Rift valley is a depiction of what emerged when the earth's tectonic plates under Ethiopia split diagonally creating a continental crack. In addition to having waga-wooden statues that are unique to the Konso community of Ethiopian highlands, this exhibit has on display mud-walled Konso huts, and stone walled huts that are home to the Amhara in Ethiopia. There is a also a coffee ceremony hut that marks the importance of the bean in Ethiopian economy and provides a glimpse into the rituals that surround this aromatic beverage. Ethiopia is known for its rich biodiversity and the Great Rift Valley exhibit showcases some of it at the Singapore Zoo. Some of the animals you will sight here are- Hamadryas Baboons, Nubian Ibexes, Banded Mongoose, Black-backed Jackals, and Rock Hyraxes.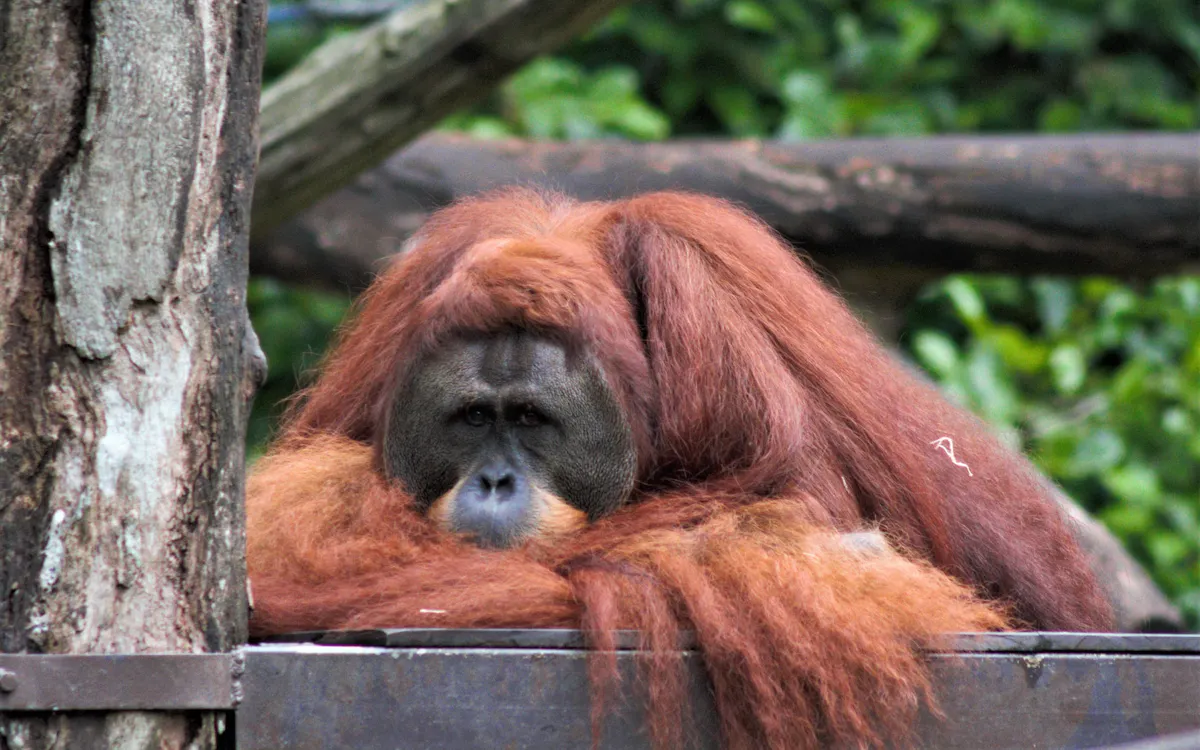 Rainforests have micro ecosystems within themselves that thrive at many levels- closer to the ground, on the tree tops, and everything in between. The Treetops Trail is an attempt at replicating this multi-layered ecosystem and is home to animals like tiny wild squirrels to fluffy cotton-top tamarins. You can hear the loud calls of Anna and Simbu, a mother-son pair of Siamangs. Some other animals you may spot at Treetops Trail include the brown lemur, ring-tailed lemur, false gavial, and great mouse deer.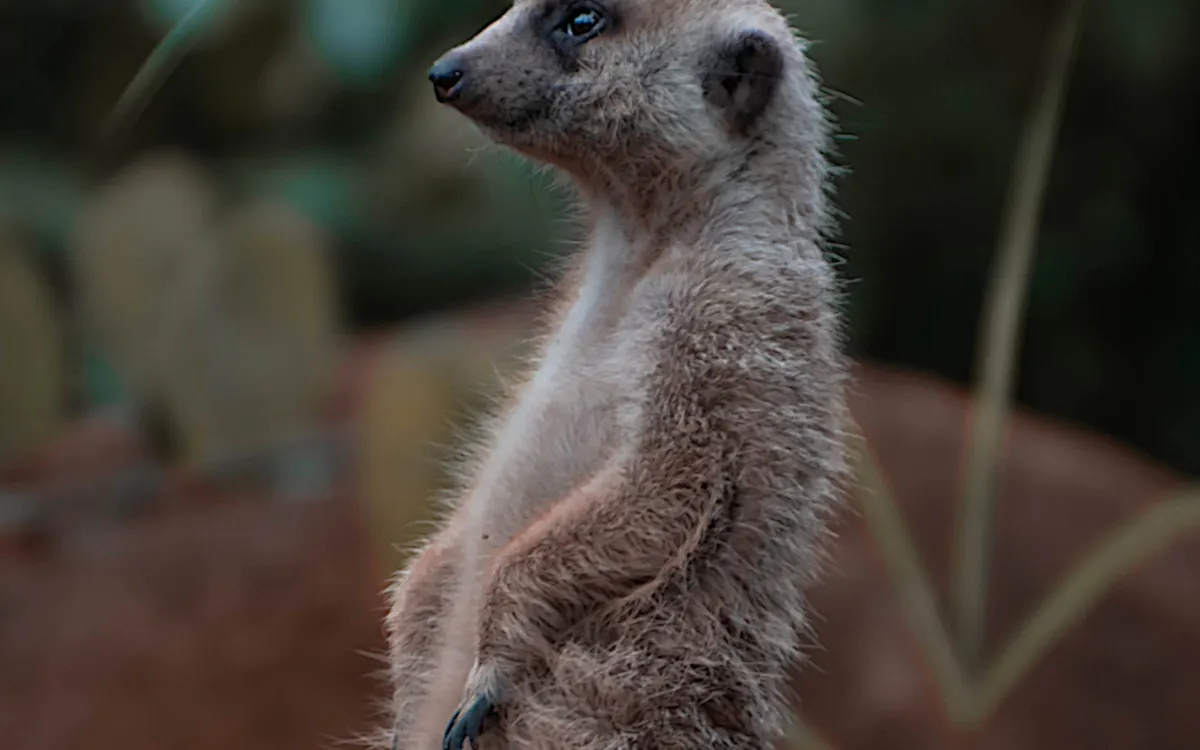 Discover the mysterious world of reptiles at RepTopia that has more than 60 species of reptiles and amphibians- one third of which are extremely rare. RepTopia is further divided into four zones and offers a holistic experience with the help of multi-species displays, keeper domes, interactive stations, and play elements. The many reptiles under the roof of Reptopia belong to regions of the world like Indo-Pacific, African Jungle, Neotropical Rainforests, and Deserts. Some of the many creatures you may spot here include- Amazon milk frog, Bearded dragon, Dyeing dart frog, Emperor scorpion, frilled lizard, gaboon viper, leaf-tailed gecko, king cobra, panther chameleon, plumed basilisk, regal horned lizard, reticulated python, veiled chameleon, western diamondback rattlesnake, and Yangtze alligator.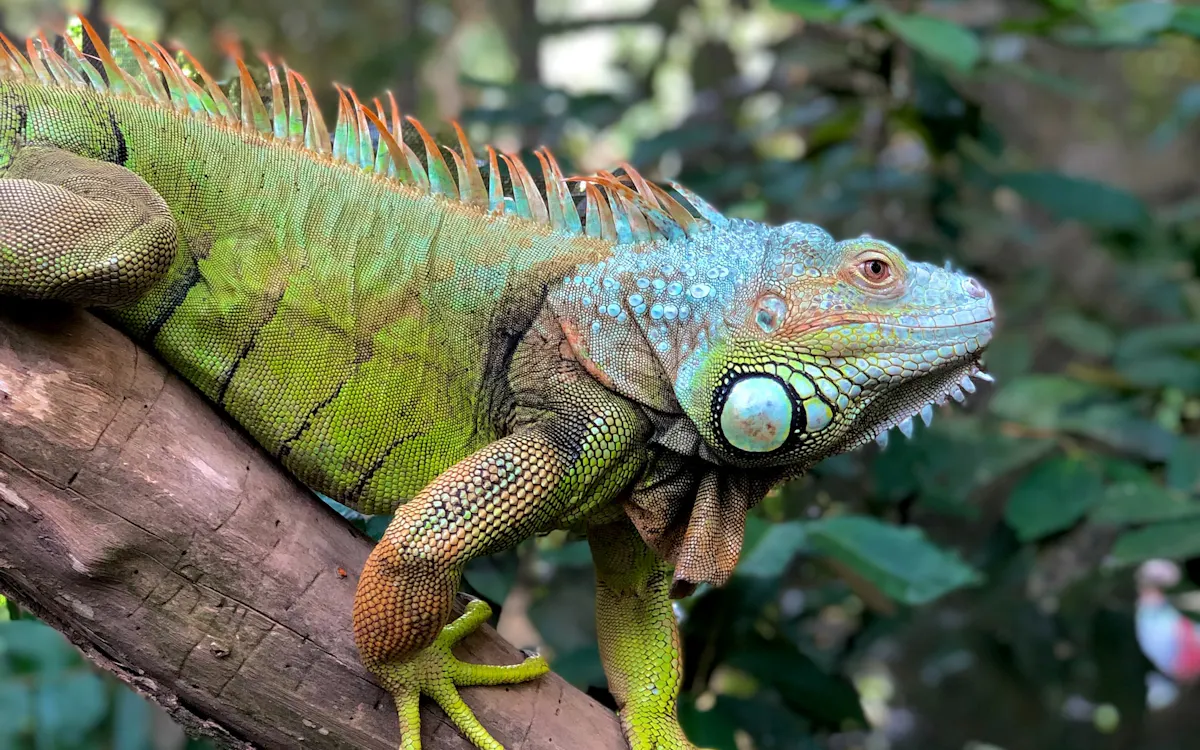 An exhibit dedicated to the marsupials from Australia and Papua New Guinea, Australasia houses grey kangaroos and agile wallabies from Australia and tree kangaroos from Papua New Guinea. There is a tree kangaroo family that you might spot hopping on the trees- Daddy Ziggy, Mummy Blue, and baby girl Nais. The indoor part of Australasia houses the miracle kangaroo Makaia and Nupela, his mate. One unbelievable experience here is a chance encounter with the Cassowary which looks like a mix between an ostrich or a turkey and velociraptor. It has a thick coat of black fur that sits in stark contrast with the colourful hues on its neck and face that conclude with a 10 cm-long claw. You will also find Pygmy hippo and red river hog in this region of the zoo.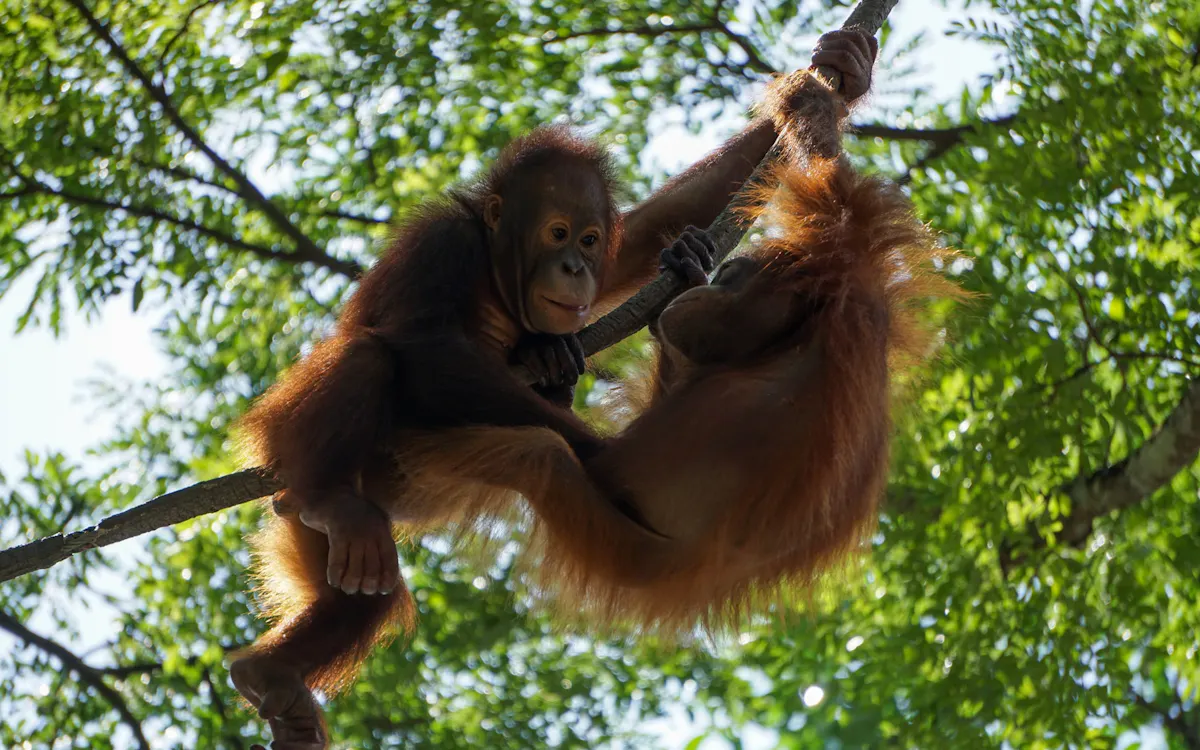 The Frozen Tundra is a smaller version of life in the Arctic region, and is spread over an area as big as two and half football fields. The Inuka here loves to play peek-a-boo with the guests and can be found swimming or lounging in the cave or playing under the its private waterfall. Pom and Poko, the raccoon dogs, a breed known as tanukis in Japan are found in East Asia. This is the only dog breed that hibernate in the winters and Pom and Poko here come from Japan's Asahiyama Zoo. The third type of the cold-world animal you find at the Frozen Tundra are wolverines who are the largest terrestrial weasels. The brother and sister pair, Boris and Ivana, come from Russia's Novosibirsk Zoo.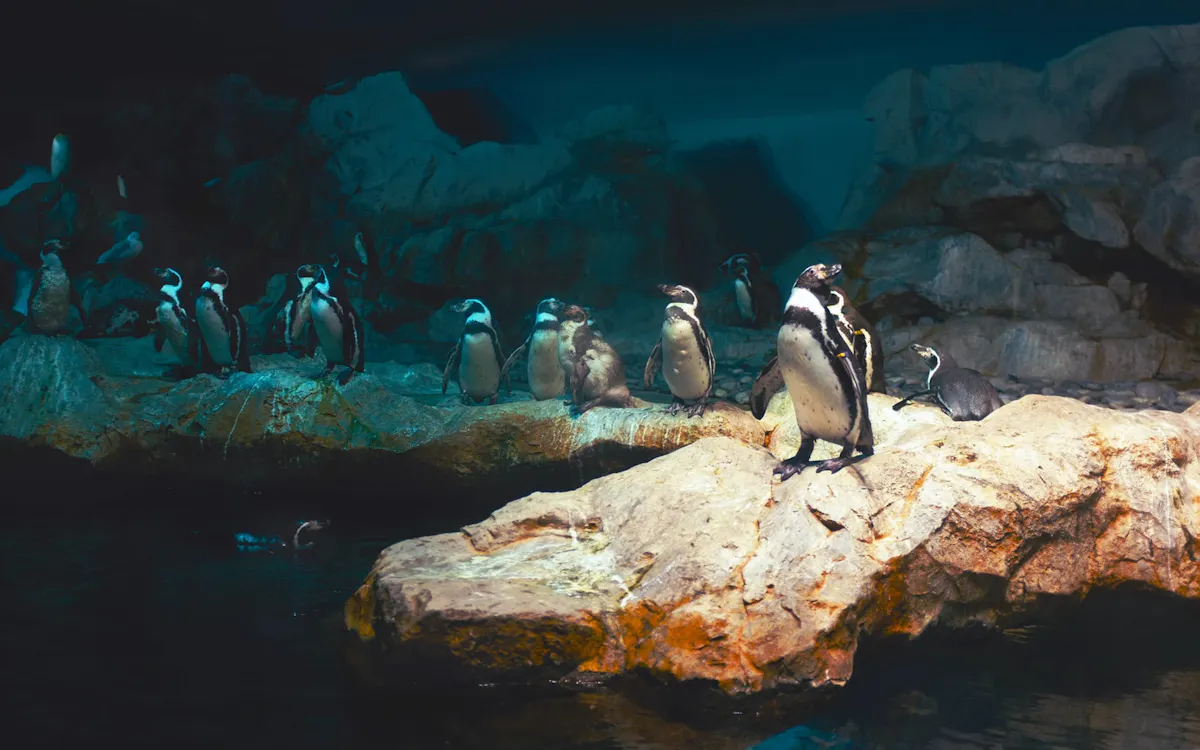 The hero of Splash Safari is the playful sea lion from California that performs for the wide-eyed audience. You can be a part of some splashing fun and play along as the sea lion glides on water and performs cute stunts with a ball- from balancing the ball on its nose to sliding it over its body before disappearing under water. Get inspired to save the ocean as you laugh along and take with you some tickling memories. You can catch the sea lion playing at 10:30 AM in the morning or at 5 PM in the evening.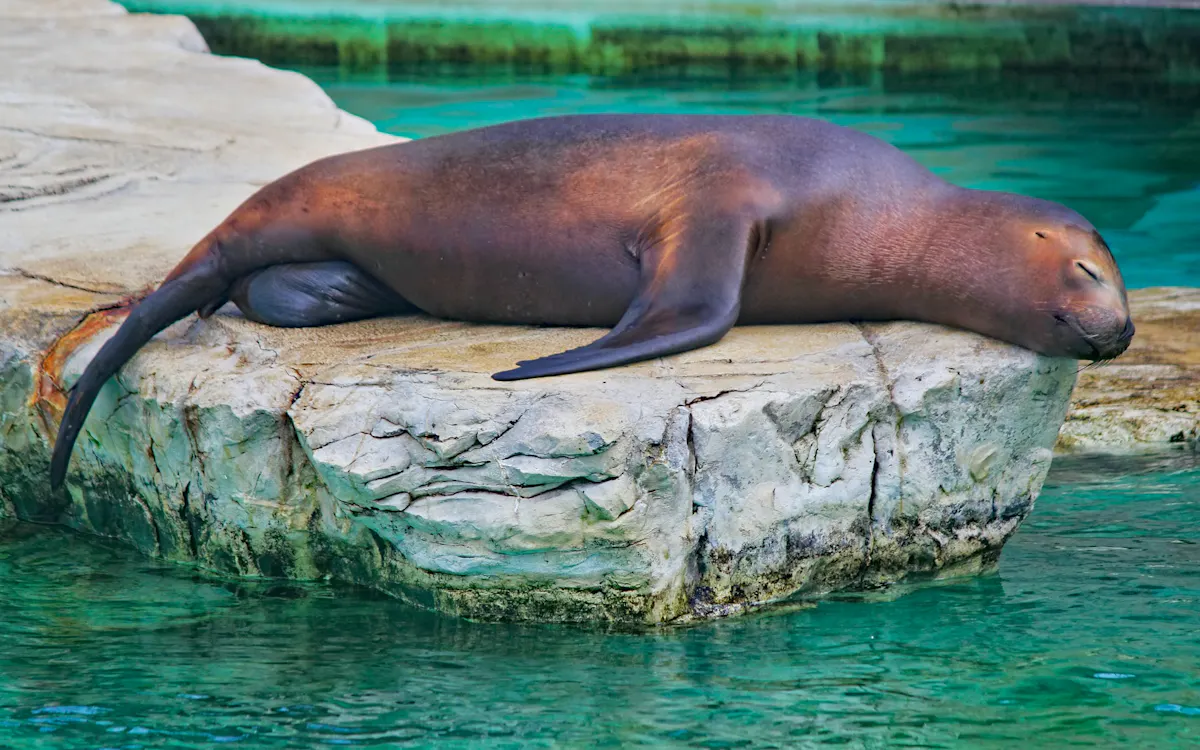 The Animal Friends Show is an attempt at inspiring the audience to love and live in mutual harmony with the nature and the many animals. Performed by animals that were once abandoned pets, the Animal Friends Show promises a humorous ride as you watch the escapades of cats and mouse, learn about the acute sense of smell in dogs. As you snap a photo with your favourite domesticated animals, don't forget to pat and play with them a little. The morning show starts at 11 am and the evening show is at 4 PM every day.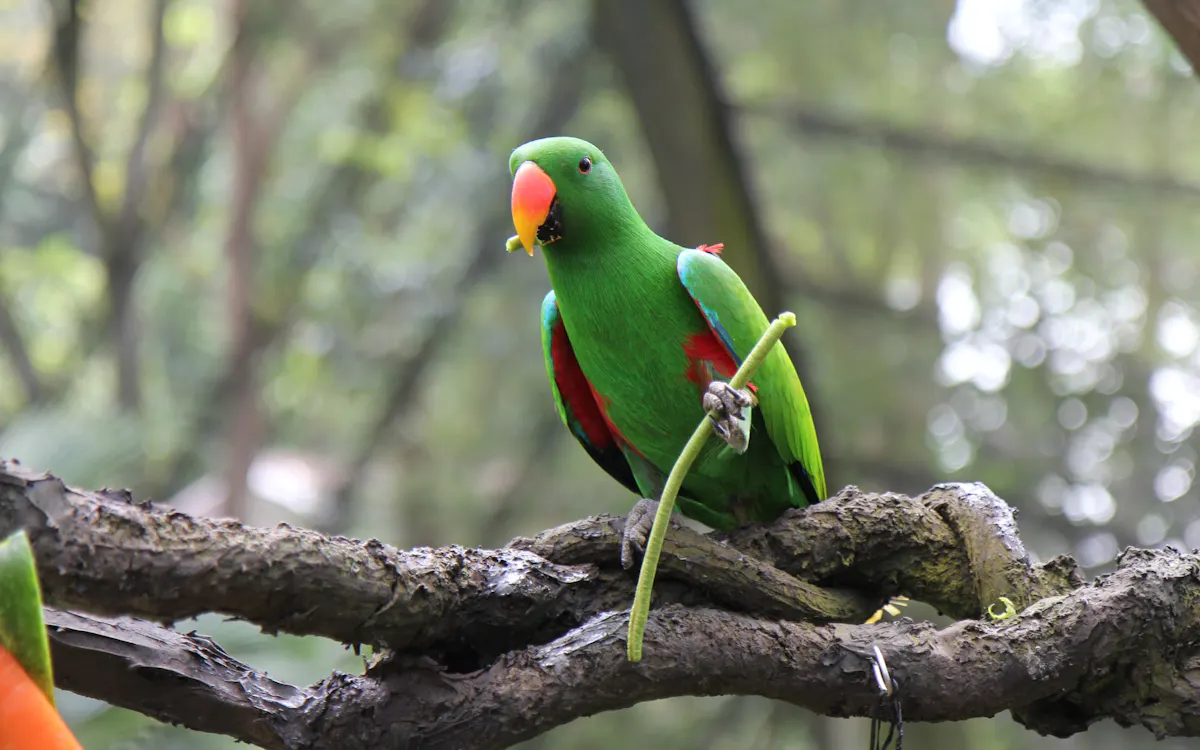 10

Elephants at Work and Play show
The elephants here hail from the Burmese rainforest and this show is a unique experience that will beckon you into the world of these gentle giants and their mahouts. You can watch the elephants at work as they carry out tasks with intelligence and strength. Once they start playing, there is nothing that can stop you from smiling! Watch the elephants play dead, steal food, or play a round of water spray with their trunks. If you happen to sit in the first few rows, you may have to take cover. You can catch the morning show at 11:30 AM or the afternoon show at 3:30 PM.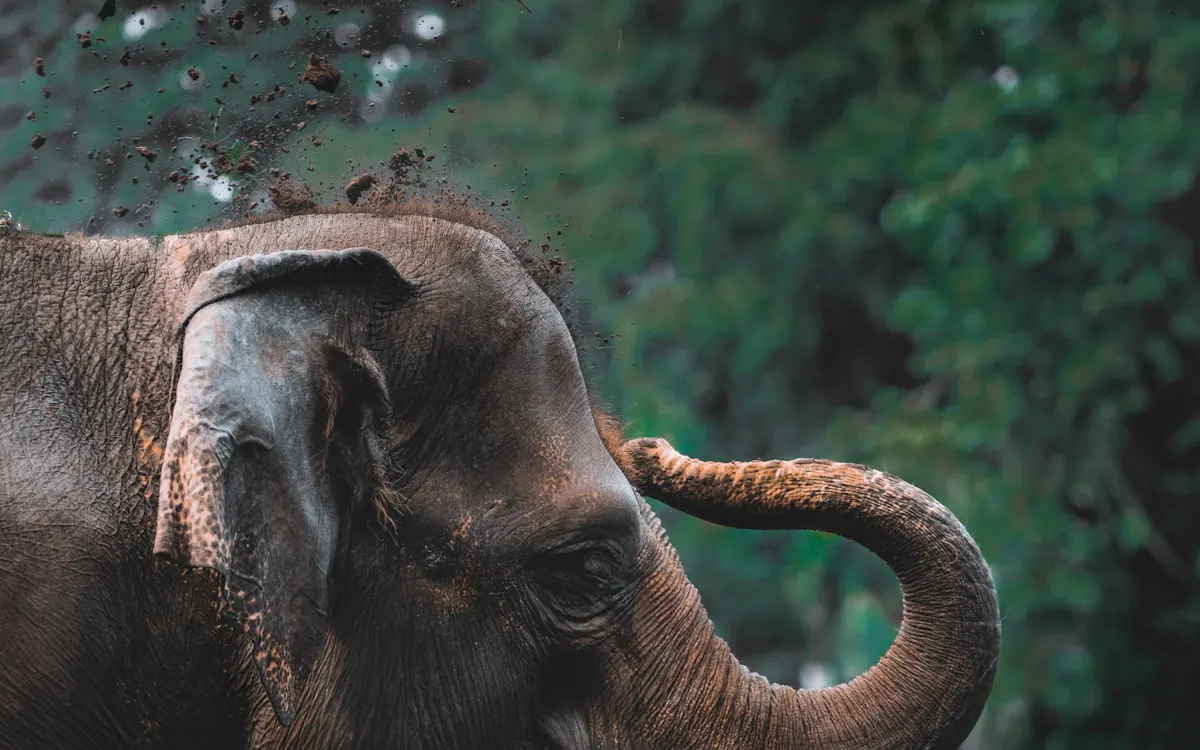 11

Rainforest fights back show
This show gives a rare glimpse into the lives of animals that call rainforests their home. In the recent decades, human activities have been adversely affecting the lives of these animals and the rainforest fights back show is an attempt at making the audiences aware about the impact we are having on the nature. The entertaining program is characterised by agile beings jumping and diving in front of you. You may also get to touch a snake and get a photo with it! Catch the show at 12:30 PM or 2:30 PM.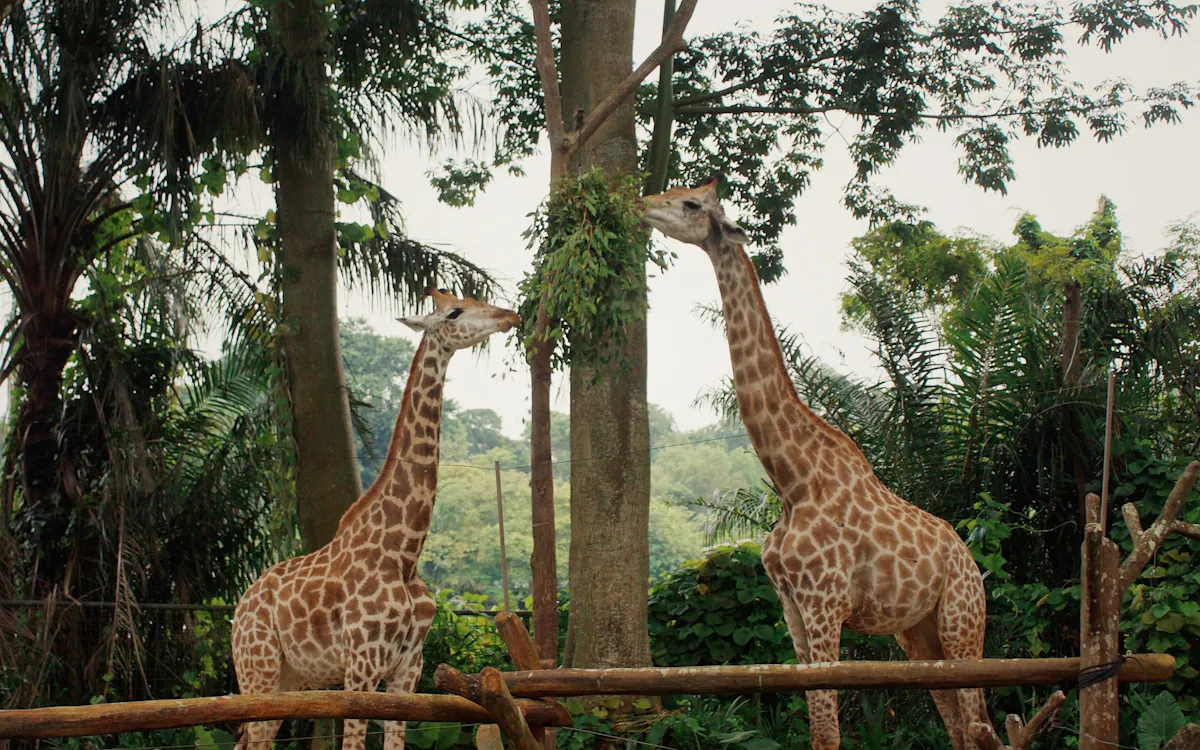 Plan Your Visit
---
Singapore Zoo Opening Hours
Singapore Zoo is open from 8:30 am to 6 pm, everyday (last entry at 5:30 pm)
Getting to Singapore Zoo
By Public Transport
If you're taking the North-South MRT line, you can take the train to any of the MRT stations below. From there, you can hop on a connecting bus that will take you straight to Singapore Zoo.
Khatib, NS14 (North-South Line). Connecting bus: Mandai Khatab Shuttle.
Choa Chu Kang, NS4 (North-South Line). Connecting bus: 927.
Ang Mo Kio, NS16 (North-South Line). Connecting bus: 138.
Woodlands, NS9 (North-South Line). Connecting bus: 926. Operates on Sundays and public holidays only.
Marsiling, NS8 (North-South Line). Connecting bus: 926. Operates on Sundays and public holidays only.
Direct Bus Service from the City
For those staying at hotels within the city, we recommend Singapore Attractions Express (SAExpress™) that provides direct bus services between most hotels in the city and the Singapore Zoo. Adult fares range between S$6 and S$21, whereas child fares range between S$ 4 and S$ 10.50. Pick up and drop-off locations are Coach Bay and Singapore Zoo at 2:30 PM and 4:30 PM respectively.
Best Time To Visit Singapore Zoo
While there is no perfect time to visit Singapore Zoo - it's an established fact that the views and vibes are best during sunset. Ideally, it's also the perfect time to bump into a plethora of people. If you're someone who loves beating the crowd, sometime early afternoon, or late evening should be the best time to visit.
Things to do near Singapore Zoo
---
Here are some top attractions which are located near Singapore Zoo, that you should add to your itinerary.
Dining at Singapore Zoo
---
Wild Dining
Have breakfast with orangutans and take back a slew of photographs as memory of this award-winning experience. With a capacity to seat 20 people, you can eat with the jolly four-legged animal between 9-10:30 AM.
Food at the Zoo Entrance
KFC: right at the Zoo's entrance is KFC where you can enjoy some spicy and crispy chicken preparations between 10 AM and 6:30 PM on weekdays and 8:30 AM to 7 PM on weekends and public holidays.
Inuka Café: Known for its signature dish of kaya toast, soft-boiled eggs and chendol, you can visit the Inuka Café anytime between 8 AM to 7 PM.
Ah Meng Kitchen: if you are in the mood to taste something authentically Singaporean, head to Ah Meng Kitchen where you can taste dishes like nasi lemak, fried bee hoon, and laksa. The kitchen is open between 9 AM -7 PM on weekdays and from 8:30 AM - 7 PM on weekends and public holidays.
Ben & Jerry's: A favourite among ice cream lovers, the ice cream parlour is open every day between 8 AM - 7 PM.
Chawang Bistro: If you have a different meal preference, try out the delicious hot dogs, pastas, cakes, and tarts at Chawang Bistro. It is open daily between 8 AM - 7 PM.
The Wild Deli: You can enjoy gourmet sandwiches and pizzas with a cup of coffee at the Wild Deli. It's open daily between 8 AM - 7 PM.
Dining in the Zoo
Ah Meng Restaurant: You can get a full-fledged meal at the Ah Meng Restaurant that serves local and western delicacies like chicken rice, fish and chips, and biryani. The restaurant is open daily from 10 AM - 4 PM.
Ah Meng Bistro: Open every day from 10 AM - 5 PM, the Ah Meng Bistro is known for its selection of health speciality tea and gourmet sandwiches, pastries, and desserts.
KFC (Rainforest Kidzworld): If you missed having your dose of chicken at the entrance of the zoo, there is another KFC inside the zoo which is open on weekdays between 10:30 AM - 5:30 PM, and on weekends between 9:30 AM and 6 PM.
Singapore Zoo: Rules & Regulations
---
1. You cannot bring anything flammable or dangerous inside the park as it may be harmful for the animals.
2. The zoo is a smoke-free zone.
3. Make sure that you dispose all the garbage in the designated bins.
4. You cannot remove anything from the zoo or release any of the animals or birds inside.
5. Flash photography is not allowed in the zoo.
6. You cannot take photographs or videos for commercial purposes.
7. Do not make an attempt to make contact with the animals by feeding them, touching or teasing them, or any other act that may cause disturbance.
8. You can't carry balloons inside the zoo as they may burst and cause discomfort to the animals.
9. You are not allowed to bring or ride roller blades or skates, skateboards, skate scooters, or bicycles inside the zoo.
Singapore Zoo: Map
---
Singapore Zoo: Insider Tips for Visiting
---
You can participate in feed the animal sessions, but cannot give food to animals otherwise.
There are picnic areas inside the park where you can sit and enjoy- Pavilion by the Lake, Garden with a view, and Picnic area. You can take your food from outside.
In case you need any assistance when inside the park, you can reach out to any of the uniformed staff or call on +6581263720.
Make use of the tram service as it is a convenient way of exploring the zoo and it will also give you all the information of the many species of animals and zones inside the zoo.
Keep at least half a day, if not one full day, to explore Singapore Zoo.
A sunny day is great to visit the zoo but don't forget to lather yourself with some sunscreen lotion and cover your eyes with sunglasses and head with a hat!
It might also be a good idea to apply some insect repellent.
Carry or rent an umbrella as it may rain.
You will be walking quite a bit so wear comfortable shoes and carry enough water to keep yourself hydrated throughout your visit.
Singapore Zoo: Reviews
---
Without a doute, this was the best part of my whole trip to Singapore and I urge anyone visiting to take a day out to go to the zoo. I used public transport to get there and back. Many of the animals are roaming around freely with very open areas making it feel like you are practically in the enclosures while staying safe. The animals are well looked after and its just a fantastic day out!
Emma, TripAdvisor, Sept 2019
My wife and I are animal lovers...We long to show some love to the animals there after the months of closures due to the COVID-19 pandemic. To our pleasant surprise, there were no crowds despite it being a weekend. The zoo has done a great job in terms of safe distancing: staggered limited entries, shows limited strictly to 50 pax (with ample separation between groups), and ambassadors around at popular exhibits to ensure there is no overcrowding...We especially loved that the animals had ample space to roam around. We were so amused by the friendly monkeys and beautiful butterflies that came really up close to us too!
Ashley Liew, TripAdvisor, July 2020
Singapore Zoo: FAQs
---
Where can I get Singapore Zoo tickets?
What combo offers do I get with my Singapore Zoo tickets?
What is included in Singapore Zoo tickets?
Where is Singapore Zoo located?
What are Singapore Zoo visiting hours?
How much time does it take to explore Singapore Zoo?