Must do things in Barcelona
Get Inspired For Your Barcelona Visit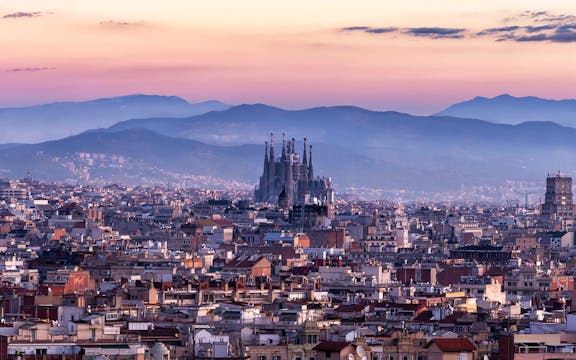 Barcelona Travel Guide
Top things to do, budget hacks, public transportation, best restaurants & hotels, culture tips & more inside!
Get Inspired
Bucket-list things to do in Barcelona

Barcelona is a place like no other. There are some must-see

landmarks

and

religious sites

to view during your stay here. We recommend going to

Antoni Gaudi's Park Guell

, for starters. Stroll around this unique recreational park and view the city from its deck. Next, visit the architect's Sagrada Familia, with

Sagrada Familia tickets

to see the world's largest unfinished church, and admire the creative genius poured out into it. Move towards

Casa Batllo

and see what the Modernisme movement in Catalonia is all about. Explore the city at your convenience on a

Hop-On Hop-Off tour

seeing multiple attractions in the city's glorious weather. If you are a die-hard football fan then we highly recommend checking out a

Camp Nou tour

, the

second-largest football stadium

in the world and home to the legendary football club - FC Barcelona. 

Romantic Things to do in Barcelona

The autonomous community of Catalonia and its capital Barcelona is known for its passionate people, language, and art forms. Don't be surprised if you find passionate flamenco performances, jamming musicians, and people salsaing on the patios of restaurants and public squares. Get

Casa Mila tickets

for you and your significant other for a view of the building's enticing architecture, a glass of cava, and chocolates. The inspiring

Park Guell

is also a romantic getaway in its serene premises. Go for a

cruise in Barcelona

on the mediterranean sea and lounge on a luxurious Catamaran while vibing to good music and enjoying cocktails. You can talk a walk through the vineyards of El Penedes and sip local wines with

a hike and a wine tour

. If you're feeling raunchy, we are sure the Erotic Museum of Barcelona will give you a few ideas. 

Nightlife in Barcelona

On weekends it is not uncommon to see parties in Barcelona go on till late in the morning. The nightlife in this city starts only around 2 am, with dinner finishing up by 11 pm!  But note, clubs in Barcelona sometimes follow dress codes and follow guest lists that you can register for online. Gracia, La Rambla, El Born, and El Raval are neighborhoods that are known for their robust and buzzing nightlife with fusion restaurants, cozy pubs, and bars to loud and rambunctious nightclubs. To get inducted into the nightlife here, try a VIP nightlife tour that takes you around several party hotspots so you can dance your heart out. You can also try a Barcelona pub crawl to visit several unique pubs in the alleyways of the city. 

Local Favorites in Barcelona

Try these local pastimes and haunts to get a sense of what it is like being a resident of Barcelona. With

PortAventura world tickets

with your family for a day at Spain's largest amusement park. If you can, try to squeeze in Ferrari World and Caribe Aquatic park that's right next door. You can then go to the Barcelona Zoo to view more than 4000 animal species and marine creatures. If you want to go on a day trip, a

Barcelona to Montserrat tour

will give a refreshing view of the mountains and a spiritual visit to a monastery and basilica that sees hundreds of local devotees every day. If you are a football fan, there's nothing like paying tribute by visiting the stadium Camp Nou, the home of FC Barcelona.  

Shopping in Barcelona

Check out local markets like La Boqueria or El Rastro in Las Rambla, which sells traditional Spanish products, such as olive oil, Spanish wines, ceramic goods, and awesome souvenirs. Walk the 'Golden Mile' of Paseo de Gracia and the Avenida Diagonal located in Exiample, for high-end shopping of exclusive wear by the world's biggest brands. At Plaza de Catalunya, you will find a lot of departmental and electronic stores for essentials, as well as some fashion outlets that have some interesting wares. You can also try El Raval for vintage fashion and a chain of music stores. Bookworms and collectors can check out the Sant Antoni area for second-hand books, stamps, and hand-crafted items.  Finally, go to El Born for designer wear and accessories from trendy boutiques. 

Kid Friendly

Barcelona has lots of things that you can do, including

zoos & aquariums

, and

theme parks,

along with your energetic tots and moody adolescents. You might want to check out

PortAventura World

, a conglomeration of several

theme-based amusement parks

. Visit

Ferrari Land

to go on exhilarating rides. Get to know more about 450 kinds of Mediterranean marine life with

Barcelona aquarium tickets

or get

tickets to Barcelona Zoo

to discover the rare and unique biodiversity of Spain. Meet wax celebrities in fun sets at the

Wax Museum of Barcelona

. Inspire your teenager with the

Gaudi 4D Experience

to learn about the Catalonian architect in a fun

immersive augmented reality-based exhibition

or go to the

Big Fun Museum

for a whacky time with its sensory illusions.  

Budget Things to do in Barcelona

Let's get straight to the point with the

Barcelona: City Explorer Pass

, which will, depending on your choice, allow you to

see up to 7 attractions

in the city at extremely affordable prices.  With our modestly priced

Montjuic tickets

, you can take a long cable car ride and ascend the

Montjuic hills

for its panoramic views and finally arrive at the Montjuic Castle and Military Armor museum at the top. View Barcelona at your own pace and be led to various landmarks in the city with a self-guided

audio tour

available on your smartphone. Don't miss the exhibitions of the

KBr Photography Center Mapre Foundation

which has a large collection of work from some of the most skillful photographers in the world. Take a

Golondrinas boat trip tour

and sail down Barcelona's coastline and view some neat structures along the way.  

Art & Culture in Barcelona

There is no dearth of art and culture in Barcelona. The city is a hotbed for artists, performers, and

museums

, and is home to some of the most enigmatic architecture in the world. Opera fans? Explore a 100-year-old concert hall, the

Palau De La Musica Catalana

, home to Orfeo Catala Choir, that still runs ravishing opera, flamenco, and musical performances. Visit the

Moco Museum

for original works from Andy Warhol, Banksy, and Salvador Dali. Take your family down to an open-air museum of Catalonia architecture, tradition, handicrafts, dazzling exhibitions, and art collections with

Poble Espanyol tickets

. You can also check out the

World of Banksy

, a museum dedicated to the infamous street artist Banksy. For art history enthusiasts, The

National Museum of Art of Catalonia

has a formidable collection of Romanesque art,

Hiking Tours

Barcelona is surrounded by nature and interesting towns and attractions and is great for

hiking and trails

. For nature lovers and adventure seekers, a hike in the woods or the mountains to see a far place may just be what you need. Go on a Montserrat tour for a hike through unbeaten routes in the

Montserrat ranges

. Mosey through the vineyards of

El Penedes county

, and get a chance to taste the finest wines in Catalonia. Trek through verdant hills and rocky mountains of the Collsacabra ranges before you reach the

16th-century medieval village of Rupit with its rustic charm

. You can also choose to hike along the cliffside coastline of the Costa Brava hiking trail. Or just leave it all behind and venture into the

valleys of the Pyrenees

on a guided

Vall de Núria Pyrenees hiking tour

.

Street Food in Barcelona

Street food is one way to reduce your costs in Barcelona. It's also where you get some of the most scrumptious food in Spain. Try the Entrepa and Bocadillo, a light sandwich with a variety of ingredients in between like  Iberian ham, for instance. For a robust breakfast, have a wholesome Tortilla de Patatas, made of a tortilla with flavourful potatoes, omelets, and olive oil. Next up, the Patatas Bravas. Enjoy a bowl of crispy fried potatoes topped with garlic aioli. You could also go for crispy Croquetas with a creamy bechamel sauce inside, along with tucked-in Jamon and mushrooms! When it comes to beverages, you can sip on some cava-sparkling wine, enjoyed by locals, or relish some vermouth served with tapas. 

Free Things to do in Barcelona

Short on cash? No need to worry. Let's take you through some free activities you can do while in Barcelona. For one, it costs nothing to walk down the Gothic Quarter located in the core of the city, an area populated with Gothic architecture buildings. You can also head out to the Turo de La Rovira and sit at the camel bunkers that overlook the city.  The Parc del Laberint is a delightful park located within the city where you can spend lazy afternoons and watch mesmerizing sunsets in the evening. On the first Sunday of the month, the Museu Nacional d'Art de Catalunya, Picasso Museum, Museu d'Història de Barcelona and Museu Marítim de Barcelona have free admission. 
Plan Your Visit To Barcelona

This major Mediterranean port city is the capital of the autonomous community of Catalonia, a major economic and financial center in Europe, and a place of cultural interest. Surrounded by the mountain ranges of the Pyrenees, Montserrat, and the verdant valleys of Collsacabra, this place has bountiful natural beauty. From its intense architecture unique to the Catalan region, its passionate Catalan language, the thriving arts, and its bountiful surrounding nature, Barcelona will never leave you bored. Let us help you make the most of your trip with all the essential information you need.

City Essentials

Best Time to Visit Barcelona

Know Before You Go

Getting Around in Barcelona

Your Stay in Barcelona

Itineraries

Time zone: Central European Summer Time, GMT+2

Currency: Euro ( € )

Language: Catalan and Spanish

Average Daily Cost: €122

The subtropical climate of Barcelona is moderated by the mediterranean sea, with large fluctuations being very rare, giving it

pleasant weather year-round

.  However, the city does experience subtle variations in temperature and humidity that give it perceptible seasons. Get to know more about the

best time to visit Barcelona

on a month-to-month basis.

Average Yearly Temperature: 21 °C to 15 °C  and 70 °F to 59 °F

Barcelona in Spring 

Spring is when the city starts warming up. Starting in March and ending in May, the rain in this season is more frequent than it is in summer, but nothing enough to put a damper on your plans. In Spring, the festivities are about to begin once more with Easter just around the corner. 

Barcelona in Summer 

The summers are long and bright, starting in May and trailing through September. Surrounded by mountains, this coastal city does see its share of rainfall, so prepare for that. Though the heat can get a little intense, nothing will deter you from engaging in several festivals that take place around this time. Beachside parties, street parades, arts festivals, and outdoor concerts are spontaneous in this season. 

Barcelona in Autumn 

This is possibly the rainiest time of year. It is also when temperatures begin to gradually decrease. This is also the time when it's least likely to be flooded with tourists, so you can explore attractions in the city at your leisure and get some good offers on sightseeing too. 

Barcelona in Winter 

The winters in Barcelona are mild and dry with January and February being the coldest months of the year. It rarely records below-freezing temperatures but does occasionally have frost. This is when the Christmas and New Years celebrations break out with amazing sales offers. So wrap yourself up in a warm sweater and enjoy the wintery outdoors. 

Visa requirements in Barcelona

Barcelona is situated in Spain. Therefore, citizens of European Union countries (EU) and the European Economic Area (EEA) do not need a visa to enter the country. The following countries also do not require a visa to enter: Albania, Antigua And Barbuda, Argentina, Australia, Andorra, Bahamas, Barbados, Brazil, Bosnia And Herzegovina, Brunei Darussalam, Canada, Chile, Colombia, Costa Rica, Dominica, El Salvador, North Macedonia, Georgia, Grenada, Guatemala, Holy See, Honduras, Israel, Japan, Kiribati, Malaysia, Mauritius, Marshall Islands, Mexico, Micronesia, Monaco, Moldova, Montenegro, Nicaragua, New Zealand, Panama, Palau, Paraguay, Peru, Samoa, San Marino, Seychelles, Serbia, Solomon Islands, Saint Kitts and Nevis, San Marino, Singapore, South Korea, Ukraine, United States, Uruguay, United Kingdom, and Venezuela.

If you are not a national of any of the above countries, you will need to apply for a Schengen Visa (also known as a C-type visa). There are different types of Schengen visas depending on the purpose and duration of your visit. You will also need to possess a valid return flight ticket or a ticket for the final country you will be traveling to. 

Internet Plans and SIM cards

When traveling in a different country, the internet is a lifeline. However, roaming costs while abroad can be very expensive. You may want to invest in a local SIM card to cut costs. It works out much cheaper for making calls back home and also to coordinate with people in the country. Just walk into a mobile store in Barcelona and purchase a prepaid SIM and you are ready to go. An advantage is that SIM cards from Spain also have free roaming in other countries in the EU. 

If you are planning to use your own phone, sometimes you may need to 'unlock' your phone if it is tied to a particular service provider (or carrier) to receive network coverage from an alternative service provider from within Spain. 

The largest mobile network provider is Movistar, followed by Orange and Vodafone. All of whom provide 4G and LTE speeds. It's good to keep in mind that  Vodafone networks are present throughout the EU if you plan on visiting other countries. 

Barcelona has a convenient public transport system, as well as other transport utilities that you can use to get around the Catalonian city. When you arrive at the airport, get convenient transfers to some of the main stops in the city like Plaza Catalunya with an

AEROBUS Barcelona Airport Transfer

. The three main ways of getting around are the subways, the trains, buses, and trams. You can use facilities like the

Hola Barcelona Travel Card

which offers unlimited travel in the city by metro, buses, and trams, or the

Barcelona All Inclusive Card

which allows you to see over

70 attractions in the city

, with access to transport facilities. Let's explore each of them. 

Metro

The metro is vast, consisting of 12 lines and more than 160 stations, interlinking different parts of the city. It is operated by the Ferrocarrils de la Generalitat de Catalunya (FCG) and Transports Metropolitans de Barcelona (TMB) and is relatively affordable. The trains run from 5 AM to 12 PM. On Saturdays and on public holidays, the metro runs the entire day! 

Bus

The bus system in Barcelona is perhaps the most used mode of public transport. With a fleet 10,000-strong, and 100-plus routes covering the city is sure to get you to your destination. The buses display their numbers and routes on a LED so watch for that! The buses operate between 5 AM and 8 AM to 10 AM and 11 PM. 
You can also make use of the Night Bus (NitBus) which acts as a stand-in when the metros and buses close for the day. They operate between 10:40 PM and 11:40 PM to 5 AM and 6 AM. Keep in mind that Hola Barcelona cards are not accepted here, since they are operated by a private operator. 

Suburban Railway 

The Suburban Railway, known as the Rodalies de Catalunya, caters to all your out-of-city requirements connecting you with other cities, towns, and villages in Spain. It currently comprises 17 lines, reaching 203 different stations. This is a great option for making day trips to the gorgeous mountains and valleys that surround Barcelona. It operates between 5 AM and midnight. 

Taxi

These hybrid yellow and black taxis are easily identifiable and will get you to your destination in a jiffy. There are several operators acting within the city but all follow the same standardized  fare system, segmented into T1, T2, T3, and T4 categories. You can book cabs by calling the specific cab company or using online aggregator apps like Uber and Cabify.

Tram

There's nothing quite like viewing the city at the leisurely pace of the city tram. You should know that the Trambaix system operates in the western part of the city and Trambesos, in the eastern part. Trams are very frequent and operate between 5 AM and 2 AM. The tram stops are all fitted with machines that can dispense tickets. 

The city of Barcelona, relative to Western European counterparts, is much cheaper when it comes to stay and cost of living. However, it is good to know where you will be staying to make the most of your budget and time here in Barcelona. 

El Born

Often considered the trendy side of town, this neighborhood's medieval streets are lined with designer boutiques, cocktail and tapas bars, and art galleries. The enclosures of residential apartments form labyrinthine alleys and walkways that are charming to stroll through Many sightseeing attractions are situated here, so you may want to opt to stay in this area. 

El Raval 

El Raval is a diverse and vibrant neighborhood with a lot of hidden gems.  You will find a lot of unique shops, boutiques, and markets in this place. Although it is a multicultural residential area, fitted with nightclubs, bars, music venues, and art museums it does have a dark side and is probably best suited for experienced travelers. 

Barri Gotic or the Gothic Quarter 

This is a historical center in Barcelona located in the heart of the city. It begins at La Rambla and ends at the Via Laietana. The Gothic Quarter, as the name suggests, contains several gothic and neo-gothic buildings from the 19th and 20th centuries. Tons to do here, with quaint pubs and intimate restaurants, museums to visit, and labyrinth streets to walk through. 

Plaza de Catalunya or  Catalonia Square 

The Plaza de Catalunya is a popular boulevard bordering important neighborhoods like La Rambla, Passeig de Gracia, the Gothic Quarter, and Portal de l'Angel. Many hotels are located in this area, along with transport services, and therefore a popular choice for tourists. 

Eixample District

You will notice the strictly grid-like pattern followed in the urban layout of this neighborhood, dotted by octagonal blocks of residential buildings. Many creations of Antoni Gaudi can be found here, with the Sagrada Familia being bang in the middle of the region. Although mostly residential, it does have unique shopping complexes and Michelin-star restaurants. 

With so much to do, it might be difficult to decide on your activities in Barcelona. To save on time and hours of research, a pre-planned itinerary might be what you need. How jampacked your schedule will be is up to you and the duration of your stay. We have put together and crafted these itineraries so that you can plan your stay well in advance. 

1-2 Day Itinerary

Day 1

Morning: La Rambla and La Boqueria, Gothic Quarter

Afternoon: Park Guell, Sagrada Familia 

Evening: Barcelona Zoo, La Barceloneta Beach

3-Day Itinerary

Day 1 

Morning: La Rambla and La Boqueria

Afternoon: Gothic Quarter 

Late Afternoon: Poble Espanyol

Evening: La Barceloneta Beach 

Day 2 

Morning: Park Guell 

Noon: Sagrada Familia 

Afternoon: Barcelona Zoo 

Late Afternoon:  Barcelona Aquarium 

Evening: Camp Nou 

Day 3

Morning: Articket Museum Trail 

Afternoon: Palau de la Musica Catalana, Las Golondrinas De Barcelona Cruise  

Late Afternoon:  Tibidabo Amusement Park 

For more detailed information and travel tips, we suggest you take a look at our

Barcelona Trip Planner Guide

. Also check out our

1-Day

,

3-Day

, and

5-Day

itineraries for loads of options on how to spend your vacation in Barcelona. 
What is Barcelona known for?

Situated in the autonomous community of Catalonia of Spain, Barcelona brings the culture, cuisine, language, and arts of Catalan to the world through this globalized city. Come here to try their cavas and tapas. It is known for its festivals like Carnival, Sant Jordi, and La Merce. Its modernist and gothic architectural structures punctuate the street corners with works like Casa Batllo and Sagrada Familia by Antoni Gaud, standing unparalleled in beauty. 

What are the top 10 things to do in Barcelona?

Looking to narrow down on the best 10 things to do in Barcelona? Here's a quick list:

Head on over to the largest unfinished church in the world with Sagrada Familia tickets. 
Visit Park Guell with Park Guell tickets and take in the spellbinding creative genius of Antoni Gaudi 
Have a glass of cava and admire a night show in Gaudi's last residential building with Casa Mila tickets. 
Visit Antoni Gaudi's early work with his first residential project, Casa Vicens. 
Have a day out in the wild by visiting the zoo with Barcelona Zoo tickets.
Camp Nou tours are for Die-hard FC Barcelona fans  that must make a pilgrimage to this breathtaking stadium   
Try exhilarating rides at the PortAventura World  theme park. 
Ride up the Montjuic hill with a Montjuic Cable Car.  
Have a fun-filled day at the Tibidabo Amusement Park 
 View Mediterranean marine life at the Barcelona Aquarium 

What are some free things to do in Barcelona?

In Barcelona, the enthralling public spaces will leave you content without spending a dime. For instance, you can walk down the Gothic Quarter and admire Gothic-style buildings and ambiance. Sit at the camel bunkers of Turo de La Rovira that overlook the city.  Laze around the delightful park of  Parc del Laberint or sunbathe at Barceloneta Beach. 

When is the best time to visit Barcelona?

The best time to visit Barcelona for outdoor activities and attending festivals is from April to July and the best time to go sightseeing is in the months of April, May, September, and October when the crowds of tourist decrease. If you want to travel on a budget, visit between November and February. 

How many days are needed to visit Barcelona? 

That depends on what you are looking for in the city. However, a day to seven days should be more than plenty to visit all of the city's major attractions. You might want to create an itinerary so that you get to do the activities you want to do, or visit the sights you want to see. We have carefully crafted 1, 3, and 5-day itineraries that you can use right off the bat!  

What are the best things to do in Barcelona with kids?

Here is a list of things to do with your kids in Barcelona for a fun-filled time. 

 Check out several theme-based amusement parks in PortAventura.
Go on exhilarating rides with Ferrari Land tickets. 
Discover Mediterranean marine life with the Barcelona aquarium 
Head to the Barcelona Zoo to learn more about Catalonia's biodiversity 
Take a picture with stars and celebrities at the Wax Museum of Barcelona.
Get tickets to the Big Fun Museum for an outlandish experience with sensory illusions.  

What are some things to do alone in Barcelona?

Solo traveling? Try these activities for a fun and meaningful time in Barcelona. 

Take a Barcelona self-guided audio tour of the city to explore Barcelona at your own pace
Go on a Gaudi tour, to view the modernist architectural creations of Antoni Gaudi
Walk through the alleys of the Gothic Quarter and El Born for warm fuzzy feelings. 
Try tapas at some of the alleyway restaurants with their intimate ambiance in the Gothic Quarter. 
Visit Park Guell for a beautiful view of the city

What are some unusual and unique things to do in Barcelona?

Try feeding the birds at the Plaza de Catalunya or Catalonia Square. You also visit Casa Vicens which is a lesser-known Gaudi building. Visit the kinky mosaic of photographs, the unique El Món neix en cada besada or 'The world begins with every kiss'. Attend an art exhibition at the MACBA (Museu d 'Art Contemporani de Barcelona) or CCCB (Center de Cultura Contemporània de Barcelona) art museums. Or chart the turf maze of the stunning Horta Park for some good old fun. 

What are some fun things to do on the weekend in Barcelona?

Here is a quick itinerary for how to spend your weekend in Barcelona!

 

Day 1 

To start with you can stroll through the charming boulevard of Las Ramblas and Plaza de Catalunya. Then meander through the busy market of Mercado de la Boqueria and try Catalonia delicacies. Attend a flamenco show Tablao Flamenco Cordobes in Las Ramblas.

Day 2 

The next day, try viewing any of the modernist monuments on a Gaudi tour like Casa Batllo, Casa Mila, and Guell Palace. You can then turn your attention to the Picasso Museum, and in the evening by viewing the Sagrada Familia. End the day by going club hopping in many of Barcelona's nightclubs. 

Day 3 

Start the day by entering the grand football stadium, Camp Nou. Then get to the top of Montjuic Hill by taking a long cable car ride. Finally, unwind by the beach at Barceloneta Beach and congratulate yourself on a weekend well spent. 

Where can I go shopping in Barcelona?

Visit La Boqueria or El Rastro in Las Rambla, for Spanish olive oil, wines, ceramics, and souvenirs. Head to Paseo de Gracia, the Avenida Diagonal, and El Born for luxury brands. For essentials like electronics and affordable fashion,  go to the Plaza de Catalunya (Catalonia Square). El Raval is good for vintage fashion, music stores, and antiques. For second-hand books, and collectibles head on over to the Sant Antoni area.  

How do I get around Barcelona?

The most common and efficient way of getting around Barcelona is using the highly interconnected metro.  The bus is your second-best option with over hundreds of routes to choose from. You can hail a taxi to get to your destination with the least hassle, but it will cost you. Take the tram for a leisurely commute. You can also use the suburban commuter railway for traveling long distances within and around the city. Also, you might want to invest in travel passes like the Hola Barcelona Travel Pass. 

Where should I stay in Barcelona?

You can choose to stay in any of Barcelona's vibrant neighborhoods like El Born, El Raval, Plaza de Catalunya, Eixample District or the Gothic Quarter.

What food is famous in Barcelona?

You should try Spain's special Manchego cheese, made from the Manchega breed of goats. Have Pa amb tomàquet, a traditional Catalonian snack quite like bruschetta. Jamon Iberico or  Iberian ham is finely cured pork,  unique to Spain. Next, try the Esqueixada, a refreshing Catalan salad made of olive oil, salt cod, tomatoes, onions, olives, and hard-boiled eggs. Don't forget to also sample some Catalonian churros!  

Which are the best tours in Barcelona?

Check out these tours in Barcelona that are considered the best by popular demand:

Is Barcelona safe to visit?

Barcelona is a safe city and you should encounter no problems on your travels. Just take precautions as any sensible traveler would in a different city and you should be fine. In crowded markets, bus and train stations, and alleyways, so you might want to look out for pickpockets. 

Is Barcelona expensive?

Barcelona when compared to other Western European and North American cities, is much cheaper. However, in Spain, living and traveling costs are slightly higher when compared to cities like Madrid and Valencia.
Early Access Guided Tour to Montserrat Monastery from Barcelona

Eileen

March 2022

*****

Our tour was great and our guide Cecil was very pleasant, helpful, and knowledgeable. We loved our time at the monastery.

Park Güell Timed Entry Tickets

Elizabeth

November 2022

*****

Raul (not sure if I spelt this right) was a knowledgeable and fun tour guide, who shared many personal stories that made us see Park Guell through the eyes of someone who lived during that period! The site itself was beautiful, and the experience was enriched by Raul's storytelling and knowledge about all areas of the site. He also happily answered all our curious questions. After the tour, we freely roamed different areas again, to capture any picture opportunities we missed or explore new areas.

Priority Access to Sagrada Familia + Escorted Entrance

Rosa

November 2022

*****

I highly recommend Headout for a tour. We enjoyed our tour guide. She was knowledgeable, friendly, approachable, kind and fun. My husband has some challenges and she was very attentive and thoughtful to point out where he could sit and where the lift was to accommodate him.

My only critique is the headsets used were not good. It was hard to hear the guide at times. They need better quality equipment.

Seine River Cruise 

The cruise was very interesting and fun! The boat went past many famous buildings and I appreciated the short commentary explaining what can be seen at the moment. I enjoyed the fact that the itinerary formed a loop and the boat came back to the same port it set out from but by a different path.

Dorota

November 2022

*****
Home
Things to do in Barcelona