Sagrada Familia Tickets
Of all Antoni Gaudi's architectural masterpieces, the Sagrada Familia is considered to be Barcelona's crown jewel. The church's imposing structure, intricate work, stained glass windows & views from the top make a must-visit. With Sagrada Familia tickets, enjoy fast-track entry, guided tours, and combo experiences.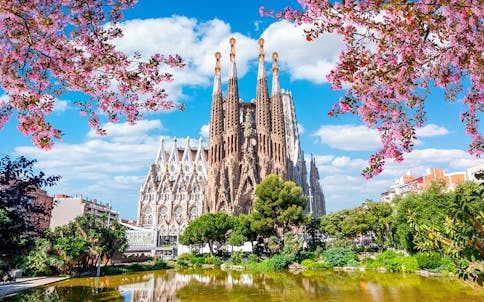 Headout's Top Recommendations
Free cancellation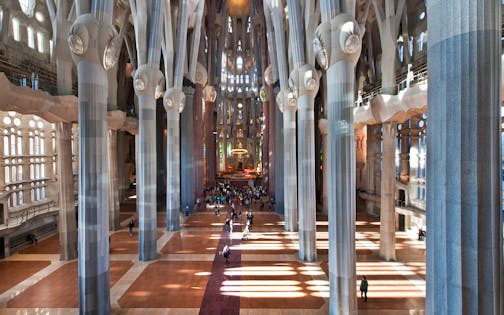 Inclusions
Priority access to the Sagrada Familia with an escorted entrance
Access to the museum inside the Sagrada Familia
30 min introductory commentary from a licensed guide (English and Spanish)
Skip the line ticket to Sagrada Familia Basilica
Accredited official guide
English, French, Spanish, German or Bilingual tour depending on your preference.
Priority Access to Sagrada Familia.
Access to the Passion Facade Tower.
1.5-hour guided tour of Sagrada Familia.
English speaking official tour guide.
Cancellation Policy
These tickets can't be cancelled or rescheduled.
These tickets can't be cancelled or rescheduled.
You can cancel these tickets up to 48 hours before the experience begins and get a full refund.
Sagrada Familia Tickets Guide

One of the most iconic churches in Europe, Sagrada Familia is a UNESCO World Heritage Site that sees hundreds of visitors each day. Let's take a look at Sagrada Familia tickets, tour highlights, timings and more.
Sagrada Familia Ticket and Tour Options Explained

A standard Sagrada Familia fast track ticket will gain you entry into the Basilica. Visitors can choose from a number of

ticket options

such as skip-the-line tickets, Sagrada Familia guided tour tickets, and combo tickets. Access to the

towers

, however, is not included in these tours unless specifically mentioned. Therefore, visitors need to purchase a ticket with tower access if they wish to visit climb up the Nativity or Passion facades.

Please keep in mind that due to the COVID-19 pandemic, entry into the Sagrada Familia will be restricted. All visitors are encouraged to purchase their tickets online. All visitors are required to arrive on time and wear masks for the entire duration of their visit. 

Fast Track Entry Tickets

Fast Track Entry Tickets With Tower Access

Guided Tours

Combo Tickets
Visiting Sagrada Familia can prove to be an overwhelming experience due to its popularity. However, here is all the information you'll need for a seamless visit. 

Timings

Getting to Sagrada Familia

Entrances

What are the opening hours of Sagrada Familia?

Sagrada Familia opening hours will vary depending on the month of your visit.

November - February from 9:00 AM to 6:00 PM 
March from 9:00 AM to 7:00 PM
April - September from 9:00 AM to 8:00 PM
October from 9:00 AM to 7:00 PM
December 25 & 26 and 1 & 6 January from 9:00 AM  to 2:00 PM

What are the Sagrada Familia Mass timings?

Saturday and on the eve of holy days of obligation- 8:00 AM
Sunday and on holy days of obligation - 9: 00 AM

How long does it take to tour Sagrada Familia?

It takes at least 1.5 hours to explore Sagrada Familia. If you wish to climb the towers, it is wise to keep aside another hour.

How do I get to Sagrada Familia?

Reaching Sagrada Familia is quite easy as the network of public transport is quite well connected. You can choose to take the bus or the metro depending on your convenience.

How do I get to Sagrada Familia by metro?

Metro lines L2 and L5 will take you to Sagrada Familia.
Nearest Metro Station: Sagrada Familia.

Can I get to Sagrada Familia by bus?

Yes. You can take buses 19, 33, 34, 43, 44, 50, 51, B20, or B24 to reach Sagrada Familia.

How many entrances does Sagrada Familia have?

Sagrada Familia has two entrances, one near the Nativity facade and one near Carrer de Sardenya road.

Is there a ticket counter at Sagrada Familia?

Yes. If you wish to purchase tickets, head over to the entrance near Carrer de Sardenya road. You will find a ticket counter there. However, if you have a pre-purchased ticket, you can access the attraction through the Nativity facade entrance.

Which entrance is used for Sagrada Familia group tours?

If you have tickets for a group tour, head over to the group entrance at Carrer de la Marina. You will also find a ticket counter there where you can make group bookings.
Read on to find out what makes Sagrada Familia Barcelona's most visited landmark.

Nativity Facade

Through the Nativity facade, Gaudi has beautifully depicted the birth of Christ. Here, one can find elements of Christianity such as the depictions of the Three Wise Men, the Tree of Life, the Holy Trinity and more. Gaudi has also borrowed heavily from nature, with motifs of plants and human figurines carved across the length of the tower. The Nativity facade is a sprawling structure decorated with intricate artworks and carvings, and consists of  four towers and three doors. 

Passion Facade

If the Nativity facade depicts the birth of Christ, the Passion facade represents the passion and death of Jesus Christ. Considerably simpler in look as compared to the Nativity facade, the Passion facade is nevertheless a sight to behold. Gaudi has made use of plain stones and geometric shapes to enhance its simplicity. Interestingly, the Passion facade consists of four towers, each representing the four Apostles - James, Thomas, Philip, and Bartholomew.

Spiral Staircase

In sync with Gaudi's brand of architecture, the spiral staircase borrows heavily from nature. Fashioned to represent a snail, this staircase consists of 504 stairs and is used while coming down from either one of the towers. These railing-free stairs are extremely safe and a pure testament to Gaudi's architectural brilliance. 

The Interior

The interiors of Sagrada Familia draw inspiration from both Christianity and nature. Symbolisms of both these elements can be found throughout the structure, from its tree-like columns and shell-shaped stairs to the Latin cross-shape of the basilica. The architecture of the Sagrada Familia is that of the Gothic style.

The Architecture

The original design of the Sagrada Familia consisted of eighteen spires, one for each of the twelve Apostles, the Virgin Mary, the four Evangelists and Jesus Christ. The tallest spire represents Jesus Christ and stands at a height of 560 feet. Interestingly, since Gaudi believed that no man-made structure should surpass the creations of God, he built the structure in such a way that it would be one-meter shorter than Barcelona's highest point.
Which Sagrada Familia towers are open to the public?

The Nativity Facade and Passion Facade are open to the public.

Do I need to buy a separate ticket for the Sagrada Familia Towers?

Yes. Towers are not included in the standard admission ticket and must be bought separately.

Is photography allowed inside Sagrada Familia?

Yes. Photography is allowed inside the Basilica.

How long in advance can I purchase my Sagrada Familia tickets?

Sagrada Familia tickets can be bought roughly two months before the visit.