Gaudi Tours Barcelona
Immerse yourself in the magical architecture of Antoni Gaudí. Explore his legacy through skip-the-line tickets and guided tours of his best works, including Casa Batllo, La Pedrera, Park Guell, and Sagrada Familia!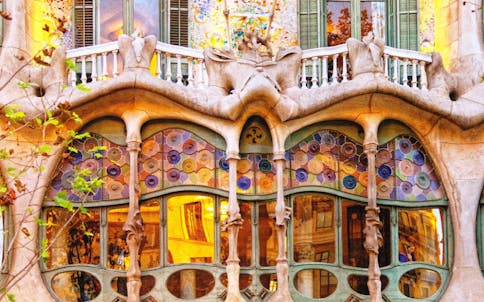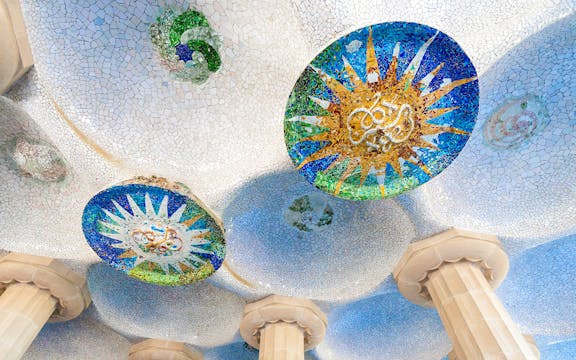 Headout's Top Recommendations
Inclusions
Admission tickets to Casa Milà.
Skip-the-line entry to Casa Milà.
Assistance from floor staff on any questions regarding Casa Vicens
Audio guide (downloadable at site)
Cancellation Policy
These tickets can't be cancelled or rescheduled.
These tickets can't be cancelled. However, they can be rescheduled up to 24 hours before the experience begins.
These tickets can't be cancelled or rescheduled.
Gaudi Tours Barcelona Guide

Antoni Gaudi was a Catalan architect in the 17th century who was a proponent and key figure in the Modernista movement in design architecture. His creations are today UNESCO world heritage sites. Gaudi's buildings are known for their unique neo-gothic styles, taking inspiration from catholicism and natural elements. Access some of his most prominent works with our guided tours and tickets such as the Casa Mila, Colonia Guell, Casa Batlló, Park Guell, and his crowning achievement the Sagrada Familia. 
All Your Gaudi Barcelona Tickets & Tour Options

In this section we will be exploring all your Gaudi tours and ticket options. Choose from a carefully curated list of experiences that guarantee the best prices and quality of service. At Headout we have in-store experience tickets, skip-the-line tickets, guided tours, and combo tickets. Read below to learn more.

Skip-the-line tickets

Timed-Entry Tickets

Guided Tours

Combo Tickets
Which Gaudi Tour Should You Go For

If you are on a budget

If you are looking to be prudent with your trip budget, then go for skip-the-line and timed entry tickets. Most of these experiences will include an audio guide and the skip the line feature will allow quick access to the attraction.

If you are looking for an in-depth tour

A guided tour is good for gaining an in-depth understanding of the complex designs Gaudi used for his monuments and buildings. The experienced eye of our tour guide will help point out interesting things you might miss out on with just an audio guide. 

If you are looking to explore more in Barcelona

If you are interested in looking at more than one Gaudi building, you might want to try exploring combo tickets to access more of Gaudi's houses. These combo tickets also include guided tours of the structures and also fast-track access. 

If you are looking for round trip transfers
Gaudi Tours Barcelona Discounts & Offers

Free Entry

Free entry for children (age limit may vary) accompanied by a guardian and disabled persons upon presentation of suitable ID.

Discounted tickets

Reduced prices are available for students and children.

Cashbacks

Receive a cashback of upto 10% on your Gaudi Tour tickets
Plan Your Visit for Gaudi Tours in Barcelona

Opening Hours

Getting there

Guidelines/Facilities

What is the best time to go for a Gaudi Tour in Barcelona?
The morning time around when the attractions open is generally considered the best time to visit and avoid crowds. The best time to visit Barcelona is between May to June when temperatures are moderate. 

How long is a Gaudi Tour in Barcelona?
The guided tours of creations of Gaudi can range anywhere from 1 hour to 3.5 hours. This will depend on the attraction you are visiting and whether or not combo attractions are included.

How do I get to Gaudi Buildings?


Buildings created by Gaudi are mostly located in Barcelona. Within the city, one can avail of the extensive public transit system that includes the Metro, bus, trams, taxis, car and bicycle. Read our

Everything You Need To Know About Public Transportation In Barcelona

to get a good idea of the city's transportation. 

Can I travel by metro/train for a Gaudi tour in Barcelona?
Yes, Barcelona has a very extensive metro network. It has eight metro lines that are color-coded and connect different parts of the city. It also has the Barcelona Funicular Railway and Ferrocarrils de la Generalitat (FGC) lines that supplement the metro system. 

Can I travel by bus for a Gaudi tour in Barcelona?
Over 1000 buses operate in Barcelona alone, covering 100 different routes within the city. 
Depending on the day of the week and route, they run from anywhere between 5 AM and 8 AM and end at 11 PM. They also have access ramps for the disabled to board the vehicle.

How long does it take to get from Barcelona to Colonia Guell? 
All of Gaudi's houses and creations are located within Barcelona except the Colonia Guell which is 20 km away from the city. It takes around an hour to reach. However, return transfers are included in the Colonia Guell experience.  

How far are Gaudi attractions from one another?
Gaudi buildings are distributed all over Barcelona. Some attractions can be found in clusters in proximate neighborhoods. The Placa Reial and Palau Guell can be found in the Gothic Quarter. Likewise, Casa Vicens and Park Guell are in the Gracia district. Casa Mila and Casa Batllo are really close to each other, located in the Eixample district along with the Sagrada Familia. 

Are Gaudi tours in Barcelona wheelchair accessible?
All locations are wheelchair accessible. At Park Guell, one can even rent wheelchairs for use within the premises.  

Is photography permitted in Gaudi tours Barcelona?
At most locations, personal photography is allowed. However, photography or videography for commercial or professional purposes is not. 

Are outside food and drinks permitted inside Gaudi houses and buildings?
In most cases, such as in the Sagrada Familia tour and the Casa Mila tour, drinking and eating is prohibited inside the venue. However, In attractions like Park Guell, there are designated eating areas.  

Are return transfers a part of Gaudi tours?
Return transfers are only available for the Colonia Guell experience.

Is there a dress code for Gaudi tours in Barcelona?
The dress code at the Sagrada Familia is strictly enforced. Please avoid tank tops, strapless shirts, short shorts, and sandals.
What to See On A Gaudi Tour of Barcelona?
Things to do in Barcelona
Gaudi Tours Barcelona - Tickets & Tour FAQs

Are tickets for Gaudi tours available online now?

Yes, tickets to Gaudi's houses and creations are available for purchase. It is advisable to book tickets in advance to get your preferred date and time of visit.

What are the different types of Gaudi tours?

In our Gaudi tours collection, we have skip-the-line tickets, timed entry tickets, guided tours, and combo tickets. Skip-the-line tickets help you get fast-track access to the venue. Timed Entry tickets are budget tickets for a quick view of the attraction in a limited time. Guided tours will include an expert-led tour guide who will elaborate on interesting parts of the buildings and structures. Combo tickets on the other hand will allow you to visit more than one Gaudi building and may include extra features like skip-the-line access and guided tours as well.

Is skip-the-line entry included in my Gaudi tours Barcelona?

Skip-the-line entry is included in several of our Gaudi tours. These can be stand alone tickets or as part of your guided tour tickets or combo tickets. Be sure to check out if your purchased ticket has this feature to bypass queues.

Are return transfers included in Gaudi tours Barcelona?

Return transfers are included only in our Colonia Guell tickets with transportation to/from Barcelona where you can reach a common meeting point in Barcelona and be transported to and from there.

Are guided tours a part of my Gaudi tour options??

Yes, guided tours are available in our Gaudi Tour collection. Peruse through our guided tours of Sagrada Familia, Casa Vicens, Casa Mila, and much more! Guided tours are also available in our combo tickets of Park Guell and Sagrada Familia. A guided tour with an expert tour guide will give you a deeper insight into how Gaudi created his unique buildings.  

How do I get to the different Gaudi landmarks?

Barcelona has a holistic public transport system. Utilize transit cards like Barcelona Card, and

Hola Barcelona Travel Card

to get around faster and cheaper. 

Tram 
This is an environmentally friendly, fast, and convenient way to get around in Barcelona. The trams connect with important shopping areas, residential areas, business zones as well as smaller towns within the metropolitan area. You can use the Tram to visit attractions by Antoni Gaudi. 

Bus
Barcelona's fleet of 10,000 buses covers over 100 routes in the city. Buses usually start at 5 AM and 8 AM and stop services between 10 AM and 11 PM. If you are making a late-night trip, you can also avail of the night bus service (NitBus) which operates in most parts of the city between 11 PM to 6 AM. 

Metro 
Barcelona has eight metro lines that connect different parts of the city. It should be helpful in getting you to your Gaudi building of interest. Remember, the metro runs from 5 am to midnight on weekdays and Sundays, except Fridays where it runs from 5 am to 2 am.    

Taxi
The hybrid yellow and black taxis of Barcelona will get you exactly where you want to go. Just make sure the green light on the roof is lit and you are good to go. Various companies operate in the area, so you can book via phone. You can also use cab aggregator services like Uber and Cabify. 

Bicycle 
With 240 km of cycle lanes, special traffic lights, and ample parking spaces, this city actively encourages cyclists by catering to their needs. In a tightly knit space like Barcelona, you might find bicycles very convenient.   

What is the best time to go for Gaudi tours in Barcelona?

The best time to visit venues of Gaudi's works would be in the morning, around the time the venue begins accepting visitors. This way you can avoid the rush of large crowds and take your time inside the venue.

Are Gaudi tours Barcelona wheelchair accessible?

Yes, most buildings and houses by Gaudi are wheelchair accessible with the constructions being adapted to suit the needs of wheelchair users and strategically placed access ramps. Make sure to check for wheelchair-renting facilities at the venue as well.