Officially the second most populous city in Spain, Barcelona is perhaps best known for showcasing the now renowned works of Antoni Gaudi and Lluís Domènech i Montaner. Apart from the many, many UNESCO World Heritage sites that dot the Barcelona landscape, there are tons of other things that'll delight tourists, including beautiful beaches, mild climate and most importantly a robust public transport system.

Now, you might be wondering just why did public transport system rank so high up in the list of things Barcelona has got going for it. The answer is pretty straightforward. When traveling to a new, likely foreign destination on a budget, having access to a well-planned public transport system is a godsend. Here's everything you need to know about the Barcelona public transport system.
Barcelona Public Transportation - The Basics
---
Like we mentioned, Barcelona has an enviable public transport system and this tight network features many options for you to travel around the city. Most popular amongst these are the subway, trains, buses, and trams. In addition, there are local trains, sightseeing trains, night buses, cable cars, funicular railways and many other means of transport.
If you're visiting Barcelona for the first time, getting the hang of the complex transport network can be challenging. If this is your first time in Barcelona, consider getting the Hola BCN Pass. This handy pass grants you access to all of Barcelona's public transport options, including trams, buses, metro, FGC city network, trains and more! Book your Hola BCN Pass here: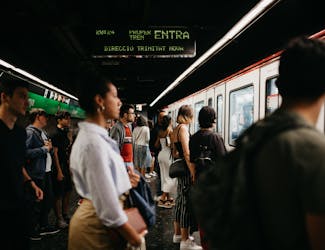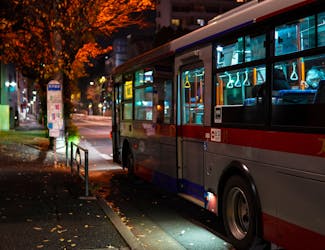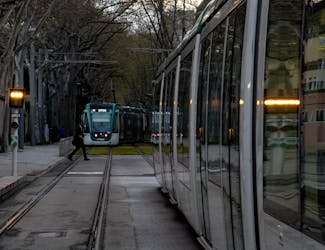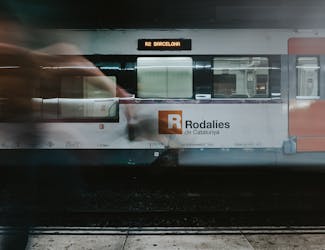 Suburban Railway
From €2.40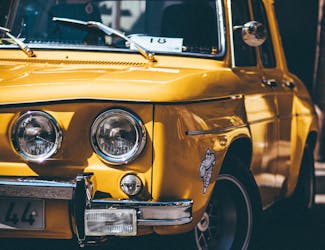 Going From The Barcelona-El Prat Airport To The City Center
---
Landing at the Josep Tarradellas Barcelona-El Prat Airport? Here are some easy ways you can reach the city centre from the airport:
Aero Bus: The fastest way to reach Barcelona city centre from the airport would be the Aerobus. Featuring two separate lines that connect T1 and T2 with Placa Catalunya, the buses stop at Sepulveda-Urgell and Placa d'Espanya.
Metro Underground: The Barcelona underground metro network connects to both the airport terminals via line L9 Sud. The metro stops inside the building at terminal 1 and outside the building at terminal 2.
Train: The train station is located in terminal 2 and trains run from the airport to the city centre every thirty minutes. You can get off at Barcelona Sants, Passeig de Garcia or Clot, as all three stations are serviced by the underground metro network.
Taxi: If you're in a hurry to leave the airport, opting for a taxi would be your best option. Taxi stops are located in front of both terminals 1 and 2.
Barcelona Public Transportation Deconstructed
---
Here are the different modes of public transportation in Barcelona, with easy hacks and tips to make the best of it. Read on and travel like a local.
Established in 1924, the Barcelona Metro features a dense and well-connected network of 12 lines and over 160 stations. Operated by two companies, Ferrocarrils de la Generalitat de Catalunya (FCG) and Transports Metropolitans de Barcelona (TMB), the metro is one of the most popular means of transport in the city. The most obvious reason for that is that the metro runs independent of road traffic, followed by the relatively pocket-friendly cost.
Timings: 5 AM - 12 Midnight; Sat & public holidays: 24x7
Payment Mode: Hola Barcelona Card
Cost: From €2.40 (single ticket)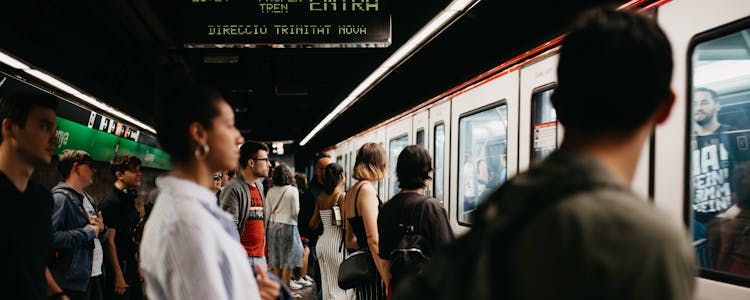 Often described as the backbone of Barcelona's local transport system, the TMB buses have a massive 230 lines currently running. To identify which bus you're supposed to take, take a look at the bus lines that are scheduled to stop at the bus stop you're waiting at. Figure out which line goes to your destination and wait for the bus to come to the stop. TMB buses display their line numbers on top of the front panel making it pretty easy to spot.
Timings: Between 5 & 8 AM- 10 & 11 PM
Payment Mode: TMB App
Cost: From €2.40 (single ticket)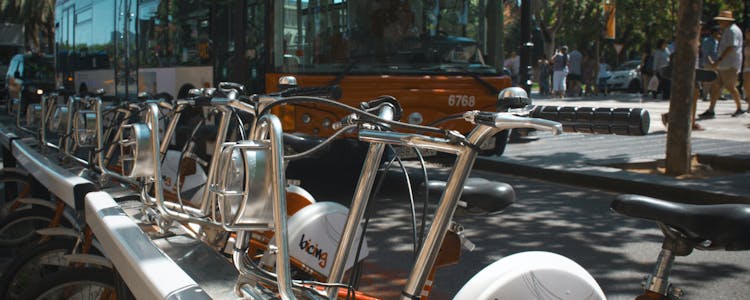 Since the Barcelona metro and bus services don't operate throughout the night, there's a great alternative you can rely on. Barcelona features a robust network of night buses that will get you back to your accommodation no matter the time. All the night bus lines, except N0, stop at Placa Catalunya and change there. The N0 is a special line that allows you to circle around the city centre and change to any other night bus. If you wish to go to the airport, take a bus on the N17 line. The NitBus lines are operated by AMB, a private operator, which is why the Hola BCN ticket and Barcelona Card are not accepted.
Timings: Between 10:40 PM & 11:40 PM - 5 AM & 6 AM
Payment Mode: T-10, T-Día or TMB
Cost: From €2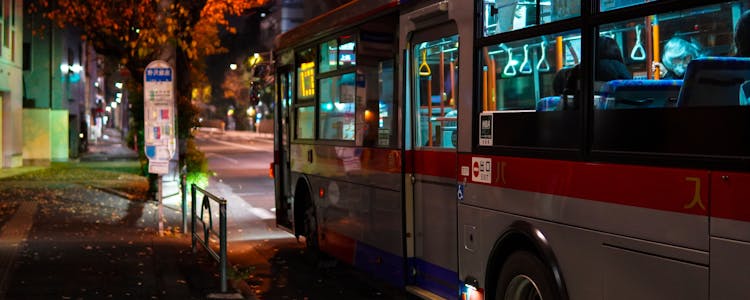 Ideal for a day trip to some of the unexplored yet wonderfully charming towns that dot the Barcelona outskirts, the tram is an old school mode of transportation that brings with an undeniable charm. The present two tram systems, Trambaix which runs through the western part of the city and Trambesos, which connects to the eastern part of the city. You can expect a tram to arrive at a particular station around four times in an hour. Each tram stop features a ticketing machine where you can buy your ticket for £2.20. Do remember to validate your ticket upon boarding the tram.
Timings: Between 5 AM & 2 AM
Payment Mode: Self-service machines
Cost: From €2.40 (single ticket)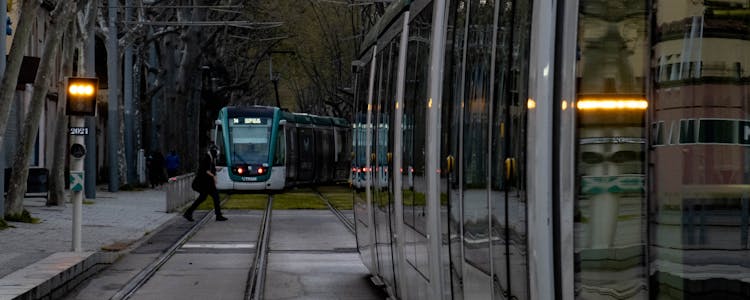 If you're planning a 1-2 day escape from Barcelona and venture to some of the city's equally fabulous neighbours, opting for the suburban railways network might be your best option. Known as the Rodalies de Catalunya or Rodalies, the railway system houses a total of 17 lines, serving a whopping total of 203 stations. Rodalies is the official rail network of Spain and operated by Renfe Operadora. Tickets for these trains are available at all Rodalies station and the cost depends on the starting point and destination. With over 1000 trains running daily over a well-connected network, there's really no place in Spain you can't get to via a Rodalies train.
Timings: 5 AM - Midnight
Payment Mode: Credit/Debit/PayPal
Cost: From €2.40 (single ticket)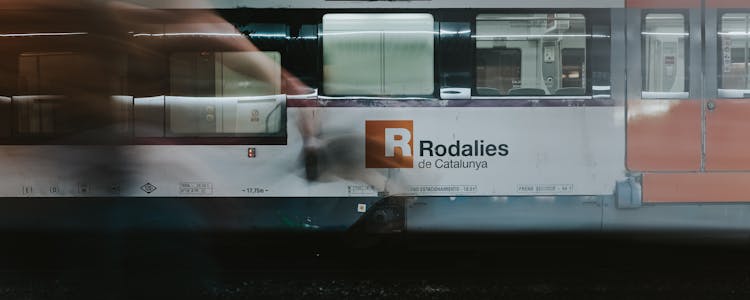 If you prefer a slightly more convenient mode of transport, there are upwards of 11,000 taxis available in Barcelona. Easily identifiable by their black and yellow colour, these taxis will take you to wherever you want to go as long as they have a green light on their roof! There are around 260 taxi ranks in the city where you can easily hail a taxi. There's a standardised fare system set for the taxi network in Barcelona, making it easy for tourists to get around. The fares are divided into four categories, namely T1, T2, T3, and T4.
Timings: 24x7
Payment Mode: Cash/Credit card
Cost: Base fare: €2.25; €1.18/km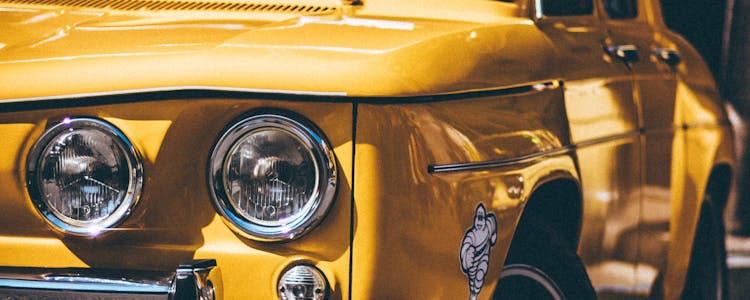 Best way to get around Barcelona
---
There's really no objective response to what the best way to get around Barcelona is. It all depends on what your expectations are from the experience among other important things like time and budget.
Quickest Mode
If you're short on time and need to get around the city quickly, the subway would be your best bet. The underground subway network avoids the city traffic and gets you to your destination in no time. But, you really won't get to explore the city if you opt only for the subway since the track and stations are all underground.
Convenient Modes
On the other hand, buses and trams allow for a more laid-back travel experience. You can discover the sights and sounds of Barcelona at your own pace aboard a bus or a tram. Both these modes of transport traverse the entire city and offer you the perfect opportunity to truly explore everything Barcelona has to offer.
Best for Sightseeing
For a mode of transport that allows for sightseeing and also saves time, you can opt to travel via train. The Barcelona train network is very intricate and will get you to all of the city's major landmarks.
Again, there's no official best way to travel in Barcelona. You have tons of options to choose from and depending on your objectives, you can make your pick.
Barcelona Transport Passes
---
Given the intricate transport network that Barcelona is home to, you can bet there are many variations of transport passes available for your perusal. Here's a brief look at some of the most popular ones (and why we think the Hola BCN trumps them all) :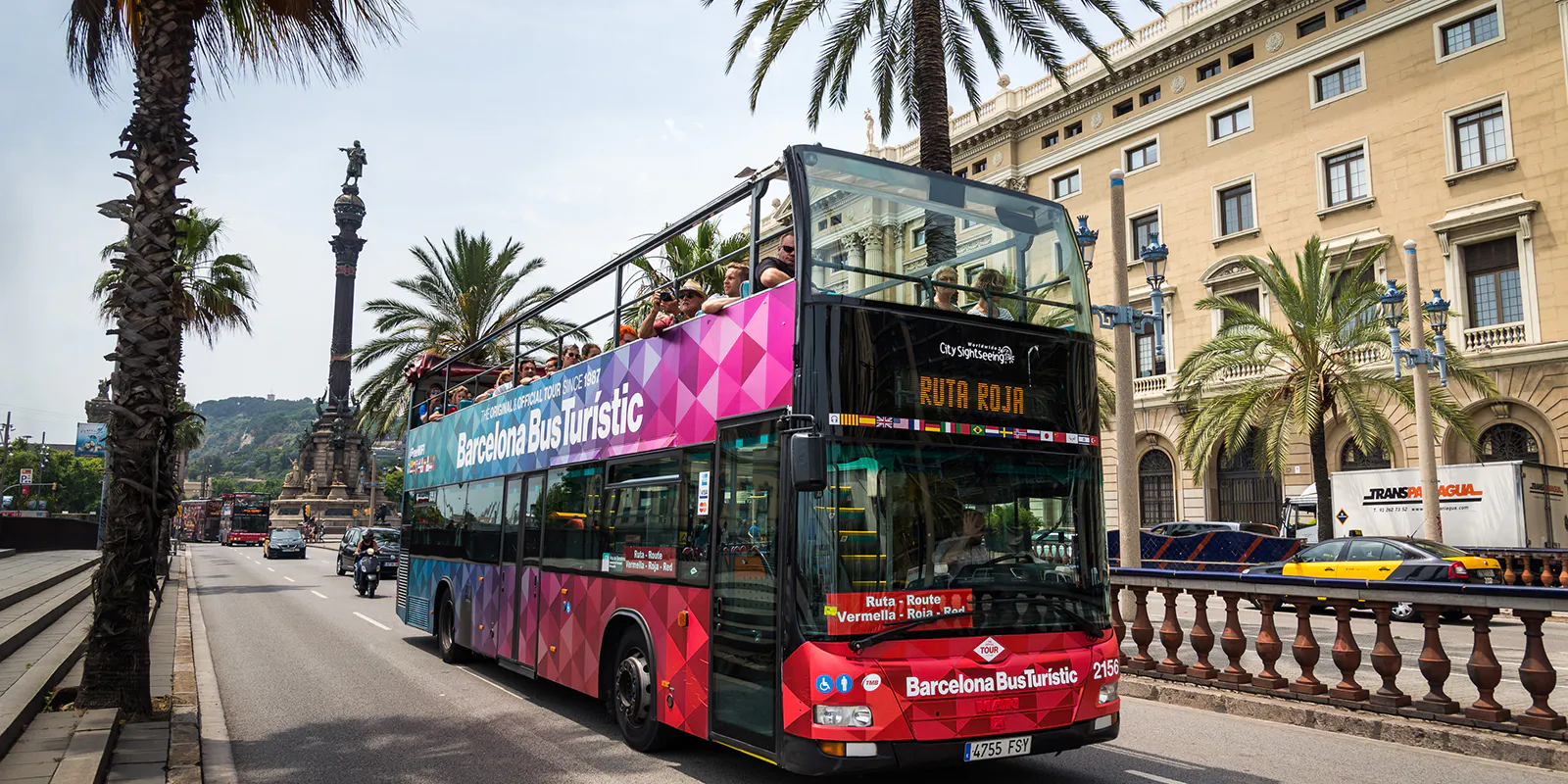 Single Ticket
This one isn't really a pass but given that it's a one-way ticket that is accepted at all transport systems, it deserves a spot on this list. Costing only €2.15, this ticket is valid for a one-day journey without any transfers and is accepted at the subway, trams, suburban trains or any of the various buses plying throughout the city. You can get your one-way single ticket in any ticket office or from any of the vending machines located outside the subway stations. Alternatively, you can also purchase the ticket from bus drivers.
Barcelona Card
Amongst the most popular choice for tourists is the famed Barcelona Card. Apart from unlimited access to the city's public transport options, the card offers its holder numerous discounts on entrance fees of Barcelona's many epic landmarks. There are also many landmarks and museums you enter for free if you hold a Barcelona Card. Attractions, where you can enter free of cost, including the Monastery of Pedralbes, Torre de Collserola, Musea Blau, Botanical Gardens and many others! Discounted entry attractions include the iconic Sagrada Familia, La Pedrera and more! The Barcelona Card is available in three variants, 3-Day, 4-Day and 5-Day.
T–10
The T–10 travel card grants tourists a 10-journey ticket and allows for up to three transfers as well. The card is available in 6 variants, divided into 6 zones with each zone having a different validity time. Here's a breakdown of all the variants:
Zone 1 travel card costs €10.20 and is valid for 1:15 hours
Zone 1 travel card costs €10.20 and is valid for 1:15 hours
Zone 2 travel card costs €20.10 and is valid for 1:30 hours
Zone 3 travel card costs €27.40 and is valid for 1:45 hours
Zone 4 travel card costs €35.25 and is valid for 2:00 hours
Zone 5 travel card costs €40.50 and is valid for 2:15 hours
Zone 6 travel card costs €43.05 and is valid for 2:30 hours
The great thing about the T-10 travel card is that it allows up to 10 people to use a single card to access four types of transport options! This card is also perfect for tourists who are planning on staying in the city for extended periods of time.
Hola BCN
We have saved the best for the last and you'll see why! The Hola BCN travel card offers unlimited access to Barcelona's public transport, including the metro between the city centre and the airport and vice versa. The latter is a definite highlight since none of the above passes offers airport connectivity. If you're wondering which means of transportation are covered under the Hola BCN pass, here's the lowdown; buses run by TMB, trams, FGC network, metro lines, and RENFE suburban trains. Explore the enchanting city of Barcelona at your own leisurely pace with this convenient travel pass that allows you to discover Barcelona like a true local. Depending on the duration of your stay, you can opt for a 2 Day, 3 Day, 4 Day or a 5 Day pass! The unlimited access remains the same for all these day passes and you can use the pass as many times in a day as you wish!
Barcelona Public Transportation: Tips & Hacks
---
The T-10 allows you to change transport in a single trip as many times as you wish, as long as you reach your destination within 75 minutes. For instance, you can take a bus to the city centre for a journey of 15 minutes and then take a 20-minute metro to the beach. Both these trips will be counted as one ride and not two. Take advantage of the T-10 pass by planning your travels to fit the 75 minutes time frame.
Given that there are so many transport options to choose from, your final selection depends on your personal expectations and goals.
Planning is essential to the success of any trip. When you have a fair idea of how each of your days is supposed to pan out, you can actively work towards figuring out just how to get there.
Route maps and other information for Barcelona's transport system is available online.
If you have a bit of time in your hands and a desire to truly explore Barcelona in all its glory, we would recommend the Hola BCN travel card.
More Barcelona Guides
---
Fancy heading out to some other must-visit Barcelona attractions? Take inspiration from our list of the best things to do in Barcelona here. Use our comprehensive Barcelona Travel Guide to explore the rest of Barcelona in a hassle-free fashion with all the need-to-know information in hand.
Visiting Barcelona for the first time? Get all the insider info and score tickets at unbelievable prices with Headout. Check out these guides to learn more.
FAQs: Barcelona Public Transportation
---
Metros, trams, and the FGC railways are the cheapest modes of transportation in Barcelona.
According to residents and tourists of Barcelona, metros and taxis are considered safe public modes of transportation.
Single tickets for public transportation in Barcelona start at €2.40 per ride. You can purchase them at vending machines at metro stations and aboard buses.
Barcelona is very walkable with wide pedestrian boulevards. Most of the city's attractions can be experienced by walking.
The T-10 ticket costs €10.20. This lets you travel around for €1 per trip instead of €2.40.
Barcelona Public Transportation