When the legendary Catalan architect Antoni Gaudi was given a lush natural park to develop a hi-profile gated residential community of 60 houses, he planned and directed something that will inspire generations to come. Today, the Park Guell Barcelona receives an annual footfall of around 12 million tourists and most of them come out mesmerized with the architectural wonder. Park Guell by Gaudi was commissioned by Count Eusebi Güell in 1900 and houses attractions like the Dragon Stairway, the Hypostyle Room, and the Porter's Lodge Pavilion among others. Read on to know if the Park Guell Barcelona Ticket is worth your penny.
Essential Information for Visiting Park Guell
---
Handy information
| | |
| --- | --- |
| 📍 Best Entrance: | Entrance C |
| ⏰ Suggested Duration: | 1 hour |
| ☀️ Best Time to Visit: | Early Morning |
| 💜 Must See: | Doric Temple |
| 🎟️ Park Guell Entry Ticket: | €10 |
| 😍 Park Guell Guided Tour: | €22 |
| 🫶 Park Guell + Sagrada Familia Combo Deal: | €44 |
Must-see
Casa del Guarda
The Stairway
Sala Hipóstila
Plaça de la Natura or the Greek Theatre
Austria Gardens
Things to know
Number of visitors per year: 12 million
UNESCO World Heritage Site designation: 1984
Established: 1914
Architect: Antoni Gaudi
Architectural style: Modernisme
Opening Hours And Address
Daily: 9:30 AM to 7:30 PM
Address : Carmel Hill Gracia Barcelona, Spain
Get Directions
Why You Must Visit Park Guell Barcelona
---
Park Guell, spread over 18 Hectares of hilly land, was originally envisioned by Count Eusebi Guell to be a miniature city for Barcelona's affluent class. But within few years of development, the project was abandoned. Even so, Gaudi continued to develop it as a park. Ever since its opening to the public in 1926, the estate has been a major crowd-puller. Keep reading to find out what sets this historic park apart and how you can experience the best of Park Guell Barcelona in a few hours.
Know Before You Purchase Park Guell Barcelona Tickets
---
400 tickets are sold every half hour.
The entry time on the ticket provides a 30 minute grace period, for e.g. a 10:00 AM ticket allows admission till 10:30 AM.
Once a ticket is validated, you can't leave the premises and enter again with the same ticket.
Purchasing tickets online allow you to dictate entry timing according to your convenience, which might not be the case otherwise.
Booking your tickets online can save you 1 Euro per ticket as ticket window surcharge is excluded.
Additional discounts are often available on purchasing the ticket online.
You can opt for regular tickets or guided skip the line tour; get discounted ticked from headout.com
Kids below 6 years are not charged a ticket, and young adults between, 7 – 12 can enjoy discounted rates.
In case of a guided tour, your guide will meet you at the meeting point 15 minutes prior to your slot.
The meeting point for Park Guell guided tours is at the Souvenirs Shop located in Carrer d'Olot nº 12, in front of the main entrance of the Park Güell.
If you also wish to visit Sagrada Familia, you can avail discounted combination guided tours to Park Guell and Sagrada Familia. The discount combo ticket also includes transfers between Sagrada Familia and Park Guell.
With the Barcelona City Pass, you can get free entry to Park Guell.
The official guides are architectural experts and you can choose from the options of monolingual or bilingual (English and Spanish) or multilingual guides.
A free official audio guide is available for your smartphones, Android, and iPhone, that can help you take a self guided tour of Park Guell.
Park Guell Barcelona Tickets
---
According to Barcelona Turisme, more than 9 million people visit Park Guell every year, making it one of the most popular attractions in Barcelona. Purchasing Park Guell skip the line tickets are a must as the park has become increasingly notorious for ticket lines with waiting times of up to 40 minutes.
Purchasing your Park Guell Barcelona Tickets online is highly advisable. Here are the 3 best Park Guell Barcelona tickets. Simply click on the tickets and book your tickets for a smooth Park Guell tour.
Park Guell's History
---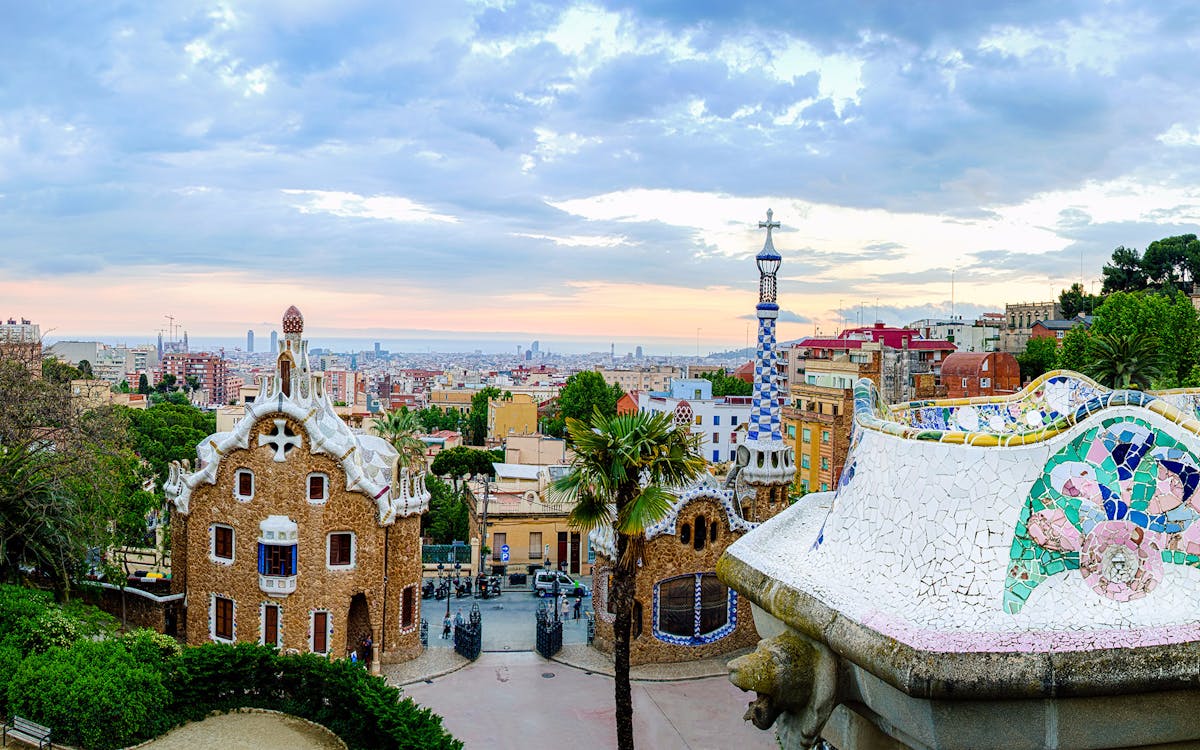 Never intended to be a park, Park Guell was touted to be a Utopian dwelling in the middle of a park. Eusebi Guell, a wealthy industrialist hired Gaudi to bring his vision to life. Gaudi worked on the project for 14 years until the Count died in 1914 and his heirs decided to stop the project as not even a single house was sold. In 1922, the city of Barcelona bought the half-built residential complex and converted the 17-hectare area it into a public park by 1926. Since then the popularity of the park has been on the rise, the authorities initially divided the park into two zones and by October 2013, the monumental zone was restricted by ticket.
Park Guell's Unique Architecture
---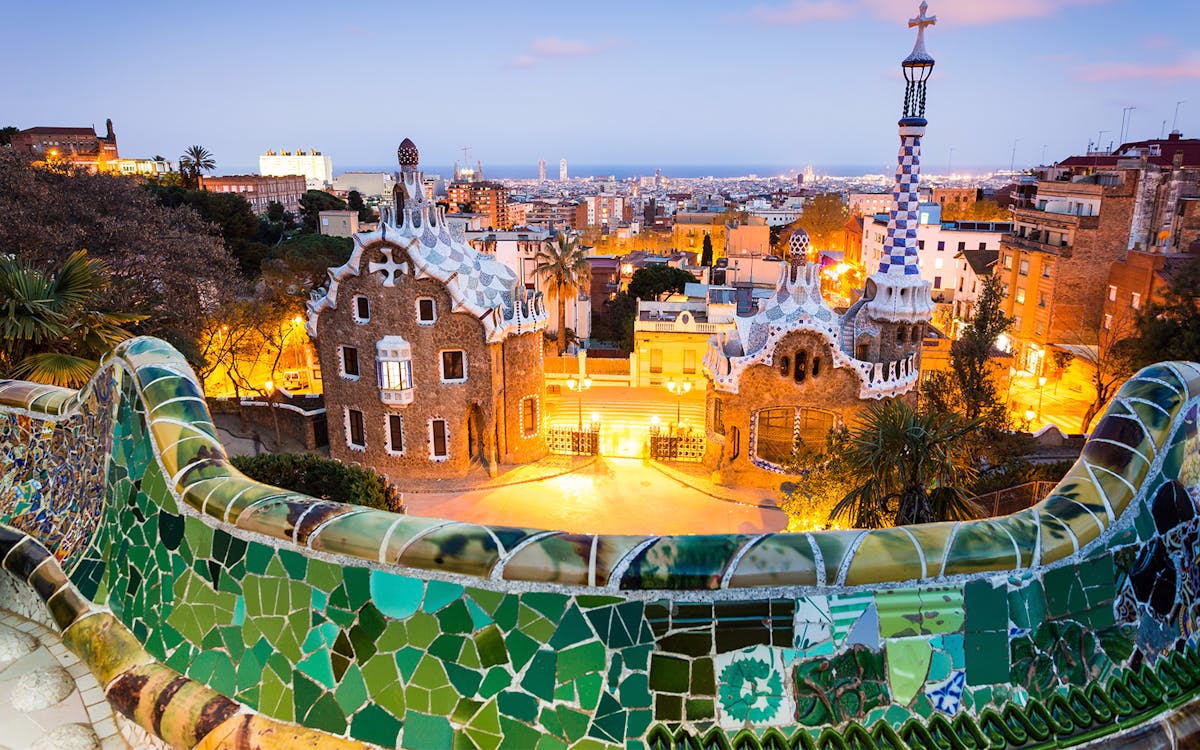 Gaudi not only managed to bring a fairytale to life with his architecture he also invented Trencadís. Trencadis is a mosaic created by small pieces of broken ceramic. The use of this technique is almost unanimous throughout the park. The genius architect effortlessly involved his inspiration nature, everywhere. From the fluidity of the design to their structure, from sculptures to motifs, that allowed this concrete architecture to stand as one with nature. Animals such as salamander, snake, octopus, and lions are incorporated at various junctures by using trencadis, while flowers are introduced via various motifs spread all across the park.
Your Park Guell Tour Deconstructed
---
Who would want to miss the chance to witness the architectural marvels created by an architect dubbed as the "God's Architect"? As the popularity of Park Guell and the subsequent footfall increased so did the wear and tear on the property. To conserve Gaudi's masterpieces the authorities divided the Park Guell Barcelona into two parts namely the Monumental Zone and the Free Zone.
The Park Guell Monumental Zone has most of Antoni Gaudi's work and covers around 5% of the park. As the name suggests the free zone has free entry, whereas entry to the monumental zone has been restricted by tickets since October 2013.
Monumental Zone
Though in terms of size the monumental zone, also known as the monumental core occupies just 5% of the overall park, in terms of marvels and attractions it takes the cake. Here are some of the highlights of the Park Guell Monumental Zone.
Porter's Lodge Pavilion
Resembling something like gingerbread houses from Hanzel and Gretel, the two trencadís-speckled pavilions stand on either side of the entrance. The left building hosts a waiting room and telephone booth.
Dragon Stairway
Standing guard over the twin flight of steps is the infamous multicolored mosaic salamander aka the dragon. Easily the most popular attractions of the park, it is also an icon for Barcelona.
Doric Temple/ Sala Hipóstila / the Hypostyle Room
This picturesque structure is supported by 86 stone columns, the outermost ones lean in like bent trees giving the whole composition the naturalistic appeal, perfectly encapsulated by Gaudi.
Greek Theatre/ Plaça de la Natura/ Nature Square
Later renamed to Plaça de la Natura aka Nature Square, the Greek Theatre was originally intended to be an open-air theatre. Nowadays, the area is often dotted with souvenir sellers.
Laundry Room Portico
The spiral ramp is shaped in the form of a great wave resting atop slanting columns, serving as one of the finest examples of Gaudi's naturalistic and organic design.
Banc de Tracadis
A mesmerizing, long, and serpentine bench adorned with tile-shard mosaics created by one of Gaudi's closest contemporaries, Josep Maria Jujol. It lies alongside the Nature Square acting as a balustrade.
Austria Gardens
A donation of trees in 1977 from Austria was what christened this plant nursery as Austria Gardens. Developed later it has a completely different look in comparison to the rest of the park.
What is the Free Zone?
The Free zone comprises of sprawling acres of winding paths lined with a stream of sculptures inspired by nature. While you enjoy the flora and fauna of the Park Guell Barcelona, it also lends you spectacular views of the city. While most of the free zone is untouched yet well manicured flora, the Gaudi's House Museum falls in this zone and demands a visit.
Gaudi House Museum
One of the park's original homes was home to Gaudi himself and has now been turned into a museum about his life and work. You have to buy an additional ticket from the official website as the museum isn't part of the standard Park Guell ticket or the guided tour.
Gaudi's Museum is located in the Free Zone outside of the Monumental Core. Plan your visit such that you visit the Gaudi Museum before or after the Monumental Core. This is because you cannot re-enter the Monumental core once you exit.
Best Time to Visit Park Guell
---
Nothing can beat the experience of exploring Park Guell by the morning light. Try to enter before the 9:00 AM slot, to avoid crowds and enjoy good vantage points. You can also opt for a later timing, closer to the closing time, to enjoy the city views by the sunset. In this case, cover the attraction before sunset as it is not highly illuminated.
Entry is free before and after the park timings as access controls are removed. If you're on a budget and want to explore the Park for free, try squeezing in during these free hours. The crowd tends to hoard during the noon hours, hence ignore time slots between 1:00 PM and 4:00 PM as much as possible.
All You Need to Know Before Visiting Park Guell Barcelona
---
Park Guell Hours
Although the park is open at all times, the monumental zone is time bound. The timing varies and notably, the last entry is one hour prior to the closing time.
The Park Guell is open daily from 9:30 AM to 7:30 AM. Park Guell Barcelona is open all the year round, including December 25th, May 1st and other international holidays.
Park Guell Entrance
Located on Carmel Hill in Barcelona, Park Guell Barcelona has three entrances namely, Carrer de Larrard, Carretera del Carmel, nº 23 and Sant Josep de la Muntanya.
Carrer de Larrard: This is the main entrance to Park Guell Barcelona and is easily approachable via bus and metro lines. This entrance entails walking up the steps and some climbing to reach the monumental zone.
Carretera del Carmel: This entrance is next to the parking lot for the couches and taxis. Quite approachable by the bus and Metro, you can also avail a drop from a taxi. From here the monumental zone is just 100 meters away. This entrance is also known as Plaça de la Natura.
Sant Josep de la Muntanya: This entrance can be accessed by an escalator, which will spare you most of the climb to the hill.
Here are 3 maps that show the Park Guell Entrances in detail. Download them and keep them handy on your phone to navigate to the closest entrance.
Carrer de Larrard
Carretera del Carmel
Passatge de Sant Josep de la Muntanya
Park Guell Directions
By Bus - H6, D40, 24 and 92 lines
The bus route of H6 and D40 takes a stop at Travessera de Dalt, which is a 10-minute walk from both Sant Josep de la Muntanya and Carrer de Larrard. As for buses on 24 and 92 line stops at Carretera del Carmel-Park Güell.
Additionally, the Bus Turístic (blue line) and the Barcelona City Tour, "East" route (green color) stops at "Park Güell", which is a 10-minute walk from the Carretera del Carmel
By Metro – Green line L3
The green line L3 metro stops at two stations that are close to Park Guell Barcelona. Lesseps and Vallcarca stops are both a 20-minute walk from the nearest entry point, Sant Josep de la Muntanya.
By Car
Park Guell Barcelona has 13 spaces for taxi parking, 12 are at the on Carrer de Marianao and the other one is at Carrer d'Olot. In addition parking for tourist coaches is also available. Coaches usually drop off at Carretera del Carmel entrance.
Park Guell Map
Here's a compact Park Guell map that will come useful during your Park Guell visit. Download the Park Guell Map and keep it handy on your phone!
Here's another Park Guell Map that shows you the entrances and a clear demarcation of the free zone and monumental core.
Park Guell Facts That Will Leave You In Awe
---
Heritage: In 1984, the Park Guell was declared as a World Heritage Site by UNESCO under "Works of Antoni Gaudí".
The Iron Gates: The palm leave shaped iron gates surrounding the property wasn't part of Gaudi's initial plan. They were brought in from Casa Vicens to replace the wooden gates, sometime after the death of Gaudi.
No Straight line: Gaudi believed that nature doesn't do straight line and thus replicating his inspiration; he used only curved line all through the property.
Flora and Fauna: Not just as an inspiration, the park preserves nature with utmost care. Spot a wide variety of flora and fauna around the park including several non-native species of parrots, short-toed eagle, and hummingbird hawk moths among others.
The best vantage point: The terrace of Park Guell overlooks Barcelona and the 110 meters long vantage point boasts some of the best photographic views of Barcelona. Lined with benches decorated with colorful mosaics, it is probably the first ergonomically designed benches in the World.
Park Guell Reviews
---
Park Guell is a lovely place and the guide make the experience even better with great explanation and highlights about the place
- Nurul, Headout, February 2023
The venue was beautiful and we were very lucky with the weather. It's January, so noit to many tourists are there and we had great views. The guide was funny and had knowledge. The taxi driver dropped us off at the wrong point even though we told him to go to the suggested area and showed him the picture.
- Simone, Headout, January 2023
Insider Tips for Visiting Park Guell Barcelona
---
Prepare to walk : The overall experience of Park Guell by Gaudi entails long walks, steep climbs, and stairs. So arm yourself with comfortable shoes and minimum weight in your carry ons.
Saving time : Booking tickets beforehand not only saves you money but also spares you the wait in line or the wait for your time slot to arrive, lending you more time to enjoy the park in its entirety.
Avoid the main entrance : If you have pre-booked your ticket, avoid entering from the main entrance. Choose amongst the other entrances as they are less crowded, hence allowing easy entry.
Back-up : Food and Beverages uphill are scarce and overpriced, carry some food and water along.
Sun-protect : If you are visiting during summers apply a good sunblock and carry goggles, caps or scarves to escape from the scorching heat as the shaded area in the park is a luxury seldom available.
Limited Mobility : Though the free zone is wheelchair friendly, the staircases pose a hindrance for those who have limited mobility, especially in the monumental zone.
Night views : While the entry at night is free of charge, the UNESCO World Heritage Site is not highly illuminated. You can enjoy the view of the town but not the works of Gaudi.
Leave your luggage home : There are no luggage lockers available at the Park Guell. Hence, come along with minimum luggage as pulling a trolley or lugging a rucksack along the hilly terrain can be a tedious task.
Ready to Visit Barcelona?
---
Here are a few more of Gaudi's wonders that you can explore while in Barcelona
Freaquently Asked Questions About Park Guell Barcelona
---
Why is Park Guell famous?
What can you do at Park Guell?
What does Park Guell look like?
What was Park Guell intended for?
What is the monumental zone of Parc Guell?
When was Park Guell made?
What makes Parc Guell unique?
How long does Park Guell take?
What is the best time to visit Park Guell?
Can you get into Park Guell for free?
How much does it cost to visit Park Guell?
Do you need tickets for ParK Guell?
Is Park Guell free on Sundays?