The unique and flamboyant Casa Vicens was actually meant to be a summer home for Manel Vicens y Montaner, a stock market dealer and broker. Despite being just thirty years old, Antoni Gaudí's first commission turned out to be a masterpiece, what with its bright green and white tiles and its ornate cast-iron gate. It is considered to be one of the first great works of Catalan Modernisme. After 130 years, Casa Vicens Barcelona opened its doors to the public in 2017. Today, it is a world-famous house museum set up to honor Gaudí, and is also UNESCO World Heritage Site!
Know Before You Go
---
Casa Vicens Opening Hours
April-October: daily, from 10am to 8pm
November-March: Monday, from 10am to 3pm. Tuesday to Sunday, from 10am to 7pm
Closed: January 6th and December 25th.
You'll need at least 75-90 minutes to explore the place.
Casa Vicens Tickets
General Tickets - €18 (Ages 12+)
Reduced- Ages between 12 to 25 years old, and over 65 years old will be charged €16
Free Admission for children below 11 years old, accompanying person with functional diversity and members of Club Super3
Best Time to Visit Casa Vicens
---
The best time to visit Casa Vicens would be during spring, that is, between March and May. The building is exceptionally beautiful at the time, and as an added bonus, the Museum offers a spring specialty in the form of an apple cinnamon roll and rose tea!
Learn more about the best time to visit Casa Vicens and the city itself, with our guide to the Best Time to Visit Barcelona.
Why Visit Casa Vicens
---
As Gaudí's inaugural commission after graduating from the Regional School of Architecture, his innovative style and touch is seen to the fullest extent in Casa Vicens Barcelona – in fact, Gaudí treated this work as an outlet for all his creative ideas. After extensive restoration work, its conversion to a museum has resulted in the creation of multiple fascinating exhibits, all of which bear a central theme – inspiration from nature, as can be seen in Casa Mila, another of his works.
Must-visit exhibits of Casa Vicens include the dining room with original Gaudí-designed furniture, a specially designed smoking room with plaster replicas of palm trees, bedrooms decorated with leafy foliage, and a lush garden inspired by the Mediterranean. There's even a cozy café, Hofmann Cafeteria, serving bocadillos or Spanish baguettes to eat – the perfect way to round off a tour of the work of one of the most famous architects in the world!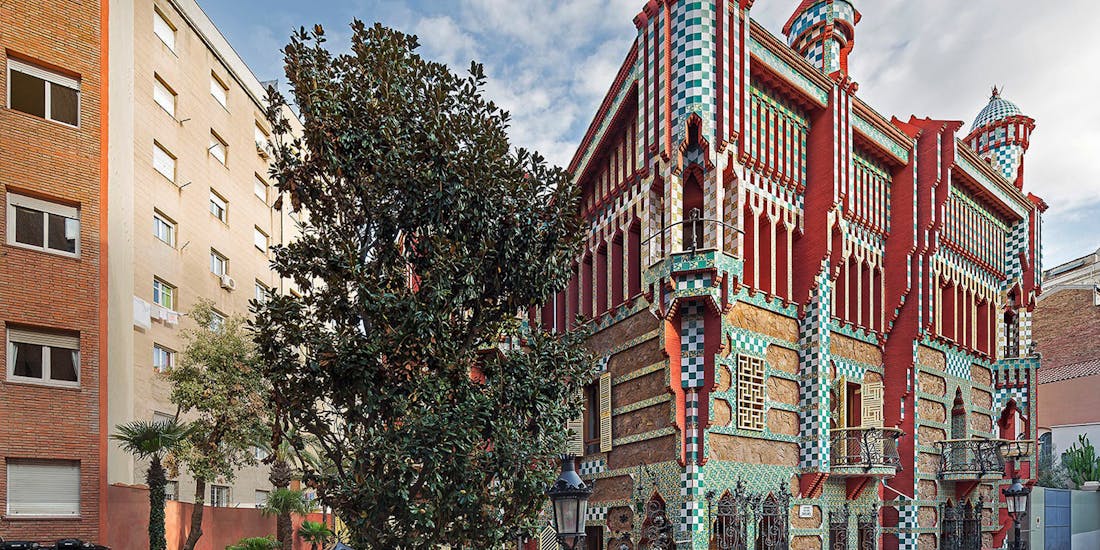 Casa Vicens Architecture
---
Gaudí's style of architecture and his intuitive application of bright and seemingly eccentric colors paved the way for a new form of design altogether – Modernisme. Heavily influenced by nature and a type of Moorish revival architecture called Neo-Mudejar, this special design was incorporated in the form of horseshoe arches and vibrant facades seen in Casa Vicens. Additionally, it can also be seen in the birds, vines, and ivy that decorate the tiles, the ornate cast-iron gate, the murals, and even some of the furniture in the house.
Using multiple materials (even papier-maché!), Gaudí created a beautiful home inspired by global sources, with traces of Indian and Japanese forms of architecture. Antoni Gaudí believed that 'the house is the nation of the family' – and true to his belief, the Casa Vicens truly represents a style and culture of its own.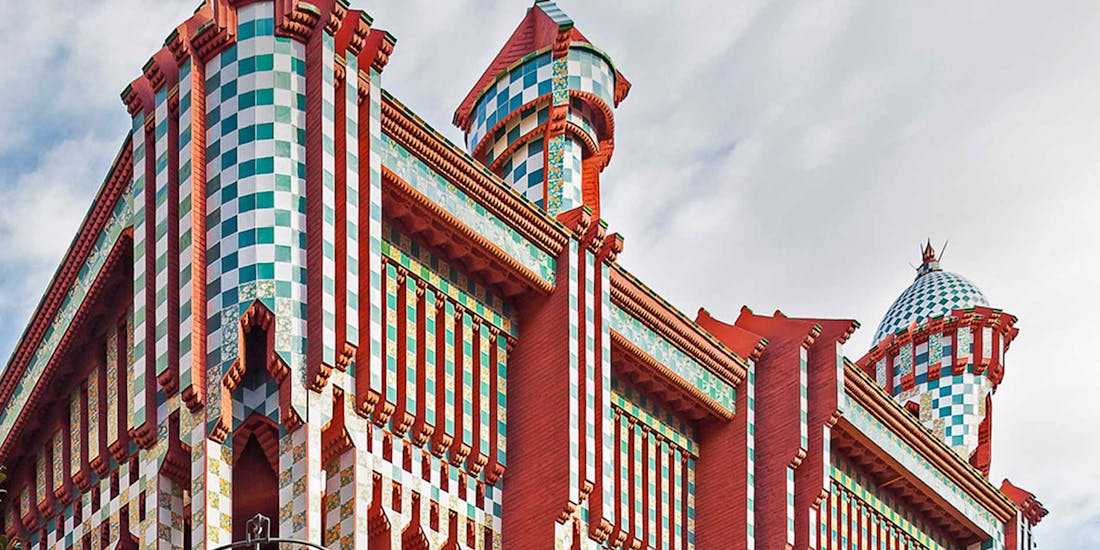 What Not to Miss at Casa Vicens
---
This is the perfect place to get away from the hustle and bustle of life, and take in some quiet time. As Gaudí's first accessible rooftop, it features curved terracotta tiles to collect rainwater, and also has three chimneys covered in green and white tiles. Inspired by orientalism, this special smoking room features palm trees adorned with clustered of dates made from plaster, and papier-mache tiles in green, blue and gold – the room gives the effect of being in an oasis, an alternate reality where one can relax to the fullest The dining room is particularly special, featuring wooden furniture designed by Gaudí himself, as well as 32 paintings by Spanish artist, Francesc Torrescassana. The room is decorated with vibrant ceramic tiles and ornate plant motifs on the walls, once again showing Gaudí's love for nature.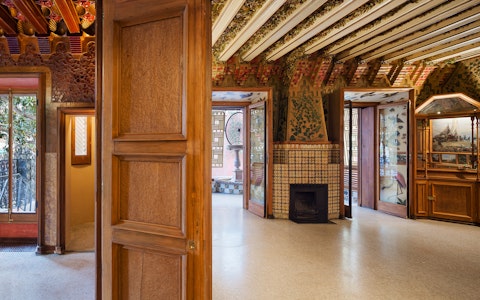 4

Francesc Torrescassana's Paintings
Commissioned by by the building's original owner, Manel Vicens i Montaner, these paintings by Spanish artist Francesc Torrescassana depict historical subjects, portraits, landscapes, and genre scenes. They were displayed after extensive restoration work by by a professional team from Policromia. Another distinguishing characteristic of Gaudí's work was his use of multiple media. The most prominent materials used were wood, ceramic, and iron. Intricate ironwork is seen in the cast-iron gate in the form of palm-tree leaves and carnations. Another material that Gaudí used liberally at the Casa Vicens Barcelona is ceramic tile. They can be seen in vibrant colors all over the house, blending together Gaudí's distinctive style with Moorish inspiration. Where to Buy Casa Vicens Tickets
---
Getting There
---
Metro: The nearest station, Fontana (L3), is 250 m away.
Bus: 22, 24, 27, 32, 87, 92, 114, V17
Restaurants Near Casa Vicens
---
Insider Tips for Your Visit
---
Purchase tickets in advance - Tickets for Casa Vicens can be purchased online or at the ticket office on the day of your visit. However, we recommend purchasing tickets in advance to avoid long lines and sold-out days.
Arrive early - Casa Vicens opens at 10am, but we recommend arriving closer to opening time to beat the crowds.
Take a guided tour - A guided tour of Casa Vicens is included with your ticket purchase, and we recommend taking advantage of this. The tour lasts about 45 minutes and is conducted in English.
Allow time to explore the grounds - In addition to the main building, there are also extensive gardens and grounds to explore. Allow at least an hour to fully enjoy all that Casa Vicens has to offer
Don't miss the gift shop - Before you leave, be sure to stop by the on-site gift shop for unique souvenirs and gifts.
Things to Do Nearby
---

THE GAUDI TOUR
Top 12 Wonders of Gaudi You Cannot Miss!
There's no leaving Barcelona without going on a Gaudi Tour. Walking by his timeless architecture, with an expert historian guide narrating interesting lores and facts about the building is an experience of a lifetime. If you're not much of a guided tour person, you can do a Gaudi Tour in Barcelona all by yourself - a self guided Gaudi Tour!
Casa Vicens Reviews
---
This house is right next to Casa Batlló. Totally different style but the story of the family and the architecture of the house really need to be seen and not just a glance and a photo from the outside!
DavidOfWatford, TripAdvisor, July 2018
Beautifully restored Gaudi first commission which is so fine from conception to detail. It is full of interesting exhibits telling the relationship to the arts and crafts movement and other movements related to modernism. Gaudi is a startling fusion of art, architecture and craft. There is also a small pleasant cafe and great shop which sells really interesting books and cards and real art and craft not the usual tourist trash. Great place to start on Gaudi - you will want to do more.
Michael C, TripAdvisor, June 2018
FAQs
---
Where is the Casa Vicens?

Why is Casa Vicens important?

When was Casa Vicens built?

How long does it take to visit Casa Vicens?

Has Casa Vicens reopened after Covid-19?
Are Skip the line tickets available for Casa Vicens?

Are guided tours available for your visit to Casa Vicens?

What are the opening hours of Casa Vicens?