Much of Barcelona's architecture, and in some ways the city's culture from the last century, have been shaped by often fantastical visionaries and artists. None more influential than Antoni Gaudi. His brilliance can be see in many buildings across the city, including Sagrada Familia and Casa Mila. A little different from all of these is Park Guell, a stunningly designed park that sits on the Carmel Hill and is one of the most visited attractions in Barcelona. To visit Barcelona and not see the Park Guell is nothing short of sacrilege. In this guide, we will take a close look at the Park Guell Monumental Zone, what makes it special and how one can get tickets to enjoy Gaudi's amazing creation.
Monumental Zone vs Free Zone
---
With the ever increasing popularity of Barcelona as a tourist attraction and Park Guell as a Barcelona landmark, tourists in large numbers began visiting Park Guell. Over time, this lead to some of Gaudi's monuments to age faster than expected, showing minor signs of wear and tear. In order to preserve the monuments, a decision was taken to restrict the number of people who visit the core area of the park and thus, the park was divided into two zones - the Monumental Zone and the Free Zone.
The Monumental Zone is the core attraction of the park and home to some of the most iconic Gaudi monuments. It roughly occupies around 5% of the total Park Guell area and requires a paid ticket to enter. In order to control the crowds, a maximum of 400 people are allowed in every half an hour. On the other hand, the Free Zone occupies most of the area that surrounds the Monumental Zone and is free to enter.
Park Guell Monumental Zone Tickets
---
Must-see in the Monumental Zone
---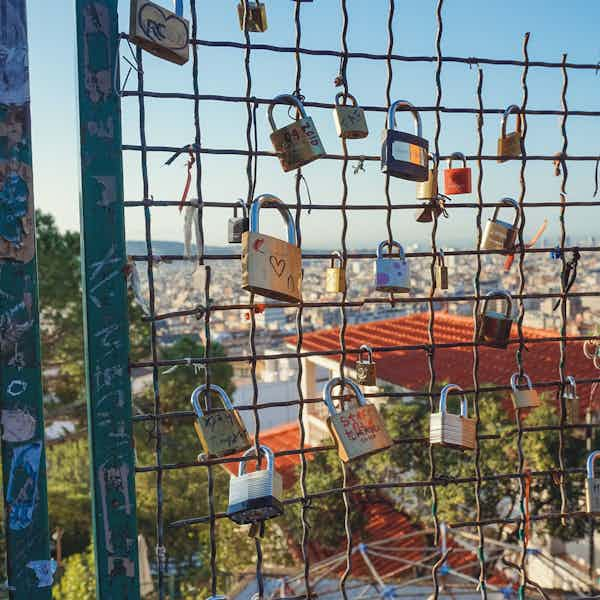 Porter's Lodge Pavilion
The main entrance to Park Guell is located on Carrer d'Olot. Once you enter, you will find two pavilions on either side of entrance. These buildings make up the Porter's Lodge Pavilion. The one of the left was used as a waiting room and telephone booth while the other one was used as the porter's residence. Both buildings have beautiful roofs that are covered in the traditional Catalan clay trencadís (a mosaic made of tile shards) style.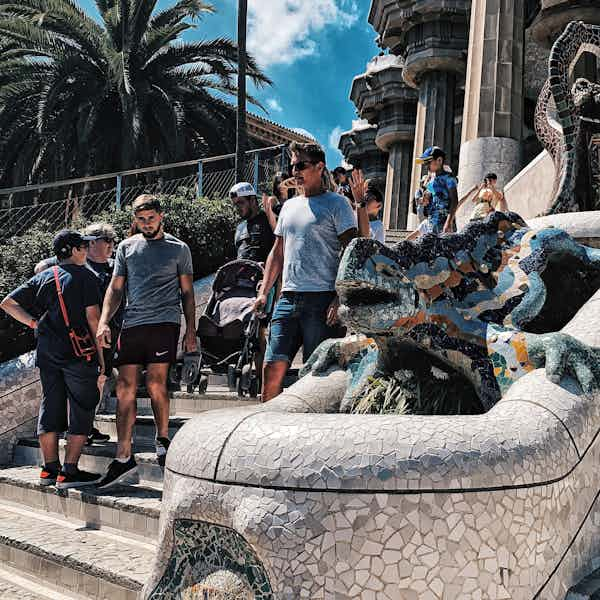 Dragon Stairway
The image of the Dragon Stairway is what most postcards from Park Guell are adorned with. It is divided into three sections with the water from a fountain running along. The first landing is decorated with shapes such goblins. As you go up, you'll find an emblem of Catalonia and a dragon, or salamander, covered with traditional tile-shard mosaics.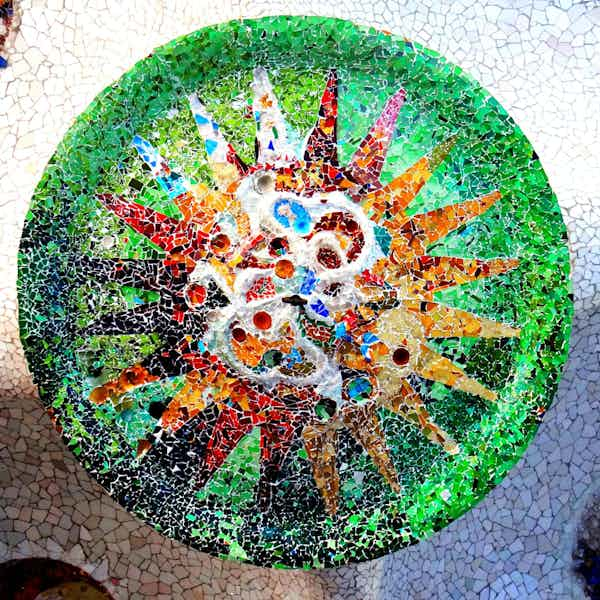 The Hypostyle Room
The Dragon stairway leads to the Hypostyle Room, a vast space supported by 86 columns that were inspired by the Doric order. In certain areas inside the room, the absence of columns resembles the naves of a church. The ceiling consists of of small domes that were constructed using traditional clay bricks and covered with tile-shard mosaics.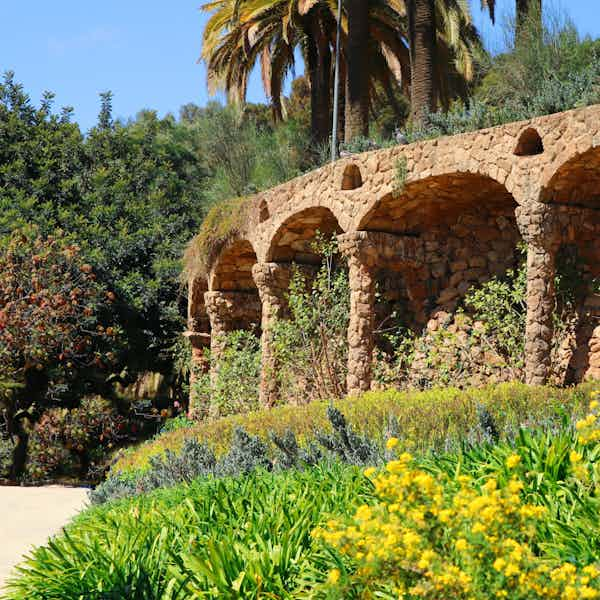 The Greek Theatre or Nature Square
Situated atop the Hypostyle Room in the center of the Park Guell Monumental Zone is the Greek Theatre, rechristened to Plaça de la Natura (Nature Square). Jutting out of the mountain behind it and supported by the Hypostyle columns, the Greek Theatre was designed to host open-air shows. The perimeter of the Greek Theatre is bound by benches covered with tile shard decorations.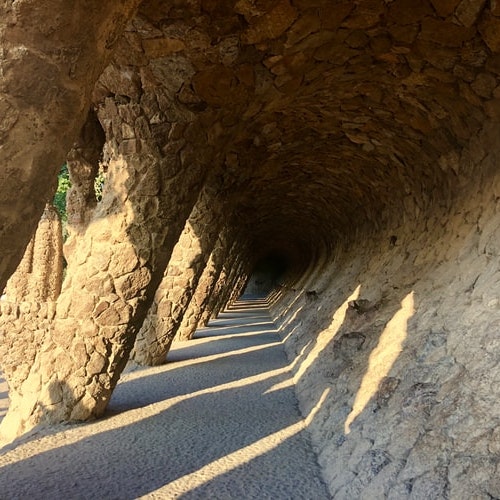 The Laundry Room Portico
One of the most organically shaped elements of the Monumental Zone, the Laundry Room Portico is built to resemble a giant collapsing wave, supported by slanting columns. Double colonnades act as buttresses to support the structure. At the end of a pth is a spiral staircase that leads to Count Guell's house.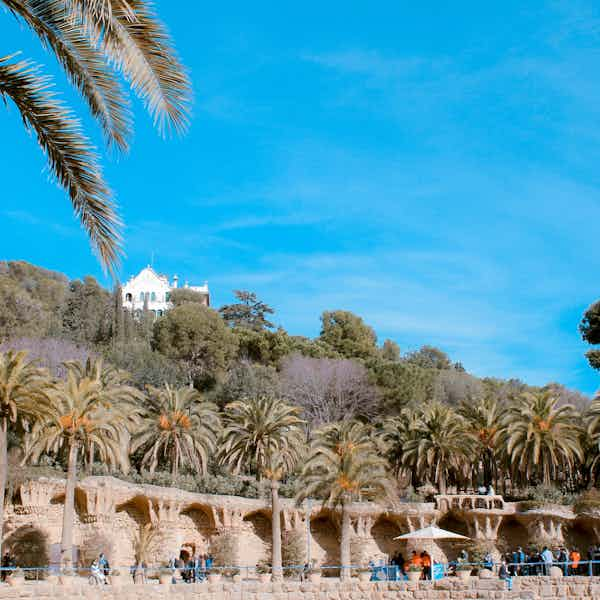 Austria Gardens
Originally used as a municipal plant nursery, the Austria Gardens gets its name from a donation of trees from Austria in 1977. From the Austria Gardens, one can get amazing views of the park, especially two beautiful houses that were built in Eusebi Güell's time.
Practical Information
---
Park Guell Hours
Low Season
1 Jan - 24 March and 28 Oct - 31 Dec: 8:30 AM to 6:30 PM
(last entry time - 5:30 PM)
Mid Season
26 March - 29 April and 27 August to 27 October: 8:00 AM to 8:30 PM
(last entry time - 7:30 PM)
High Season
30 April - 26 August: 8:00 AM to 9:30 PM
(last entry time - 8:30 PM)
Park Guell Barcelona is open every day, including December 25th, May 1st and other international holidays.
Park Guell Entrance
Park Guell has 3 entrances - 2 entrances on either sides of it and one at the bottom (the main entrance). The main entrance is Carrer de Larrard, also known as Carrer d'Olot. This entrance is next to the Porter's Lodge Pavilion. Passatge de Sant Joseph de la Muntanya is the second entrance and the third one is Carretera del Carmel also known as Plaça de la Natura.
Here are 3 maps that show the Park Guell Entrances in detail.
Carrer de Larrard
Carretera del Carmel
Passatge de Sant Josep de la Muntanya
Getting to Park Guell
By Bus - H6, D40, 24 and 92 lines
Buses H6 and D40 stop at Travessera de Dalt (10-minute walk from both Sant Josep de la Muntanya and Carrer de Larrard). Buses on 24 and 92 line stops at Carretera del Carmel-Park Güell. Also note that tourist buses such as Bus Turístic (blue line) and Barcelona City Tour, "East" route (green color) have a stop called "Park Güell". This stop is a 10-minute walk from the Carretera del Carmel.
By Metro – Green line L3
The green line L3 metro stops at two stations that are close to Park Guell Barcelona. Lesseps and Vallcarca. Both the stations are a 20-minute walk from the nearest entry point, Sant Josep de la Muntanya.
Park Guell Monumental Zone Reviews
---
It's definitely worth the effort to visit Park Güell. We took the metro which is very easy to use- the walk up to the park was very steep and not helped by the escalators being out of action!! Once up there, it was a delight. We'd bought timed tickets online for 9 o'clock and it's well worth getting there early. You can see everything in the central monumental zone easily without the crowds that build up later. The architecture and art work really shows Gaudi's connection to nature and is absolutely delightful. Wonderful views and they have made great efforts to minimise disruption during renovation work. The rest of the park is beautiful too. It's a lovely place to spend a couple of hours away from the bustle of the city centre.
classic15, TripAdvisor, June 2018
Gaudi outdid himself with this over-the-top park design. The park itself is free to enter and explore, but you must have tickets to see the Monumental Zone. Tickets go quickly, so plan on purchasing them online well in advance of your planned visit. If you only want to see the MZ section, you can easily do that in an hour, but I recommend spending more time exploring the free portion of the park.
smccreary, TripAdvisor, October 2018
Tips For Visiting The Park Guell Monumental Zone
---
Book your tickets online. This can't be stressed enough. One of the most popular attractions in Barcelona, you do not want to spend your time here waiting in the queue to purchase a ticket.
Best time to visit Park Guell is right when it opens. The crowds are lesser and you get to enjoy the park in peace.
You can also think about visiting the park later in the evening, before closing time. You get to catch stunning views of Barcelona at sunset.
The park isn't highly lit up at night, so try exploring the park before the sun sets completely.
The sun in Barcelona can be unrelenting. With a whole lot of walking to be done to explore the park, remember to carry sunscreen with you.
Do not arrive with your luggage. There are no luggage lockers available at the Park Guell.
Ready to Explore Barcelona?
---
Here are a few more of Gaudi's wonders that you can explore while in Barcelona
FAQs
---
Q. Are Park Güell tickets available online post-COVID-19?
Q. What is the cancelation policy for Park Güell tickets?
Q. What are Park Güell opening hours?
Q. Are skip-the-line tickets available for Park Guell?
Q. What are Park Guell ticket prices?
Q. Can I skip the line with guided tours at Park Guell?

Q. Should I buy Park Guell tickets in advance?

Q. How to get to Park Guell?

Q. Are wheelchairs available for rent at Park Guell?