Singapore Zoo is a world where wildlife comes alive with stunning shows and presentations. As you go on your journey through this lush biodiversity, prepare to be amazed by the incredible resident animals and their care-takers. From animal feeding sessions to talks, presentations and play time, there's so much to watch and do at the Singapore Zoo! Get ready for an unforgettable adventure that celebrates both conservation and entertainment.
Singapore Zoo Tickets
---
Singapore Zoo Entry Tickets
Singapore Zoo Shows, Activities and Presentations
---
1. Animal Feeding
Experience the thrill of feeding animals at Singapore Zoo. Get up close and personal as elephants, giraffes, goats, white rhinoceros, giant tortoises, and zebras dine right from your hand. These slots have to be prebooked online and this supports the wildlife conservation work at Singapore Zoo. The feeding sessions are available on a first-come-first-served basis, so seize the opportunity to contribute to the well-being of these incredible creatures!
Days

: Daily



Timings

: Timings vary. Please check here for the exact hours.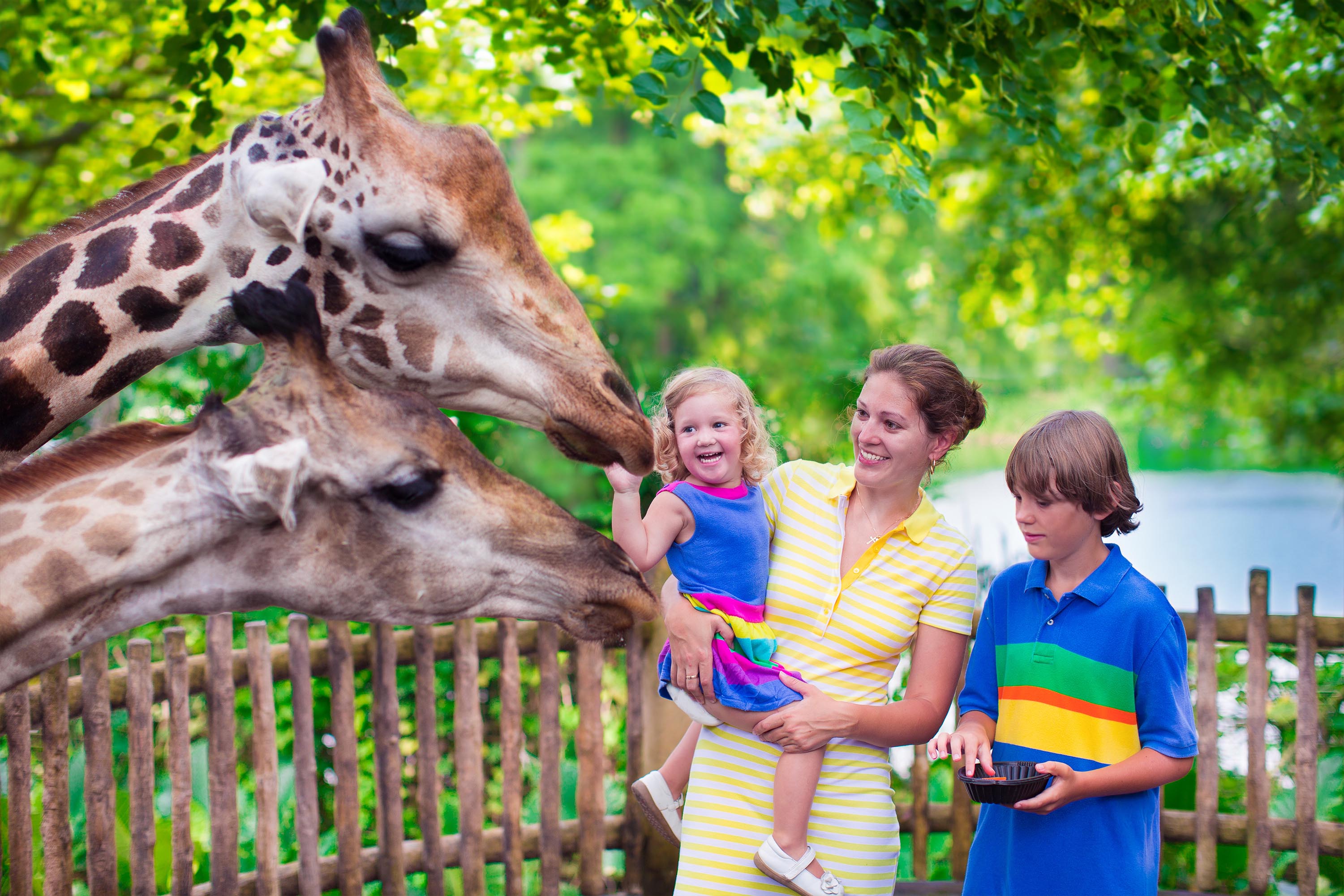 2. Splash Safari
Dive into the excitement of Splash Safari, where the mischievous California sea lion takes center stage for a splashing good time! Watch in awe as these graceful creatures glide effortlessly on water, showcase their incredible balance by balancing a ball on their noses, and share moments that'll tickle your funny bone and tug at your heartstrings! The adorable sea lion performer promises a memorable experience while inspiring thoughts on ocean conservation. Discover how we you all play a role in protecting our precious marine ecosystems.
Days

: Daily



Timings

: 10:30 AM and 5:30 PM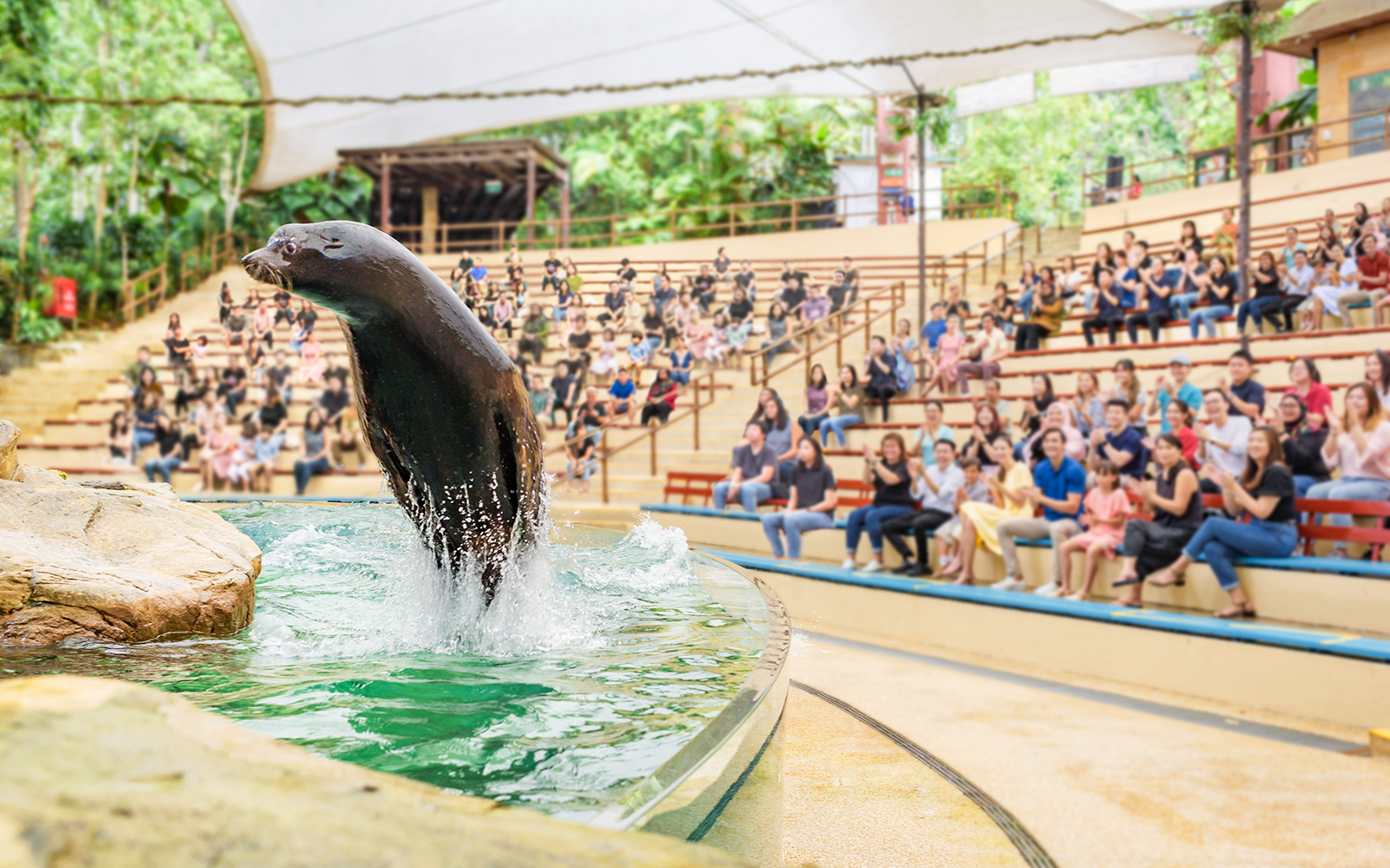 3. Animal Friends
The Animal Friends presentation showcases remarkable talents and essential roles played by domesticated animals. Many of these furry performers were once abandoned pets, now advocating for love and care towards all creatures. Watch the classic cat-and-mouse antics spring to life, witness a dog's astonishing sense of smell in action, and marvel at gravity-defying leaps. This heartwarming showcase extends to include birds, mice, and cats, many of whom found second chances through rescue and adoption.
Days

: Daily



Timings

: 1:30 PM and 4 PM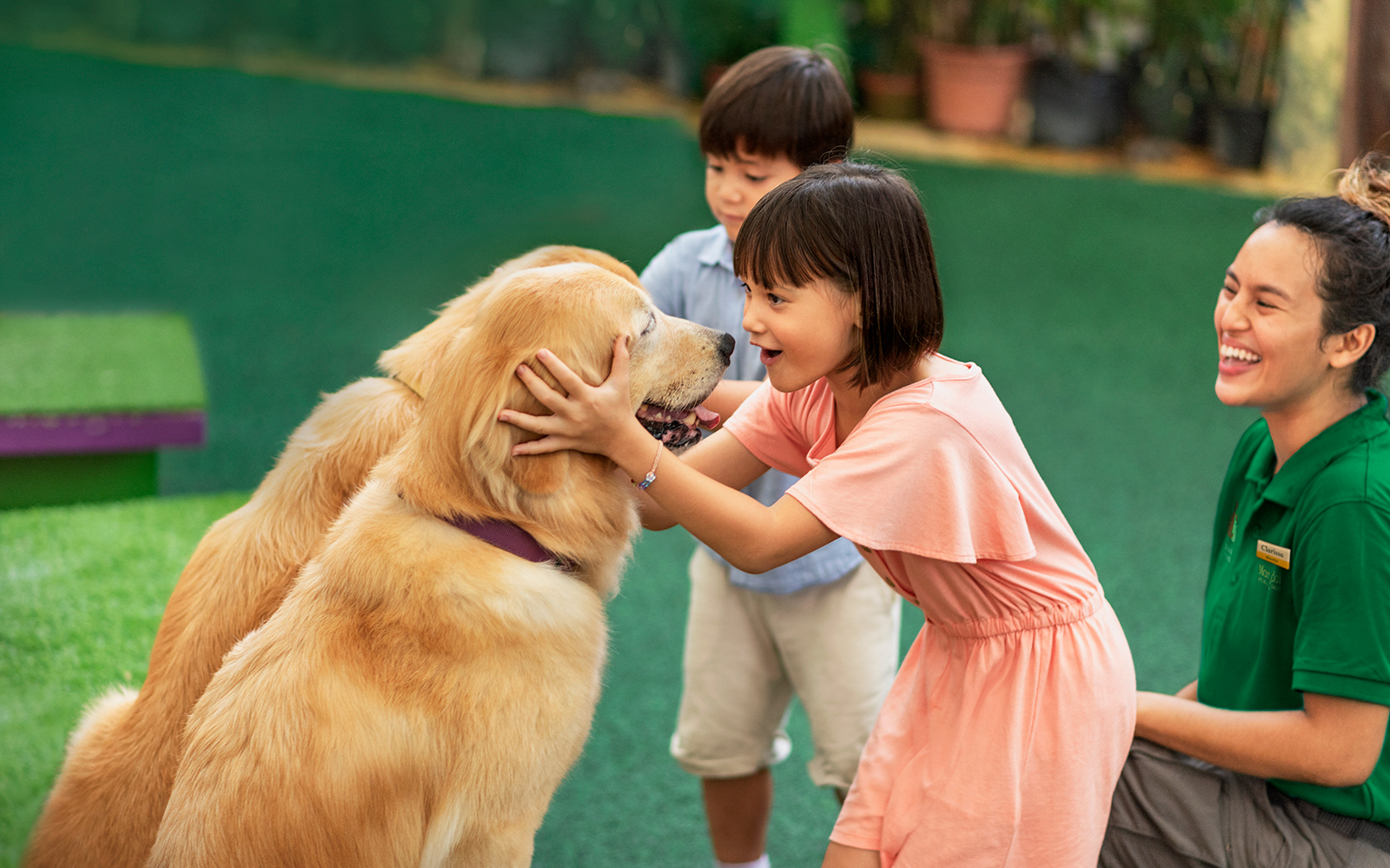 4. Rainforest Fights Back
Prepare for an fun presentation that showcases the world of rainforest creatures. Check out their agility as they gracefully leap and take flight. Go into the impact of human interactions on these animals' lives and understand why they are unsuitable as pets. As a special treat, you might have the opportunity to get hands-on with a snake, and an unexpected surprise awaits a volunteer, offering a once-in-a-lifetime photo opportunity!
Days

: Daily



Timings

: 12 PM and 2:30 PM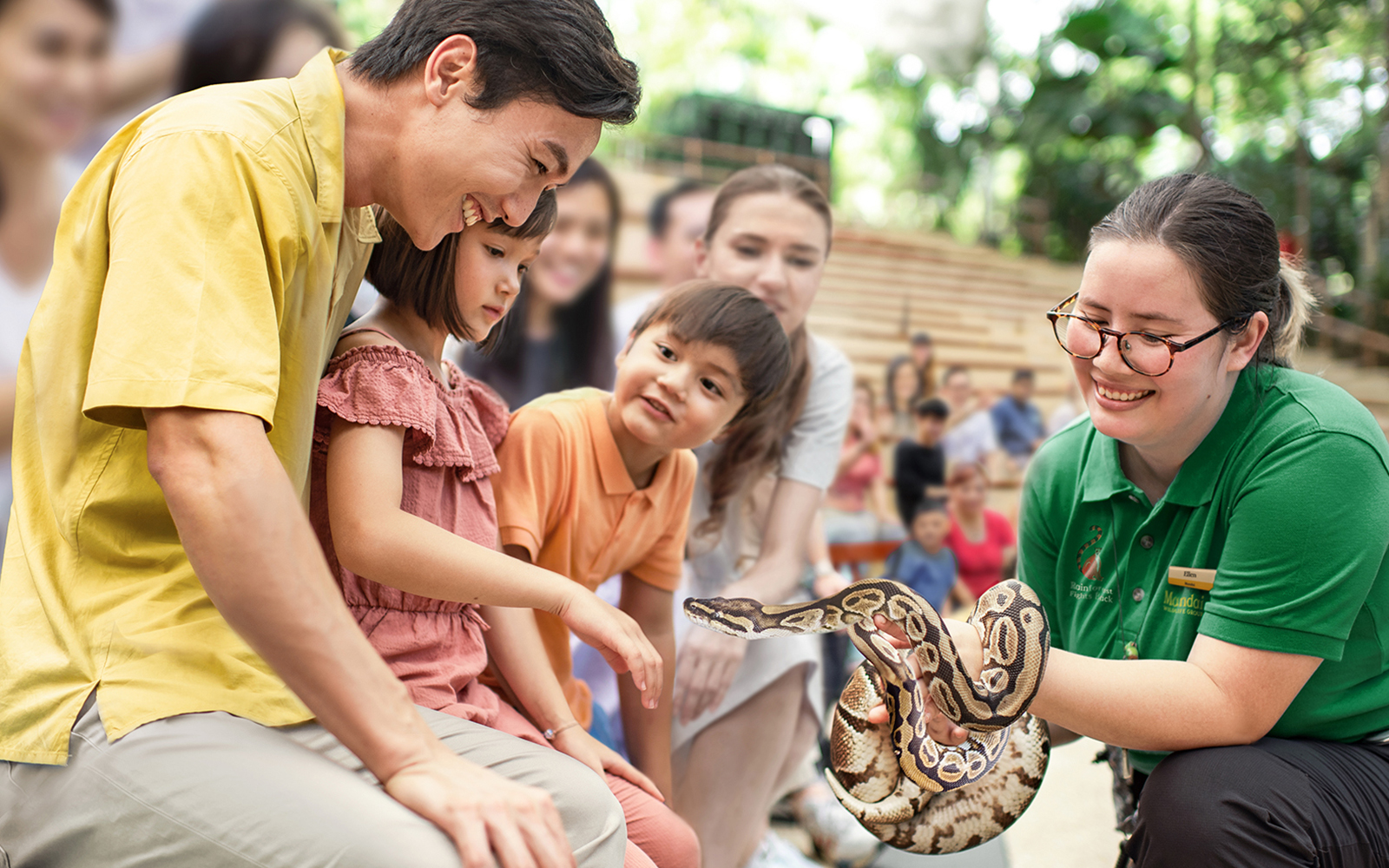 5. Keeper Talks
Discover the secrets of our wildlife straight from the experts – the dedicated keepers. Join this engaging and interactive session to unravel fascinating anecdotes about our animals. Listen in on exclusive keeper talks covering a variety of creatures, including Elephants, Primate Kingdom residents, Orangutans, Proboscis Monkeys, the inhabitants of Gibbon Island, majestic African Lions, and many more. Gain unique insights and knowledge directly from those who care for these remarkable animals.
Days

: Dates vary. Please check here for the exact days.



Timings

: Timings vary. Please check here for the exact hours.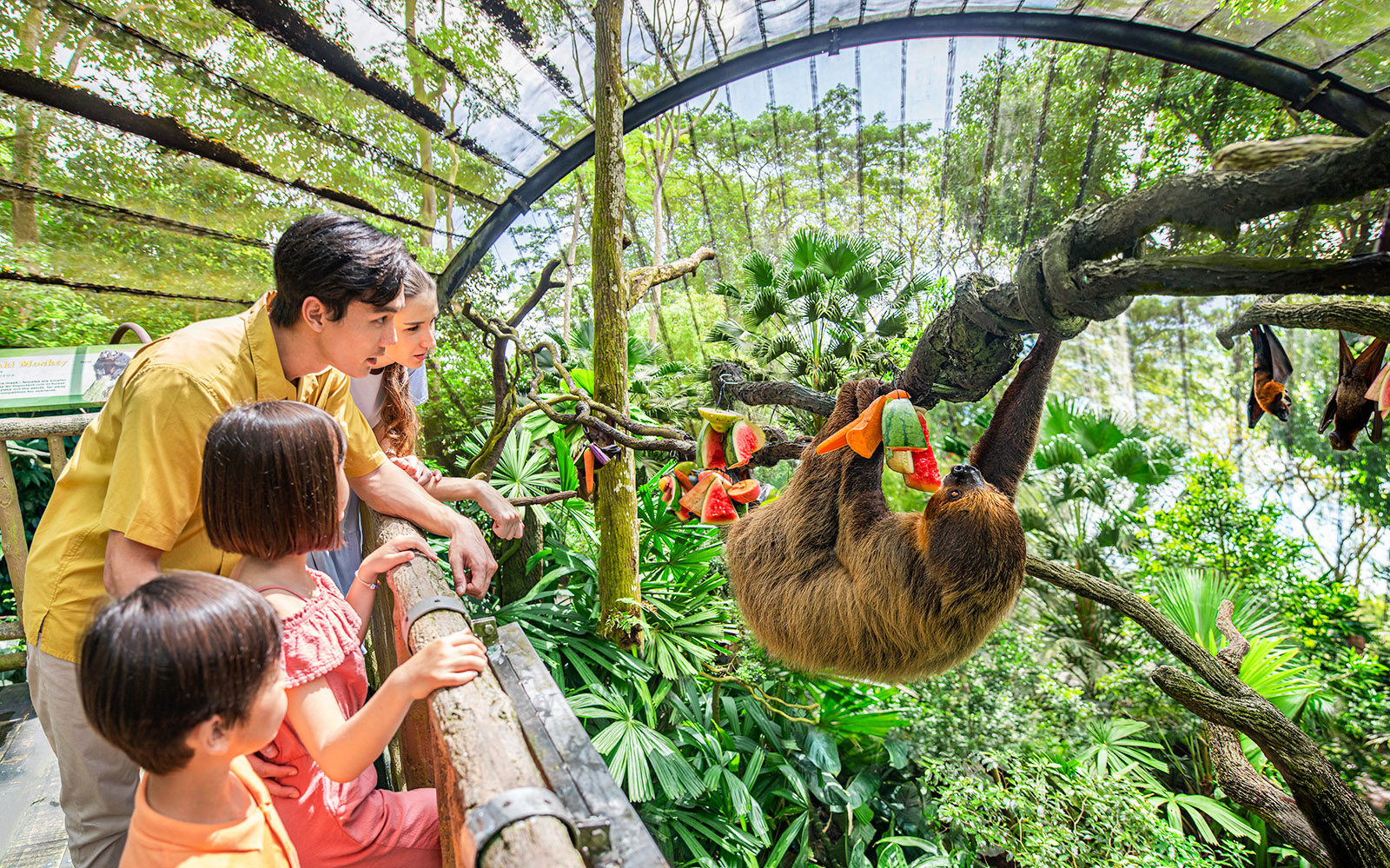 6. Buddy Barn
Experience delightful interactions with cuddly rabbits and guinea pigs at Buddy Barn, a special children's petting zone nestled within Rainforest KidzWorld. Visit Buddy Barn during designated session times for a chance to engage with rabbits in the central interaction area. You might also encounter with guinea pigs and, occasionally, surprise appearances from other animals like ferrets and goats.
Days

: Daily



Timings

: 10 AM to 5 PM