If life is going just about average for you and you're looking for some adventure to spice it up, we know just the right thing that will lift your spirits and you! AJ Hackett Sentosa, Singapore, set against the idyllic backdrop of Siloso Beach brings an entire buffet of heart-racing, adrenaline-pumping activities all of which will keep you white knuckled for a long long time. Before you strap on your adventure hats and set off to AJ Hackett Singapore, here's a quick guide on all you need to know.
AJ Hackett Singapore Rides
---
AJ Hackett Sentosa is Singapore's first and only Bungy Jumping site. This amusing structure also happens to be Asia's only jump site that features 4 thrilling aerial activities ( As of June 2018, the fourth activity, Vertical Skywalk is closed for renovation indefinitely)! Brace yourselves to be greeted by screams and squeals of joy on site, before you add on to the excitement. If you're not much of an adrenaline junkie, you can dine and enjoy the views from the beach furniture arranged around to capture exciting moments.
The 3 main rides at the AJ Hackett Sentosa Singapore are as below.
AJ Hackett Sentosa Tickets
---
Get your hands on the most recommeded AJ Hackett Sentosa Tickets. Save not only upto 28% but also choose from Giant Swing, Bungy Jump, Skybridge, or Skybridge with drink/ice cream!
Things to do at AJ Hackett Singapore
---
Bungy Jumping at AJ Hackett Singapore
---
The AJ Hackett Bungy Jump is Singapore's first-ever bungy jump tower, and here, you'll get to leap off a height of 47m. Adding on to the fun, you can now go for a double bungy jump! If you and your best bud have made pacts of bungy jumping together, brace yourselves for 4 seconds of blissful free-fall and enjoy the world upside down. With the cool breeze blowing through your hair, the bungy cord hanging between your feet and a divine view of Sentosa, do you have it in you to take that life changing leap? The end is all the more better because you dive into a pool and come out exhilarated and wet!
Know Before Going Bungee Jumping at AJ Hackett
➤ Minimum Weight 40kg and Max Weight 150kg
➤ Minimum height 120cm
➤ Max of jumpers 25 per hour
➤ 3.5m deep pool in jump zone with agitation type aeration system
➤ Jump menu offering 10 different jump styles
➤ Moving image and still photography capture
➤ Under 18, parental consent is needed.

Giant Swing at AJ Hackett Singapore
---
If you're in the mood to swing, swoop and scream ,head to the Giant Swing at AJ Hackett and relive childhood memories of playing at the playground swings, obviously with an added tinge of intensity. This is the world's first duo giant swing system and you will be seen racing at speeds of more than 120km/h towards the sea from a height of 40m! Jump onboard with 2 other companions ( grab your friends for this one), get strapped facing down and and launch your happy selves into infinity with splendid views of the Siloso Beach.
Know Before Going on the Giant Swing at AJ Hackett
➤ 5 minute cycle per swing
➤ Minimum individual weight 60kg for Solo Swing
➤ Minimum 30kg per person if GROUP OF 2-3
➤ Max combined (3 pax) weight is 300kg per swing
➤ Maximum individual weight 150kg
➤ Minimum height 120cm
➤ Max of 72 pax per hour
➤ Under 18, parental consent is needed.

Skybridge at AJ Hackett Singapore
---
If you are afraid of heights, this is where you should go to conquer your fears. The AJ Hackett Skybridge is an open air bridge with glass floors that connects the 2 stand alone towers at a height of 47m from the ground. Now you can walk on an exposed bridge without harnesses and it is completely safe! Walking above Sentosa with breathtaking vistas surrounding you is a simply thrilling! And if you can walk the talk fearlessly, try stepping onto the Glass Cube here. Not saying much, but it's the best part of the AJ Hackett Skybridge.
Know Before Going on the AJ Hackett Skybridge
➤ The Skybridge is 40m long and 47m high
➤ There are handrails present on either sides
➤ Can withstand a maximum load of 10 tonne at a time.
➤ A basic ticket gives access to the L17 Bungy Viewing Area, L2 Swing Viewing Area, Paulaner Sunset Deck and Glass Cube

Visiting AJ Hackett Sentosa Singapore
Practical Information
---
AJ Hackett Sentosa Timings
Monday-Thursday: 1:00 PM - 7:00 PM
Friday: 1:00 PM -8:00 PM
Saturday & Sunday : 12:00 PM -8:00 PM
Getting to AJ Hackett Sentosa
By MRT

The North East line MRT train to Harbourfront Station is the closest MRT to AJ Hackett Sentosa. From here, proceed to the 3rd floor of Vivo City and take the Sentosa Express to Beach Station. From here, hop on the free tram towards Siloso Beach and alight at the 3rd stop.

By Car/Taxi

If you're coming by car, drive across the Sentosa gantry and follow signs to Siloso Point. You can park your car around here and take a 5 minute walk along the Siloso beach walkway to AJ Hackett towers.
Practical Tips
Those with health conditions like high blood pleasure, diabetes, epilepsy, neurological disorders, heart conditions, fractures and neurological disorders should inform the authorities before participating for their own safety.
Pregnant ladies are strictly prohibited from participating in the Giant Swing & Bungy.
Once you register for the activity, you will not recieve a refund.
If you book tickets online, you will get a full refund if you cancel 24 hours prior the slot.
Ensure that you reach the site atleast 15 minutes prior to your slot.
AJ Hackett Sentosa is open on Christman Eve and Public Holidays and follows the timings of the day it falls on.
AJ Hackett Singapore Reviews
---
It was my first jump and the best adrenaline experience for me to overcome. It looks easy from below but when you are at the edge, your legs got weaken. Staff was really supportive and friendly and to jump while sunset is a memorable time to capture! They also provide videos for us to buy after the jump session. A must to visit while in Sentosa island!!!
Aza D, TripAdvisor, June 2018
We did the 17th floor skywalk at AJ Hackett Sentosa. Was quite a thrill ,especially the standing on the glass floor looking down 17 floors to the ground. The views were breathtaking ,overlooking the sentosa resort ,beach, zipline The place had a cool breeze. ,relaxing feel ,you can easily spend 30 minutes here. The location makes for some amazing photos. Its included the 3 ride pass so you don't have to pay extra. Do the zipline,get down on the beach and walk down to the Hackett. Worth it ,especially the glass suspension from 1 side ,gives you an adrenaline rush
ssp228, TripAdvisor, May 2018
Other Things To Do In Sentosa
---
If you're planning a trip to Sentosa and looking for other fun things to do, here's our detailed guide on a the best things to do in Sentosa. Meanwhile, take a look at The top 4 adventurous things to do in Sentosa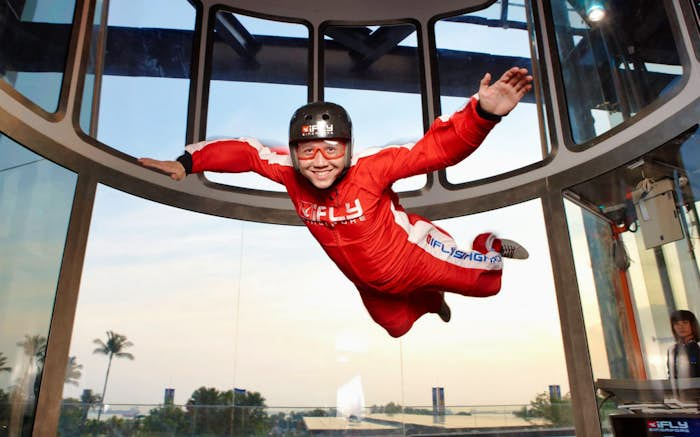 iFly Singapore, Sentosa
Skydiving is on everyone's bucket list. But only a few fearless scratch it off. A more convenient option, iFly Singapore is the largest indoor skydive facility in Singapore. You can experience the adrenaline rush of skydiving without jumping off thousands of feet above the ground. You will be blown away by winds at 180 km/hr in a controlled and safe environment.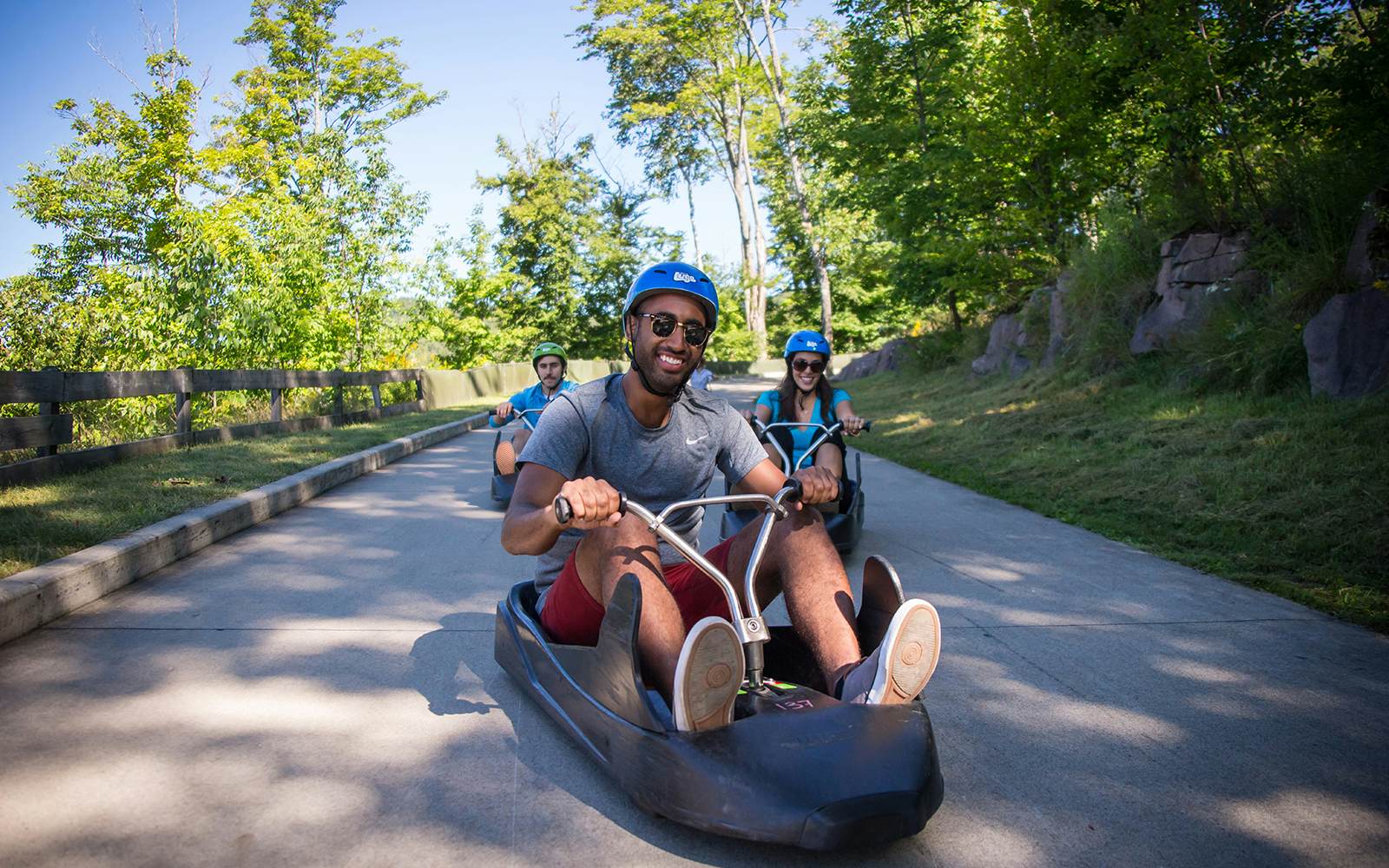 Skyline Luge Sentosa
Experience the hybrid adventure all the way from New Zealand in Sentosa. The half go-kart, half toboggan activity called Skyline Luge Sentosa is only second of its kind in all of Asia. Speed along a 2.6 km long track while you catch the spectacular views of the South China Sea and Sentosa's skyline. The gravity-controlled Luge ride is designed for you to navigate the special tracks and obstacles.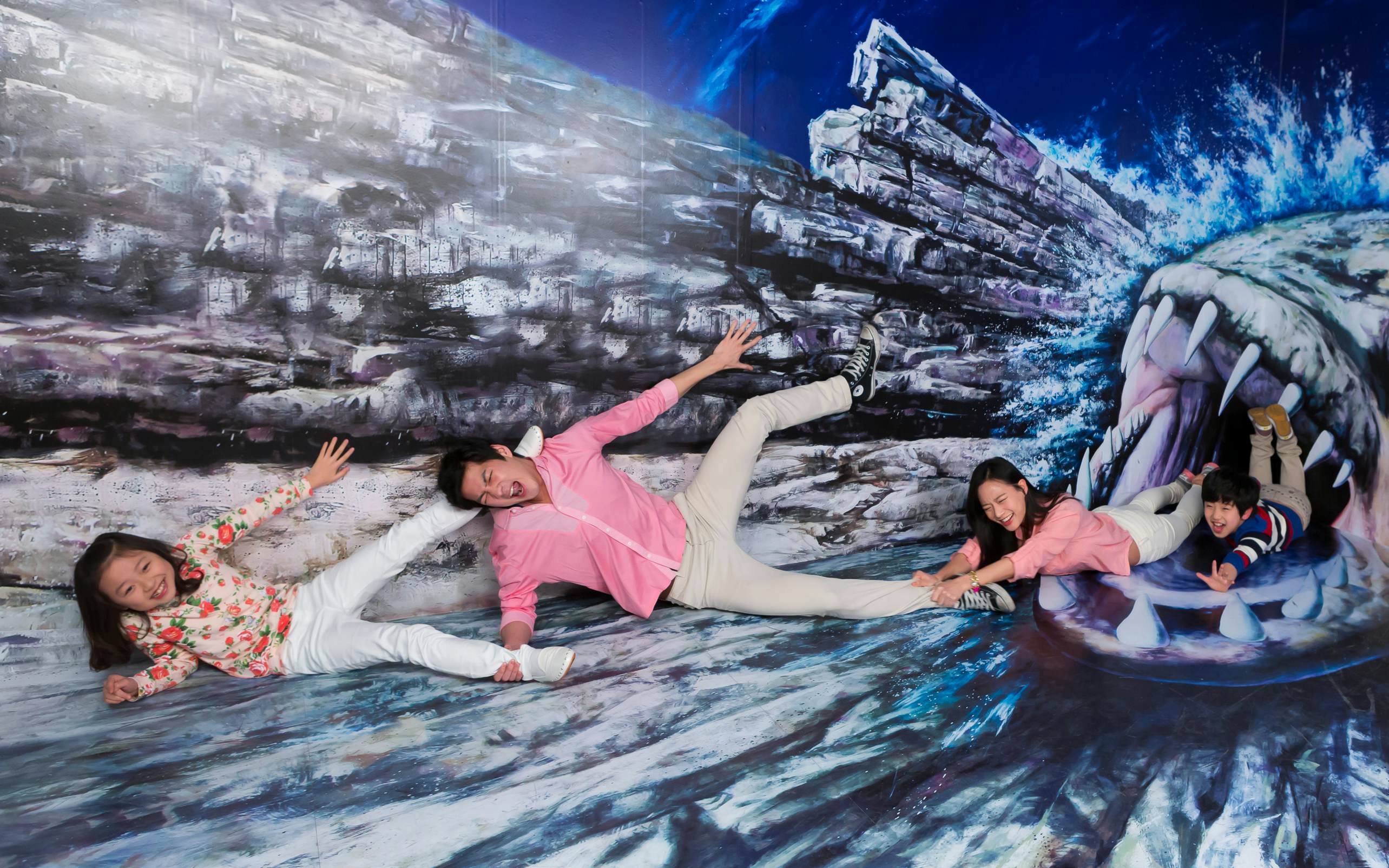 Trick Eye Museum Sentosa
Get ready to get tricked at the Trick Eye Museum Sentosa. It is one of the few museums in the world that allows you to touch and click pictures with the art installations. Find your favourite 2D paintings transformed into 3D optical illusions. The museum is full of surprises for anyone of any age!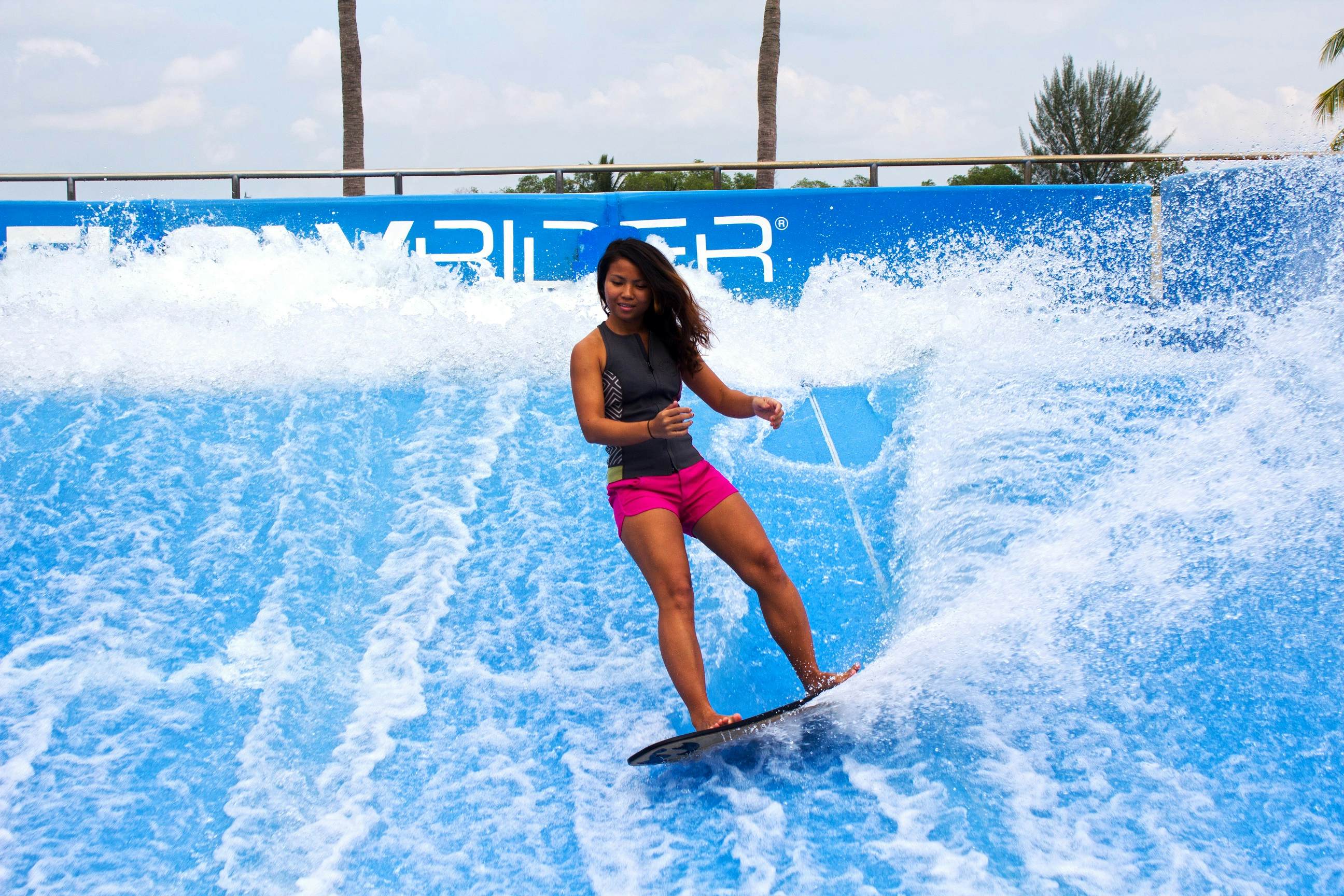 Wave House Sentosa
Love surfing? Spend your perfect beach day at Wave House Sentosa. It is spread across an idyllic 70,000 square feet of tropical beachfront setting at Siloso Beach and houses a beachfront complex with a pool, wave rides, 2 bars, live music & a surf shop. Catch some good waves, dance with like-minded folks, and have the best tropical beach drinks.
AJ Hackett Singapore FAQs
All Your Questions Answered
---
How do I get to AJ Hackett Sentosa?
What can I do at AJ Hackett Sentosa?
How old do you have to be to go bungee jumping in Singapore?
How much is bungee jumping at Sentosa AJ Hackett?
How much are the tickets for AJ Hackett Sentosa?
Where can I buy AJ Hackett Sentosa Tickets?
Ready To Explore Singapore?
Check out our comprehensive Singapore Travel Guide packed with itiniraries, tours, culture trips, best hotels, restaurents and a lot more.