Singapore's most recent undertaking is its graceful transition from being a garden city into a 'city in a garden'. Nowhere is this more evident than in the magnificent Gardens By The Bay. The other entrant to this shift is the lesser-known National Orchid Gardens. Home to more than 60,000 specimens, the National Orchid Gardens is the world's biggest display of orchids. Located at the topmost hill of the Singapore Botanic Gardens, this orchid garden is home to over 1000 species and more than 2,000 hybrids - an anthophile's dreamland.
In A Nutshell
---
Things to know
Best time to visit: March to May
Suggested duration - 3 to 5 hours
Starting National Orchid Gardens Tickets price - $5 to $15
Closest bus stop - Bef Tyersall Ave
Opening Hours
Daily from 8:30 AM- 7:00 PM
Last admission at 6:00 PM

Must-see
Cool House
Yuen-Peng McNeice Bromeliad Collection
Tan Hoon Siang Mist House
Heritage Orchid Garden

Location
1 Cluny Rd, Singapore 259569
Get there
Why visit the National Orchid Gardens in Singapore?
---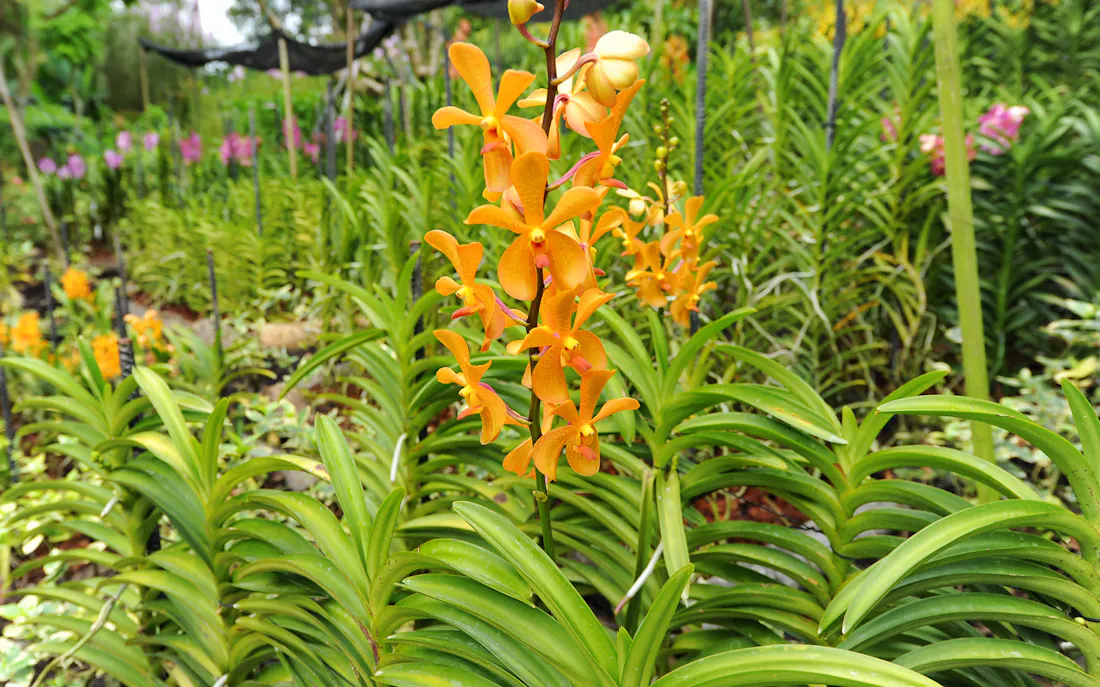 National Orchid Gardens in Singapore has the largest orchid collection in the world. It is located inside Singapore Botanic Gardens which is a UNESCO World Heritage Site that spreads over 74 hectares and houses various other themed gardens, and lakes. The entire Orchid Garden is divided into 4 vegetations of different orchid species according to their landscapes. Apart from learning about orchids and their different kinds, you will also come across many picturesque photo ops. If you are already not a nature lover, the Orchid Gardens will surely allure you into becoming one.
What to see inside National Orchid Gardens
---
If you miss going on a hike while in the city centre, worry not because walking through the Orchid Garden is similar to ascending through a tropical forest. Each level showcases a unique heterogeneity of orchids and their habitat.
1

Tropical Montane Orchidetum
The Tropical Montane Orchidetum depicts the low to high-elevation of the rich montane forest. There are many display houses as you walk past the lush collection of orchids, bromeliads, gingers, tropical rhododendrons and magnolias.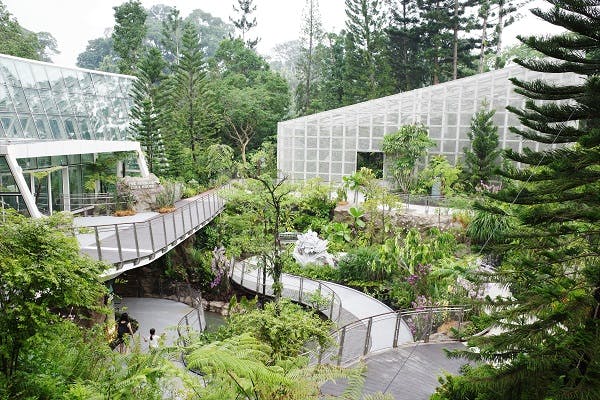 As you walk higher, you will find a curated orchid collection of 5 biogeographical regions – Malesia, Continental Southeast Asia and South Asia, Australasia, Afrotropics and the Neotropics. You will find over 1,000 orchid species and hybrids along with carnivorous plants like begonias that grow in low light. These plants also live only in altitudes as high as 1,000 to 2,000 meters and temperatures between 16 to 23 degrees Celsius.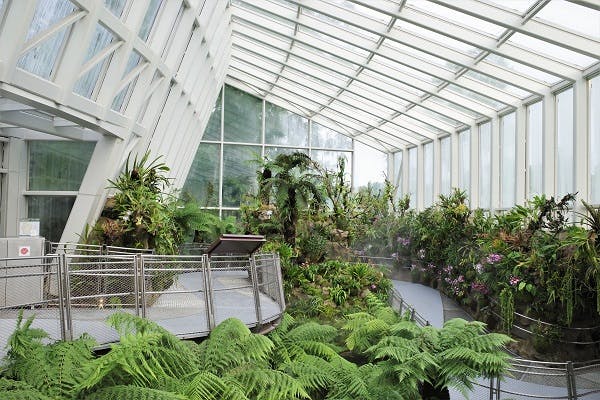 3

Yuen Peng McNeice Bromeliad Collection
To take a look at the mid-elevation Neotropical forest, head to the Yuen Peng McNeice Bromeliad Collection. Positioned at 650 to 1,000 meters, this level consists of plants such as bromeliads, aroids and calathea.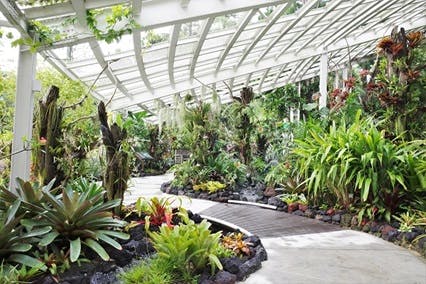 4

Tan Hoon Siang Mist House
The last of the terra gardens on the highest level of 1,000 meters of altitude sits the Mist House which mimics a paleotropical garden. With a display area of 760 square meters, the Mist House features a selection of rare, award-winning hybrid species from the speciality breeding stock of orchids. Walking through these special flowers in and out of the fabricated mist is akin to a walkthrough (floral) heaven.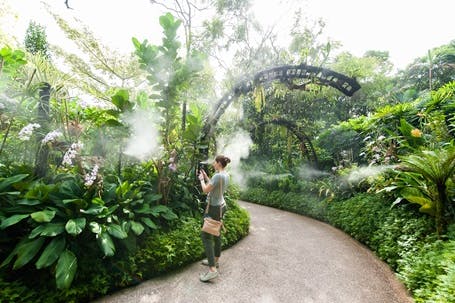 National Orchid Gardens Tickets
---
You may purchase tickets at the venue, but expect a delay of 30 minutes to 1 hour. delay of 1-2 hours. Even after waiting so long, you might have to come back another day since the venue is operating at a limited capacity. To make sure you have timed and confirmed National Orchid Gardens tickets in your hand, choose to purchase them online.
Sign up for our monthly newsletter
Your dose of travel fix - from hacks and deals to travel tips and everything in between, delivered monthly to your inbox
Please enter a valid email
Unsubscribe anytime
Visiting National Orchid Gardens
Practical Information
---
Opening Hours
Daily from 8:30 AM- 7:00 pm. Last admission at 6:00 pm.
Getting there
By bus:The closest bus stop is Bef Tyersall Ave which is 5 mins walk from the Tyersall entrance to the orchid gardens.
By Subway: The closest subway station is Botanic Gardens. The Tyersall Ave entrance is a 15-minute walk from here. entrance.
By Car: Drive to Farrer road and turn towards Holland road. After about 1.5 km on the same lane, turn right to Tyersall Ave. Ride in the same lane until you reach the National Orchid Garden carpark.
Best Time to Visit
March to May is the ideal time to visit the Orchid Gardens since the flowers will be in full bloom and you also get to see many exciting exhibitions.
Handy tips for your visit
---
If you are visiting the Orchid Gardens, make sure you visit the rest of Singapore Botanical Gardens since the entry is free.
Plan to at least spend half your day at the Botanical Gardens since there is plenty to see and is a great place to chill amidst the toil of city life.
plenty to see and is a great place to chill amidst the toil of city life. Singapore is hot and humid most of the year. Wear light clothing, preferably cotton.
Wear your most comfortable pair of shoes since you will be walking around a lot.
In case you are bringing your kids along, it is advisable to bring mosquito repellent cream or sprays since the plants attract mosquitoes.
Other things to do in Singapore Botanical Gardens
---
The Singapore Botanical Gardens is very, very vast, spreading over 82 hectares. To put that into context, it is the size of 153 football fields. The 5 entrances offer plenty to scout with each box in several gardens. You will also find botanical museums and galleries inside them. Here are some intriguing parts of the Botanical Garden you should squeeze in during your visit.
The land of gingers lies inside the Tyersall Entrance and in there grows several hundred species of ginger and related familia. Dwelling a walkway walled by a waterfall, dim romantic lighting, and a pool in front with giant Amazon water lilies is the perfect way to spend an evening with your friends and family.
Walk on an elevated boardwalk that is raised to 8 meters and is 260 meters long. The surrounding is a mix of forest 'giants', palms, epiphytes and climbers, as well as the 'Canopy Web'. If you are wondering what a Canopy web is, it is a cover above 8 meters from where you can look down at the giant trees and the flowering from up close.

Meet the tinies of the garden, the Japanese Bonsai Plants at the Tanglin Entrance. Bonsai is the art of drawing plants into shrub sizes and turning them into aesthetically pleasing displays and learning to care for them. These plants did not evolve naturally and are man-made pieces of art.
Your next stop is a lake built in the 1860s. It was formerly called the main lake or the first lake for its historic significance of being the oldest ornamental water feature in Singapore. The lake is widely popular for the bevvy of mute swans from Amsterdam.
National Orchid Gardens Review
---
Really beautiful place. There are orchids everywhere and they're arranged so well that it just seems like the place is bursting with flowers. It's well worth the time to really explore and enjoy this green that has been cultivated so well. Make sure to really explore the tinier gardens within, as there's quite a few that are little hidden gems.
Tracy Sung, January 2021, Google
Frequently Asked Questions
---
Is the National Orchid Garden free?
How much is National Orchid Gardens?
Where is the world's largest orchid garden?
What should I wear to the National Orchid Gardens?
Where can I buy National Orchid Garden Tickets?
What is there to do in the National Orchid Garden?
Ready to explore Singapore?
Find our detailed Singapore travel guide, replete with carefully curated itineraries, top hotels in the city, best restaurants, recommended tours, culture tips and a lot more!
Best things to do in Singapore
National Orchid Gardens Guide