Singapore Zoo Tickets
Free Cancellation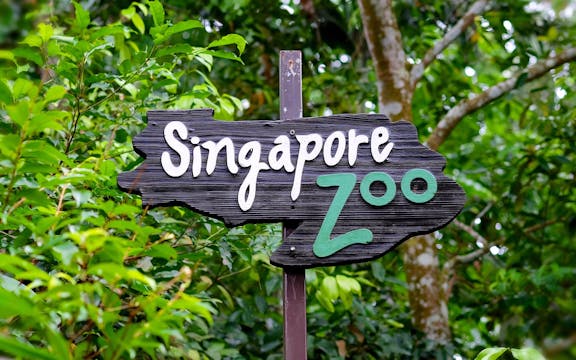 Singapore Zoo Tickets Guide
The Singapore Zoo, also know as the Mandai Zoo, is an open concept zoological garden known for having one of the most beautiful wildlife park settings in the world. All animals are kept in landscaped enclosures and roam freely in a setting resembling their natural habitats. This concept has proven to be so effective that the zoo has even managed to give birth to Inuka, the world's first polar bear to be born in the tropics. The massive biodome spread over 68 acres of land is one of the largest in the world.
Post Covid-19 Safety Measures and New Rules at Singapore Zoo
Following the COVID-19 pandemic, Singapore Zoo authorities have enforced a couple of safety measures:
All visitors are required to wear masks covering their nose and mouth while visiting the gallery.
Social distancing is enforced and everyone has to maintain an appropriate distance from each other for their safety.
Visits are limited to five guests per group.
All visitors are required to book their visit date and time online before visiting the parks.
Some experiences, programs and animal exhibits may be temporarily closed to keep everyone safe.
All Singapore Zoo Ticket and Tour Options
With millions visiting the magnificent Singapore Zoo every year, waiting lines can be hours long, and getting access to the main entrance could get become quite a daunting task. It is therefore advised that you book your tickets/packages online before you reach the zoo. Although access to certain exhibits is limited post-Covid, Singapore Zoo tickets come in a few variations - Singapore Zoo River Safari and/or Night Safari, and multi-attraction combo tickets including Singapore city passes.
Singapore Zoo + Night, River Safari Tickets
Multi-attraction Singapore Pass
With millions of tourists visiting the world-renowned Singapore Zoo every year, ticket queues and waiting lines tend to be really long and could setback your trip by hours. With Super Saver Combo tickets, you can beat the crowd and get direct access to not just the zoo, but also the highly sought-after Night/River Safari. Depending on your ticket, you may also get access to the Jurong Bird Park as well and features Tram rides at the Singapore Zoo and at the Night Safari Singapore.
Why go for these tickets?
Explore over 2 attractions: With Super Saver Combo tickets, you can skip the long waiting times at the Singapore Zoo and a couple of other attractions including the Night Safari, River Safari, and Jurong Bird Park. The best option is the all-rounder Super Saver Combo which features all of the three major attractions apart from Singapore Zoo in a package.  
Complimentary tram rides: Depending on your ticket, you'll also have the option to board a tram with live commentary at the Singapore Zoo, Night Safari, River Safari, and at the Jurong Bird Park. This is quite a unique way to experience everything that the attraction has to offer.
Creatures Of The Night Show: Included in the Night Safari is an interactive Creatures of the Night Show. Learn more about the nocturnal animals and their peculiar characters at this awe-inspiring show that is sure to leave you mesmerized.
Recommended Experiences
Explore three of Singapore's top wildlife parks with this all-in-one Super Saver Combo. Venture into a new mesmerizing world at the River Safari and traverse river ecosystems from around the world, discover the Singapore Zoo and experience the diversity of animals on the planet; step into the dark world of Night Safari and gain insights into the lives of nocturnal animals.
Experience two of the most sought-after attractions in this Super Saver Combo pack and discover a plethora of wildlife including Pandas, Elephants, Tigers, Lions, and more. With elevated platforms, underwater galleries, and glass observatories at your disposal, enjoy watching animals frolic from great vantage points that is guaranteed to leave you spellbound.
Explore everything that Singapore has to offer at your own pace with a multi-attraction Singapore City Pass. Cruise through a number of tours and attractions in the Lion City over a course of 2, 3 or 5 days. Depending on your ticket, you'll be able to get seamless access to attractions such as Singapore Zoo, Alive Museum, Night Safari, Jurong Bird Park, Singapore Flyer, Sentosa 4D Magix, Sentosa Cineblast, Desperados, and more.
Why go for these tickets?
All-in-one combo: Singapore city passes give you the unique opportunity to explore multiple major attractions at your own pace. Attractions include Singapore Flyer, Singapore Zoo, Adventure Cove, Night Safari, Jurong Bird Park, S.E.A. Aquarium, and more. This is the best value for your money.
Skip the line at every attraction: Skip-the-line access that comes bundled with your Singapore city pass; so you'll not have to wait anywhere to get tickets to any of the places included in your package. You can save countless hours by choosing to book these tickets which help you whizz past all ticket/waiting queues.
Recommended Experiences
The Singapore iVenture Flexi Pass allows you to visit a select number of attractions from over 20 attractions to choose from and has a validity period of 5 days. Attractions include Singapore Flyer, Singapore Zoo, Adventure Cove, Night Safari, Jurong Bird Park, and S.E.A. Aquarium.
Explore Singapore at ease with the Singapore City Pass. The pass allows you to visit a number of tours and attractions in Singapore over a course of 2, 3, or 5 days. With the Singapore City Pass, you will be able to go for a sightseeing tour; get a 2 Days Hopper Pass; and visit 2 attractions of your choice.
Plan your Singapore visit
Timings
Getting to Singapore Zoo
Best Time to Visit
1. What are the opening hours of Singapore Zoo?
Opening Hours:

Singapore Zoo is open between 8:30 am - 6:00 pm everyday.
2. How long does it take to tour Singapore Zoo?
Exploring everything that the magnificent Singapore Zoo has to offer will take you between 3-4 hours, depending on how much time you stop to stop and admire the various animals.
1. How do I get to Singapore Zoo by MRT?
The fastest way to get to Singapore Zoo by MRT is by taking the North-South (Red) line and transit to connecting public bus services.
2. How do I get to Singapore Zoo by car?
Singapore zoo is a 30-minute drive away from the main city. You can choose to come via the Central Expressway (CTE) or via the Via Pan Island Expressway (PIE).
3. Can I get to Singapore Zoo by bus?
There are multiple buses that can take you from Singapore City to Singapore Zoo.

From Choa Chu Kang (NS4) take bus no. 927.
From Ang Mo Kio (NS16) take bus no. 138.
From Marsiling (NS8) and Woodlands (NS9) take bus no 926. This bus operates only on Sundays and public holidays.
When is the best time of the year to visit the Singapore Zoo?
The best time to visit Singapore Zoo is from August through October, except mid-September. This is the low season and you can explore the zoo at your own pace.
When is the best time of the day to visit Singapore Zoo?
The best time to visit Singapore Zoo at 9:00 am or at 2:00 pm.
With more than 2800+ animals representing 300 species of wildlife (26% of which are threatened species), zoo has a lot to offer and promises a memorable time. From the savannahs of Africa to the Frozen Tundra, the diversity of wildlife and habitats is extraordinary. Explore the Australian landscape to spot Kangaroos and the Great Rift Valley of Ethiopia to come face to face the baboons within the middle of tropical Singapore. Watch the deadly cats in their full might as they roam about the African landscape. Besides spotting these rare species, you also get to engage with the animals be it having breakfast with orangutans, watching the elephants play or witnessing the sea lions and seals put on a show for you.
River Safari
Asia's first and only river-themed wildlife park, the River Safari is spread over 12 hectares and houses 200 species of fauna and 400 species of flora. The River Safari is designed to replicate freshwater habitats from the iconic rivers of the world such as the Amazon, Mekong, Nile, Mississippi and more. Float down the Amazon and spot leopards, visit the Giant Panda Forest to see these cute, fuzzy creatures, or observe the ancient creatures of the Nile at this one-of-a-kind wildlife park.
Night Safari
The world's first safari park for nocturnal animals, the Night Safari is a rare experience and a must-do experience on one of your evenings in Singapore. The 12-time winner of the Best Attraction Award boasts different landscapes, taking you across 6 topographic zones, which range from the Himalayan Foothills to the Asian Riverine Forest. Night Safari also offers walking routes such as the Wild Cats Fishing Trail and the Leopard Trail. Featuring special shows such as the Creatures of the Night which involves the nocturnal creatures putting on a special show for you and a Thumbuakar performance which is a local fire dance, you'll be also able to witness amazing feats and skills.
Jurong Bird Park
Asia's largest bird park, Jurong Bird Park, covers more than 20 hectares of hills which house more than 5,000 birds across 400 species. This aviary is home to four free-flight aviaries which mirror the natural topography of the different areas of the world. The Waterfall Aviary accommodates 600 free-flying birds while the Penguin Coast houses nearly 100 penguins across five species. Jurong Bird Park also features special shows such as the 'King of the Skies' and 'High Flyers' while also providing immersive lunch experiences like 'Lunch with Parrots.'
Frozen Tundra
Resembling the arctic habitat, the Frozen Tundra is ice cold and has ice caves and pools with giant ice blocks. Over here you'll be able to spot the Polar Bear, Racoon Dogs and Wolverines.
Wild Africa
Designed after the grassy plains of Africa, this habitat has both predator and prey living in close vicinity of each other. Spot the White Rhinoceros, Cheetah, African Painted Dog, Zebra, Giraffe, African Lion and Meerkats here.
Fragile Forest
A biodome which teleports you to the Rainforests, this zone uses 'live' education displays to teach visitors about the animals of the region. These include the Lesser Mousedeer, Ring Tailed Lemur, Two-Toed Sloth and the Malaysian Flying Fox.
1. Is there a ticket to visit the Singapore Zoo?
Yes, you need tickets to access Singapore Zoo. There are quite a few ticket variations to choose from, including Super Saver Combo tickets which let you combine your Singapore Zoo experience with a River Safari, Night Safari or Jurong Bird Park.
2. What are the rules and regulations at the Singapore Zoo?
You cannot bring anything flammable or dangerous inside the park as it may be harmful to the animals.
The zoo is a smoke-free zone.
Make sure that you dispose of all the garbage in the designated bins.
You cannot remove anything from the zoo or release any of the animals or birds inside.
Flash photography is not allowed in the zoo.
You cannot take photographs or videos for commercial purposes.
Do not make an attempt to make contact with the animals by feeding them, touching or teasing them, or any other act that may cause a disturbance.
You can't carry balloons inside the zoo as they may burst and cause discomfort to the animals.
You are not allowed to bring or ride roller blades or skates, skateboards, skate scooters, or bicycles inside the zoo.
3. What are the facilities available inside Singapore Zoo?
All basic facilities including sanitization measures are available at the zoo. Additionally, there are nursing and diaper changing rooms, lockers, prayer rooms, and a rain gear shop.
4. Are there any new rules and regulations in light of the coronavirus crisis?
There are some basic regulations in place to fight the pandemic, including mandatory usage of masks. All visitors are required to maintain social distancing and undergo temperature checks before entering the zoo. Visits are limited to five guests per group. To minimize contact, all visitors are advised to download the digital guide online. All visitors are also required to book their visit date and time online.
5. Can I cancel/reschedule my Singapore Zoo tickets?
No, you cannot cancel, amend or reschedule your Singapore Zoo tickets.