Wild Wild Wet, one of Singapore's largest water parks situated in Downtown East is an impressive leisure and lifestyle destination that promises a family friendly day of thrills and spills galore. In April 2017, it was revamped and expanded which has resulted in a total of 16 attractions, 7 of them new bringing to ground a whole new level of adrenaline rush. Amidst the fun, Wild Wild Wet is especially famous for the extra mile they go in terms of safety. So much so that they were awarded the Pro-Family Business Mark for their impeccable family-friendly facilities such as life jackets, baby carriers, international standards for lifeguarding, nursing rooms and children's shower cubicles. With an array of accolades in their kitty like the Top 10 Waterparks in Asia 2016- Travelers' Choice Award by TripAdvisor, Wild Wild Wet is a definite visit while you're in Singapore.
Wild Wild Wet Singapore
Essential Information
---
Things to know - Wild Wild Wet
Best time to visit - Weekdays
Suggested duration - 4 Hours
Closest Bus Stop - Opp Downtown East -
Pasir Ris Cl (Stop ID: 78091)


Wild Wild Wet Opening Hours
Mon to Fri : 1:00 PM to 7:00 PM
Sat & Sun : 10:00 AM to 7:00 PM


Wild Wild Wet - Top Rides
Vortex
Free Fall
Shiok River
Tsunami


Wild Wild Wet - Address
1 Pasir Ris Cl, Downtown East,
Singapore 519599
Get There
Why Visit Wild Wild Wet Singapore
---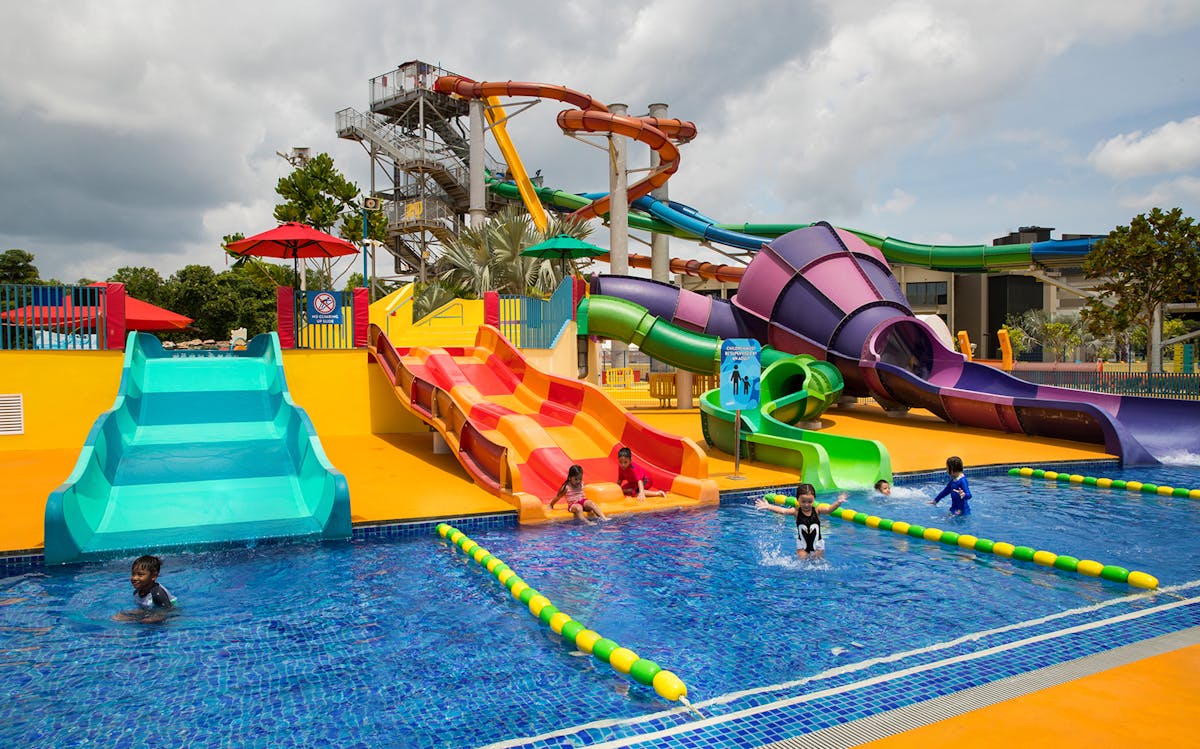 Boasting an arsenal of gentle and thrilling rides, Wild Wild Wet has been pulling scores of theme park junkies to its splash grounds ever since they opened in 2004. From wave pools to high-speed flume rides , there's plenty to experience at Wild Wild Wet. If you have small children, head to the Professor's Playground which houses an extensive collection of tiny slides, water buckets and fountains that will keep your little ones entertained for hours together. You can also leave them at the Yippie! shallow pool and let them splash around for as long as they please. The ones who want to just lounge and soak in some sun can meander on the lazy River Shiok or relax by the wave pool. Adventure seekers can take the exhilarating road with the 'Ular-Lah' raft slide,'Royal Flush','Free Fall' 'Kraken Racers', or the 19m-tall 'Vortex' all of which are as thrilling. Like I said, there's something for everyone!
Wild Wild Wet Tickets
---
Wild Wild Wet tickets can be purchased directly through the park's website or in person at the entrance of the park. For those looking to save time and money, you can purchase discounted tickets via Headout, a trusted online marketplace for purchasing discount tickets to Singapore's top attractions.

You can book your Wild Wild Wet tickets online.
---
Wild Wild Wet Rides
---
Thrill Level 1 - High speed, high adrenaline
Get sucked into a an enclosed dark flume into the world of extreme turns and curves at break-neck speeds in Singapore's first high-speed 360° extreme loops which are 18.5 metres tall, 135 metres long ! Ride speed up to 35 ft/sec!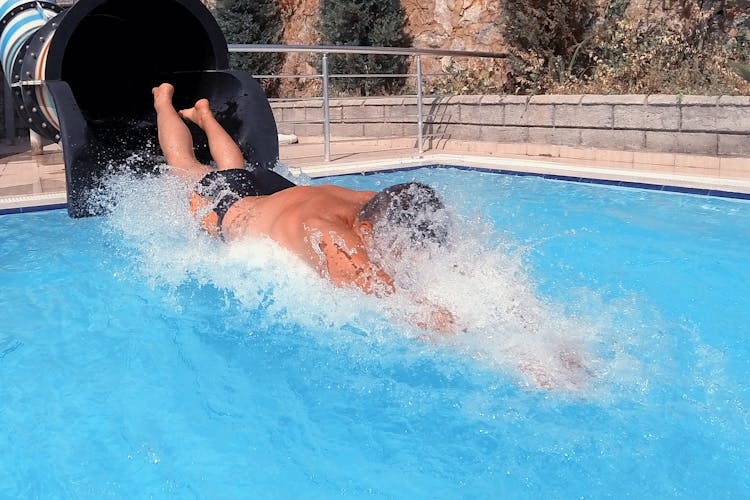 Royal Flush is Asia' first hybrid ride featuring the Behemoth BOWL40 and TornadoWAVE in one ride! Gather a crew of courageous four and holler your lungs as you drop into the ginormous bowl and fling onto the curves at crazy speeds.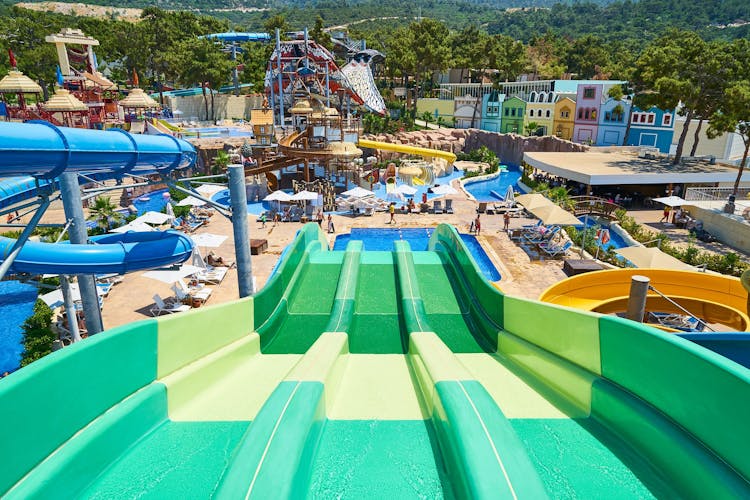 Close your eyes and take the plunge down a near-vertical open-air drop at a speed of 50ft per second from the height of a whopping six-storey building! While rocketing down, keep your eyes open and enjoy the view. One of Asia's longest free fall water slides, the Free Fall is definitely not for the faint hearted.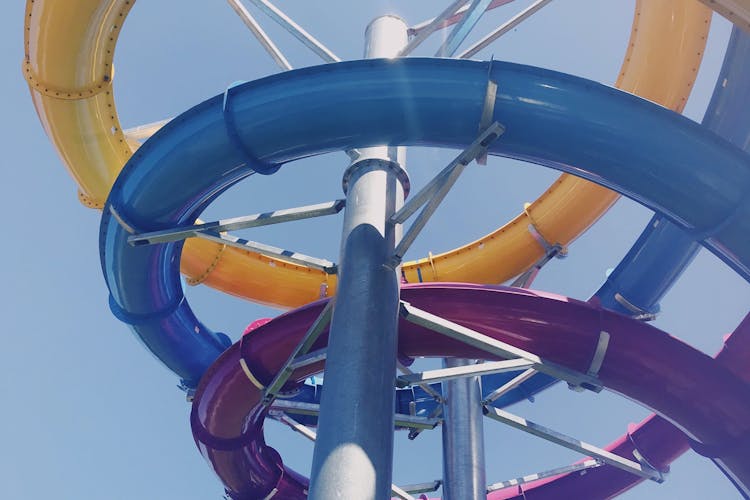 Imagine yourself locked in a vertically erected enclosed capsule and at the count of 3, the floor you're standing on opens up and you free fall at a mind-numbing speed of 70km/hr through the height of a 4 storeyed building with hair raising twists and turns. This one is for the gutsy one and only them!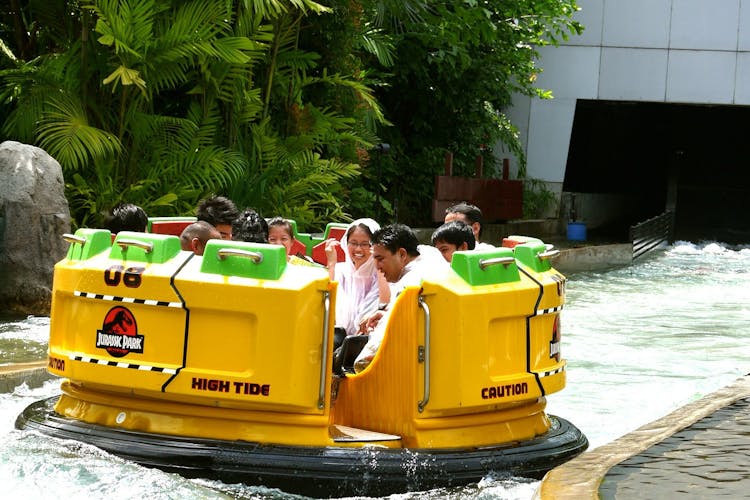 Thrill Level 2 - High speed, medium adrenaline
Take competition to a whole new level on the Kraken Racers with your friends and you zipping down the 4 lane mat racer slide! Though it may seem calm, watch out for the bumps and drops that will either take you further fast or slow you down. Perfect adrenaline racer!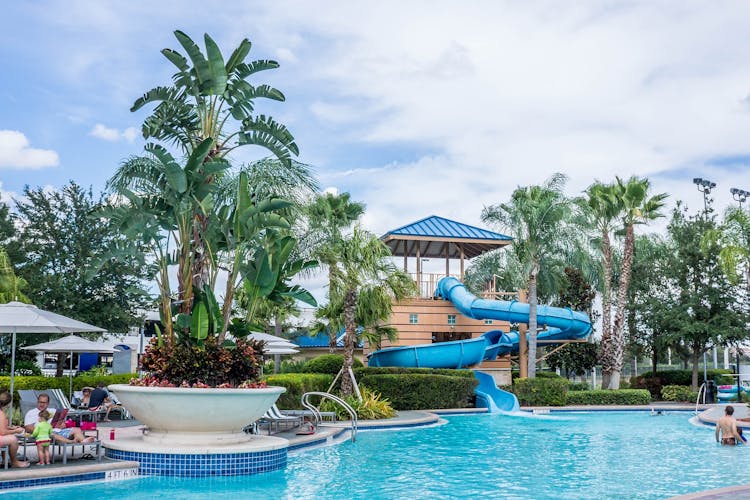 White Water rafting has never seemed like more fun than on this super broad flume! Grab 5 of your buddies and brave the rapids to topple end in a landing pool! Also, this is the the first raft slide in Southeast Asia so have a spectacular time on this pioneering ride.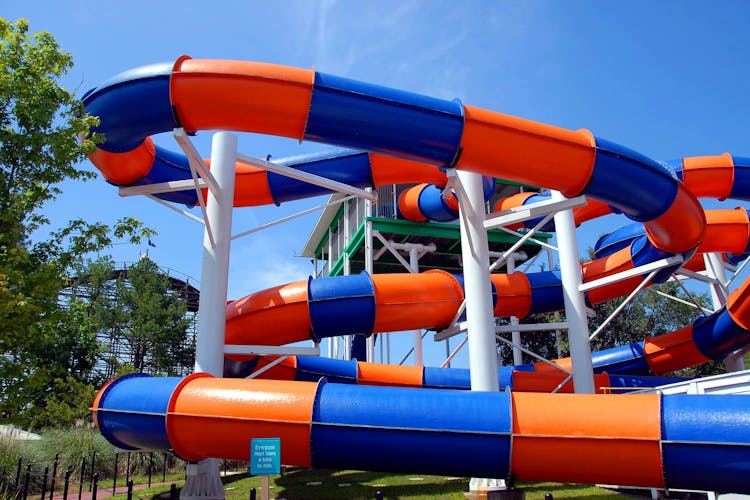 Thrill Level 3 - Low speed, Medium-low adrenaline
Spanning 335 metres, Shiok River meanders through the perimeter of Wild Wild Wet. Take a break from the white knuckle rides and careflessly flow on your tube with the tide. Plunge down ocassional slides for spurts of energy, but enjoy the rest of your river lounge at a snails pace.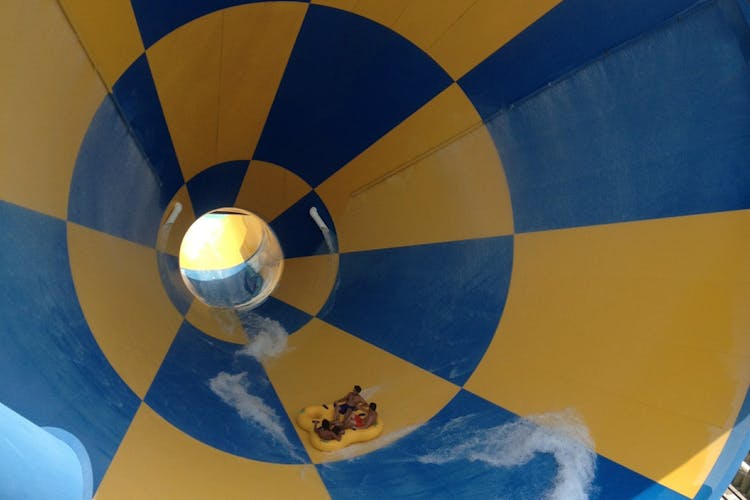 There's a sea in the middle of Wild Wild Wet! Well, almost sea like.Though its not as scary as it sounds, you can enjoy choppy waves at Tsunami and when you're tired of breaking waves, lie back and soak the sun and fun from the psuedo shore! Tsunami has no height limit, so flock in!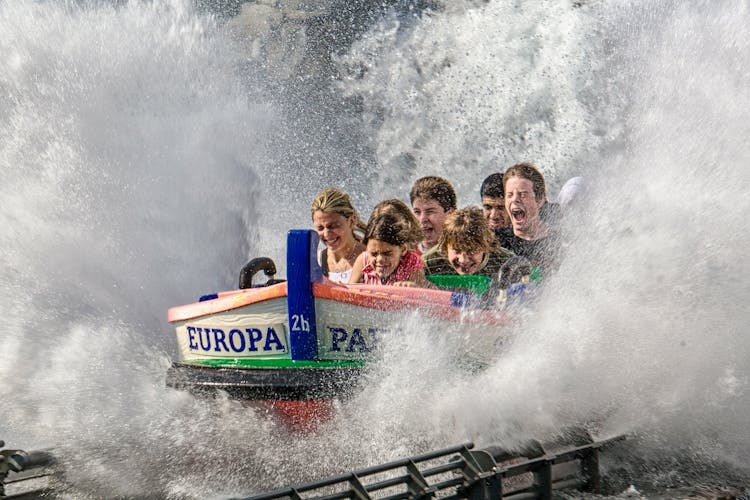 Thrill Level 4 - No speed, kid-friendly
Designed around the theme of an experimental laboratory, Professor's Playground has a myriad of ladders, waterracing slides, a dumping bucket, cannons and fountains. Specially made for kids, this entire play structure has a depth of only 0.3 metres hence making it safe for even tiny toddlers. Rest assured your kids will be entertained for hours here and you can take a breather under the sun.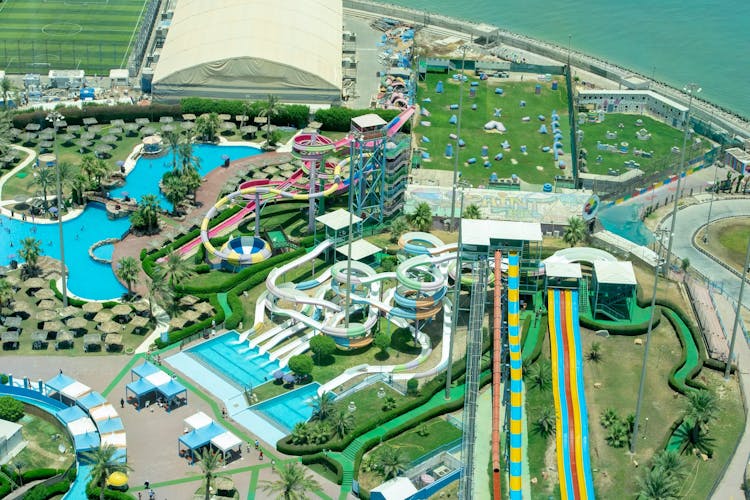 Yippie is a shallow splish splash area for your young ones to spend hours amused in water. Equipped with soft play equipment specially designed to provide a safe and fun environment for toddlers, Yippie is your toddler's haven at Wild Wild Wet. Once they're done here, you can plop them into the nextdoor Professor's Playground and have them soaking in water for a few hours more.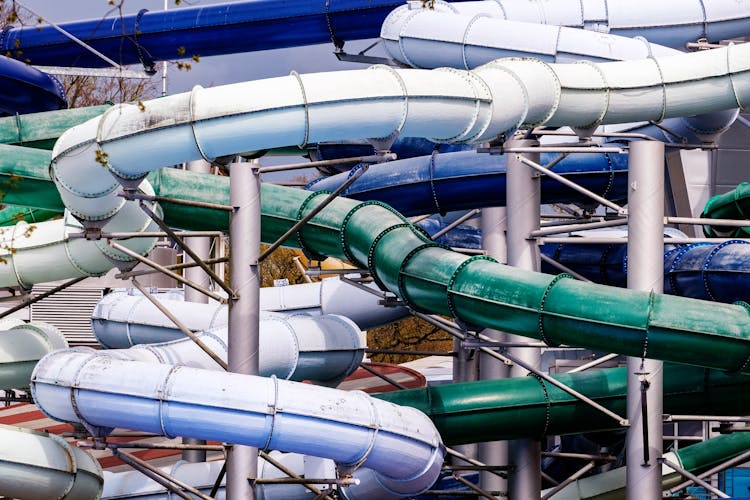 Wild Wild Wet - All You Need to Know
---
Wild Wild Wet Timings
Monday to Friday - 1:00 PM to 7:00 PM
Saturday, Sunday & Public Holidays - 10 :00 AM to 7 :00 PM
You can check the list of Public holidays in Singapore here
Rules and Restrictions at Wild Wild Wet
Outside food and beverages are not allowed
Alcohol consumption and smoking is strictly prohibited in the premises
Cameras and Go Pros and not allowed on rides
Watches and Hand phone pouches are not allowed on rides
No pets around allowed into Wild Wild Wet
Usage of lifejacket is encouraged
Facilities available at Wild Wild Wet
Changing rooms with shower cubicles
Dedicated kids' shower area
Seperate Nursing room
Cabanas are available for rent
Towel rental for S$3.58 per person.
Locker rental for a day at S$8.00 per

Wild Wild Wet Attire
Appropriate swimwear must be worn at all times. If dressed inappropriately, park staff reserve the right to ask you to leave.
Yes
Bathing suits
Bikinis & Tankinis
Burkinis
Wet Suit or Body Suit
Cotton & Lycra T- shirts
Board shorts & Beach shorts
Water-safe diapers
No
Underwear
See-through/ transparent swimwear
Excessive jewelry or long chains
Street clothes
Metal buttons, zippers, buckles or snaps
Sari
Trackpants
Sunglasses or eyeglasses on rides/attractions
Wild Wild Wet Map
---
In order to manouver around Wild Wild Wet, here's a handy map.
Cabanas Rental Details
---
Looking to relax VIP style? You can rent a Cabana and lounge in privacy with your family and friends in a quiet nook.
Cabana Rental Details
Bubbles Cabanas ( SGD 70 ) and Laguna Cabanas ( SGD 90 ) are available. NTUC and Wild Wild Wet Premium Members get SGD 10 off cabana rental
Premium WiFi provided
Locker cabinet
Rental towels i
Fancy floats as per your choice
Snack platter and drinks.
Tips to Make the Most of your Wild Wild Wet
---
Those staying at D'Resort have an exclusive entry gate which avoids the long queues outside the water park
If possible, visit the park on a weekday. It's far less crowded than the weekends!
Buying your tickets online allows you to save a few bucks , especially if you opt for combo offers
They provide fancy floats with whimsy designs like unicorn floats, pizza slice floats etc on rent which make for the perfect Instagram-worthy moments of your trip.
Do carry about 30-40 SGD in cash as the locker and float rentals do not accept cards.
If you're using the MRT, the nearest station is Pasir Ris station which is a 10-15 minute walk from Wild Wild Wet. If you're not up for walking, you can take buses ( 3, 5, 6, 12, 17, 21, 89, 354, 358)that frequently ply this route.
If during your visit, the attractions remain closed beyond 30 minutes due to rain, you will recieve Return visit vouchers which can be used within the next 60 days.
There is only one restaurant inside Wild Wild Wet - Breeze Cafe & Ice Cream Stop. It's a halal-certified restaurant.
A total of 6 hours should be sufficient to make the most of Wild Wild Wet
Wild Wild Wet Reviews
---
Visited it yesterday with my 7 year old Daughter. It was a sunny day and was perfect for enjoying the water park. The water park is neat, slides are fun and overall the place is well maintained. The locker and changing rooms are very good. We found this way better than small water park at Sentosa island.
Anks461, TripAdvisor, December 2017
In a hot and humid country like Singapore, Wild Wild Wet type water parks are really a fun place to be in for an entire day. Wild Wild Wet has many rides and slides to enjoy. I personally feel that some of the pools are too deep for kids and require adult supervision, even though lifeguards are very careful there. The park is wheelchair accessible and has sufficient number of prepaid lockers for your valuables. Showers are conveniently located around the park. Photography is allowed inside the park. Use of tripod is restricted. A souvenir shop, food court and several restaurants are available just at the exit of the park.
Shihabul

, TripAdvisor, May 2017
Wild Wild Wet Hotel
Where to stay
---
Here are some extravagant hotels to explore more of East Singapore.
Sign up for our monthly newsletter
Your dose of travel fix - from hacks and deals to travel tips and everything in between, delivered monthly to your inbox
Please enter a valid email
Unsubscribe anytime
Wild Wild Wet Food
Where to eat
---
Here is where you can take some small (big) bites after your day at Wild Wild Wet Singapore within walking distance.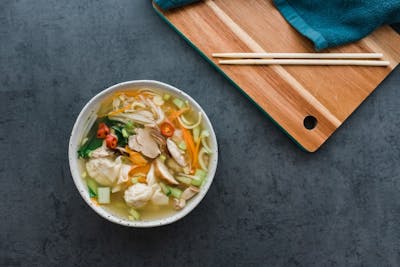 Momma Kong's
If you are in for a treat of Singaporean seafood, Momma Kong's is THE place. It is located in Chinatown and serves delicious crab curries recipes that hit close to home.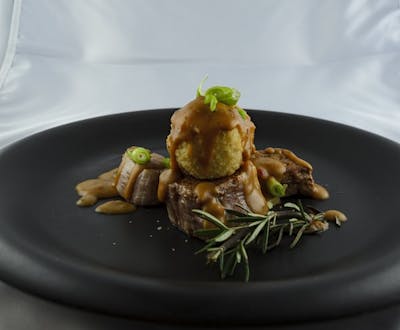 The Line
The Line at Shangri-La is a luxurious restaurant offering local and international cuisines. They also provide vegetarian, vegan and gluten-free menu options.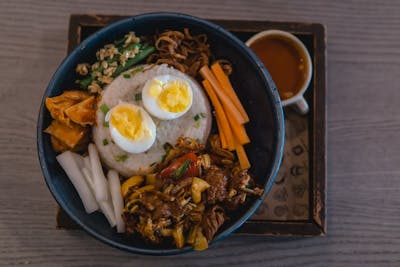 Streats
Streats is a cosy cafe known for its comfort food from Hong Kong's traditional recipes. Some must try are Ayam penyet and chicken chop rice.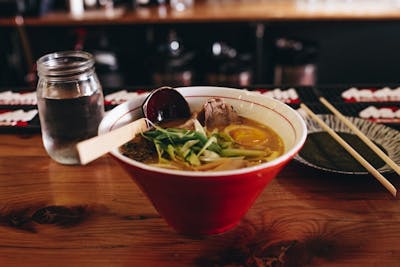 The Basil Inn
The Basil Inn is a traditional Thai restaurant that also has a good vegetarian menu option. The menu is reasonably priced and their service is excellent. Their must-try is Kha Moo with rice and Phad Krapow chicken with rice.
Things To See Near Wild Wild Wet
---
Here are some of the coolest and unique attractions near Wild Wild Wet Singapore that you can pay a visit to.

The Jewel Changi Airport Singapore is one of a kind. It houses a mini nature-themed park inside with plenty of Jewel Changi Attractions. One such that you must see is Changi Experience studio. It is only 9.2 km away from Wild Wild Wet Singapore.
The Changi Museum was built as a sombre reminder of the tragic World War Two. Visitors can view the century-old photographs, drawings and letters by prisoners. The site aims to educate the younger generations of the heroism and horror of the war in Singapore.

Located in the northern tip of the Changi area in Changi Beach Park of 28 hectares of coastline and fresh turquoise water. It is one of the oldest coastal parks in Singapore and retains the village atmosphere of the 1960s and '70s. This place is a treasure trove of culture and nature that can only be experienced.

Pasir Ris Park is one of the best locations for families to have fun. Apart from modern park activities such as pony rides, water sports, cycling, inline skating and barbeque rental, it also stars a delicately shielded six-hectare mangrove forest with multiple walking trails which would make for a picturesque outdoor photo op.
Wild Wild Wet FAQs
---
Where is Wild Wild Wet located?
How much is the ticket for Wild Wild Wet?
Is there a dress code for visiting Wild Wild Wet?
What is Wild Wild Wet known for?
Is outside food allowed in Wild Wild Wet?
Where can I book tickets for Wild Wild Wet?