Layovers can be tiring, especially when you have nothing to do for hours. But Jewel Changi Airport is no regular one. Jewel Changi Singapore is an airport that is an attraction in itself with a full-fledged indoor nature theme park that can keep you entertained for many hours. There are twelve Jewel Changi attractions inside the airport, each better than the other. The airport also has shopping, movie-going, and accommodation experiences. Among all these experiences, Changi Experience Studio stands out for creating magic out of technology. Sounds exciting? Read on to know what Changi Experience Studio has in store for tech enthusiasts.
Why visit Changi Experience Studio
---
Changi Experience Studio offers a sneak peek into the operations of the world's best airport, Jewel Changi. You can encounter numerous interactive and stimulative activities. It boasts over 20 different contact points and 10 distinct zones such as gaming, gallery displays, projections, and interactive programs. By and large, it is a one-of-a-kind experience that you must not miss if you are at Jewel Changi.
Top things to do at Changi Experience Studio
---
Changi Experience Studio is a one-of-a-kind airport adventure. It has over 10 zones and 20 different contact points. Out of the many activities you can do at Changi Experience Studio, here are some of the most recommended activities you should not miss.
1

Garden of Harmony

Musical Garden
Garden of Harmony brings together people, music, and the AV experience. Each guest will be asked to play a musical instrument that will eventually come together as a mesmerizing climax to sound like an Opera House.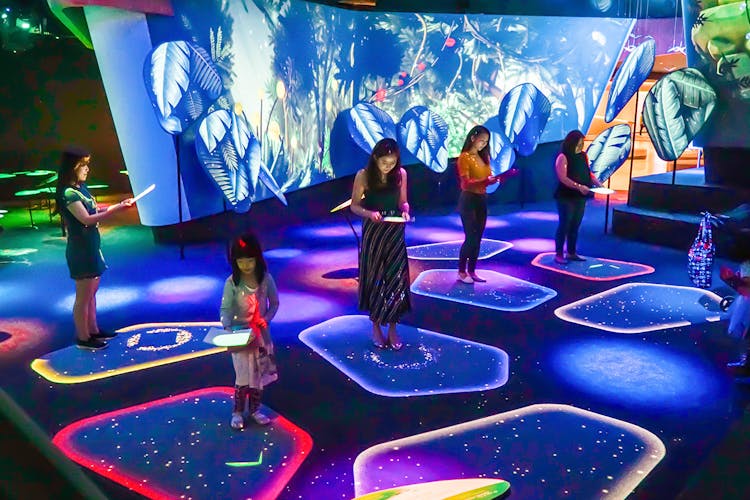 The Arena is a gaming zone that offers you to learn about the Jewel Changi Airport's functioning and operations through fun games. Aviation and gaming geeks would most definitely have a wonderful time at the Arena.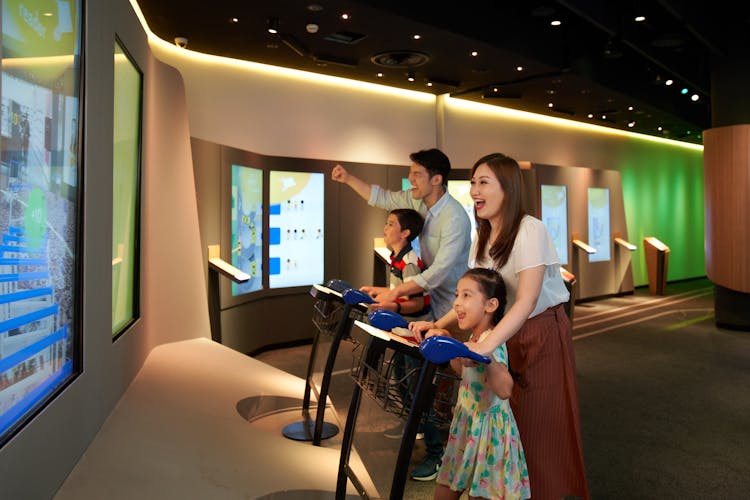 This is an interactive game that helps you understand the intertwining web of global radar flight paths. Sky Deck includes a 360-degree display installation with over 40 screens to reveal the airport's foreign flight routes and interact with the various destinations across the globe.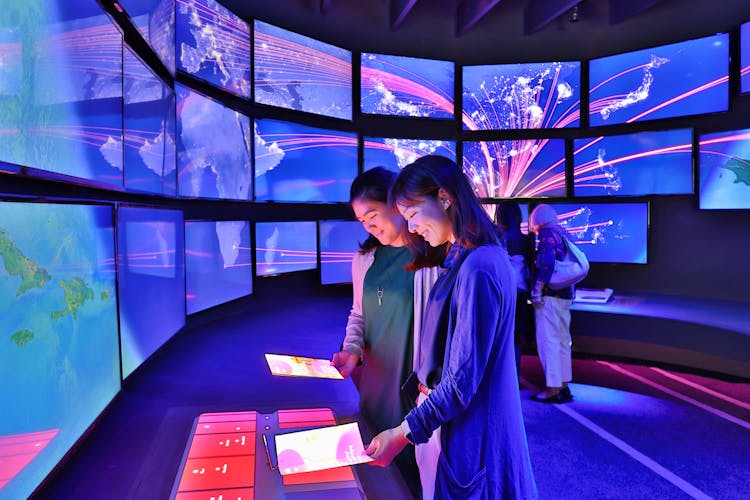 Amazing Runway is a multiplayer game that lets up to 10 guests play at once. The race pits a Porsche 911 GT3 Carrera Cup car against a Boeing 747 jet plane, making it the ultimate race between car lovers and aviation geeks.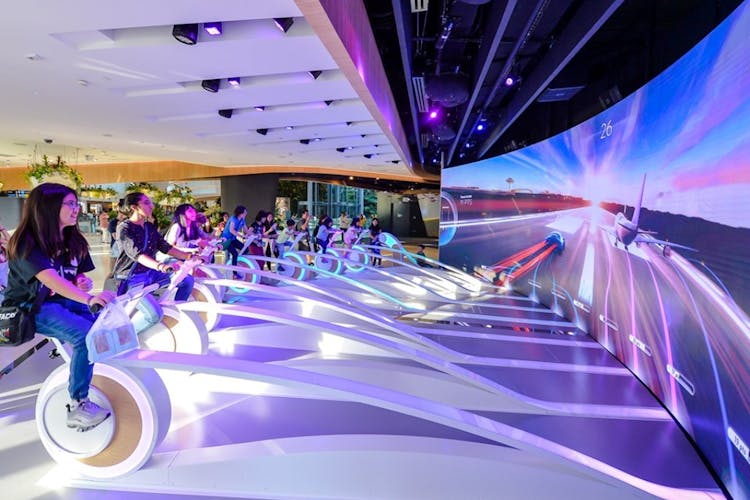 Grab the best Changi Experience Studio Tickets
---
Already hyped about traveling to Jewel Changi and visiting Changi Experience Studio? Buy a ticket in advance to stay ahead of the people in the queues. Save more time and play more! Here is the best recommended Changi Experience Studio Ticket.
Other Jewel Changi Tickets - Best recommended
---
Jewel Changi has too many attractions and if you have a lot of time on your hand or are with your kids in Singapore, you must experience Jewel Changi to the fullest. Here are the best recommended Jewel Changi Tickets that you can get your hands on.
More things to do at Jewel Changi Singapore
---
Jewel Changi Singapore is a mini attraction in itself. There are attractions that entertain kids to adults and everyone in between. Check out what more you can do at Jewel Changi Singapore attractions before your next flight.
1. Manulife Sky Nets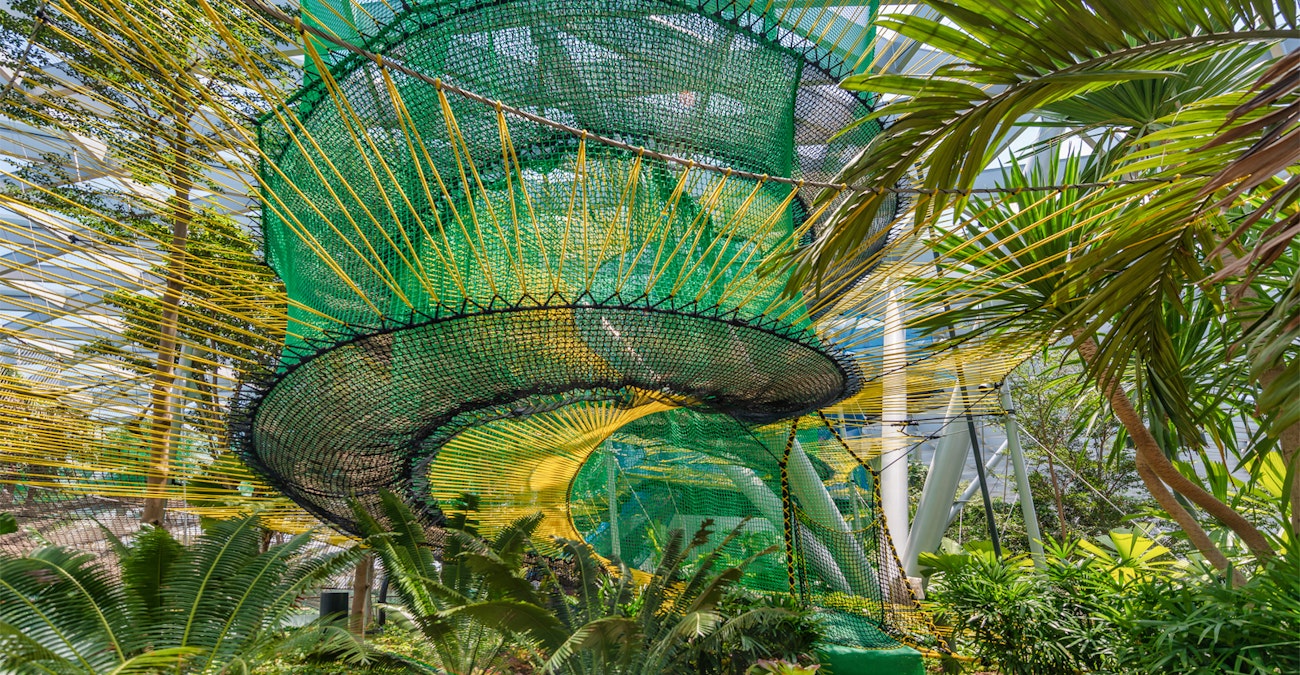 Imagine floating 25 meters above the ground but being completely secure. Manulife Sky Nets offer you a bouncing and walking experience in the air, on a colorful net of over 250 square meters in area. Located at level 5 of Jewel Changi, overlooking hundreds of stores, the Forrest Valley, and the mighty indoor waterfall, HSBC Rain Vortex. Check out the Manulife Sky Nets Tickets now!
Where? Level 5, Jewel
2. Canopy Park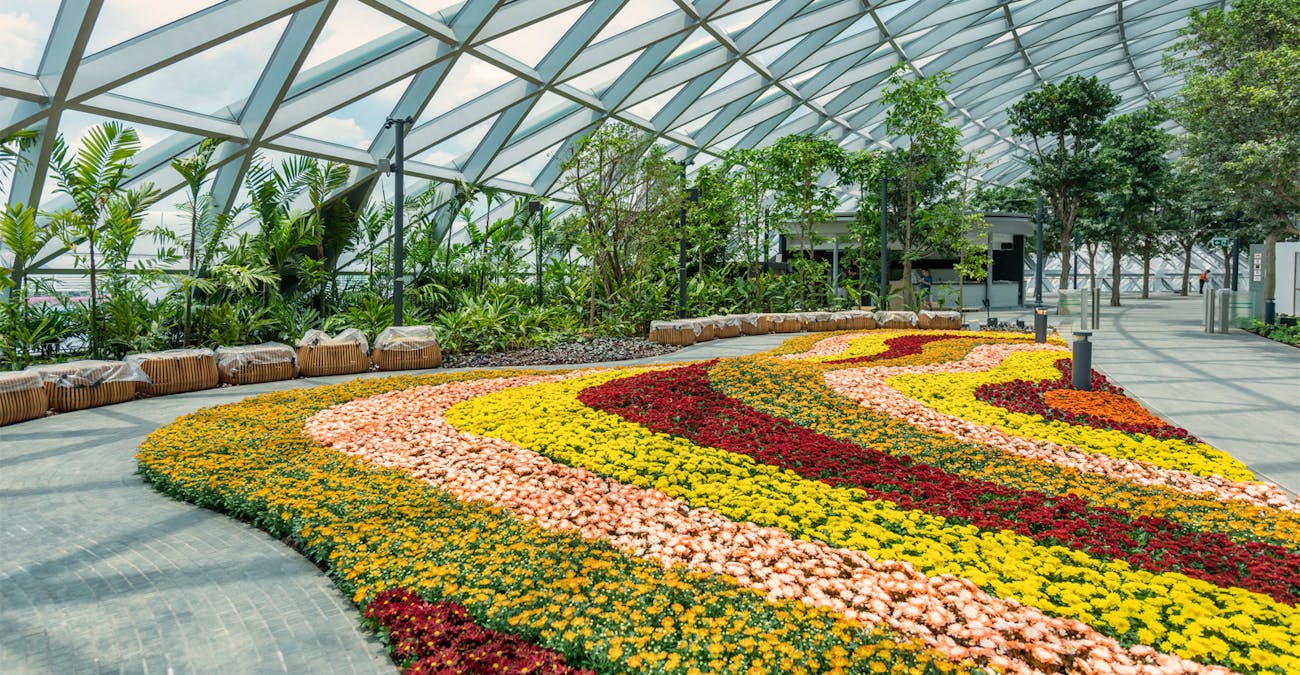 A mini-theme park in itself, Canopy Park is located on the top floor of Jewel, Level 5. The 14000 square meters of the floor cover 9 adventures. An indoor Topiary garden, Discovery Slides, Manulife Sky Nets, and Canopy Bridge are some of the prominent attractions at Canopy Park. Check out the best of Canopy Park Tickets now!
Where? Level 5, Jewel
3. HSBC Rain Vortex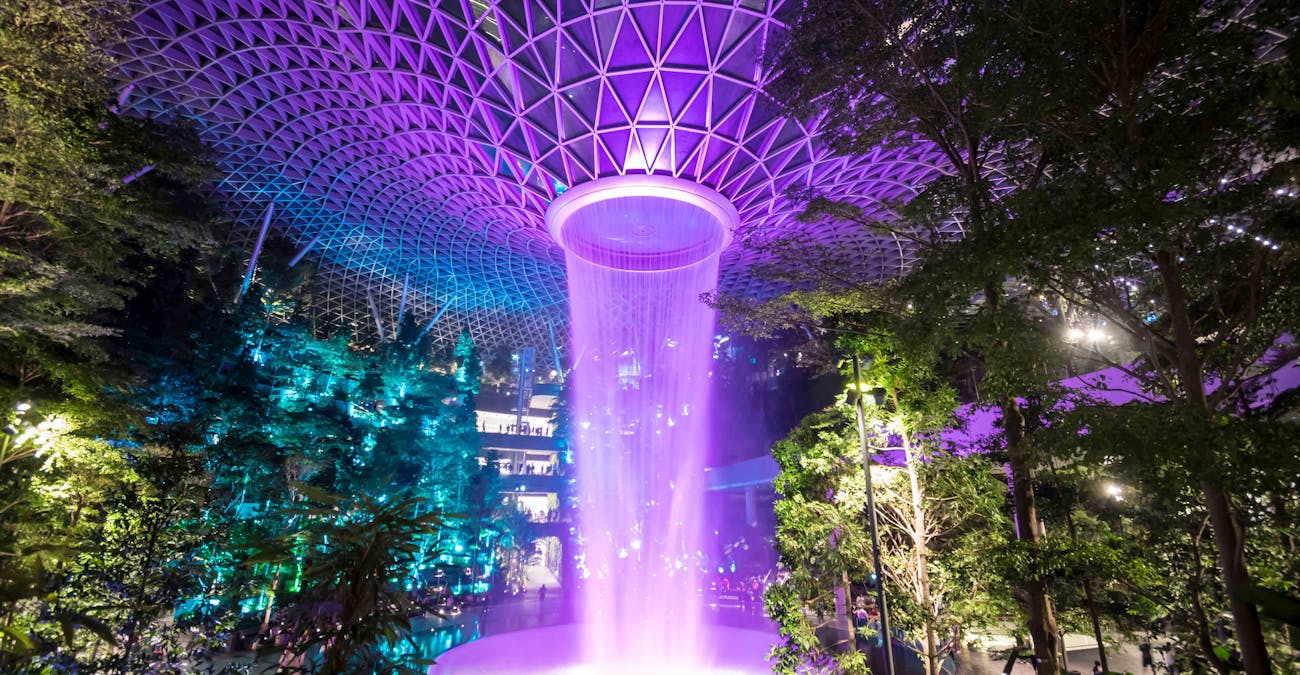 You cannot visit Jewel Changi and not admire the marvel of the world's biggest indoor waterfall, HSBC Rain Vortex. The waterfall displays water cascading over 7 stories. Jewel Changi hosts regular Light Shows where the waterfall illuminates colorful lights that would leave you awestruck.
Where? Heart of Forrest Valley
4. Foggy Bowls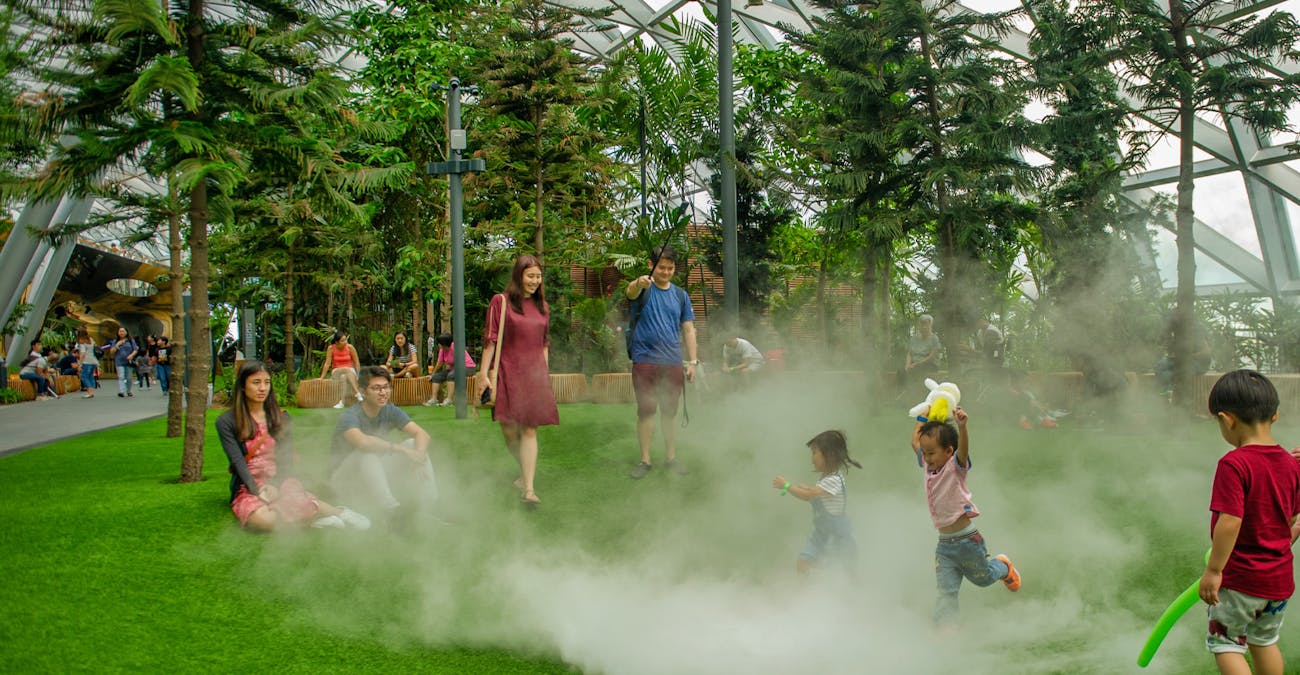 Foggy Bowls is a fun adventure for your young ones that involves playing hide and seek with the clouds. Bowls would be placed around the playscape that would produce pools of mist which makes the scene a dreamy setting. Seats to watch over your children are also set around the area.
Where? Level 5, Jewel
How to get to Changi Experience Studio
---
Changi Experience studio is located on level 4 of Jewel.

Jewel Changi Address- Jewel Changi Airport, 78 Airport Boulevard, Singapore 819666
By Metro - The nearest metro station is Changi Airport Skytrain is only a 3-minute walk from the Jewel Changi Airport.
By Bus - The nearest bus stop is Changi Airport PTB1 (Stop ID: 95029) which is a minute away from Jewel Changi Airport.
Changi Experience Studio - Practical Information
---
Timings
Daily: 11 AM to 8 PM
Last Entry: 7 PM
Age requirements
Suitable for those aged 6 and above.
Facilities
Baggage storage is available for storing luggage and wheeled bags at L1.
Recommended Footwear
Wear a comfortable pair of shoes to have a hassle-free experience and to check out other attractions at Jewel Changi Singapore.
Tips to make the best out of your Changi Experience Studio Ticket
---
Make sure to wear comfortable pair of shoes while at Changi Experience Studio since there are many interactive games.
The Experience Studio has over 10 different zones to play at. Hence, be sure to spend at least 90 minutes here before moving on to other Jewel Changi Attractions.
You can literally walk through the entire Changi Airport. But, you could also use the free Changi Airport Skytrain to move between the terminals.
If you are carrying heavy baggage, you can drop them at the left baggage counters available at all 4 terminals and Jewel.
Download the iChangi Airport smartphone app to navigate easily in the airport as well as find eateries, shop, access flight timing, maps, and more.
Book your Jewel Changi tickets online.
Frequently Asked Questions About Changi Experience Studio
---
Where is Changi Experience Studio located in Jewel Changi?
How much is the ticket for Changi Experience Studio?
Is there a cancellation policy for the Changi Experience Studio Ticket?
What are the opening hours of Changi Experience Studio?
Are Changi Experience Studio tickets available online now?