Jewel Changi Airport is an airport that's so much more than a place to catch your flight. From world-class attractions to top-notch dining, this is the all-in-one destination will take your breath away! Jewel is the perfect vacation destination for any type of traveler. From adventures to shopping trips or just a relaxing getaway – the Jewel Changi Airport has something for everyone!
One of the best ways to make a splash at Singapore's Jewel Changi Airport is by visiting Canopy Park. This lush oasis is situated on the top floor of the airport, offering visitors plenty of opportunities to explore and play. From mazes, bouncing nets, and slides, to gardens and fountains, there's never a dull moment here! With its tranquil setting and interactive attractions, Canopy Park has become a must-see destination for travelers from all over the world. Not only does it provide an escape from the hustle and bustle of air travel but also offers incredible views across the city skyline. Whether you're traveling solo or with friends and family, be sure to check out Canopy Park when you next visit Jewel Changi Airport.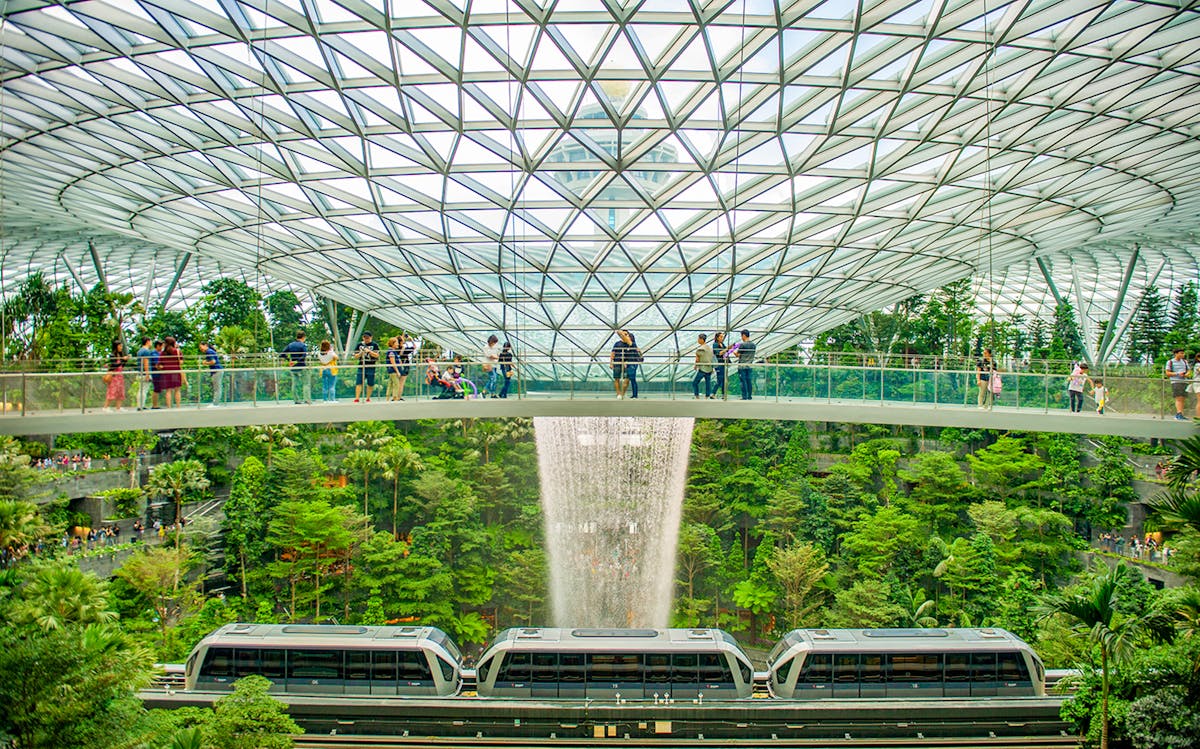 Top Recommended Canopy Park Tickets
---
Top things to do at Canopy Park in Jewel Changi
---
At Canopy Park, it's not just the amazing views and lush greenery that will dazzle you - it's the Discovery Slides too! These slides are a great way to add a little thrill to your day out. With four slides of varying heights and angles, you're guaranteed an exciting ride down into the depths of fun. And if that wasn't enough, these Discovery Slides also come with two mazes built in so you can get totally lost in your own adventure.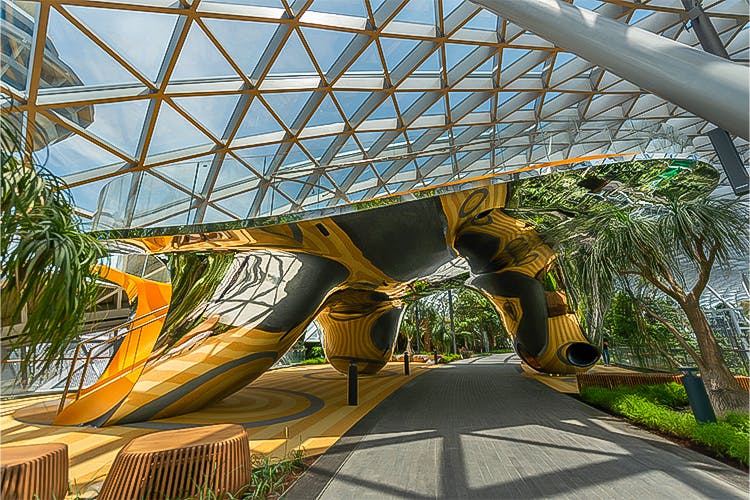 Let your child explore a world of adventure amongst the clouds, nestled in serene mounds of mist. Allow them to embark on their own journey and take off into an imaginative abyss! This is certain to be a delightful experience that they will never forget. As the name suggests, these bowls are filled with fog that creates a unique and surreal atmosphere! Foggy Bowls is a great way to get away from it all and just relax.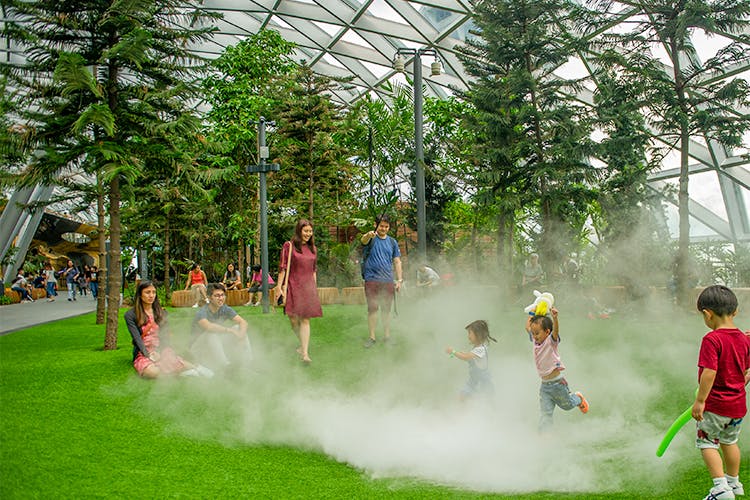 Petal Gardens is a spectacular flower-filled oasis at the Jewel Changi Airport. Take your perfect selfie amidst its vibrant flower-covered arch and tranquil ponds! This fairy tale setting provides an ideal backdrop for all sorts of photos. This one-of-a-kind paradise is a sight to behold. Stroll through the garden maze, admire the lush greenery, and take in the fresh scent of flowers as they drift through the air.
The Topiary Walk at Canopy Park in Jewel Changi is the perfect place to get your green thumb on! This lush garden of fun has seven different topiaries, each with a unique look and shape that can't be found anywhere else. From the adorable animal shapes to the whimsical abstract pieces, this amazing walk is sure to delight all who visit. You can even snap a selfie with one of these larger-than-life creations for an unforgettable experience!
5

Mastercard® Canopy Bridge
Take a thrilling journey of discovery as you traverse the 50m long and 23m high Mastercard® Canopy Bridge, with its glass bottom in the center and fog-filled ends. Feel as if you're walking among clouds while enjoying a gripping view from an unparalleled perspective. Being one of the main highlights of the Canopy Park, this bridge gets you as close to the Rain Vortex as you can!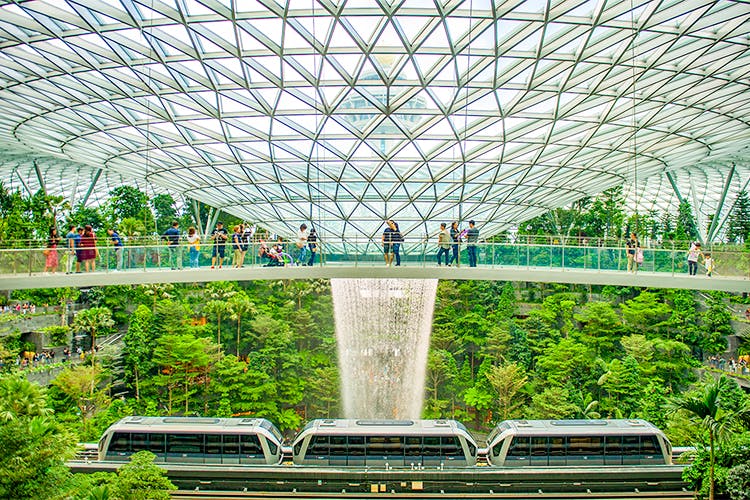 Singapore's largest Hedge Maze is located at Canopy Park, in the ever-bustling Jewel Changi Airport. This green labyrinth provides a welcome escape from the hustle and bustle of the city. The maze's winding pathways are made up of lush greenery that will transport you to an enchanted forest as you work your way through it. While there isn't a trick to finding your way out (luckily), there are plenty of surprises waiting along the path like interactive games, hidden messages and photo opportunities.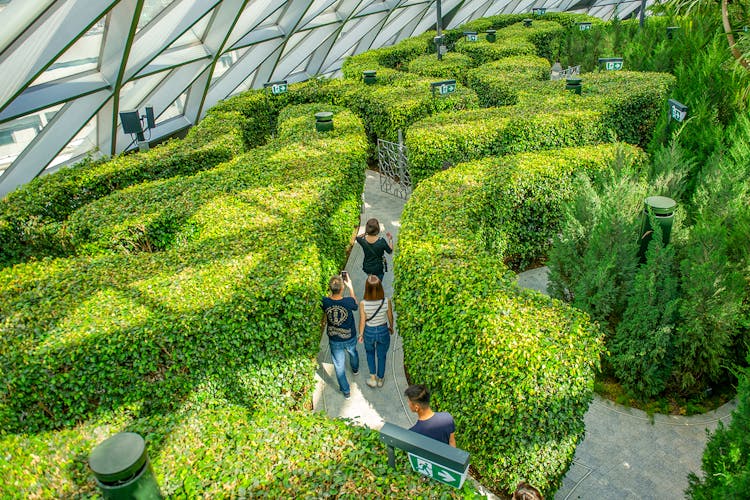 Descend into a world of confusion at Canopy Park's Mirror Maze! Nothing will prepare you for the dizzying experience of walking through this seemingly never-ending hall of mirrors. Don't be surprised if you find yourself doing a double take when you catch your reflection around every corner. With plenty of twists and turns, this is the perfect place to test your navigational skills — or just have fun getting lost in the maze!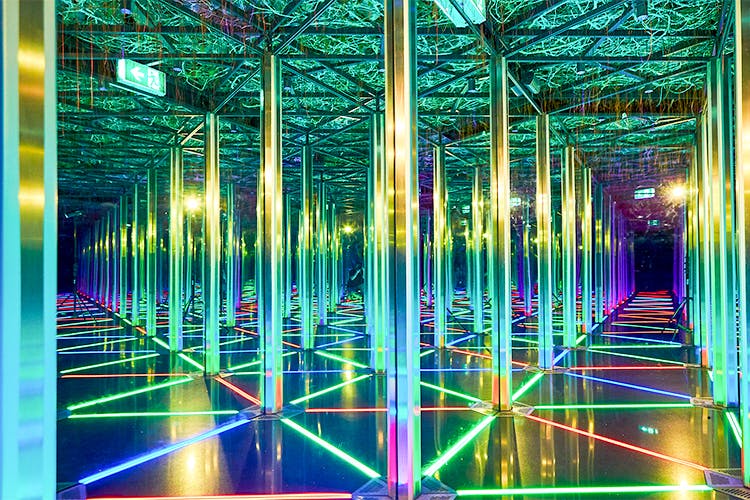 The Bouncing Net at Canopy Park is sure to make you feel like a kid again! This suspended net structure is made up of multiple trampoline-like surfaces, allowing visitors to bounce and jump around in the air. It's perfect for those who want to unleash their inner daredevil and experience some thrilling fun. The net also offers stunning views of Jewel Changi Airport from a unique angle.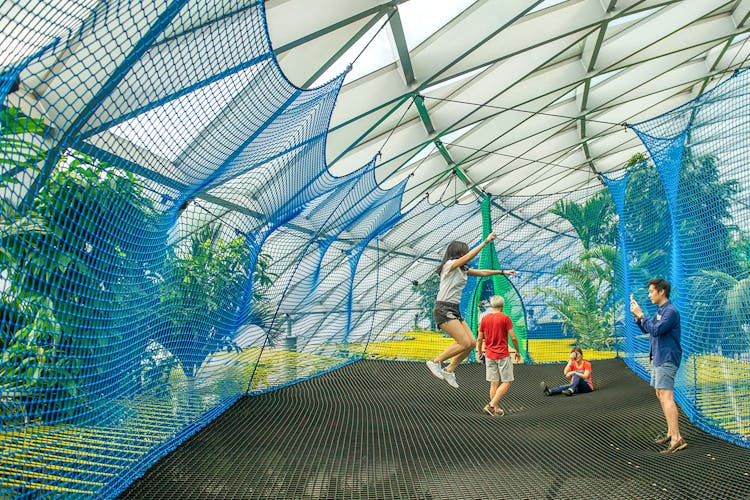 The Walking Net at Canopy Park is a must-try experience! It's like walking on air, or maybe even clouds. You'll feel as if you've been transported to a different world as you ascend higher and higher above the ground. But don't worry - the net is designed with safety in mind, so you can enjoy your stroll without any worries. Plus, there are plenty of places along the way to stop and take breathtaking views – all while being suspended 25 metres in the sky!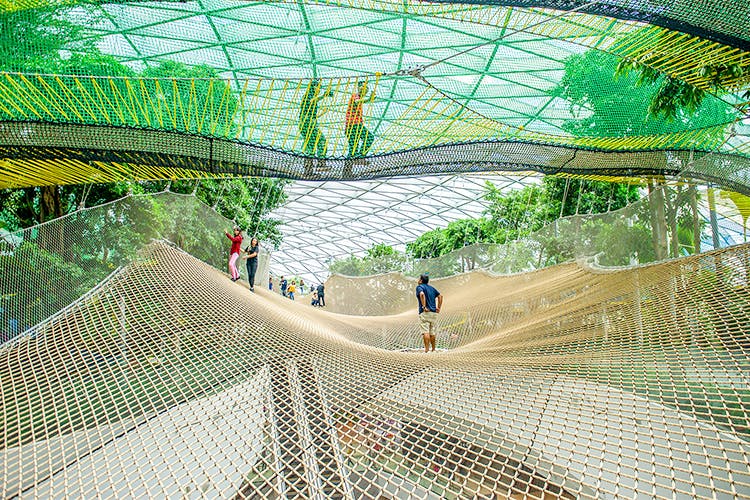 Other Attractions at Jewel Changi Airport
---
1. Changi Experience Studio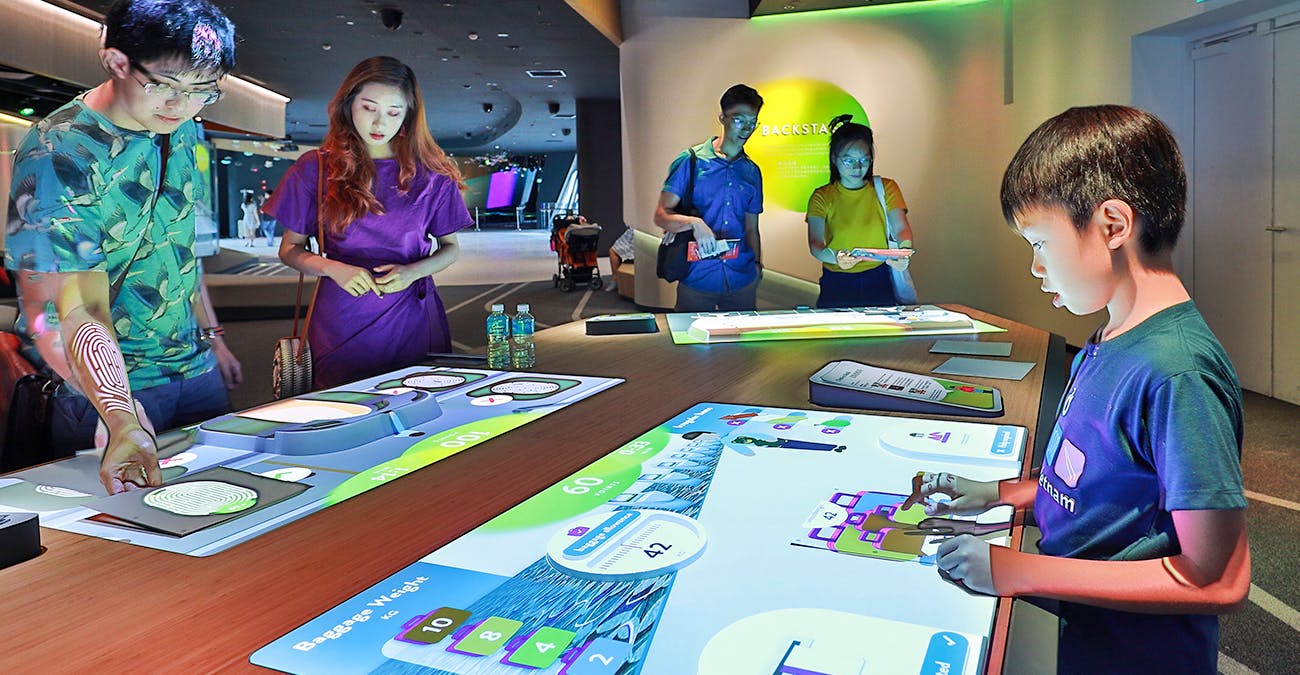 Explore the exceptional Changi Experience Studio and immerse yourself in a unique experience at Singapore's illustrious Changi Airport! This interactive gallery, located in Terminal 3, offers an abundance of activities, workshops and tours that will uncover untold stories about this world-renowned airport. From learning about its origins before it opened back in 1981 to discovering how technology is used to manage one of the busiest airports worldwide or even becoming a virtual air traffic controller for the day - there's so much to do here!
Where? Level 4, Jewel
2. HSBC Rain Vortex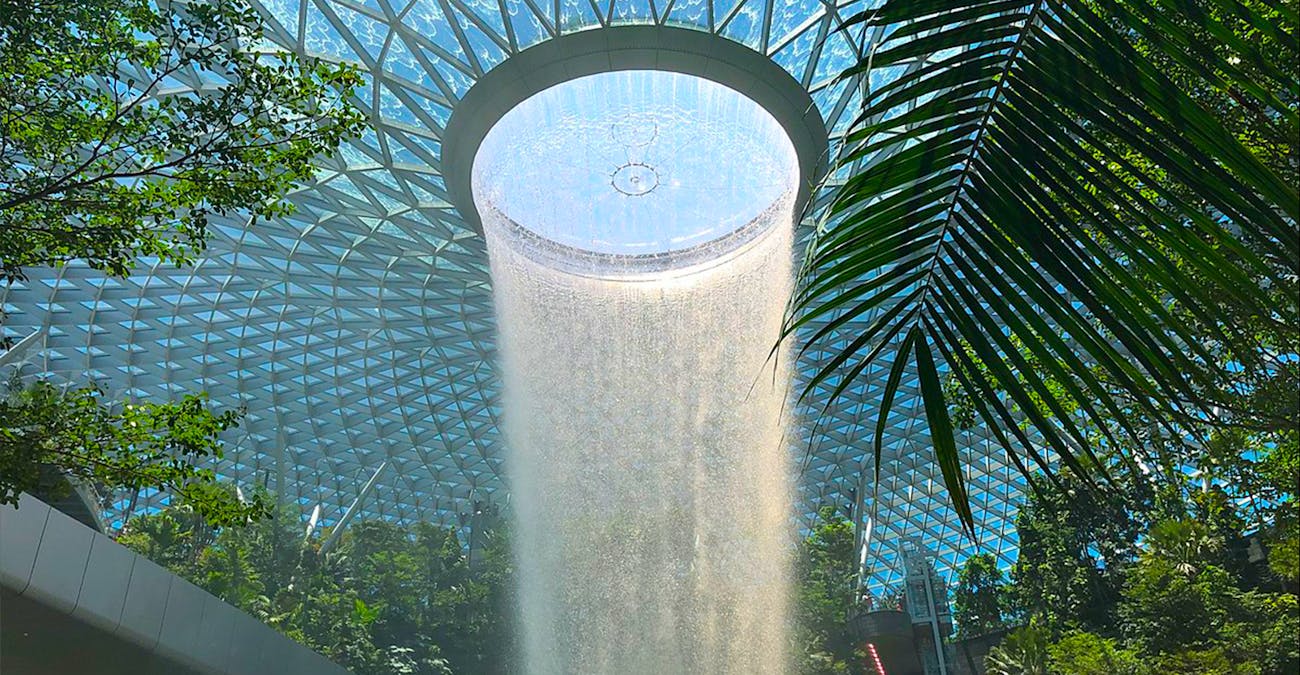 Ever dreamed of journeying through a dreamlike rainforest right in the middle of a bustling city? Now, you can make it happen! Jewel Changi Airport is home to the spectacular Rain Vortex – an awe-inspiring indoor garden filled with lush greenery and exotic plants. Not only that, but an amazing 40m cascade waterfall stands at its center. It's truly mesmerizing!
Where? Shiseido Forest Valley, Level 1, Jewel Changi Airport
3. Jewel-Rassic Quest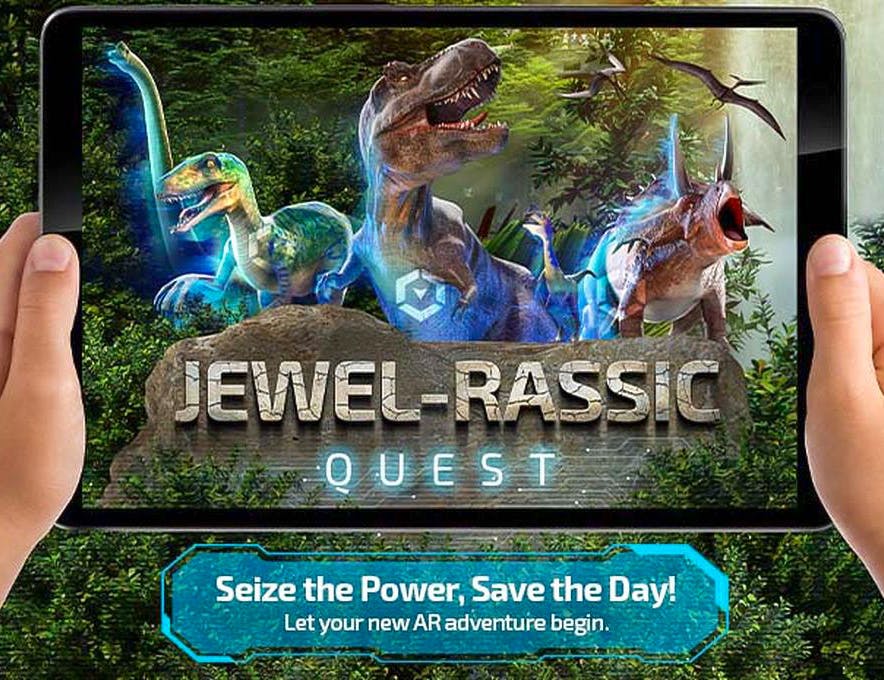 Transport yourself 89 million years back in time and experience an unforgettable augmented reality journey with dinosaurs! As a cadet ranger, you will be armed with a TimeLens to explore the lush greenery of Shiseido Forest Valley and Canopy Park, where life-sized dinosaurs have been enhanced against their natural habitat. Finish your mission by taking part in activities, and games and discover fascinating facts about these giant creatures!
Where? Level 1 Concierge Counter
Canopy Park - Opening Hours
---
Mastercard® Canopy Bridge, Walking Net, Bouncing Net, Mirror Maze & Hedge Maze:
Daily from 10am - 10pm

Canopy Park:
Mon-Thur: 10am - 10pm
Fri - Sun, Eve & Public Holidays: 10am - 11pm
Getting There
---
By Bus:
The closest bus stop is Changi Airport PTB1, which stops right in front of the mall. Buses #24, 27, 34, 34B, 36, and more will bring you here.
Bus services that stop at Terminal 1's basement bus bay: #24, 27, 34, 36, 53, 110, and 858.
By Train:
Take the Mass Rapid Transport (MRT) to the Changi Airport Station (CG2). Upon exiting the station (CG2), Jewel is accessible via link bridges located at level 2 of Terminals 2 and 3.
From Changi Airport:
Terminal 1: Jewel is connected to the Arrival Hall (level 1) of Terminal 1.
Terminal 2: Jewel is a 5 to 10-minute walk via a link bridge from the Departure Hall (level 2) of Terminal 2 (near row 1).
Terminal 3: Jewel is a 5 to 10-minute walk via a link bridge from the Departure Hall (level 2) of Terminal 3 (near row 11).
Terminal 4: Take the free airport shuttle bus service that passes between Terminal 4 and Terminal 2. From Terminal 2, Jewel is a 5 to 10-minute walk via a link bridge from its Departure Hall (level 2).
Insider Tips
---
Canopy Park is full of breathtaking views and sights that are unforgettable! Don't forget to bring your camera so you can capture the beauty of this park.
There is a lot of activities to do in Canopy Park, so make sure you wear comfortable shoes and clothes for long walks and lots of fun!
Remember to keep your ticket with you throughout the duration of your visit, as it will be requested when exiting Canopy Park.
You aren't allowed to take your luggage to Mastercard® Canopy Bridge, Walking Net, Bouncing Net and the Mazes. Make sure you store them at the Baggage Storage facility on Level 1.
You won't be allowed re-entry at the Mastercard® Canopy Bridge, Hedge Maze, Mirror Maze, Bouncing Net & Walking Net.
Guests visiting the Canopy Park must kindly refrain from bringing any food or drinks on their visit.
Do some research before making your way over to Canopy Park. Look up the different attractions and plan out which ones you want to try so you can make the most of your visit.
Minimum height requirement to enter the Discovery Slide, Bouncing Net and Walking Net is 110 cm.
FAQs
---
The attractions included with your Canopy Park ticket are the Discovery Slide, Foggy Bowls, Petal Garden, and Topiary Walk. You will have to pay a separate fee to enter the Mastercard® Canopy Bridge, Hedge Maze, Mirror Maze, Bouncing Net, and Walking Net.
For your comfort, we recommend that guests wear pants rather than skirts or dresses onto the Bouncing Net, Walking Net, and Mastercard® Canopy Bridge. Additionally, covered shoes must be worn when visiting the Bouncing Net and Walking Net for safety reasons.
At Canopy Park, no age or height is too small, but for the well-being of all visitors certain attractions have clear safety regulations. The Discovery Slides, Bouncing Net, and Walking Net each have a height restriction of 110 cm.
No, you aren't allowed to bring food and beverages into the Canopy Park.
For your peace of mind, Canopy Park provides complimentary lockers to store small items like handbags and valuables. If you're carrying larger luggage, please utilize the baggage storage facility* on Level 1 for safekeeping.