The Singapore Cable Car provides a sky-way link between Mount Faber and Sentosa. Offering panoramic views of the bustling city and tranquil sea, it serves as a unique vantage point for those seeking a different dining experience. Onboard one of the elegantly designed cabins, you can enjoy a romantic dinner while watching the beautiful skyline of Singapore. With a handpicked selection of gourmet meals curated by renowned chefs, this dining experience is sure to leave you with unforgettable memories.
Singapore Cable Car Sky Dining - Your Experience
---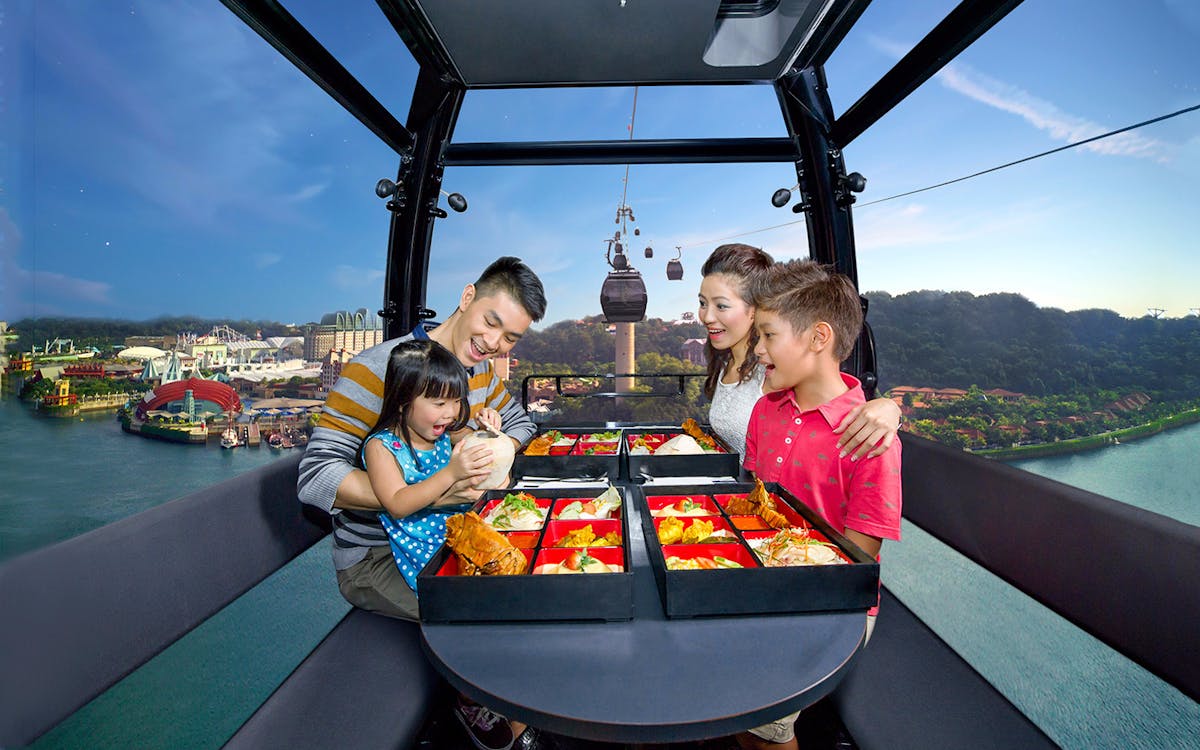 This 60 to 90 minute sky dining experience begins with a warm welcome at the Mount Faber station. It's perfect for a family of four or for couples looking for an unconventional date night idea. As the cable car ascends, you will be greeted by a stunning 360 degree view of the city. The cabin is equipped with comfortable seats and a table set up for your four-course meal. You can opt for any of the following dining options:
1. Deluxe Private Dining In The Skies:
Duration: 90 minutes
This culinary journey begins at the Arbora Bistro at Mount Faber Peak where you're welcomed with a drink. This unique experience is housed in a Poké Ball-themed cable car and offers a 4-course gastronomic menu that promises to tantalize your taste buds.
2. Private Dining In The Skies:
Duration: 60 minutes
This exclusive two-course Sky Dining menu offers an irresistible array of delicacies. The delicately poached lobster tail is plated alongside soft polenta, savory Grana Padano cheese and tender spinach. Satisfy your sweet tooth with our Beet and Greek Yogurt Torte.
3. Champagne Cabin:
Duration: 90 minutes
Experience sheer luxury with the Champagne Cabin's 60-minute dining option on your Singapore Cable Car journey. Immerse yourself in a modern European platter coupled with champagne, perfect for celebrating a special occasion.
4. Savour Singapore
Duration: 90 minutes
Embark on a distinctive culinary adventure with the newly introduced 'Savour Singapore' menu, an innovative fusion of traditional Singaporean cuisine and contemporary flair.
Local Tip: On account of it's 50th anniversary, Singapore Cable Car cabins will be Pokémon-themed from 27 April to 30 September 2023
Recommended Singapore Cable Car Tickets
---
Getting To Singapore Cable Car
---
The dining experience at Singapore Cable Car begins from Mount Faber station. For those entering from HarbourFront Tower 2, there is a complimentary ride to Mount Faber.
By Car: Look for sign board to Mount Faber Road on Lower Delta Road or Kampong Bahru Road. Three car park lots are available on Mount Faber peak.
By MRT: HarbourFront is the nearest MRT station to Singapore Cable Car. You can access the cable car station from level 15 of HarbourFront Tower 2.
Singapore Cable Car Dining