Singapore has a reputation for being an expensive city for tourists, however, it isn't impossible to experience it on a modest budget. This quirky island city is known for having an array of exciting activities and unique experiences in store for travelers. While there is a lot to do, there are also several ways to cut down on the ludicrous expenses that you can get caught up in during your stay. From finding the perfect place to stay to finding the top things to do in the city; our Singapore travel tips guide has you covered.
Singapore Essentials
---
Starting with the essentials, here's what you must know before getting to Singapore. Make sure you pack the right travel adapters.
Best Time To Visit Singapore
---
Although Singapore hardly undergoes any variation in the temperature, there are a couple of seasons which will treat you to a delightful experience. April is a great time to visit Singapore, as the peak season crowd subsides by the end of February. November onwards the city experiences a surge in tourism and also witnesses crowds that visit Singapore for the festive season. While there is a lot of crowd during the seasons of June and July, the Great Singapore Sale which begins in June and lasts till the end of July is a must-visit if you're someone who prefers to shop till they drop!
Read our complete guide on the best time to visit Singapore.
Singapore Travel Tips 101 - A First Timer's Holy Grail
---
Below are the tips and hacks you're here for. Read on and thank us later!
#1 It's Safe to Consume Tap Water
While this may sound strange for an Asian country, Singapore has clean tap water which is safe to consume at any given point. This is not only accessible but is also helpful when it comes to saving money during your stay. A bottle of water in Singapore can cost you S$2 at minimarts. It is wise to carry a water-bottle around which can be refilled at any given point.
#2 Smoking and Partying is an Expensive Affair
If you're planning to keep a tap on your budget, steer clear of smoking and drinking in Singapore. Due to excess taxation, a pack of Marlboro cigarettes costs over S$13, and a cocktail can burn a real large hole in your pocket. While there are no cheaper alternative for cigarettes, alcohol can be purchased for a modest amount at 7-Eleven stores across the city. If you plan on partying, stick to the happy hours where you can find buy one, get one free deals.
#3 Make the Most of The City's Parks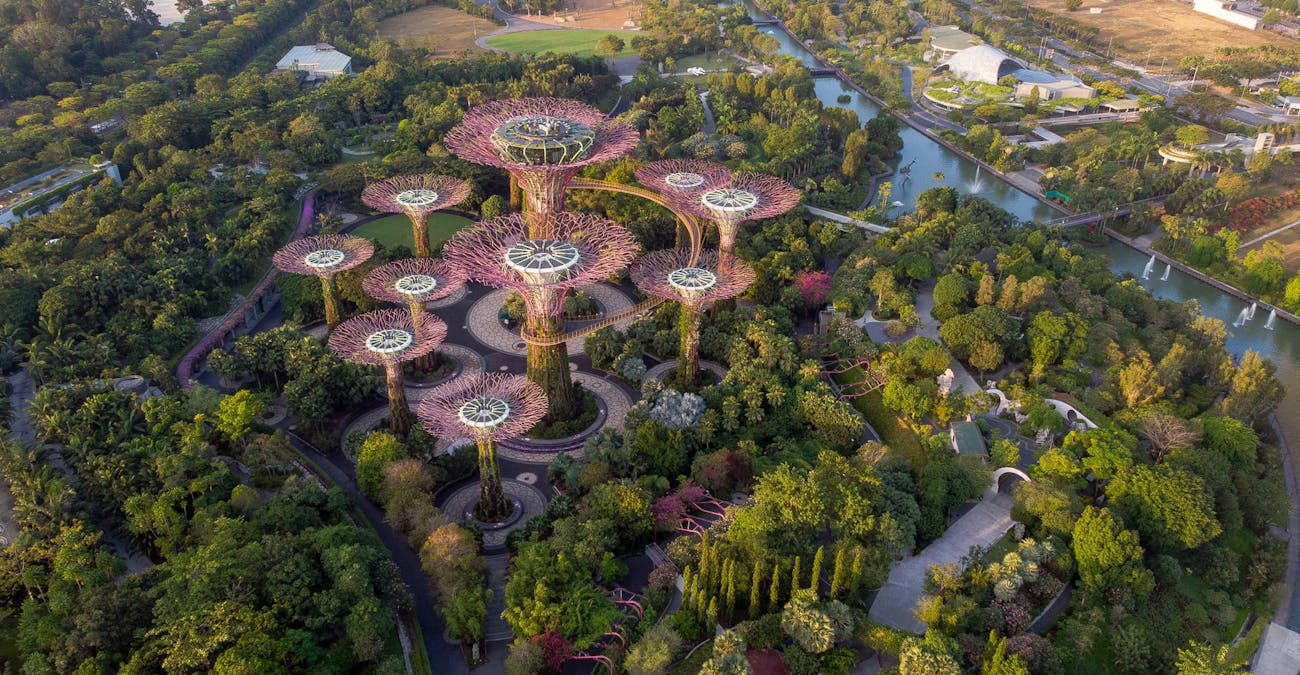 While the marvelous architecture of Singapore is something that catches the eye and touches the soul, the city is also known for its expansive and verdant parks. What makes it even better is that they're free of cost! Even the 160-year-old tropical Singapore Botanical Gardens is free and is an absolute delight to picnic and prance about. Take a stroll down some of its elevated walkways or ride a bicycle through the matrix of greenery that the city boasts of - there's plenty to explore if you're someone who enjoys this serenity.
#4 Tiong Bahru is a Neighbourhood Worth Visiting
Spend an afternoon ambling about the art-deco filled neighbourhood of Tiong Bahru for an sumptuous taste of life as a local in Singapore. Pop into one of the many independent shops and cafes - BooksActually for a fantastic selection of literature ,Plain Vanilla for freshly baked cupcakes, 40 Hands for a fine cup of coffee and Tiong Bahru Bakery for Singapore's finest artisan croissants. An afternoon here is one to remember.
#5 Research Before you Shop!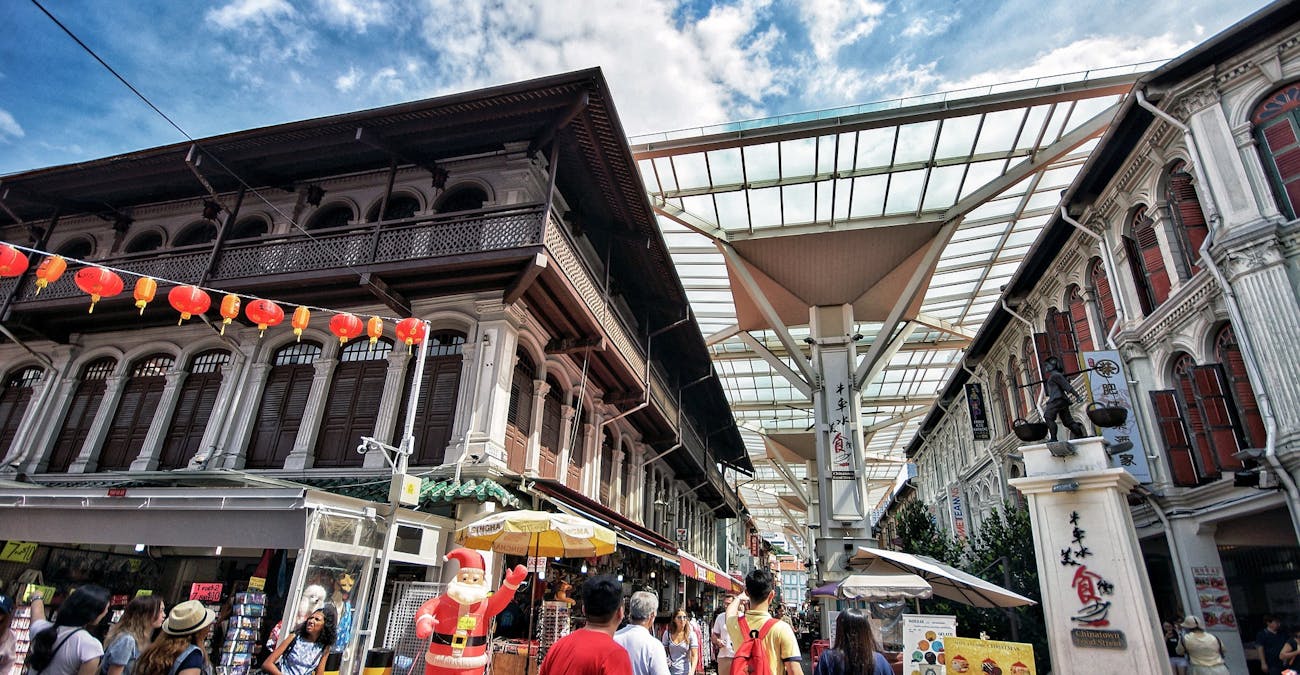 Singapore has some of the most vibrant shopping hubs in Asia - with enough to satisfy label lovers and more than enough for price-sensitive shoppers to haggle! It could take you forever to saunter the endless oasis of shopping malls in the city, so make sure you research before investing time and money into one of them. If you prefer flea markets and pop-up shops, you're likely to find plenty of them in Chinatown or Little India.
#6 Know the Law to Avoid Fines
Locals in Singapore are often caught joking about how the city is notoriously known as the 'fine' city. You could be slammed with a fine for the most innocuous activity which is probably not even a law in your country! Actions like spitting on the streets, tossing your cigarette butt anywhere but the trash can, or selling/importing chewing gum may result in a fine if you get caught. You could be incarcerated for vandalism and can even face a death penalty for drug-related offences in this country. Make sure to brush up on some basic rules and regulations to avoid being penalised. Here's a list of important laws to get you started.
#7 Get Yourself a CEPAS/ EZ-LINK Card
If you're planning to use the public transport in Singapore, grab a CEPAS/ EZ-LINK card as soon as you arrive. An EZ-Link card costs S$12 with a S$7 worth of credit included. This card can be used across the LRT and MRT trains as well as the public bus network in the city and you can top it up at any minimarts for a nominal cost. Moreover, the EZ-LINK card can be used for all kinds of lifestyle payment needs such as shopping at retail outlets, dining and so much more.
#8 Eat Your Meals From Local Hawkers Save yourself from blowing up a fortune in Singapore by choosing to eat from local hawker centres. Pro Tip: If you're doubtful about the taste, join the one with the longest queue! Hawker food is generally cheaper than the air-conditioned food halls and restaurants- definitely worth the sweat. Those concerned about hygiene standards should look out for the colored placards, from A (the best) to D (a risk), displayed at each stall by the government hygiene department. Head to the hawkers on Smith Street to sample some scrumptious local snacks for less than $6 SGD.
#9 Capsule Hotels Are A Great Culture-Taste Affordable accommodation is quite the task when it comes to a city like Singapore. While staying near the Marina Bay Sands is extremely accessible, it also comes with a hefty price tag. Capsule hotels have gained momentum in the past couple of years, and have quickly become a favorite among budget travelers who don't want to spend a pretty penny on expensive hotels. Check out the top capsule hotels in Singapore.
#10 Bundled Deals In Singapore Are A Great Buy
Surfing the internet in advance for an ideal combo is perhaps the best way to go about your Singaporean holiday. Having a handy combo pass during your excursion will not only help you save money but will also make sure you avoid the rush hour crowd with the help of a skip the line feature. Here are some of our favourite combo deals that will help you save big bucks
#11 Claim a Tax Refund on Your Purchases
As a tourist in Singapore, if you've spent over S$100 and have all the bills of the purchased items with you; you can claim a refund on the 7% Goods and Services Tax (GST) paid on your purchases. To know whether a shop is participating in the Tourist Refund Scheme (TRS), look for a "Tax Free" shopping logo or sign displayed at the shop. To know more about the GST refund head here.
#12 Spend Some Quality Time at the Changi Airport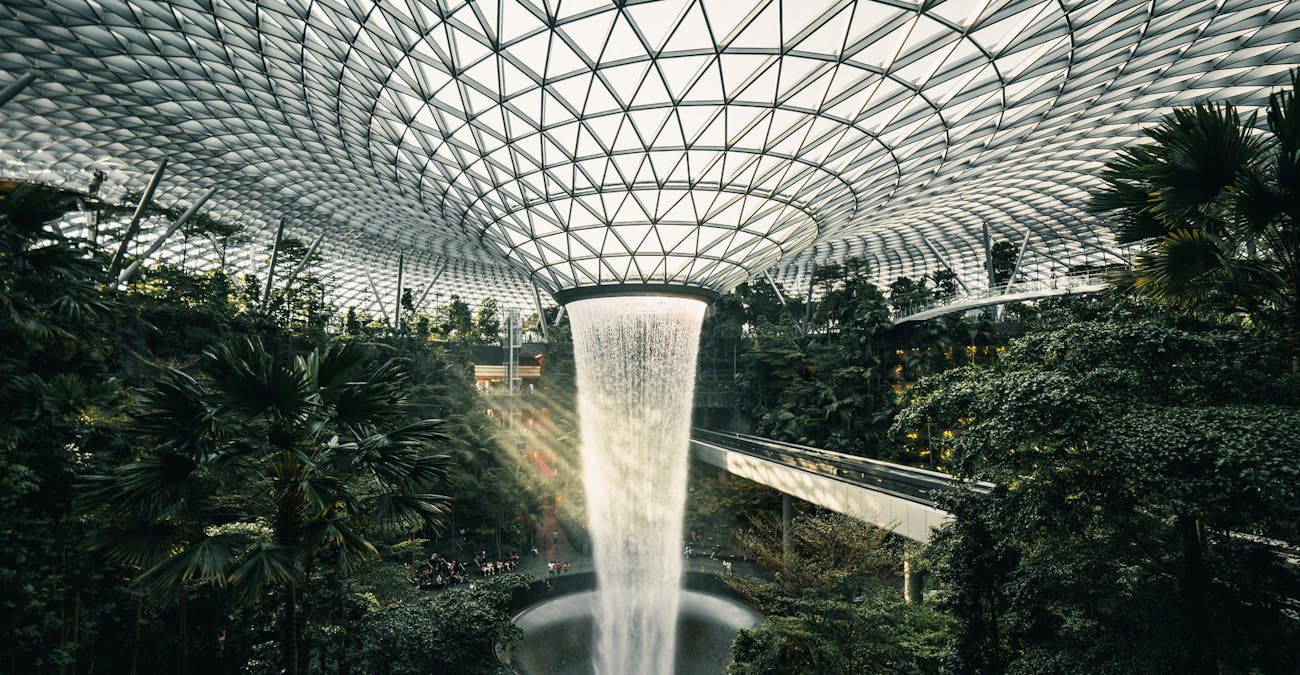 Singapore Changi Airport was voted the World's Best Airport 2019 by international air travellers for the seventh consecutive year, so try and squeeze a long layover/stopover. There's so much to do in here that locals are often seen spending their weekends in the airport! With perfectly manicured gardens, a swimming pool, free movie screening and what not; there's no scope for boredom in here. Also, there are 2 free city tours for visitors transiting through Singapore. Arrive a little early before your departure or spend a while after you land in Singapore - it's the perfect spot to start/end your vacation!
#13 Tipping is not Mandatory
A majority of the restaurants and cafes in Singapore charge a 10% service fee, due to which tipping is generally considered unnecessary. Conversely, hawker centers and food courts do not charge service or consumption tax, neverthless, most locals do not tip here as well. In other words, you wouldn't be frowned upon if you skip the tip.
#14 Keep a Whole Day Aside for Sentosa
A whole day or two whole days. There's so much to do in Sentosa, you'll probably need a whole week. However, as a tourist you must keep aside atleast a day or two to make the most of this man-made island. While the Universal Studios , Adventure Cove Waterpark and the Wings of Time top our list of things to do in Sentosa Island; there are atleast 20 things to do in Sentosa that deserve your time and money. Pick and choose the ones you'd like to do and don't forget to squeeze in a few hours at the Sentosa beach!
Read all about making the best of Sentosa island with the Sentosa FUN Pass.
5% Cashback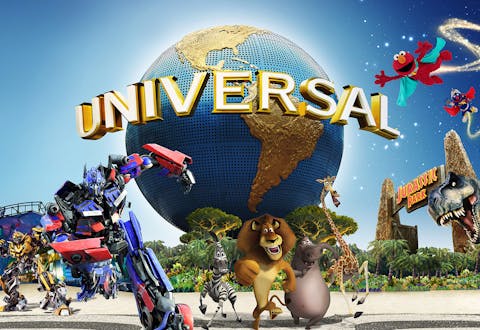 Universal Studios Singapore
Universal Studios Singapore™ Tickets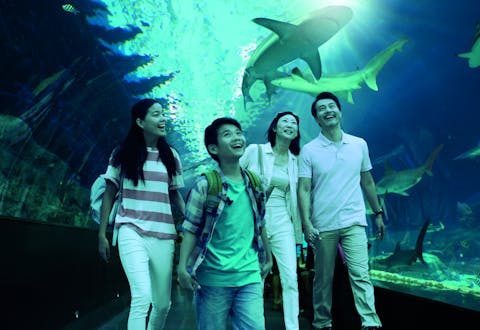 Universal Studios Singapore
Super Saver Combo: Universal Studios Singapore...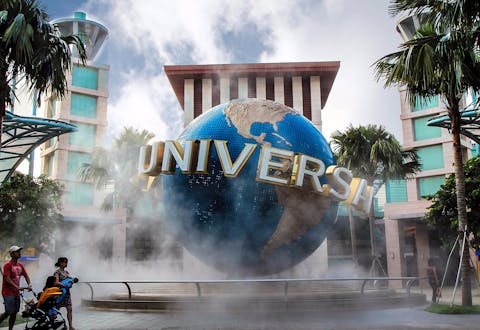 Universal Studios Singapore
Ultimate Combo: Universal Studios + Adventure ...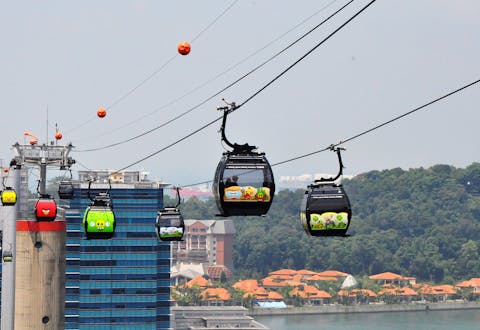 Sentosa Passes & Combos
Cable Car Skypass with Wings of Time and Buffe...
5% Cashback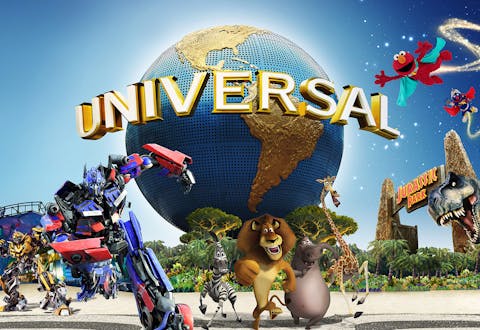 Universal Studios Singapore
Universal Studios Singapore™ Tickets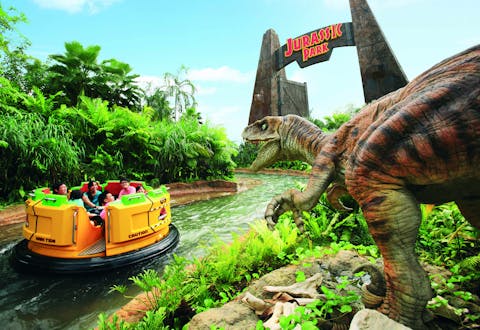 Universal Studios Singapore
Universal Studios Singapore™ with Hotel Transfers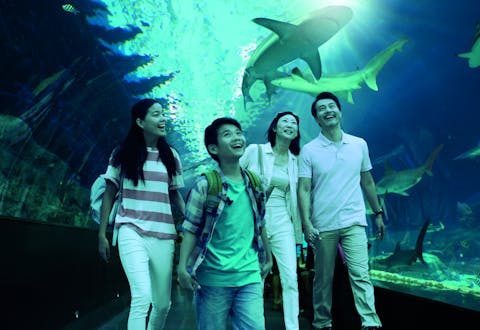 Universal Studios Singapore
Super Saver Combo: Universal Studios Singapore...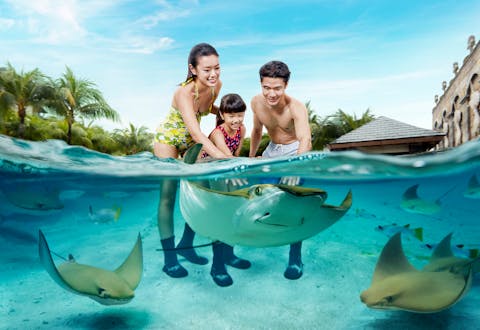 Universal Studios Singapore
Super Saver Combo: Universal Studios Singapore...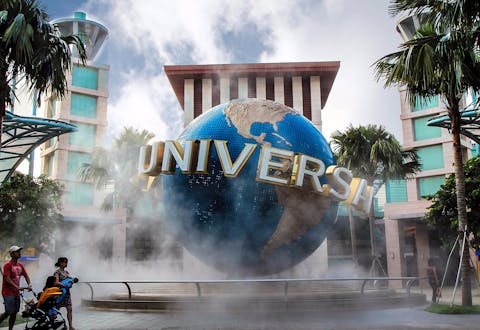 Universal Studios Singapore
Ultimate Combo: Universal Studios + Adventure ...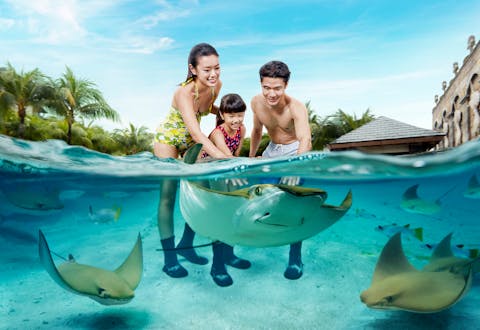 Universal Studios Singapore
Super Saver Combo: Universal Studios Singapore...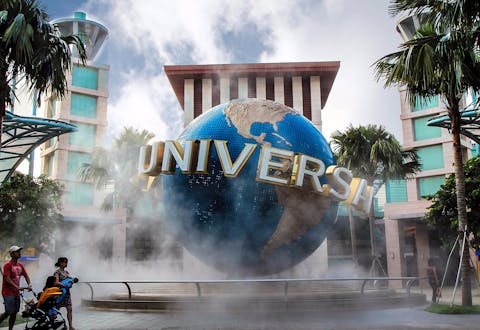 Universal Studios Singapore
Ultimate Combo: Universal Studios + Adventure ...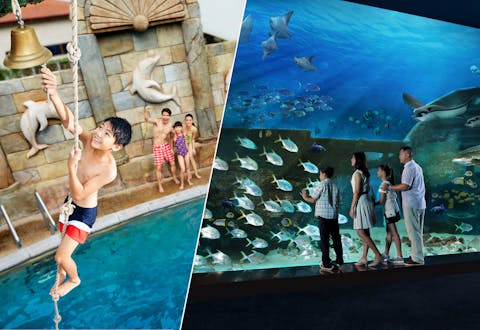 Adventure Cove Waterpark
Marine Life Park Ticket: S.E.A Aquarium + Adve...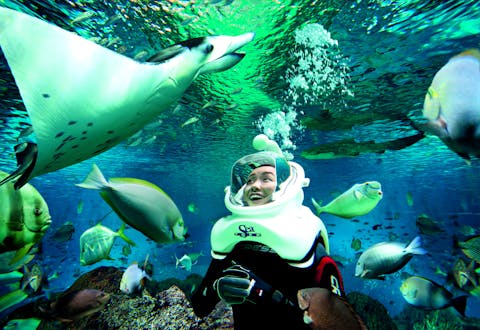 Adventure Cove Waterpark
Sea Trek with Adventure Cove Waterpark Tickets
New Arrival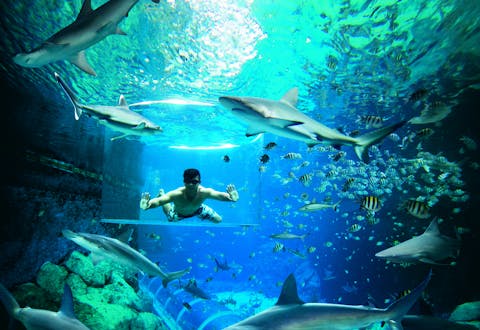 Adventure Cove Waterpark
Shark Encounter with Adventure Cove Waterpark ...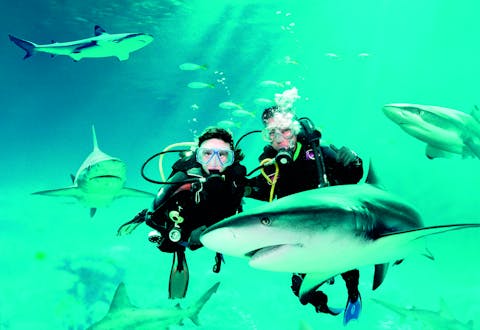 Adventure Cove Waterpark
Shark Dive with Adventure Cove Waterpark Tickets
New Arrival
5% Cashback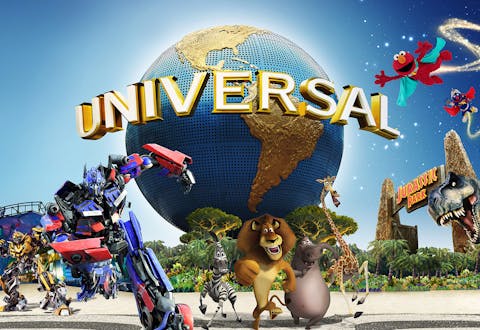 Universal Studios Singapore
Universal Studios Singapore™ Tickets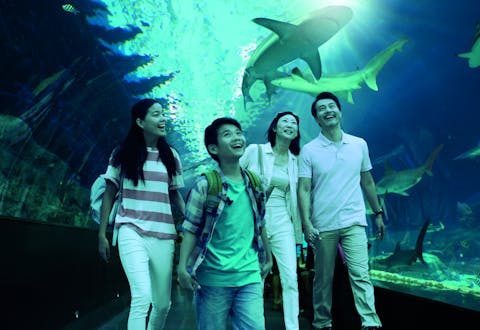 Universal Studios Singapore
Super Saver Combo: Universal Studios Singapore...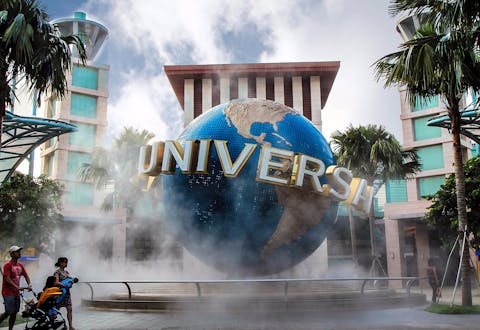 Universal Studios Singapore
Ultimate Combo: Universal Studios + Adventure ...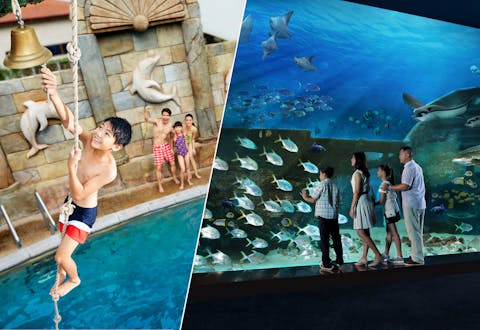 Adventure Cove Waterpark
Marine Life Park Ticket: S.E.A Aquarium + Adve...
#15 The City Lights-Up Every Now & Then
No matter which month you go, there's an event or festival in Singapore through the year. Barring the ethnic/religious celebrations like the Chinese New Year, Deepavali and Christmas, there are also artistic illuminations such as the Singapore Night Festival, the i-Light Marina Bay Sustainable Light Art Festival that see the city decked in elaborate street decorations. Festive areas are known to have street bazaars and free performances and visiting these could easily be the highlight of your vacation. The real icing on the cake could be the visiting one of the umpteen events that run through the year - The Singapore International Festival of Arts, The Singapore Jazz Festival, Dragon Boating Regattas and the Great Singapore Sale to name a few. Tips For Saving Money On Transportation In Singapore
---
Singapore has an elaborate transport network that can help you get around the city with ease. Whether you plan on taking the bus or traveling by the subway, here are a few tips for affordable transportation:
Using your credit card at a petrol pump can help you save money. You can avail 20.88% savings at Esso and 20.8% savings at Shell petrol stations, and up to 8% cash-back at various other petrol pumps across the city.
Singapore is a cycle-friendly city with dedicated cycle lanes and top-notch safety measures for riders. Barring the healthy quotient, it's economical and allows you to cover grounds inside parks as well!
Checking into the MRT before 7.45 AM will earn you $0.50 off your fares. Also, if your ride costs under $0.50, it's free!
Singapore has a myriad of bus-pooling applications including Beeline or GrabShuttle that will allow you to book a seat for your commute with passengers going the same way.
Using credit cards for public transport can score you exciting cashbacks if you hit a minimum spend.
Hop On Hop Off buses are a great way for tourists to get around the city. You can use them an unlimited number of times and hit up most of Singapore's top attractions with great ease.
Tips For Saving Money On Eating In Singapore
---
Best known for being an expensive city, scouting for cheap food in Singapore can be a task in itself. However, there are ways you can relish your bucket-list favorites without having to compromise on anything. Here are a couple of tips that you can keep in mind during your stay in Singapore:
Food hawkers across the city promise a good meal for under $5. You have an array of cuisines to choose from - the harder it is to pronouce, the tastier it is likely to be.
One of the easiest ways to save in Singapore is by drinking wisely. Restaurants charge a premium when it comes to in-house drinks, so watch out for happy hours. There's also a good chance that their in-house drinks are of superior quality, so it is wise to purchase your own alcohol from 7-Eleven stores.
If your hotel provides a complimentary breakfast, make sure you stock up on heavy breakfast before heading out for the day.
Use reservation applications that can acquaint you with new offers every now and then. Keeping these apps handy can help you with reviews and other tips by travelers who have visited the restaurant before.
Choose to eat at Food Halls that are available in plenty in Singapore. With an array of affordable and delicious food available, Food Halls have become an essential part of the Singaporean culture.
Using a credit card can be handy if you're someone who likes to fine dine once in a while. Not only does it avail special deals, but also it is a great way to get cash back after you spend a fortune on your meals. If you have dining credit cards, including Citi Cashback Card, POSB Everyday Card, and UOB YOLO Card, make sure you put them to good use.
More Tips To Save Money In Singapore
---
Accommodation tips

Choose a youth hostel or a dormitory to save up on accommodation.
You are likely to find cheaper alternatives on couch-surfing, Airbnb and capsule hotels.
Search for accommodation around Little India, where the prices are relatively cheaper.
Save up Hotel reward points to make the most of expensive destinations.
Choose a hotel that's far from the city, but is close to transit system.
Keep an eye out for new hotels opening up, as they tend to start off with lower rates.
Free Attraction Tips

Take a stroll down the iconic Merlion Park, where the huge national icon stands on the banks of the Singapore River.
Visit The Cenotaph, a 60-foot war memorial that pays tribute to soldiers who sacrificed their lives for World War I and II.
Gardens by the Bay invites visitors for free to explore its multi-themed gardens and greenhouses.
The UNESCO world heritage Botanical Gardens not only have free entry but also have free guided tours for visitors.
Catch a free performance at the Esplanade Outdoor Theatre between 7:30 pm to 11 pm.
Tips For Tours In The City

Opting for a guided tour is helpful, as it takes you through the important attractions on a budget.
A self-guided tour is also a great idea if you're looking out for a good, economical way of touring the city. It also allows you to explore the city at your own pace.
It is a good idea to invest in an audio guide if you're touring by yourself, as it can help in acquainting you to the local history of the area.
If you're visiting neighbourhoods like Kampong Glam, Little India, Chinatown etc, it's best to walkabout with a local guide to understand the history and acquaint yourself to lesser known facts about these diverse neighbourhoods. Here are the best guided walking tours in Singapore
The Singapore City Gallery, which carries a 3D architectural model of the city, also has free admission for everyone, on all days.
Food tours in Singapore are a much sought after affair, so sign up for one in advance to grab a spot.
Tips For Purchasing Online Tickets

Choosing to book tickets online can not only help you to avoid last-minute price rise but can also help you avoid the crowd.
Online tickets may also come with perks such as skip the line, VIP access as well as several other combo offers.
Booking tickets online can also provide you with an option of flexible dates and various cancellation offers.
Top Experiences In Singapore
---
I'm sure you have your itinerary all sorted, but here are the top 10 things you must do in Singapore. If any of these are missing from your itinerary, make sure you squeeze them in! There are a few recommended tours for each attraction, so if you haven't grabbed tickets as yet, now would be a great time.
1. Singapore Zoo
2. Universal Studios Singapore
3. Sentosa Island
4. Marina Bay
Get discounted tickets to the Marina Bay Sands Skypark Observation Deck
5. Gardens By The Bay
6. Adventure Cove Waterpark
7. Walking Tours In Singapore
8. S.E.A. Aquarium
9. Jurong Bird Park
10. Singapore Flyer
Ready to explore Singapore?
---
Here are a few more guides that should help you plan your visit.