Tucked in between Malaysia and Indonesia is a country, roughly ⅔ the size of New York City, that attracts about 17 million international tourists every year (3 times the size of its own population). Singapore, often called the Lion City, is one of Asia's, if not the world's, top tourist destinations and for good reason. You can do literally anything here! And that is no exaggeration. From mega shopping malls to thrilling amusement parks to world class zoos and even delicious, multicultural food, this tiny island packs a huge punch. Visiting this vibrant, lively city should definitely be on your travel bucket-list.
Being an island-country, the weather in Singapore is fairly consistent all year round with medium to high heat and humidity to be expected no matter what the month. However, Singapore in December sees a dip in temperature and the city tends to be cooler and less humid, making it an apt time to plan your next visit here.
What makes Singapore in December special?
---
Ideal weather : December marks the onset of the Northeast Monsoon season and is the coldest month of the year, although it's only a couple of degrees lower than the average temperature throughout the year. Nonetheless, you will be able to feel the slight difference in temperature and with the relatively high humidity and rainfall, you will be thankful for the little dip in degrees. The cool weather makes it perfect to stroll around the city (with an umbrella, of course) and admire the natural, green beauty that Singapore is known for.
Bustling crowds : This can be a deal breaker for some, but during the months of December to June, Singapore experiences its high tourist season. The city is filled with people from all over the world and it makes for a lively atmosphere all around. Since it's the tourist season, there are a lot of fun events, live performances, parties and cultural happenings that take place around the city. One thing is for certain, if you decide to visit in December, you will not have a single second to spare.
New Year's Eve : There is no better way to usher in the New Year than to spend it partying on the rooftops in Singapore. New Year's day is a national holiday in Singapore and people are in their best, festive moods. With a ton of parties, brunches and other fun things happening, Singapore is where you want to be this December 31st.
Singapore weather in December
---
December tends to be the coolest month of the year in Singapore with the temperatures ranging between 24°C to 29°C. December also happens to be the month that experiences the maximum rainfall, with an average of 269mm. If you do to plan to visit in December, make sure you carry your umbrella and raincoat!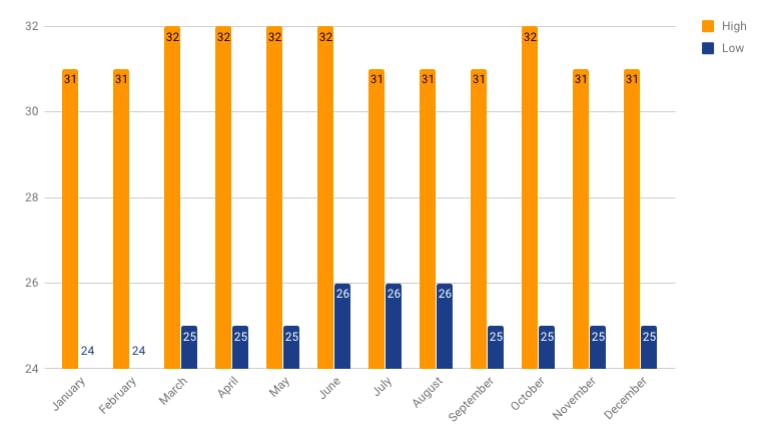 Visiting Singapore in December : Things to do
---
Singapore Zoo & Rainforest Lumina
One of Singapore's most popular attractions is the Singapore Zoo. Home to over 300 species of mammals, reptiles, and birds, this zoo is the perfect way to get up close and personal with your favourite wildlife creatures. Celebrating its 50th anniversary this year, the Singapore Zoo has a series of exciting activities lined up for you in the upcoming months which you simply cannot miss.
December Timings
8:30 AM to 6 PM (last entry 5:30 PM)
Voted Asia's top amusement park for 3 years in a row, Universal Studios is a must-do for all thrill-seekers and adrenaline-junkies out there. With a ton of rides, roller-coasters and interactive shows, this Hollywood themed park is a perfect way to spend your time on Sentosa Island.
December Timings
December 1st to 20th: 10:00 AM to 9:00 PM (On Saturdays till 10:00 PM)
December 21st to 30th: 10:00 AM to 10:00 PM
December 31st - 10:00 AM to 12:00 AM
National Gallery Singapore
This National Gallery Singapore is the world's largest public collection of Southeast Asian and Singaporean art, with over 8,000 pieces on display. The National Gallery is currently hosting Asia's first Minimalist Art Exhibition, till April 2019, so make sure you go for this if you do plan to visit the gallery.
December Timings
Saturday to Thursday: 10:00 AM - 7:00 PM
Fridays: 10:00 AM - 9:00 PM
Perched 200 meters above the heart of Singapore is one of the world's largest and most lavish observation decks, the Marina Bay Sands Skypark. Enjoy the unparalleled, panoramic views of Singapore, atop the clouds, in the cool December air and make memories that will last you a lifetime and beyond.
December Timings
Monday to Thursday: 9:30 AM to 10:00 PM
Friday to Sunday: 9:30 AM to 11:00 PM
Meander through the river in this one-of-a-kind wildlife park that houses over 6,000 animal and over 40 threatened species! Check out the Chinese Salamander and the Mekong Catfish as you make your way through the safari. There are a number of fun events taking place here this month, including 'River Lockdown', 'River Trails - The Fearsome Edition', 'Fearsome Feeds with River Creatures' and a few more (You can find the list here). Be sure to check these out in the month of December.
December Timings
Daily from 10:00 AM to 7:00 PM (last entry at 6:30 PM)
Another one of Singapore's top attractions is the Adventure Cove Waterpark in Sentosa. You can enjoy thrilling water slides, chill out in the Adventure River, snorkel with over 20,000 tropical fish or even come face to face with some sharks! With a whole bunch of exciting things to do, it's going to be hard to pick one.
December Timings
Daily from 10:00 AM to 6:00 PM
Perhaps one of Singapore's greatest creations in recent years, Gardens by the Bay is a futuristic nature park located right in the centre of the city. The idea for the park was part of the nation's plan to transform from the 'Garden City' to a 'City in a Garden'. With the largest largest glass greenhouse in the world (the Flower Dome) and other magnificent art installations, Gardens by the Bay has become Singapore's most visited attraction. Again, there are a number of events taking place here in December, including the ever-popular Christmas Wonderland. You can find the entire list here.
December Timings
Outdoor Gardens - Daily from 5:00 AM to 2:00 AM
Cooled Conservatories - Daily from 9:00 AM to 9:00 PM
Who doesn't love a good cable car ride? Enjoy a thrilling 30-minute cable car journey that takes you from mainland Singapore to Sentosa, and all the while enjoy the lovely sights, including Mount Faber Park, Universal Studios, Resorts World Sentosa and others, in the beautiful December air.
December Timings
Daily from 8:45 AM to 10:00 PM (last ride at 9:30 PM)
1 Harbourfront Ave, tower 2 Keppel Bay Tower, 098632
Singapore
Getting There ›
For the ultimate adventure seekers, this is for you. Located on Siloso Beach in Sentosa, AJ Hackett has a number of thrill-seeking and blood-pumping activities like the Skywalk, the Giant Swing and 47 meter high Bungy Jump. Having catered to over 4 million people all around the world, AJ Hackett is now in Singapore and is ready to take you to the next level. The only question is - Are you?
December Timings
Monday to Thursday: 11:00 AM to 8:00 PM
Friday - Sunday: 11:00 AM to 9:00 PM
The Art Science Museum in Singapore is the first of its kind in the world, and is a place to explore technology, art, science and culture, all under one roof. The museum has 21 galleries spread over 5000 square meters, and although it has own permanent exhibitions, it is the temporary exhibitions on display here, that attract the crowds. There are a number of temporary exhibitions that will be displayed in the month of December, you can find the entire list here.
December Timings
Monday to Thursday: 11:00 AM to 8:00 PM
Friday - Sunday: 11:00 AM to 9:00 PM
Singapore in December : Events to Look Out For
---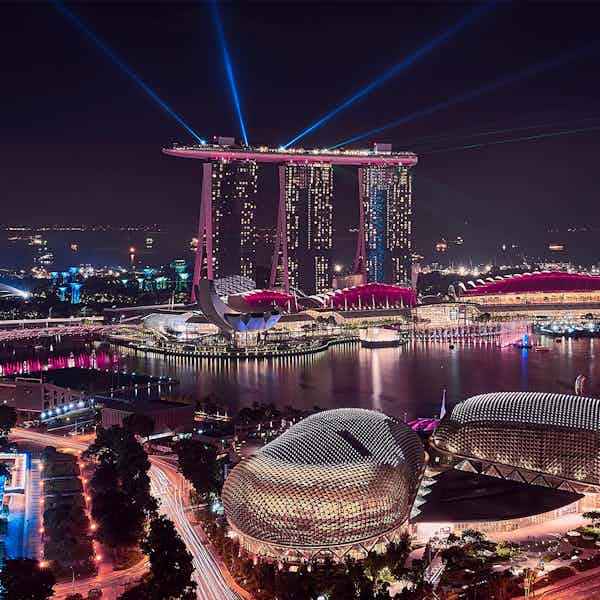 Singapore International Film Festival
24th November- 4th December 2022
Taking place from 24th November to 4th December is Singapore's longest running film festival, The Singapore International Film Festival. The movement was started in 1987 to give locals a chance to view and enjoy independent and non-commercial Asian and international films. However, over the years, the festival has grown in size and has become recognized worldwide by film critics. Many of the films on display here have yet to be released commercially, making the tickets to this event highly sought after.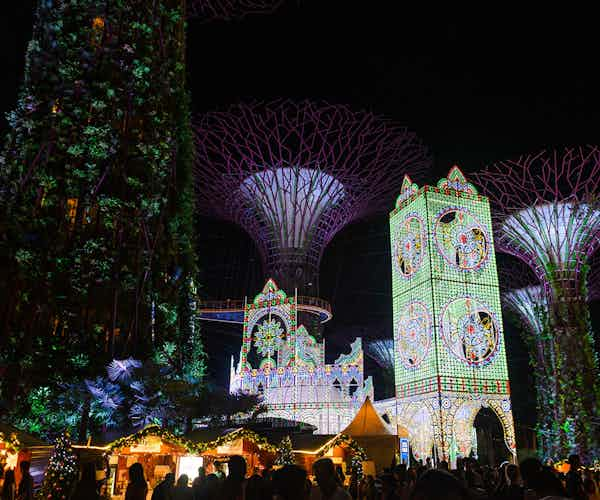 Christmas Wonderland at Gardens by the Bay
3th December-4th January 2022
Gardens by the Bay, since 2014, has hosted the annual Christmas Wonderland, a yuletide fair full of live entertainment, fancy sculptures, beautiful installations, dazzling lighting and of course, a ton of Christmas cheer. With carnival games and rides such as the carousel, Christmas train and spinning tea cups it is perfect for the entire family. All in all, Christmas Wonderland happening from 1st to 26th December from 4PM to 11 PM is a wonderful place to be this holiday season.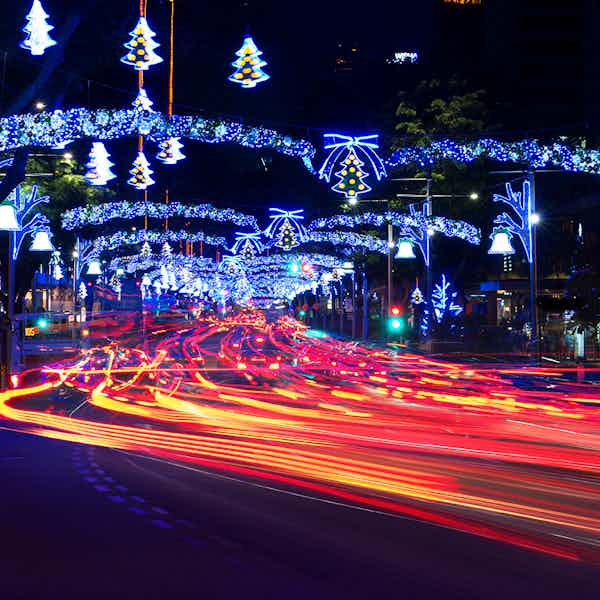 Christmas on a Great Street, Orchard Road
12 November 2022 – 2 January 2023
Like Christmas Wonderland at Gardens by the Bay, Orchard Street in Singapore too organizes a Christmas celebration year after year and gets transformed into a magical wonderland. This year, for the first time ever, Orchard Road Business Association is tying up with Walt Disney Company to bring to Singapore 'Disney Magical Moments'! From 10th November to 1st January the entire street will be lit up with your favourite disney characters like Mickey Mouse and Cinderella, and will be dotted plenty of lit up shops, live performers and delicious eateries.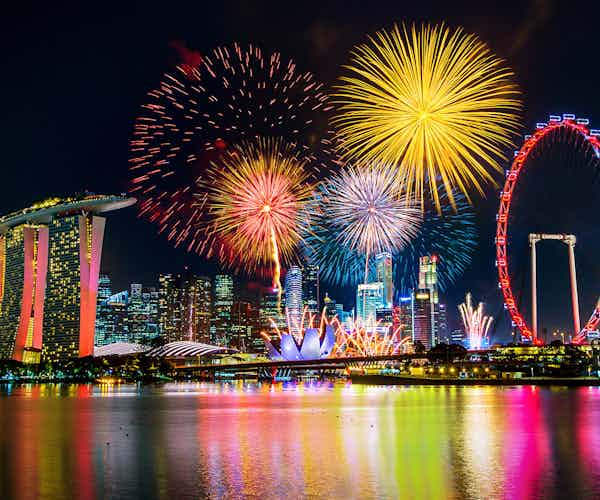 New Year's Eve
31st December - 1st January 2023
New Year's Eve in Singapore is perhaps the most celebrated, famous and popular event of the year with an astounding 300,000 people making their way to the Lion City to welcome the new year. The Civic District kicks things off with a Countdown Market from 4 PM - 12 AM. You can head down to Marina Bay waterfront and catch the fireworks, along with some lovely music, lights and lasers. Clarke Quay also organizes a stunning fireworks display along with a number of street performers there to entertain the crowds. It's fun unlimited and you must not miss it!
Singapore in December : 5-day Itinerary
---
Planning to spend 5 days during your visit to Singapore in December? Here's our handcrafted 5 day itinerary to spend 5 memorable days in Singapore.
5 Days in Singapore Itinerary
Singapore December Essentials
---
Singapore Weather in December
December marks the official start of the northeast monsoon season in Singapore, hence this month is wet! You will see a staggering 269 mm of rain falls over 25 days but thanks to the city and its transport being well planned, you won't have issues getting around despite the rain. You can expect to soak in 6 hours of sunshine during this month and temperatures ranging to highs of 26°C and lows of 23°C.
Where to Stay While Visiting Singapore in December
Singapore is infamous for its exorbitant rates on accommodation and stay, especially during the tourist season. However there are a few budget hotels and hostels where you can stay, without compromising on quality. Some of them include - Holiday Inn Express on Orchard Road, Ibis Singapore, Hotel 81, Fisher BnB, The Bohemian, Hotel 1929, and if you're feeling adventurous, you can even try the Spacepod Hostels.
What to Pack for Visiting Singapore in December
Given the cold and rainy weather in December, it will do you well to carry an umbrella and a cardigan or sweater at all times. You can also carry some loose, airy clothing considering that the humidity will be at a high during this season.
Getting Around Singapore in December
Singapore has a well-connected, efficient public transportation system. You can travel to any part of the city by bus, taxi or the MRT (mass rapid transit). The fastest and most hassle free of getting around the city is by MRT. Do yourself a favour and purchase the Singapore Tourist Pass. Depending on the number of days you choose (1, 2 or 3 day pass), you get unlimited rides on the Singapore transportation network.
Must Try Delicasies While Visiting Singapore in December
---
It is common knowledge Singapore is a melting pot of cultures and ethnicities, with people from all over the world making this city their home. This multiculturalism is greatly reflected in its food, which has taken influence from cuisines all around the world. From street vendors to Michelin Star restaurants, Singapore has it all. Here are 5 dishes you absolutely must feast on the next time you visit the Lion City.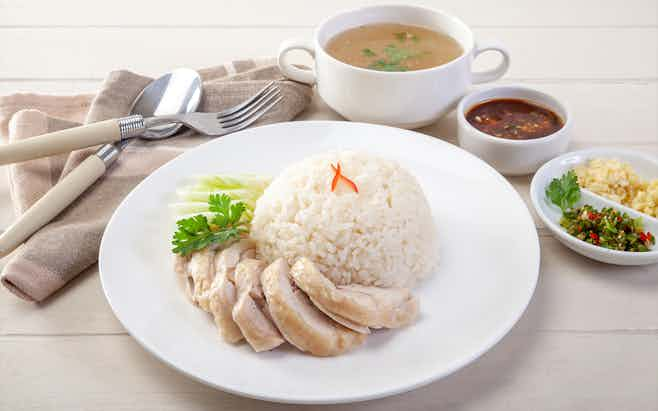 Hainanese Chicken Rice
Considered one of Singapore's national dishes, Hainanese Chicken Rice is one of the most popular and most widely eaten foods across the country. It is available almost everywhere in Singapore but the best place to try it would be the Tian Tian food stall, a place which has been visited by Anthony Bourdain and Gordon Ramsay.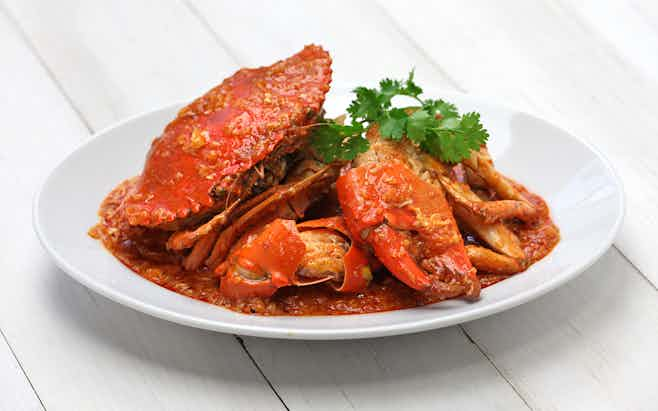 Chili Crab
This is for all you seafood lovers out there. The chili crab is a singaporean specialty, and it involves cooking crab in either a spicy tomato chile sauce or in a black pepper sauce. Contrary to the name, this dish is not really spicy and can be enjoyed by all. The best place to try this dish is the Mellben Seafood Restaurant in Ang Mo Kio.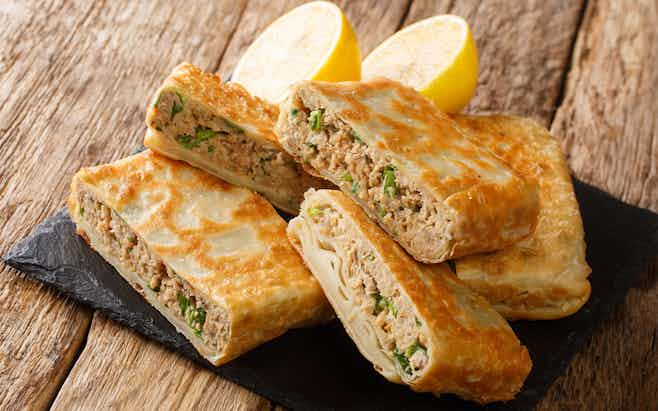 Murtabak
Although this is not a traditional Singaporean dish, rather an Arabic delicacy made popular here, Singapore is famous for its preparation of this stuffed flatbread. Murtabak is a 'naan' bread usually stuffed with eggs, chicken, sweet onion and spices, and the ultimate place to gorge on this delectable treat is at Singapore Zam Zam.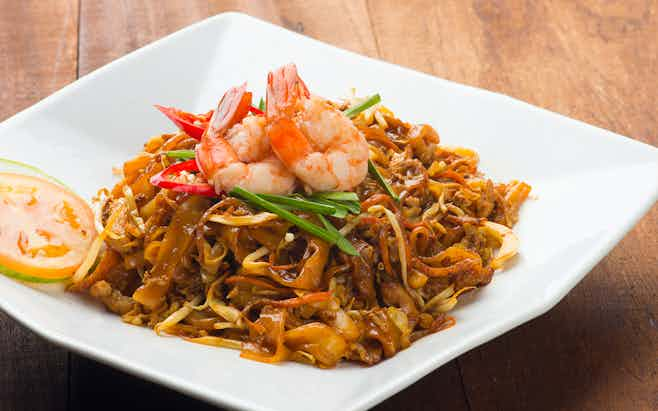 Char Kway Teow
Noodles are widely known as being one of the staples of Asian cuisine. Char Kway Teow is a stir fried noodle dish that is cooked with dark soy sauce, eggs and chillies. Considered a national favourite in Singapore, this delicious plate of goodness should be on your list of 'must eat foods in Singapore'. The best place to try this is at Meng Kee Char.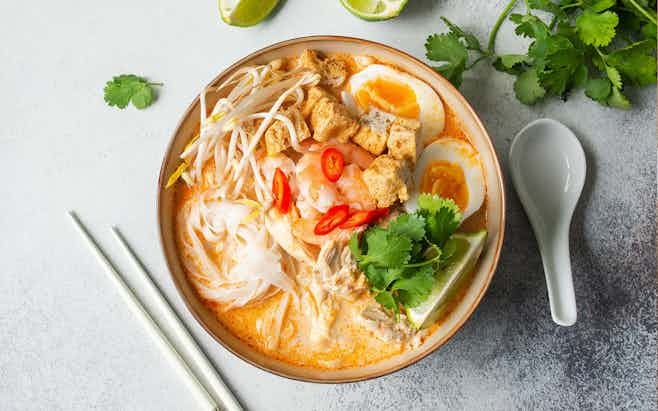 Laksa
Laksa is a spicy noodle soup that is highly popular in Singapore. A typical bowl of laksa consists of rice noodles, a spicy coconut based curry and either chicken or prawn, and is served hot. Sungei Road Laksa, located at 27 Jalan Berseh, is a heritage hawker stall that is well known throughout Singapore for its mouth-watering laksa.
Tips for Visiting Singapore in December
---
Considering Singapore gets crowded during December, try booking all your attraction tickets in advance and online. By booking them online, you can save a ton of time and energy at the attraction itself, and skip the long queues at the ticketing counters.
Make sure you carry an umbrella or raincoat with you at all times as December is known to be the wettest month of the year.
Since there is a 40% chance of rain and 80% chance of cloudy haze on any given day in December, make sure you check the weather forecast before buying tickets to observation decks. There's no point going all the way up if visibility is zero!
Try attending the public events and performances that take place. During this month, there is a holiday vibe and a general relaxed atmosphere around the city, with a number of fun and unique events taking place throughout the city. Don't miss them!
Explore Singapore By Months
---