24th November 2015 was a defining day for the art climate of Singapore. The National Gallery Singapore (NGS) had finally opened after 10 years and $374 million in the making. Situated in Singapore's Civic District, the National Gallery Singapore houses the largest public collection of Singapore and Southeast Asian art in the world. Apart from the impressive artwork , the monumental building, state of the art facilities and fine restaurants inside makes the National Gallery Singapore a sound culmination of Singapore's history, values and vision.
Before you head into the largest museum in Singapore, here's an all inclusive guide that details all you should know before visiting the Singapore National Gallery
National Gallery Singapore in a Nutshell
The National Gallery Singapore is housed within two former civic buildings of Singapore - the former City Hall building and the former Supreme Court building. Each building constitutes a wing of the Gallery, interconnected by the Padang Atrium and two link bridges. There are 10 galleries inside the voluminous 64,000 sqm of NGS, two of which – the DBS Singapore Gallery and the UOB Southeast Asia Gallery are permanent while the other 8 are temporary exhibitions that often change.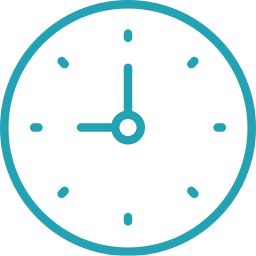 Hours
• Sat to Thu : 10:00 AM - 7:00 PM
• Friday : 10:00 AM – 9:00 PM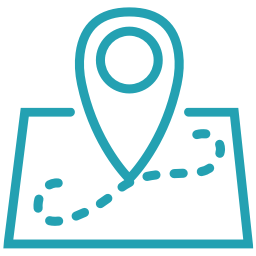 Address
National Gallery Singapore, 1 St. Andrew's Road, Singapore 178957
Get Directions
National Gallery Singapore Tickets ✪
Price -
Quick Jumplinks to Navigate the Guide
National Gallery Singapore History & Architecture
---
Brief History of the National Gallery Singapore
The National Gallery Singapore will always stand as a stark reminder of Singapore's colonial past. Both the Supreme Court and City Hall, formerly known as the Municipal Building was designed by the British in the 1920s.These buildings have seen Lord Louis Mountbatten's announcement of the surrender of the Japanese forces in 1945, the war crime trials of Japanese officers in 1946 and the swearing in of Singapore's first prime minister and founding father Lee Kuan Yew's swearing in 1959. Today, a time capsule containing newspapers and currency laid in 1937 sits beneath the foundation stone and is scheduled for opening in 3000.
National Gallery Singapore - An Architectural Delight
The monumental task of merging the 2 national monuments into an art gallery was awarded to France's Studio Milou Architecture and Singaporean conservation specialists CPG Consultants. The idea was to preserve the raw historical characters of both buildings while re-purposing the spaces to showcase artworks from the National Collection.
Thanks to the harmonious design by the two firms, the National Gallery Singapore retains a sense of opulence without much artificial grandeur and flaunts the air of an old structure with modern mannerism. The building preserves original details including tiled floors, windows with portico mouldings and canted timber ceilings, while new elements with a limited colour palette have been added to help unify the 64,000 square metres of gallery. The original rooms such as the Courtroom, and the City Chamber, bearing notes of history have been preserved with minimal enhancements. Walkways crisscross an atrium in the centre of the site to connect galleries on either side, while a basement concourse unites the two buildings from below. The Gallery has 8 floors with 20 exhibition spaces in the Supreme Court and 10 in the City Hall.
National Gallery Singapore Tickets
---
We highly recommend purchasing your tickets online so as to earn a few online discounts which cannot be availed at the ticket counter. Moreover, purchasing your National Gallery Singapore tickets online allow you to skip the hassle of standing in queue at the ticket line and usher you straight for security check.
National Gallery Singapore Tickets
• Entry ticket at 20% Discount Exclusive on Headout
• Discover 8000 exquisite Singaporean and Southeast Asian works of art
• Learn about the history, culture, traditions and art of this city by immersing yourself in it
National Gallery Singapore Top 5 Artworks
---
Amongst the 8000, make sure you hunt down these 5 artworks in the National Gallery Singapore before leaving the premises. Well worth the effort!
National Gallery Singapore Exhibitions
---
Throughout the year, National Gallery Singapore hosts changing exhibitions for visitors to explore and appreciate. These are held at various other exhibition spaces and galleries around the museum located in the basement, concourse, 4th floor and even the rooftop. One of the major spaces to take note of is the SingTel Special Exhibition Gallery on the 3rd floor of the City Hall Wing which often hosts blockbuster revolving exhibitions, like the Colours of Impressionism and Between Worlds.
The DBS Singapore Gallery
The DBS Singapore Gallery is a permanent exhibition at the National Gallery Singapore located in the City Hall Wing. On display here are artworks by famous local artists such as Liu Kang and Georgette Chan. Watch out for the exhibition titled "Siapa Nama Kamu?" ("What is Your Name?" in Malay), which features stellar works of major Singaporean artists like Chua Mia Tee and Cheong Soo Pieng. The DBS Singapore Gallery is divided into three sub-galleries
Gallery 1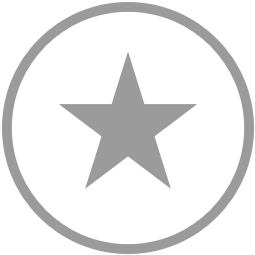 Xu Beihong's Portrait of Lim Loh (1927)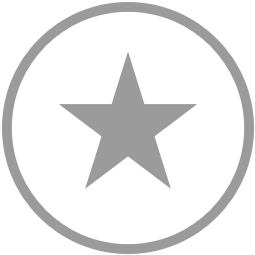 Liu Kang's Artist and Model (1954)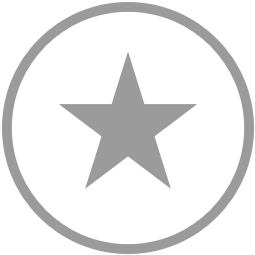 Georgette Chen's Lotus in a Breeze (1970)

Gallery 2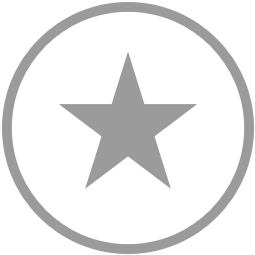 Statue of Chua Mia Tee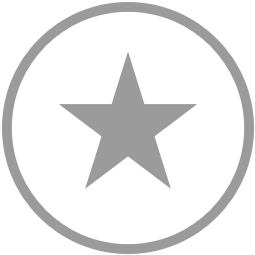 National Language Class (1959)

Gallery 3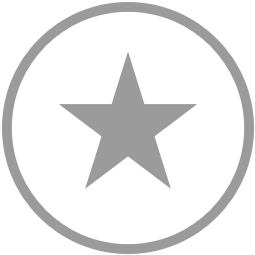 Contains contemporary and mixed media artworks which are often subject to change.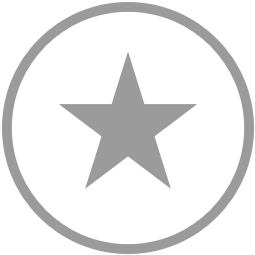 This section of the DBS gallery includes works with nudity.

UOB Southeast Asia Gallery
The UOB Southeast Asia Gallery, located in the Supreme Court Wing showcases works of artists from Southeast Asian countries such as Indonesia and the Philippines. This Gallery is spread over three floors, Levels 3, 4 and 5 in about 15 rooms. At the UOB Southeast Asia Gallery, you can witness over 400 works from the long-term opening exhibition, "Between Declarations And Dreams". These art pieces, date from the 19th century to the present day and look into the shared experiences and artistic impulses within Southeast Asia, offering insights into the region's tumultuous social and political history.
Important Artworks in the UOB Southeast Asia Gallery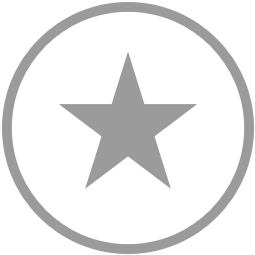 Raden Saleh's Boschbrand (Gallery 2)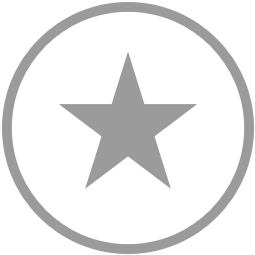 Latif Mohidin's Pagodas II (Gallery 8)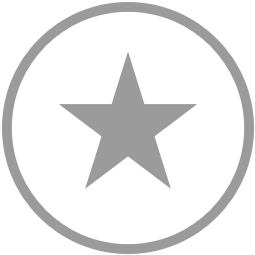 Nguyen Gia Tri's Landscape of Vietnam (Gallery 5)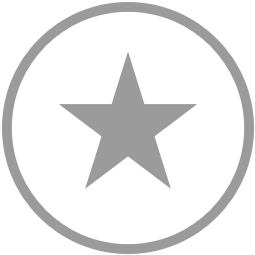 Hernando R. Ocampo's Dancing Mutants (Gallery 6)
Ng Teng Fong Roof Garden Gallery
This is one of the most acclaimed works of the National Gallery Singapore, situated on the the rooftop, Level 4. The installation is by the fabled artist Rirkrit Tiravanija and consists of a large-scale bamboo maze with a Japanese tea house at its centre. Drawing on regional materials, architecture and traditions, the art piece embraces Tiravanija's interest in cross-disciplinary and collaborative art practice. The space invites visitors to encounter and participate in interactive programmes including tea ceremonies by local and international tea masters.
The Keppel Centre for Art Education
On Level 1 of the City Hall Wing, a good chunk is dedicated to arts education for children and the youth . The Keppel Centre for Art Education is designed with 4 interactive spaces - Art Corridor, Art Playscape, Project Gallery & Children;s Museum and an great lineup of education programmes, which will keep children entertained and captivated for hours together.
National Gallery Singapore Restaurants - Best of the lot!
---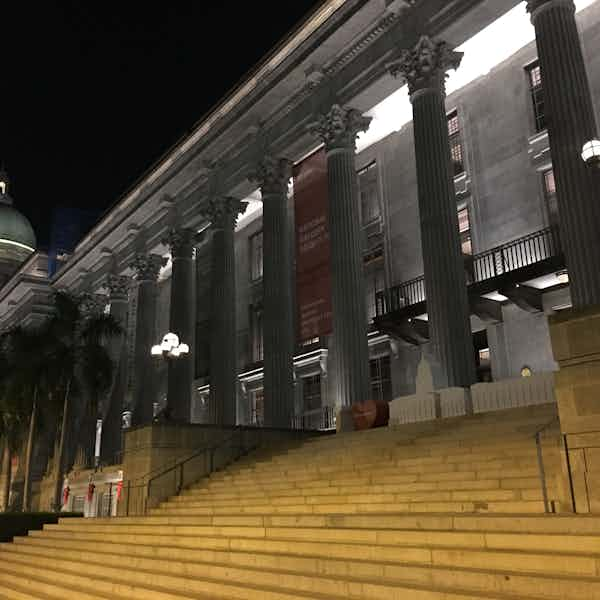 Aura Restaurant and Sky Lounge
This elegant Italian fine dine is a culinary treat with traditional Italian delicacies brushed with a tinge of modernism. The decor is excellence par, furnished with Uragano wicker chairs and lighting sculptures. The trump card however is the Aura Sky Lounge flaunting top-notch view of the SG skyline.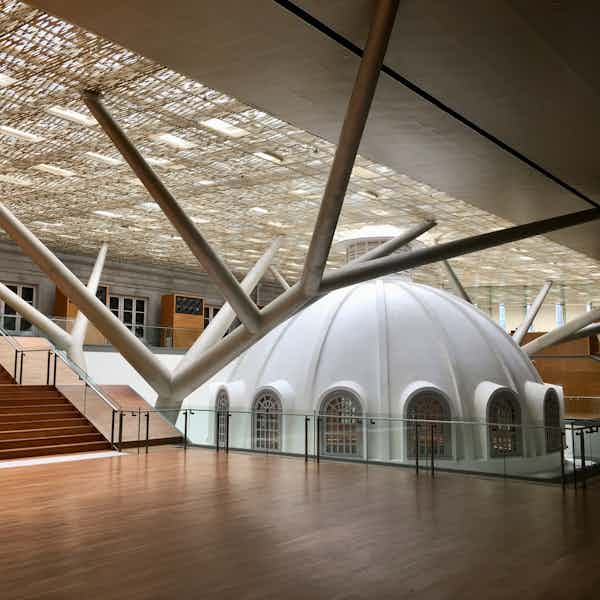 National Kitchen by Violet Oon
By the renowned food connoisseur Violet Oon, this posh and chic Bukit Timah establishment is adorned with black marbled surfaces, gold accents and framed Peranakan tiles. The menu is authentically Singaporean with hints of Indian, Hainanese and Eurasian flavours in their scrumptious meal plates.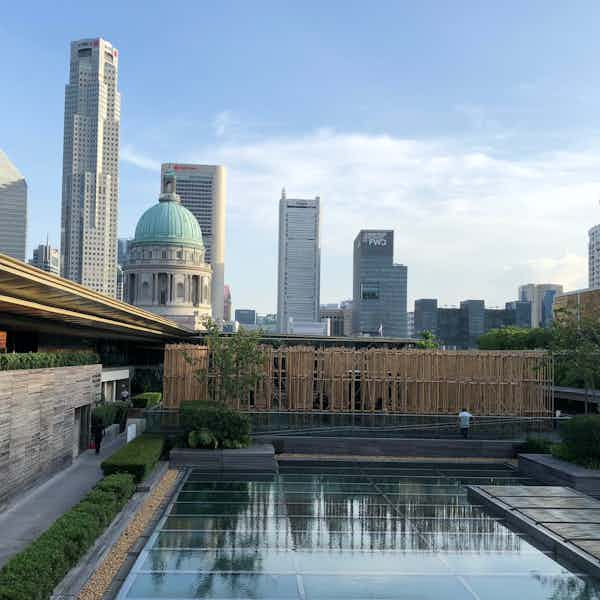 Gallery & Co.
This hip retail-art-F&B space spans the entire frontage of the City Hall Wing on the ground floor. While you're here, you can look through some drool-worthy, well-designed products including books, design collectibles, as well as savoury & sweet bites, cakes, coffee at the cafeteria.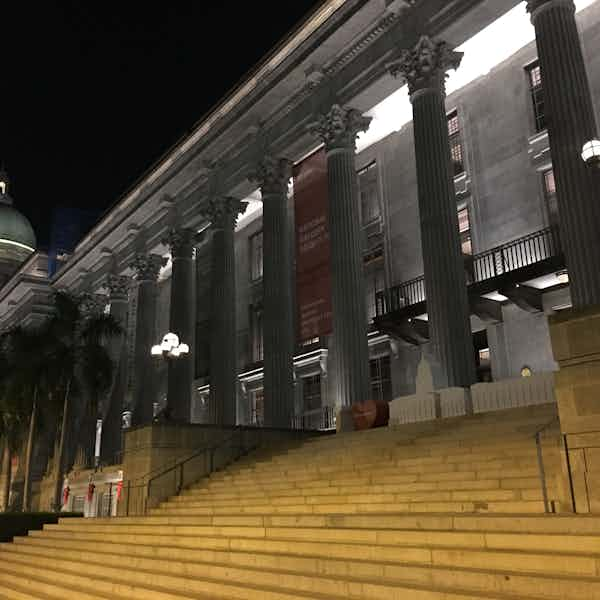 Saha Signature Restaurant & Bar
Helmed by Chef Abhijit Saha, one of India's finest culinary masters, this restaurant boasts of modern and innovative plates that showcases India's diverse and undiscovered regions. Indulge in signatures like the vegetarian paneer matar and baked gulab kamun cheesecake paired with saffron poached pears.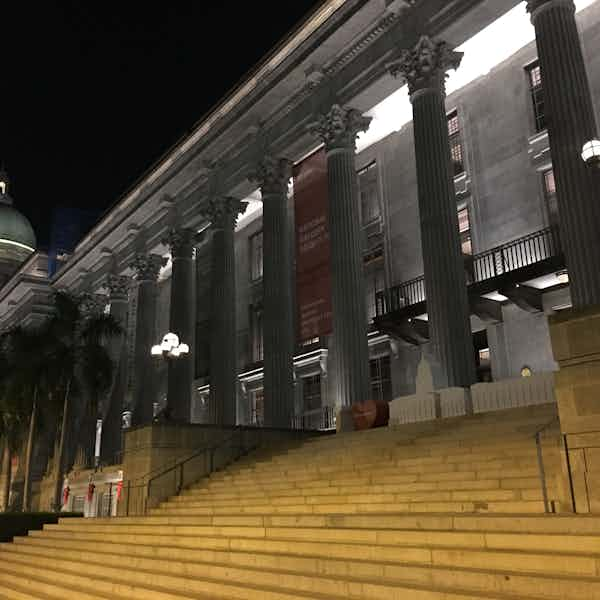 Odette
This fine-dine restaurant puts out honest and seasonal modern French food using the finest artisanal produce. Odette offers four- and six-course menus for lunch, six- or eight-course tasting menus at dinner, and vegetarian menus, with very luxurious-sounding dishes like North Highlands beef tartare and Hokkaido saba.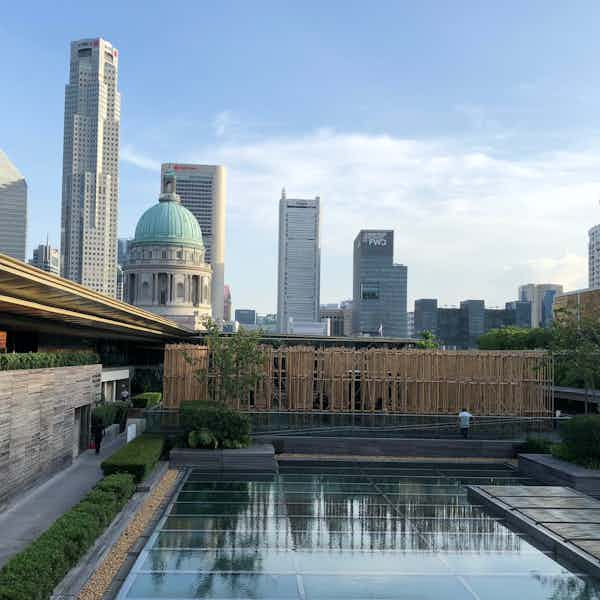 Smoke & Mirrors
Perched atop the old Supreme Court building overlooking stunning views of the Civic District, this swanky bar is responsible for the Asian-flecked cocktail menu consisting of drinks inspired by the art in the Gallery. Drink prices are pretty standard – between $16 to $24 – but bar bites are priced reasonable ($8-$28) considering its upscale environment.
National Gallery Singapore - Practical Information
---
National Gallery Singapore Entrance Fee
There are 2 types of entrance fees to the National Gallery Singapore and each differs for citizens and tourists
General Admission Entrance Fee - Singaporeans & PRs - Free | Non- Singaporeans - SGD20
Special Exhibition Entrance Fee - Singaporeans & PRs - SGD15 | Non- Singaporeans - SGD25
You can also buy a Gallery Insiders Pass starting at SGD30 and enjoy free entry to all exhibitions for one year, priority access, invitations to exclusive events and enjoy discounts at the restaurants and shops at the National Gallery Sinagpore.
National Gallery Singapore Guided Tours
Free, guided tours are available daily on a first-come, first-served basis.
Duration of Guided Tour : 1 hour
Group size : Min of 1 & Max of 20
Departure Point : Information Counter at B1

Tour Themes
Building Highlights: English, 11:00 AM daily; Mandarin, 11.30 AM, Fri-Sun
DBS Singapore Gallery Highlights: English, 2:00 PM daily; Mandarin, 2.30 PM, Fri-Sun
UOB Southeast Asia Gallery Highlights: English, 3.30 PM daily; Mandarin, 4:00 PM, Fri-Sun

National Gallery Singapore Map
If you're engaging in a self guided tour, having a map handy will help you navigate around easily. Though there are ample signboards, you can download the PDF version of the National Gallery Singapore Map on your phone and save yourself from wrong turns and wasted time!
National Gallery Singapore Opening Hours
The Gallery is open every day of the week, even on public holidays. Admission closes 30 minutes before closing time.

Saturday to Thursday : 10:00 AM - 7:00 PM
Friday: 10:00 AM – 9:00 PM
Getting to National Gallery Singapore
By MRT

If you're coming to the National Gallery Singapore by MRT, there are 3 stations that are at a 10 min walking distance from the Gallery.

City Hall - From Exit B, the Gallery is a 7-minute walk via the Art Connector.
Clarke Quay From Exit E, the Gallery is a 10 minute walk along the Singapore River
Raffles Place - From Exit B, the Gallery is a 10-minute walk through the business district.
By Bus
There are 2 entrances to the National Gallery Singapore:

Coleman Street entrance
Bus Number 130 stops right outside the Gallery's Coleman Street entrance. Bus Numbers 63, 51, 80, 32, 851 stop opposite the Peninsula Place which is a 5-minute walk from the Coleman Entrance.
Padang Atrium entrance
Bus Numbers 195 and 961 stop at Parliament Place which is a 1 minute walk from the Padang Atrium entrance. Bus Numbers 61, 124, 145, 166, 174, 197 stop opposite The Treasury Building which is a 7-minute walk away from the Padang Atrium entrance. Bus Numbers 75, 100, 107, 130, 131, 167 stop in front of Victoria Concert Hall and the Gallery is a 5-minute walk from here.
By Car

The National Gallery Singapore Parking is before St. Andrew's Cathedral to the far right of Coleman Street.

Paid Parking Fares
7:00 AM - 6:00 PM : $1.30 per half hour
6:00 PM – 1 :00 AM: $3.20 per entry
Motorbike parking: $1 per entry, no overnight parking

Know Before You Go
Ticket pick up is from the counter at the B1 Concourse. Even Singaporeans and PRs, who enjoy free admission are required to get a pass in order to gain entry.
Downloading the free National Gallery Explorer app is a great way to enhance your self guided tour.
Children below the aged 6 and below do not require a ticket for entry.
Local & locally-based students and teachers can gain free entry into the National Gallery Singapore. Note, these tickets can be bought only on site and cannot be purchased online.
The gallery has a calendar full of talks, performances, film screenings, workshops and activities for children and adults through the year. Before finalising the date, check the event calendar to see if you can make it to any of the events.
Flash photography and videography is not permitted in the galleries.
Food & Beverages are not allowed into the gallery.
Strollers are allowed into the galleries but there is also a designated stroller parking area available on Level 1.
The galleries are wheelchair accessible and wheelchairs can be loaned for free at the Information Counters at Level 1 and at the Basement 1 concourse.
National Gallery Singapore Reviews
---
I just love how Singapore has worked so hard to showcase their culture and art. Having the National Gallery is just so awesome. The place is very nice and modern. There are so many things on display and exhibit. It is located near the metro thus it is easy to locate. The rooftop also has nice view of the Marina Bay Sands. The Art Gallery is amazing! I would love to visit this again!
- Jasper J, TripAdvisor, June 2018
I visited so many times the national gallery; is one of the most beautifully constructed buildings; you can find so much knowledge about the history of Singapore; about art; it's one of the most relaxing places and has so many coffee places. I think I went few times and looking forward to go again. Very knowledgeable staff lovely people !! Great place for children to learn about the majestic history of this wonderful country. If you are a tourist this is a must visit!
- AnnaMariaRb, TripAdvisor, May 2018
Read more National Gallery Singapore Reviews on TripAdvisor and see what past visitors have to say about this art gallery.