Located on the beautiful quaint Sentosa Island , the Mega Adventure Park is a physical manifestation of how nature and man-made adventure rides can amalgamate for a sensory, exhilarating, and adrenaline-fueled adventure. The star attraction MegaZip Sentosa is Asia's #1 zipline that zips you over the island's majestic terrain. Equally exhilarating is the MegaJump Sentosa, a free fall simulator that will scare and excite you in equal measures. If you'd rather look up than down, climb up the course of the MegaWall. Truly built within nature is the tree-top based obstacle course MegaClimb. Excited already?! Know all about what Mega Adventure Park, Singapore has to offer on our detailed guide.
Mega Adventure Park, Sentosa Singapore
---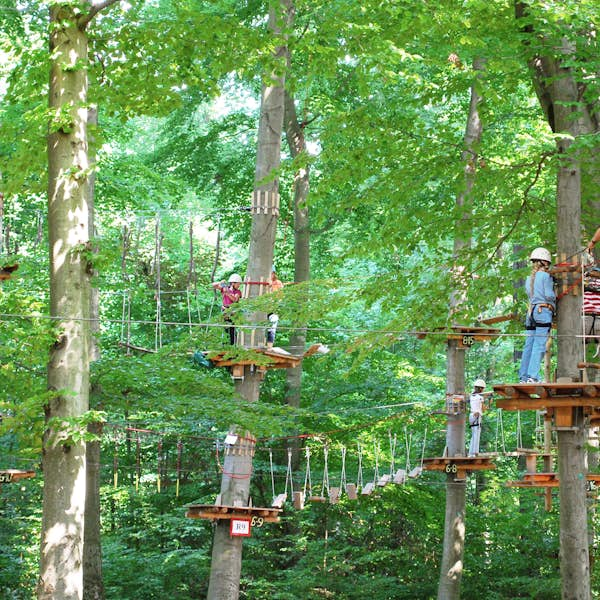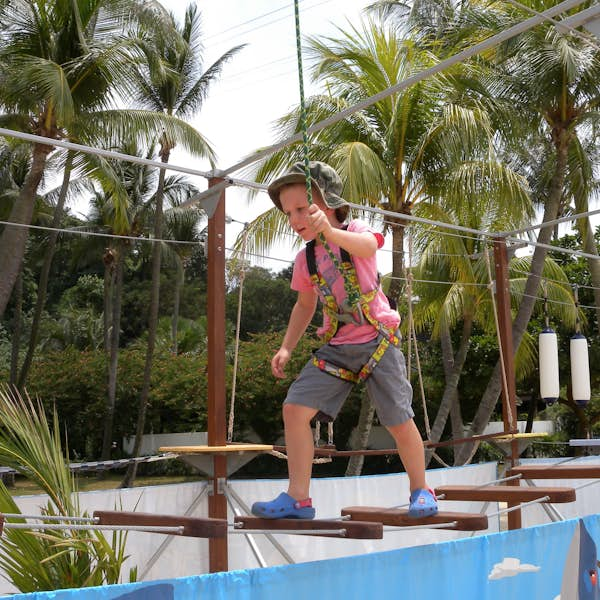 Mega Adventure Park Singapore is definitely a haven for the adrenaline junkie, but it also poses as an equally great place for friends and family to bond over some adventure. Indulge in some healthy competition, by racing along the three simultaneous ziplines of MegaZip Sentosa, by comparing your climb duration on MegaWall or by triumphing the hurdles laden by MegaClimb. Not just compete, openly and warmly express your appreciation for your loved ones by encouraging and supporting them during the attractions.
Experiences at Mega Adventure Park Singapore
---
MegaZip
Go upright or go upside down, go solo or race your comrade, the steepest flying fox of South East Asia is the first 3 wire zip line. The MegaZip Sentosa flies you across a 450 meters long stretch, at an exhilarating speed of 60kph and at a height of 75 meters, overlooking the breathtaking views of greenscape of Imbiah Hill to the white sands of Siloso Beach.
Last entry - 6:45 PM
Mega Zip & Mega Jump Combo Tickets
At a height of 75m, fly at 60 km/hr on this 450m long zip line as you race against your friends and family, on MegaZip.

MegaJump allows you to enjoy the sensation of free-falling; but with complete safety.
MegaJump
A panoramic view from the leaping point will allow you to breathe in the ocean breeze, while you admire the beauty of the jungle and the swaying palms. In the very next second, it could easily take your breath away as you look down at the 15-meter drop. Adrenaline junkies, this is your chance to get harnessed and experience a free-fall Jump, without the plane ride or the expenses involved.
Last entry - 6:30 PM
MegaClimb
A Eucalyptus Tree-Top obstacle course designed to challenge your strength, wit, daredevilry, and adventure quotient, alongside a breathtaking view of Sentosa. Mega Adventure Park offers a 36 obstacle course ranging from 5 to 15 m high includes different hurdles such as ropes, wires wooden planks and a flying fox. You can choose any 2 levels out of the 3 available, the complexity of the course increases as you level up.
Last entry - 6:15 PM
MegaWall
Unleash your inner climber as you mount the 15-meter tall MegaWall, one of the highest rock climbing walls in Singapore. Test your strength and endurance as you ascend to the top via any of the three different routes presented, under the supervision of climbing instructors. The auto-belay system excludes the necessity of a belay partner and once you reach your target just lean back and abseil back down.
Last entry - 6:15 PM
MegaBounce
A definite favorite among the little ones as they test their acrobatic skills at the dynamic bungee assisted trampolines at the Mega Adventure Park Sentosa. A set of four trampolines are laid on the Siloso Beach, alongside the Mega Adventure ticketing counter. The safety harness enables you to bounce up to eight meters high.
Last entry - 6:45 PM
Know Before You Go To Mega Adventure Park Singapore
---
Safety precautions
Each ride has custom made safety wires, harness and other equipment that are subjected to regular quality checks. A team of well-trained and experienced staff and instructors ensures that your every adventure is safe, sound and memorable.
Height and Weight requirements
None of the rides at the Mega Adventure Park have an age limit, but each ride has a different height & weight requirement. Here are the requirements for each ride :
MegaZip: Minimum height: 90cm, Weight: 30-140kg. Visitors below 90cm must accompany someone with a visitor with a height of 150cm or above.
MegaClimb Minimum height: 120cm, Weight: 25kg-120kg
MegaJump: Weight: 30-120kg,
MegaWall: Weight: 25-120kg
MegaBounce: Weight: 10-90kg
No. of rides
While MegaClimb allows you to choose 2 levels per ticket, all the other attractions allow just one-time ride per ticket. However, you can purchase a repeat ticket at a heavily discounted rate from the ticket counters.
What to wear
There is no specific clothing restriction exercised in the park, although athletic attire with covered shoes is highly recommended. Flowy, flimsy ensembles like skirts and dresses isn't advised as they can be caught on the obstacle or could cause hindrance while securing the safety harnesses.
Lockers
Visitors are provided with lockers services and bottled water.
Photographer
Photographers are available at the park to capture your adventurous moments. The action shots are available for purchase at the bottom of the MegaZip on Siloso Beach. The park encourages posting your videos and photos online and tagging #MegaAdventureSG or #MyMegaAdventure by organizing monthly competitions around them.
Food
The park offers various kiosk that is lined with numerous snacks. You can also choose a great dining experience in collaboration with the park's partners next door on Siloso Beach, including Trapizza, AJ Hackett, and Wavehouse Sentosa.
Mega Zip & Mega Jump Combo Deal
At a height of 75m, fly at 60 km/hr on this 450m long zip line as you race against your friends and family, on MegaZip.

MegaJump allows you to enjoy the sensation of free-falling; but with complete safety.
Looking for MegaZip Promotions? Here is how you can save some extra money.
Mega Adventure Park Singapore Practical Information
---
Opening Hours
The Mega Adventure Park is open daily from - 11:00 AM to 7:00 PM
Getting there
Mega Adventure Park has two entry point counters, Siloso beach counter, and Imbiah lookout ticketing counter. You can choose any mode of transport as per your convenience.
By Bus:

For Siloso beach counter, take the Sentosa Bus A and get down at Siloso Point, from here the counter is a short walk away. For Imbiah lookout ticketing counter, take the Sentosa Bus A and get down Imbiah Lookout.

By Train:

For Siloso beach counter, alight at Beach Station, take the Sentosa Beach Tram from there and get down at the 3rd stop, Mega Adventure Park stop. For Imbiah lookout ticketing counter, get down at Imbiah Station, from here the counter is a short walk away

By Car

While not considered a preferred route by many visitors, the park offers car parks around both the counter, Imbiah Car park Lookout / Beach Car Park.
Tips for Visiting Mega Adventure Park Singapore
---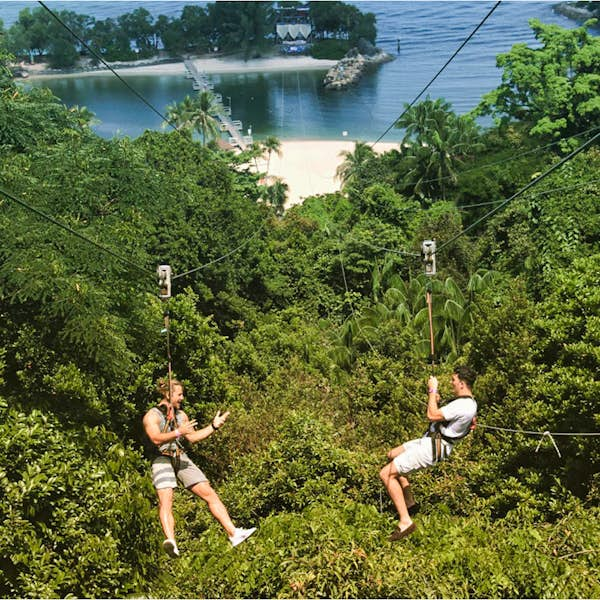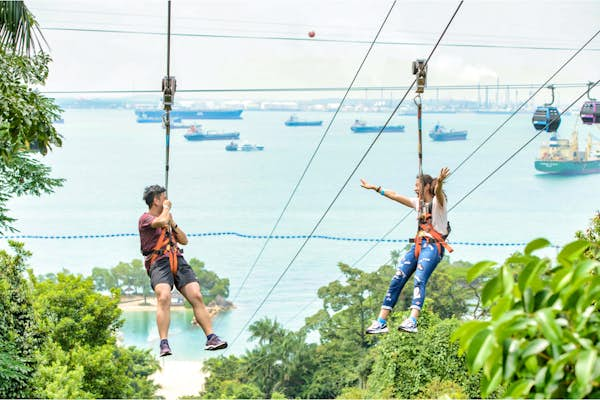 Buy Tickets Online

Reap the multiple benefits of great discount packages along with skipping the ticket counter line, when you opt for buying the Mega Adventure Park tickets online. The tickets will be emailed and are to be presented at the ticketing counter for redemption.

Buy Combo Tickets

Individuals can either choose to buy tickets for a single adventure or they opt for a combo of two or more adventures. In case of the latter, discounts can be availed.

Pre-book Your Tickets

The star attraction MegaZip Sentosa is often quite busy, even with three side-by-side ziplines. Try and pre-book tickets for an assured ticket on the dates of your convinience.

No Weather Clause

Weather does not hinder the love for adventure and thus the Mega Adventure Park operates in all weather conditions, except during an electrical storm.

Secure Your Camera

To experience a hassle-free adventurous visit and to capture your adrenaline rushes through your phone or camera, try and secure them with a strap or lanyard. Selfie sticks are not allowed in the park.
Mega Adventure Park Review
---
Grahame and the staff at the Adventure Park particularly with regards to the Megazip were wonderful! All so friendly and great interacting with the kids (3yr and 6yr old boys). We even went a second time! It was a blast and the kids loved it! Thanks guys for a great morning and looking after us during our visit!
- jamieo872018, October 2018 Tripadvisor
Very well organised staff and it felt very safe. We paid for 2 rides and an express pass which allows you to jump the q at the top. You go up on a buggy and zip down the hill until you land on a mini island off the beach. Exhilarating and just the right side of scary.
- joolzpop, October 2018 Tripadvisor
More Adventure in Sentosa
---
There's no shortage of things to do in Sentosa. Here are a few more thrilling experiences in Sentosa you must check out!