One of the leading tourist destinations in the world, Singapore is one of the most diverse and vibrant places in South East Asia. Despite being one of the smallest countries in the world, Singapore is remarkably well planned, clean and covered with trees and greenery. Be it culinary, cultural or natural, the experiences in Singapore are unique and that's the biggest magnet for tourists. One of the unique experiences that one can have is the Night Safari Singapore - an immersive experience which brings the visitor closer to the life of nocturnal animals. The experience allows visitors to see animals live like they would in the wild in an artificially constructed habitat that allows these animals to live outside their cages. Whether you're an adult or a child, this experience will leave you feeling enriched.
Night Safari Singapore in a Nutshell
---
Opening Hours
Night Safari is operational from 7:15 pm to 12 am, from Thursday to Sunday (first admission is at 7:15 pm, and the last one at 11:15 pm)
Know before you go
Best time to visit - Late nights!
Starting Prices for Night Safari Singapore Tickets - S$52.25
Suggested duration - 40 minutes to an hour
Location - 80 Mandai Lake Rd, Singapore

Address
80 Mandai Lake Rd, Singapore 729826
Get there
Why Visit Night Safari Singapore
---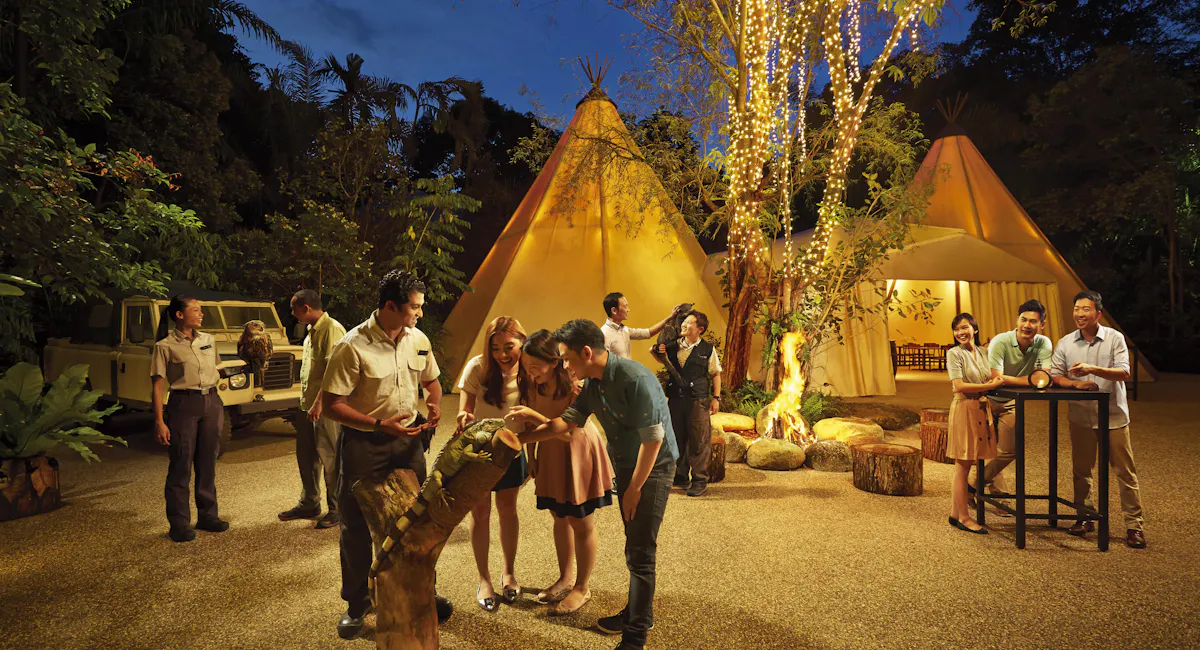 1.The world's first nocturnal zoo, at Night Safari Singapore, the animals are not caged, but in fact, roam around freely in scientifically designed enclosures. Which is an entirely different experience when compared to watching animals in a zoo.
2. With this unique experience, Night Safari Singapore also has two cultural shows that you can watch + be a part of; one on the life of nocturnal animals, and the second, a thrilling fire show!
3. The park is an ideal visit for all groups across ages, it is ideally something for everyone.
Night Safari Singapore Tickets - Which One Should You Buy?
---
Night Safari is a favourite among tourists and locals alike, as it IS the perfect way to end a day with tons of adventure and adrenaline. Hence, long waiting lines are natural. Here are the top rated Night Safari Singapore tickets you can buy, so you can save time and dime:
Buy your Night Safari Singapore tickets on Headout and get upto 10% off using the code: MANDAI8
Top things to do at Night Safari Singapore
---
The best way to explore the Night Safari is the trams. These trams get you around the park with their guided commentary on animals and the zones. For those looking to beat the queues, there is an express tram ride, which allows you to skip the line for the regular tram.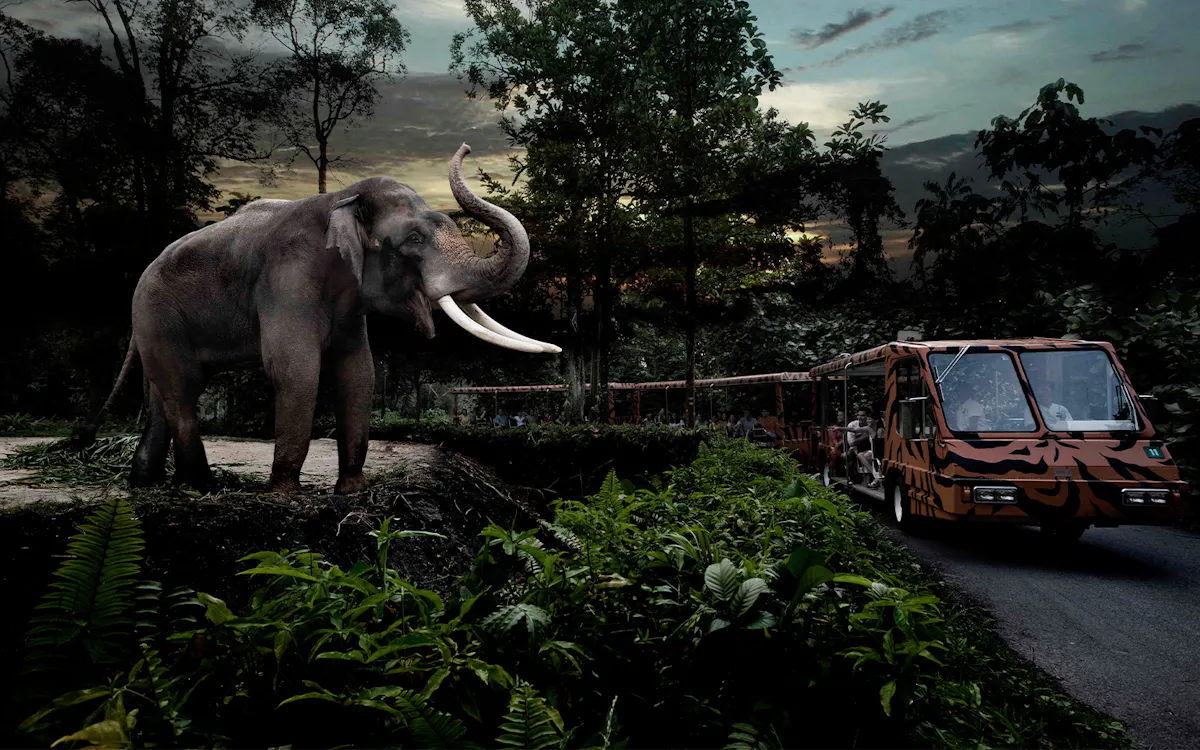 The biggest attraction of the Night Safari are the animals. The Night Safari prides itself in housing endangered species. 38% of the animals are endangered. There are a few different ways of exploring and enjoying the animals at Night Safari. The Night Safari has organized the animals into four different zones or walking trails: Leopard Trail, Fishing Cat Trail, East Lodge Trail, and Wallaby Trail.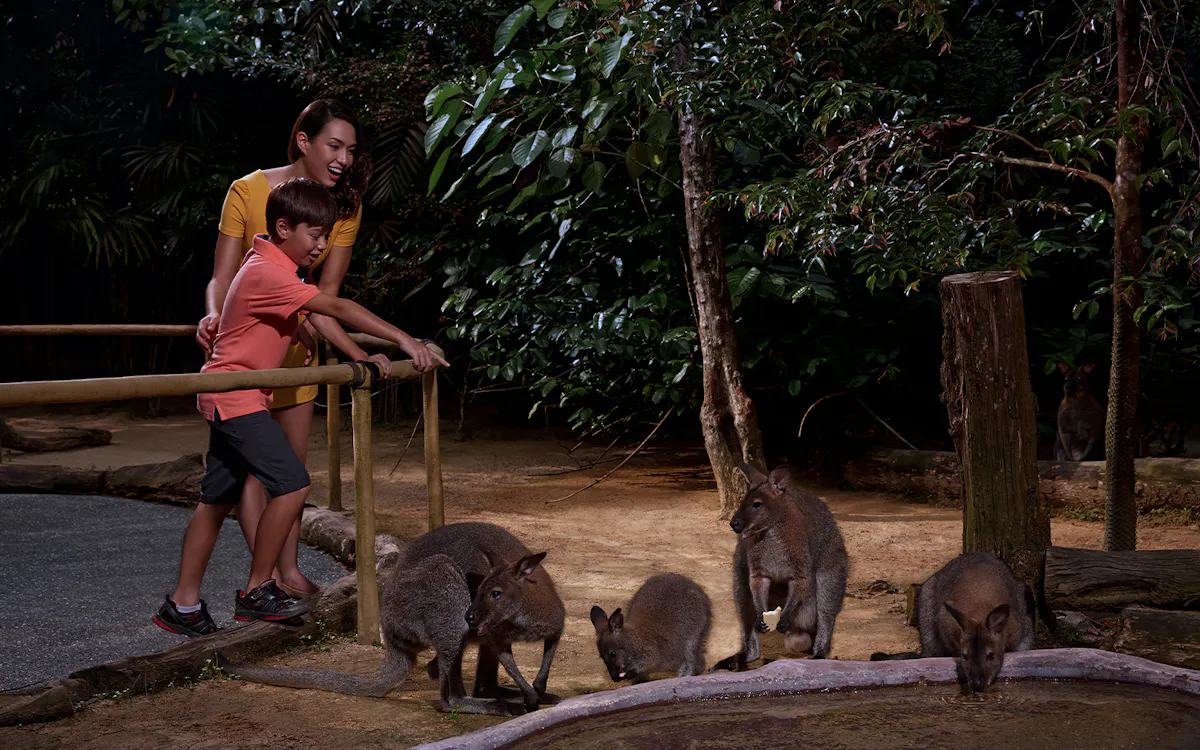 3

Show: Creatures of the Night
Watch the nocturnal animals show off their talents in this show. You'll get to learn fun facts about these creatures and watch them entertain you. Show timings are 7:15 PM, 8:30 PM, 9:30 PM and 10:30 PM.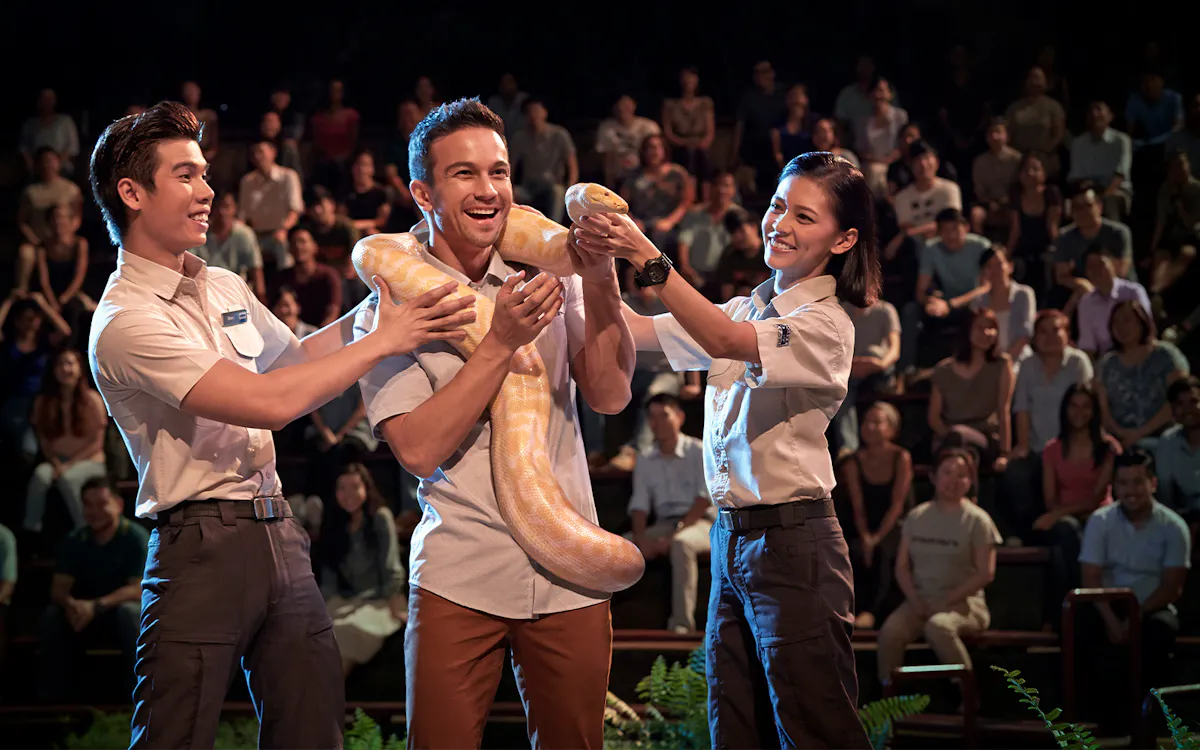 4

Show: Thumbuakar Fire Show
Let the fire warriors of Night Safari thrill you with their antics and tricks to the beat of jungle drums. Show timings are 6:45 PM, 8:00 PM, 9:00 PM, 10:00 PM.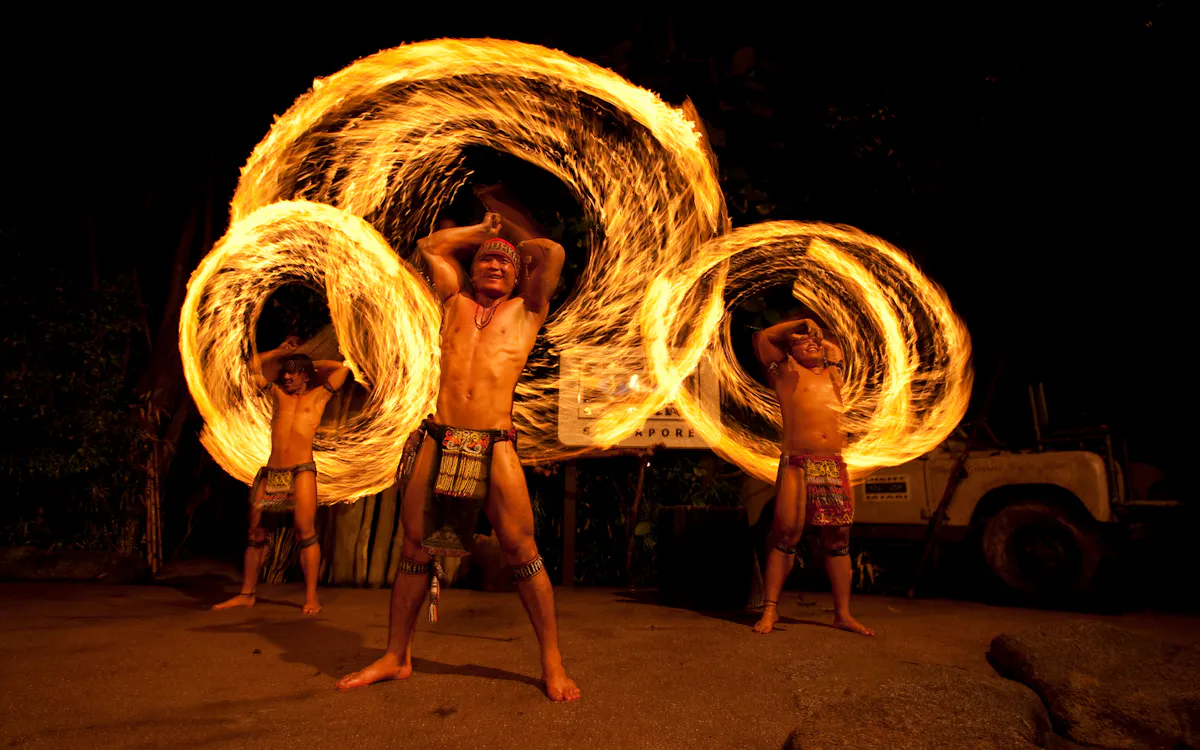 Dining at Night Safari
---
There are several dining options in the Night Safari. Whether you're a vegetarian or a non vegetarian, you will be spoilt for choice.
Park Entrance
You can enjoy Indian themed food in Ulu Ulu Safari Restaurant, Ice cream at Ben & Jerrys, gourmet hot dogs and snacks at Safari Sizzles, and, roasted meats at the Jungle Rotisserie restaurant.
Inside the Park
Zebra Café inside the Night Safari serves refreshing drinks, soft serve yoghurt and snacks to recharge visitors.
Unique Dining Experiences
These are quirky and exclusive dining experiences for those looking to experience Night Safari differently:
An Evening in the Wild:Partake a four course dining experience, stay in a tipi tent and enjoy close up encounters with the Night Safari animals.
Cocktail Safari Express:Enjoy the Night Safari with cocktails and canapes.
Gourmet Safari Express:Enjoy stunning views of the Night Safari while having a candlelit dinner on board a moving tram.
Plan Your Visit
---
Night Safari Singapore Opening Hours
Night Safari is open from 7:15 pm to 12 am, from Thursday to Sunday (last entry at 11:15 pm)
Getting to Night Safari Singapore
By public transport, taking the MRT Red Line and transit to a connecting public bus such as no.927 and no.138 is the ideal way to get to the location. If you're coming by car take the SLE towards Mandai Road and reach Mandai Lake Road.
Although a few public transport options are still available once the Night Safari closes at 11 PM, it is our recommendation that you make your way to the Taxi Stand, where cabs are in abundance and the waiting lines are relatively short so you can get to your home or hotel in air-conditioned peace.
Best Time To Visit Night Safari Singapore
While there is no perfect time to visit the Night Safari - it's an established fact that the views and vibes are best after sunset. Ideally, it's also the perfect time to bump into a plethora of people. If you're someone who loves beating the crowd, sometime laaaaate night should be the best time to visit.
Things to do near Night Safari Singapore
---
Here are some top attractions which are located near Night Safari, that you should add to your itinerary.
Night Safari Singapore: Insider Tips for Visiting
---
The Night Safari is an immensely popular tourist attraction. With a lot of tourists visiting it, there are a few tricks to make the most of your visit.
Time your tram ride
The tram ride timings are 7:15 PM, 8:15 PM, 9:15 PM and 10:15 PM. Take a later tram so that most of the crowd is managed in the earlier ones. Swap this time for the walking trail or the Creatures of the Night show.
Visit the Creatures of the Night show first
The Creatures of the Night show timings are 7:30 PM, 8:30 PM, 9:30 PM and 10:30 PM. Since most of the crowd rushes to the trams first, swap it with the Creatures of the Night show so that you avoid crowds.
Explore walking trails for lesser crowds
Not many tourists explore the walking trails. By arriving early, you can check out the walking trails and the animals there and then end the trip with the tram ride. There are four trails, fishing cat trail, east coast lodge trail, leopard trail, and wallaby trail.
Night Safari unique experiences


The Night Safari has unique experiences like

Dining in the wild
Sleeping in a tipi tent
Watch animals being fed and talk to the keepers
Private buggy tour

You can opt for these instead of the standard experience.

Heat and Rain
It can rain anytime in the Safari. It is also hot and humid. It is best to dress prepared for the heat and rain. Wearing comfortable shoes is a must.
Insect repellant
The Night Safari is in the middle of a rainforest. It is recommended to keep some repellant handy if you're prone to insect bites.
Night Safari Singapore: Rules & Regulations
---
1. Venturing into prohibited areas is dangerous and not allowed as per park regulations.
2. Feeding or teasing animals is prohibited.
3. Commercial use of footage is prohibited. Prior permission needs to be taken from the park for the same.
4. Park representatives may film or photograph visitors during the course of their visit. Entry to the park serves as consent to use the image.
5. Smoking is not allowed in the park premises.There is a designated smoke area outside the park.
6. Flash photography is prohibited.
7. Pets are not allowed in the park premises.
8. Skate scooters, inline skates, rollerblades, tricycles and pull trolleys are not allowed in the park.
Night Safari Singapore: Avoiding the Crowd 101
---
The Night Safari is one of Singapore's most popular attractions. It is heavily frequented by tourists and can get crowded. However, there are some tips and tricks to avoid the crowd.
1. Buy Singapore Night Safari tickets online
Booking tickets online avoids the time and hassle spent onsite in buying a ticket. Tourists have noted that the wait time for tickets sometimes exceeds half an hour. Buying tickets online allows you to avoid waiting in a queue for admission tickets.
2. Choosing the right time to visit
The Night Safari is open to visitors in the evening. Typically, the attraction sees more crowds on the weekend, when both locals and tourists visit. Weekdays are calmer and see a slightly lesser crowd.
Night Safari Singapore: Reviews
---
Well worth a visit. Quite a queue for the tram ride, but goes quick and worth it. Also took a stroll around after the tram, more of a close up experience for some of the smaller animals.
Charlotte B, TripAdvisor, July 2018
I'm a biologist and animal lover; this experience was amazing. So interesting getting to be driven through the animals' exhibits at night. Tour guides speak excellent English and the whole thing is great
Tyson P, TripAdvisor, July 2018
---
Night Safari Singapore: FAQs
---
Is Night Safari Singapore open?
Are COVID-19 safety measures being put in place at Night Safari Singapore?
What is included in a Night Safari Singapore ticket?
Where is Night Safari Singapore located?
How can I get to Night Safari Singapore?
What are the Night Safari opening hours?


Can I take photos at Night Safari Singapore?




What are the facilities available at Night Safari Singapore?



What should I carry while visiting Night Safari Singapore?



Does Night Safari Singapore offer dining options?

Singapore Night Safari Guide