Get ready to explore a vibrant world of birds as Bird Paradise, the newest wildlife park at Mandai Wildlife Reserve opening to the public in the second quarter of 2023, prepares for its grand debut. Spanning across 17 hectares and managed by the Mandai Wildlife Group, this new bird haven will be home to 400 avian species with a total population of about 3500 feathered friends! Invite yourself to a journey of discovery through Bird Paradise's multiple awe-inspiring walk-through aviaries, each capturing the essence of various global biomes such as African rainforests, South American wetlands, Southeast Asian paddy fields, Australian dry eucalypt forests, and more. Immerse yourself in naturalistic mixed-species habitats for an unforgettable experience!
By bringing Bird Paradise close to Singapore Zoo, Night Safari and River Wonders, the Mandai Wildlife Reserve will be launched as an unrivaled destination for both wildlife activities and nature exploration. As a result, Bird Paradise - which will include a bird hospital - along with other operating parks of the Mandai Wildlife Group will have access to greater opportunities in terms of animal conservation, education and research.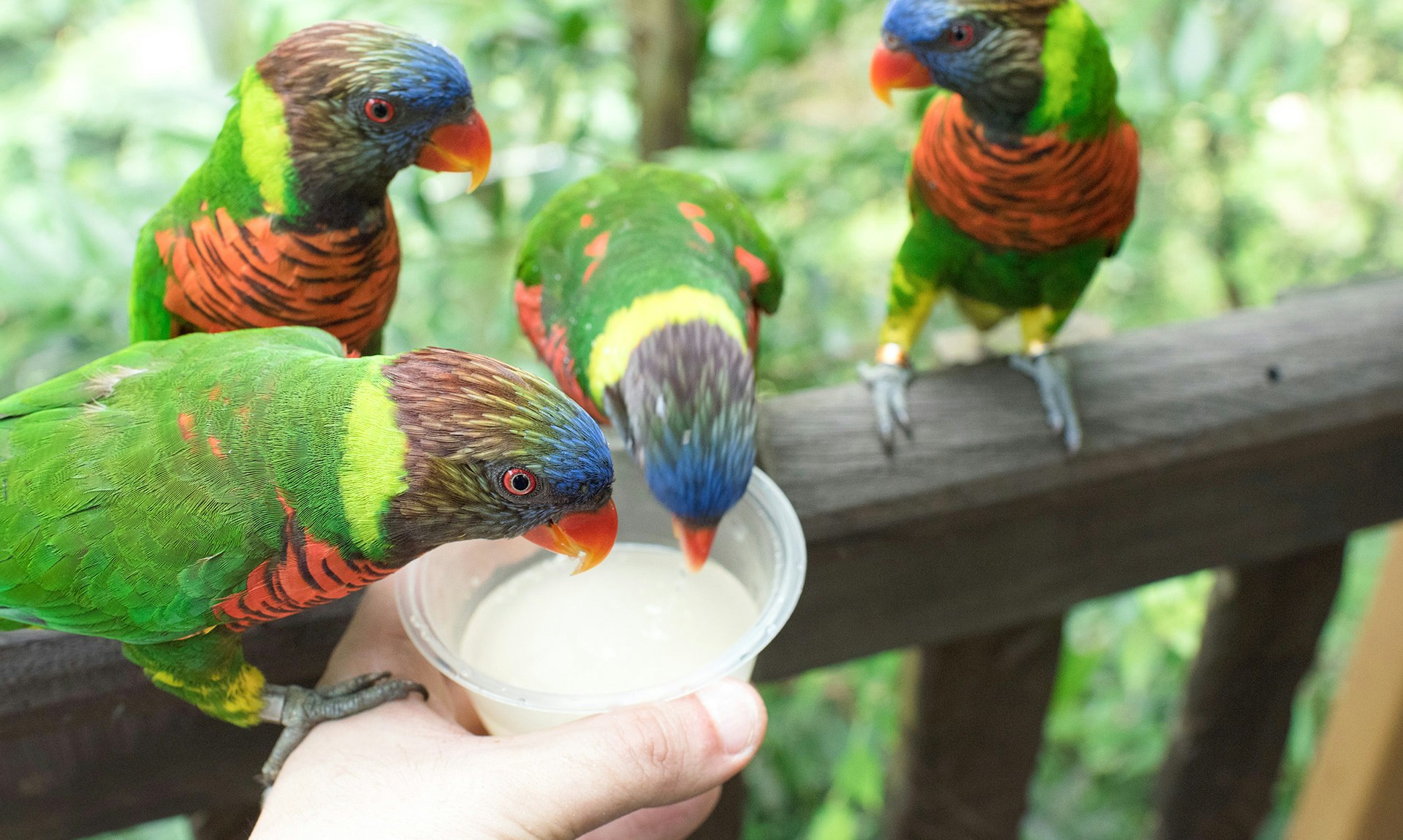 Bird Paradise Singapore - In A Nutshell
---
Address
80 Mandai Lake Road
Singapore 729826
Get there
What Can You Expect at Bird Paradise Singapore?
---
Bird Paradise seamlessly transports visitors to different ecological regions of the world, allowing them to explore large aviaries that are complete with locally-inspired features and vegetation. The captivating atmosphere is further enriched by the melodious songs and movements of birds as they soar in the sky or take care of their nests amongst lush foliage. Here, you can bask in an environment full of life while learning about unique avian adaptions found across species!
Immerse yourself in the Heart of Africa, an awe inspiring journey that takes you through winding forest streams and misty forests. Visitors will marvel at the elevated canopy experience and be able to observe various birds performing natural behaviors as they explore their habitat.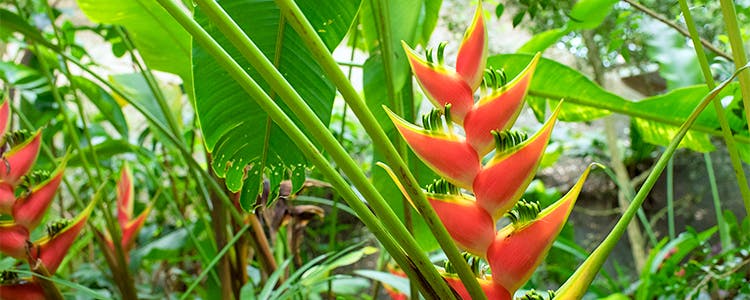 Step into a breathtaking replica of Southeast Asia's bamboo forests and rolling rice terraces at Wings of Asia! Not only does the imaginative landscaping create an eye-catching atmosphere, but its purpose goes far beyond aesthetics. The intricate maze of bamboos provides food for creatures living in the habitat, while its terraces give rise to an exclusive ecosystem that is home to endangered species such as Baer's Pochard and Milky Stork. Immersive yourself in this exquisite recreation today!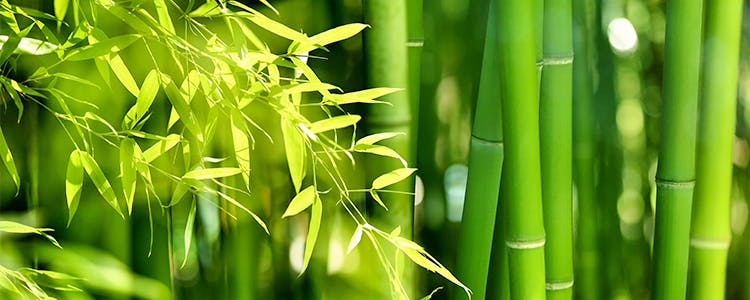 Get an up-close look at some of the most remarkable oceanic birds in Penguin Cove, a cutting-edge indoor habitat! Here you can witness Gentoo Penguins, King Penguins, Humboldt Penguins and Northern Rockhopper Penguins displaying their aquatic talents. Become mesmerized by these spectacular creatures as they move gracefully around their environment - it's truly one of a kind experience!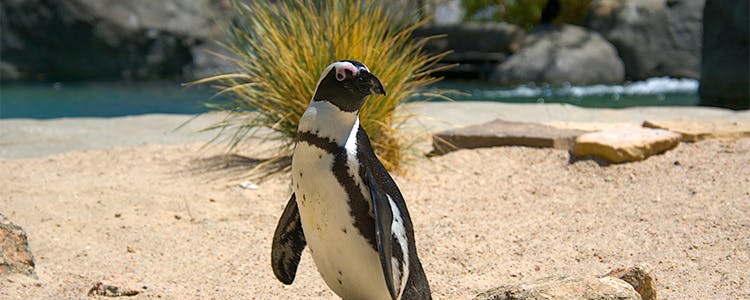 The most endangered species of the park has been allocated a special zone called Winged Sanctuary, where they will be protected and cared for. This includes Critically Endangered birds such as Philippine Eagles, Vietnam Pheasants and Negros Bleeding-Hearts. Jurong Bird Park has made conservation efforts towards globally threatened avian species both in situ (on their natural habitat) and ex situ(captive or artificial environment). 24% of the bird population in Bird Paradise are endangered species.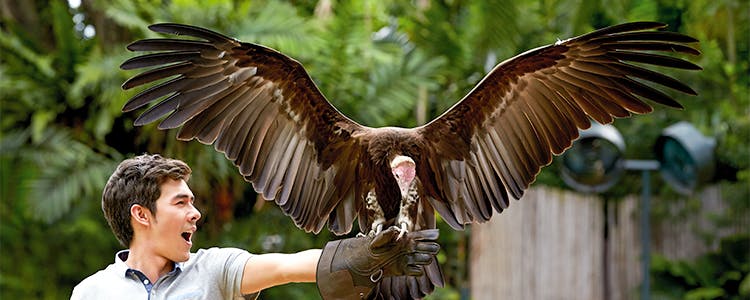 Step into a lush, monsoon forest of Irian Jaya with gregarious lories and eye-catching parrots soaring above you at the new Lory Loft in Bird Paradise. Suspension bridges themed after traditional treehouses provide visitors an exhilarating opportunity to feed these birds from nectar cups while they perch on your wrists or even shoulders! This experience pays homage to the fond memories cultivated by many who visited Jurong Bird Park's beloved Lory Loft—where lasting stories await for each adventure seeker visiting this majestic paradise.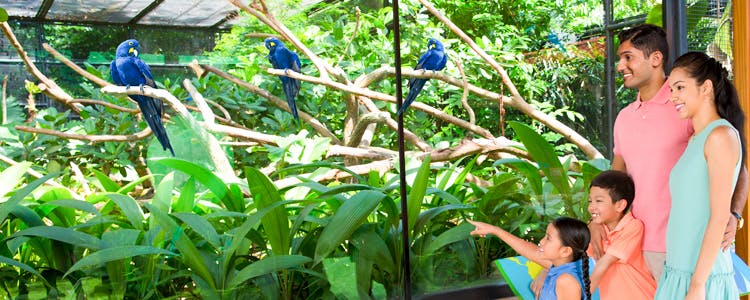 Songs of the Forest is an area for visitors to experience a serene sanctuary influenced by Southeast Asia's riverine forests, marked by lush foliage and glimmering rivers. Furthermore, this tranquil setting is accentuated with the beautiful melodies of Asian songbirds including Bali Myna, Straw-headed Bulbul and Asian Fairy Bluebird - an unforgettable symphony that must be heard to be believed!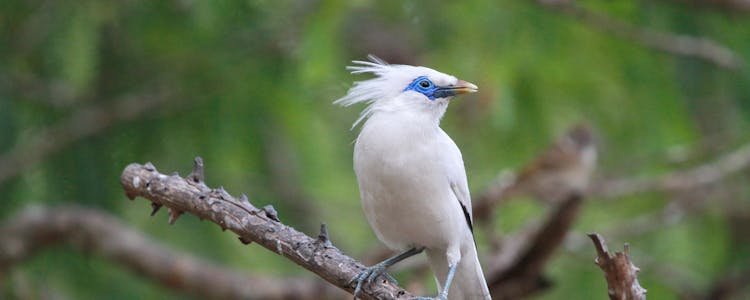 Bird Paradise Singapore Tickets
---
Tickets to Bird Paradise Singapore will be available soon.
To visit other parks in Mandai Wildlife Reserve, book any of the tickets below!
Things to Do Around Bird Paradise Singapore
---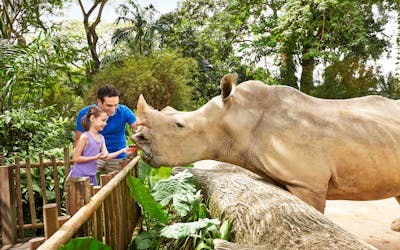 Singapore Zoo
The Singapore Zoo, commonly recognized as the Mandai Zoo, is an expansive 28-hectare nature enclosure that was opened to public view on June 27th 1973. Home to 315 different species of animals - including 16% which are endangered - this sprawling and landscaped park offers a stunningly naturalistic environment for all its inhabitants. When you purchase your admission tickets, you gain exclusive access to six distinct zones; each meticulously designed with replicas of habitats from around the world!

Book your tickets here.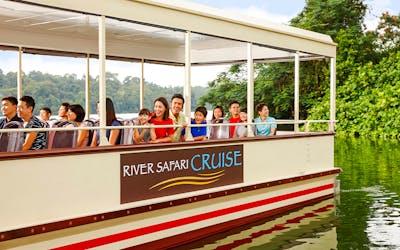 River Wonders
Immerse yourself in the River Safari Singapore, a 12-hectare wildlife sanctuary filled with creatures from rivers around the globe, such as the Amazon and Mississippi. Take a stroll along its tranquil pathways to get up close and personal with exotic species like endangered giant Mekong catfish before hopping aboard an enchanting riverboat cruise that will take you right into their world. To top off this extraordinary experience, don't miss out on getting acquainted with Kai Kai and Jia Jia—the resident pandas of Giant Panda Forest!

Book your tickets here.
Night Safari
Night Safari Singapore is an adventure like no other! Explore the wilds of Singapore after dark and get a glimpse of some of the world's rarest animals. From majestic tigers to playful otters, you'll be able to spot them all at Night Safari. Don't forget your camera - you won't want to miss out on any photo opportunities! Plus, with its open-air tram ride, you won't have to worry about missing anything either. If that wasn't enough, there are also special programs such as animal shows and night walks for more hands-on experiences.

Book your tickets here.
FAQs
---
Bird Paradise Singapore will open its doors in the second quarter of 2023
Bird Paradise will be home to 3,500 birds from over 400 avian species.
Yes! To safeguard some of the park's most vulnerable species, Winged Sanctuary has been erected - a special zone specifically reserved for birds that hold high conservation value, such as the critically endangered Philippine Eagle, Vietnam Pheasant and Negros Bleeding-heart.
Some of the different zones at Bird Paradise Singapore include African rainforests, South American wetlands, Southeast Asian paddy fields, Australian dry eucalypt forests, and more.