Despite being one of the smallest countries in the world, the island nation of Singapore is home to a number of carefully created wildlife reserves such as Singapore Zoo, River Safari, Night Safari and Jurong Bird Park. Amongst them, Singapore Zoo is home to the largest number of animals and offers one of the most special experiences - Breakfast with Orangutans. Yes, you heard that right. At Singapore Zoo, you can enjoy a delicious buffet breakfast spread with a family of Orangutans, along with Macaws and Elephants as your neighbors!
Singapore Zoo Breakfast with Orangutans Tickets
---
Singapore Zoo Entry Tickets
Singapore Zoo, River Wonders, and Night Safari Entry
Breakfast with Orangutans - Experience Deconstructed
---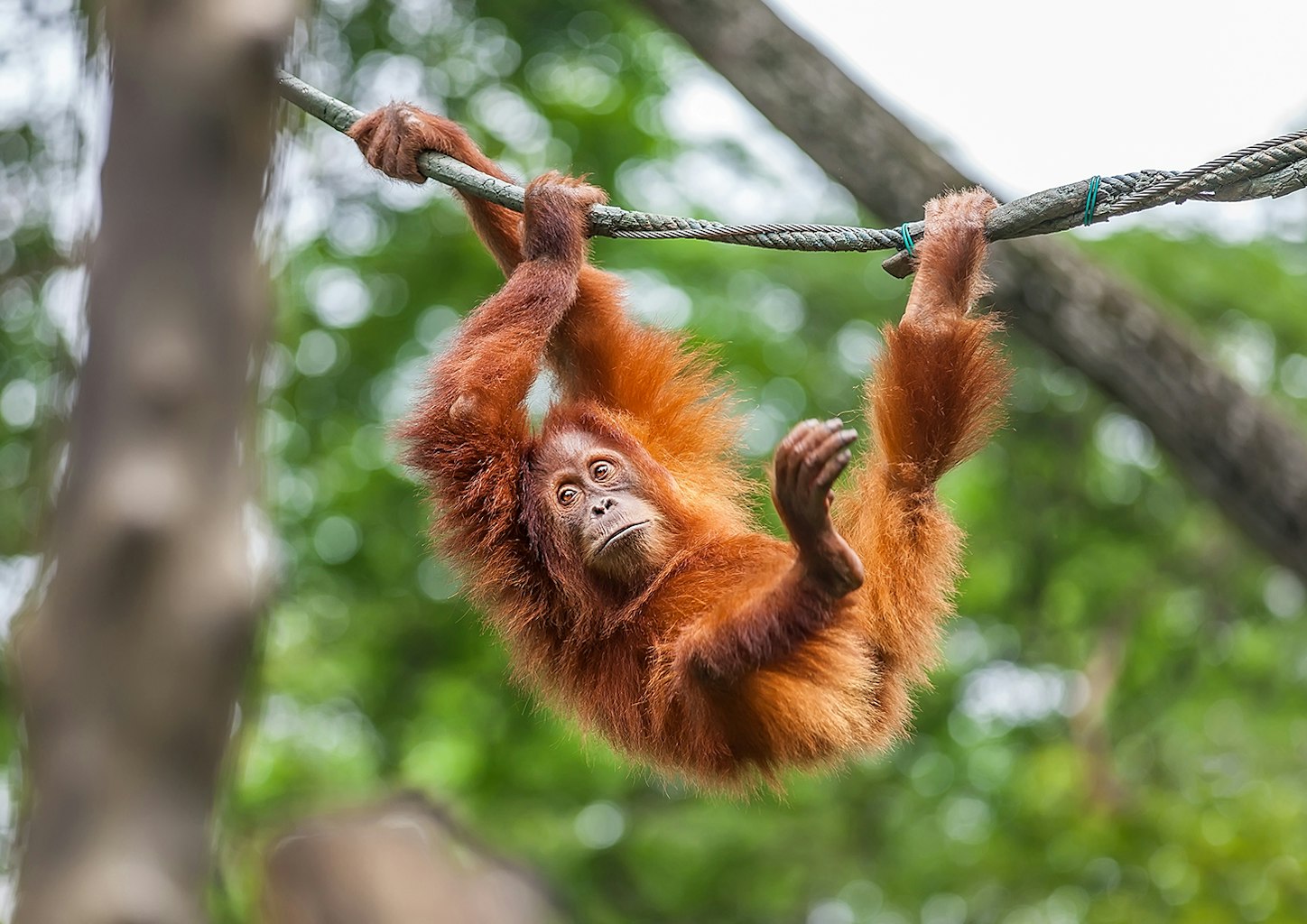 The breakfast experience with orangutans takes place at the Ah Meng Restaurant every Saturday and Sunday from 9:00 AM to 10:30 AM. From 9:30 AM onward, the Orangutans, Elephants and Macaws make appearances, so take your time at the table and have a nice long breakfast! Do keep in mind that the Singapore Zoo opens at 8:30 AM so you must arrive early, as the seating is assigned on a first-come-first-serve basis.
Once you purchase your Singapore Zoo + Breakfast with Orangutans tickets, you will receive them in your email. Once you arrive at the ticket redemption point in the Singapore Zoo, simply show your email with the ticket and your ID card to enter. Once inside, you can make your way to the Ah Meng restaurant and enjoy your breakfast. Please note that Flash Photography is strictly prohibited.
Once you've had your breakfast, you can make your way to the main zoo premises and spend a lovely day surrounded by some of the most gorgeous animals in the world.
GOOD FOR: Family and Kids, Team acitivites, Celebrations
Singapore Zoo Breakfast with Orangutans Menu
---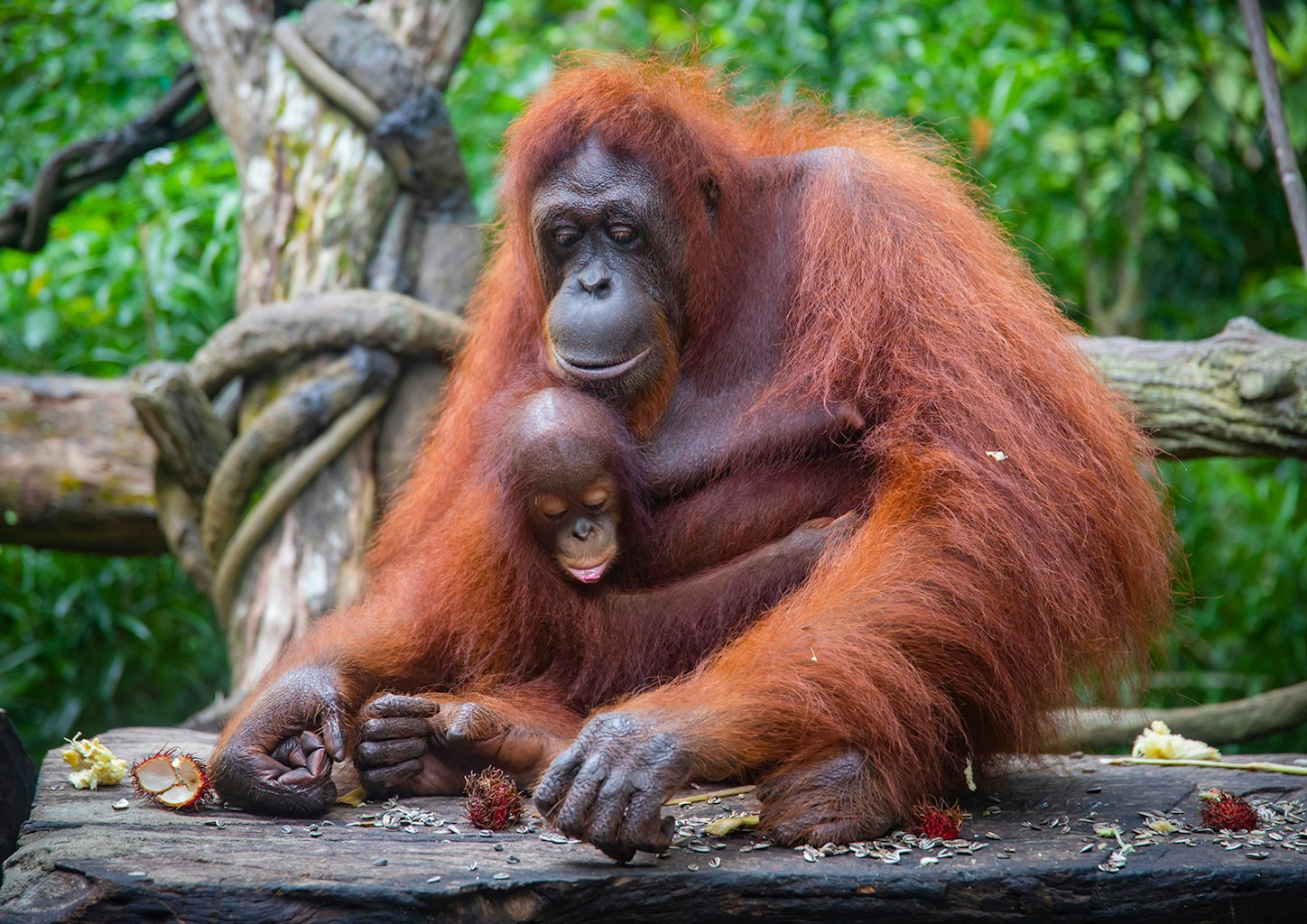 The breakfast menu is a lavish affair that includes fresh fruits, juices, various types of breads, beverages and wide selection of local and international breakfast delicacies.
At the kitchen, they only use sustainably-sourced palm oil and serve Owa Coffee, which uses beans grown in a wildlife-friendly manner in Indonesia. They also don't feature beef on their menu because of its disproportionately high environmental impact. Some of the popular breakfast highlights are:
Cereals
Koko Krunch
Corn Flake
Bakery
Butter Croissant
Chocolate Roll
White Loaf
French Baguette
Butter & Marmalade
Cold Appetisers
Assorted Cold Cuts with Garnish
Cheese Board with Grape & Relish
Fresh Fruits
House Dressing
French Vinaigrette
Thousand Island
Eggs
Poached Egg Benedict
Sunny Side Up
Western
Cajun Chicken & Egg Wrap
Wafes with Honey
French Toast
Grilled Turkey Bacon
Chinese
You Tiao & Buttery Bun with Soya Milk
Chicken Macaroni Soup
Chee Cheong Fun
Malay & Indian
Fried Mee Siam
Indian Prata
Fruit Juices and Hot beverages
View the full Breakfast menu here
Practical Information
---
Venue
Ah Meng Restaurant (Terrace)
Singapore Zoo Timings
8:30 AM - 6 PM (Daily)
Breakfast Timings
9.00 AM to 10.30 AM (Daily)
Animal Appearance
9.30 AM to 10.00 AM
Singapore Zoo Map
The venue for the Breakfast with Orangutans experience is the Ah Meng Restaurant. It is located in the central part of Singapore Zoo, close to the starting point of the tram route (seen in orange).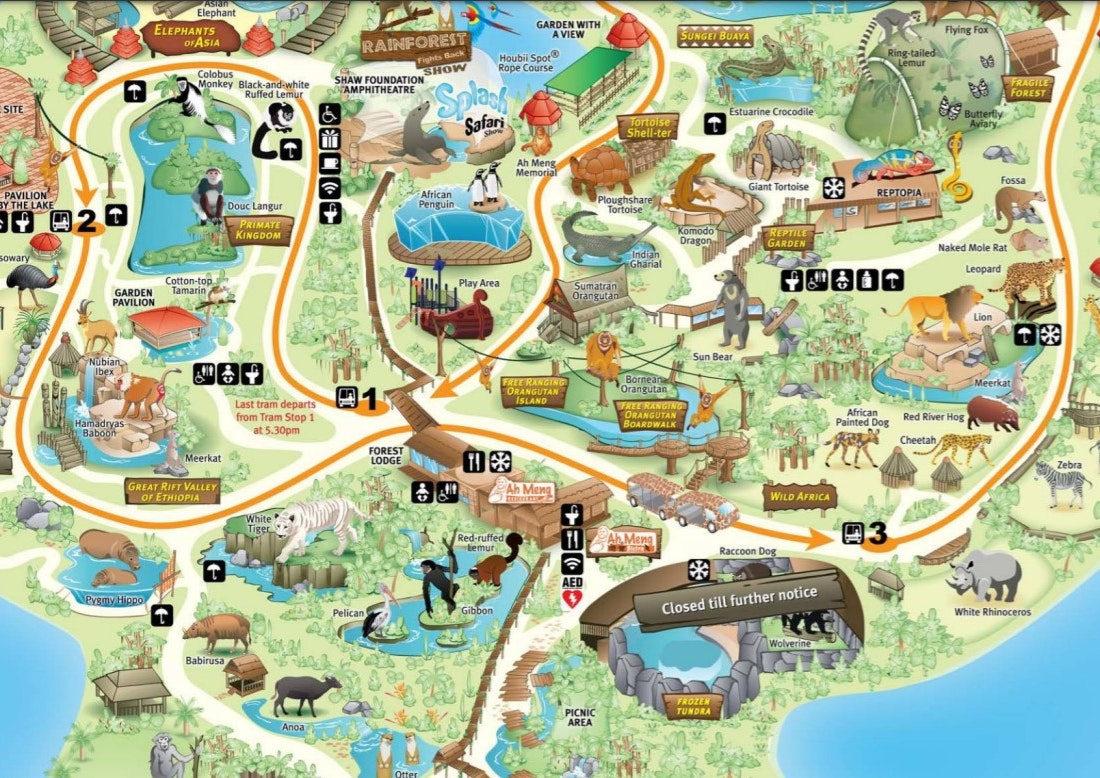 You can see a detailed version of the map here
Spread over 28 hectares in the densely forested central catchment area, Singapore Zoo is one of the leading zoos in the world. Home to animals from 315 species, including many endangered ones, Singapore Zoo is divided into 6 zones that replicate animal habitats from around the world. At the zoo, you will come face to face with animals such as flying foxes, lemurs, sloths, Nubian ibexes, leopards, deer, hundreds of reptiles, alligators, kangaroos and more. Your Singapore Zoo tickets are included with our Breakfast with Orangutans experience. After your breakfast, you are free the explore the zoo at your own pace and discover some of the most fascinating animals in the world.
How to get to Singapore Zoo
By MRT

You can take the North-South line and then a connecting bus to reach the Zoo. The closest stations are Khatib NS14, Choa Chu Kang NS4, Ang Mo Kio NS16, Woodlands NS9, Marsiling NS8.

By Bus

You can take the Mandai Khatib Shuttle daily from the Khatib MRT station to the Singapore Coach Bay. The trip will take you about 15 minutes. Other buses you can take are the 138, 926, and 927.

By Car

It takes 30 minutes to drive to Singapore Zoo. There are two routes you can choose from: Either via the Central Expressway (CTE) or via Pan Island Expressway (PIE) from the City.
Singapore Zoo Breakfast with Orangutan Reviews
---
Having the orangutans close by while having breakfast was really enjoyable. The baby orangutan was funny as it was more interested in checking out the hole in their seat than eating their breakfast. There was more than enough to eat for breakfast and with plenty of options. Afterwards checked out the rest of the zoo and it easily went to the top for zoos we have visited. Make sure to check out the shows and to checkout the river safari as we thought we had seen everything there was to see (were we wrong). Hint if you think you have seen everything but haven't seen the aquarium's and panda's then keep looking.
Pricey72, TripAdvisor, October 2018
I love to visit a zoo. This is by far the most spectacular zoo I have visited. Beautifully maintained and is home to creatures I have never seen or heard about. The mouse deer were a highlight. The breakfast experience was great. The buffet breakfast offered a wide range of fresh, nicely prepared foods. We enjoyed seeing the monkeys eat their breakfast and were fortunate enough to hold a python.
Amie-Jane, TripAdvisor, October 2019
FAQs
---
Singapore Zoo Breakfast With Orangutans
When making your reservation, please note that the experience is only available to those aged 13 and above. Don't forget to bring your appetite and a camera for this once-in-a-lifetime experience!
You will be served a delectable array of local dishes, along with a complimentary beverage which will give you the energy to explore the park after breakfast. You'll be served Cereals, Baked bread items, Cold Appetisers, Salad Dressings, Fresh Fruits, Eggs of your choice along with Western, Chinese, Malay and Indian breakfast options and juices and beverages.
All visitors must respect animal safety, and not disturb or attempt to feed the orangutans during their visit. Remember, these are wild animals and should be treated with the utmost care.
After breakfast, you can explore the park's many attractions, including animal encounters, interactive exhibits and educational talks. Plus, don't miss out on the amazing night safari!
No, visitors can not bring outside food into the park. However, there are plenty of food options available both inside and outside of the zoo for you to enjoy during your visit.
This is a once-in-a-lifetime experience that you won't want to miss out on! So, be sure to book your tickets online at least one week in advance and get ready for a morning full of fun with the orangutans at Singapore Zoo.
It is recommend that you dress comfortably for this outdoor experience, and please avoid wearing any sort of clothing with animal prints at the Singapore Zoo. Additionally, visitors must refrain from wearing any perfumes or colognes as it can disturb the animals. You should also wear closed-toe shoes for safety reasons during your visit.