Singapore Cable Car Tickets
Hop on board the Singapore Cable Car and spot famous attractions such as Mount Faber Park, Universal Studios, Resorts World Sentosa and more. With Singapore Cable Car tickets, enjoy dining experiences, choose from round-trip and single-trip sky passes, or opt for a combo tour.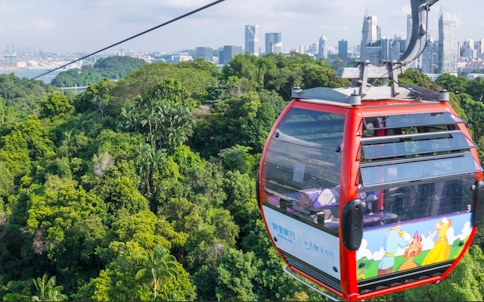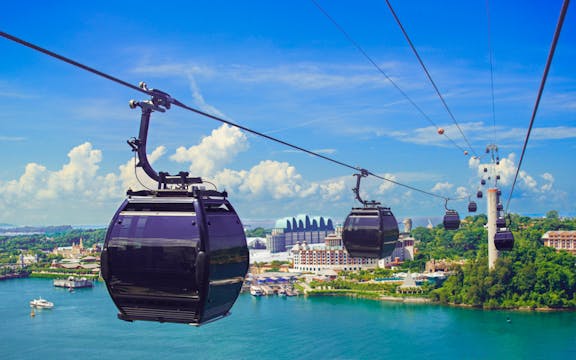 Singapore Cable Car Tickets Guide
A permanent fixture on the Singapore skyline since 1974, the Singapore Cable Car Line is one of its most exciting experiences. The Mount Faber cable car line links Mainland Singapore to the buzzing Sentosa Island. While the newly added Sentosa Line is an intra-island line and covers the length of the Sentosa Island. The colorful cable cars dot the skyline and offer a fantastic panoramic view of the city. The latest addition, Sentosa Line, even won the Top 50 Engineering Feats award at IES-SG50 in 2016. With a Singapore Cable Car ticket, get truly unique experiences like an evening dining pass which thrills travelers and provides unforgettable moments.
Post Covid-19 Safety Measures and New Rules for the Singapore Cable Car Experience:
In light of the COVID-19 pandemic, Singapore Cable Car has enforced several safety measures:
Masks have been made mandatory.
Contactless payment is encouraged.
A safe distance of 1 meter must be maintained at all times within the venue.
Arbora, Dusk Restaurant & Bar, Good Old Days and Gift Shops and FUN Shops will be remain open.
Other attractions operated by One Faber Group will remain closed until further notice.
Singapore Cable Car Ticket and Tour Options Explained
Please keep in mind that in order to limit physical contact, the ticketing office will not be available to purchase vouchers on the spot. All guests are advised to place their reservation online before arriving at the venue.
Singapore Cable Car Sky Pass
The Singapore Cable Car Sky Pass Round Trip Pass is all you need to go on a cable car journey that takes you to some of the most beautiful sections of Singapore, from the mainland to Sentosa and back.
Why go for these tickets?
Enjoy the incredible views of Singapore's Southern precinct on this 30-minute Cable Car ride.
Some of the sights you will get to see are Mount Faber Park, Universal Studios, and Resorts World Sentosa.
The round-trip pass allows you to complete the entire trip irrespective of the station you board at.
Recommended Experiences
Cover all of Singapore's attractions in this unique cable car experience.
Indulge in the panoramic views of Singapore as you enjoy a sumptuous meal.
An experience like no other - dine on Singapore's famous Cable Car on Mount Faber
Timings
Address & Directions
What are the timings of Singapore Cable Car?
Singapore Cable Car timings are as follows:
8:45 AM - 8:30 PM
Last Boarding at 8.00 PM
Till when does the ticket sale take place?
You can purchase tickets till 7:45 pm.
Is the Singapore Cable Car experience open throughout the year?
Yes, the Singapore Cable Car experience is open throughout the year.
What is the SIngapore Cable Car address?
Harbourfront Station, 1 Harbourfront Avenue, Keppel Bay Tower, Singapore 098632
How to reach Singapore Cable Car?
From HarbourFront MRT station, visitors can take Exit B towards HarbourFront Centre. You can get to get to Singapore Cable Car at HarbourFront Tower 2.
Explore Singapore Cable Car Lines
The Singapore Cable Car follows two main routes. Let's take a closer look at these two routes.
Attractions along the Mount Faber Cable Car Line
The Mount Faber Line offers panoramic views of the Central Business District of Singapore as it moves across the world-class highway. Kids especially love watching the vehicles whiz past on the roads below them. The Faber Peak surrounded by thick greenery is a welcome change from the steel and chrome landscape of the city.
The Mount Fable Cable Car on its way to Sentosa also crosses the Keppel Harbor including the Harbourfront Cruise Centre. As the cable car looms on to the Sentosa Island, the Merlion greets you to Sentosa! The vistas are breathtaking and a delight for photographers.
Attractions along the Sentosa Cable Car Line
The Sentosa Cable Car Line is also a visual wonderland and cuts across a considerable length of the island. On the line from Imbiah to Merlion you can see Skyline Luge's tracks, Skylift and the brilliant blue waters of the beach.
From Imbiah to Siloso Point, you can see Mount Imbiah's jungle, MegaZip adventure Park, Fort Siloso and the Siloso beach.
Where can I get book Singapore Cable Car tickets?
You can book your Singapore Cable Car tickets at your preferred station, or online at Headout to get the best discount and experience options.
What is the Singapore Cable Car Sky Pass?
This pass allows guests to access all cable car stations on a single trip. This is irrespective of where the pass holder has gotten onto the cable car ride. If you purchase a round trip pass, you can visit each station twice.
What routes are available on a Singapore Cable Car Sky Pass?
There are two main routes: the Mount Faber Line and the Sentosa Line.
How long is a Singapore Cable Car ride?
It depends on the Singapore Cable Car ticket you purchase. A basic ticket gives you a 30-minute ride, while if you choose one with lunch/dinner variant, your journey could be between 1.5 to 2.5 hours.
Is lunch/dinner included in my Singapore Cable Car ticket?
No. You would have to specifically book a ticket that includes lunch or dinner in its inclusions.
What is the visitor capacity of a Singapore Cable Car?
The cable cars are spacious and can comfortably accommodate up to 8 guests, including a baby stroller.