An incredible city that always has something in store for everyone, this time around, Singapore came through for our motorsport enthusiasts (ahem ahem, this writer) with Singapore Grand Prix 2022!
The grand event that returns to the city after 2 years is all set to blow you (and us) away! Here's everything you need to know about Formula 1, street circuits, this event, and more.
Formula 1: What's the Hype?!
---
Other than the fact that Formula 1 is the highest level of motorsport racing in the world - contrary to popular belief - it's a lot more than drivers just driving around in circles.
Formula 1 is all about the making of a car, it's aerodynamics, competition, teams, it's drivers, the adrenaline, and so much more! To people who love the sport, Formula 1 is essentially an emotion.

"Going into a corner at 150 miles per hour, knowing that your talent is going to enable you to get out the other side safely, it's a special gift."
- Ross Brawn, former Technical Director at Scuderia Ferrari
Here's a fun fact: there have never been two same races in the history of Formula 1. Ever.
When someone oblivious to the world of Formula 1 watches a race, they might think that only the driver is responsible for the outcome of a race. But here's the thing, nothing and no one ever works in a silo in Formula 1. Every engineer, mechanic, driver, marshall, team principal, fan - whoever, all of them come together to create an experience of a lifetime.
Here's everything you need to know about Singapore Grand Prix 2022!
Singapore Grand Prix - What makes it special?
---
The Singapore Grand Prix has always been special to the world of Formula 1. Why, you ask? It's easy, really. It was not only the inaugral night race, but also the first street circuit in Asia! With that, it's also one of the most challenging tracks on the calendar - with it's twisty turns and proximity to walls. This race brings the best of entertainment, drama, and racing of course, every time!
More so, it's a night race. These are always fun, considering we barely have any over the year. The charm a night race holds is pretty much unlike any other. In other words, ✨ the vibes are immaculate ✨
Of course, like all other races on the calendar, this, is a three day event.
Day 1, 30th September, 2022, Friday: Free Practice 1 (6 to 7 pm) and 2 (9 to 10 pm)
Day 2, 1st October, 2022, Saturday: Free Practice 3 (6 to 7 pm) and Qualifying (9 to 10 pm)
Day 3, 2nd October, 2022, Sunday: Race Day! (8 to 10 pm)
P.S. all timings are Singapore Times (GMT + 8)
Singapore Grand Prix 2022 in a Nutshell
---
Opening Hours
For all three days, the timings are 2:30 pm to 12 am. Talk about getting a look at every process!
Know before you go
Best time to visit - As early as possible, you want the best seats!
Starting Prices for Singapore Grand Prix 2022 Tickets - S$228.80
Suggested duration - 2 to 3 hours
Location - Marina Bay, Singapore

Why you must attend Singapore Grand Prix 2022
---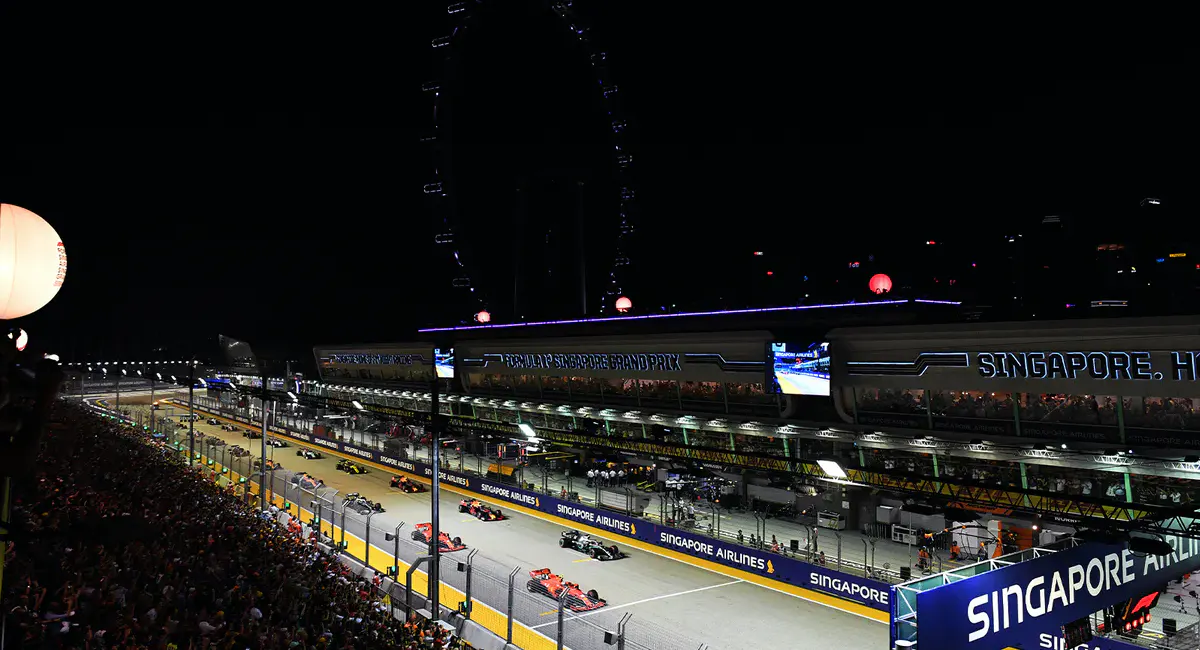 1.The Singapore Grand Prix is returning to the city after two whole years! This is your chance to be a part of an event that will dazzle you.
2. The Marina Bay Street Circuit, is a well-loved track by drivers and spectators alike. It promises proper racing, drama, and a hell of a night!
3. It's a night race, which is rare in Formula 1. So when the opportunity strikes, take it! Take one for the team (I mean me)
4. The thrill of watching an F1 race live, is truly unmatched. The vibe, the sound of the cars whizzing by, the sheer adrenaline. Aaaah, there's nothing like a good race.
5. You can get your hands on some official F1 merchandise! Everyone who loves the sport, knows how difficult they're to get, and just how precious they can be!
6. Podium celebrations in F1 are a thing of grandeur. Champagne, fireworks, lights, the works. If you can make it to the podiums to see it in time, you've made it in life!
Singapore Grand Prix 2022 Tickets - Which One Should You Buy?
---
The Singapore GP is a classic making it's long-awaited return, so it is a favourite among tourists and locals alike. This means, if you don't get your tickets now (we mean now now), you're not getting them. It's a big event, and it *will* sell out faster than you know. If I could, I would've bought these the minute they went live 👀
Here are the top rated Singapore Grand Prix 2022 tickets you can buy, so you can save time and dime:
A Breakdown of all things F1 You Should be Aware Of
---
If you're someone who's just getting pulled into the world of Formula 1, this section's for you. If you're someone who's been in love with the sport for a while and need a referesher, this one's for you. If you're someone who's here for fun and to gain knowledge, this is for you as well!
Cool, getting to it now. Technically, there are over 10,000 things I'd have to explain to you for you to fully understand Formula 1 - I'm going to try my luck with a dozen few 🙉
Street Circuit: All this talk of circuits and streets, what is a street circuit anyway? A street circuit is a circuit that consists of temporarily closed-off public roads of a city or town, and make a track.
Free Practice: There are Practice Sessions (FP1, FP2, and FP3) - but what's their purpose? These sessions are essentially to help teams get into the groove around a certain track, test upgrades, tyres, runs on high and low fuel. Engineers usually come with a whole checklist of items to go through.
Qualifying: An event that takes place on the Saturday of a race weekend, is to determine the order of the grid (the order the cars will race in) for Sunday. Done over three sessions, the conclusion is this: the fastest car starts first, and on pole. Which are the same thing 😛
Race Day: The main event, the Sunday of a race weekend - Race Day!
How do I Select the Right Seats?
---
When you're watching a race live, where you're watching from, is key. You can't buy tickets at the most uneventful part of the track and expect to have fun.
For an easier way to visualise things, this is a skeleton-like map of the Marina Bay Street Circuit: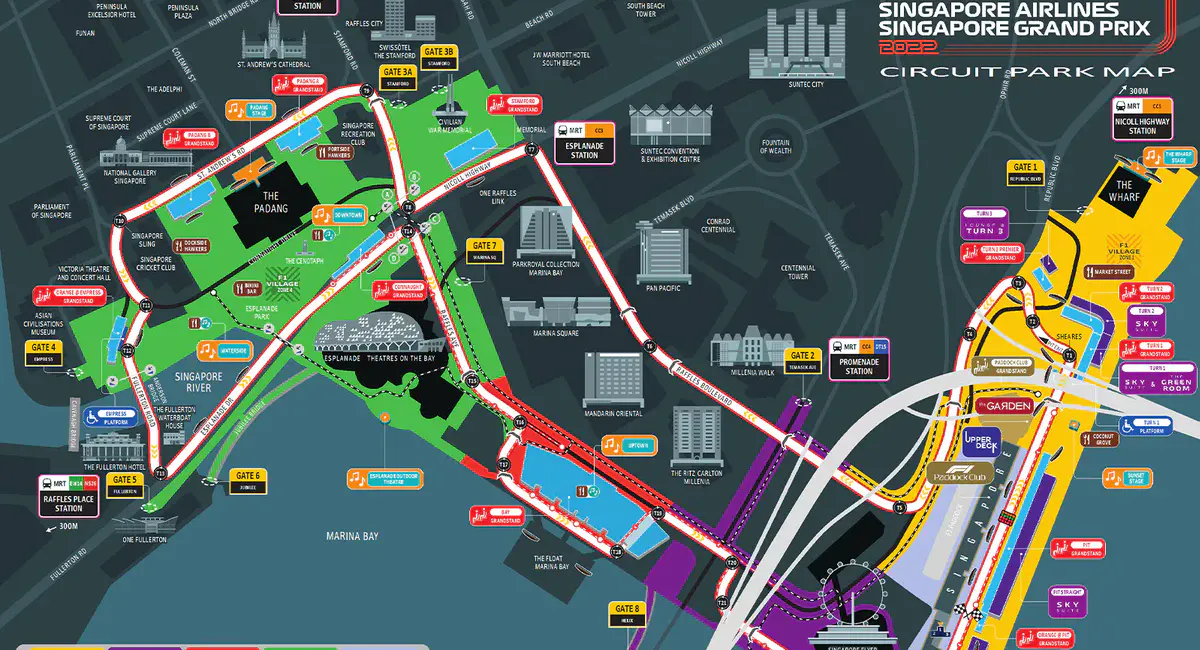 P.S. pick wisely.
Choices, choices: Where do I Begin? Zone Out (not)
The Marina Bay Street Circuit is divided into 4 zones; which essentially control your entry and movement around the track. The more expensive grandstand/premier walkabout tickets, offer access to all 4 zones; while the others limit your access to one/two zones only. Hence, picking the right zone is important!
If you want to save up on money, all the grandstands in Zone 4 are relatively cheaper, and won't leave you as broke 😛 The Bay Grandstand, with your bae
The only permanent grandstand at the circuit, the Bay Grandstand is both: the biggest and the cheapest. This grandstand is colour-coded, and defies the general rule of; sit higher for a better view. Here, do not sit higher than row 30, that's the only rule.
If you sit in the Dark Blue Zone, you can see Turns 16-17 clearly, and if you sit in the Light/Dark Green Zone, you can see Turns 18-19 well. Pick your view.
The Stamford Grandstand, of Sections
This Grandstand has 7 sections, A1-A7, located between Turns 7 and 8. Turn 7 is one which provides a ton of overtaking opportunities, so a seat in the lower-numbered sections is guarenteed to get you a view of this. Sitting on the other end, and high up in the rows, will give you access to Turns 8 and 14 - even though just slightly. Choose your seats! Padang Grandstand, get up, close, and personal!
Located on the inside of the circuit between Turns 9 and 10, the best sections here are the ones closest to the corners. Which ones are these? Low-numbered A sections for Turn 9, and high-numbered sections for Turn 10. If you want watch hard-core racing, we wouldn't recommend this stand. Although, if you're here for the post-race concert, these are the best seats to be in!
Plan Your Visit
---
Singapore Grand Prix 2022 Opening Hours
Your tickets will give you access to the grandstand from 2:30 pm to 12 am on the day/all three days - depending on the tickets you purchase
Getting to Singapore Grand Prix 2022
By Subway
The station closest to the circuit is Esplanade, it's a 5 minute walk from the circuit.
Boarding the Circle Line will help you get to Esplanade.
By Bus
An 8 minute walk away from the attraction, bus stop Aft Esplanade Stn Exit D is where you should head to.
Buses 75, 100, 107, 130, and 131 will get you there.
Best Time To Visit Singapore Grand Prix 2022
In my not-so-biased opinion (not), all three days are days where you should be at the circuit. It's a good way to learn about the workings of the sport, see it in action in various forms, AND get content for your Instagram. Who knows, you might even bump into a driver or two.
Singapore Grand Prix 2022: Insider Tips
---
Get to the redemption point as early as you can so you don't miss out on any of the on-track action.
Make sure you carry your certificate/proof of vaccination. You'll be denied entry otherwise.
Waiting lines and crowds are natural + expected, ensure you get there as early as possible so you don't miss out on the good seats.
You're only allowed to take in one bottle of water/soft drink. But don't worry, there are food and drink stalls inside for you.
If you feel like the food inside the circuit premises is too expensive, there are several restaurants just outside the track that you can go to for a short break. Plus, they have AC!
Singapore Grand Prix 2022: Frequently Asked Questions
---
Singapore Grand Prix 2022 Guide
Singapore Grand Prix 2022 is a three-day event, from 30th September to 2nd October.
Right here! Headout has five different passes on offer for you, ranging from walkabouts to three-day passes for grandstands. Take your pick!
Your tickets to the Singapore GP include admission into the circuit, and access to the post-race shows/concerts. These are only valid during the course of the race, and for the year 2022 only.
Tickets for the Singapore Grand Prix start from S$228.80 (for the One Day Pass), and can go up to S$598 for the Three-Day Pass and a Grandstand Ticket.
So far, Marshmello, Westlife, and Green Day have been confirmed as the first headline performers for Singapore Grand Prix 2022. The other acts will be announced soon!