If watching a Broadway show in NYC was a last minute plan, there's no better place than a TKTS Booths to score a good bargain. There are 2 TKTS Booths spread out across the boroughs of New York making it convinient for you to grab tickets closest from where you are.Here's a quick guide on the TKTS Times Square Booth.
For more details on shows availablity of TKTS tickets , tips, and other insider tricks - visit our parent TKTS NYC booths page or browse these 40 most frequently asked questions about TKTS .
TKTS Times Square TKTS
---
The TKTS Times Square Booth is located underneath the red steps in Father Duffy Square. The booth can be found between Broadway and Seventh Avenue at 47th Street.
At the TKTS Times Square Booth , you can get :
Same-day discount tickets
Same-day full price tickets to non-discounted shows
Full price tickets to future shows
"Play Express" window (only sells tickets to plays)
For live updates on the TKTS shows available at the Times Square Booth today and discount rates on each show, head here.

Quick Facts About The TKTS Times Square Booth
---

Payment Methods Accepted
The TKTS Times Square Booth accepts cash, as well as Visa, MasterCard, American Express and Discover cards. Some Off Broadway shows require cash only. Play Express
The TKTS Times Square Booth has special window ONLY sells play tickets — no musicals, dance, or music performances.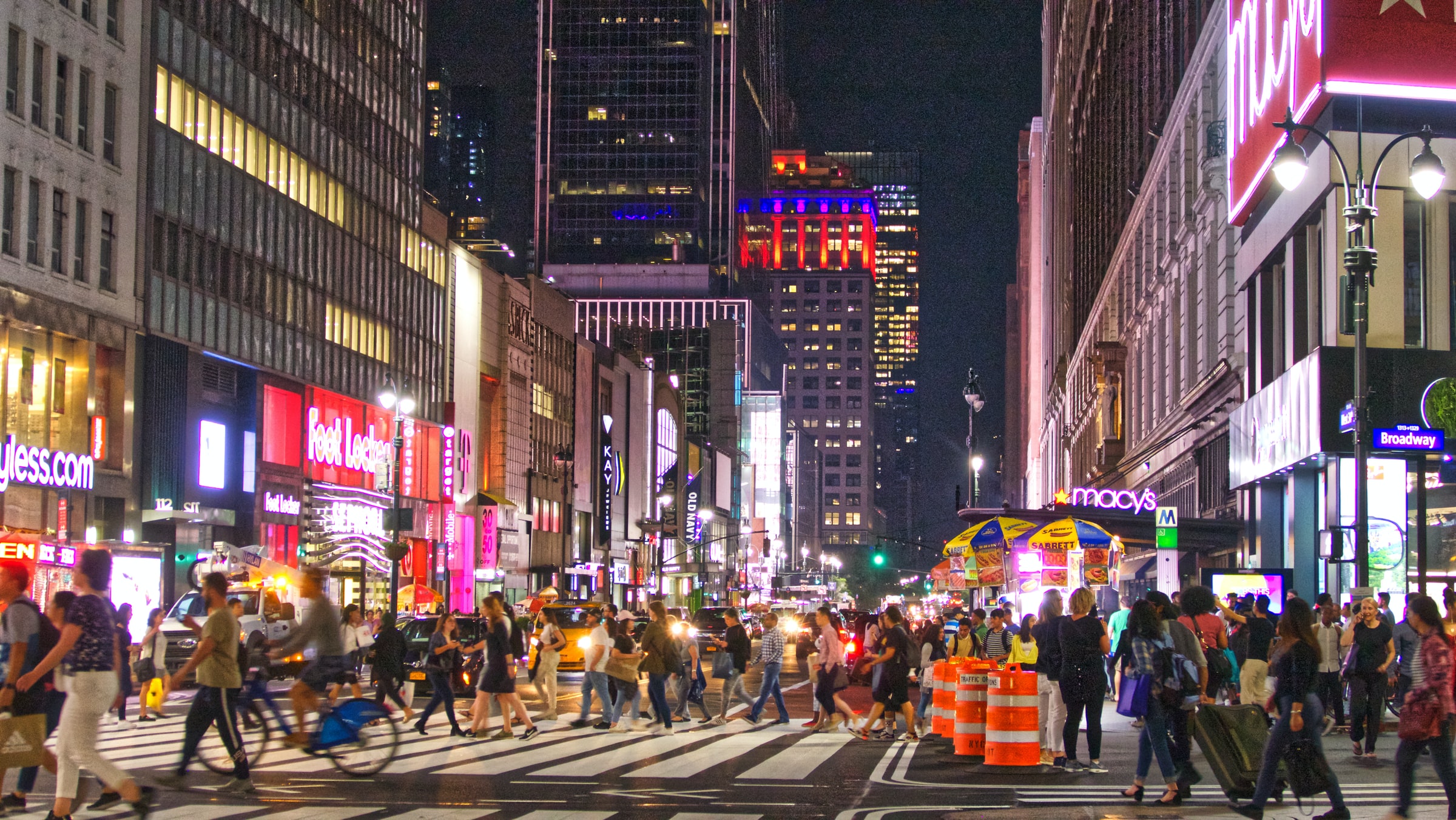 Fast Pass
The 7-Day TKTS Fast Pass allows you to show your TKTS stub at Window #1 in TKTS Times Square Booth within 7 days of purchase, avoiding lines at peak hours!

Additional Fees
All tickets sold at the TKTS Times Square Booth are subject to a $6.00 service charge per ticket. Additional non-TDF service charges may also apply to some tickets.

Purchase Limit
A single person can only purchase 6 tickets at a time from the TKTS Times Square Booth. This rule is strictly followed across all booths.
TKTS Times Square Booth Hours & Wait Time
---
The Lincoln Center TKTS booth is about a 15-20 minute car or bus trip from the theatre district. It's the only indoor booth, making it the most preferred discount center during the peak winter and summer months. While Lincoln Center's booth generally has shorter lines than Times Square, wait times grow drastically during adverse weather.
For Evening Performances
Monday : 3:00 PM - 8:00 PM
Tuesday : 2:00 PM - 8:00 PM
Wednesday : 3:00 PM - 8:00 PM
Thursday : 3:00 PM - 8:00 PM
Friday : 3:00 PM - 8:00 PM
Saturday: 3:00 PM - 8:00 PM
Sunday: 3:00 PM - 7:00 PM
For Matinee Performances
Wednesday : 10:00 PM - 2:00 PM
Thursday : 10:00 PM - 2:00 PM
Saturday: 10:00 PM - 2:00 PM
Sunday: 11:00 PM - 3:00 PM
Discounted Tickets For Shows At TKTS Times Square Booth
---
Browse the shows for which you can grab TKTS tickets at the TKTS Times Square Booth. If you don't lucky with TKTS tickets, then grab discounted tickets to these current favourites from Headout!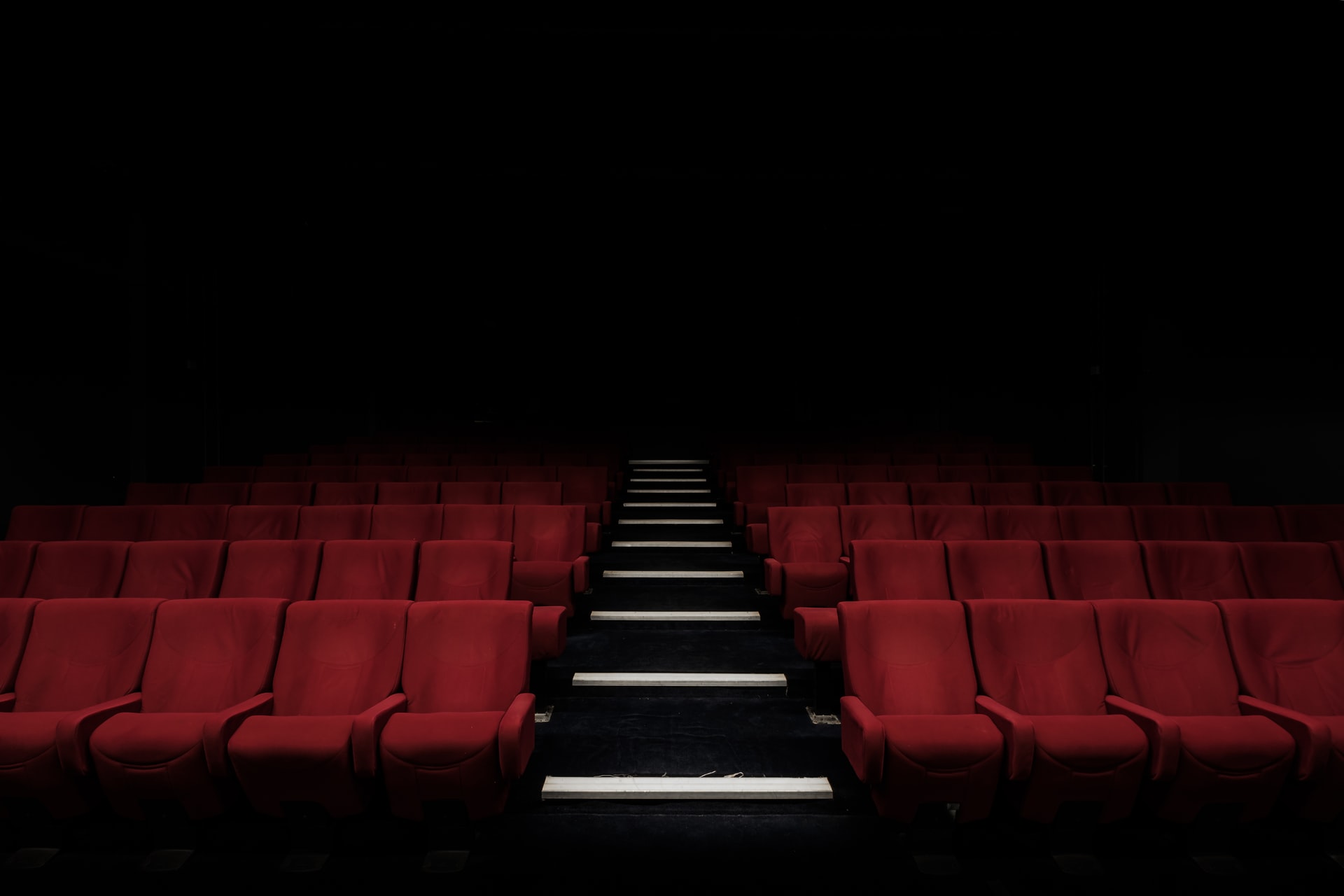 Getting To TKTS Times Square Booth
---
Via Subway
1,2,3,7,N,Q,R,S to Times Square
Via Bus
M42nd M50 to West 42nd Street
Via Car
Times Square is a highly congested area, with steady traffic from both vehicles and pedestrians. Your best bet for reaching the TKTS booth in Times Square is to park a few blocks away, either to further West or East, and walk the few blocks. There are a couple parking garages; however, be prepared for expensive fees. You can find garages at the following locations:

Zenith Parking Garage
790 8th Ave, New York, 10019
(Enter on W 49th 8th Ave)
Ph - 212-581-8590

Redball Parking LLC
225 West 49th Street
New York, NY 10019
Ph - 212-262-5450
Best Restaurants Near TKTS Times Square Booth
---
While you're in the vicinity, why not grab a bite? Here's our curation of the best and cheap restaurants Near Lincoln Center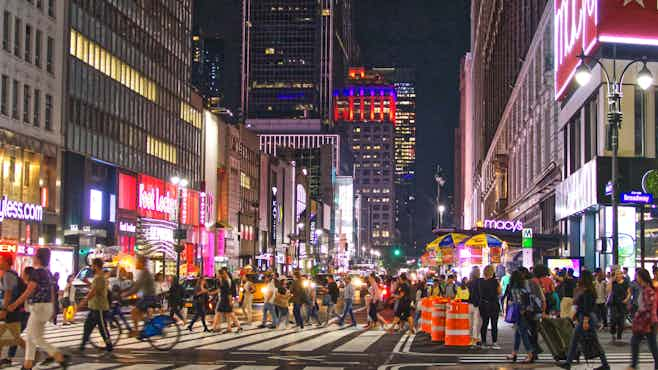 Margon
A popular Cuban restaurant at the heart of New York, this warm and cosy restaurant serves food that is bursting with Cuban flavours. Know for its stellar Cuban sandwich, this cafeteria-style Latin American fare serves on the spot and is ideal for take away too!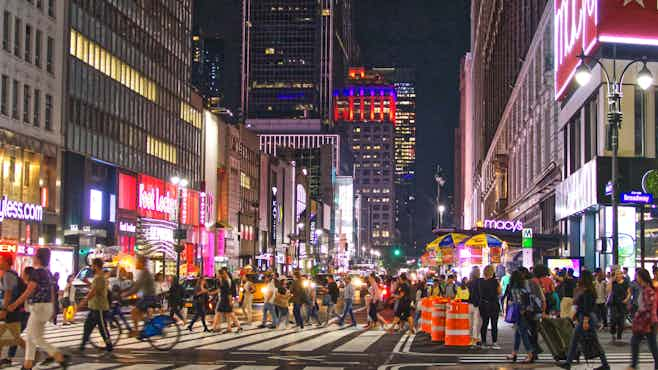 Junior's Restaurant & Bakery
Since the 1950's, Junior's has been famous for great food, great fun, great service, and, of course, the best cheesecake. If you have a sweeth tooth, Junior's cheesecake will have you yearning for atleast 3 at a go!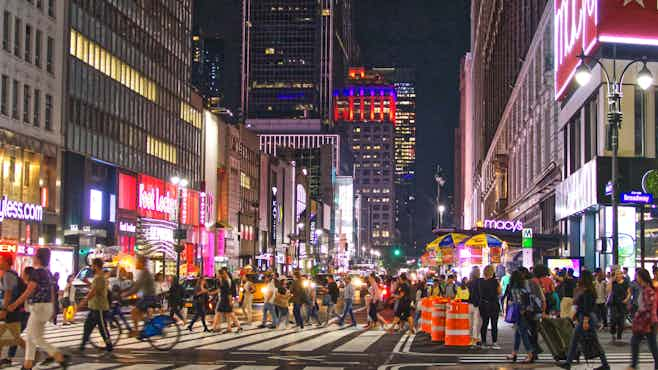 Carmine's Italian Restaurant
Carmine's is a family style Italian restaurant offering platters of homestyle antipasto, pasta, decadent seafood or meat entrees, and of course homemade desserts. Here, everyday feels like a Sunday at grandma's.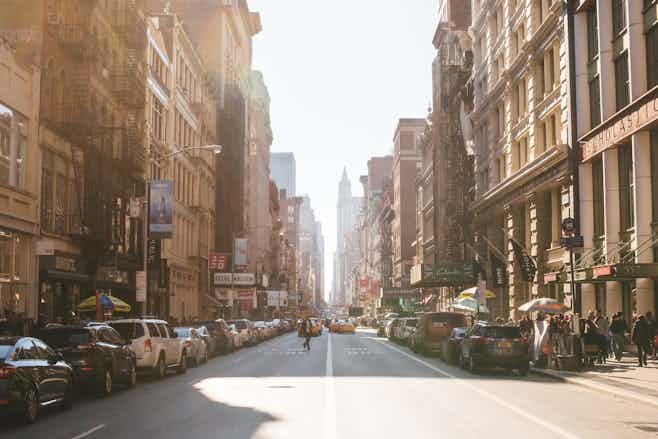 P.S. Kitchen
PS Kitchen is a social business and artisanal, plant-based restaurant that dishes up wholesome vegan food. If healthy, wholesome food is your calling them P.S. Kitchen it is. They call it 'a sustainable meal, with a side of good karma'!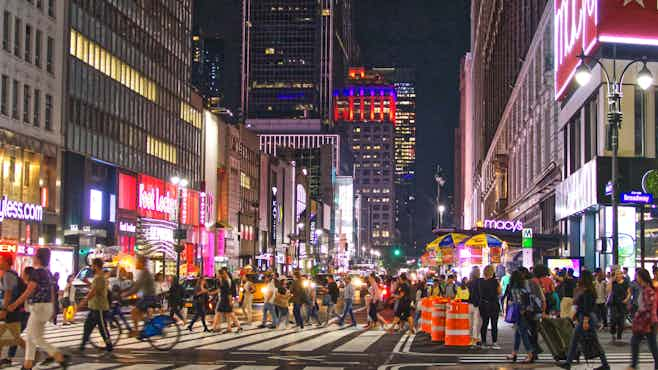 Lillie's Victorian Establishment
Lillie's Victorian Establishment combines an ostentatious decor with down-to-earth, mellow ambiance serving an eclectic yet traditional menu alongside an impressive range of over 50 beers, whiskeys, scotches and wines.
Other NYC TKTS Booths - Try Your Luck Here Too!
---
If you miss out on tickets at the TKTS Times Square Booth, why not check out the other 2 TKTS booths in the city? Note, the Downtown Brooklyn TKTS has permanently closed, as of September 2018.

More Broadway Guides
---
For more Broadway information, here are some helpful quick links!