In all honesty, visiting New York can be overwhelming. What all can I squeeze into my itinerary? Which Broadway show should I watch? Should I eat from the tourist traps for my 'gram or just eat delicious cheap food in bento boxes? Trust me, such conundrums are absolutely normal and it's okay to have all these dilemmas. I was in New York for a week earlier this March and based on all that I saw and experienced at the Big Apple, I have jotted down a few tips that could help clear your head a little. From shopping tips to sightseeing tips, I've got you covered.
New York Essentials
---
Starting with the essentials, here's what you must know before getting to New York. Read more about all you need to know before stepping foot in NYC. Quick tip : Know the different between your dimes, pennies, quarters and nickels; or you'll spend your day diving into your bag for the right one.
Best Time To Visit New York
---
May to June & September to November
With global warming and the temperatures being haywire, it's hard to pin point a month when the temperatures are just about perfect. While I planned my trip in April thinking spring and cherry blossoms were around the corner, sadly Spring did not hit the city until May. April saw barren trees and chilly winds, which wasn't the case a few years back. Fall, what the Americans call Autumn also makes for a great time to visit New York. The city is draped in shades of orange with fallen leaves making Central Park more beautiful than ever!
New York Tips 101 - Insider Tips To Visiting NYC
---
Below are the New york tips and tricks you're here for. Read on and thank me later!
#1 Always get your sim cards from the official store
If you're planning to get a temporary sim card, make sure you get yours from the official store. Whether you opt for AT&T, TMobile or Verizon sim, hit up the store in the airport or the authorised store closest to your hotel and grab your sim. DO NOT get your sim from a 7/11 or a grocer, since you'll be paying 10$ for just the sim card when it is actually free. You techincally have to pay only for the plan and the sim card comes free.
#2 Download these Apps for a breezy trip
From apps like Exit Strategy that tell you which subway exit to take to apps like Sit or Squat that tell you where to head when nature calls, everything is a touch and swipe away in New York. However, some of the apps that I found most useful were :
1. MyTransit NYC Subway, Bus, Rail (MTA) : This is the official app for the public transport system in New York. Whether you're taking the bus, subway or train, you can find the schedules and track your transport on this. It's user friendly and an absolute must if you plan on using the public transport.
2. Yelp : Reviews, listings, maps, and menus for every type of food and restaurant you can imagine, Yelp is your one stop solution for all dining. Whether you're craving a gyro or some sushi, Yelp will help you find the best place in the vicinity.
3. Headout : For spontaneous experiences and last minute tickets to over thousand experiences in the city, Headout is your app. Especially if you're planning to buy Broadway tickets, Headout has heavy discounts and daily deals. They also have a great curation of offbeat experiences in the city and walking tours that I can vouch for.
4. Lyft : This one is Uber's rival in USA and offers competitive pricing on cabs in the city. I'd suggest looking at prices on both as they are dynamic and sometimes Uber may work out cheaper than Lyft.
5. ILoveNY : This one's the official New York Tourism Board app, and you'll be hard-pressed to find a more comprehensive source for the must-knows in the city. You'll find the latest events and happenings across the 5 boroughs on this app.
6. Citi Bike : Environment conscious? Zip around New York City on two wheels with the city's official bike-share program. The app will help you find the nearest docking station, save your favorite stations, purchase a day pass, and track your ride stats.
#3 Everyone in NYC is in a hurry, and you dare not get in their way.
While this is wide known, everyone in New York is on a secret mission (non-New Yorkers are not privileged to know) and are always hustling and hurrying. While everyone is really helpful and kind, you better not slow them down. Make sure your escalator etiquettes are perfect ( stand to the right, walk to the left ), you do not walk against the crowd and make sure you follow pedestrian signals to avoid being abused at! Always know how to use your metro card in the subway and if you don't move aside and let others pass (preferably learn from them) . Just blend in, walk as fast as the New Yorkers and you'll have burned some calories and reached your destination faster than expected.
#4 The New York Explorer Pass is god sent.
Guilty as charged, but I love hitting up touristy spots in a city. There's a reason they are popular and I very well would like to go and see why ( though I do regret my decision sometimes). I stayed back in the freezing cold just to see Times Square turn magical( read busy) at night. I also stayed an extra hour at the Top of The Rock to see the sun set behind the Empire State Building. If you're like me and love the cliche, buying the New York Explorer Pass could be the best decision ever. From an array of 77 attractions, including walking tours, ferry rides and tickets, the NYC Explorer Pass allows you to choose a different number of attractions – 2, 3, 4 and 7 attractions and save upto 50% on admission prices. You can read my review on using the New York Explorer Pass for a week, with the itinerary I charted using the Pass!
#5 New York is synonymous to Broadway shows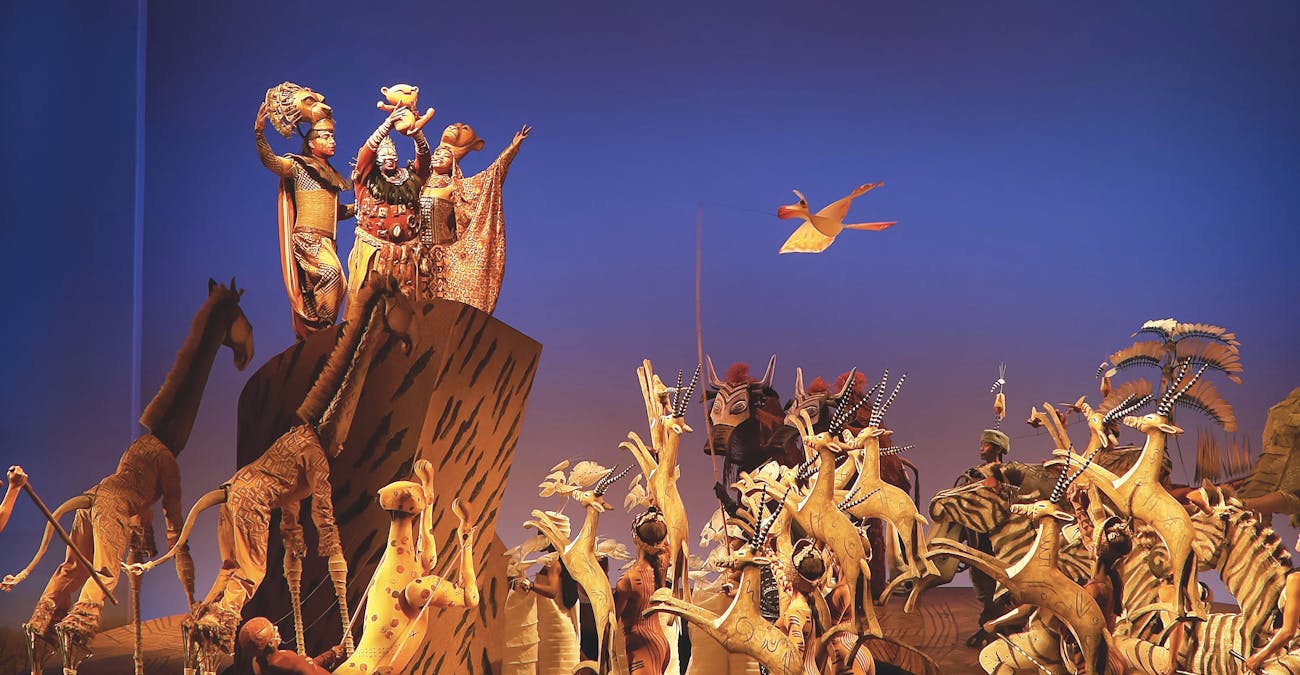 You simply cannot leave New York without watching a Broadway show. Whether you're a theatre lover or not, watching a Broadway show will convert you into a fan for life. I was planning to skip the whole Broadway experience, mainly because it was way over my budget but when I stumbled upon the prices on Headout, I couldn't resist buying tickets for the Book of Mormon. Best money ever spent. Whether you opt for a musical or play, you cannot go wrong with a Broadway show. Each one better than the other, Broadway shows are a highlight for many tourists in New York and you do not want to miss out on this.
Check out the trending Broadway shows
#6 Your Instagram Feed needs the Vessel at Hudson Yards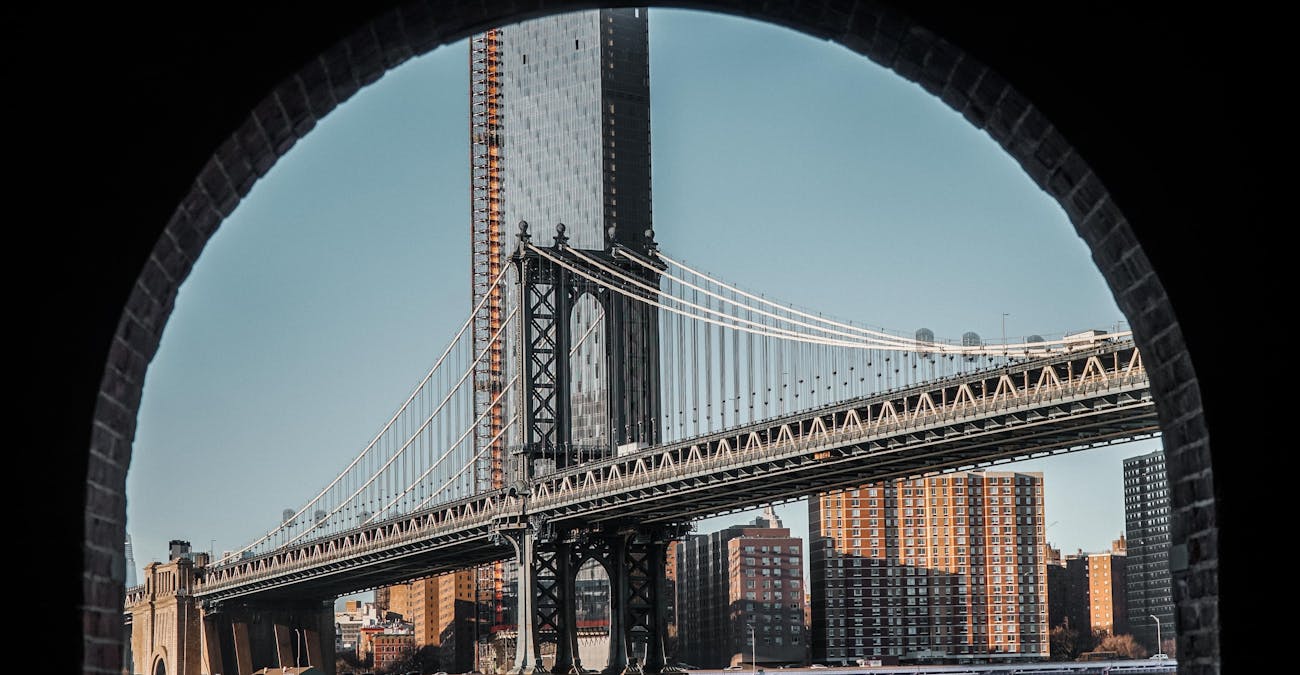 The latest attraction that has graced New York's skyline (also the most instagrammed spot in NYC right now ) is the Vessel. The stepwell-inspired Vessel features 2,500 steps across 154 flight of stairs with 80 viewing landings. While climbing up is free, you need to reserve a spot for a specific slot on the official website. I didn't need a cardio workout hence didn't climb up, but the views of Hudson Yard from the top are said to be stellar. Pro Tip : Food trucks around the Vessel are expensive, so steer clear unless you want to dish out 5$ for a hot dog.
#7 Eat your way through Smorgasburg
New Yorkers love anything outdoorsy and this annual food flea market at Williamsburg's East River Park is every locals' favourite. Smorg features over a 100 vendors selling super delicious and graciously cheap snacks every Saturday and Sunday from 11:00 AM – 6:00 PM from April through November, rain or shine. And on Fridays, from 11:30 AM - 7:00 PM.
#8 Never, I repeat never enter an empty subway car
While an empty subway car might seem like an absolute solace, away from the teeming crowds, there's a reason it's empty. You never know what you'll see and the stench would definitely be unbearable. Also, always make sure you check your seats before sitting in the subway. You never know what that water could be!
#9 Say no to freebies
Little Italy and Chinatown have an underground counterfeit industry flourishing and many people fall prey for it. They'll show you "Gucci" and "Prada" designer purses for less than half the price and you'll be amazed at how authentic they look. They are fake. Period. Do not follow such people, however friendly they may be and once you're in their shop, you'll be forced into buying something.
#10 Explore New York by the neighbourhoods
Find a map, lay it down and mark the neighbourhoods you want to visit. While New York is divided into 5 boroughs - Bronx, Brooklyn, Manhattan, Queens, and Staten Island ; the neighbourhoods are familiar names for more tourists. The neighbourhoods you cannot miss are - Manhattan, Brooklyn, Williamsburg, Chelsea, Greenwich, Little Italy & China Town. A week is ideal to skim through the best of New York, but if you're staying for a shorter period, you should chart your itinerary carefully.
#11 Your MET tickets are valid for 2 days
I think the MET knows that it's way too big to be completed in a day, hence you have the liberty to re-enter the MET with your ticket the next day as well. Make sure you preserve the ticket they give you if you plan on re-entering.
#12 If you order coffee, you get drip coffee
Now, this was a shocker for me because I'm not a fan of black coffee and that's what you get when you order a coffee in New York! Or anywhere in USA for that matter. They give you a cup of plain coffee with no sugar, no milk, no cream and direct you to the stand where you've got to basically prepare your own coffee. Quite ridiculous, eh? If you need coffee with milk, you've to order to latte or cappucino. The half and half cream can get quite confusing too, because I was under the impression you require to pour half a cup cream and half a cup coffee, but you actually just need a touch of the cream.
#13 Airbnbs & Hostels are actually illegal in NYC
Well, not entirely. It's legal if you stay for 30 days or more at an Airbnb or if the owner is present the entire time (ie; renting their couch or extra room). Hostels are also illegal in the city and the few hostels that legally operate are registered as hotels with hostel-like amenities.
#14 If you're lost in Central Park, look for this.
If you get lost inside Central, look at the closest lamp post. Each one has four digits at the base: the first two are the nearest street and the second indicates East or West. Even numbers denote East and odd numbers are West.
#15 Avoid Times Square during rush hours
While Times Square is magical, lively and all the other superlatives possible, stay out of there during peak hours. There are many offices on Times Square and from 4 PM to 7 PM the place is a mad house. You'll most likely be shoved to some side or be taken elsewhere with the human flow. Unless you have a broadway show to attend, come back to Times Square after 8:30 PM to see the lights and "magic".
#16 Plan your itinerary around free museum days.
Heck, plan your entire trip around free museum days! Many museums in the city have free museum days or pay as you wish days. I love museums and hit up quite a few of them. If not for the NYC Explorer Pass with which I had most of the museums free, I would have burned a huge dent in my pocket. If you're not planning to buy the explorer pass, then plan your itinerary around these free days. Here's a list of the free days for the top museums in NYC -
Museum of Modern Art: Friday, 4–8pm
9/11 Memorial Museum : Tuesday, 5 pm to closing time
Whitney Museum of American Art: Friday, 7-10pm
Solomon R. Guggenheim Museum: Saturday, 5:45-7:45pm
Museum of Arts & Design: Thursday 6-9pm
The Frick Collection: First Friday of every month, 6–9pm
Brooklyn Museum: First Saturday of every month, 5–11pm
Neue Galerie New York: First Friday of every month, 6–8pm
Cooper Hewitt, Smithsonian Design Museum: Saturday, 6-9pm
The Jewish Museum: Saturday, free all day
New Museum of Contemporary Art: Thursday, 7-9pm
Asia Society: Friday, 6–9pm, Labor Day through June
Studio Museum in Harlem: First Sunday of every month, all day
El Museo del Barrio: Third Saturday of every month, all day
#17 Get to the TKTS Booths sharp on time.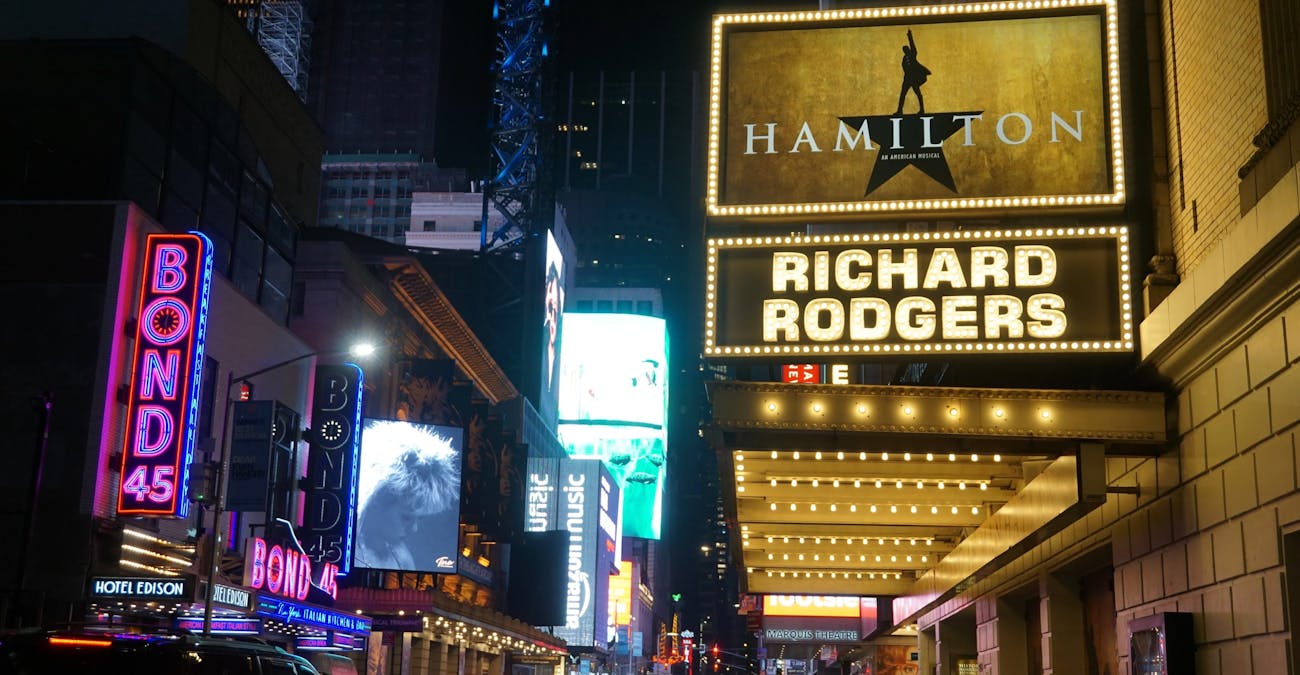 You reach the TKTS Booth one minute later than 5:00 PM and you'll have lost your chance at cheap tickets to your dream Broadway show. Make sure you're not carried away by the red steps and stand in queue on-time to get your tickets. Also, in case you lose out on the day's deal, you can check out last minute discounted broadway tickets on Headout. It's just a swipe away on your phone and you can actually do away with queues and being punctual (tsk,tsk).
Read all about the 3 TKTS Booths in NYC and more ways to get last minute discounted tickets to Broadway shows in the city
#18 Jay walking was born in New York
If you have never heard of the term "jay walking" you can thank New Yorkers. Jay walking is crossing the street without waiting for the appropriate signal or crossing somewhere outside of the pedestrian walk. You can clearly differentiate a New Yorker and a tourist from the way they react to the lights ( signal). While tourists are patiently waiting, the locals go ahead and cross the street anyway. While you can join them, make sure you know where the cars are coming from. Also, if you do cross against the light, sprint like you have somewhere you had to be yesterday.
#19 There's so much more to New York than Manhattan
Do not ignore the outer boroughs. I urge you to get out of Manhattan while visiting New York. At the very least, walk over the Brooklyn Bridge and spend a couple of hours in Brooklyn Heights and DUMBO. You should check out Williamsburg for the best eateries in the city too. The Bronx is great, but a little far and for a change in culture you should hit up Queens. If you're New York and don't visit Lady Liberty on Staten Island, I don't know what to say!
#20 Head to Niagara or Washington DC if you have time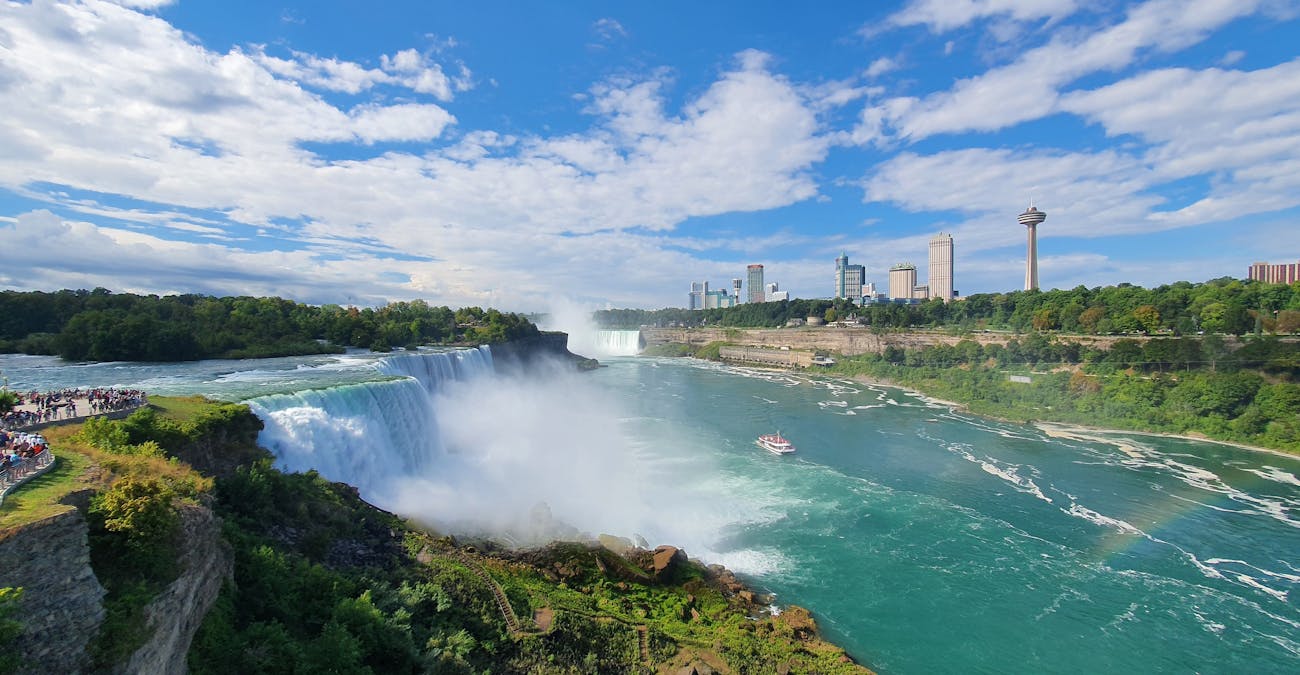 Since I was in NYC over a week, I took a day trip to Niagara. Being centrally located, most people club their New York visit with a day trip to either of these locations or maybe both! If you're a museum buff and want to see the White House, then Washington is your city. If you're outdoorsy and want to see the iconic Niagara, then the 6 hour journey from New York is worth it. I'd suggest staying for a day to make things less rushed.
New York Sightseeing Tips
---
Keep aside a whole day for visiting the Statue of Liberty. Taking the ferry, walking around Liberty Island and then spending time at the Immigration Museum at Staten Island is a whole day's affair. The Governor Island is open from May 1 through October 31 and you should hop down here if time permits. Also, Battery Park is a great place for a stroll, so you'll end up spending a good amount of time there as well. All in all, visiting Lady Liberty ends up taking a whole day.
If you had to choose one Observation Deck in the city, I would opt for Top of The Rock. You get a terrific view of the Empire State Building and if you visit around sunset, you get to see the city draped in hues of pink with the sun setting behind the Empire State Building. While the Empire State Building is definitely more iconic, you get better views from the TOTR. The One World Observatory gives a whole different view, not comparable to the two, yet less stellar than TOTR.
Instead of a Hop On Hop Off bus ride, take The Ride NYC. It's an epic bus ride that acquaints you with Manhattan in the best way possible. To get an idea of what to expect on The Ride, head here. PS: It comes free with the Explorer Pass.
Make sure you sign up for atleast one walking tour. I'd recommend New York Tours1. They have great tour guides and a really interesting route. I especially loved their SoHo, Little Italy and China Town walking tour. New York has many interesting neighbourhoods and exploring these with a local adds to the fun. Also, if you're a foodie, you won't regret taking a food tour. There's so much to eat here, you'll want to loan a stomach!
Walk the Brooklyn Bridge from the Brooklyn side to Manhattan. Most people walk it i reverse and the view is not so great. The DUMBO is a great place to walk around and has great eateries too.
New York has one too many and hitting them all up over a vacation is impossible. You'll in fact grow tired of museums after 5. Plan out museums you'd like to visit in advance. They are all far flung which is great because you should not squeeze in more than one museum a day. You won't be able to do justice to either. Check out the top 10 museums in NYC and choose your pick.
If you enjoy seeing aerial views of a city, there's no better way than a helicopter tour to see the glassy skylines of Manhattan. Here's all you need to know about helicopter tours in NYC.
You HAVE to walk the Highline at Chelsea. It is an elevated linear park with scenic views and quirky graffiti giving you company throughout. You'll find a lot of interesting things happening around and if you're interested in knowing more about the route and what you're looking at, download the Chelsea Highline App.
New York Subway Tips
---
For starters, you use a MetroCard to get access to the subway, but if you ask a New Yorker for the closest Metro, chances are they'll not know what you're talking about. It's not the tube, not the metro ; only subway.
When asking for directions, you're likely to refer to them by the colour of the train line - Blue, Red, Green etc. However, New Yorkers refer to their subway system by numbers. So, ask about the specific train number and you're likely to have the right answer.
I used Google Maps to get myself through NYC. Even for subways. You just have to feed your destination and choose the "train" icon instead of the default driving or walking route. This will direct you to the closest subway station and the fastest way home. No brainer!
It's good to know a general direction in your head so you know which side of the platform to stand on. You'll see UPTOWN which means the train is either going towards Queens or Bronx. When you see DOWNTOWN, you know you're heading to Manhattan Downtown & Brooklyn.
If you are planning to use the subway as your primary mode of transport, it pays to get a weekly unlimited MetroCard. It costs $32 for a week and you can take as many rides you'd like. Honestly, if you're in NYC for over 4 days, the MetroCard pays for itself.
As the name states, Express Trains skip a few stations. If you're getting on an Express Train, make sure you know that it stops at your destination.
I cannot stress this enough, but do not stand in front of the doors when the train stops. You'll be shoved aside, mercilessly. Unlike India, the subways do not close without everyone getting in (the driver peeps his head out). So take your time and don't piss people off.
You don't need to swipe out, while exiting the subway. But,the hardest decision of your day will be figuring out which subway exit to use. There are so many and Google maps does not really come handy in this regard.
Try not to travel with luggage during rush hours. It's going to be really tough to get on the train and you'll struggle to find space for yourself, let alone your bag.
Service changes on the Subway are super frequent, especially on nights and weekends. And in this scenario, Google Maps are not your best friend since they don't really notify or change course as per the service changes. Hence, install the MTA Transit App for real time updates on train schedules.
New York Shopping Tips
---
Prices in most shops are shown without the VAT included, so if the price of a dress is $110 (each item counts separately), 8.875% would be added to it during check-out.
If not shop, you have to window shop at the Fifth Avenue. This Upper East Side avenue is associated with luxury and glamour, with brands like Tiffany & Co., Louis Vuitton, or the luxury department stores, Bergdorf Goodman and Saks; you're in the right place. Madison Avenue which runs parallel to Fifth Avenue has flagship stores of all the biggest designers - Ralph Lauren, Roberto Cavalli, Prada and many more.
While Broadway is known for their shops, the streets are lined with countless shops like Adidas, Tommy Hilfiger, Levi's and many more to suit every style and every budget. The Apple Upper West Side store on Broadway is also a must check-out.
If you're looking to actually shop till you drop ( without letting your bank balance drop), travel an hour outside New York city and head to Woodbury Common Premium Outlets. They have over 100 stores featuring luxury name brands - Tommy Hilfiger, Lacoste, Banana Republic, GAP, Levi's, Superdry, Timberland, American Eagle Outfitters and a whole lot more. You may also find luxury labels like Burberry, Chanel and Gucci selling heavily discounted products (stock clearance). You can get to the outlet very easily from the Port Authority Bus Terminal by taking the number 7 bus. Pro tip : Get there early because you'll legit need 8 hours to go through the whole place.
There's no leaving New York without entering Macy's. The Macy's in New York is not only the largest store in the world, they also have a sale just about every day. Pro Tip: If you hold a foreign passport, get a 10% discount on your purchase by flashing your passport at the visitor's center.
Top 10 Things To Do in New York City
---
I'm sure you have your itinerary all sorted, but here are my top 10 favourites in NYC. If any of these are missing from your itinerary, make sure you squeeze them in! There are a few recommended tours for each attraction, so if you haven't grabbed tickets as yet, now would be a great time.
Statue of Liberty
Broadway show
Top of The Rock
Helicopter Tour
Food Tour in NYC
Museum trailing in NYC
Ready to explore NYC?
---
Here are a few more guides that should help you plan your visit.