New York City, the city that never sleeps, is a bustling, vibrant metropolis that attracts millions of visitors every year. This iconic city is steeped in history and culture, with its towering skyscrapers, world-renowned museums, and a culinary scene that is second to none. From Times Square to the Statue of Liberty, there is no shortage of things to do and see in this city. In this piece, you will find everything you need to make your visit to Secret Caverns a memorable and fulfilling experience.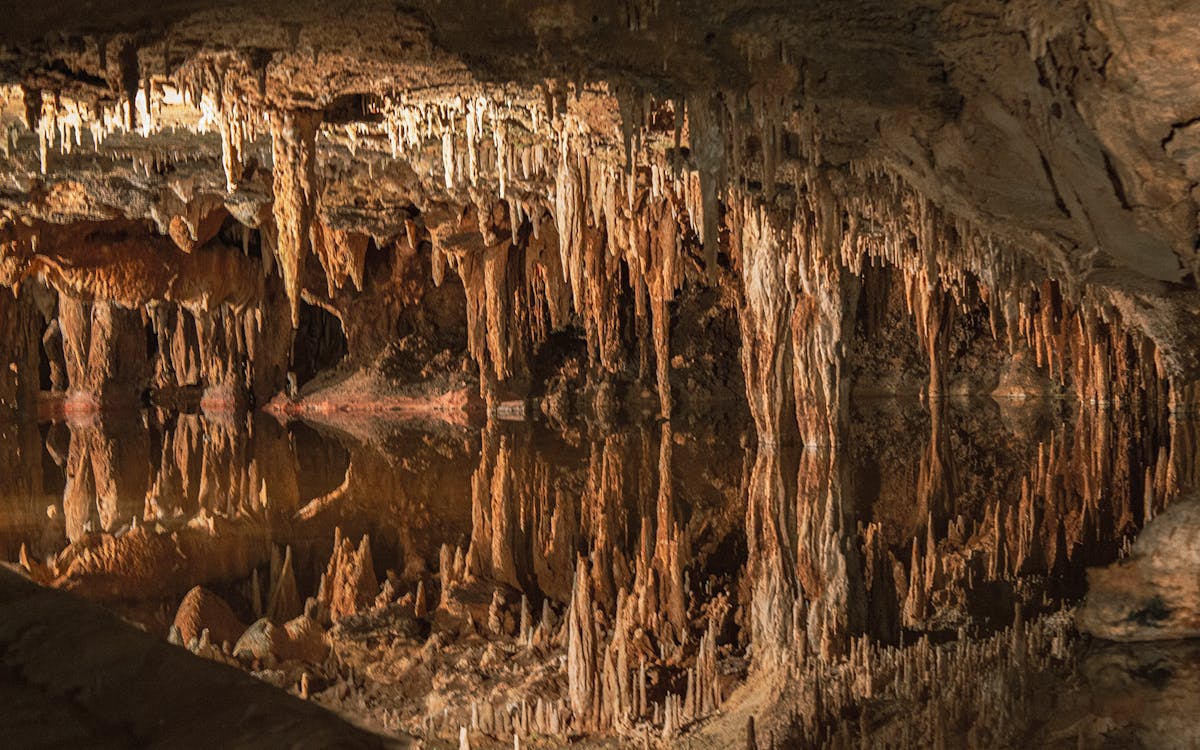 Secret Caverns - In A Nutshell
---
Handy information
| | |
| --- | --- |
| ⏰ Suggested Duration: | 1 hour |
| ☀️ Best Time to Visit: | Late spring, summer, and early fall |
| 💜 Must See: | The underground waterfall, the stalagmites and stalactites |
| 🎟️ Secret Caverns Tickets | Check here |
Highlights
The underground waterfall
The 100-foot underground walkway
The stalagmites and stalactites formations

Things to know
Location: Howes Cave, New York
Significance of the place: The caves were discovered by local farmers in the mid-1920s, and have since been attracting visitors from all over the world.

Opening Hours And Address
Secret Caverns are open from 11:00 AM to 3:00 PM, seven days a week. The last tour begins at 2:00 PM.
They are closed on Thanksgiving, Christmas, and New Year's Day.


Address: 671 Secret Caverns Rd, Howes Cave, NY 12092
Get Directions
Why Is Secret Caverns in New York Worth Visiting?
---
Unique Natural Beauty: Discover the underground rock formations and sparkling waterfalls amidst the cave's dimly lit chambers.
Family-Friendly Excursion: Enjoy guided tours and interactive exhibits, perfect for families to bond over an adventure.
Historical Significance: Learn about the formation of the geological wonder during the ice age and its importance to the Mohawk tribe.
Quirky Photo Ops: Strike a pose with the giant fiberglass groundhog mascot, reminiscent of the attraction's early beginnings.
Memorable Souvenirs: Don't miss out on the chance to take home rock formations, handcrafted jewelry, and other treasures unique to Secret Caverns.
Recommended Secret Caverns Tickets
---
History Of Secret Caverns
---
Secret Caverns is a stunning natural wonder that has attracted curious visitors for decades. Located just outside of Cobleskill, New York, the caverns have a fascinating history dating back over 6 million years. While the exact origins are shrouded in mystery, it's believed that the caverns were formed by glacier movement during the Ice Age.
Throughout history, Native American tribes are said to have used the caverns as shelter during hunting expeditions, and Revolutionary War soldiers are rumored to have hidden inside them from British troops. In modern times, the caverns have become a beloved tourist attraction, with visitors from all over the world marveling at the impressive rock formations, sparkling underground waterfalls, and crystal-clear pools.
What makes Secret Caverns truly unique is its interesting stories and tidbits that make its history more relatable. For instance, during the Prohibition era, the caverns were used to store moonshine, and visitors can still see the remnants of a distillery inside. Secret Caverns is a must-see attraction in New York that offers a glimpse into the geological evolution of the region.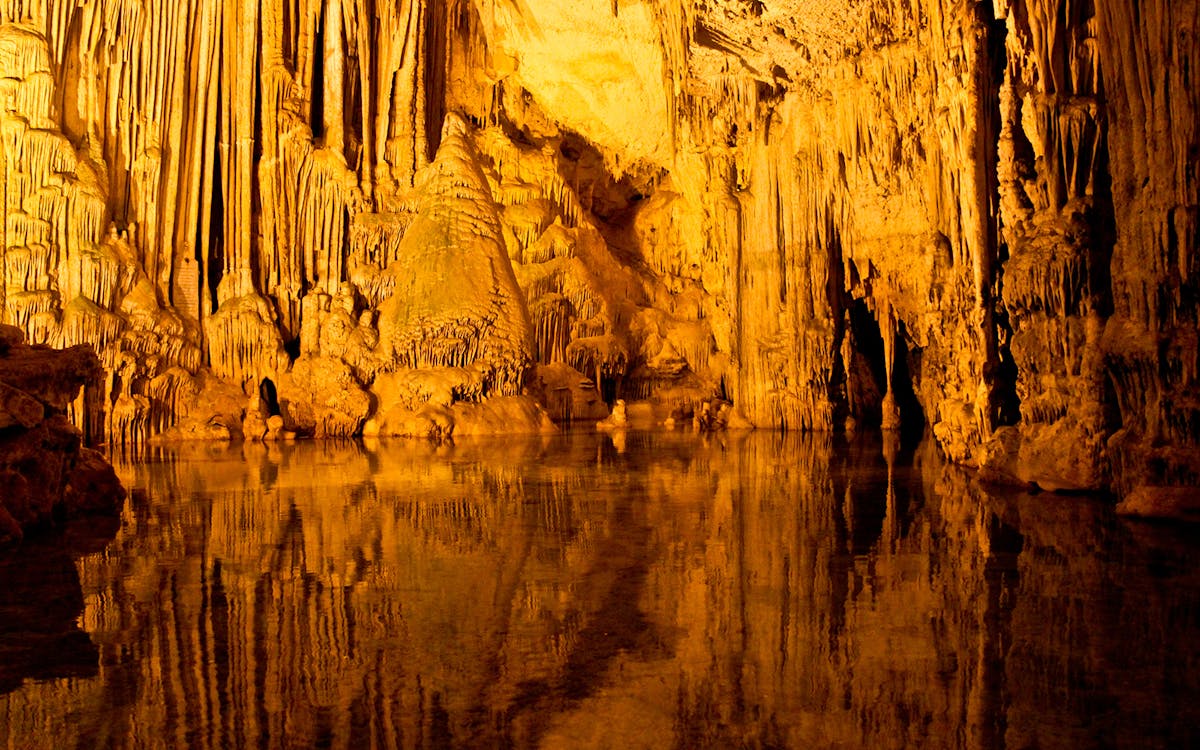 Secret Caverns Architecture
---
Secret Caverns, located just outside of New York City, boasts a striking and unique architectural design. The caverns are a natural wonder, and the site's entrance was designed to seamlessly blend in with the surrounding environment. The architect, Alexander McLeod, was influenced by the surrounding geographical features and the natural beauty of the landscape. The building's exterior features an intricate stone facade that resembles the rocky, jagged peaks of the surrounding hills.
Inside, the design continues to impress. The caverns feature winding passageways and expansive rooms, all beautifully lit to showcase the natural sculptural beauty of the rock formations. These formations, created by thousands of years of water flowing through the underground caves, are still evolving and changing today. The architecture takes a back seat to the natural beauty of the caverns and allows visitors to fully immerse themselves in the environment.
Interestingly, the caverns were not always intended to be a tourist attraction. Originally discovered by a local farmer in 1928, the caverns were used as a secret gathering spot during prohibition. It wasn't until the 1950s that the site was opened to the public and became the popular destination it is today.
The design of Secret Caverns is a fantastic example of seamlessly integrating architecture into an existing natural environment. Whether you're an architecture enthusiast or simply a nature lover, Secret Caverns is an attraction that offers a unique and unforgettable experience.
Highlights of Secret Caverns
---
1.

Unique Natural Formations
Discover incredible underground rock formations that are millions of years old, including stalactites, stalagmites, and underground streams.
2.

The Spectacular Waterfall
Watch the 100-foot underground waterfall at the heart of the caverns. The view is breathtaking and is an ideal spot for some great photos.
Take the adventure tour through the caverns and explore the winding passages and hidden rooms. It's a once-in-a-lifetime experience.
Catch stunning views of the surrounding forest, farmland, and hills from the Vista Trail. It makes for a perfect picture postcard that you would want to show off.
Explore the unique gift shops that offer intriguing souvenirs, such as fossils, crystals, and rocks from the cave itself.
Get assistance from the in-house staff, who are friendly and knowledgeable. They can guide you through all aspects of the caverns and share some interesting anecdotes.
See an amazing display of foil art - featuring famous icons, classic cars, and other unique pieces. This is one of the main highlights of Secret Caverns.
Secret Caverns is not just for adults. It's a great attraction for kids too. They can enjoy an adventurous time and learn a thing or two about the earth's natural history.
Enjoy a picnic in the scenic picnic area near the caverns. It's the perfect way to enjoy the beautiful outdoors with your family.
Located just 5 miles off the I-88, it's easy to get to Secret Caverns, and you won't regret the short drive. You will take back beautiful memories.
Best Time To Visit Secret Caverns
---
The best time to visit this attraction is during the summer (June to August) when the weather is warm and welcoming. Crowds are also at their lowest during the weekdays, so be sure to plan accordingly to skip the long lines and enjoy the caverns without feeling rushed. We recommend arriving early in the morning or late in the afternoon to avoid peak hours and heat exhaustion while exploring the cool underground caverns. Happy exploring!
Additionally you can learn more about the best time to visit New York.
Secret Caverns Opening Hours
---
Open 7 days a week from 11 AM to 3PM
Last admission at 2 PM
Closed on Thanksgiving Day, Christmas Day and New Year's Day.
Getting There
---
Getting to Secret Caverns, a popular tourist destination near New York, is easy as there are several options available. For those looking to save money and travel cheap, the best way is to use public transport. Let us guide you through the different modes of transport and how to get there using them.
By Bus: There are several buses that can take you to Secret Caverns, including the Greyhound and Trailways. You can get a direct bus from New York City to Howes Cave. From there, you might have to take a cab to the cavern as it's about 3 miles away.
By Train: Another option is to take a train to Albany, New York, and then take a bus to Cobleskill, where you can get a taxi to Secret Caverns.
By Car: If you prefer to drive, it is just a few hours' drive from New York City. You can take NY-357 W to the caverns. There is ample parking available.
By Taxi: If you don't want the stress of driving or navigating buses, you can always take a taxi from the city. Although it's a bit expensive, it's quicker and more convenient.
By Tour Package: Finally, there are also many tour packages available that include transport, tickets, and sometimes a guide. This option is best for people who want a hassle-free experience and have a budget to spend.
Insider Tips to Visiting Secret Caverns
---
As a New Yorker and a regular visitor of Secret Caverns, here are some insider tips to make your visit to this unique cave system truly unforgettable:
Wear comfortable, non-slip shoes as the cave floors can be slippery.
Bring a jacket or sweater as the caves are naturally cool (50 degrees Fahrenheit).
Don't miss the 104-step spiral staircase to the underground lake, which is considered the highlight of your tour.
Look out for the "painted cave" section, which features a unique array of colorful minerals.
Plan to arrive early or later in the day to avoid large crowds and long lines.
Be sure to check out the gift shop for souvenirs, mementos, and fossils.
Take advantage of the amazing photo opportunities, but be sure to check the photography policy before snapping away.
Listen closely to your guide's explanations of the cave's history and geological features.
Follow the established trail to protect the cave's fragile formations.
Consider joining the cave's annual Christmas light show for a truly unique holiday experience.
Restaurants Nearby
---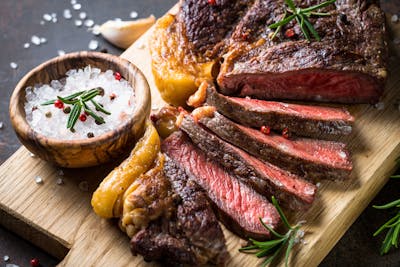 The Barn
Located just 5 miles away from Secret Caverns, The Barn offers a farm-to-table dining experience with seasonal dishes and a great selection of wines. Try their roasted chicken with herb butter or the grilled ribeye steak.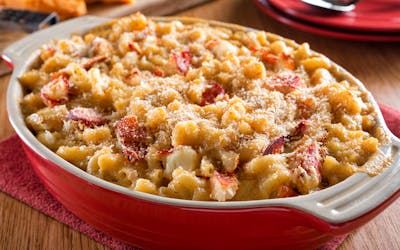 The Otesaga Resort Hotel
Only 10 miles away from Secret Caverns, The Otesaga Resort Hotel serves classic American cuisine with a view of the lake. Don't miss their famous lobster mac and cheese or the pan-seared scallops with bacon jam.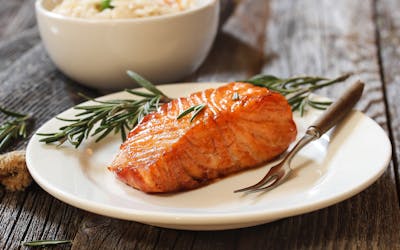 Mel's at 22
Located 15 miles away from Secret Caverns, Mel's at 22 offers a cozy atmosphere and delicious American comfort food. Try their signature dish, the cornbread stuffed chicken breast or the honey sriracha glazed salmon.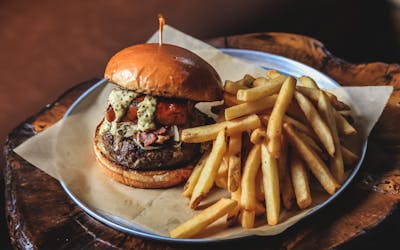 The Red Caboose Restaurant
Just a 20-mile drive from Secret Caverns, The Red Caboose Restaurant is a classic diner in a converted train car. Try their famous train wreck burger or the fluffy pancakes with fresh blueberries.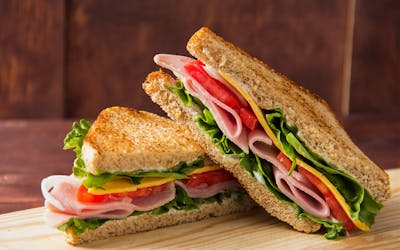 Mohawk Taproom and Grill
Located 25 miles away from Secret Caverns, Mohawk Taproom and Grill is a casual spot for burgers, sandwiches, and craft beer. Try their juicy beef sliders or the crispy chicken sandwich with avocado and bacon.
Other Attractions around Secret Caverns
---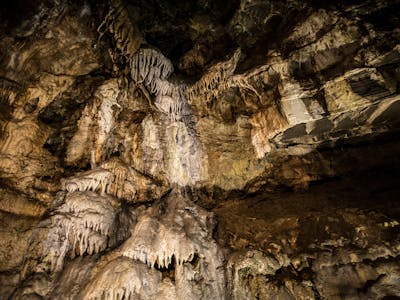 Howe Caverns
A stunning underground cave system with boat rides on underground rivers, tours, and a zip line park.
Distance from Secret Caverns: 17 miles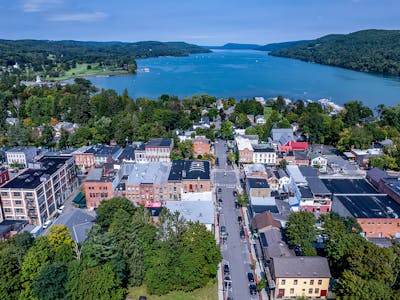 Cooperstown
Famous for its National Baseball Hall of Fame and Museum, Cooperstown also offers scenic views, boutique shops, and the Glimmerglass Festival.
Distance from Secret Caverns: 54 miles
Saratoga Springs
A popular resort town famous for its mineral springs, Saratoga Race Course, and Saratoga Performing Arts Center where you can enjoy live music and dance performances.
Distance from Secret Caverns: 79 miles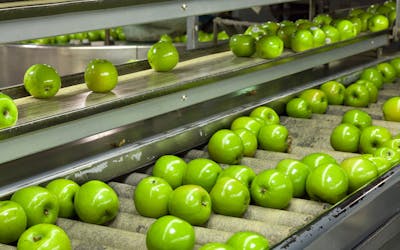 Howes Cider Mill & Market
A 100-year-old cider mill that produces delicious apple cider, apple cider donuts, and homemade fudge. You can also pick your own apples and pumpkins.
Distance from Secret Caverns: 16.5 miles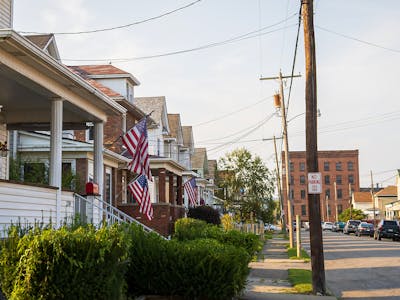 Sharon Springs
A quaint village known for its unique shops, historic buildings, and the Beekman 1802 Mercantile. It's also famous for its annual Harvest Festival.
Distance from Secret Caverns: 31 miles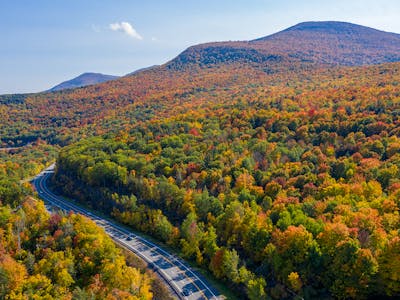 Catskill Mountains
A scenic drive through the Catskills with stunning views of the mountains and waterfalls. You can also go hiking, biking, or skiing at Hunter, Windham, or Belleayre Mountain.
Distance from Secret Caverns: 69 miles
Hotels around Secret Caverns
---
FAQs
---
A unique natural limestone cave with underground lakes, waterfall, rock formations and fossils.
No, the cave tours require climbing stairs and walking on uneven ground.
Yes, photography is allowed.
Yes, guided tours are available with knowledgeable and friendly guides.
Any time of the year is suitable, however, fall months provide stunning views of foliage on the surface.
Comfortable walking shoes and appropriate clothing for the temperature inside the cave (50°F/10°C).