Easter in New York City is a time for celebration and joy for everyone in the Big Apple. The city comes alive during this special holiday season, offering visitors a wide range of activities and attractions to enjoy. From Easter egg hunts and joyous parades to mouthwatering brunch spots and one-of-a-kind shopping experiences, New York truly is a special spot to celebrate Easter! Whether you're looking for fun family activities or a romantic dinner out, the city has it all. So come explore all that New York City has to offer this Easter and enjoy the festivities!
Easter in New York 2023
---
Easter Dates:
Palm Sunday - 2nd April
Ash Wednesday - 5th April
Maundy Thursday - 6th April
Good Friday - 7th April
Holy Saturday - 8th April
Easter Sunday - 9th April
From springtime parades to egg hunts, there are plenty of ways to celebrate Easter in NYC. The most popular event is the Annual Easter Parade & Bonnet Festival held on Fifth Avenue every year on Easter Sunday. Hundreds of thousands of people line up along Fifth Avenue for this colorful parade filled with elaborate hats, decorated umbrellas, and even dancing bunnies. After the parade, take part in an old-fashioned egg hunt at Central Park or one of the many community parks throughout the city.

If you're looking for a more indulgent Easter experience, there's no shortage of delicious brunch spots throughout the city offering exquisite menus with mouth-watering dishes. For those searching for exclusive items, the chic shops around Fifth Avenue have all of the latest fashion trends and gifts perfect to celebrate this special occasion. And while you're out shopping, be sure to check out some of NYC's most iconic buildings like The Empire State Building or Rockefeller Center's Top of The Rock, that are even more beautiful during this time of year.

Another fun activity while celebrating Easter in New York City is exploring one of the many art galleries scattered around the city. Enjoy browsing through a variety of captivating pieces from prominent local and international artists. Afterward, treat yourself to an evening out with friends at one of NYC's popular bars or clubs located throughout Manhattan, Brooklyn, Queens, and The Bronx. Dance the night away surrounded by people from all walks of life as you take in the unique energy that only New York City can provide.
Easter in New York – Traditions and Festivities
---
Every year, locals partake in a variety of traditional activities surrounding Easter such as attending religious services, decorating eggs and hosting egg hunts. The holiday also marks the start of spring with beautiful parades that feature marching bands and intricate floats adorned with brightly-colored flowers.
The day itself starts off with Catholics attending sunrise masses at their local churches. After mass, many families will then gather for an elaborate brunch or dinner that often includes traditional dishes such as honey-glazed ham or slow-roasted leg of lamb. Desserts range from handcrafted pies to delicious cakes topped with fresh fruit.
In addition to culinary traditions, another popular tradition is decorating eggs. A four-hundred-year-old tradition in New York, families dye their Easter eggs with a variety of colors and patterns to create unique works of art. Adults and children alike also enjoy hosting egg hunts, where they hide hard-boiled or plastic eggs and have kids search for them.
Finally, one of the most iconic events of Easter in New York is the Easter Parade on Fifth Avenue. This centuries-old parade includes vibrant costumes and extravagant hats as people walk down Fifth Avenue from around 10am until 4pm. It's an occasion that brings out all types of people who come together to celebrate springtime and the joyous holiday season.
Things to do on Easter in New York
---
1. Attend or take part in the Easter Parade and Bonnet Festival
The Easter Parade and Bonnet Festival in New York City is a long-standing tradition that takes place on Fifth Avenue each Easter Sunday (9th April). The event has been taking place since the late 1800s and draws thousands of locals and tourists alike. During this festive parade, people from all walks of life come together to show off their very best springtime attire! Attendees can expect to see an array of bright bonnets, extravagant hats, colorful ensembles, decorated umbrellas and more. Some parade participants even bring along their pets dressed up for the occasion. This makes the whole spectacle even more delightful as families walk through the streets enjoying the pageantry of it all.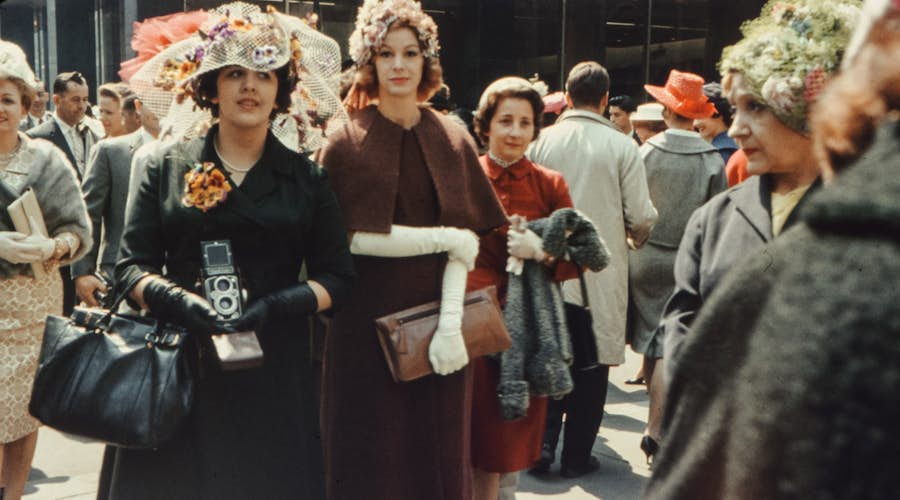 2. Egg Hunt at SUMMIT One Vanderbilt
This Easter, head to SUMMIT One Venderbilt on April 9 in their 30,375 square feet of mirrors, and partake in the Egg Hunt arranged for anyone who visits! Each floor hides a plethora of Easter eggs waiting for an adventurous seeker. Find one egg and win yourself a special gift card from their boutique bursting with SUMMIT swag. Will your sharp eyes spot these hidden treats within all this mirror magic? Book your tickets to find out!
3. An adults-only Easter Egg Hunt at Prospect Park
Forget the notion that Easter is only for kids! Get ready to have an unforgettable time while putting your own spin on classic games and timeless activities such as: Easter Egg Roll, Relay, Don't Spill the Beans, or even an egg hunt (responsibly)! The event will be held at Picnic House North at the Prospect Park, Brooklyn on the 8th of April, 2023.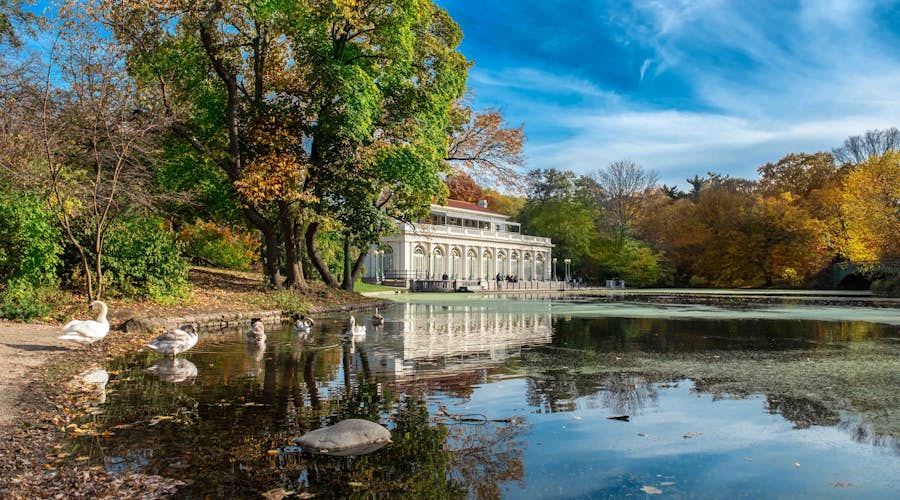 4. Easter with New York State of Mind (NYSoM)
NYSoM is hosting the Easter Eggstravaganza 2023, taking place in Washington Heights' Sherman Creek Park from 2-6pm on April 8th. The event will feature an engaging range of activities for all ages, including egg hunts (with groups of 5 hunters at a time), the Easter Activity Village with free painted eggs giveaways, and crafts ↦ activities galore! Plus, meet the Easter Bunny himself along with his friends - and plenty more surprises!
5. Go on a cruise to the Statue of Liberty
Visiting the Statue of Liberty on Easter Sunday is a perfect way to spend this special holiday. The iconic statue located in the New York Harbor is truly breathtaking, and it's one of those sights that never fails to impress. Plus, you can enjoy panoramic views of the harbor from the observation deck and get some great photos to remember the day. A perfect way to explore the monument is by taking a guided tour, which will provide you with an up-close view of Lady Liberty, as well as a comprehensive history lesson about her significant impact on American history.
6. Watch the Harlem Gospel Choir
The renowned Harlem Gospel Choir is the most celebrated gospel choir in America and is internationally known for their awe-inspiring performances. Gathering some of the best singers and musicians from churches around Harlem, New York City, and beyond; this gifted choir has been captivating people all over the world with their powerful messages of love and joy. Catch them at Blue Note Jazz Club on the 9th of April for a special Easter performance.
7. Go on a Museum spree after your easter brunch
Visiting a museum in New York City on Easter can be a unique and exciting experience. The city has numerous museums that showcase art, history and culture from all around the world. On Easter, many of these establishments offer discounts or special events to help you celebrate the holiday in style.
8. Easter Mass at St Patrick's Cathedral
Even if you're not Catholic, attending the Easter Sunday mass at St Patrick's Cathedral is a must-do to experience New York City's history. This Neo-Gothic-style Roman Catholic building has stood strong for more than 200 years and is located between 50th and 51st streets on 5th Avenue. Make sure to mark your calendars!
Easter Dining in New York
---
Classic Glazed Ham
One of the most beloved traditions when it comes to Easter dinner is eating roasted glazed ham. The combination of sweet, salty, and smoky flavors from the ham make it a classic dish that everyone can enjoy. Many restaurants around NYC offer this delicious meal as part of their Easter menu. Whether you prefer an old-fashioned ham with gravy or one stuffed with apples and raisins, there's sure to be something on the menu perfect for your taste buds.
Four-Cheese Scalloped Potatoes
This creamy side dish has layers of potatoes, Parmesan cheese, Gruyere cheese, mozzarella cheese and cheddar cheese – all topped with a buttery breadcrumb topping. It's perfect for any Easter gathering – especially when served alongside some of your favorite Easter dishes like spiral ham or leg of lamb.
Carrot Cake
Carrot cake is a traditional dessert that has been enjoyed since Victorian England and is the perfect way to celebrate Easter in NYC. Carrot cakes come in all shapes and sizes, from small single-layer cakes to large tiered creations. The traditional recipe includes carrots, sugar, flour, eggs, baking powder, cinnamon, and nutmeg. Most recipes also include walnuts or pecans for an extra crunchy texture.
Weather during Easter in New York
---
Easter in New York is usually a pleasant affair, with warm and sunny days that are perfect for enjoying the city or attending holiday celebrations. The temperatures typically range from the mid to upper 50s Fahrenheit (10 to 15 Celsius) during the day, so it's a good idea to dress in layers. Rain showers can also occur during this time of year, so umbrellas are recommended for those planning outdoor activities. During the evenings, temperatures typically drop into the lower 40s Fahrenheit (4-7 Celsius), so warm clothing and jackets may be necessary. Overall, Easter in New York is generally a mild and enjoyable time of year that offers plenty of opportunities for fun activities.
Tips for Visiting New York During Easter
---
Plan Early: With the influx of tourists during Easter, it is best to plan ahead and book accommodation and transportation early. That way, you can get your hands on the most affordable prices and discounts available.
Take Public Transportation: New York has an excellent public transportation system that covers all of Manhattan as well as two airports in Queens. Taking the bus or subway will allow you to save money while still getting around quickly and conveniently.
Dress Comfortably: Depending on the weather, temperatures can vary drastically during Easter in New York City so be sure to dress comfortably and pack layers if necessary.
Don't Miss Out On Attractions: The city is full of iconic attractions and landmarks so don't miss the chance to explore them. From the Empire State Building or Central Park to Times Square and the Statue of Liberty, there are plenty of amazing sights to check out.
Take Advantage Of Deals: Many companies offer discounts during Easter in New York City, so take advantage of these offers while you can! From hotel packages to museum tickets, there are plenty of deals available if you know where to look. .
Get Outside: Even if the weather isn't perfect, explore the city parks and gardens that play host to some beautiful foliage and wildlife during Easter season. This is a great opportunity for a peaceful stroll or even a picnic in one of NYC's famous green spaces.
Check Event Calendars: Whether it's Easter egg hunts, concerts or Easter parades, there are plenty of events going on in NYC during this time of year. Make sure to check event calendars and pick something that appeals to you so you can get the most out of your holiday.