The presents have been ripped open, dinner won't be served for hours, you're fully loaded with caffeine and the day is young. So what are the things to do on Christmas in New York? We have scoped it out for you and, fortunately, there's a whole lot open aside from Chinese food restaurants. From holiday shows to ice-skating, here are the 13 things you can do on Christmas is New York to make the day unforgettable.
13 Best things to do on Christmas in NYC 2022
---
Watch "A Christmas Carol"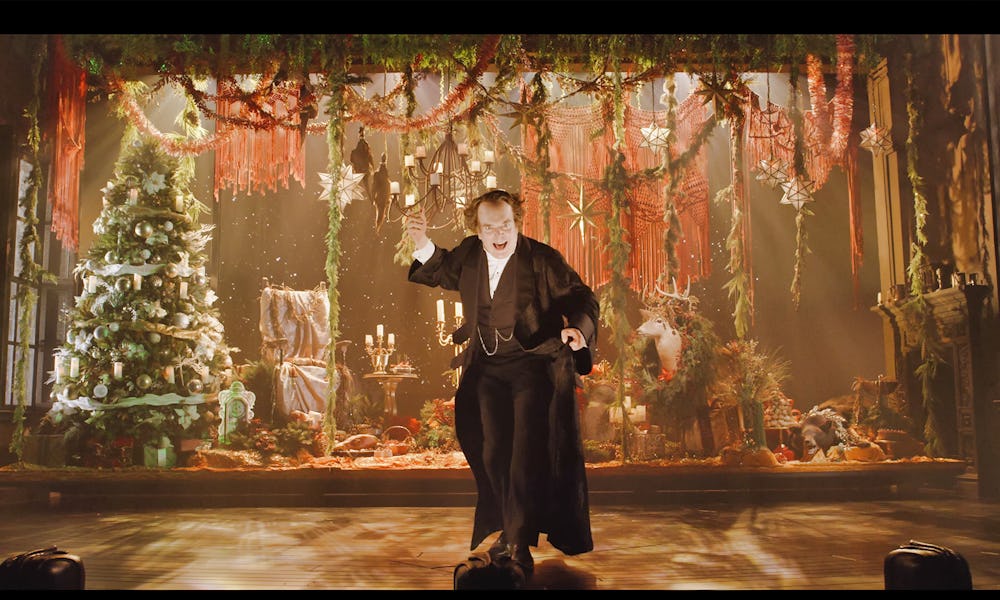 This year watch Matthew Warchus' new take on 'A Christmas Carol'. You won't regret it! It is a stunning show that leaves you feeling full of Yuletide cheer. The story is told in a fresh and innovative way, while still keeping all the key elements that make Dickens' tale so timeless. The acting, sets, and costumes are stunning!
Grab your A Christmas Carol tickets today
Go Ice-Skating at the Rockefeller Center Rink This Christmas, after the kids wake up at the crack of dawn to open their gifts and the adults have their much-needed coffee, bundle up and head to the Rockefeller Center for some fun on the ice. It's the perfect outing for families, friends, and couples. The Rink will be open from 8:30 AM until midnight on Christmas day. If you're not into ice-skating, grab tickets to the Top Of The Rock Observation Deck and witness the beauty of New York on christmas day. Decked with fairy lights, the city will be shimmering and an aerial view is absolutely magical.
Attend the Rockefeller Christmas Tree Lighting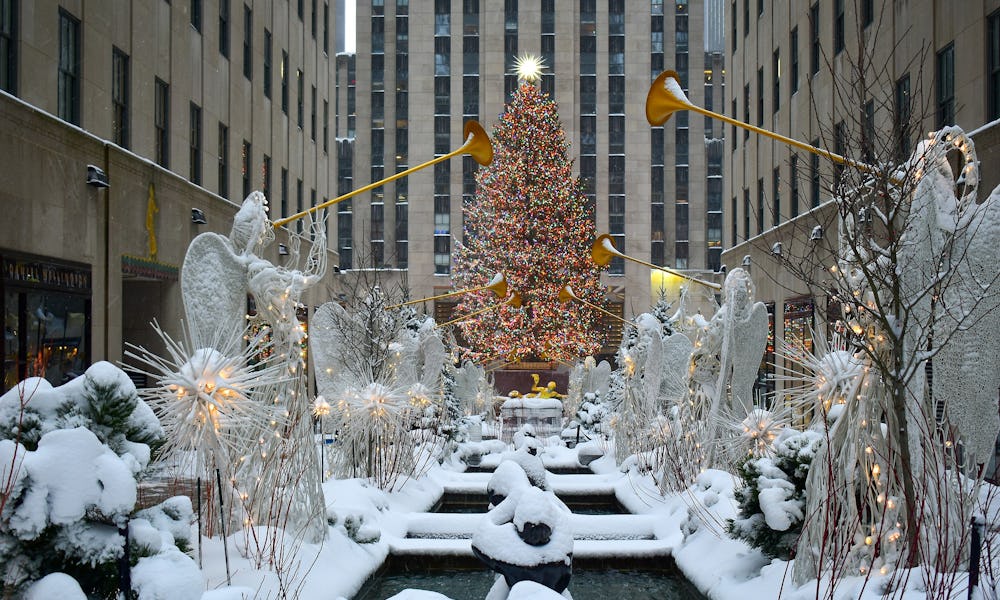 The Rockefeller Christmas Tree, a Norway spruce is NYC's brightest beaming symbol of Christmas. While the trees change every year , the annual sense of wonder remains undeterred. If you're a first timer in New York, brushing elbows and fighting the crowds to see the tree lit up at night for the first time during a ceremonious flip of a switch is well worth the effort. This year, the Rockefeller Center Christmas Tree will be lit for the first time on Wednesday, November 30, with live performances. The Tree will remain lit and can be viewed between 6 AM and 12 AM. Pro tip: Soar to the top of the Rockefeller Center and witness the lighting from the Top Of The Rock Observation Deck. No crowds and best view guaranteed.
Catch a Christmas Show On Broadway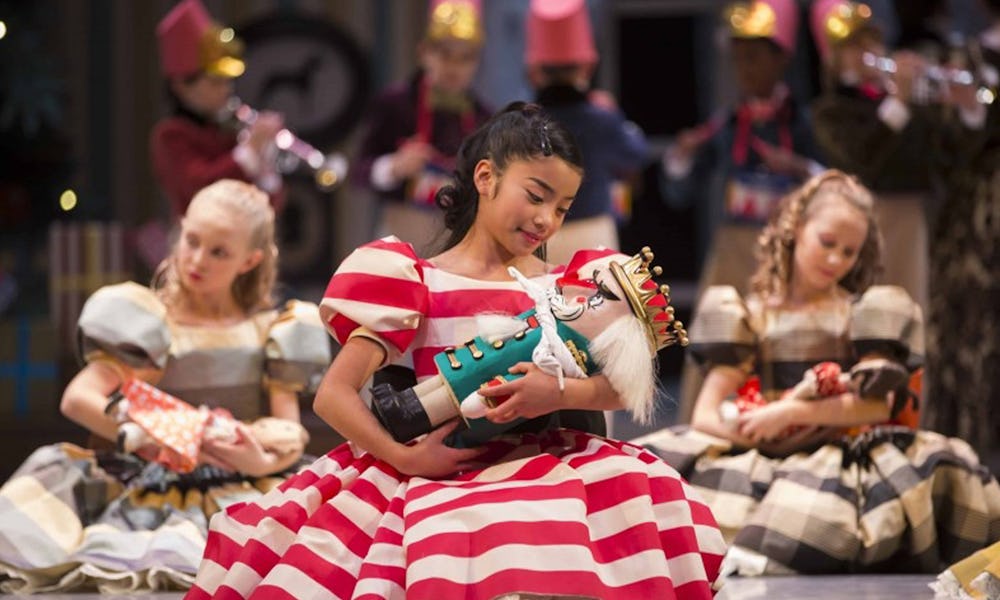 If you're a localite, you'll know that catching a Christmas show On Broadway has become a Christmas tradition over the years in NYC. Christmas themed broadway shows like the Radio City's Christmas Spectacular Featuring the Rockettes, George Balanchine's The Nutcracker, the immersive The Dead, 1904 and others are known to turn on the christmas cheer and holiday spirit! Friendly tip, grab your tickets to these highly popular shows before they sell out.
Go on a Holiday Lights and Movie Sights Tour Hop on a bus and ride around the sparkling city as you cover nearly all the famous locations as seen on the big screen! With over 30 locations to be explored, and the brilliant holiday windows at Bloomingdale's, Lord & Taylor, Barneys, and Macy's to be seen, this tour will leave you absolutely stunned! There's no better way to see the holiday spirits of Christmas wafting through New York City! PS: You get to see The famous tree in Rockefeller Center where Macaulay Culkin and his mom from Home Alone 2 reunite. Need we say more?!
Enjoy Seasonal Art at the Metropolitan Museum Of Art The Metropolitan Museum of Art is the crown jewel of New York City's Museum Mile, but it takes on a dusting of Christmas magic around the holidays. During Christmas, visitors can see a magnificent tree, a 20 foot gorgeous spruce surrounded by 18th-century Neopolitan nativity displays at its foot. For some extra sparkle, catch the tree lighting of the MET spruce at 4:30 PM with encores at 5:30 PM and 6:30 PM on weekends.
Take The Ride's Holiday Experience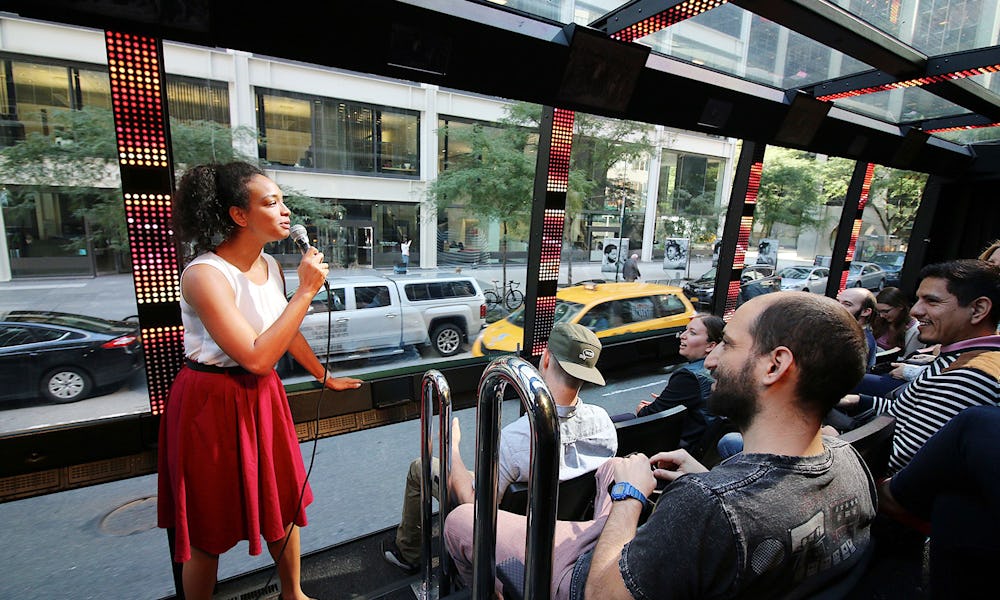 The Ride: Holiday Edition takes a seasonal twist from November to early January to celebrate the wonder and magic of the holiday season in New York City! A key ingredient to the winter magic of NYC, The Ride's Holiday Edition with seasonal music, videos and hilarious hosts support dazzling holiday performances is one of the most sought after family events . This twenty-first century sleigh ride wraps New York City up in a big bow for you, family and friends to open together. Note, it is just a holiday-themed experience and does not pass any Christmas lights or The Rockefeller Center Tree. The Ride is one of the free experiences offered on the NYC Sightseeing Pass, so if you have the Pass, you're in luck!
Go Skating at the Wollman Ice Skating Rink In Central Park At the Wollman Ice Skating Rink in Central Park, you'll have a stunning backdrop of the New York Skyline, Christmas music and possibly the presence of Santa Claus. Compared to the Bryant Park Rink and Rockefeller rink, this one's the biggest. You can grab a pair of skates for $9 and pay $12 as skating fee to enjoy a few hours of skating in Central Park. Note, they take only cash and prices for adults increase to $19 on the weekend along with a $5 spectator fee! After ice-skating, you can take a Central Park Horse and Carriage Tour which is one of the best ways to cover maximum grounds and breathe in a whiff of the holiday spirits, old-school style.
See the World's Largest Menorah Lighting at Grand Army Plaza Enjoy the second night of Hanukkah with live music, warm holiday beverages, and the world's largest menorah! This gigantic 4,000-pound, 32-foot tall, gold colored lamp will light up Brooklyn's Grand Army Plaza at the main entrance of Prospect Park. Designed by Israeli artist Yaacov Agam, this impressive masterpiece holds the Guinness World Record for its remarkable size. It even requires a crane to illuminate its candles! Starting with a kickoff concert on December 21 at 6 pm. This event is free for all, so come and experience a slice of Jewish culture in the cosmopolitan city!
Catch a Christmas-y Movie at Nitehawk Cinema Watching a Christmas Classic at the Nitehawk Cinema in Williamsburg or Prospect Park is an experience that every movie-lover must indulge in. Their Holiday Spectacular shows start from November 26th and go on till December end! If you're a movie buff, head to the Nitehawk Cinema on a Saturday or Sunday at 11 Am and gorge on a yummy brunch while watching your favourite holiday classic. At this drive-in theatre, delicious French toast, egg sandwiches and breakfast burritos will be delivered straight to your seat! This year's Christmas specials include The Muppet Christmas Carol, Germlins, Home Alone, The Holiday, and the most important event on December 17, 18 & 19 - The Nightmare Before Christmas.
Marvel at the Holiday Window Displays on Fifth Avenue Amongst the most popular things to do on Christmas day, taking a walk down Fifth Avenue from Central Park and witnessing the ornate window displays takes the holiday spirit to new heights. Macy's, Lord & Taylor, Saks Fifth Avenue, Barneys, Bloomingdales and Bergdorf Goodman are all decorated to the nines and walking by them is nothing short of a magical treat. You can simply window shop or walk into these stores and exploit their seasonal sale and winter merchandise.
Witness the Dyker Heights X-Mas Lights Known during the holiday season as the "Undisputed Capital of Christmas Pageantry," Dyker Heights is otherwise a quiet Italian community with residents who keep the area historic and charming. Back in 1986, a resident on 84th Street began decorating her house with lights and displays, inspiring her neighbors to follow suit. This stirred an unspoken competition among the homeowners in the neighborhood, with some having added huge lawn ornaments and motorized displays to out-decorate the other, making for a lavish holiday spectacle.
The experience involves wandering down multiple blocks and avenues for hours, so get here anytime between dush and 9:00 PM as most of the houses turn their displays off by 9:00 PM. The best displays are seen from 11th to 13th Avenues in Dyker Heights Blvd and from 83rd to 86th St in Dyker Heights, Brooklyn. Pro Tip : Carry a pair of shades as the luminous, razzle-dazzle will get you blinking!
Shop at the Holiday Markets Shopping during the holiday season is a huge part of the Christmas tradition in NYC. While all brand and outlets have their holiday sale running in full spirits, the best place to find the most unique finds is at New York City's cheery pop-up holiday markets. Make your way to scenic outdoor locales like the Union Square Holiday Market, Columbus Circle Holiday Market, Winter Village at Bryant Park and Grand Central Holiday Fair where you'll find some of the city's best markets unfold. Pair up your shopping with some hot cocoa, yummy mushroom empanadas, hot apple cider and seasonal nosh to keep you toasty and upbeat! PS : The Winter Village at Bryant Park is a good place to start.
Tips on how to spend Christmas in New York 2022
---
If you plan on having a Christmas lunch, we recommend you to book in advance as the prices can be slightly on the higher side in comparison to an average meal out.
Christmas is super busy in New York, so try to start your day early and be prepared for crowds.
Bear in mind that a lot of restaurants, cafes, markets, museums, and other landmarks may close earlier than the usual timing. So, check the website before you plan your trip to any location.
If you intend to go the Broadway, grab your tickets at the earliest because they're highly popular, and likely to run out.
It will be freezing, so make sure to pack warm! Rain boots are highly recommended.
Try to get familiar with the subway because travel can be expensive. Use a metro card (7 days unlimited travel, $32). You can read more about budgeted travel and go around NYC like a local.
Frequently Asked Questions
---
The answer is a big, resounding, absolute YES! Just make sure to dress warmly to make the best of your experience.
New York as such is an expensive city, but especially so on Christmas. Hotels are expensive, as are any of the souvenirs and Christmas items. Make sure to research and plan in advance so you don't end up on the shorter end of the stick.
The holiday season starts after Thanksgiving, and Christmas decorations are put up soon after. Usually, the decorations stay up at least through the first week of January.
Holiday season in New York is always super busy. If you want to soak in the best of the spots in the city, it is recommended that you wake up at the crack of dawn. The Times Square, especially, will be unusually mobbed with crowds.
The city will be freezing and carpeted in white. To make the most of your experience, best to stay bundled up in warm clothes. Pack sweaters, a windcheater, water-resistant shoes and a warm scarf. A chapstick and cold cream will come a long way in keeping you comfortable in the chilly weather.