Planning a holiday can be a challenge and sometimes only the promise of an exciting vacation ahead will make the task easier on you! One of the most critical aspects of any holiday planning is the best time to visit a destination. You want to make sure the weather is perfect, crowds are fewer, rates are cheap and you don't miss out on major events. New York is a destination where there is a lot happening year round and its four seasons can be beautiful in their own way. Here is a guide that will help you learn about the best time to visit New York.
Best Time to Visit New York - Know Before You Plan Your Trip
---
The best time to visit New York is April to June and November and December. April to June is spring, the weather is pleasant and tourists are fewer than usual. New York is in its best festive mode in November and December with Thanksgiving followed by Christmas and New Year. Tons of events and special attractions ensure you will have a holiday of a lifetime!
Best time to visit New York - For Different Kinds Of Travelers
Best Time for Sightseeing: April, May, June, September, October
Best Time for Backpackers: September, October, January, February, March
Best Time for Honeymooners: April, May, June, September, October
Best Time For Festivals in New York: April, July, November, December
New York Through The Year
---
Over 8.5 million people call New York their home and while that's a mind boggling number, imagine over 62 million visitors throng the city each year! Many of these tourists arrive in high season and here is what you can expect.
High Season in New York extends over two periods, in summer from June to August and in winter from November to December. Summer attracts a lot of international tourists and you will experience great crowds and queues at all attractions in the city. Thanksgiving and Christmas period also witnesses a lot of domestic tourists who are there for the festivities. Airfares skyrocket and accommodation runs out soon, so it's best to book in advance.
Shoulder Season in New York is the spring and autumn seasons, and while there is a drop in tourist numbers special events or festivals can witness a spike in crowds. April to May and September to October are shoulder tourist seasons where you can manage to get special discounts on events and even accommodation. The temperature is pleasant and a great time for walking tours and visiting attractions which witness shorter queues.
Low Season in New York is for a limited period from January to March when winter has a stronghold over the city. Due to climate change, the city is experiencing higher frequency of snow storms but the city never stops! It is a good time to get cheap bargains on airfares and accommodation, and for Broadway shows and the best perk of all are low tourist crowds at museums and attractions. Just make time for transport delays and dress up comfortably in layered jackets and good warm boots.
Best Season To Visit New York
---
New York is not just a destination, it's an experience and every season will offer you a unique trip. Here is a look at what to expect in New York in each season.
New York in Spring
New York in Spring is one of the best times to visit the city as the earth is waking up from its long slumber. Flowers bloom and leaves shoot up from the bare trees, leaving the city brimming with hope and positivity. The tourist numbers are still low and you will find weekdays at all the attractions are a relaxed affair with shorter queues. Make the best of your trip by visiting Central Park, Botanical Garden, The Highline and Bryant Park to enjoy the pleasant weather and pretty views.
New York in Summer
Fun and frolic is high on the agenda of New Yorkers in Summer! The city is bustling with tourists and while you do jostle for space in queues, the weather outdoors is just spectacular. The trees are verdant green, the skies are clear blue and the sunshine feels like a warm hug. You can enjoy the best summer outdoor music and film concerts and exuberant parades like the Gay Pride NYC and Fourth of July. You can relax and chill as you romp around the city with your walking sandals on!
New York in Autumn
Those looking for peace and solitude might never find it New York but the closest you can get to it is during Autumn! The city is winding down after an energetic summer and it is reflected in the weather too. The skies are overcast and there is a chill in the air, while the leaves are changing colors and fall foliage is a pretty sight to the eyes. The tourists are gone and there is a calm atmosphere, especially at the attractions. But come Halloween and all bets are off, gear up for parties and everything pumpkins!
New York in Winter
Snow storms are becoming the new normal in New York in late winter but December and January are still pretty perfect for a visit to New York. Nature is hidden under a blanket of snow but it becomes a canvas for humans to take over and make it look spectacular. You will find lights twinkling everywhere with decorated storefronts and Christmas trees. Theme parties, Broadway special shows, classical concerts and New Year parties, winter is New York is definitely happening!
Weather In New York Year Round
---
The weather in New York year round has been charted on a graph below. The Highs are depicted in red and the Lows in blue.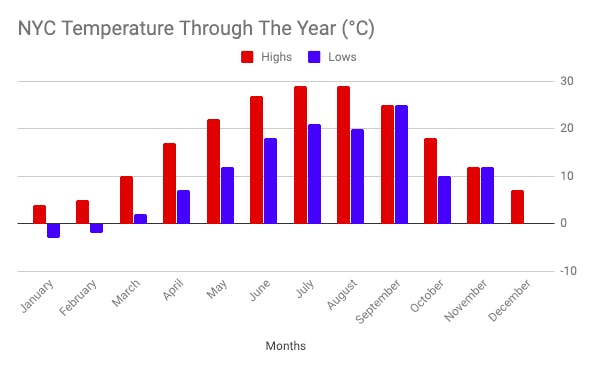 A Month-By-Month Guide To Visiting New York
---
Follow our detailed guide to pick a month for your New York exploits.
New York in January
Average Temperature: -3°C to 4°C
New York is covered in a blanket of white in January and experiences the coldest month of the year. The first week of January is a great time to be in New York, especially with the New Year festivities still going on. Once that is done, the low tourist season begins and you have the city going about business as usual. With low airfare prices and discounts on everything from accommodation to entertainment, it is a great time to travel to New York on a budget. The skating rinks at Central Park Winter Jam are open and there are exciting indoor events like NYC Broadway Week, Winter Jazzfest, and New York City Restaurant Week.
Recommended Experiences in New York in January
New York in February
Average Temperature: -2 °C to 6°C
New York is still in the grip of cold weather in February, as it is one of the coldest months of the year. It continues to be the low tourist season in the city but the city is buzzing with events and activities. The NYC Broadway Week will continue its run where you get 2 tickets for the price of 1! The city witnesses the Fashion Week while sports fans can enjoy the fervor of the Super Bowl. New Yorkers are still enjoying winter while it lasts with the Central Park Ice Festival, while the Chinese are celebrating the Lunar New Year with a fantastic parade.
Recommended Experiences in New York in February
New York in March
Average Temperature: 2°C to 11°C
New York in March is getting warmer and the weather changes dramatically from snow in the beginning of the month to warm spring sun towards the end. It is still the low tourist season and you can find good deals on airfares and tickets. The city witnesses an increase in outdoor activities starting with the revelry of the St. Patrick's Day Parade. The Macy's Flower Show and Orchid Show at Botanical Garden point towards spring. Make a quick stop at the Flamenco Show and shop for bargains at the Brooklyn Flea. Head to museums and the Armory show for a peek into history!
Recommended Experiences in New York in March
New York in April
Average Temperature: 7°C to 18°C
It's finally spring in New York and April is a beautiful month to be out and about in the city. Temperatures start rising and clear blue skies with the occasional shower make an appearance, bidding goodbye to the cloudy snow days. It is a great time to witness the cultural diversity in the city, especially at the New York Tartan Day Parade, and Greek Independence Day Parade. Enjoy quirky and unique events like the Brooklyn Folk Festival, Easter Parade, and Pillow Fight in Washington Park! However, the highlight of April in New York remains the Sakura Matsuri Cherry Blossom Festival at the Botanical Garden where you can see over 200 cherry blossoms in bloom.
Recommended Experiences in New York in April
New York in May
Average Temperature: 12°C to 22°C
The days are long, warm and sunny in May in New York and it is one of the best times to visit the city. It is high spring season and over the past few years temperatures have been even hitting around 30°C. This is one of the few months with great weather and fewer tourists. You can bring your walking shoes as it's a great time to explore outdoor areas like Central Park and walk under the Manhattan skyline. Some fantastic cultural events take place like the Ethnic Festival in Harlem, Memorial Day Parade, Dance Parade, and Japan Day. Fleet Week is also on and an exciting time to learn about the rich maritime history of the country and even meet some sailors!
Recommended Experiences in New York in May
New York in June
Average Temperature: 18°C to 27°C
June is a fabulous time to visit New York; you will find the city abuzz with activities and happy people who are enjoying their time in the sun! It is the beginning of the 'shorts and sandals' season and a great time for walking tours in NYC. The weather is pleasant and the tourists start making a beeline to the city. It's also party time and you have events like the Gay Pride NYC, Governors Ball, SummerStage, and Coney Island Mermaid Parade to ramp up your excitement! Literature enthusiasts will love BookCon and Shakespeare in the park while a show at the Broadway will round your complete New York experience.
Recommended Experiences in New York in June
New York in July
Average Temperature: 20°C to 29°C
Summer is here to stay and school is out! July is one of the hottest months of the year and the days are long, giving you the perfect excuse to stay outdoors. While many New Yorkers head out to the country, the city is in high tourist season and millions of visitors enjoy the sights of New York like the Statue of Liberty or views from the from One World Observatory Deck. The fun though is outdoors and you have a selection of outdoor events to choose from, the Fourth of July Parade and fireworks, Pinknic, Midsummer Night Swing, Movies with a view and events at the Summer on the Hudson.
Recommended Experiences in New York in July
Sign up for our monthly newsletter
Your dose of travel fix - from hacks and deals to travel tips and everything in between, delivered monthly to your inbox
Please enter a valid email
Unsubscribe anytime
New York in August
Average Temperature: 20°C to 29°C
August is when summer peaks in New York and while it's good to stay under the shade the humidity can get really high. You might experience a few odd rain showers but generally it's a pleasant time to be outdoors and outdoor events continue to rule the calendar. You can save on tickets on Broadway with a visit to Broadway in Bryant Park where shows are free! You can enjoy and learn about different cultures at Harlem Week, Hong Kong Dragon Boat Festival and Afropunk Festival. Be prepared to stand in long queues at tourist attractions as it is high tourist season in the city.
Recommended Experiences in New York in August
New York in September
Average Temperature: 16°C to 25°C
Summer might be on its way out in September in New York but it calls for the beautiful crisp weather of Autumn. The weather changes dramatically over the month with temperatures falling steadily. It is a great time to take a day trip out of New York to Niagara Falls or to Washington D.C to take in the national sights. September is a good month to be out on walking tours like the New York Boroughs tour. There is no dearth of events as Coney Island Film Festival, New York Burlesque Festival, Oktoberfest and Feast of San Gennaro are all scheduled in September.
Recommended Experiences in New York in September
New York in October
Average Temperature: 10°C to 18°C
It is time to bring out the scarves and sweaters as autumn brings in the chill in New York in October. The weather is cold and the leaves start changing colors, which is a great time to visit Central Park and walk amidst the colorful foliage. It is the school season and tourist numbers dwindle leaving you with shorter queues at top-selling attractions like the Empire State Building, The MET and American Museum of Natural History. Later in the month Halloween fever grips the city with parties and special shows taking place, and of course the Halloween Day Parade with the wildest outfits you can imagine!
Recommended Experiences in New York in October
New York in November
Average Temperature: 6°C to 13°C
Before you know it, winter is creeping in on New York, while heavy snow is unlikely you will experience rain showers and the occasional snow flurries. You will need to dress up in layers to keep out the cold and make the best of the shorter days. It is a good time to catch the latest Broadway shows and laugh out loud at the New York Comedy Festival that features over 200 comedians. Thanksgiving is the highlight of the month and the Macy's Thanksgiving Parade should be a bucket list item! Catch a game of Ice Hockey and College Basketball and get ready for the Christmas season with the lighting of Rockefeller Centre Christmas Tree.
Recommended Experiences in New York in November
New York in December
Average Temperature: 0°C to 7°C
New York is a spectacular sight in December, sweater weather is in full force and you will experience quite a few days of snowfall. The Christmas lighting decor is on at every store front and magnificent Christmas trees come up at major tourist attractions. Walking around the city might be a tad difficult but indoors there is no dearth of entertainment. Enjoy Christmas special shows like Rockettes at Radio City and The Nutcracker and Christmas shopping markets. Restaurants have special menus and if you are around for New Year's Eve don't forget to book a table well in advance!
Recommended Experiences in New York in December
New York 5-day Itinerary
---
Whether you're visiting New York in May or November, here's a handy 5 day itinerary to experiencing the best of Barcelona. You can read our detailed New York itineraries and plan your trip better.
5-7 Days in New York Itinerary