Make a list of 10 English language television series that you have liked watching during your entire lifetime and we guarantee that up to 4 of them were set in New York City. Popular media is obsessed with the Big Apple and there is no reason an average tourist shouldn't be either. The city welcomed a record 66.6 million tourists in 2019, which is a testament to New York's open arms. What sets the City of Dreams apart is that it has a place of interest for everyone. It is no ordinary tourist destination that puts up an ornamental face every time you look at it. It is a home of millions, with the heart to accommodate a billion more. Even during frigid February, the city of New York has the charm to keep you warm on the inside.
What makes New York in February Special?
---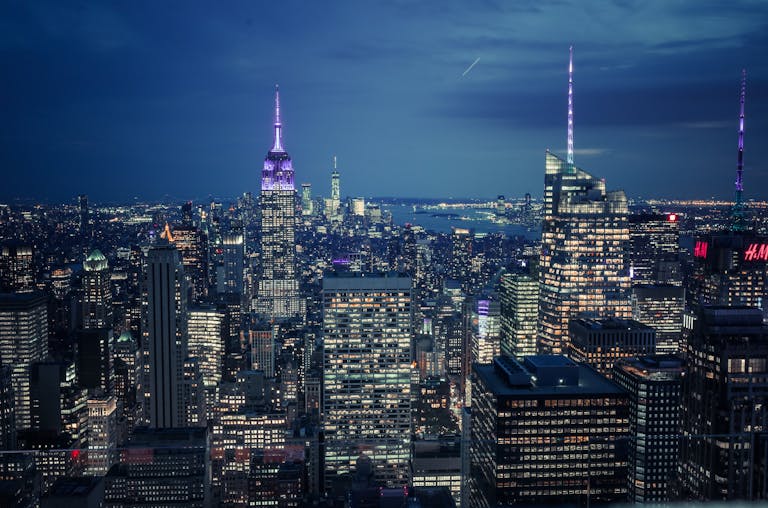 February witnesses a considerable bulk of tourists that heading to New York City. The February weather grants the city some relief from this hoi polloi. This makes February a desirable time to visit the city. Since February is some distance from both high and shoulder season, it highly likely that you will find accommodation within the city at a fairly reasonable rate. Some airlines provide attractive discounts as well on flights heading in and out of New York. Regardless of the time of the year, New York is always buzzing. There is something or the other going on in some part of the city. Be it the prestigious New York Fashion Week, or the culturally significant Broadway Week, New York always has a trick up its sleeve.

So stop staring at your calendar and pack your bags. And while you are at it, read on to find out why New York in February is not a crazy idea at all.
New York Weather in February
---
New York in February sees an average high of 5°C while the lows hover around minus 2°C. Be prepared for early February nights recording as low as minus 10°C! Expect rain and snow for about 7 days throughout the month. Partly due to these temperatures, February is the cheapest time of year to visit NYC.
Things to do in New York in February
---
New York is almost instantly recognized from an aerial shot of the huge rectangular green space we refer to as Central Park. However, in february, this green space is blanketed under a vast sheet of white snow. But the weather shouldn't deter you from taking a walk here. Put on a few layers, don your gum boots and set out for a slow stroll. Locals also suggest a horse carriage ride as you sip on some wine.
February Timings
Open daily from 6:00 AM – 1:00 AM
This memorial was erected in remembrance of the 2977 people who were killed in one of biggest tragedies of the millennium. The twin reflecting pools sit where the World Trade Center once stood. The 9/11 museum is dedicated to examining the implications of the terrorist attack and telling the story of the attack. Regardless of when you go to New York, visiting this site is what we owe to mankind.
February Timings
Daily 7:30 AM to 9:00 PM (Memorial)
Sun to Thu 9:00 AM to 8:00 PM
Fri to Sat 9:00 AM to 9:00 PM (Memorial Museum)
Perched atop the tallest building in the Western hemisphere is the One World Observatory. It occupies the 100th, 101st, and 102nd floor of the One World Trade Center building and provides the best panoramic view of the city of New York. In February, this popular activity can be accessed without any crowd.
February Timings
Daily, 9:00 AM to 9:00 PM

American Museum of Natural History
Founded in 1869, this New York City essential is packed to the brim with artifacts from around the world. It is suggested that you take more than a day to explore the entire museum and check out the exhibitions that are set up for a limited time only. The Titanosaur is a museum exclusive that attracts global attention. Needless to say, a trip to the American Museum Of Natural History in February gives you the best chance to get to all parts of the museum.
February Timings
Daily 10:00 AM to 5:45 PM
Nothing like piping hot, freshly-made pizzas on a dewy, cold day! This 3-hour walking tour through Little Italy and Greenwich Village will take you to some of the best pizzerias in town. Through this little tasting-adventure, you'll discover the history and connection of pizza with this thriving city! You can take your time as you walk through the winding streets of a usually busy city.

Indulge in an unparalleled multi-sensory viewing experience and marvel at the stunning views of New York City's skyline from Summit One Vanderbilt. Don't miss this incredible chance to take your sightseeing to a whole new level! Plus, with a convenient location in midtown Manhattan, you can take advantage of all the amazing restaurants and attractions that this vibrant city has to offer.
February Timings
Guided Tours from NYC to Washington start at 5:00 AM and ends 14 hours hence
The city of New York has a number of defining features. Central Park is one. Broadway is another. If musicals are your thing, then coming to New York is like attaining the holy grail for you. Broadway is the global hotspot for everything related to musicals and performance arts. Make sure you catch a Broadway musical on your trip to New York. You may even score a discount during the first ten days of February.
February Timings
Timings Vary Depending On The Show & Availability
No trip to New York is complete without visiting the Statue of Liberty. The megastructure was designated as a National Monument in 1924, and it steadily attracts tourists from all over the world. Separate tickets allow you to explore the Liberty Island or ascend the stature itself. In February, you may find it easier to make reservations for the all-inclusive tour.
February Timings
Daily 9:30 AM to 3:30 PM
Museum of Modern Art (MoMA)
The Museum of Modern Art or MoMA is one of the most significant art museums in the United States. It is identified as the most influential museum of the world. The vast array of works at the MoMA repository includes works of architecture, drawing, painting, sculpture, photography, prints, illustrated literature and artist's books, film, and multimedia. Take a laid back tour of the museum in the low season in February.
February Timings
Sat to Thu 10:30 AM to 5:30 PM
Fri 10:30 AM to 8:00 PM
New York in February: Events to Look Out For
---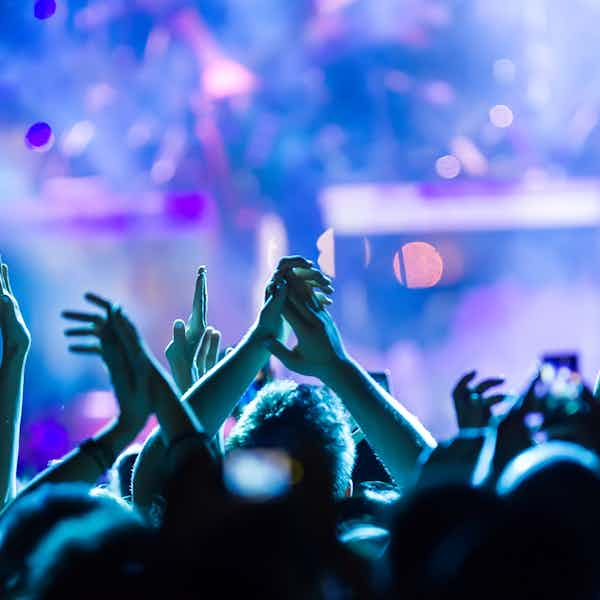 Billy Joel - In Concert
14 February, 2023
What can we say about the Piano Man? He's one of the best-selling music artists in history and his songs have been stuck in our heads for decades. Whether it's "Uptown Girl," "We Didn't Start the Fire," or "Piano Man," people just can't seem to get enough of his music. Watch him live in New York this February.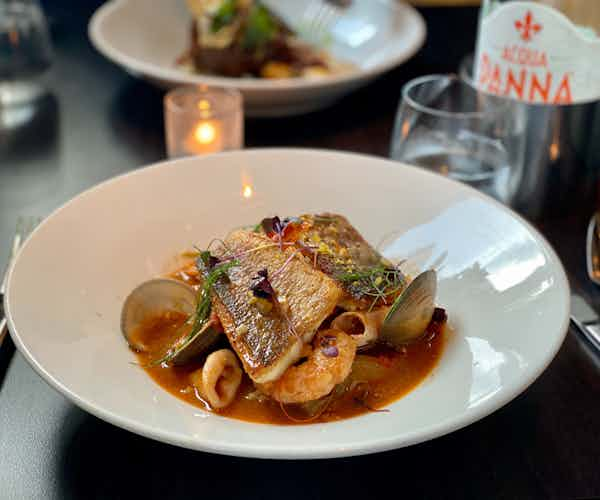 New York City Restaurant Week
17 January - 12 February, 2023
Here's your chance to sample NYC's culinary scene at a bargain. Over 300 restaurants across the city participate in the New York Restaurant Week and offer a prix-fixe menu at a relatively very low price.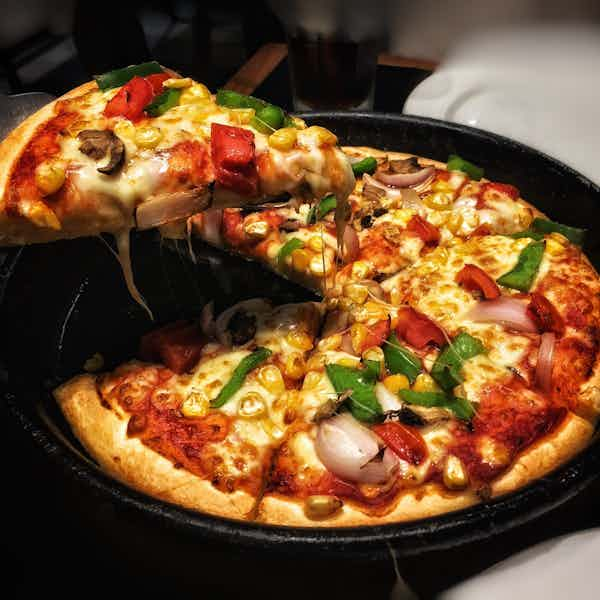 National Pizza Day
9 February, 2023
Irrespective of which part of the world you hail from , an unhealthy love for pizza is unanimously a wordly sin. And in New York, pizza isn't just a delicacy. There is a designated day of the year which is celebrated in honor of this beloved slice of love. Just visit any of the thousands of pizzeria in the city and go to town on their top specialties. The eateries provide great deals on this day, and you wouldn't want to miss out on them.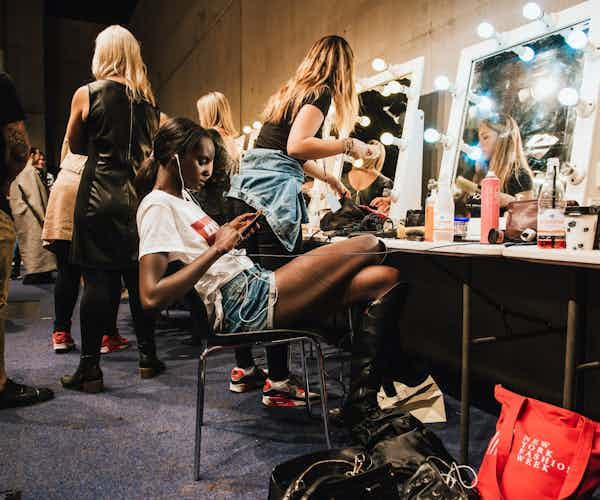 New York Fashion Week
10 - 15 February, 2023
The Spring/Summer fashion trends have a huge impact on the world of fashion. New York Fashion Week is among the very first fashion events in the calendar year, and it sets the tone going forward. After a series of major acquisitions in 2018, the fashion world is all set to begin a new chapter this year, and the New York Fashion Week is the perfect way to do that. If fashion is your thing, do not miss this one.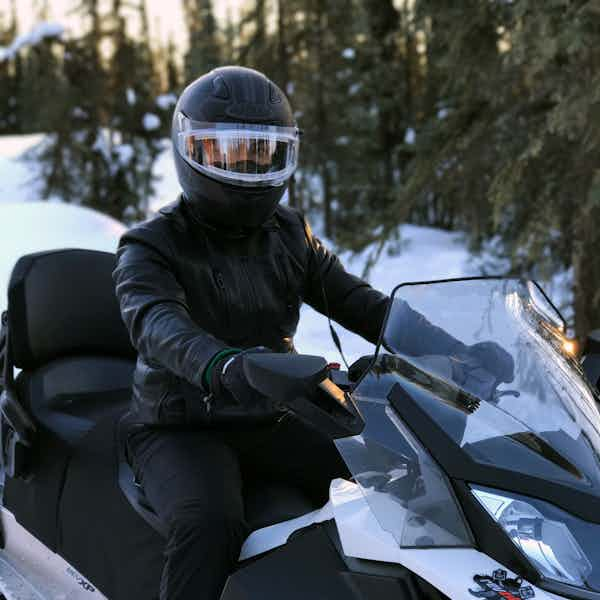 Winter Jam 2022
4 February, 2023
An exciting winter event, Central Park's Winter Jam, a sports festival that's hosted every year and is free for entry. Food and drinks are available, and quite a number of park festivals happen at the time in the area, including but not limited to ice carving, bob sledding and ice bowling.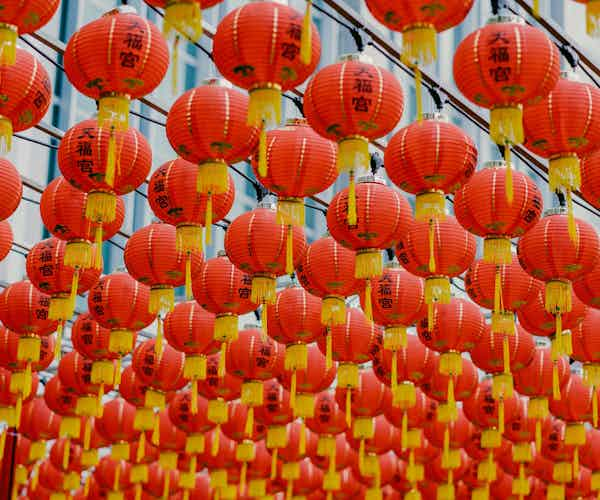 Lunar New Year Parade and Festival
12 February, 2023
As the year of the pig kicks in, New York is planning to begin the Lunar New Year or the Chinese New Year with routine vigor and pomp. The traditional lion dancing takes place in the streets. Festive events take over the entire city. Restaurants and eateries jump in with their innovative menus. The Lunar New Year Parade in Chinatown is regarded as one of the must-see events in New York in winter.
NYC in February : 5-day Itinerary
---
If you're not in New York for too long, then don't worry. We've got just the itineraries for you. Take a look at our carefully curated itinerary for 5-7 days in New York and pick out whichever you think works best!
5-7 Days in New York Itinerary
NYC February Essentials
---
New York Weather in February
February is one of the coldest months of the year. It is slightly less bone-chilling than January and is also less prone to snowing and rains. The temperature will often drop below the freezing point. The skyscrapers in the city make the breeze feel stronger while blocking out most of the sunlight. Try to plan your itinerary keeping this in mind.
NYC Accommodation In February
The city of New York welcomes over 60 million visitors every year. Surely, accommodation is not one of the things you'll need to worry about when in the city. Look for discounted rates on accommodations in February. The city offers places to stay that can fit all kinds of budget.
NYC Packing List February
The first advice we should give you is to stay indoors. But if you absolutely can't, layers are your best friends. Pack plenty of insulated clothing and wear multiple layers of them before stepping out. Keep your feet well warm as that can go a long way in ensuring your comfort. Carry waterproof clothing as well. New York gets an average of 7 days of rain or snow in February.
Getting Around New York in February
Mass transit is a convenient and inexpensive way to get around New York City. The five boroughs are well connected via various MTA transport means. Subways are the fastest way to travel within the city. It operates all day, every day. You can opt for public buses as well. The can offer you a scenic, albeit slower way to reach your destination. The Roosevelt Island Tram is another scenic way of getting around. The city also has a famously large fleet of yellow taxi cabs that you may opt for if you have a lot of baggage. Last but not least, bikes are available for hire if you want to be in charge of your own travel. You may also take a ferry across the river to Staten Island, Brooklyn, Queens, the Bronx, and New Jersey.
New York in February: Seasonal Delicacies
--- Black and White Cookie
You are already chuckling if you are a fan of the popular sitcom, Seinfeld. This curious looking cookie is actually not a cookie at all. It comprises of cake base topped with half vanilla frosting and half chocolate frosting. Beware of the ones that replace frosting with fondant. For the best black and white cookie, try Zabar's!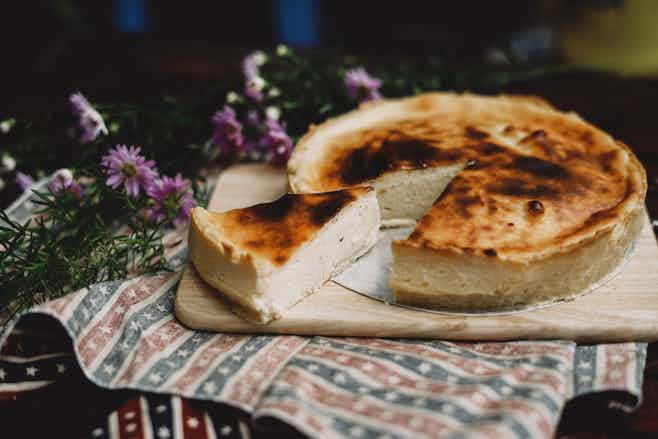 New York Cheesecake
There is a reason why the name of the city has been associated with this dish. Cheesecakes can be found anywhere on earth, but the New York variety is inimitable. The already rich dessert gets a copious helping of home-made fruit puree and delicate sponge cake base to elevate it to the next level. Have a slice at Junior's and make your trip to New York City memorable.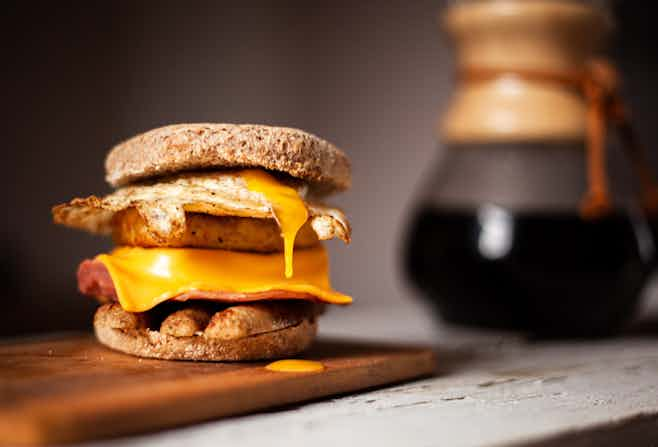 The BEC
The BEC, or Bacon Egg and Cheese Sandwich is a definite New York City signature. A typical New Yorker begins their day with this, and you should too if you want an authentic City experience. This sandwich is also known to be a miraculous hangover cure. The best BEC can be found at Sarge's Delicatessen & Diner.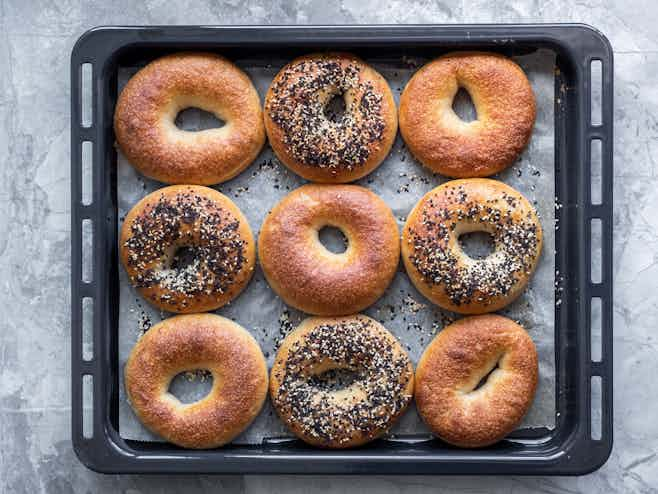 Bagel
The city of New York has traditionally had a large Jewish community. Consequently, Jewish food items have become a part of the city. Bagel is one such food item. It consists of hand-shaped bread that is quite dense and chewy on the inside and crisp on the outside. Visit the century-old Russ and Daughters for the best bagels in the city.
Tips for Visiting New York in February
---
Look for special pre-show menus at restaurants near Broadway theatres to score attractive discounts on meals.
Get a Metrocard if you are planning to travel a lot throughout the city. It gives you open access to all MTA managed transport routes.
Avoid the days around Valentine's Day if you're aiming for a quiet and calm trip. The city is for obvious reasons quite a frenzy during V Day!
Experience an Ice Hockey game if you are looking for a sporting event apart from the Super Bowl.
Culture vultures should go to Harlem and attend events celebrating Black History Month throughout February. It's worth the travel!
Visit museums for free as they open up at night to encourage new visitors to experience the history and heritage of mankind.
FAQs
---
What are the travel restrictions in New York?
What are the attractions open in New York?
What are the top things to do in New York in February?
What is the temperature in New York in February?
What are the best day trips to take from New York in February?
Are any famous attractions closed in New York in February?
What is an ideal itinerary for visiting New York in February?
Is February a good time to visit New York?
Discover New York Through The Year
---