New York City's newest immersive cultural experience, the Summit One Vanderbilt Observation Deck is a blend of art, tech, and entertainment like no other.
Set atop the tallest commercial skyscraper in Manhattan, this observatory is high atop Grand Central Terminal.
Everytime you want to question your perception of the built world, a visit to this NYC Observatory is the solution. The way you question your perception? Installations, glass ledges, and exterior glass-floor elevators.
Oh, there's also Après, where you can get foods and beverages, including cocktails - indoor and on the outdoor terrace.
Summit One Vanderbilt Observation Deck in a Nutshell
---
Opening Hours
9 am to 7 pm, every day (entry closes at 6:30 pm)
Know before you go
Best time to visit - The best time to visit the attraction is before sunset, so you can get the best views, and pictures for the 'gram
Starting Prices for Summit One Vanderbilt Observation Deck Ticket Prices - $39.18
Suggested duration 1-2 hours
Location - New York City

Address
45 East 42ndStreet, New York, NY 10017
Get there
Which Summit One Vanderbilt Observatory Deck Tickets Should You Buy?
---
Since the Observatory is a unique experience popular choice among tourists and locals alike, as it should be - it IS the perfect way to dive into all things modernity and mind-blowing things, this is your gateway to explore a world full of possibilities and ideas!
Hence, long waiting lines are natural. Here are some Summit One Vanderbilt Tickets you can buy, so you can save time and dime:
Plan Your Visit
---
Summit One Vanderbilt Opening Hours
The Observation Deck is open from:
3 pm to 10:30 pm, on Thursdays
9 am to midnight, on Fridays and Saturdays
10 am to 7 pm, on Sundays
Getting to the Observation Deck
By Bus
The bus stop closest to the Observatory, is E-42 St/Madison Ave. It's a 1-minute walk away from the attraction.
The M-42 Bus will get you to E-42/Madison Ave.

By Train

The train station closest to the Observatory, is Grand Central Terminal. It's a 2-minute walk away from the attraction.
The trains Danbury, Harlem, and Hudson Line, among others, should be the ones to get you there.
Best Time To Visit Summit One Vanderbilt Observation Deck
In a day, the best time to visit the Summit One Vanderbilt is early morning, because that's when you'll bump into the least crowds. Although, for the best views and photo-ops, it is suggested that you visit jusssst before sunset so you can see the observatory at it's best.
In a year, visiting New York City, and especially this attraction between April to June, and September to early November, allows you to enjoy the weather, bump into lesser crowds, and enjpu everything that the city has to offer to it's fullest!
Top Things to Do at Summit One Vanderbilt Observation Deck
---
1

Experience the magic of the AIR
Air is a five-part-story-driven immersive experience that is designed to create the illusion of boundless space. Not only is it interactive and playful, but it encourages physical connectivity to the space. With that, during the sunset, the waves of colour turn the Summit into a beacon of light and energy and a beautiful work of art to be admired by all of New York City!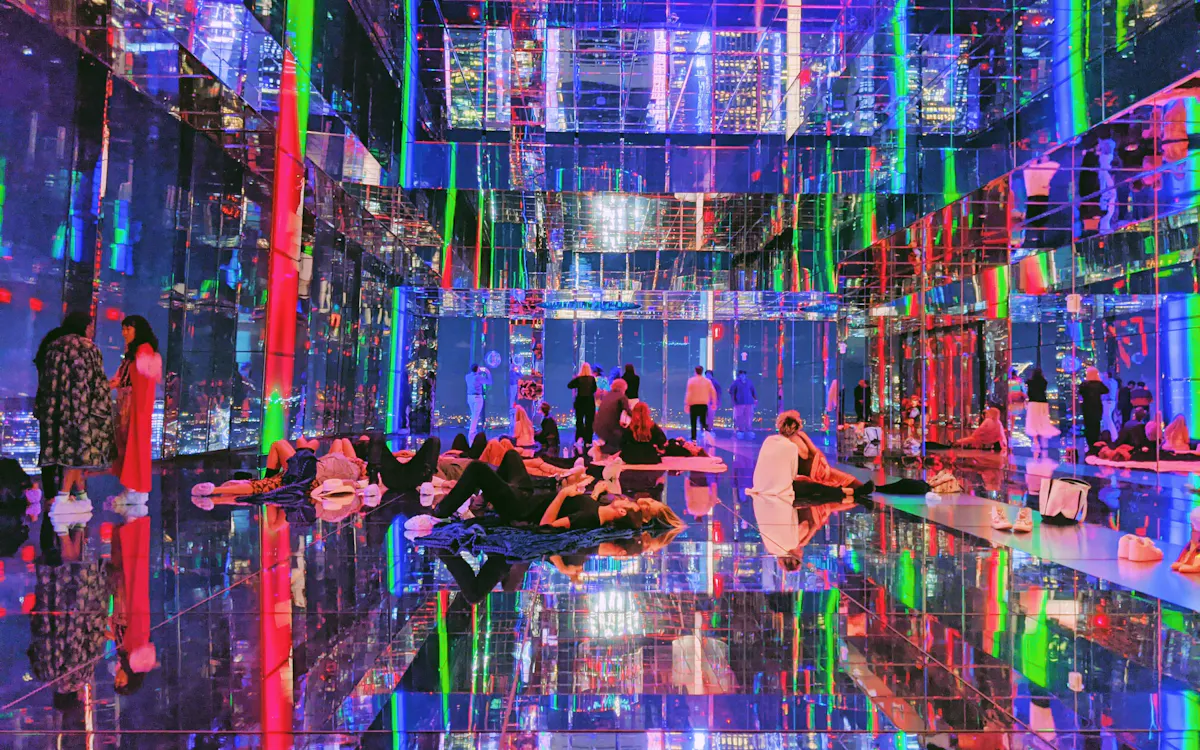 2

Levitate! And not like the Imagine Dragons do
There are two fully transperant ledges, each 8 feet deep that let guests hover over 1000 feet above Madison Avenue. The thought of it alone is blowing our mind right now.
This Levitation experience, is the largest five-sided glass-enclosed structured in all of New York City. Talk about impressive!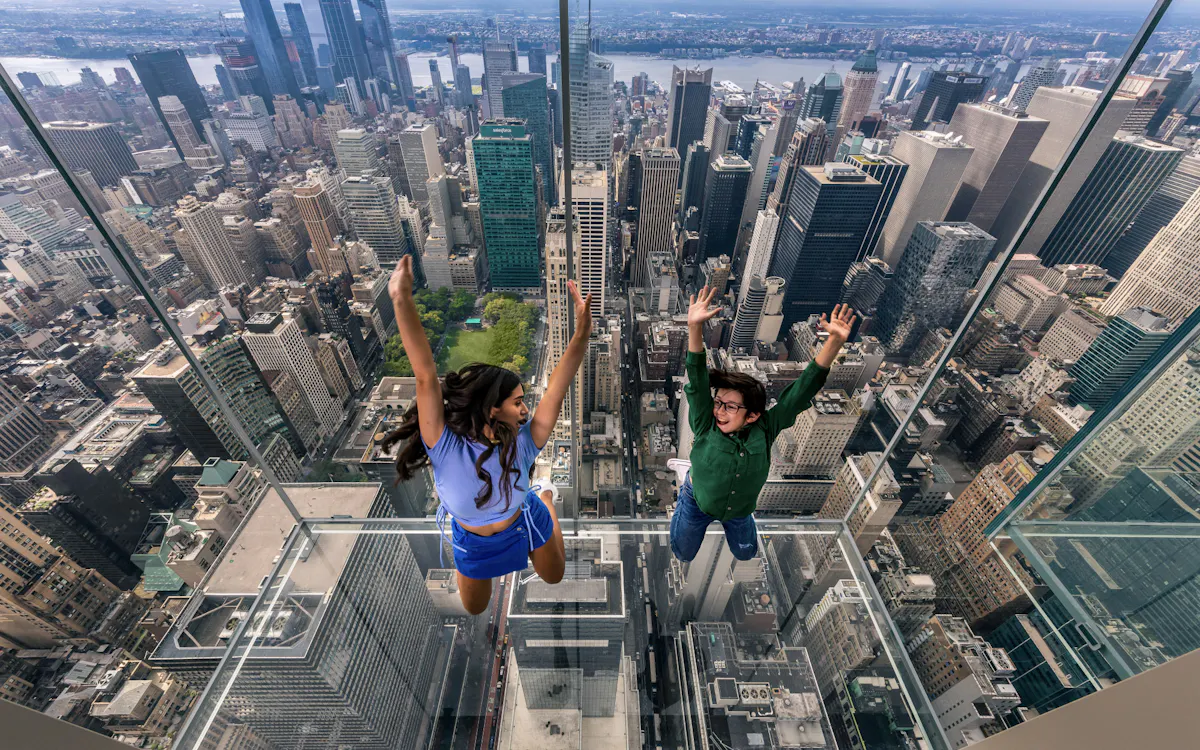 3

Ascent with the adrenaline
An exterior elevator (the first of its kind), Ascent lets people rise up an additional 120 m, off of the tallest floor of the Summit One Vanderbilt Observation Deck. Ascent, is the highest rack and pinion elevator in the world!
If that wasn't enough, it's also the largest glass floor elevator in the world! Talk about breaking multiple records at the same time. It's insane. It's also one of the first usecases for heated glass in the States, and anti-reflective glass in an elevator enclosure.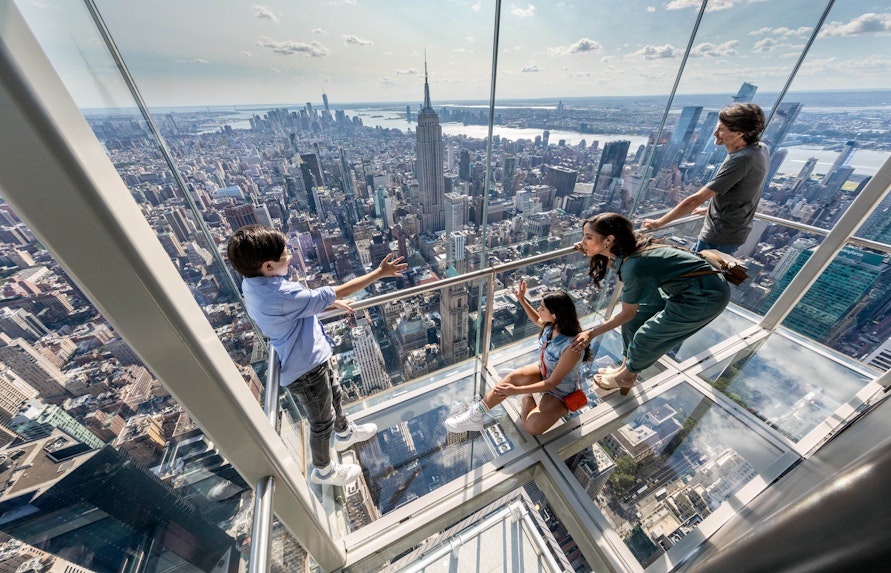 Exclusivity is big in NYC, and this experience provides just that. A culinary experience that is sure to blow your tastebuds off, this restaurant helps you enjoy the city from both an open-air terrace, and an indoor lounge.
If the views weren't incentive enough, we hear the food here is incredible too! What are you waiting for?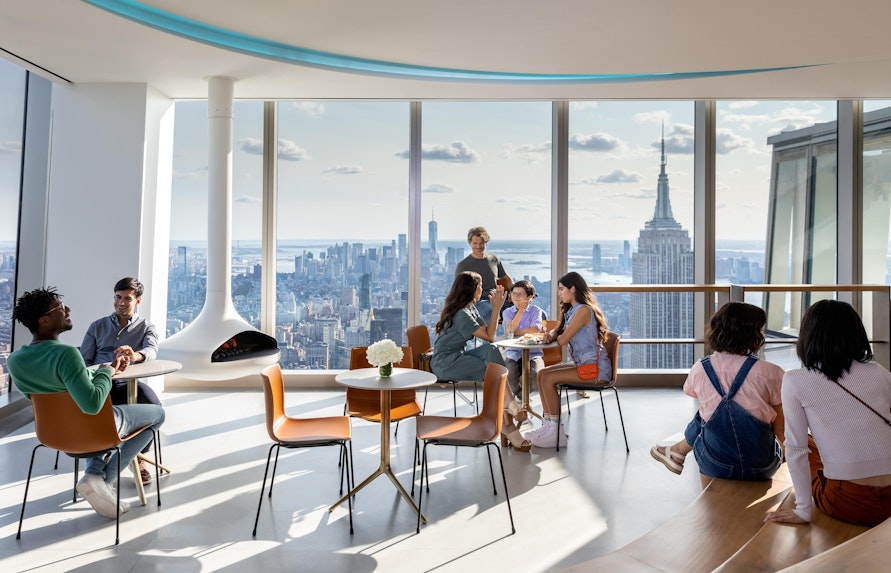 Attractions near Summit One Vanderbilt
---
Insider Tips for Visiting the Summit One Vanderbilt Observation Deck
---
1. Proof of vaccination is mandatory for entering Summit One Vanderbilt.
2. If you plan to visit the Observation Deck on a Saturday or during the holidays, ensure that you book your tickets in advance.
3.It is recommended that you carry sunglasses with you, as the reflective materials used in the building will create an uncannily bright environment.
4. You cannot drink, eat or smoke inside Summit One Vanderbilt Observation Deck.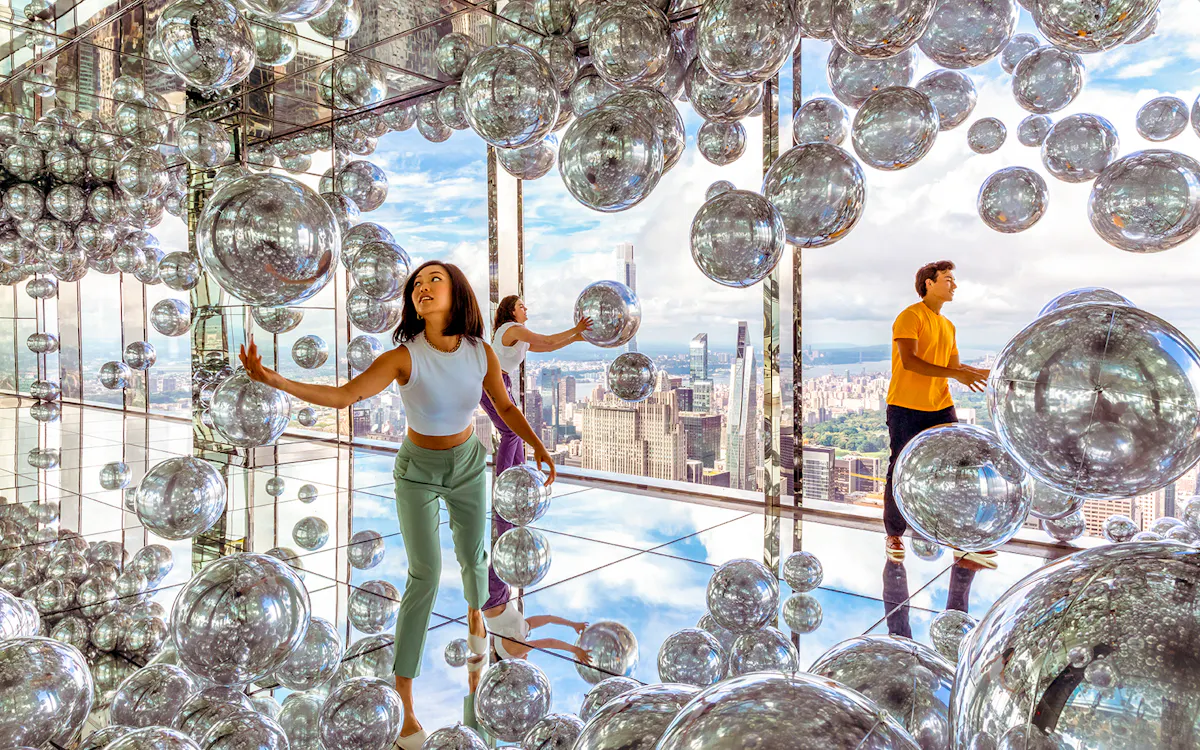 Restaurants near Summit One Vanderbilt
---
Here are some top restaurants which are located near the attraction, that you must add to your plan for the day!
Hotels near the Summit One Vanderbilt
---
Although a day's trip is enough to see everything there is at the Summit One Vanderbilt, it's never enough for New York City. And honestly, who doesn't love a vacation?!
Westin New York Grand Central
If seeing every attraction in NYC is your idea of a perfect vacation, Westin New York is your hotel of choice. Located right in the heart of the city, this hotel will help you save up on your travel time, and keep adding attractions + experiences to your itinerary.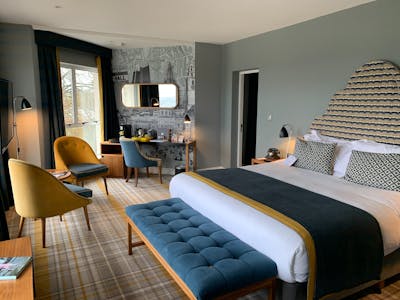 Hyatt Centric Times Square New York
Known for its ideal location and great views, Hyatt Centric at Times Square, is a hotel widely known for the same. For comfy stays at a hotel that saves time and dime? Sign us up right now!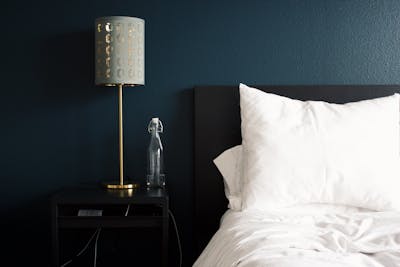 Hilton Garden Inn New York
We're providing you with a list of hotels to choose from that are located extremely close to major attractions. This hotel is another one of those. For luxury, efficiency, and the good times in life, stay here! Oh, and don't forget the easy commute it provides. The hotel is conveniently located near major stations to provide easy access.
Frequently Asked Questions
---
What is the ideal amount of time to spend at Summit One Vanderbilt Observation Deck?
Is the Summit One Vanderbilt Observation Deck better at night?
Is Summit One Vanderbilt the tallest building in the city?
How soon do I need to book my tickets before visiting the Summit One Vanderbilt?
What are the starting prices for Summit One Vanderbilt Observation Deck tickets?
Summit One Vanderbilt Observation Deck Guide