A confluence of all things cultural and intellectual, New York often referred to as 'The Big Apple' is a global hub that excites and invigorates. This dynamic city comprises five boroughs: Staten Island, Manhattan, Brooklyn, Queens, and the Bronx interlinked by tunnels, bridges, and ferries. Home to iconic landmarks like Statue of Liberty and Times Square, the New York houses the largest immigrant population in the world and helps one understand the true meaning of international freedom and cultural diversity. New York in April is month of many events combined with lesser crowds and good spring weather, serving as a beautiful time to explore the city.
What makes New York in April Special?
---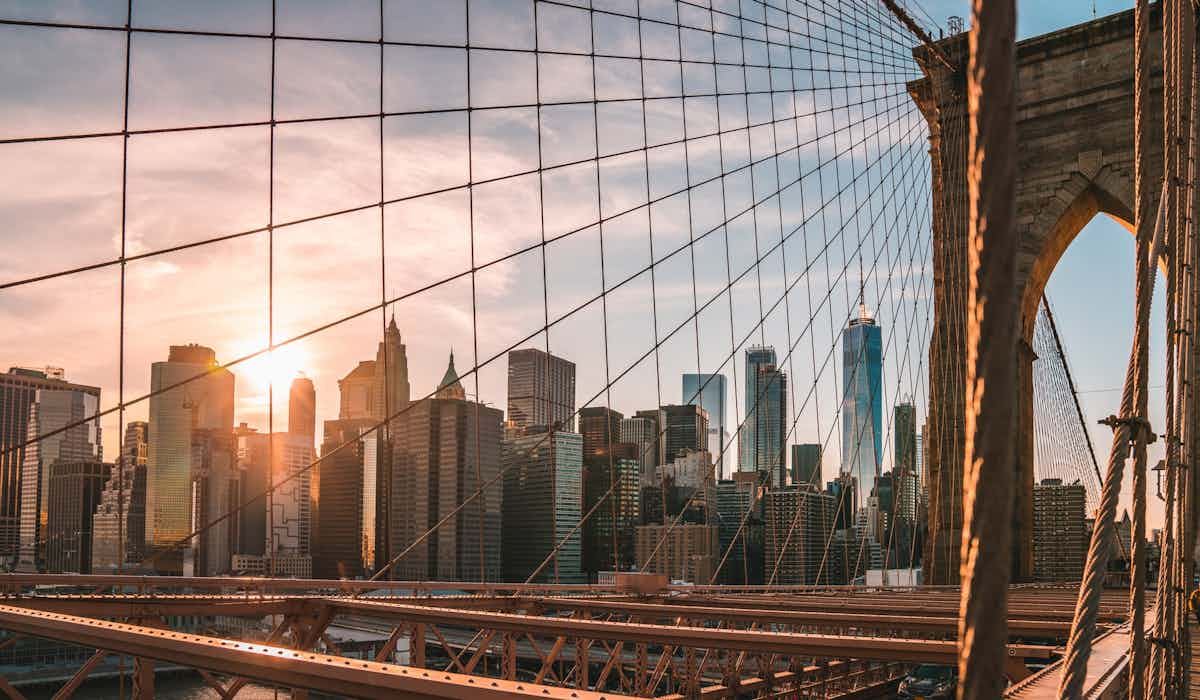 Spring is in the air : The vice-like grip of the cold weather loosens in April and you can enjoy balmy weather in New York. Central Park starts draping in colors of green and the Cherry trees blossom in Brooklyn Botanical Garden. The sunny days call for long walks with a cup of coffee and pizza to go!
Cultural activities galore : From ethnic parades to crazy pillow fights in the middle of Washington State Park, April is the month to witness the cultural diversity of New York. You have annual film and music festivals to choose from, but the lure of the evergreen Broadway always remains.
Live the New Yorker life : There is of course no season when New York empties of tourists, it's a crowded city even without the tourists! However, April is still school year time world over and you have relatively fewer crowds at main attractions. It is the best time to enjoy the restaurants, attractions and explore the city like a local!
New York Weather in April
---
April heralds the onset of spring in New York. The city experiences four distinct seasons and you will experience sunny days and almost no snow. Although it is one of the wettest seasons, there won't be more than ten days of slight showers. The average temperature is around 16°C.
New York in April: Top Experiences
---
Central Park is the green lung of New York City, and a wonderful place to watch the seasons change in the city. It has exciting attractions like landscaped gardens, zoo and the conservatory garden. In April, the snow melts and the entire park witnesses transformation to a green wonderland. An early morning stroll to breathe in the fresh, crisp air is highly recommended.
April Timings
Open daily from 6:00 AM – 1:00 AM
Top of the Rock | Rockefeller Plaza
Soak in the fresh greens of Central Park after the overcast wintry months, and watch the sun gleaming over the skyscrapers on the NYC horizon in April. Top of the Rock Observatory Deck, perched on the 67th, 69th, and 70th floors of the Rockefeller Plaza is the best place to do that!
April Timings
Daily 9:00 AM to 23:00 PM

Summit One Vanderbilt Observation Deck
New York's best and latest immersive cultural experience, Summit One Vanderbilt Observation Deck is a blend of all things tech, art, culture, and entertainment like no other. Along with an observation deck, this attraction also has art installations, glass ledges, and exterior glass-floor elevators. Yup, for real. What are you waiting for? This is your chance to take in NYC's view like no other. ESPECIALLY, in April.
April Timings
9:00 AM – 23:00 PM
The 9/11 Memorial and Museum is a moving tribute to the victims of the September 11 attack on the World Trade Centre. The twin pools with names of the deceased are a reminder of the loss America experienced, and the museum has a collection of memorabilia from that fateful day.
April Timings
Thu/Fri/Sat/Sun: 10:00 AM to 17:00 PM
Closed on Monday and Tuesday
'I lift my lamp beside the golden door', the Lady Liberty is the icon of freedom worldwide and the statue has been standing tall since 1886. A visit to the Statue of Liberty will evoke pride and a tour of the island will give you insight into the significance of the statute.
April Timings
Daily 9:00 AM to 5:00 PM
Museum of Modern Art (MoMA)
The Museum of Modern Art is one of the world's leading modern art museums and has a large collection of paintings, sculptures, books on Modernist Art. In April, you can catch a range of exhibitions including 'The Value of Good Design', 'Joan Miro: Birth of the World' and Lincoln Kirstein's Modern.
April Timings
Sat to Thu 10:30 AM to 5:30 PM
Fri 10:30 AM to 8:00 PM
20 Minute Helicopter Tour
Soaring above the skyline, and identifying iconic NYC landmarks that has been eternalised in numerous Hollywood movies - and a helicopter tour of New York City in a 20 minute helicopter ride. It will be the best 20 minutes of flying of your life and your pilot-guide will give you a live commentary.
April Helicopter Tour Timings
9:00 AM -12:00 PM
12:00 PM - 3:00 PM
3:00 PM - 5:30 PM

Helicopter Flight Services Inc, Downtown Manhattan Heliport pier 6
New York, USA
Getting There ›
Go On A Circle Line NYC Landmark Cruise
Sail the waters of New York City and spot all the landmarks that have shaped the city's history. Right from the majestic Statue of Liberty, under the Brooklyn Bridge, and past all the five boroughs, this cruise ship takes you everywhere. The warm April weather makes it ideal to be out on water.
April Timings
1st April – 27th April: 10:00 AM, 1:30 PM
28th April – 30th April: 10: 00 AM, 12:00 PM, 1:30 PM
New York in April: Events to Look Out For
---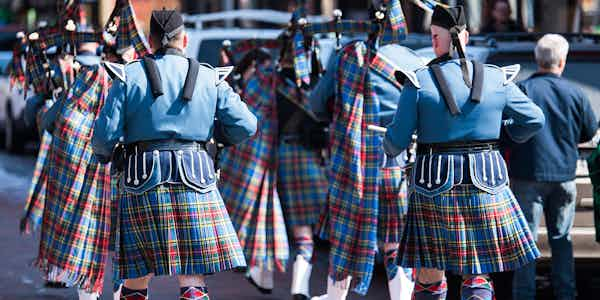 New York Tartan Day Parade
15 April, 2023
The 25th anniversary of the New York Tartan Day Parade is set to take place on Saturday, April 15, 2023. Hundreds of thousands of people are expected to line the streets along the parade route, which starts on 45th Street and moves up 6th Avenue to 55th Street, featuring bagpipers, dancers, and marchers.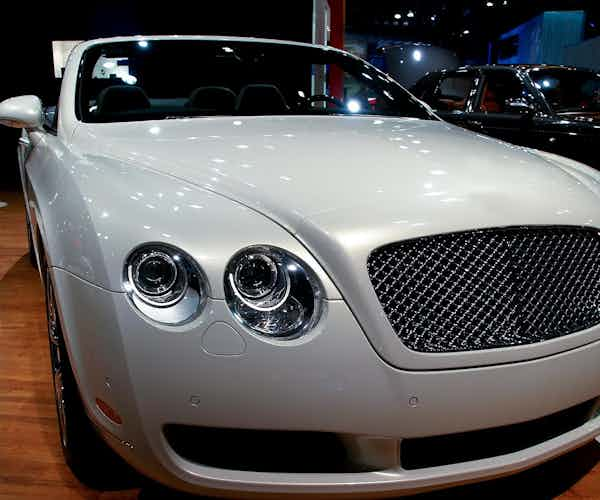 New York International Auto Show
7th to 16th April, 2023
The New York International Auto Show (NYIAS) is a one-stop destination for automotive buffs. In April 2023, the world's leading automotive manufacturers and brands will descend on New York City to showcase their cars. Visitors can expect a spectacular display of the latest trends and cutting-edge innovations in the automotive industry.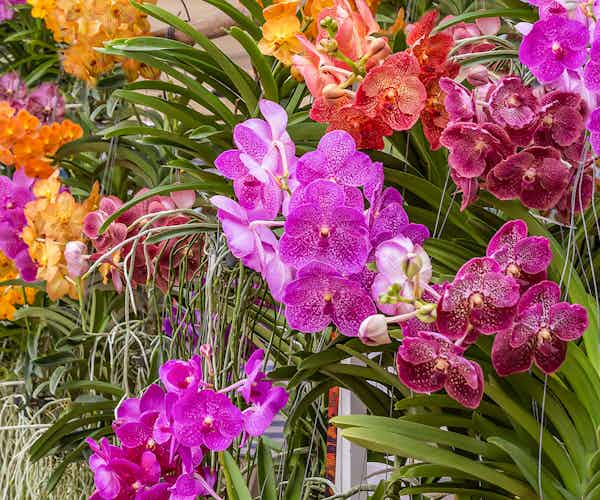 Orchid Show New York Botanical Garden
18 February - 23 April, 2023
For 20 years the New York Botanical Gardens have showcased the exquisite beauty of orchids in an annual Orchid Show. This year, they are collaborating with Los Angeles-based designer Lily Kwong to bring thousands of orchids to the Enid A. Haupt Conservatory in an attempt to connect people with nature.
NYC in April : 5-day Itinerary
---
5-7 Days in New York Itinerary
NYC April Essentials
---
New York Weather in April
The average temperature ranges around 16°C with daytime highs of 21°C and nighttime lows of 3°C, especially in the first two weeks of April. City experiences almost 12 hours of daylight with sunrise at 6:30 AM and sunset at 6 PM. It is generally sunny with about ten days of rainfall.
NYC Accommodation In April
New York is an expensive city with a high cost of living all year-round; however the city has a range of accommodation options from five-star hotels to hostels and AirBnBs to cater to all budgets and tastes.
Luxury Hotels - The Standard, Crosby Street Hotel, The Towers at Lotte New York Palace, Archer Hotel, The Kimberly Hotel, The Sherry-Netherland Hotel
Budget Hotels - The Lex NYC, Hilton Garden Inn, Garden Suites Hotel, Hyatt House Chelsea, Roger Smith Hotel, Hotel Mulberry
Hostels - The Local NYC, HI NYC Hostel, NY Moore Hostel, Q4 Hotel, American Dream Hostel, International Student Centre
NYC Packing List April
The first half of April is colder and you will need warm clothing including a sweater, woollen scarf, and gloves. If you are visiting over a longer period then its best to pack layers that can be used depending on the weather for the day. Carry an umbrella or a waterproof jacket for the occasional rain. Wear sturdy footwear, it's all about walking in New York!
Getting Around New York in April
The traffic in New York is legendary and if you want to get somewhere on time then taking the subway and going on foot is your best option. Here are all the options you have in NYC –
Metro/Subway: The New York Subway has 27 lines and 472 stations, one of the largest in the world! Of course, you will experience peak hour rush even in the subway
Bus: Buses are very cheap and run on more than 300 routes; however chances of getting stuck in traffic are high.
Taxis: The best option if you don't want to bother with subway routes and street maps, get into an iconic yellow taxi or Uber works as well too.
New York in April: Seasonal Delicacies
---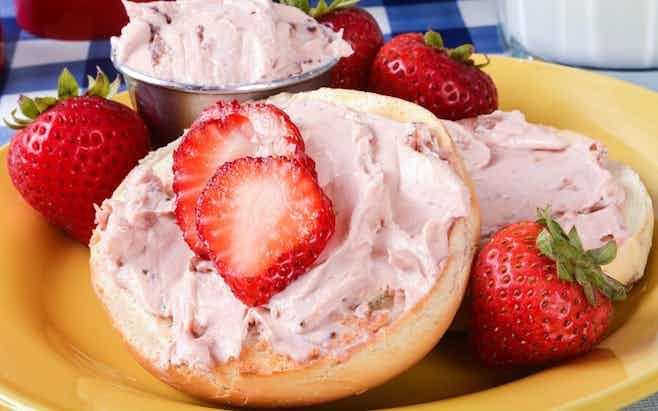 Bagel
Trust a New Yorker to vote for a bagel over a doughnut any day! April is the perfect time to bite into a savoury fresh mozzarella and tomato bagel or even treat yourself to a decadent strawberry cream cheese bagel, stuffed with spring's best produce.
Where to eat: Absolute Bagels, 2788 Broadway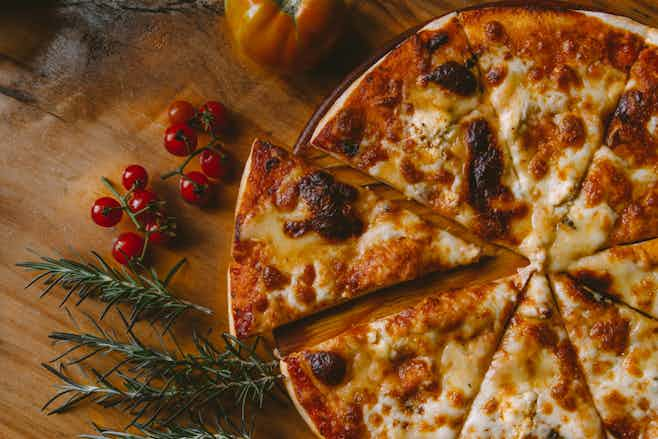 Pizza
Just don't ask for pineapple toppings and you will be fine at any pizza place in New York. The New York style Pizza is unique, and the perfect food to grab on the go, while enjoying the spring season of New York in April.
Where to eat: Lombardi's Pizza, 32 Spring Street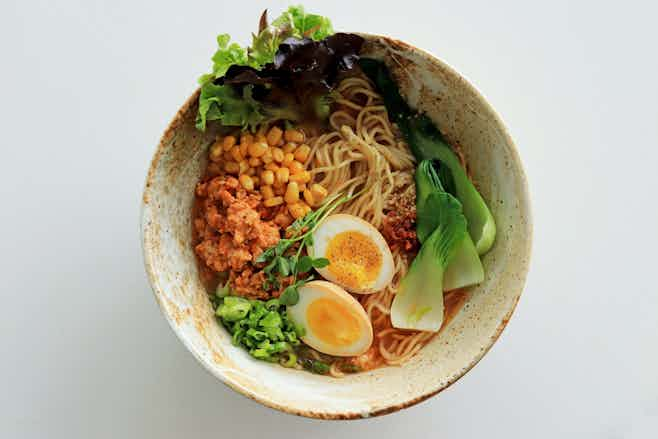 Ramen
Ramen – New York is a melting pot of cultures and one of the best dishes you can sample there is the spicy Japanese dish 'Ramen'. The steaming hot bowl of meaty broth with thin noodles is topped with eggs, and a variety of sauces. Vegetarian options are easy to find too!
Where to eat: Ippudo, 65 4th Avenue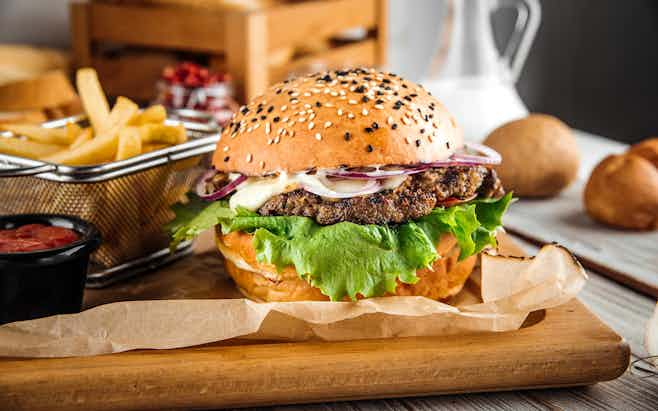 Cheeseburger
Nothing screams an American classic like the cheeseburger. New Yorkers have taken the burger to the next level and you will find every kind from good ol greasy cheeseburgers to gourmet and artisanal burgers. Digging into a juicy cheeseburger is the perfect end to a spring day in NY!
Where to eat: Bareburger, 3321 31st Avenue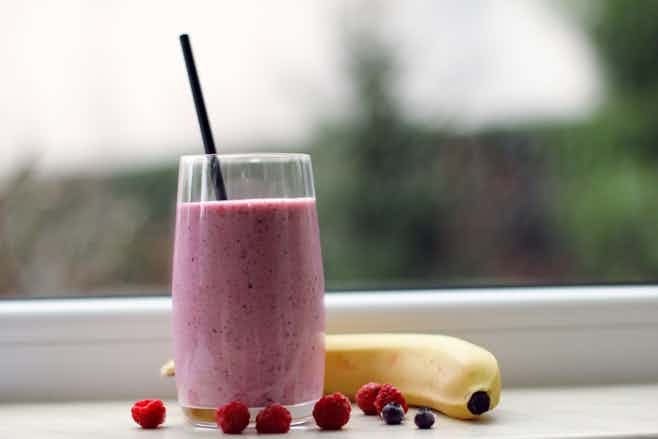 Milkshake
The milkshake has gone from a simple mix of ice cream, milk and fruits to an Instagram-worthy delight of thick shake with outrageous toppings ranging from unicorn-beads to decadent chocolate trimmings. New York has the best pick of milkshakes that will blow up your Insta-post and pant-size at the same time!
Where to drink: Black Tap, 529 Broome Street
Tips for Visiting New York in April
---
Smorgasburg is an open-air food market that opens up every weekend starting April, in Williamsburg and Prospect Park in Brooklyn. The market features over 100 local food vendors offering a range of cuisines.
New York is buzzing with spring events in April and one of the events is the Macy's Flower Show. Running from 24th March to 7th April, the flower show is displayed at the Herald Square.
April is also the start of the baseball season and you can catch the New York Mets and New York Yankees battle it out. It's one of the last sporting months when you can catch basketball, hockey and soccer games in the city.
Car enthusiasts can rejoice as the New York International Auto Show will be held at the Javits Centre from 19th April to 28th April. The annual show has been going on since 1900 and this year over 1,000 cars and trucks with the latest technology will be showcased.
April has the right weather to venture outdoors and you can make the best use of it by going on walking tours. Sample food along the way on a Chinatown Food Tour and The Great Food Tour of New York, or head out to Central Park for Roller Blading, and if you are missing TV then catch up on some nostalgia on this New York TV and Movie Sites tour.
FAQs
---
What are the travel restrictions in New York?
What are the attractions open in New York?
What are the top things to do in New York in April?
What is the temperature in New York in April?
What are the best day trips to take from New York in April?

Are any famous attractions closed in New York in April?
What is an ideal itinerary for visiting New York in April?
Is April a good time to visit New York?
Discover New York Through The Year
---