Recognized as of the largest and most influential museums across the world, the Museum of Modern Art (MoMA) in New York City is the venue to get a glimpse into the world of modern and contemporary art. Housing over 150,000 works of art, MoMA brings modern art under the spotlight and allows you to access works from the best artists in this space, including Pablo Picasso, Frida Kahlo, Ai Weiwei, Andy Warhol, and many more.
MoMA is recognized by many art savants as a storehouse of modern Western masterpieces. The collection house is a mix of history's most famous artists and their works and showcases a wide range of influential European and American artists. A one-stop location for your contemporary art needs, MoMA's curated collection includes works of architecture, design, painting, sculpture, photography, illustrated books, film, artist's books and electronic media.
The Museum of Modern Art, MoMA New York City, At a Glance
---
Must see exhibitions at MoMA NYC 2021
Campbell's Soup Cans, Andy Warhol
Starry Night, Vincent Van Gogh
Water Lilies, Claude Monet
The Persistence of Memory, Salvador Dali
The Sleeping Gypsy, Henri Rousseau
MoMA Hours NYC
Sunday to Friday: 10:30 AM to 5:30 PM
Saturday: 10:30 PM to 07:00 PM
Closed on Thanksgiving and Christmas
About MoMA New York City
---
The Museum of Modern Art NYC hosts an exquisite collection of modern and contemporary art works which has been collected from around the world over 150 years. Established and opened in 1929, the evolving collection comprises of almost 200,000 works. The aim of the museum is to educate and bring modern and contemporary art forms to everyone's attention. To achieve this, the museum has expanded its collection across several fields of visual expression: painting, sculpting, printmaking, drawing, photography, designing, film and performance art attracting 3 million people annually. The MoMA website allows you to explore a small part of its collection, 76,000 artworks by 21,000 artists online.
That's not it. MOMA also has a second branch in New York City itself - MOMA PS1, one of the largest art institutions in the United States dedicated solely to contemporary art. So if you're looking to dive into the world of modern and contemporary art, there is no place like the NY Museum of Modern Art.
Why You Should Visit MoMA NYC
---
Museum of Modern Art NYC is an iconic spot for art enthusiasts all around the world. After cementing its place as one of the leading museums in contemporary and modern art; MoMA has gained tremendous importance and has an influence all over the world. Featuring over 200,000 works in its evolving collection, the museum houses art made by some of the world's most reputed and avant garde artists including Andy Warhol, Salvador Dali, Pablo Picasso and Henri Matisse to name a few.
With your Museum of Modern Art tickets you will get access to the ongoing special exhibitions at MoMA. Bridge the gap between the past and the present as you walk across six floors of art galleries and get an in depth immersive experience which highlights the innovations in art from the 1880s to today. And don't worry about not being able to figure things out, your ticket comes with an audio guide in 8 different languages, them being, Spanish, Chinese, English, French, German, Italian, Japanese, Korean, Portuguese Your tickets also allow you to visit the MoMA PS1. One of the largest art institutions in the USA dedicated to contemporary art, the MoMA PS1 is known for its one-of-a-kind exhibitions. The venue defines itself as a catalyst and an advocate for new ideas, discourses and trends in contemporary art while actively pursuing artists and their creations. Over here you will be able to see site-specific art along with some long-term installations by Lawrence Weiner, William Kentridge, Pipilotti Rist and James Turrell to name a few.
Besides art exhibits, the NY Museum of Modern Art has a lot to offer. Explore the library which has over 300,000 books and exhibition catalogues, designer-made objects, jewelry and furniture. In case you get hungry on your visit, MoMA NYC has the solution. Enjoy a dining experience at the Michelin Star restaurant - The Modern; or take a break at the family-friendly Cafe 2; or dive into a casual dining experience at Terrace 5.
MoMA New York City Branches
---
MoMA has two branches. With your MoMA New York tickets you will get access to both these branches and we recommend checking both of them out.
MoMA
This is the main exhibition located in Midtown Manhattan, and is usually identified as one of the most influential museums of modern art in the world. It is also one of the largest museums in the world. Over here you can enjoy the works of several prominent artists from the world of modern and contemporary art.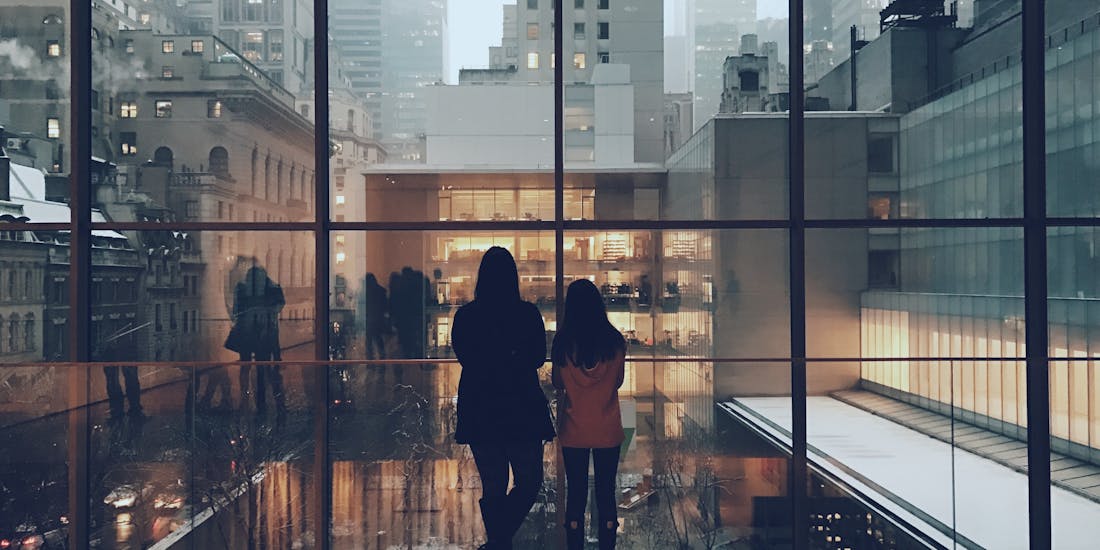 Timings
From Sunday to Friday, 10:30 AM to 5:30 PM
Saturday: 10:30 AM to 07:00 PM
MoMA NYC Address
MoMA PS1
MoMA PS1 is a dedicated exhibition space which aims to promote the enjoyment, appreciation,study and understanding of contemporary art to a wide and growing audience. Their educational activities, coupled with the special exhibitions play a vital part in structuring cultural discourse. The MoMA PS1 is known for its live exhibitions which feature music, dance and aspires to innovate and diversify modern art with an aim to attract international audiences. Timings
Sunday & Monday: 12:00 PM to 6:00 PM
Thursday to Satursday: 12:00 PM to 8:00 PM
Closed on Tuesday and Wednesday
Address
Distance between MoMA & MoMA PSI - 3.1 miles (17 min travel time)
Museum of Modern Art Tickets
---
We recommend buying your Museum of Modern Art MoMA tickets online, to avoid waiting in the long ticket counter lines. On the day of your visit, you can show your online tickets on your phone, and walk into the Museum right away.
Your ticket also includes a free audio guide in several languages.
Use code "GONYC" on Headout and get $8 off on your MoMA NYC tickets.
PS: Kids upto 16 years of age get free entry into MoMA!
Sign up for our monthly newsletter
Your dose of travel fix - from hacks and deals to travel tips and everything in between, delivered monthly to your inbox
Please enter a valid email
Unsubscribe anytime
Avoiding The Crowd At MoMA New York City
---
Buy Tickets in Advance
Book your Museum of Modern Art tickets well in advance to ensure you get entry on the day that you want. We suggest booking the tickets after going through the exhibition list so you may enjoy the exhibitions you like the most. Additionally, you will get access to the MoMA PS1 with your skip-the-line Museum of Modern Art tickets.
Avoid Rainy Days
The museum usually gets crowded later on in the afternoon and is bound to get noisier as the day progresses. During the rains the number of visitors gets doubled.
Avoid Mornings
Mornings are the busiest at the museum. If you prefer a quieter museum experience, we recommend coming after 11:30 AM.
Fridays Paradox
On Fridays the museum is free to enter from 4 PM - 9 PM, which is when you should not go as the museum is always crowded and you won't get to enjoy the exhibits much. However, Friday middays (12 PM - 4 PM) has the least crowd at the museum.
Famous Exhibits at Museum of Modern Art NYC
---
Campbell's Soup Cans by Andy Warhol
A hand-painted and hand-stamped work which beautifully captures repetition and uniformity. Starry Night by Vincent Van Gogh
Rooted in imagination and memory, this masterpiece embodies an inner, subjective expressionism synonymous with Van Gogh's style. Water Lilies by Claude Monet
Rooted in imaginAn endless illusion of water without horizon or bank, this impressionist painting captures the constantly changing qualities of natural light and color and adds a layer of abstraction to it.ation and memory, this masterpiece embodies an inner, subjective expressionism synonymous with Van Gogh's style.
The Persistence of Memory by Salvador Dali
Dubbed by the artist as 'hand painted dream photographs', this painting is universally recognized. An abstract flow can be seen through this painting which is widely regarded as among the best works in surrealism. The Sleeping Gypsy by Henri Rousseau
Sharp colors, precise outlines, fantastic imagery, no wonder this piece is regarded as one of the best examples of Symbolism. This piece looks like poetry by paints. Museum of Modern Art Floor Plan
---
Floor Plan
MET Museum of Art
• Level 1: Lobby, MoMA Store, Restaurant, Art LAb and Sculpture Garden.
• Level 2: Contemporary Galleries, Prints and Illustrated Books, Media, Special Exhibitions, Cafe and Store.
• Level 3: Architecture and Design, Drawings, Photography and Special Exhibitions.
• Level 4: Painting and Sculptures II - Jasper Johns, Yayoi Kusama, Roy Lichtenstein, Jackson Pollock, Robert Rauschenburg, Mark Rothko, Andy Warhol and others.
• Level 5: Painting and Sculptures I - Paul Cezzane, Frida Kahlo, Henri Matisse, Piet Mondrian, Claude Monet, Pablo Picasso, Vincent Van Gogh and others.
You can download the MoMa floor plan and keep it handy on your phone for your visit.
UNIQLO Free Friday Nights at MoMA NYC
---
NOTE: UNIQLO Free Friday Nights have been temporarily suspended for safety reasons. To know when it goes back live, check here.
Every Friday, from 5:30 to 9:00 p.m., find inspiration at MoMA and enjoy free admission, courtesy UNIQLO Free Friday Nights. Admission is free for all visitors during UNIQLO Free Friday Nights. The line for tickets begins at the Museum's 54th Street entrance and your UNIQLO Free Friday Night ticket permits entry to all Museum galleries and exhibitions. Film and performance admission are free too, but a separate ticket is required.
MoMA free friday tips
Free Fridays queue starts at at 4 p.m. and the galleries can become very crowded, so arrive as early as possible if you want the place to yourself. The line to enter MoMA for Free Fridays may appear long, but they move quickly. To avoid queuing all together, visitors are strongly encouraged to arrive after 6:00 p.m once a good chunk of people have moved in.
Getting To The Museum of Modern Art in New York City
---
By Subway
The nearest subway station to the MET is the 50th Street Subway Station on the Blue Line. Take D or F trains to 47-50th Street/Rockefeller Center station; E or M trains to 53rd Street station at Fifth Avenue.
By Bus
By Bus: From the east side of Manhattan, take the M1, M2, M3, M4, or M5 bus to 53rd Street; From the west side of Manhattan, take the M50 cross-town bus to 50th Street. Then walk three blocks to 53rd Street.
MoMA NYC Map
MoMA Rules & Regulations
---
• All large items (greater than 15" x 11" x 5") will be checked, including large umbrellas.
• No outside food and beverages are allowed inside.
• Sketching is permitted in the galleries - pencil only. No pen or ink.
• No flash photography, video cameras or tripods allowed.
Grab a Bite at MoMA NYC
---
MoMA has several dining options inside the museum itself. '
Cafe 2 on the second floor is a first-come, first-serve venue with Italian-centric casual cuisine including fresh pasta, panini, soups, salads, cheese and meat boards, and full beverage menu.
The Espresso Bar on the same floor serves all coffee shop staples.
TheTerrace Cafe on the sixth floor serves find small plates, shareable snacks, a selection of beer, wine and cocktails, and outdoor terrace seating when weather allows. You also get stellar views of Midtown Manhattan from here.
The Modern is a Michelin-starred restaurant, accessible within the museum and from the exterior after museum hours, and is a fine dining experience surrounded by world-class art. Reservations are highly recommended, and can be made 28 days in advance. Pro tip: The Modern is a no-tipping venue, so you needn't factor in anything additional when paying the bill.
Museum of Modern Art Insider Tips
---
Kids Special - Children below 16 years of age may enter for free. Additionally, the museum has curated a unique experience for kids. Several free Activity Cards are available for kids to use across the museum. A dedicated space, The Art Lab, allows families to get together and create their own artworks.
MoMA Stores - Known world over for the aesthetic look of their products, the MoMA stores houses designer items you won't find in many other shops. Take a look at their wide selection of books, designer objects, jewelry, furniture, clothing and more on your visit to MoMA.
Top to Bottom - The best way to see the museum is from the top floor to the bottom. The fifth floor houses the Painting and Sculpture Galleries, the fourth floor houses the more recent masterpieces. Don't miss the 6th floor as it is where the special exhibits are housed.
Afternoon Visits - If you come in the afternoon (after 3 PM) we recommend going from the first floor to the top. This allows you to see the main highlights before closing time when there will be less people in the viewing rooms.
Practical Details - The museum performs a thorough security inspection of your belongings. We suggest leaving the big bags and rucksacks at home. All galleries and facilities are wheelchair accessible which are available in the checkroom free of charge. You may photograph the museum for personal use only in the collection galleries, however, no flash, tripods or camera extension poles are allowed.
Audio Guide - Your tickets come with an audio guide.Be sure to make the most of it; you're guaranteed to learn something fascinating.
Audio Guide - Your tickets come with an audio guide.Be sure to make the most of it; you're guaranteed to learn something fascinating.
Take the stairs - Ditch the lift while going from one floor to the other as there are exhibits hanging on the ceilings as well. Be sure to look up while going up the staircase; Arthur Bell's 1945 helicopter is displayed overhead.
MoMA PSI is worth a visit-Though located in Long Island City, MoMA PSI focuses on more recent art and up-and-coming artists and is worth a visit. You don't need a separate ticket for MoMA PSI.
Things to do around MoMA NYC
---
MoMA's midtown Manhattan location means it is easy to access and easy to reach many nearby attractions. Here are a few close by that we suggest adding to you vacation itinerary..
FAQS
---
The museum is least crowded right after it opens at 10am. Because of their free admission offer on Friday evenings, it's best to avoid Fridays between 4 and 8 as it is some of the busiest times to visit.
Yes! The Museum of Modern Art provides free admission every Friday night from 5:30 pm – 9 pm. Additionally, the first floor is now open to the public for free every day, including two new galleries, installations in the lobby and the Abby Aldrich Rockefeller Sculpture Garden.
Yes! The Art Labs program at MoMa is a great way to get children excited about creating while they learn tools and techniques used in the art-making process. There are also free talks and tours on weekend mornings for families.
Yes, photography is allowed, but flash photography is banned as it damages the paintings.
Both the MET and MoMA are world-class museums that any art or culture lover should definitely visit at least once in their lives. That said, they both specialise in different kinds of art. The MET is far larger with a wide focus of everything from the art of the ancient world to contemporary photography. MoMA on the other hand specializes in modern and contemporary art.
The PS1 acronym means Public School One and comes from the former destination of the building where the centre is housed. In 1997 the PS1 building underwent a major renovation and in 2001 it became an affiliate to the Museum of Modern Art and was renamed MoMA PS1.
Yes, however, flash photography, videography, tripods, and photography for professional purposes are not allowed
It is advised that you buy MoMa tickets online in advance to avoid standing in ticket queues on site, which can be quite long on most days. You could also find discounted deals online, which are not available on-site.
For contemporary art lovers, there's no better place than MoMa to spend a quiet few hours in artistic contemplation.
No. Mondays are reserved exclusively for members and their guests.
There is a 30-minute grace period for timed entry; entry is not guaranteed if you arrive more than 30 minutes after your ticketed time. Early entry is prohibited.
Current CUNY faculty, staff, and students receive free admission from October 1, 2020, through September 30, 2021. Students of the following colleges also get one free admission
Columbia University in the City of New York
Cooper Union
CUNY Schools
The New School
Pratt Institute
SUNY Schools
The Juilliard School
The New School
From Oct 1, 2020 through Sep 30, 2021, all NYC health workers get free admission to MoMa. This has been made possible by UNIQLO.
No, MoMa has a ticketed entry.