When it comes to exploring NYC, taking the city in from a bird's eye view pretty much takes the cake. Sure, you can enjoy stellar views from one of the many rooftop bars; however, nothing captures the city's impressive skyline like a helicopter ride! For tourists and locals alike, it's an adrenaline pumping experience that can't be topped. Literally. After all, when else will you be able to come eye-to-eye with the Statue of Liberty?
Truth be told, it's an experience worth every penny and it's quite likely your exhilarating air time will turn out to be some of the most thrilling minutes you ever spend in the city. In fact - the incredible panoramic views had such an impact on one young man, that they inspired him to create an intricate, 18ft drawing of New York's skyline - entirely from his memory! Stephen Wiltshire's masterpiece is a living relic of how powerful a single experience can be.
So how do you pick the right tour? How can you be sure you're getting the biggest bang for your buck? From hacks to getting the best helicopter ride for two, to which tour is best for large groups, we've laid it all out for you.
Best New York Helicopter Tours
---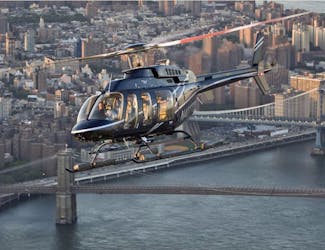 NYC Helicopter Tour
15 mins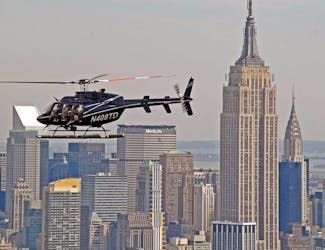 NYC Helicopter Tour
20 mins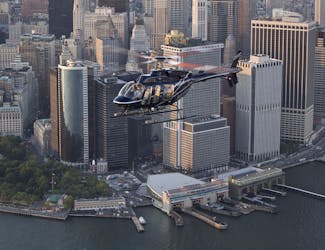 NYC Helicopter Tour
30 min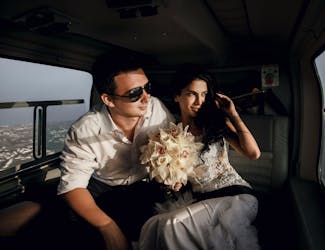 NYC Private Helicopter Tour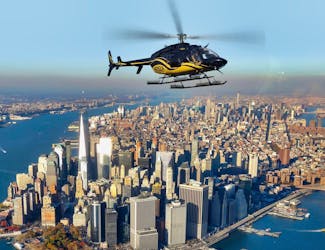 NYC HARBOR EXPERIENCE
20 min
Know Before You Go
---
1. When is the best time of year to go for a helicopter tour of NYC?
Generally speaking, spring and summer offer the most reliable tours, with guaranteed good views and nice weather. Fall is also a good choice. Gorgeous autumn scenery makes for beautiful and unique photo ops, especially when you fly over the Hudson! But you do run the risk of unforeseen thunderstorms that can result in a need to reschedule. Winter weather is even more unpredictable; if you plan to take a tour during this season, give yourself a couple days of cushion to work with, just in case. With that being said - helicopter tours are a year-round activity.
2. Morning or afternoon?
For those looking forward to photographing the experience, book a tour around 2-3pm in order to avoid shooting directly into front sun exposure. (It can be especially harsh around the Statue of Liberty.) Mornings run the risk of fog. Have a look at the weather forecast before scheduling.
3. Is this child-friendly?
Yes! Absolutely.
4. Private vs. Normal tours.
One of the major benefits of a private tour is that you're guaranteed a window seat. Helicopters seat 5-6 people and in order to ensure a smooth ride, weight must be evenly distributed. This means that in a full chopper, a couple passengers will inevitably have to take the middle seats. This doesn't necessarily set you up for a negative experience, but some people are especially keen on having the window seat. If you're one of those people, a private tour is the safest bet you won't get stuck sticking your neck out past the person seated next to you.
5. How do you find the cheapest deals?
Like any other high-demand activity, there are dozens of companies and agencies eager to book your ride. The tours in this article reflect the best prices on the market and are backed by a Best Price Guarantee policy.
6. Time flies
And as the expression suggests, fast. Definitely consider paying a bit extra for more time. Most likely, you won't do something like this again and you should make the most of it, as it's an experience you'll never forget. (With that being said, don't be discouraged if a shorter ride is your only option. After all, 15 minutes is still better than 0.)
7. Other fees?
There is an additional heliport fee of $40 per person. This is typical for all rides, regardless of what tour company you book through. While some companies include this fee in their tour price, others do not and you will have to pay separately at the heliport. Be sure to check with each vendor when weighing out the cost for various tours.
8. Safety
All of the helicopter pilots go through a long and rigorous flight training process to meet FAA and company standards and have thousands of hours of flying experience.
Ok, now that you're aware of the above, let's find out which tour experience is the best for you.
New York Helicopter Flights - Practical Information
---
The Helicopter You'll Fly In
On your helicopter tour of NYC, you will be flying in the Bell 407GX. These machines are state of the art helicopters equipped with the latest functionalities and safety features - Global Positioning Systems (GPS), Synthetic Vision Display Units and Terrain Warning Avoidance Systems (TWAS). The choppers are also equipped with the latest in noise reduction technology. The Bell 407 GX can seat a maximum of 6 people, has a 375 mile range and can fly at speeds of upto 160 mph.
Other helicopters include the Bell 427 (7 seater), Airbus EC130T2 (7 seater), and the Airbus EC155 (12 seater, 530 mile range and capable of 200 mph)
The Heliport
Your helicopter tour of NYC will begin at Downtown Manhattan Heliport on Pier 6 in the East River in Manhattan, New York. In operation since December 1960, the heliport is spread across 2 acres at an elevation of 7 feet above the mean sea level. Also known as Wall Street Heliport, this helicopter landing platform at Pier 6 has served and hosted several presidential visits, business executives from the financial district of Manhattan, celebrities, private business & leisure charters and sightseeing tourist trips. The heliport is also regularly used by hospitals and the police.
Getting to the heliport shouldn't be an issue. It's in an easily accessible part of Manhattan and is open to its regular traffic of executives from Wall Street or vacationers in New York. Get Directions.
NYC Helicopter Tours Operational Hours
All helicopter tours of NYC fly between 9:00 AM - 6:30 PM from Monday - Saturday. New York City laws do not allow helicopter tours on Sundays, or the day when the President is visiting the city.
NYC Helicopter Flights Tips & FAQs
---
1. How does the weather affect my ride?
In cases of extreme fog, low clouds, poor visibility, lightning, extremely gusty winds, heavy rain, or snowstorms, flights may be canceled. In these instances, you can reschedule your flight for another time or receive a full refund. Keep in mind, the temperature outside has no effect on flight conditions.
2. Parking Hack
There is no parking at the heliport, but there is a parking garage at the intersection of South Street and Whitehall Street or at the South Street Seaport (Pier 17).
3. Flying with children
Children 0-1 can ride free of charge but will need to be seated on an adult's lap. Children 2 and above are full price and will be given their own seat.
4. Plan your tour for any day except Sunday
Keep in mind that almost all helicopter companies do not fly on Sundays.
Have you already been on a Helicopter Tour? How was it? Let us know your thoughts in the comments section!
Best New York Helicopter Tours