Nestled in the heart of New York's Finger Lakes region, this enchanting natural wonder has captivated visitors for generations with its awe-inspiring waterfalls, lush forests, and incredible gorge. Whether you're an avid hiker, a nature enthusiast, or simply seeking a tranquil escape from the bustling city, Watkins Glen State Park offers a sanctuary where you can immerse yourself in the wonders of the great outdoors. Stay on this page to learn everything you need to know about your visit to Watkins Glen State Park.
Know Before You Go
---
Handy information
| | |
| --- | --- |
| ⏰ Suggested Duration: | 2-4 hours |
| ☀️ Best Time to Visit: | Early Morning |
| 🏃‍♀️ Must-Do at Attraction: | Gorge Trail Trek |
Must-see at Watkins Glen State Park
The Gorge Trail
Rainbow Falls
The Suspension Bridge
Opening Hours and Address
24X7, Daily
Some trails & treks close during certain months in the year.
1009 N Franklin St Watkins Glen
New York - USA
Get Directions
Why is Watkins Glen State Park Worth Visiting?
---
Watkins Glen State Park is renowned for its breathtaking waterfalls that cascade through the gorge, creating a mesmerizing symphony of sights and sounds.
From the iconic 60-foot tall Cavern Cascade to the enchanting Rainbow Falls, each waterfall is a testament to the park's natural beauty and offers countless photo opportunities.
The park's Gorge Trail is a true feast for the senses. As you navigate the winding path carved by centuries of flowing water, you'll be surrounded by towering cliffs adorned with vibrant greenery and moss-covered rocks.
Marvel at the impressive Spiral Tunnel, a geological wonder that twists and turns through the earth, or explore the captivating caverns and crevices that add a sense of mystery and intrigue to the park.
Explore the park's extensive network of trails, ranging from leisurely strolls to challenging hikes, or try your hand at fishing in the pristine waters of Seneca Lake. Camping, picnicking, and birdwatching are also popular pastimes in this scenic paradise.
Watkins Glen State Park History
---
Watkins Glen State Park is a true gem in New York state and has been enchanting visitors for over 150 years. The park's origins can be traced back to the early 19th century, when the land was purchased by Captain Samuel Watkins. He recognized the potential of the picturesque gorge and its many waterfalls for tourism and began to develop the area by building paths and bridges. In the mid-1800s, the park was further improved by Morvalden Ells, who constructed the famous stone staircases that now draw visitors from all over the world. The park was officially established in 1863, making it one of the oldest parks in the United States, and it was expanded in the 1930s during the Works Progress Administration. Watkins Glen State Park has played an important role in the history of American conservation as well. The park's rugged beauty and numerous waterfalls inspired early environmentalist George Perkins Marsh to write his influential book, "Man and Nature," in which he called for preservation of natural resources for future generations.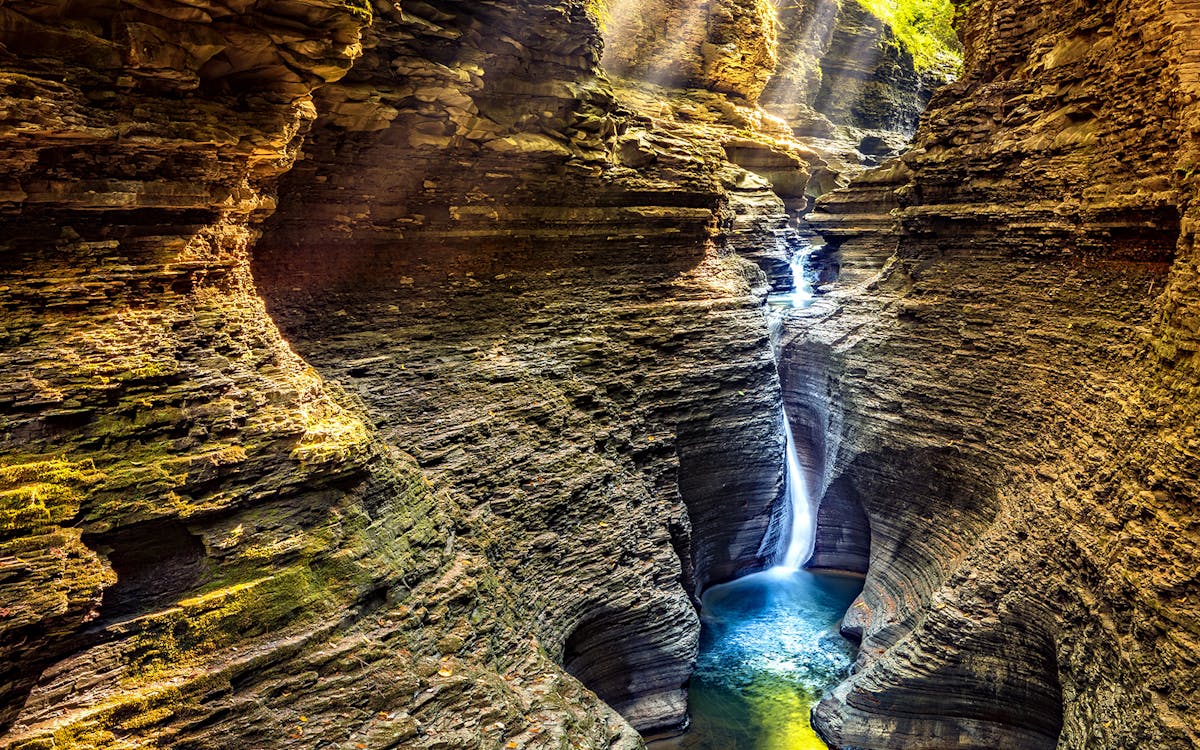 Watkins Glen State Park Architecture
---
The park's architecture is heavily influenced by the Art Deco movement that was popular in the 1920s and 1930s, with elements of Art Nouveau and Gothic Revival styles also present. The park's most iconic feature is the Rainbow Falls, a 60-foot waterfall that cascades over a series of steps and pools. The falls are framed by a stone arch bridge, which was designed by architect Eugene K. Bowman and completed in 1939. Bowman intended for the bridge to blend seamlessly with the surrounding natural landscape and used local stone materials to achieve this effect. Other notable features of the park's architecture include the gorge trail bridges, which were designed by Civilian Conservation Corps (CCC) workers in the 1930s and 1940s. These rustic-style bridges are made of stone and wood, and blend in seamlessly with the surrounding natural environment.
Highlights of Watkins Glen State Park
---
1

Gorge Trail

Gorge Trail at Watkins Glen State Park
The Gorge Trail at Watkins Glen State Park is a sensory delight, taking you on a captivating journey through lush greenery, towering cliffs, and sparkling water. With its winding path and stunning views of the gorge, walking along this trail is like stepping into a fairytale, filled with wonder and natural beauty. It's a moderate hike that takes around 1-2 hours and is definitely worth the effort.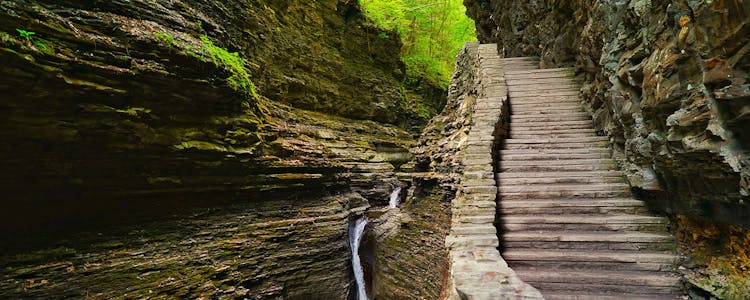 2

Suspension Bridge

Suspension Bridge at Watkins Glen State Park
One of the most photographed spots in the park, the Suspension Bridge, is a must-visit. The bridge stands tall above the falls and offers a breathtaking view of the landscape around.As you step onto the swaying bridge, suspended high above the gorge, you'll be treated to panoramic views of the surrounding natural beauty.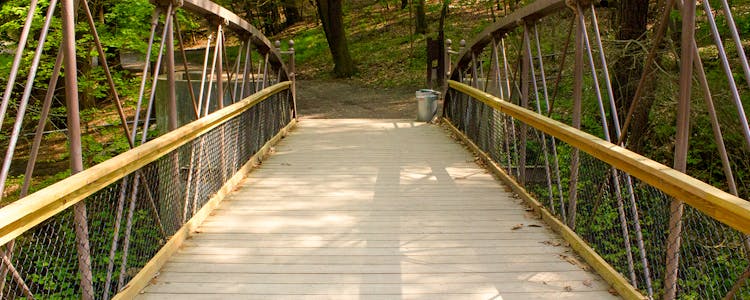 3

Finger Lakes Trail

Finger Lakes Trail at Watkins Glen State Park
For those who love trekking, the Finger Lakes Trail is a 562-mile long trail that passes through the park. The trail offers views of the unique natural scenery of the region and is a great way to explore the park. This long-distance trail showcases the beauty of the Finger Lakes region, meandering through picturesque forests, rolling hills, and charming communities.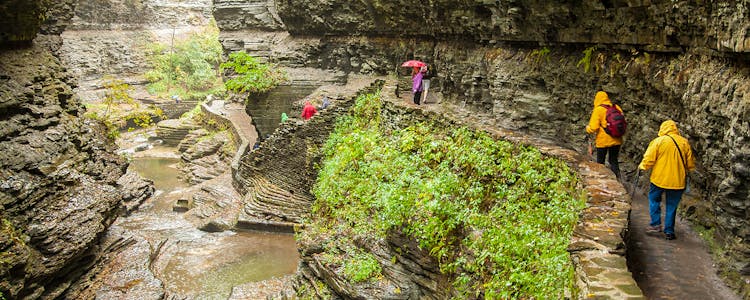 Best Time to Visit Watkins Glen State Park
---
If you're planning a visit to Watkins Glen State Park in New York, the best time to go is during the summer months of June through August. The weather is warm, the waterfalls are at their fullest, and there are plenty of outdoor activities to enjoy. To avoid crowds, try visiting early in the morning or on weekdays.
Watkins Glen State Park Opening Hours
---
The park is open daily from dawn to dusk, all year round.
The timings of the various trails vary throughout the year.
The park may be closed during severe weather conditions or maintenance. Please check the timings before booking your tickets.
Getting There
---
Bus
Several bus companies provide transportation to Watkins Glen. Greyhound and Trailways offer services to nearby cities such as Elmira and Corning. From there, you can either rent a car, take a taxi, or use a ride-sharing service to reach the park.
Train
While there is no direct train service to Watkins Glen, you can take an Amtrak train to the nearby city of Syracuse or Elmira/Corning. From there, you can rent a car or take a bus or taxi to reach the park.
Car
If you're traveling by car, Watkins Glen State Park is easily accessible via major roadways. From Interstate 86, take Exit 52B and follow State Route 14 North towards Watkins Glen. The park is located on State Route 14, just a short distance from the town center. Ample parking is available near the park entrance.
Insider Tips to Visit Watkins Glen State Park
---
Book your tickets in advance.
Don't miss the Gorge Trail. This is the true gem of the Watkins Glen hikes.
You can avoid the crowds and get a more intimate experience by visiting mid-week or during the fall when the colors are amazing and the crowds are smaller.
Don't forget to dress appropriately. You'll want to wear proper shoes with grippy tread at Watkins Glen State Park. The trails can get slippery, especially near the waterfalls.
Restaurants At Watkins Glen State Park
---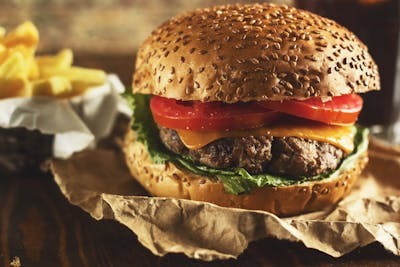 The Blue Heron Café
Located just a 5-minute walk from Watkins Glen State Park, The Blue Heron Café offers fresh and locally sourced American cuisine. Don't miss their mouth-watering burgers and craft beer selection.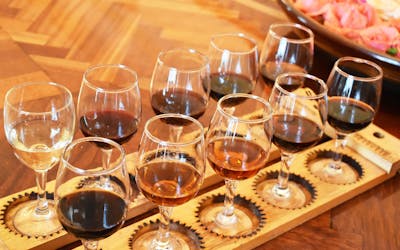 Graft Wine + Cider Bar
Only a 7-minute walk away, Graft Wine + Cider Bar is a great spot for wine enthusiasts. They serve a variety of wines and ciders from the surrounding Finger Lakes region. Check out their charcuterie board for a perfect pairing.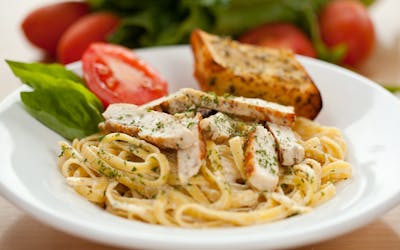 Jerlando's Ristorante & Pizza Co.
For an Italian dining experience, Jerlando's is a classic choice. It's just a 2-minute drive from Watkins Glen State Park and offers a variety of pizzas, pastas and seafood dishes. Their chicken Alfredo is a must-try!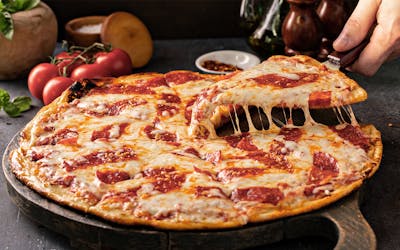 The Crooked Rooster Brewery
A 6-minute drive from the park, The Crooked Rooster Brewery is a unique brewpub alternative. You can enjoy some amazing craft beers while munching on their delicious flatbread pizzas. Try their signature Rooster Rocket Pizza for a spicy kick.
Seneca Harbor Station
Located in a historic building in downtown Watkins Glen, Seneca Harbor Station is a 10-minute drive from the park. Enjoy their fresh seafood, steak and wine as you relax on their waterfront patio. Their lobster mac and cheese is a standout dish.
Places to Stay Near Watkins Glen State Park
---
Things to Do Near Watkins Glen State Park
---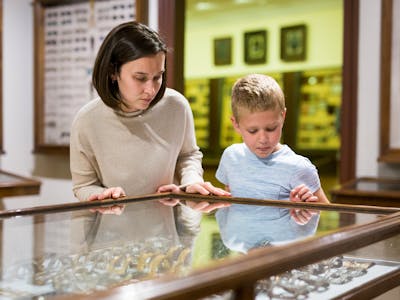 Corning Museum of Glass
Located 20 miles from Watkins Glen State Park, Corning Museum of Glass showcases over 3,500 years of glassmaking history. You can witness live glassblowing demonstrations and try crafting your own glass souvenir.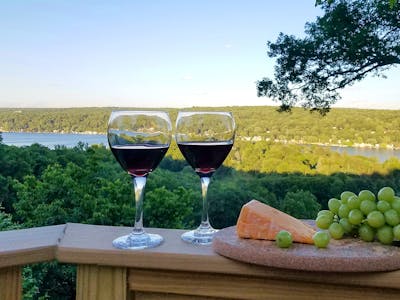 Finger Lakes Wine Trails
Explore the vineyards surrounding Watkins Glen in the Finger Lakes Wine Trails, which are 10 miles from the state park. With over 100 wineries and breweries, indulge in wine tastings and picturesque scenery.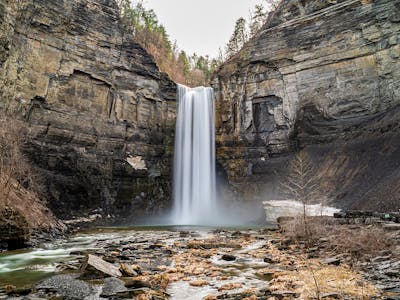 Taughannock Falls State Park
45 minutes away from Watkins Glen State Park, Taughannock Falls State Park boasts a 215-foot cascading waterfall, scenic trails, and ample picnic areas. It's great for a relaxing outdoor day trip.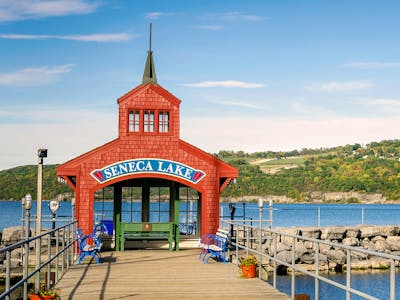 Seneca Lake
The largest and deepest of the Finger Lakes, Seneca Lake is just 5 miles from Watkins Glen State Park. Enjoy boating, fishing, and swimming in the clear waters of the lake, and take in the stunning views.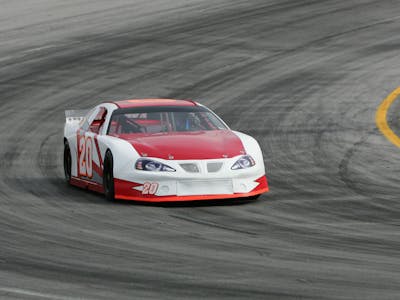 Watkins Glen International
For the adrenaline junkies, Watkins Glen International race track is 7 miles from the state park. Catch a NASCAR race or even drive a race car yourself on the famous track.
FAQs
---
No, swimming is not permitted within the park's waterfalls or gorge. However, you can enjoy wading in designated swimming areas of nearby Seneca Lake.
We recommend you to spend at least 2-4 hours at the Watkins Glen State Park.
Yes, pets are allowed in the park. However, they must be on a leash no longer than six feet at all times, and pet owners are responsible for cleaning up after their pets.
Yes, there are sections of the park's Gorge Trail that are accessible for wheelchairs and strollers. These sections provide a chance to experience the beauty of the gorge for all visitors.
Yes, there are designated picnic areas within Watkins Glen State Park where you can enjoy a picnic surrounded by nature. These areas provide tables, grills, and scenic views.
Yes, the Finger Lakes region offers numerous attractions such as wineries, breweries, museums, and scenic towns to explore. Seneca Lake Wine Trail and Watkins Glen International race track are popular nearby destinations.
Photography is allowed for personal use within the park. However, commercial photography or filming requires prior permission and may have specific guidelines and permits associated with it.
Watkins Glen State Park Guide