The Big Apple combines big-city grandeur with small-town elegance. It is hip, sophisticated, bustling, and continually evolving. Even if the city's soaring buildings and landmarks do not captivate you, the city's thriving arts, culinary, fashion, and nightlife scenes will.

You will find a vibrant culture pervading each of Gotham's different districts and boroughs among the city's iconic landmarks and towering skyscrapers. Visit indie boutiques, legendary bakeries, and chic coffee shops to the East Village and Brooklyn, where trendsetters frequent. While it's impossible to whittle down the list of things to do in New York City, we have been able to create an index of activities and experiences that must make it to your New York bucket list.
59 Bucket list Experiences in New York
---
#1 Roam around Times Square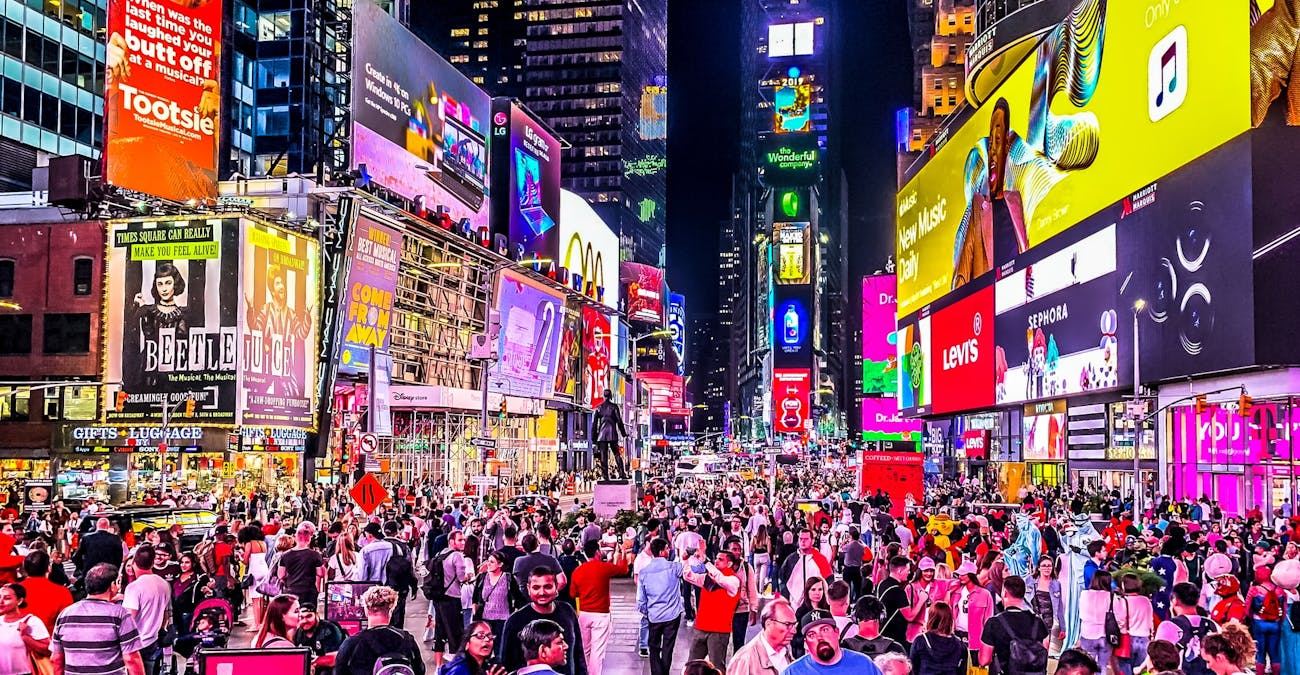 This exciting and colorful stretch of midtown Manhattan jumps to the fore of one's mind when considering a trip to New York. The area is best visited after dark to observe the marquee displays, according to most visitors. Many people say that going to Times Square before or after a Broadway musical is the best time to do it.
#2 Say hello to Lady Liberty
This dazzling New York City landmark attracts people all year. The most popular method of encountering Lady Liberty entails waiting at least 90 minutes for a ferry to transport you from Battery Park to the Liberty Island monument, then stopping at Ellis Island before returning to the mainland. The Statue of Liberty is one of the most iconic landmarks in NYC and no bucket list is complete without checking this off your list.
#3 Go for a Broadway Show
While at Times Square, your eyes are sure to be ensnared by the Broadway show adverts. Watching a Broadway show is a quintessential New York City experience that you can avail of at a discount if you can secure a ticket from a TKTS booth at Times Square.
#4 Catch stellar aerial views of the city from the Empire State Building/Top of The Rock/One World Observatory
Aerial views of New York City are unbeatable and there is more than one observation deck that you can head to for that. The 102nd-floor observation deck of the Empire State Building as well as the Top of the Rock Observation Deck are great options to catch an unobstructed view of the Big Apple. You can also head to the One World Observatory catch a birds-eye view of New York City.
#5 Take a cruise on Staten Island Ferry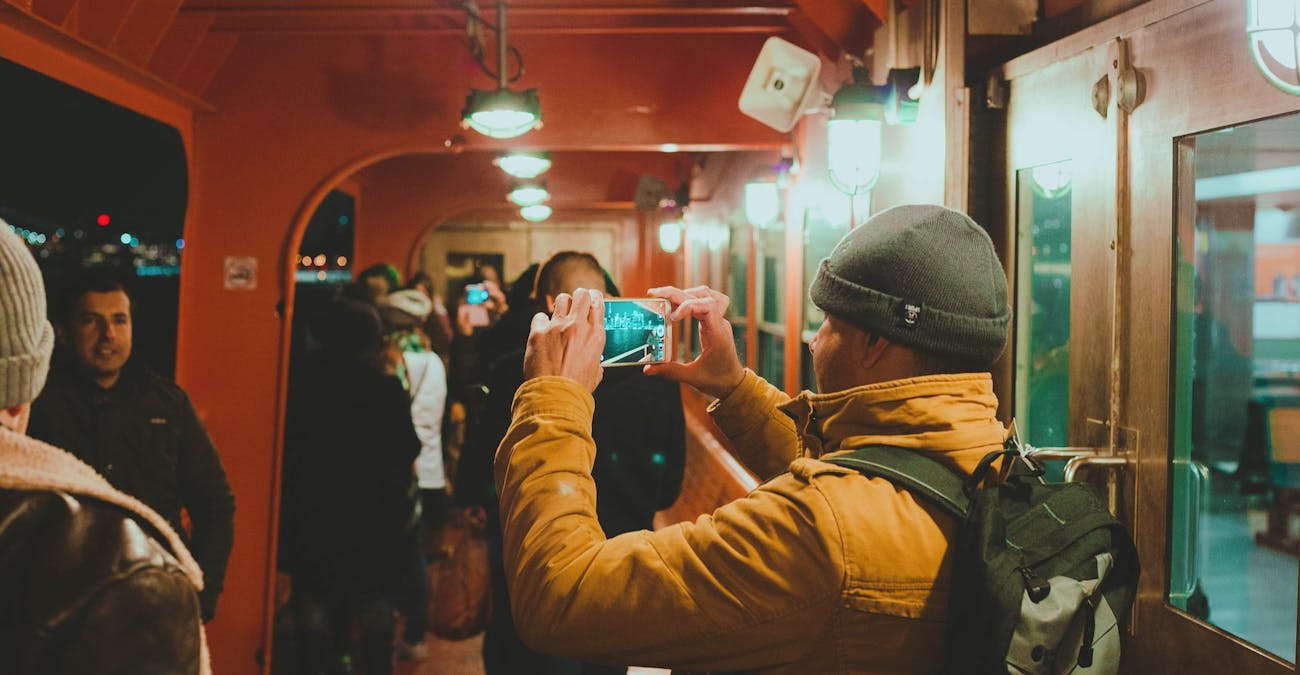 Take the Staten Island Ferry to see the Statue of Liberty and the Brooklyn Bridge for free. Avoid peak rush hour to avoid disturbing the throngs of residents who rely on the ferry as their primary mode of transit. This route operates between Whitehall Ferry Terminal and St. George Ferry Terminal.
#6 Walk the length and breadth of Central Park
Travelers advise against simply passing through Central Park on your route somewhere else. This 843-acre green park is a favorite of locals and visitors alike; you can work out, eat, visit the zoo, and more here. There are 20 playgrounds, 48 fountains, monuments or sculptures, and 36 bridges to view here, making it practically impossible to see everything.
#7 Enjoy an outdoor cinema at Byrant Park
Bryant Park, just south of Times Square, contains some of Manhattan's most stunning 4 acres, where you may enjoy a summer evening of outdoor theater. This is also where midtown Manhattan professionals meet to eat lunch, where fashionistas parade during fashion week, and where entertainers show off their skills during Broadway in Bryant Park and Piano in the Park.
#8 Watch the sunset from The Vessel
Climb the spiral stairs at Hudson Yards' Vessel, a brand-new open-air honeycomb-shaped structure that is a true architectural masterpiece. The 154 staircases that take you to the top of this 16-story high structure take about 15 minutes to climb and afford a stunning view of the sunset. You may also try to visit the place during the early hours of the day for spectacular views and minimal crowds.
#9 Live life on the edge at The Edge Observation Deck
At The Edge, you will find the highest external Skydeck in the Western Hemisphere, offering 360-degree views of New York City. The newest viewing platform in New York City is perched in mid-air, with an exciting glass floor and angled glass walls. This experience will let you see 100-stories below you as well as the Brooklyn and Queens beyond the East River.
#10 Snap an IG worthy shot of the Flatiron Building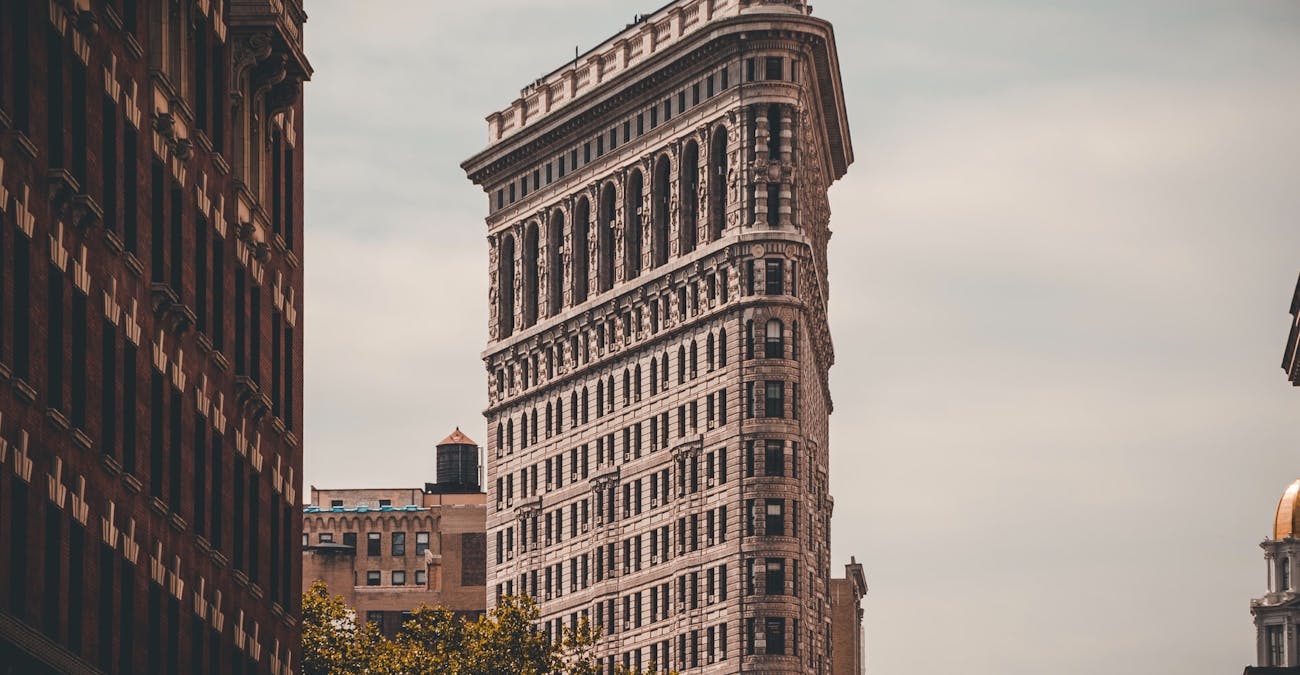 Photograph the iconic triangular Flatiron Building in New York City. The money shot should be taken from the Flatiron Public Plaza, a tiny pedestrian area straight north of the structure. This NYC icon is 22 stories of office space and is known for appearing in countless movies and television productions.
#11 Devour a pastrami sandwich from Katz Deli
Most New Yorkers associate deli with pastrami, and pastrami with Katz's. Katz's uniqueness is founded on more than just the meat. It is based on the restaurant's insistence on hand-slicing and the close bond between customer and cutter that it fosters. Katz's Deli straddles the line between being a tourist hotspot and a cherished neighborhood hangout.
#12 Get lost inside the American Museum of Natural History
This New York City classic is a great place to learn about science. At the American Museum of Natural History, do not miss the gigantic t-rex and other dinosaurs, the planetarium, and the butterfly room. Sign up for a night at the museum if you have the resources. You will not be able to view everything in one day because there are roughly 32 million items dispersed across four city blocks and 25 buildings.
#13 Travel the world at the MET
The Metropolitan Museum of Art is the most famous museum in the United States. The Metropolitan Museum of Art, brimming with masterpieces from around the world, including notable collections from Ancient Egypt and classical antiquity, is an art experience unlike any other, and, like much else in New York, it is impossible to see everything the museum has to offer in a single day.
#14 Get dazzled by the Oculus
Admire the distinctive design of The Oculus, a light-filled transportation hub, and go window shopping (or people-watching) inside this spectacular edifice. The Oculus was designed by Santiago Calatrava, a Spanish architect. The structure is one of many in the city's proposal to replace the World Trade Center following September 11.
#15 Go shopping on Fifth Avenue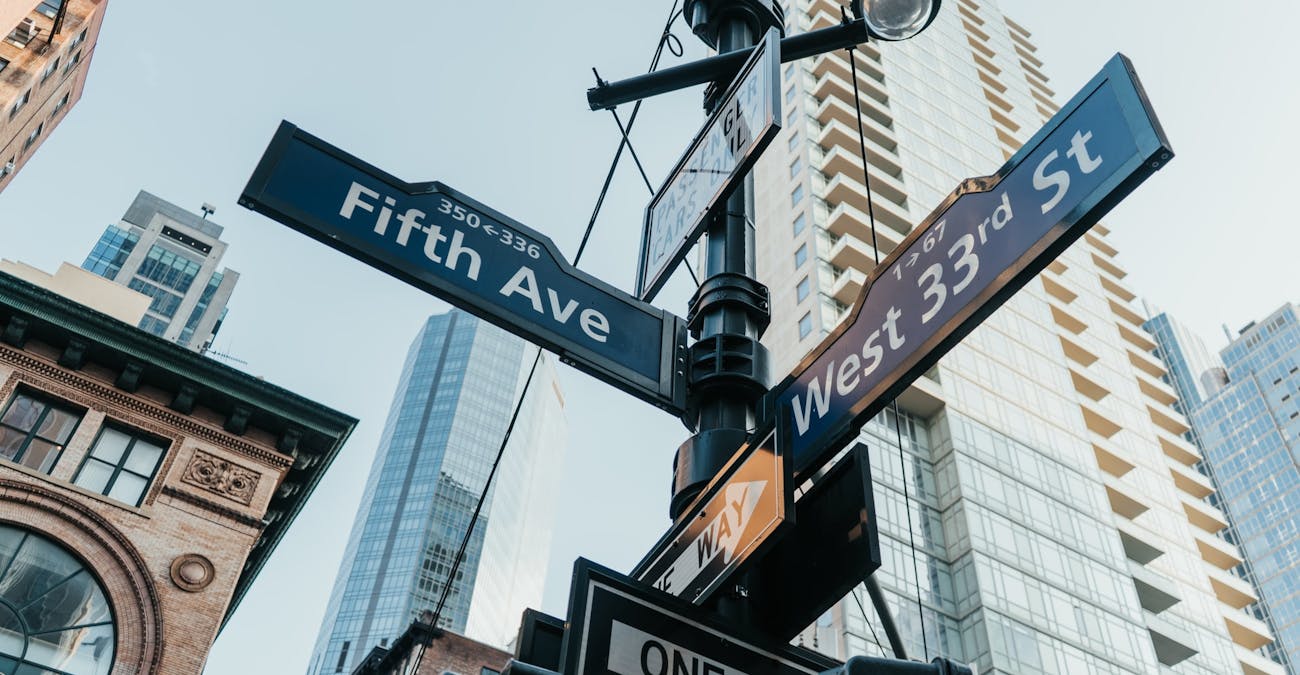 Shopping is a religious experience for many individuals, and the holy grail can be found between 34th and 59th streets. Even if you do not intend to spend your money at high-end stores, travelers recommend taking a trip down Fifth Avenue. Though some argue that Fifth Avenue's boutiques are too pricey to go all-out, the ritzier storefronts coexist with more budget-friendly stores such as Gap, the Disney Store, and Sephora.
#16 Spend a somber afternoon at the 9/11 Memorial & Museum
The 9/11 Memorial honors the victims of the tragedy that was the terrorist attack on September 11, 2001, and pays respect to the survivors of the events. One World Trade is a must-see attraction for any visitor to New York City. Not to be missed are the victim memorial chamber and missing person posters, as well as all of the videos.
#17 Marvel at the Manhattanhenge
Witness Manhattanhenge, the only time of year when the sunset and sunrise are exactly lined between the east-west streets' skyscrapers. If you happen to be in New York City in May or July, you might be able to glimpse it after 8 PM. The best places to watch the Manhattanhenge are 14th, 34th, 42nd, 57th, and 79th street.
#18 Learn the life of NYC immigrants at Tenement Immigrants
The Tenement Museum, a preserved 1863 tenement structure featuring immigrant experiences, is a great place to learn about NYC's past. As a melting pot of various cultures for centuries, New York City's view from an immigrant perspective is crucial to human history and the Tenement Museum provides a crystal clear view of it.
#19 Kayak on Hudson
Kayaking on the Hudson river seems barely possible given its commercial importance. However, during select weekends and weekdays from May to October, you can grab a free kayak and kayaking gear and set out on this voyage. You will also receive some kayaking tips if you need them.
#20 Visit the iconic Guggenheim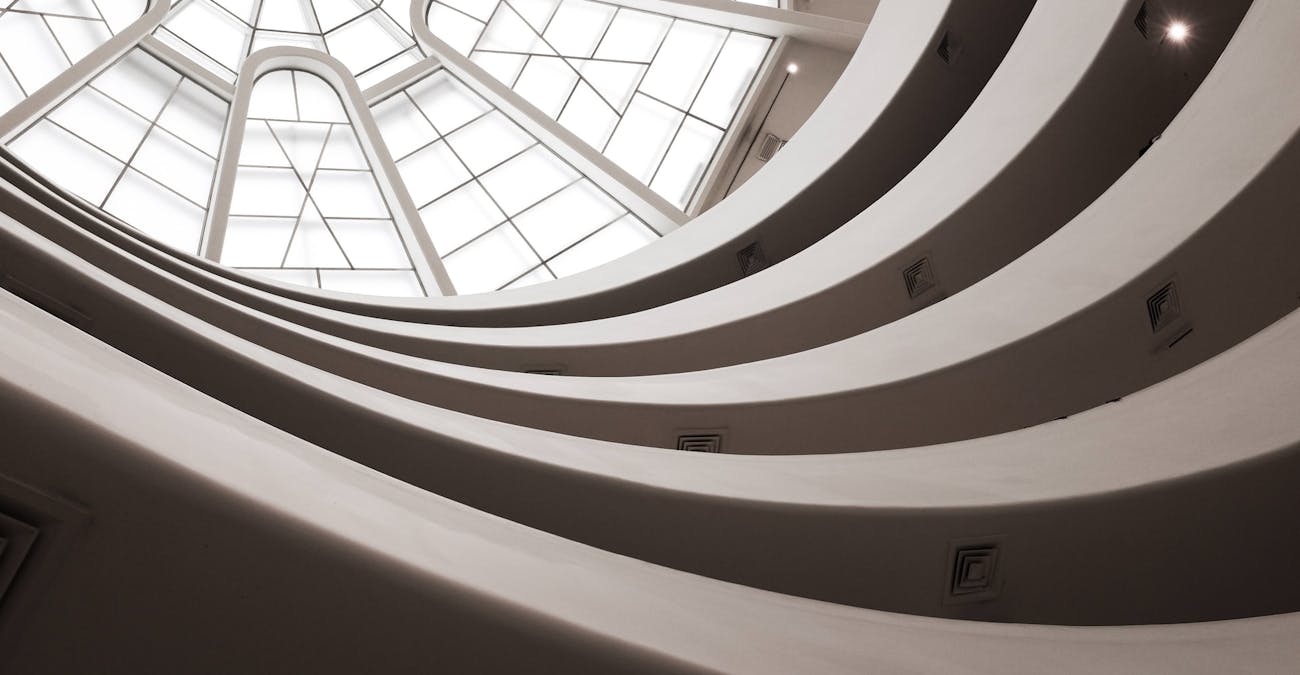 The Solomon R. Guggenheim Museum, or simply "The Guggenheim," is one of the country's most well-known art museums, and it is as widely known for its cutting-edge design as it is for its works. The halls within are lined with some of Norman Rockwell's, Pablo Picasso's, and Wassily Kandinsky's best work. This museum "never fails to impress." according to visitors.
#21 Meander through Washington Park
In Washington Square Park, smell the flowers, snap a photo with the arch, and just sit and people watch. This small but charming park has appeared in numerous films including When Harry Met Sally and Avengers: Infinity War. Depending on when you visit New York City, you may also be able to relish the Washington Square Music Festival and Movie Night Under the Arch.
#22 Test the 'Whispering Gallery' at the Grand Central Terminal
If you place your ear against the tile work in the vaulted junction of pathways on the lower level of Grand Central Terminal, you will discover a hidden gem: a corner-to-corner whispering gallery. The gallery's remarkably beautiful arches are responsible for this extraordinary sonic quirk. The gallery's unusual tile work is known as "Gustavino" tiles, named after Spanish tile craftsman Rafael Guastavino's patented substance and methods.
#23 See world-class modern art at MoMA
You do not have to be a fan of art to enjoy the Museum of Modern Art; this light-filled midtown institution also serves as a shrine to pop culture and twentieth-century history. The museum reopened in October 2019 after finishing an expansion project that added over 40,000 square feet of gallery space and a performance studio with live programming.
#24 Have some cookies from the Levain Bakery
Easily one of the best bakeries in New York City (and that is saying a lot), Levain Bakery must make it to your bucket list. Locals and tourists alike claim their cookies to be the best in the world. Expect a queue at the door and have plenty of time on your hands when you head to any of their outlets.
#25 Spend some quality time at the New York Public Library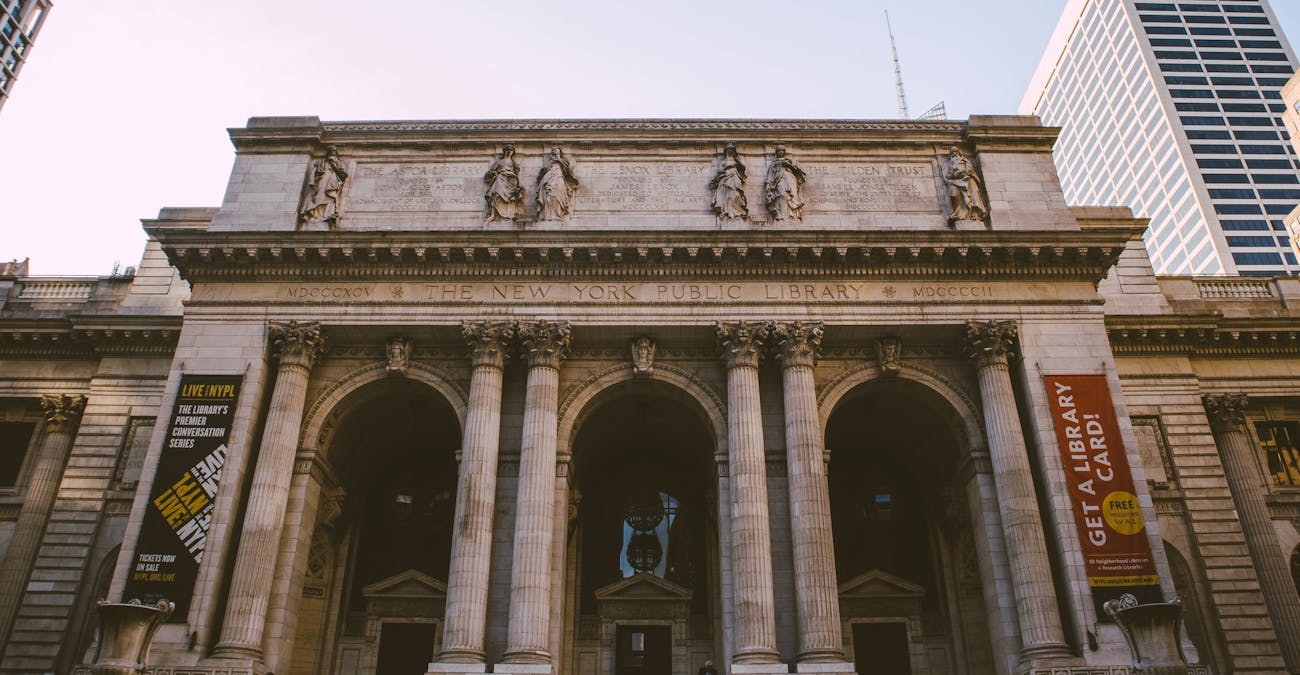 If you are a die-hard bookworm, the New York Public Library offers one of the most stunning bibliophilic experiences in the world. The New York Public Library is the country's second-largest public library, trailing only the Library of Congress. The library's book collection is vast, with 53 million titles to choose from, so you are sure to find something to love spending some downtime reading.
#26 Get frisky at the Museum of Sex
New York City's culture permits the unabashed existence of the Museum of Sex, and a visit to this place should make it into every adult's bucket list. The Museum of Sex has erotic galleries, souvenir shops where you can purchase risque memorabilia, VR strip clubs, and sex-themed playrooms.
#27 Visit the Floating Island
On May 21, 2021, Little Island, a new, free public park pier within the larger Hudson River Park, opened to the public, offering New Yorkers and visitors from all over the world a unique green place unlike any other in the city. Little Island was planned in collaboration with the Hudson River Park Trust and was principally sponsored by a philanthropic grant from Barry Diller and the Diller-Von Furstenberg Family Foundation to the Hudson River Park.
#28 Catch the Dyker Heights Christmas Display
If you want to witness fairytale Christmas, New York City has the perfect place for you in form of Dyker Heights in Brooklyn. Most of the homeowners in this neighborhood start decorating their houses right after Thanksgiving. The best time to see the Christmas Displays at Dyker Heights is between mid-December and New Year's Eve. If you're visiting the city around this time, watching the Christmas display at Dyker Heights should top your New York Bucket list.
#29 Go graffiti hunting in Brooklyn
Admire the Bushwick Collective's street art, which consists of a few blocks of murals and other vibrant graffiti art. Brooklyn has a few other streets that add to the richness of this form of art, including North Third Street, Wythe Avenue, Bedford Avenue, Roebling Street, and Metropolitan Avenue.
#30 Go neighborhood hopping - Koreatown, Chinatown, Little Italy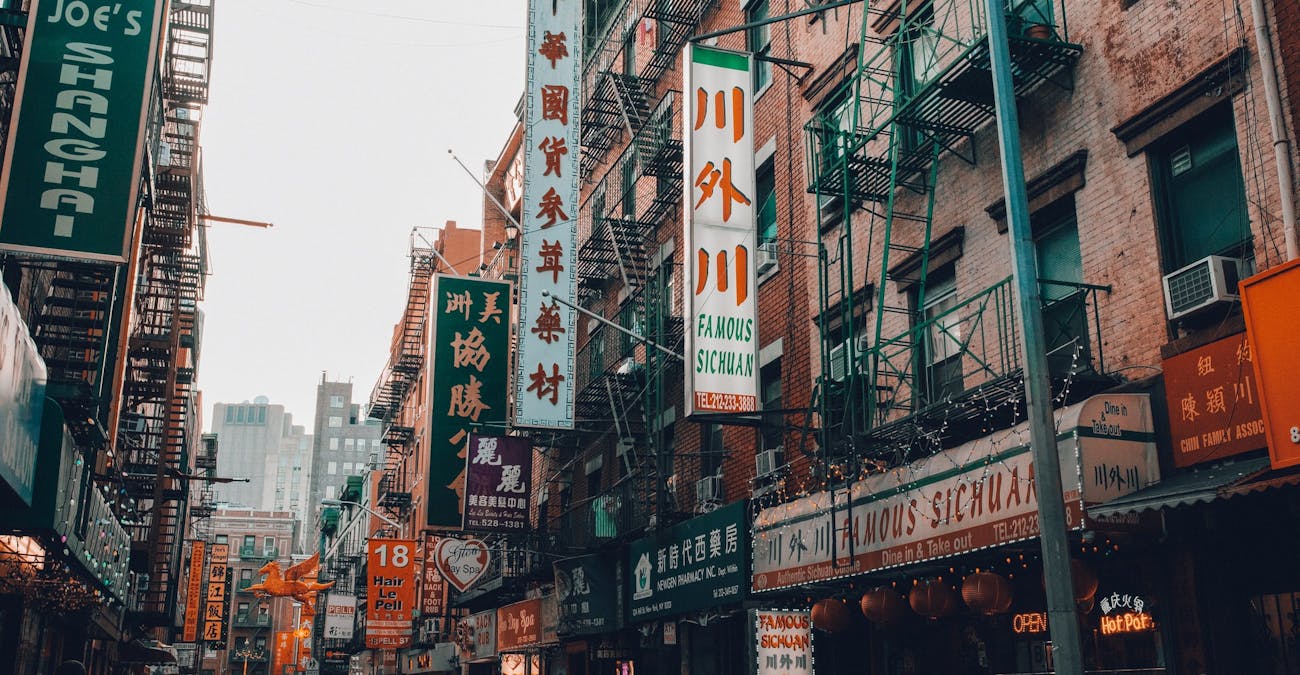 Take advantage of the cultural diversity of New York City by exploring the various neighborhoods like Koreatown, Chinatown, and Little Italy. All of these neighborhoods are known for their culinary and shopping experiences. The best food in these neighborhoods can be found in hole-in-the-wall establishments.
#31 Walk the Brooklyn bridge day and night
The Brooklyn Bridge, which spans the East River, is regarded as one of the city's most stunning architectural marvels. The trek from one side to the other takes around 30 minutes, and admission is free. The bridge is a stop on several of NYC's best walking tours. You can take this walk during the day as well as the night to witness the full glory of this architectural marvel.
#32 Enjoy a slice of New York-Style Dollar Pizza
There are a few places in Manhattan that sell pizza slices for 99 cents or $1, but 2 Bros Pizza, a big franchise with sites all over the city, has to be the local favorite. 99 Cents Fresh Pizza, Percy's Pizza, and Champion Pizza are other noteworthy dollar pizza joints, albeit their prices rise after 10 PM.
#33 Take the Tramway to Roosevelt Island
A trip to Roosevelt Island must be on your list for the scenic beauty of the destination as well as the journey. The Octagon apartment complex, the North Point Lighthouse, the ancient smallpox hospital, and the Roosevelt Island Cat Sanctuary are all fantastic places to visit. Take a ride on the Roosevelt Island Aerial Tram for some amazing sights and a once-in-a-lifetime experience.
#34 Love animals? Visit the Bronx Zoo
According to visitors, this 265-acre sanctuary, which houses over 4,000 animals, should be towards the top of every young family's New York schedule. The Bronx Zoo's "total experience" tickets allow visitors to see the gorilla forest, children's zoo, butterfly garden, JungleWorld, bug carousel, 4-D Theater, and monorail.
#35 Go Shopping at The Strand Bookstore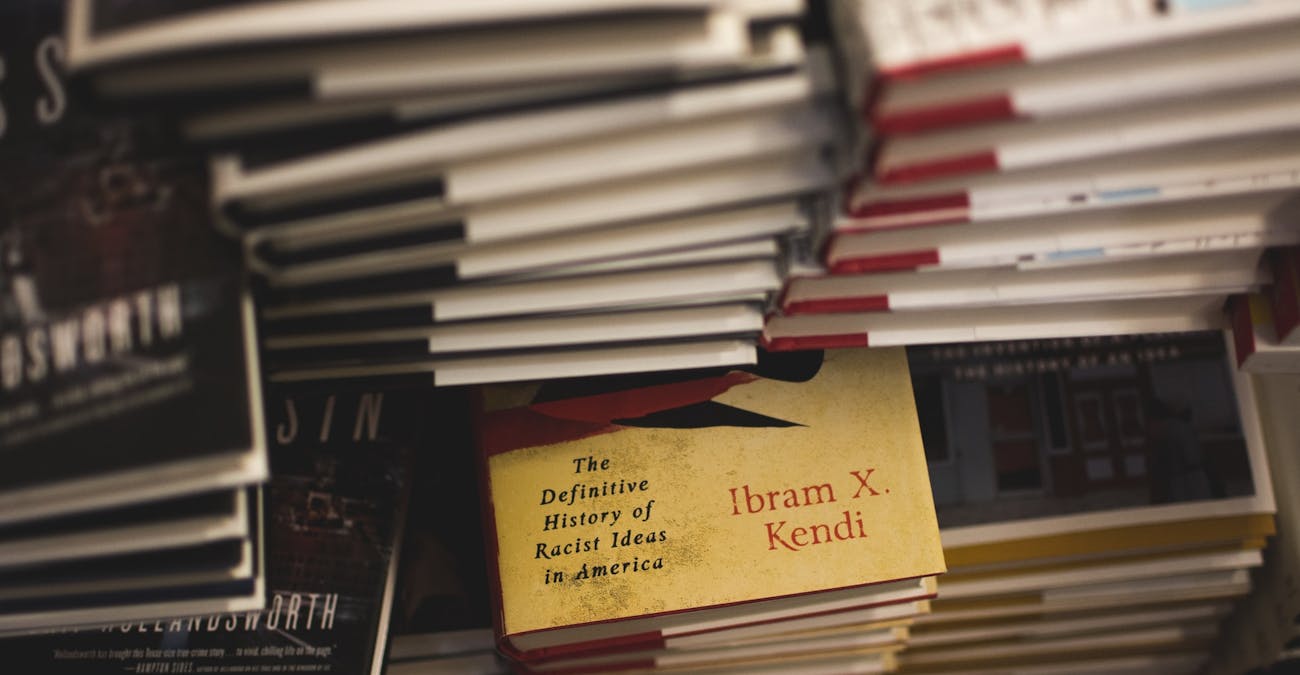 The Strand was founded in 1927 on Fourth Avenue, in the heart of what was once known as "Book Row." There were 48 bookstores on Book Row, which spanned six city blocks. The Strand now has over 2.5 million used, new, and rare books in its collection, with topics spanning from the occult to philosophy to business. From Moleskines to coffee mugs, and everything in between, the store offers a constantly changing selection of literary gifts and merchandise.
#36 Discover hidden treasures at the Frick Collection
This extensive art collection, housed in an 18th-century New York townhouse that previously belonged to steel magnate Henry Clay Frick, spans the Renaissance through the end of the nineteenth century. There are numerous permanent galleries in the collection, as well as the Portico Gallery, which exhibits sculpture, pottery, and decorative arts.
#37 Explore the ethnic and cultural diversity of Brooklyn at DeKalb Market Hall
Dekalb Market Hall, Brooklyn's largest food hall, is strengthening the borough's status as a hotspot for inventive culinary dining. The broad lineup at Dekalb Market Hall is painstakingly picked with an emphasis on New York City's ethnic diversity and the objective of supporting local businesses and budding culinary talent.
#38 Spend a day at Coney Island
This famous amusement spot in Brooklyn, known as "the People's Playground," has a fascinating history. During the week and on weekends, most amusement park rides and attractions are open from 12 p.m. to 8 p.m., while some attractions have alternative hours. Individual ride tickets or a day pass to the amusement park for unlimited rides are available.
#39 Catch an NFL game at the New York Giants Stadium
One of the most New York City-like experiences that you could have when you are in the city is to watch an NFL game at the MetLife Stadium, which is home to the New York Giants. Watching a game is a celebrated part of New York City life. Try to get on with the atmosphere and chant along with the fans.
#40 Take a Yankee Stadium tour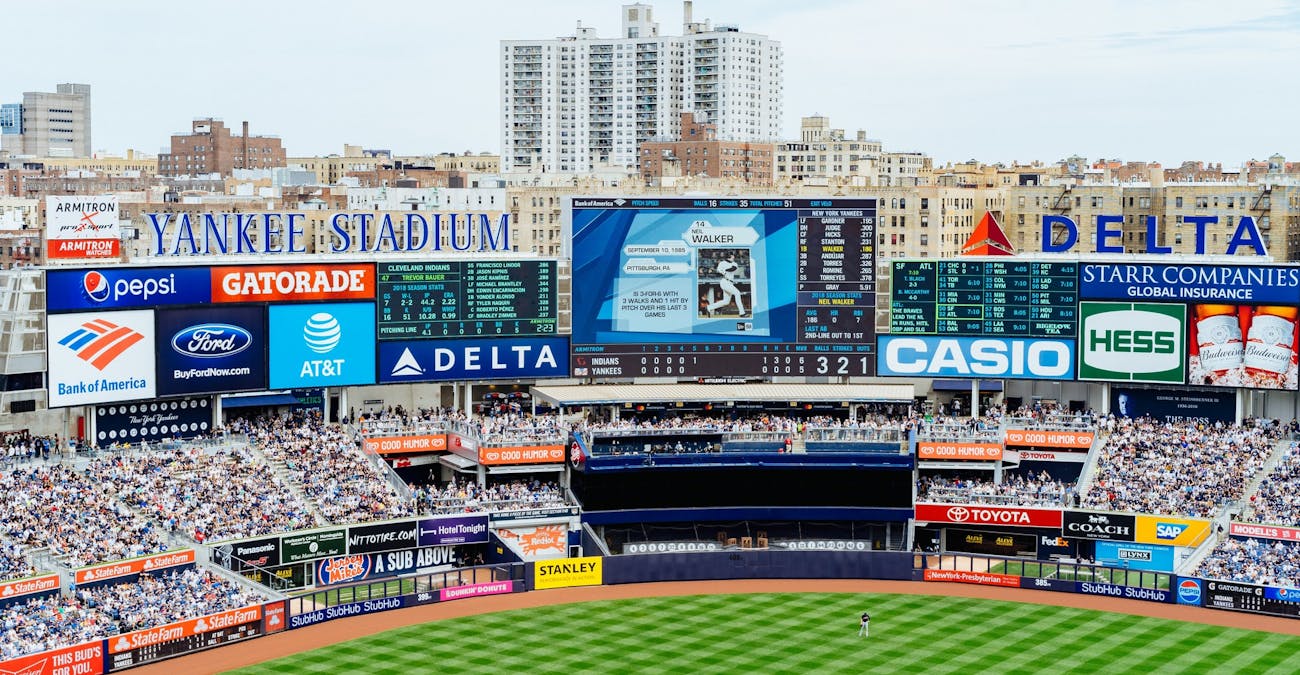 The Yankee Stadium tour lets you get a taste of this historical and cultural landmark. During an off-season tour, you get to visit the press box, the dugouts, the warning track, and the Legends Suite. Kids aged 4 years and under are allowed to enter the stadium for free.
#41 Go ice skating at the rink at Rockefeller Centre
At Rockefeller Center, go ice skating and soak up the festive mood; there is a gigantic Christmas tree, Christmas angels, and a giant ornament stack, and it is a must-do on every New York City bucket list. If you go to the rink during the holiday season, expect large crowds as it is a popular activity.
#42 Watch life go by at Battery Park (also epic views of Statue of Liberty)
The famous Battery Park is located on Manhattan's extreme southern edge. It is right next to the World Trade Center and the Financial District. The park wraps around the island's tip, with a pleasant riverfront promenade that you may walk all the way around. You can watch a beautiful sunset beyond the Statue of Liberty from the vantage point of Battery Park.
#43 Have a magical time at Aire Ancient Baths
AIRE areas are temples dedicated to physical and mental rest, where time does not exist. Baths from ancient Roman, Greek, and Ottoman civilizations inspired this design and you would really relish the experience here at the end of a busy trip. Aire facility is a piece of history as well since the building dates back to 1883.
#44 Catch a glimpse of the The 'Friends' apartment
The FRIENDS experience in New York City is a recommended bucket list item for millions of fans worldwide. This experience includes a visit to the apartment shared by the characters, the coffee shop frequently featured, and several other props from the show like the foosball table and Ross's couch.
#45 Eat your way through Smorgasburg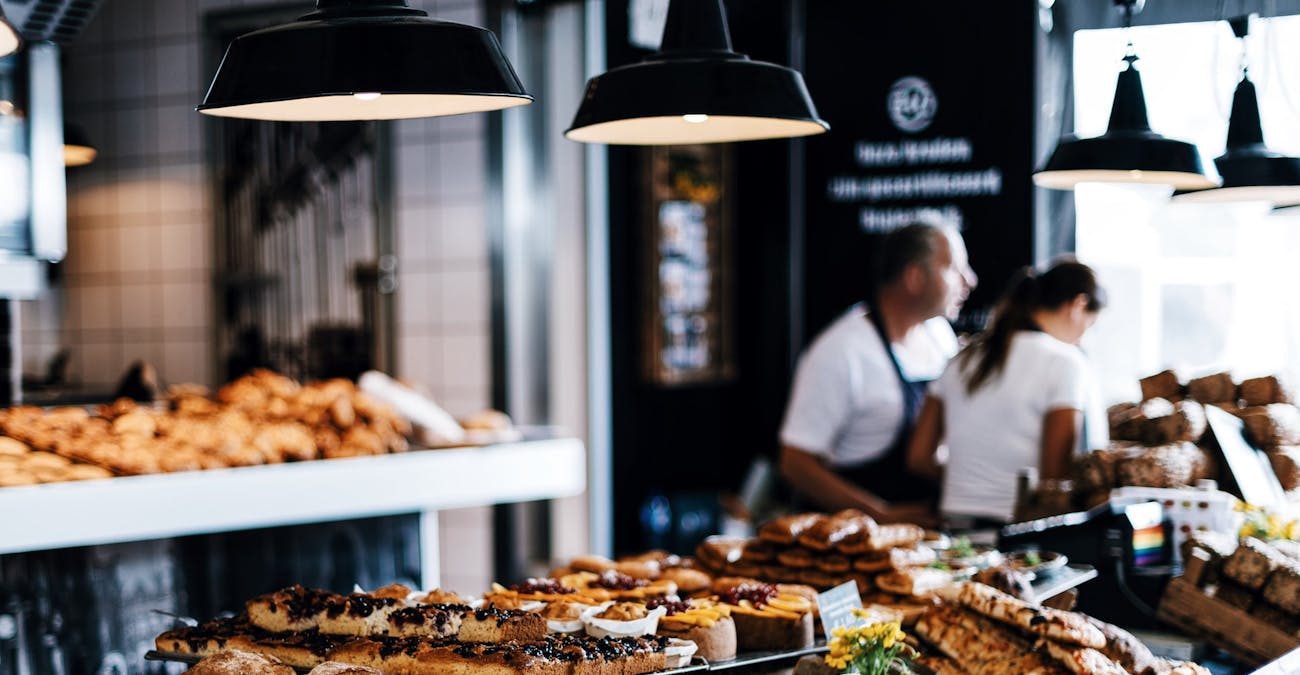 From April through October, eat all the food-truck street cuisine at Smorgasburg, an annual food flea market taking place at World Trade Center, Williamsburg, and Prospect Park. Flan coffee jelly, German dumpling sandwiches, geometric kombucha pops, and pizza cupcakes are just a handful of the franken-foods to try. The fest generally attracts over 100 vendors from around the country.
#46 Enjoy a serene afternoon at Conservatory Water
The Conservatory Garden, a delightful respite from the rush and activity, with charming gardens and a calm ambiance. The Conservatory Garden is a formal garden in Upper Manhattan at the northeastern border of Central Park. It is Central Park's only formal garden, covering 6 acres. The garden is frequented by locals and tourists alike.
#47 Have a cronut at Dominique Ansel Bakery
Wait in line and get a Dominique Ansel Bakery cronut, a curious donut-croissant combination. Such is the demand for these little delicacies that you can only purchase a couple of them at once at their outlet. If you order ahead of time online, you can get six cronuts instead of two when purchasing in person. If you consider yourself a foodie, make sure to add this to your New York bucket list without fail!
#48 Read Under the Stars at Albertine Bookstore
Albertine Bookstore in New York City is the largest repository of French-language books in the United States, including the ones translated from English. The bookstore features a unique ceiling design that creates an illusion of reading under the stars. Externally, the Albertine Bookstore building exhibits touches of Italian masterclass in its architecture.
#50 Visit the American Folk Art Museum
The American Folk Art Museum caters to a niche audience who want to uncover the alternative art and culture scenes of this city. Over 8,000 pieces from the 18th century to the present are included in the museum's collection. The museum showcases the creative expressions of individuals who acquired their abilities without traditional artistic training through continuing exhibitions, educational programs, and outreach.
#50 Enjoy some Live Jazz Music at a Harlem Night Club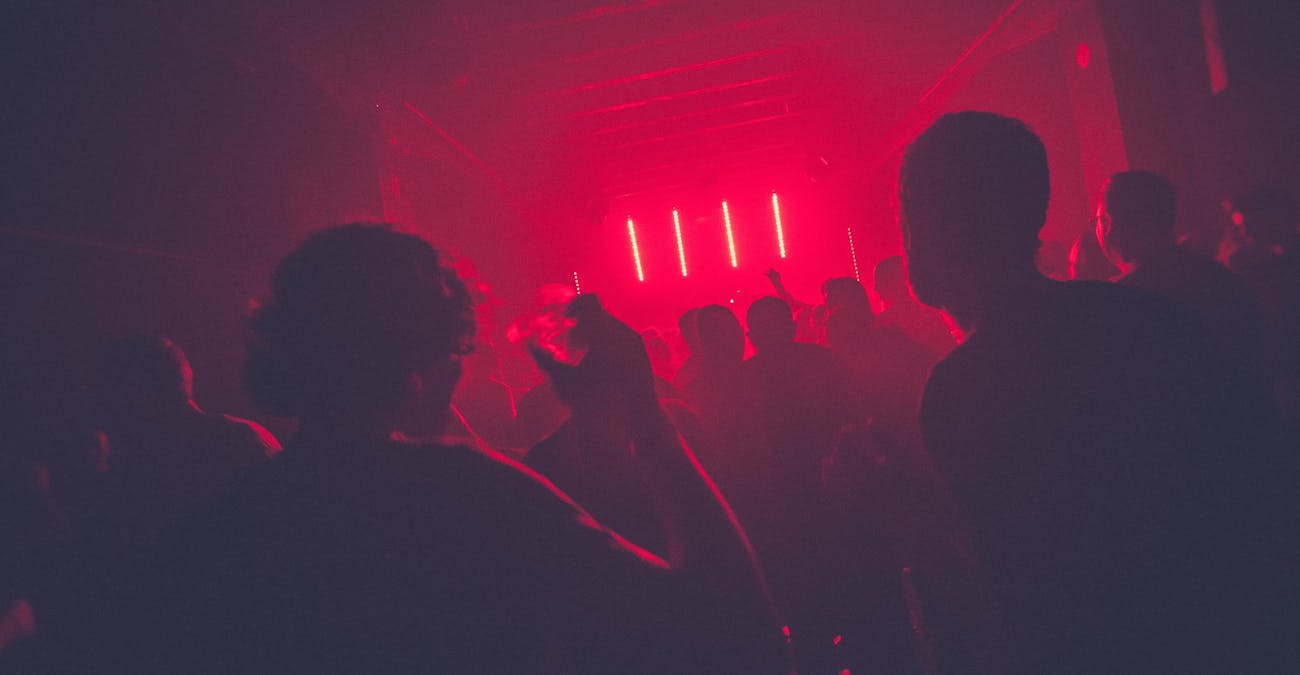 New York City is unquestionably the world's Jazz capital, and Harlem is its epicenter. This section of the Big Apple generated many of the dynamic collections of outstanding artists who were essential in nurturing the roots of this great American activity. You must head to one of the legendary jazz clubs like Birdland or Blue Note Jazz Club to experience a lively night of Jazz music.
#51 Look at copies of the Gutenberg Bible at the Morgan Public Library
The Morgan Library & Museum, a gallery, and autonomous academic library in New York City began as the personal library of businessman, connoisseur, and cultural philanthropist Pierpont Morgan. Currently, the most significant and famous resident of the library is the legendary Gutenberg Bible, one that you must take a look at if you find the time.
#52 Check out the gorgeous Rose stained glass window at the St. Patrick's Cathedral
You can not help but be amazed at St. Patrick's Cathedral, whether you are religious or merely on an architectural pilgrimage. The magnificence of the modest medieval church, notably the stained glass windows, is adored by visitors. It helps that the church does not take too much time to visit either.
#53 Take a photo with the Charging Bull and the Fearless Girl Statue
Kristen Visbal's bronze sculpture Fearless Girl was commissioned by State Street Global Advisors. It faced Charging Bull, a much bigger and heavier bronze monument that stands 11 feet tall and weighs 7,100 pounds when it was first installed. Fearless Girl is intended to "send a message" about gender diversity in the workplace and inspire corporations to appoint women to their corporate boards. The entire ensemble makes a great place for clicking photographs.
#54 Celebrate International Pillow Fight Day at Union Square
On International Pillow Fight Day in New York, participants transform Washington Square Park into the city's largest bedroom. All you have to do is follow the rules and you can engage in a friendly tussle with strangers. Stop by Mattress Firm's NoHo branch and pick up a pillow in exchange for a $5 pledge to the Mattress Firm Foster Kids program if you choose to leave your pillow at home.
#55 Attend the Tribeca Film Festival in April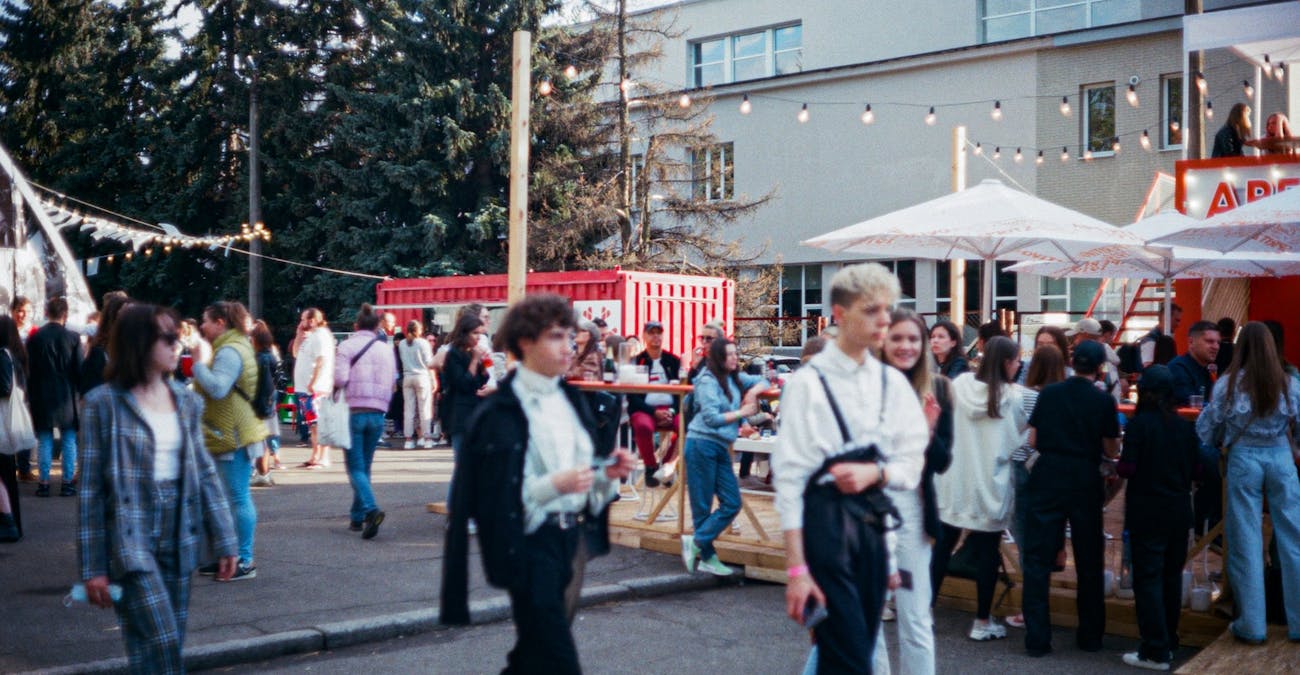 Tribeca Productions hosts an annual film festival called the Tribeca Film Festival. It takes place in New York City every spring and features a wide range of cinema, drama, lectures, music, activities, art, and interactive programs. The event holds over 600 screenings each year, attracting over 150,000 people, and honors indie artists in 23 adjudicated areas.
#56 Do some yoga at the New York Botanical Gardens
During the unique wellness workshops with returning yoga instructor Sarah Schumann, connect with nature, yourself, and your practice at the New York Botanical Gardens. With a look at the Horticulture team's favorite spring collections, you can enjoy the beauty and tranquillity of the Garden from the comfort of your own home as well as at the location.
#57 Take a morbid tour of the Woodlawn Cemetery
Woodlawn Cemetery is a National Historic Landmark and one of New York City's major cemeteries. Woodlawn Cemetery is home to a number of important people, including US Chief Justice Charles Evans Hughes, aviation pioneer Harriet Quimby, and actor, dramatist, and producer George M Cohan. A tour of this cemetery can be both adventurous and morbid.
#58 Take some rad snaps at the Socrates Sculpture Park
This distinctive park's tale shows how a society can band together to recover and establish a beneficial public space. The location, which is located at the junction of the Harlem and East Rivers, offers a stunning perspective of "Hell Gate," as the Dutch colonists originally termed it. This is also one of the best places in New York City to click some great photos of the landscape.
#59 Walk along the Chelsea High Line around sunset
The Chelsea High Line has been transformed into one of New York City's most innovative public areas. What was once a dilapidated railway line has been converted into a park that allows tourists and locals alike to get away from it all while admiring public art, plants, and panoramic city views. This is an excellent place to see the sunset in New York City.
FAQs
---
Where should you avoid in NYC?
How many days are enough to see NYC?
What is the best month to visit NYC?
What is unique in New York?
What should you not miss in New York?
What is the coolest thing in New York?

What are fun things to do in NYC with kids?

What is the number 1 attraction in New York?