If you've always been mesmerized by Arabian Nights, then begin your next vacation with the ultimate Abu Dhabi Desert Safari and enjoy the luxurious setting of sun, sand, and serenity during your adventerous getaway. Whether you'd like a date under the moonlight or are seeking some frolic in the sands, you don't have to go all the way to Dubai to experience the magic of the desert! If you're in Abu Dhabi, stay where you are and we'll help you find the best Abu Dhabi Desert Safari Deals that will transport you into a magical oasis and guarantee a wonderful experience!
A Typical Abu Dhabi Desert Safari Experience
---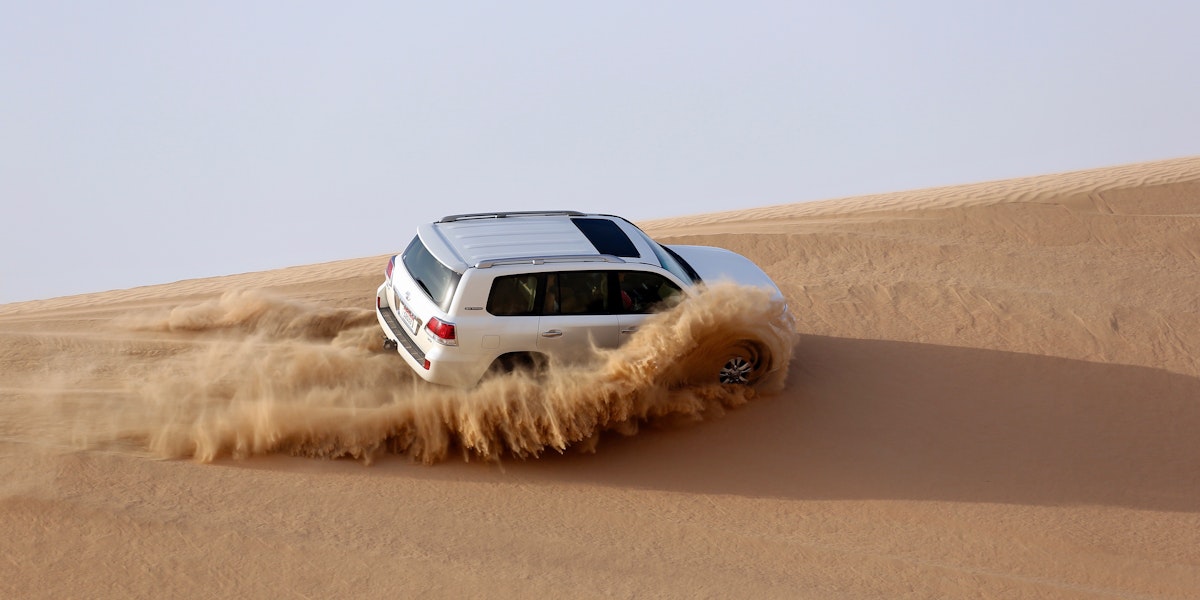 A typical Abu Dhabi desert safari comprises a host of enchanting activities - you could savor a delicious meal on the sand dunes, witness some fine belly dance performances, revel in the thrill of the buggy rides or just take in the moment to experience the magnanimous desert as you feel more alive than ever!
Adventure Sports Galore - Dune Bashing, Quad Biking, Sandboarding
There's no shortage of adventure sports during your Abu Dhabi Desert Safari experience. Whether it's dune bashing in the middle of the desert, quad biking with your homies, or sand boarding among tall dunes, there's plenty of activities to choose from to keep the adrenaline running high. You can do them all, or you can do a few; either way an adventure sport is seeped in every vein of a desert experience. Check out our detailed guides on Dune Bashing, Quad Biking, Sandboarding in UAE.
A Camel Safari Affair
For the quintessential Arabian experience , opt for a majestic camel ride and feel like a king as you enjoy the lazy trot and get a higher look at the shimmering environs. Besides a memorable ride, you're sure to get great selfies! Check our detailed guides on Camel Riding in UAE.
An Arabic meal under the stars
Satiate your appetite and enjoy some of the finest dishes of Arabic cuisine crafted to your preferences, along with some steaming strong coffee - just like how the locals like it. With a starry sky, great company and good food - you'll feel blessed and how!
An Eternal Sunset
As you watch the sun set into the horizon amid the golden sand and reddish skyline, a magical evening will unfold in front of your very eyes. Witnessing a sunset during your Abu Dhabi Desert Safari is a testament to the tranquility of the desert. We'd strongly suggest timing your desert safari experience in time for the sunset, it's worth all the effort!
A Night of Entertainment - Belly Dancing, Tanoura & the works
Stay the night in the desert, and it will be an affair to remember as the music and gyrations will keep you enraptured as you applaud the dancers whether it's the Tanoura or belly dancing performance. Join them and show your moves too!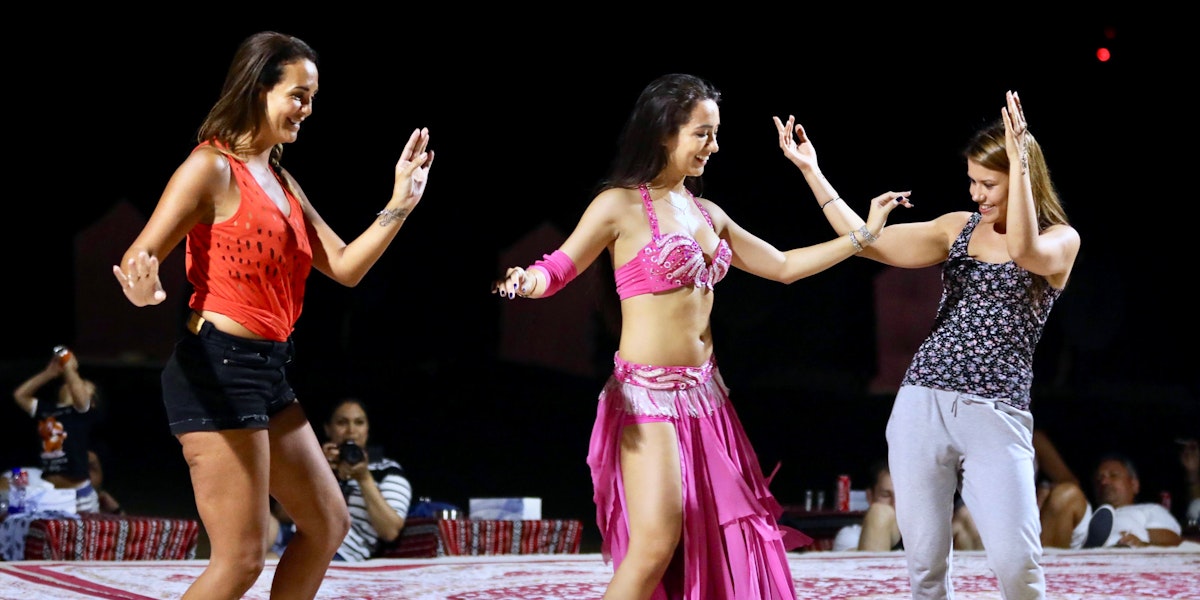 How To Pick the Best Abu Dhabi Desert Safari Deals?
---
1. Always go for the Combos While there are a host of activities and deals to witness the Abu Dhabi Desert Safari, it is best to opt for combo deals as they always give you more for less. Imagine participating in sandboarding, buggy rides, dune bashing, camel rides, henna painting, and barbecues, all of this with just one ticket!?. Combo deals are known to be cheaper and bundle a bunch of exciting things into one ticket, so keep your eyes out for the combos. Check out some exciting Abu Dhabi Desert Safari Combo Deals here.

2. Pick the Right Time of the Day: While one can choose from a variety of timings, it really depends on what you want to experience in the desert. Those who're rooting for adventure sports will find that evenings and nights are the best time to experience some thrill. A tranquil morning awaits those who'd prefer to silently gaze at the desert and relish the solitude of the scene. If you'd want to experience both the frenzy and peace, then an overnight trip works best for you.

3. Budget to the T : While desert safaris are utterly luxurious, they can be slightly heavy on the pockets. If you plan in advance and buy tickets online, you'll definitely avail some cashback offers that will lessen the cost. It's also a great idea to opt for the combo desert safari experiences - a wholesome package that works for you.

4. Know the Offerings : Take some time off to understand all the offerings and inclusions each ticket avails and choose wisely! It's completely okay if adventure isn't your thing and you'd just like to revel in the peace of the desert - it's a great experience either way! Our curation of Abu Dhabi Desert Safari deals have a bit of everything, so choose your pick and simply grab your tickets in advance for an epic experience.

Best Abu Dhabi Desert Safari Deals
---
Now that you know how to go about picking the right kind of Desert Safari experience, here is our curation of the 6 Best Abu Dhabi Desert Safari Deals that promise nothing less then the best! Be it an evening desert safari, a morning safari, an overnight desert adventure or a no-frills basic desert safari experience, we have it all neatly packaged to your taste. Simply pick the one that flutters your heart and headout with us!
Abu Dhabi Desert Safari Tips & Hacks
---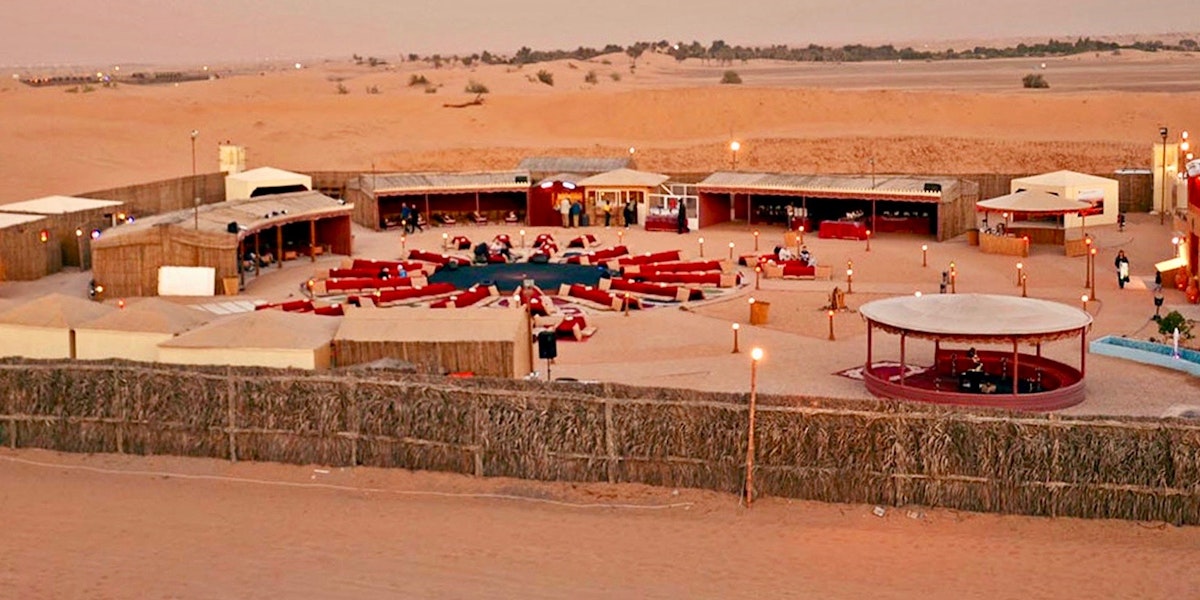 1. Plan your outfits: Remember that heat only lasts as long as the sun is up and since deserts can get really cold at nights, it'd be ideal if you had some jackets and shawls to keep you warm.

2. Be willing to adjust: Since the desert safaris have a mixed bunch of people all eager to experience the best of the desert, it can get a little chaotic around meal times, but be patient, and don't lose sight of your tour guide!

3. Keep Cash Handy: While your safari ride and adventure money would be paid for, a little extra cash won't hurt if you'd like to shop for some souvenirs in the desert camp.

4. Sunscreen is an absolute must: Always lather some sunscreen on your arms and face and keep sunglasses handy - the heat can be harsh for some!

5. Open shoes for the win: Wear flip-flops or open shoes to the desert safaris - these are easy to manage despite all the sand that gets inside your footwear.

6. Caution during adventure sports: Be wary while engaging in adventure sports and pay attention to all the safety instructions - it wouldn't do to have even the slightest hiccup on a fun trip!
Best Things to do in Abu Dhabi
---
Here are some more experiences and attractions to visit when visiting Abu Dhabi. Find the full list here.
More Abu Dhabi Guides
---
Looking for more things to do in Abu Dhabi? Here are a few detailed guides that will help you plan your Abu Dhabi vacation better.