Sandboarding
Let the thrill begin! Dive down tall red dunes in the Arabian desert on a sandboard as you indulge the adrenaline junkie in you. With flexible cancellation and hotel pick-up and drop-offs included in the Dubai desert safari ticket, all you have to worry about is having the best time.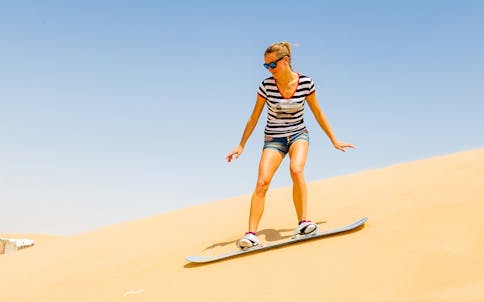 UAE is well known for its majestic red sand deserts of Arabia. What better way to experience these than a desert safari! There is no better place to experience the thrill of an adventure than Dubai, a city full of modern highlights and authentic historical landmarks.

Desert safaris are a vital highlight of Dubai tourism and one of the best ways to get a sense of the city's heart. Among the many thrilling adventure activities you can enjoy all day long, the rich culture makes one's vacation worth remembering. During Desert Safari in Dubai, you will be treated to the most unique thrilling activities up for offer. One of such popular adventure activities in the desert is sandboarding.
What is Sandboarding in Dubai?

Surfing, skateboarding, and snowboarding are all merged into sandboarding, which involves riding down and across dune faces instead of descending water, asphalt, or snow.

Sandboarding includes riding across or down sand dunes while standing on a board, either while riding on both feet or without bindings while standing loose on the board.
What to Expect while Sandboarding?

The art of sand surfing is pretty similar to other board sports. Sandboarding depends largely on the quality and type of sand, as well as the steepness of the dunes. However, once you master sandboarding, this will be a completely surreal experience riding the red sand dunes.

You can capture the desert's mesmerizing beauty with a camera or a video camera. Sand surfing locales often have hot temperatures. Summer clothing is appropriate for sand surfing, but be careful of the sand since you may quickly damage yourself if you fall. As a result, some protective equipment might be beneficial for novices.
How to Prepare for Sandboarding in Dubai?

Eat a light lunch early in the day. When rolling up and down the dunes in your 4*4 sandboard, avoid eating anything that will upset your stomach.

Make sure you wear decent clothing that is comfortable. A lightweight top, a short, or a shirt will work. You can bring extra shawls or jackets if the weather cools down at night.

Always wear sunblock when out in the sun. Sunglasses and a hat are also recommended.

When you have a break, you can frolic in the sand, so flip-flops, sandals, or open shoes are a good option. You can get sand inside your shoes anywhere.
Other Adventure Activities in a Desert Safari

Quad Biking

Quad bikes, also called All-Terrain Vehicles, are off-road vehicles capable of going almost anywhere. This vehicle is designed to be maneuverable across different terrains because of its three or four low-pressure tires and a handlebar. During quad biking, vehicles are driven at different speeds over rough terrain for sport and entertainment, lasting approximately 30 to 45 minutes.

Dune Buggy Ride

Drive your Dune Buggy in Dubai on a desert safari. The customized desert fox dune buggies provide an adventure and exhilarating way to explore the red dunes, the amazing scenery, and the amazing culture. The driver will also assist you with personalized assistance and long rides. There is no better way to experience the thrill of an exciting and memorable adventure than by riding a Dune Buggy Dubai.

Dune Bashing

During dunes bashing in Dubai, drivers increase and decrease their speeds over the dunes. A sports utility vehicle (SUV) is usually needed to navigate the terrain due to the shifting surface of the sand. Your vehicle will get more traction if the pressure is lowered in the tires. Anyhow, dune bashing is a must-go adventure to experience in Dubai.

Camel Riding

The camel ride in the Dubai desert is an experience that enriches you with the spirit of Arabian culture and will give you a taste of what the desert is all about. Enjoy the vast desert and learn about the culture of the desert. Ride well-trained camels and uncover the uneven dunes and fascinating landscape as you rest on their hump.
How Difficult is Sandboarding in Dubai?

Sandboarding in Dubai can be relatively extreme. You may experience sandboarding on steep and tall sand dunes that might take you to the height upto 500 feet. Therefore, one can find it extreme if one fears heights. There's usually a lot of loose and powdery sand on the beach, making it difficult to keep your balance. On the other hand, if you wipe out, sand will cover your entire body in sand.
Is Sandboarding in Dubai safe?

There are very few serious injuries associated with sandboarding, and most people don't fall into serious harm when they fall. However, sandboarding does come with its own risks: most boards don't slide as fast on sand dunes as they would on snow, and it does come with a few risks of its own.
Sandboarding in Dubai FAQs

How much does it cost to go sandboarding in Dubai?

Sandboarding in Dubai can cost you anywhere between AED 97 - AED 500 depending on the experience you choose.

Do I need to be a professional to sandboard?

It is preferable to begin learning sandboarding alongside skating. Skating is where most elite snowboarders and sandboarders start.

Is sandboarding harder than snowboarding?

Sandboard bases are made of laminex/formica and are more durable than snowboard bases.

What is needed for sandboarding?

It involves using a specialized board, goggles, gloves, helmets, knee and elbow pads and sandboard wax to raise the grip.

Is sandboarding difficult?

Yes, sandboarding can be quite extreme but with professional guidance anyone can experience the thrill ride.

What are the best places for sandboarding in Dubai?

The Lahbab Desert, AI Faya Desert, Liwa Oasis, and Fossil Rocks are some of the best places for sandboarding in Dubai.