Adventure Safari
Fancy a thrilling adventure in the desert? Look no further! We've got a curation of the best desert safaris with dune bashing, quad biking, sand surfing, and camel trekking. Choose the safari that suits you best and wander into the sand dunes for spectacular views and exciting rides.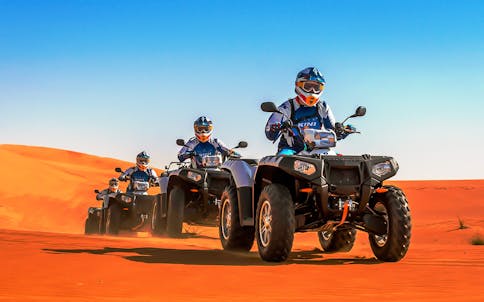 Headout's Top Recommendations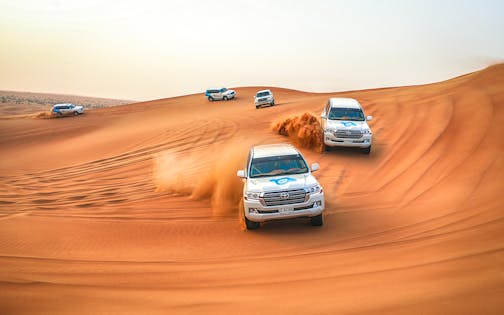 Free cancellation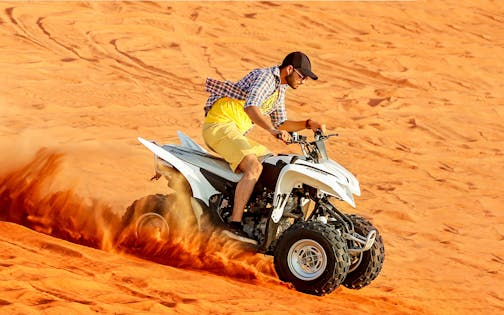 Free cancellation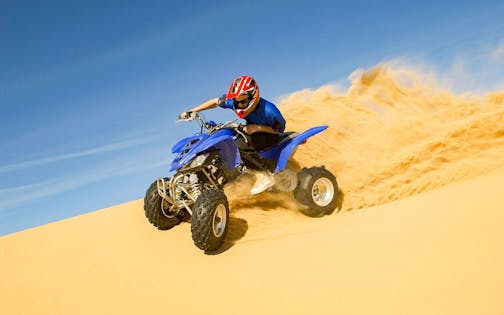 Inclusions
Pick-up and drop-off in an air-conditioned 4x4 Land Cruiser
A professional licensed safari guide
30-45 mins dune bashing in a 4x4 vehicle (as per ticket option)
30 mins quad biking (as per ticket option)
A short camel ride (repeatable)
Pick-up and drop-off in an air-conditioned vehicle
30-35 mins dune bashing in a 4x4 vehicle
A professional licensed safari guide
A short camel ride (can be repeated)
Pick-up and drop-off in an AC 4x4 vehicle
20 mins quad bike (150 cc) experience
Unlimited refreshments (tea, coffee, water, soft drinks)
15-20 mins dune bashing in an AC 4x4 vehicle
BBQ buffet dinner with veg and non-veg dishes (menu here)
Shisha smoking facility at the shisha corner (apple flavor)
20 mins dune buggy (optional)
Cancellation Policy
These tickets can't be cancelled or rescheduled.
You can cancel these tickets up to 24 hours before the experience begins and get a full refund.
You can cancel these tickets up to 24 hours before the experience begins and get a full refund.
With the skyscrapers, ports, beaches, corporate headquarters, and many opportunities to party, Dubai is the Las Vegas of the middle east. But away from the Indulgent and progressive city lies the beautiful warm desert still protecting the authentic Arabian culture and its glory.

Embark on a journey full of excitement, thrill, and entertainment surrounded by glittering red dunes with this Dubai Desert Experience. Enjoy a wide range of fun activities, including Dune bashing, Sandboarding, Henna painting, Falconry, and more. No matter what assortment of these services you choose, Dubai promises you an experience of a lifetime.
Why You Should Pick Desert Adventure Dubai

Experience the Dubai desert in the most thrilling manner possible with a variety of adventure safaris available for you. Indulge the adrenaline lover in you as you try exciting desert adventure activities like dune bashing, quad biking, camel riding, sandboarding, and dune buggy ride.

According to the safari chosen, you can also watch falconry, enjoy an authentic BBQ meal, and smoke Shisha as you watch the hypnotic sinuous movements of exquisite Belly Dancers. From the peace of Arabian sands to the adrenaline rush of quad biking during the bright day in the desert, get on board for rapidly accelerating fun!
What to Expect on an Adventure Safari in Dubai

Based on the time of the day, you can enjoy a completely unique experience. The desert during the day is charming and energetic, whereas ethereal and magical at night.

Morning Safari

Start your safari with a convenient pick-up from your place of accommodation early in the morning and head to the desert as the sun rises over the sand dunes.
Break your morning routine with a flurry of adventure activities like dune bashing, quad biking and more, depending on the safari chosen. Get your dose of thrill early in the morning during this fun and safe time.
Head to a desert camp and munch on Arabic snacks and coffee as you unwind and get some much-needed respite.
Drive back to the city in a hassle-free drop-off included in your safari.

Evening or Overnight Safari

Your pick-up will be scheduled around 3:30pm after which you'll drive out of the city towards the Arabian desert.
You'll be taken to an activity area where you can enjoy the adventure activities included in your ticket. Some of these include dune bashing, quad biking, sandboarding, and dune buggy ride.
Drive down to the desert camp and receive a warm welcome from the staff. Here you'll ndulge in relaxing activities like henna painting, shisha smoking, falconry, and camel riding around the camp.
Savour a delicious BBQ spread in the evening and watch live shows before returning to the city.
Popular Activities in Desert Adventure Dubai

During dune bashing, you will drive a 4x4 SUV at rapidly varying speeds on the rough terrains of the Arabian sand dunes. Feel the slip and slide as the SUV jostles and shifts your center of gravity, bringing in the most thrilling experience imaginable. Be a part of the dramatic stunts played by certified drivers.

Quad bikes or ATVs are three or four-wheel sport range bikes specially designed to navigate rough terrains of the desert. Instead of being driven, take the reins in your hand while remaining completely safe as you play against nature's challenges in the form of hot sand and strong wind. This is one of the best ways to explore the desert as you wander the expanse at your speed and time. Talk about a lifetime memory!

People interested in mild adventure can enjoy this all-age-appropriate thrill activity. From the top of dunes as high as a thousand feet, slide over the sand at high speed and feel the wind rush around your ears on a board adept at sliding frictionlessly down the sand. Fret not about safety - an instructor will be there to help you with the well-waxed sandboards (and the sand will cushion your adventurous falls)!

There is nothing like the rush you will get while off-roading on dune buggies in the exacting deserts of Dubai. Traverse the massive red dunes behind the wheels of these powerful engines intended to overpower the harsh geographies. This stands to be a safe adventure for true adrenaline junkies.

The best things are the ones that bring you peace. Riding a camel is the most traditional experience offered in a desert adventure. Truly glimpse into what it was like for the Bedouin nomads to carry their entire livelihood from one village to another. Elevate the experience with traditional Arab attire.
How to Prepare for Desert Adventure in Dubai

Dress Code

Wear light-colored cotton or linen clothes covering all parts of your skin properly during the summertime, along with sneakers, to avoid sunburn.
Skip Shorts, sandals, and flip-flops if possible.

What to Bring Along

Bring a hat, sunglasses, sunscreen, and water bottles with you.
During winter, you can wear jackets and hoodies. 

Age and Health Restrictions

The dune bashing experience is not suitable for: children aged 3 and under, pregnant women, wheelchair users, people with back and heart problems, and people with pre-existing medical conditions.
Only guests aged 16 and above can take part in quad biking. Children aged 15 and under must be accompanied by an adult on the quad bike.
Other Activities in a Desert Safari

Falconry

Falconry is a brilliant Emirati show where you can see the incredible bond between falconers and their birds. It takes time, dedication, and a lot of patience to train and form a bond with the bird, which then hunts prey on demand and returns it to the falconer. Watch fascinating tricks by the bird of prey during a falconry performance.

2. Henna Painting

The ages-old plant-based dye tattoo has been a significant part of the middle-east culture, including weddings, festivals, and happy occasions. The temporary henna tattoo is nature inspired and painted on hands and feet, leaving a deep red color on the skin. Treat yourself to this beautiful tradition that symbolizes happiness, youth, and love.

Stargazing 

Enjoy the ethereal Arabian night with an immersive lesson in astronomy. Experience stargazing in the cloudless sky of the desert, an ideal location for the activity. This activity is especially popular among couples as it offers a magical and romantic time looking at stars rarely found in the smoke-clouded skies of the big cities.

Sampling Shisha

Another traditional and highly demanded experience is Shisha or Hookah smoking. The experience offers an authentic smoking experience in various flavors and a great opportunity for many cool photo ops.

Arabic Coffee and Breadmaking Sessions

Watch the process of making Emirati Gahwa or Arabic coffee and bread on coal in a pit dug into the ground. This process has been a part of Arabic culture for ages and has been listed in the UNESCO Representative List of Intangible Cultural Heritage of Humanity.
How Long do the Desert Adventure Activities Last? 

The period of these adventures can vary depending upon the specific tickets. In most cases, the dune sashing lasts 30-45 minutes, 30 minutes of quad biking, and 10-15 minutes of camel ride unless you have chosen a ticket that offers a longer ride.

Distributed over a wide range of activities, most safari packages last 6-8 hours, starting from convenient pick-up and ending with a drop-off.
What are the Other Kinds of Desert Safari Experiences?

Heritage Safari

Explore the exquisite Arabic heritage through an hour-long safari riding the camel and chasing the sunset. Enjoy an authentic 4-course Arabic dinner accompanied by shisha smoking and entertainment, including falconry, henna painting, belly dancing, and more at a Bedouin-styled camp. Elevate the experience by opting to wear authentic Arabian attire.

Wildlife Safari

Embark on an hour-long safari in a comfortable air-conditioned vehicle driven by a trained conservation expert guide to help you make the most of the experience. Enjoy the ecotour with excellent lessons about the Arabian desert's history, heritage, and ecosystem. Catch the beautiful flora and fauna, such as gazelles, in their natural habitat.

Luxury Safari

Feel like the royals do in the most luxurious safari of the Dubai desert with a 6-course meal, hypnotic entertainment, tour in a comfortable air-conditioned land rover, and only the best services you can imagine.
Do's and Don'ts for Desert Adventure Dubai

It is highly recommended not to eat 2-3 hours before the safari trip to avoid any sickness during dune bashing or other adventure activities.
If you feel sick during the drive or an activity, inform your driver, and you will be taken to the campsite for further assistance.
Make sure you use a good amount of sunscreen and drink lots of water regularly.
Do not stray too far from your vehicle or the camp for safety reasons.
Do not smoke inside the vehicle.
Desert Adventure Dubai FAQs

Are adventure activities available in Desert Safari in Dubai?

What is the cost of desert safari in Dubai?

What is the most popular adventure activity in desert safari?

Dune bashing is the most popular adventure activity in a desert safari in Dubai. Quad biking, sandboarding, dune buggy riding, and camel riding are also popular amongst safari-goers.

How do I prepare for an adventure safari in Dubai?

Make sure to have your last meal 2-3 hours before your desert adventure activities to prevent motion sickness. Bring along a water bottle, candy, and motion sickness medicine to be on the safer side. Wear comfortable cotton clothing that is neither tight nor loose-hanging, along with close-toed footwear.

Are there any restrictions on desert adventure activities?

The dune bashing experience and dune drives are not suitable for: children aged 3 and under, pregnant women, wheelchair users, people with back and heart problems, and people with pre-existing medical conditions.
Only guests aged 16 and above can take part in quad biking by themselves. Children aged 15 and under must be accompanied by an adult on the quad bike.