Morning Desert Safari
Explore the vast dunes during the morning desert safari in Dubai. With an abundance of activities, morning desert safaris are a unique blend of calmness and adventure in the desert. These are some of our most popular safaris that promise several Kodak moments.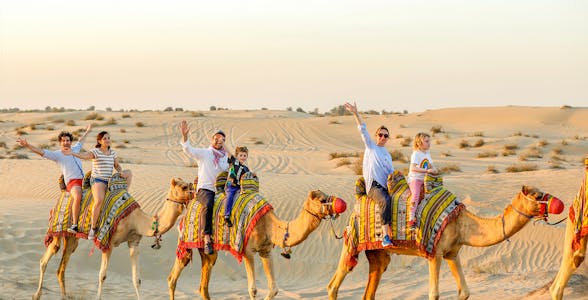 Morning Desert Safari Guide

Dubai is the ultimate tourist destination, from tall skyscrapers and the world's largest shopping mall to award-winning theme parks and interesting museums. However, if you're looking for an out-of-the-ordinary adventure activity to try, a desert safari should be at the top of your bucket list. Experience unique desert-based activities such as dune-bashing, sandboarding, and camel rides under the warm Dubai sun on a morning desert safari.

Why Opt for a Morning Safari

The desert morning provides opportunities like no other. You'll get to see rare exotic animals in the desert wild and enjoy a fantastic time among the vast sea of sand in the pleasant weather of the morning. What's more - photography enthusiasts will get a chance to do the beauty of the desert justice with the ample light available for quality photographs! By choosing a morning safari, you also get to keep your evening available for other exciting experiences in Dubai.

If you're looking to plan your visit, read on to take a deeper look into the best morning desert safari in Dubai tickets, activities including, timings, and more.
Top Morning Desert Safaris in Dubai

A

Dubai desert safari

tops the bucket list of the most adventurous activities in the city. Your desert safari would include adrenaline-pumping experiences such as dune bashing, sandboarding, and quad biking, a classic camel ride, and a delicious breakfast spread - depending on the experience you choose. An added benefit is that you don't have to worry about planning your commute since return transfers are included in your ticket. Here are our top recommendations. 

Recommended Experiences

Relish a quintessential morning desert experience in the heart of the Middle Eastern desert. Enjoy dune bashing, a camel farm visit, and sandboarding, followed by sipping on a refreshing Arabic coffee. You'll be dropped back to your hotel after the experience.

On this desert adventure, embark on a smooth drive across the desert after which you'll stop to take in the beautiful break of dawn. Your ticket also includes round-trip hotel transfers. 
Which Morning Safari Should I Choose?

There are different types of morning desert safaris in Dubai, each with its own advantages. Find out what each one entails:

Breakfast

Sunrise

Nature

Adventure
Morning Safari vs Evening Safari

If you're considering a Dubai desert safari, you may be wondering whether to book a morning or evening tour. Both have their benefits, but morning safaris offer a few advantages over their evening counterparts.

For one, morning desert safaris in Dubai tend to be less crowded than those departing in the afternoon or evening. This means you'll have a more intimate experience with your guide and fellow travelers, and you're likely to see more wildlife since there won't be as many people around to scare them off.
Another benefit of morning safaris is that the temperatures are cooler than they are later in the day. This can make for a more comfortable experience, especially if you're not used to the heat.
Finally, morning safaris offer the best light for photography. If you're looking to get some great shots of the desert landscape or wildlife, morning is the time to do it.
Morning Safari: Timings & Schedule

Pick Up: 5:30am - 6:30am

Drop Off: 11am - 12 noon

A morning desert safari in Dubai is perfect for people who wake up early and want to beat the heat of the day. You'll be picked up between 5:30 and 6:30 in the morning, giving you time to enjoy the serene Arabian desert.

You'll get to witness the desert at sunrise and see all its flora and fauna come to life. When your safari is over, you'll return to your accommodation between 11am - 12 noon.
What to Expect on a Morning Desert Safari in Dubai

Break free from the hustle and bustle of the city life and set off for a morning desert safari to experience the ultimate desert experience. Here is what you can expect from your

morning desert safari in Dubai

.

Pick-up

Once you are done booking your tickets, you will get the confirmed travel time. You will be picked up early in the morning between 7:00 AM to 8:00 AM in an air-conditioned vehicle, and will journey to the safari camp. Your pick-up point would be your hotel or a centrally located common point, depending on the ticket you choose.

Morning Desert Safari in Dubai Experience

Once you arrive at the camp and settle in, you'll be taken for the adventure activities included in your ticket.

Experience the thrill of riding over challenging desert dunes while dune-bashing, sandboarding, or quad biking. You'll love the feeling of the cool breeze on your face as you slide high and low on the dunes.

After your share of adventure activities, enjoy a hearty breakfast spread at a traditional Bedouin-style camp. Your meal would comprise healthy dishes of both vegetarian and non-vegetarian variety.

Drop-off

After hours of adventure, food, and entertainment in the dunes of Dubai, you will be transferred back to your hotel or the closest drop-off location to your hotel. 
Plan Your Morning Desert Safari in Dubai

Best Time to Visit

November to March are the preferred months to go for a desert safari. By choosing a morning safari, you'll get to widen this window since mornings are generally cool in the desert.

Age Restrictions

Only guests aged 16 and above can take part in quad biking. Children aged 15 and under must be accompanied by an adult on the quad bike.

Pick-Up Locations

Don't stress about finding transportation to get to the desert; your desert safari includes hassle-free pickup from your accommodation and drop-off after your safari is complete.

What to Wear

It is advised to wear lightweight clothing during summer. Bring along sunglasses, sunscreen, and a hat. Avoid wearing tight-fitting clothes to feel comfortable during the experience. Wear loose cotton or linen clothing, with open-toe sandals, slippers, or shoes to prevent sand from accumulating within. 

Meals in the Desert

Some morning safaris include a light breakfast, dates and sweets, and refreshments like water, tea and coffee. 

What to Carry

Don't lug around heavy bags in the desert. Make sure to pack light.
Bring along wet wipes and a water bottle in your backpack.

Health Restrictions

The dune bashing experience is not suitable for: children aged 3 and under, pregnant women, wheelchair users, people with back and heart problems, and people with pre-existing medical conditions.
The nature drive is not recommended for guests who are more than 3 months pregnant.
Morning Desert Adventure in Dubai
Morning Desert Safari in Dubai FAQs

Are Dubai morning desert safari tickets available online now?

Yes, tickets for

morning desert safari

in Dubai are available online now. It is highly recommended that you pre-book your tickets in advance to get your preferred date for the experience.

What is the price of a morning desert safari in Dubai?

Ticket prices vary depending on the inclusions included in the experience you choose. Prices vary from AED 100 to AED 500, depending on shared or private transfers, and adventure activities included. 

What is included in a morning desert safari in Dubai?

Your safari would include round-trip transfers to the desert, camel rides, dune bashing, sandboarding, quad biking, a breakfast spread, and more, depending on the experience you opt for.

Are return transfers included in a Dubai morning desert safari?

Yes, all morning desert safari tickets include transfers from and back to your accommodation or a common point in the city. 

What are the timings for a morning desert safari in Dubai?

Your morning desert safari timings depend on the experience you choose. Pick-ups usually take place between 6am to 9pm depending on your location and the experience selected, and the safari lasts for anywhere around 2.5 to 5 hours.