The largest city of the United Arab Emirates, Dubai is often called the land of contrasts. While the vast deserts and ancient artforms of the city tell the story of its Bedouin legacy, the sprawling skyscrapers and the massive shopping malls describe a contemporary, cosmopolitan city. Because of this very reason, this multifaceted land boasts a wealth of attractions for its visitors.
Perhaps the most interesting of all these activities is the Dubai desert safari. After all, what can be more thrilling than an adventure-filled ride into the surrounding deserts on a 4x4 vehicle? Interesting activities like dune bashing, fat bike riding, quad biking and sand boarding are the highlights of a typical Dubai desert safari. For the culturally inclined, traditional activities like henna painting and camel riding are also included.
Go through this guide and discover some of the best desert safaris in Dubai. Whether you're looking for a thrilling, adventure sports based safari or want to indulge in luxury, you'll find a safari of your choice here.
Types of Desert Safaris in Dubai
---
From morning desert safaris and evening desert safaris to combo desert safaris, you have a wide variety of options to choose from.
If your evenings are filled with shopping dates or if you do not wish to miss out on the famous Dubai nightlife, you can always opt for a morning desert safari. On the other hand, if the thought of waking up early in the morning does not appeal to you, you can choose from the various evening and overnight options available.
Similarly, the budget-conscious traveler can opt for combo tours that combine other attractions or activities with the Dubai desert safari. You will find that opting for a combo tour will save you both time and money.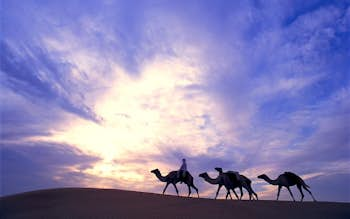 Morning Safaris
Escape the hustle and bustle of the city with a morning desert safari. Explore the desert and everything it has to offer as you indulge in a variety of adventure and traditional activities like sand boarding, henna painting and camel riding. End your experience with a delicious breakfast and try out many local dishes.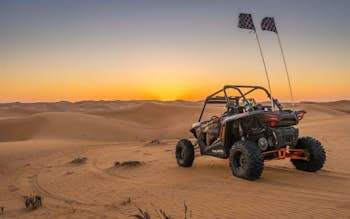 Evening Safaris
Your experience will begin around mid-afternoon, once the weather has become pleasant again. Take your pick from various adventure activities before heading over to the Bedouin camp where you will witness traditional artforms. End your experience with a deicious dinner with local and continental cuisines. Adventure Safaris
If you are an adrenaline junkie, you will not be disappointed with the wide array of desert adventure activities you can indulge in. Explore the desert landscape with dune bashing or take a dune buggy ride through challenging terrain. Quad biking, hot air ballooning, etc are some of the other activities that await you.
Morning Desert Safaris in Dubai
---
Choosing a morning desert safari has many advantages. First of all, you get to explore the desert while it is still relatively empty. The serenity of the desert is most certainly best enjoyed in solitude. As the day progresses, you will see more and more people around you.
Secondly, the weather tends to remain pleasant from the previous night, which means that this is the perfect time for you to indulge in adventure activities. You will be able to finish all your adventure activities before it gets too hot. Visitors can take their pick from a variety of activities like camel riding, sandboarding, quad biking, etc. In fact, certain activities like hot air ballooning are exclusive to the morning desert safaris.
You will also get to enjoy a scrumptious breakfast that includes many local delicacies like Rgaag with egg, Balaleet and Chbaab. Not to mention the world-famous Arabic coffee. Once you have had your fill, you will be taken back to the city with plenty of time left over to visit the other attractions of Dubai.
Premium Morning Desert Safari
Discover the breathtaking beauty of Arabia's red dunes desert at the break of dawn on a 4x4 Land Cruiser.
Enjoy a traditional camel ride and discover the desert terrain on a fun Sandboarding session.
Enjoy breakfast along with Arabian coffee and local dishes at the desert camp.
Evening Desert Safaris in Dubai
---
If a quintessential desert experience is what you're looking for, then an evening desert safari should be your go to choice.
Evening safaris start in the late afternoon, after the sun has started its descent. As a result, you will get to enjoy pleasant weather, allowing you to enjoy your desert safari to the fullest. You have the entire evening to relax and indulge in various adventure activities like sandboarding, quad biking, etc.
A typical evening desert safari starts with a dune bashing session which makes for a highly exhilarating experience. Don't forget to click photos as you enjoy the desert and the sand dunes. However, an evening safari has much more to offer than these adventure activities. Head over to the Bedouin Camp for a camel ride and indulge in traditional activities like henna- painting.
You will also get to witness beautiful performances by professional belly dancers. Not to forget the exquisite dinner with both local and continental cuisines. Indulge in the unique Arabic coffee and taste the famous Middle Eastern grilled meat as you enjoy the desert views.
Premium Evening Desert Safari
Explore and camp in the Dubai Desert Conservation Reserve, the UAE's first national park.
Enjoy being one of the only 4 groups that are allowed to operate in this area to ensure minimal impact on the environment.
Enjoy traditional desert activities like henna painting and belly dancing along with a delicious dinner.
Romantic Dinner Desert Safari
Savour the beautiful Arabian twilight as you conquer the dunes in an exclusive Jeep.
Pass by a Camel farm to watch the 'Ships of the Desert' in action. Afterwards, get to know these creatures from up close as you embark on a short camel ride.
Enjoy a sumptuous dinner with local delicacies as the sun sets.
Adventure Desert Safaris in Dubai
---
The relentless desert landscape makes for an ideal setting for you to experience traditional desert activities such as camel riding and modern adventure sports such as quad biking, sand boarding, dune buggy riding, fat tire biking, horse riding and hot air ballooning. If an exhilarating adrenaline-pumping experience is how you want to remember the desert, then these adventure desert safaris are perfect for you.
Desert Adventure Activities and BBQ Dinner at Al Khyama Camp
Get a thrilling 45-minute quad bike ride on the steep dunes of the desert.
Hop on an adorable camel and experience Arabia's classic beauty like never before.
Indulge in a sandboarding session and enjoy a local Tanoura show and Belly Dancing performance.
Desert Adventure Combo - Camel Ride, Quad Biking & Sand Boarding
Enjoy an exciting mix of adventure activities with this desert safari.
Pick from activities like quad biking, camel safari, sand boarding and a visit to the camel farm.
A clear day will also give you stunning panoramic views of the Hajjar Mountains in the distance.
Desert Safari Combos in Dubai
---
If you are looking for a comprehensive tour of the city, your best bet is to opt for a combo tour. Headout offers many combo tours that combine Dubai desert safari with various other attractions. These combo tours are perfect for those who are short on time and would like to make the most of their trip to the land of skyscrapers. You will get to experience the best of the city in a day or two, making sure that you do not miss out on any must-see attractions.
Another advantage of these combo tours is that they help you save money. Visiting multiple attractions individually may prove to be expensive once you take into consideration add on expenses such as transportation. A combo tour on the other hand, will prove cheaper as almost everything, from tickets to transportation is covered. These tours are especially ideal for those visiting Dubai for the first time.
Dubai City Tour & Desert Safari Combo
This combo tour takes you around the city's popular sights and gives you a chance to go on a desert safari.
Visit the Dubai Museum, the Burj Al Arab and the Palm Islands, the most scenic yet artificial man-made island.
Enjoy a variety of activities at the desert safari that includes dune bashing, camel riding, henna painting etc.
Burj Khalifa At The Top & Desert Safari Combo
Gaze at Dubai from the dizzying 124th and 125th floor of the Burj Khalifa and enjoy stunning sights of the city, the desert and the Persian Gulf.
Dive deep into the heart of the Lahbab desert on a 4x4 and enjoy activities like sand boarding and dune bashing.
Enjoy traditional tanoura, fire show and belly dancing , along with a sumptuous buffet dinner.
Desert Safari Activities
---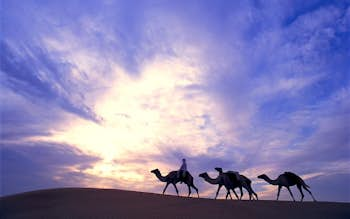 Camel Rides
If a quintessential desert experience is what you're after, it does not get better than indulging in a camel ride.
Read more on camel rides in Dubai.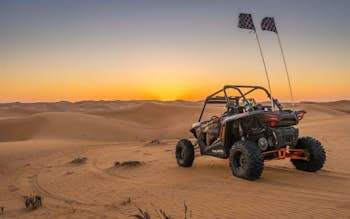 Dune Bashing
A must-try for all adrenaline junkies, this breathtaking desert adventure activity will leave you gripping your seats.
Read more on dune bashing in Dubai. Sandboarding
One of the most sought after activities in the city, this unique adventure sport is sure to leave you wanting for more.
Read more on sandboarding in Dubai.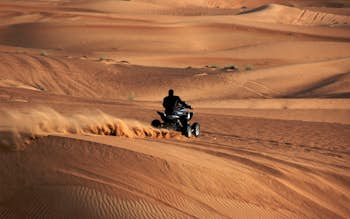 Quad Biking
Experience the thrill of riding a massive bike on the extraordinary desert terrain.
Read more on quad biking in Dubai.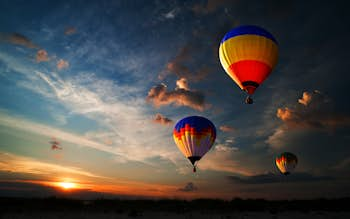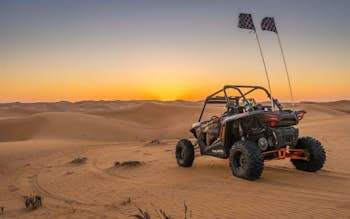 A Typical Dubai Desert Safari Experience
---
Transfers
Since these safaris take place in camps that are away from the city, a typical desert safari begins at your doorstep where you will be picked up by your safari guide. Therefore, you need not worry about getting to the desert. Similarly, once you have enjoyed your safari and are ready to go back, you will be taken back to your hotel as well.
Location
The Lahbab desert, the Dubai Desert Conservation Reserve and the Hatta Mountains host some of the most popular desert camps. Your experience at each of these camps will be different. For example, the Lahbab desert allows visitors to experience the authentic desert culture while the Desert Conservation Reserve is famous for its wildlife.
Activities
At the desert, the first experience is usually a thrilling session of dune bashing in a 4x4 - imagine Hummers, Land Cruisers and even Range Rovers. You can also participate in a variety of other desert adventure sports such as dune buggy riding, quad biking, sandboarding, hot air ballooning and the all time favourite - camel riding.
Dinner
As the sun sets, you will settle down for an evening of entertainment and dinner. The dinner is usually a 3-course buffet with cuisines from all around the world. While you enjoy your dinner in the open desert air, local performers will showcase their amazing belly dancing and tanoura dancing skills, bringing the evening to a close.
How To Choose The Best Dubai Desert Safari
---
Budget
Take a look at all the ticket options available in the market and pick one that fits into your budget. While deciding on which tour to book, never forget to check the list of inclusions provided. You should also check out the dining options available as most of these experiences offer a free breakfast or dinner. If you book your tickets online, there is a good chance that you may get them at a discounted rate. If you have a promo code, don't forget to avail them.
Activities
Dubai desert safaris usually offer two kinds of activities- cultural and adventure. Before you book your tickets, make sure that you take a look at the activities included. This is important because each tour offers different activities. For example, if you do not opt for an adventure safari, you may not be able to take part in activities like sandboarding and quad biking. Similarly, activities like camel riding and hot air ballooning are available only on selected tours.
Timings
As mentioned earlier, these desert safaris are available at different timings, adding to your convenience. Plan your itinerary for the day and choose from morning and evening safaris. For example, if you are also planning to visit the other attractions of the city, you can opt for a morning desert safari, which will leave you with enough time to explore the city at your convenience. Sunrise and sunset desert safaris are some of the other popular options available.
Your Dubai Desert Safari Handy Guide
---
1. Wear comfortable clothing
Casual comfortable clothes would be an ideal choice for an evening desert safari for you to enjoy all the fun activities there. Its preferable to wear open shoes, flip flops or sandals as footwear as you will be getting in and out of the vehicle frequently onto the sand.
3. Pack light
Carry only the essential items such as sunscreen and sunglasses. If you bring along a heavy bag, it will become difficult for you to take part in the adventure activities. Lugging around a heavy bag in the desert is not a pleasant experience. Therefore, try to pack as light as possible.
2. Listen to your instructors
Dune bashing can be a rough roller coaster experience. Keep this in mind if you are old, have a small child or have certain health issues. Do listen to your instructor carefully while performing these activities, especially the adventure ones, in order to ensure that you stay safe.
4. Choose the right time to go
The best time to go for a desert safari is during a winter evening. Summers are hot while mornings quickly move from cool to hot. Evenings are the best time because you not only get to catch a wonderful sunset but the afternoon quickly gives way to the cool night.
Dubai Desert Safari FAQs
---
What are the different types of desert safaris in Dubai?
How do I book my Dubai desert safari tickets?
What should I wear for a Dubai desert safari?
What should I bring on a Dubai desert safari?
What do you do on a Dubai desert safari?
How do I reach the desert for the safari?

Are Dubai desert safari tickets refundable?

What kind of footwear should I wear for a Dubai desert safari?