Dubai is home to some of the most spectacular golden sand dunes in the world. On a safari, you'll have the opportunity to see sand dunes that are hundreds of feet tall, as well as exotic wildlife. If you're looking for a true blue adventure, a desert safari in Dubai is the one for you! For the perfect adventure, wearing the right clothes makes a world of difference.
Here's all the tea on what to wear on a desert safari in Dubai, what to AVOID wearing and quick hacks and tips that'll come handy.
What to AVOID wearing on a Desert Safari in Dubai
---
A desert safari is a great way to experience the diverse landscapes of Dubai, from the towering sand dunes to the endless stretches of empty coastline. However, there are a few things to completely avoid when going for a desert safari -
Tight body-hugging clothing
Leaving your head exposed to the sun
Dark colours or heavy fabrics that will absorb the sun's rays.
Loose-fitting clothes as they could get caught on things or blown around in the wind.
Wearing heels/footwear that make it impossible to walk in the sand.
Dubai Desert Safari Dresscode
---
No matter what the weather is, wearing comfortable clothing and eliminating potential risks to avoid health issues from the extreme weather remains ultimate. Respecting the local norms is also as important as the former.
By following these simple guidelines, you'll be sure to have a comfortable and safe experience on your desert safari.
Lightweight fabrics are best, as it can get quite hot during the day. Wear breathable materials like cotton or linen over synthetic ones.
The temperature can drop quickly in the evening, so it's a good idea to bring a sweater or jacket.
It's a good idea to wear long sleeves and pants to protect yourself from the sun and from any potential desert creatures.
Try to wear at least mid-thigh length shorts or pants. Shorts exposing your bottom are not appreciated by the locals.
For ladies, it is better to skip outfits showing excessive cleavage. Sleeveless tops are acceptable as long as they are not skimpy.
Short skirts must be avoided, as meals are often eaten on the floor and can seem uncomfortable, especially with the breeze.
Closed-toe shoes are essential, as you'll be doing a lot of walking.
A hat or scarf can help keep your head cool.
Don't forget to pack sunscreen, and sunglasses to protect your skin and eyes.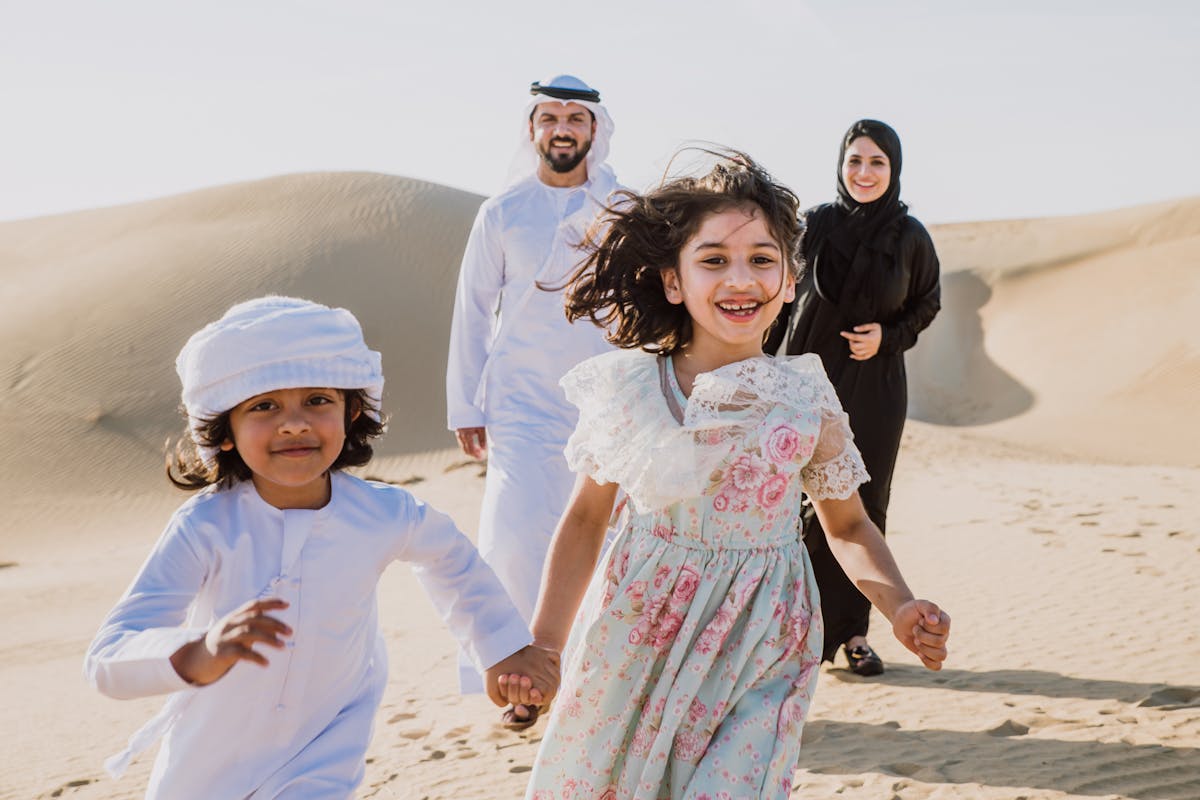 Dressing for the Desert - Season wise
---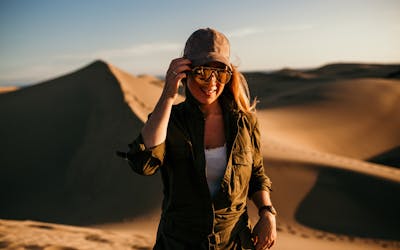 Desert Safari Clothing in Winter
Ideally, winter is the best time to go for your desert safari. The weather tends to be cooler from November to February, especially in the desert after sunset and until early morning. Make sure to dress in layers, so you easily remove your outer layers off once the sun's out. Long jeans with Cardigans or Jumpers would be ideal. Be sure to carry a snug-fitting hat with ear flaps or earmuffs to protect against the cool breeze. Carrying a scarf or pashmina shawl is recommended. Lip balms and moisturising creams can be carried to avoid dry skin. .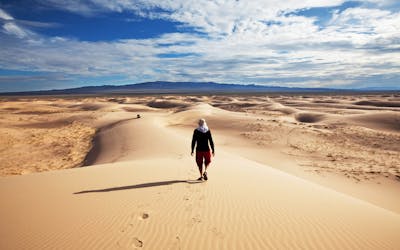 Desert Safari Clothing in Spring
From March to May, the weather is pleasant and comfortable. Layered clothing can be skipped, and casual clothing can be worn during these months. Make sure to carry a jacket, as temperatures drop at night.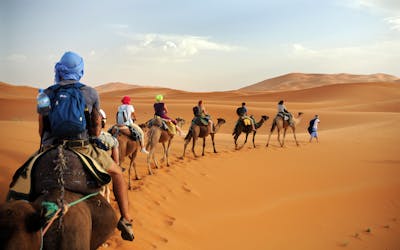 Desert Safari Clothing in Summer
From April onwards the temperature is scorching and is humid until September. Lightweight and breathable material is the key to surviving the summer in Dubai. Though the temperature may decrease a bit at night, it is advised to wear loose clothing. Tights, bombers, and sweatshirts can be swapped for cotton t-shirts and pants. And do not skip sunscreen, especially during these months.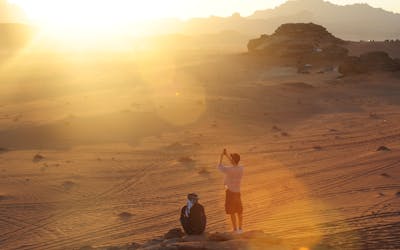 Desert Safari Clothing in Autumn
Towards the end of September to early November, the heat tends to decrease, however it is still best to wear light clothing until winter starts.
Dressing for Desert Activities in Dubai
---
Desert Safari is a unique experience that offers the chance to explore the desert landscape and learn about the traditional way of life in the UAE.
The safari typically begins with a 4x4 pick-up from your hotel, followed by an exciting drive into the desert. Once at the camp, you can try your hand at sandboarding, ride a camel, or simply relax and enjoy the stunning sunset. After dark, there will be a delicious barbecue dinner under the stars, followed by traditional entertainment such as belly dancing and henna painting. Dressing appropriately for all the activities makes it easier to have a fun-filled experience.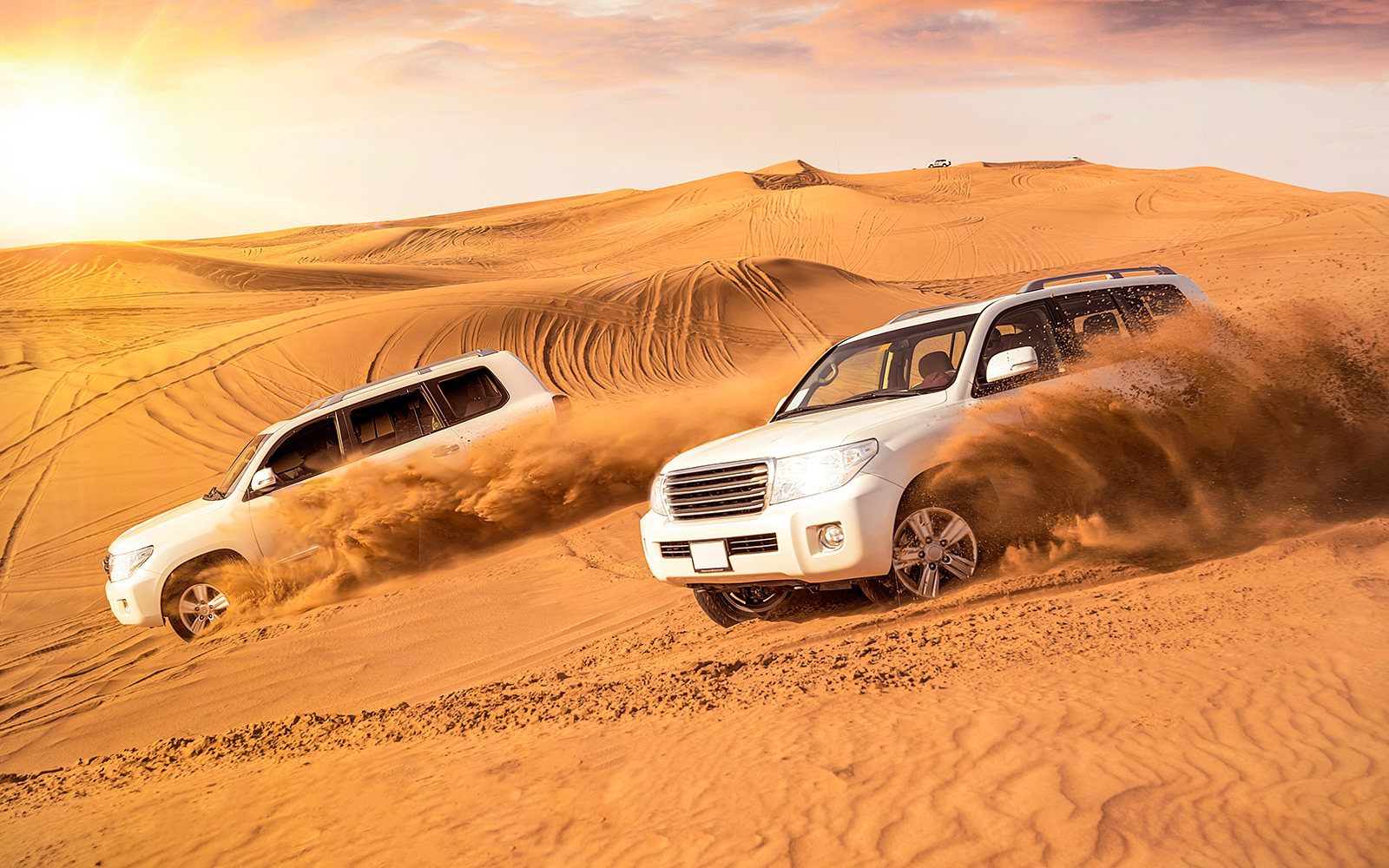 The rugged ride in the sand is not for the faint-hearted. Make sure to wear clothes that hold on to their place.
Skirts, Sarees, or similar free-flowing clothes must be avoided to handle the tussle of the ride safely.
Outfits and accessories with spikes or pointy details should be avoided for the safety of yourself and others in the vehicle.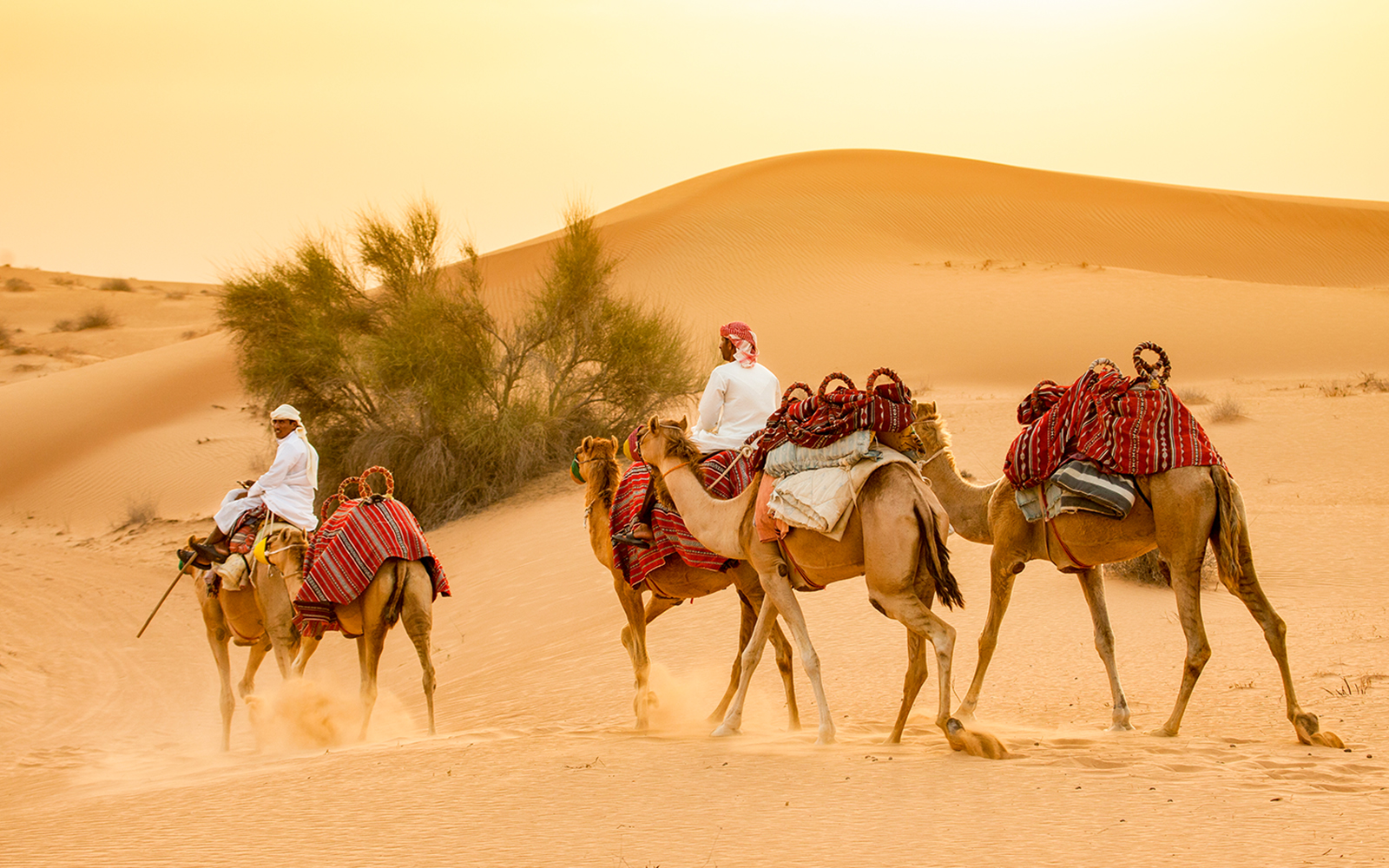 Camel Riding is a fun experience and a chance to relive the desert backdrop shown in the movies. However, it may not always be the most comfortable experience, especially if it is your first time riding a camel. Choose shorts over skirts, and pants over dresses. Make sure the outfit is not made or course material or has sharp details on it, as it can potentially hurt the camel.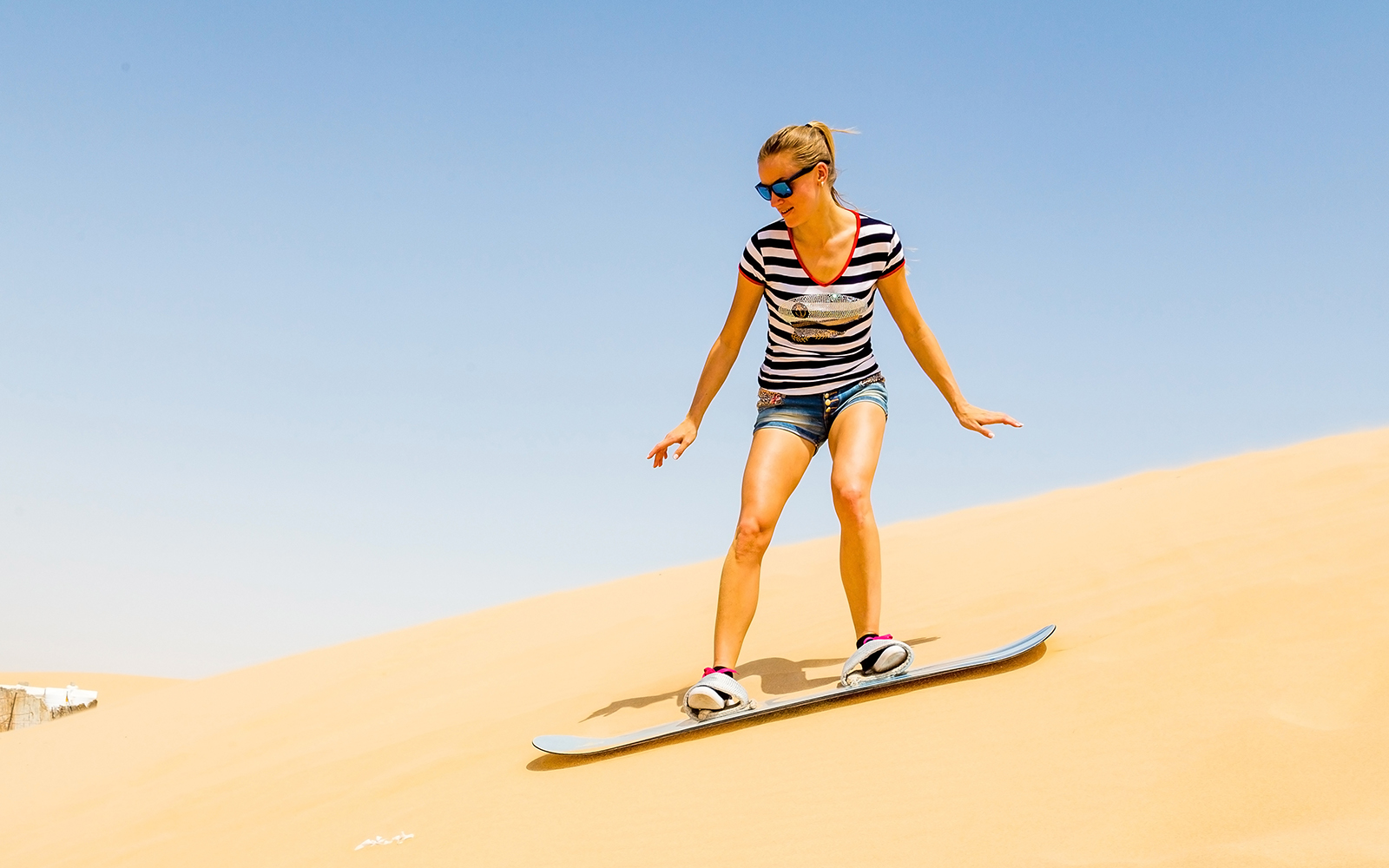 Comfortable footwear is the key when it comes to a comfortable sand experience. Choose closed-toe footwear to avoid the sand entering between your toes and creating a gritty base. Again, shorts over skirts and free-flowing outfits to get better traction while sandboarding.

You'll want something to tie back long hair and sports-wear clothing would be best.
For the sport-loving squad, there is no better adventure than Quad Biking in the desert. Avoid heels, short skirts, and loose hair to avoid potential risks while biking. Closed-toe footwear should be worn at all costs.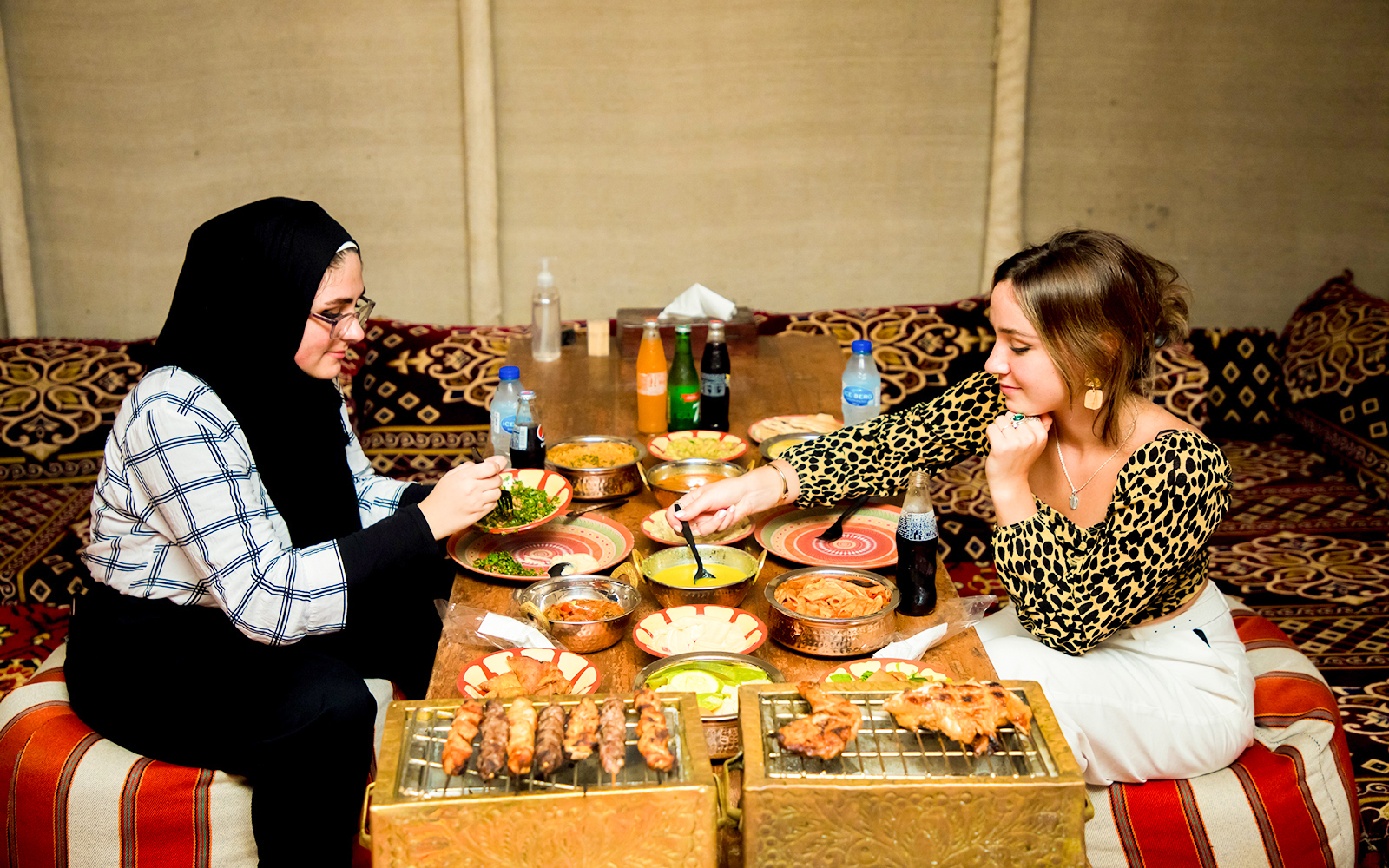 BBQ Dinner & Entertainment
BBQ Dinners are typically served on rugs on the floor. Hence, choosing outfits that are comfortable while sitting on the floor is ideal. The tanoura show and belly dancing also happens while everyone is seated. Short skirts are best avoided. Carrying extra tops is recommended, so you can change into a fresh pair after all the activities during the day. Sandals or flip-flops can be used while sitting down.
Dubai Desert Safari Outfit Ideas
---
For Men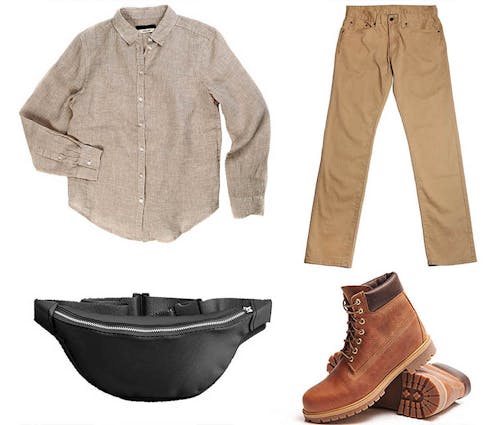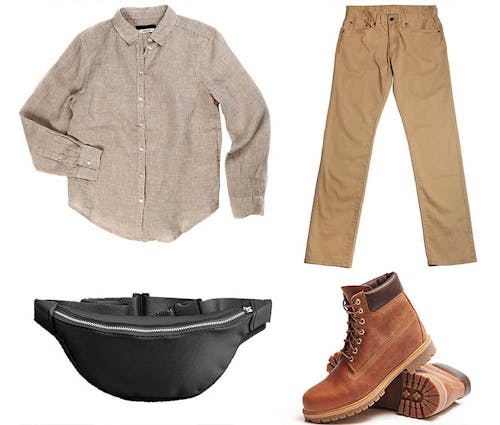 + Khaki linen shirts with pockets

+ Pants

+ Waist bag

+ Boots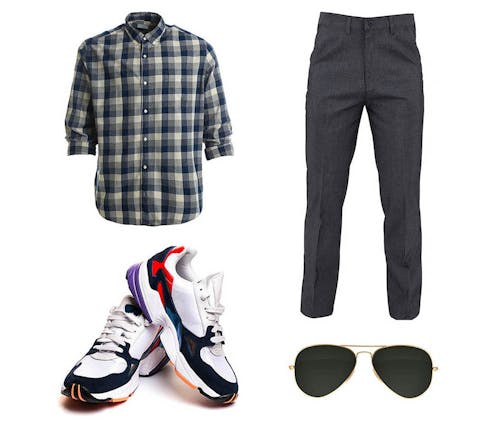 + Checked shirt

+ Trousers

+ Sunglasses

+ Sneakers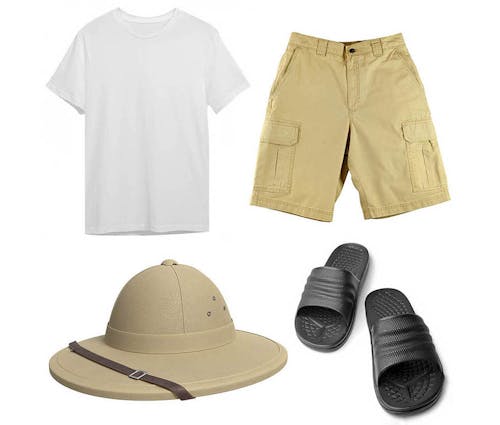 + White T Shirt

+ Capri Pants

+ Safari Hat

+ Flip Flops
For Women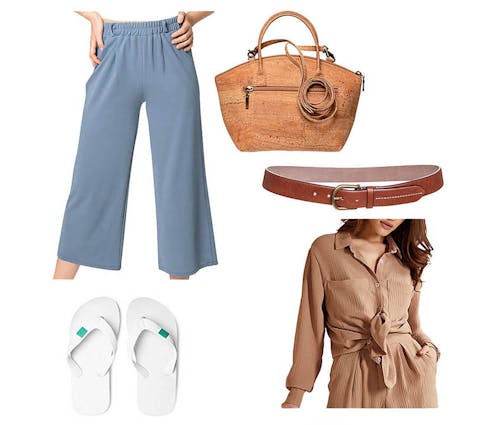 + Wide leg Culottes

+ Birch Bag

+ Fancy Leather Belt

+ Beige Top

+ White Flip Flops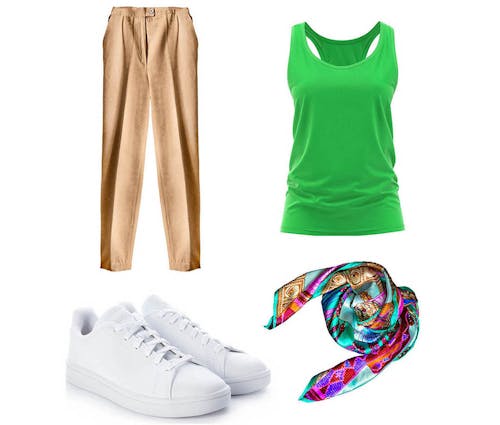 + Sage Green Tank Top

+ Beige Pant

+ Silk Scarf

+ Sneakers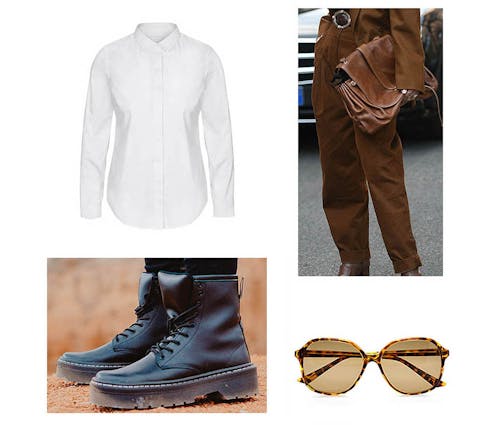 + Belted Long Trousers

+ White Cotton Shirt

+ Sunglasses

+ Desert Boots
Footwear for your Desert Safari
---
When planning a desert safari, it is important to choose the right footwear. The last thing you want is to end up with blisters or worse, injured feet. While there are many types of shoes on the market, not all of them are suitable for walking in sandy, often uneven terrain. The key is to find shoes that will keep your feet cool while also providing adequate protection from the hot sand and sharp rocks.
Closed-toe shoes are a must to protect your feet from scorpions and other desert creatures. A good pair of desert boots made of breathable material with a sturdy sole can provide traction on loose sand. In addition, you should choose those desert boots that are both comfortable and lightweight, as you will likely be doing a lot of walking during your safari. Sandals or light hiking shoes are a good choice for keeping your feet cool, but make sure they have a good grip to prevent slipping. And if you're planning on doing any camel riding, be sure to wear shoes that won't fall off easily.
With the right footwear, you'll be able to enjoy your desert safari experience to the fullest.
Accessories for your Desert Safari
---
Sunglasses to protect your eyes from the harsh rays.
A sand proof bag to keep all your devices.
Hats to protect you from the sun.
Binoculars can come in handy for spotting wildlife.
Plenty of sunscreen for all the UV rays in the desert (minimum SPF 50).
Lip balm with a minimum SPF of 30.
Deodorants and antiperspirant wipes to stay fresh throughout the safari.
A spacious backpack to store all your belongings.
A sturdy waist bag that stays in place to store tissues, mobile, etc.
Traditional Desert Safari Clothing in Dubai
---
Men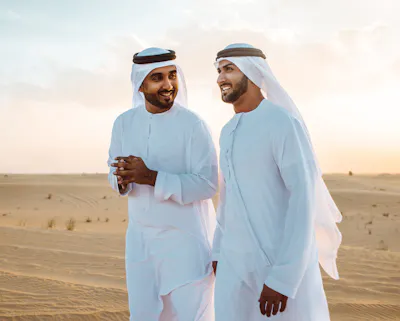 Kandurah
The traditional clothing of Emiratis is light and comfortable. Men generally tend to wear the kandurah, usually white coloured with no collars, a distinct feature of the Emirati kandurah. They are light on the body with full sleeves to protect against the sun.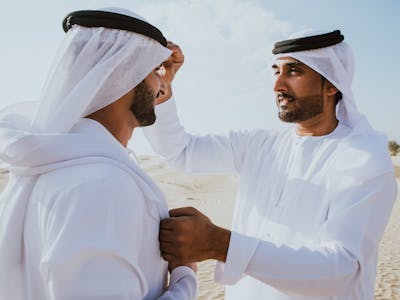 Gutra
The kandurah is paired with a Gutra, the headdress. It is a white square scarf, which protects the face and head from the heat.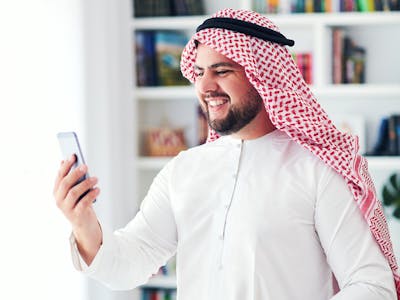 Shemagh
The Shemagh is also used instead of the Gutra. Just like Gutras, these are square scarves but have white and red checks on them. Young men tend to wear the Shemagh more over the Gutra, often tying them onto their heads without the Agal; the style is known as Hamdaniyya.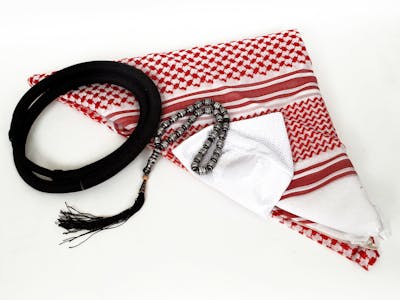 Agal
The Agal is a band made of black rope, placed on the head to hold the scarf in place. Agal is the suit of the Arabs, commonly used in formal settings. The number of cords at the end (Tarbousha) differ between countries, with the Emirati version having two. They are often perfumed and are used for its aesthetic value.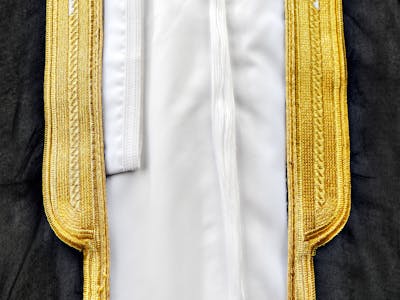 Bisht
The Bisht is used throughout the Arab world. It's the black/beige cloak-like cloth with golden/silver embroidery at the end that you see the Sheikhs wearing! It is worn on top of the Kandurah and is worn for ceremonies, Eid, weddings, or royal events, the Bisht is luxurious and is pretty expensive.
Women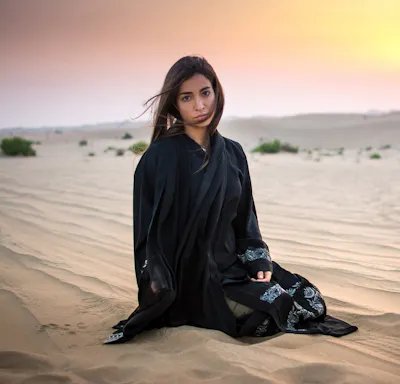 Abaya
Emirati women wear the abaya, primarily in black, though other colours like maroon, brown, etc are trending nowadays. The loose-fitting black cloak is worn on top of western or traditional clothes. Popular throughout the Arab world, the abaya is a symbol of Arab women.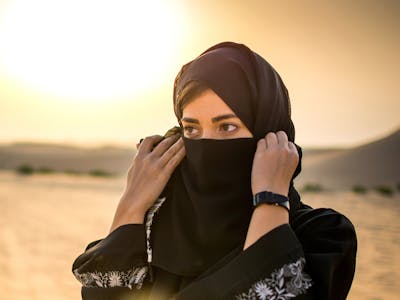 Sheila
The Abaya is paired with a Sheila, a black scarf to go with the outfit that covers the head.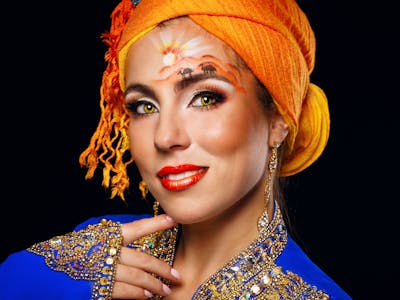 Jalaabiya
Inside the abaya or during events with women only, Emirati women wear the Jalaabiya. The gown-like Kaftan comes in a variety of colours and with embroidery on the. The Jalaabiya is the female equivalent of the Kandurah, just in different colours.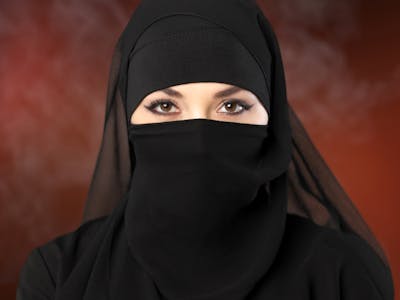 Burqa
The Emirati Burqas are worn like a mask, unlike their South Asian counterparts. They look like they're made of metal, but it is in fact a lightweight sweat-absorbing fabric with a piece of wood over the nose to keep the fabric in place. It is found in golden yellow, red, and green colours.
Dubai Desert Safari Outfit Tips
---
When planning a desert safari in Dubai, be sure to pack appropriately.
The desert can be extremely hot during the day, so it is important to wear airy clothing.
At night, the temperature can drop sharply, so it is also important to bring a jacket or sweater.
Closed-toe shoes are a must, as the desert can be full of sand and rocks.
If possible, avoid wearing jeans, as they can be uncomfortable in the heat.
Opt for lightweight trousers or at least knee-length shorts.
Dubai Desert Safari Overnight Packing Checklist
---
Check out our downloadable Desert Safari travel packing checklist for a stress-free and easy packing experience!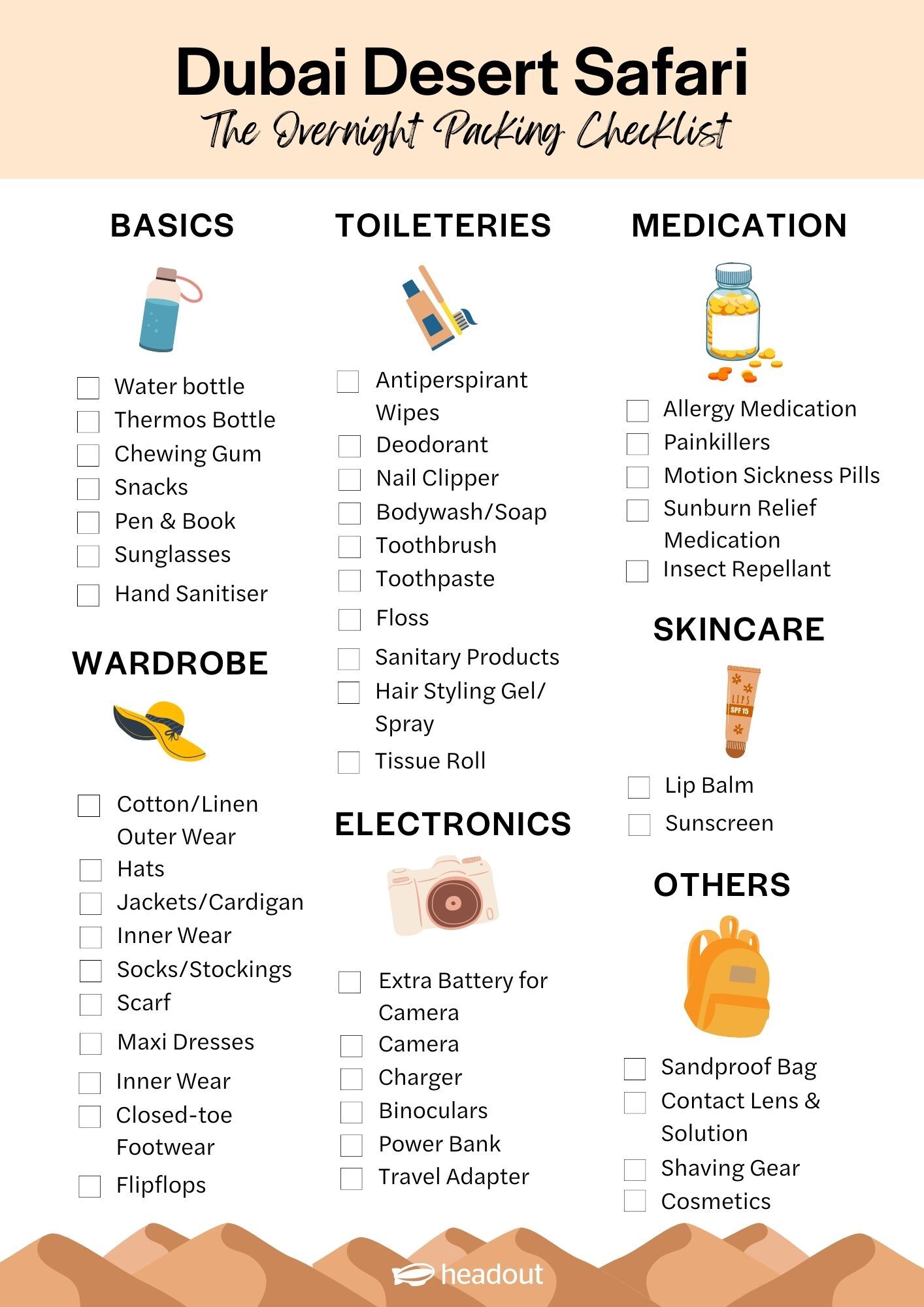 Have an extra day in UAE?
---
If you're looking for an amazing travel destination, you can't go wrong with the United Arab Emirates. This breathtaking country is home to some of the most unique and beautiful architecture in the world, as well as stunning natural scenery. And of course, no visit to the UAE would be complete without spending some time in its two major cities, Abu Dhabi and Sharjah.
Abu Dhabi is the capital of the UAE, and it's easy to see why. This city is truly a sight to behold, with its impressive skyline and stunning buildings. There's plenty to do in Abu Dhabi since the city has got much to offer!
Sharjah is another must-visit city in the UAE. This city is often referred to as the "cultural capital" of the country, thanks to its many museums and art galleries. Sharjah is also home to a number of natural spots, including the Sharjah Desert Park.
No matter what type of traveler you are, you're sure to find something to love in the UAE. So what are you waiting for?
Start planning your trip today!
Ready to Explore Dubai?
---
Fancy heading out to some other must-visit Dubai attractions? Take inspiration from our list of the best things to do in Dubai here. Use our comprehensive Dubai Travel Guide to explore the rest of Emirate in a hassle-free fashion with all the need-to-know information in hand.