Dubai is a city of wonders, where modern meets traditional, and old-world glamour meets cutting-edge opulence. It's no surprise that some of the best views in Dubai can be found just about everywhere you turn. From sweeping panoramas of glimmering high rises to desert landscapes and mesmerizing sunsets, there are plenty of awe-inspiring sights to take in. Whether you're looking for an incredible beach view or want to get your adrenaline pumping on top of one of Dubai's most iconic structures, here are some of the best views in Dubai that will leave you speechless.
7 Best Views In Dubai
---
#1

Burj Khalifa - At The Top
Tallest Building In The World
Tickets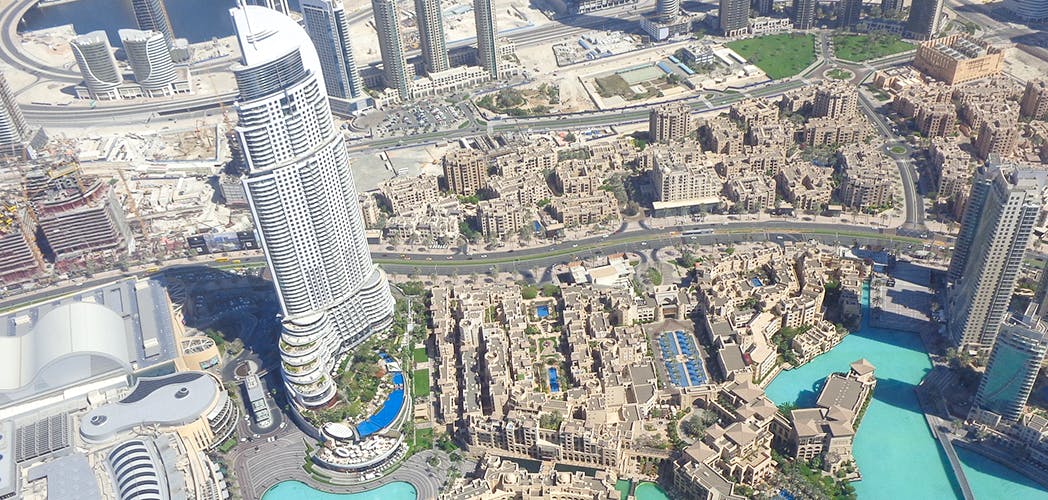 Burj Khalifa at The Top is an iconic observation deck located on the 124th and 125th floors of the Burj Khalifa, the world's tallest building in Dubai. Visitors can experience stunning 360-degree views of the city from a height of 555 meters above ground level and can also explore interactive exhibits that explain the design and construction of this architectural marvel. Guests can Experience a bespoke tour hosted by an Ambassador, and ride the superfast elevator to the observation deck. As they ascend in one of the world's fastest elevators, they can watch the visual depictions of renowned landmarks from around the globe.
Best Time to Visit
Sunset - between 4 pm - 6 pm
Recommended Duration
1.5 hours
Top things to do at Burj Khalifa



Visit the 124th and 125th Floor for the stunning views
Enjoy the Live Fountain show from high up
Visit Level 148 with an Introductory Tour and complimentary refreshments
Recommended Burj Khalifa Tickets


Burj Khalifa At The Top Reviews
Where to start with our trip up the Burj Khalifa? From smooth booking, to easy parking, short queues (we'd heard these can get busy) to spectacular scenes over Dubai, our trip to Level 124 was superb - possibly the best experience we have had in Dubai to date! Would definitely recommend visiting.
- Chris, Headout, February 2023
The fast track tickets were great. We did not have to do any long waiting in lines. The view from the top was phenomenal and it was very nice to be able to relax in the lounge with refreshments.
- Harpreet, Headout, January 2023
#2

Ain Dubai
Biggest Ferris Wheel In The World
Tickets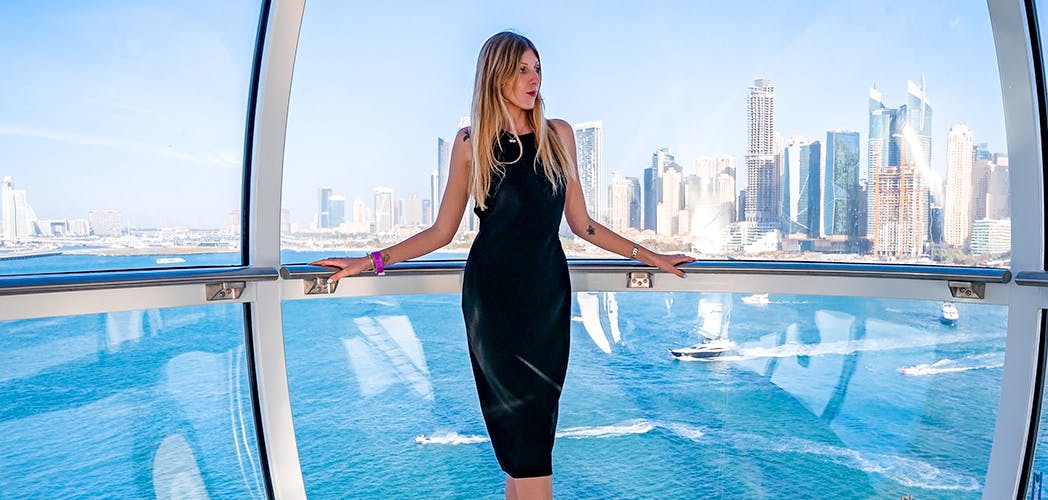 Ain Dubai, the world's tallest observation wheel, is a unique and awe-inspiring attraction located on Bluewaters Island in Dubai. It stands at an impressive height of 210 meters, making it the largest Ferris wheel in the world. Ain Dubai offers 360 degree views over breathtaking landscapes, as well as beautiful cityscapes and panoramic views of the sea. The cabins in Ain Dubai can be rented out for 3-course dinners, birthday bashes, and date nights with a personal butler to top up your drinks. All 48 capsules have advanced climate control and LED screens displaying information about the stunning sights around. Additionally, 6 of the capsules are equipped with fully licensed bars for those looking to enjoy a delightful sunset in Dubai! To top it off, there are also VIP capsules that feature private fine dining accommodations which can accommodate up to 12 people.
Best Time to Visit
Early Morning or Evening
Top Highlights of Ain Dubai



Unparalleled views of the city: the Palm Jumeirah, the Atlantis, Burj Al Arab, JBR, and more
Unwind in a cozy cabin for the ultimate dining experience, host your dream birthday bash, or enjoy an intimate date night with a personal butler to take care of all your drink needs.
World-class entertainment with the giant LED screen and temperature controlled cabins.
Recommended Ain Dubai Tickets


Ain Dubai Reviews
Our experience was outstanding . thanks for all the details taken which make us feel in security . Dubai is a number one worldwide in all the organised events . Bravo and congratulations 👏
- Beya, Headout, March 2022
It was very easy and fast as well to book my tickets for Ain Dubai through your site Sure I will recommend your site to all my friends who planning to travel over the world I think that your site will be my main site to book any attractions prior to any planning travel in the future Many thanks
- Walid, Headout, March 2022
#3

The View At The Palm
Best view of the Palm Jumeirah
Tickets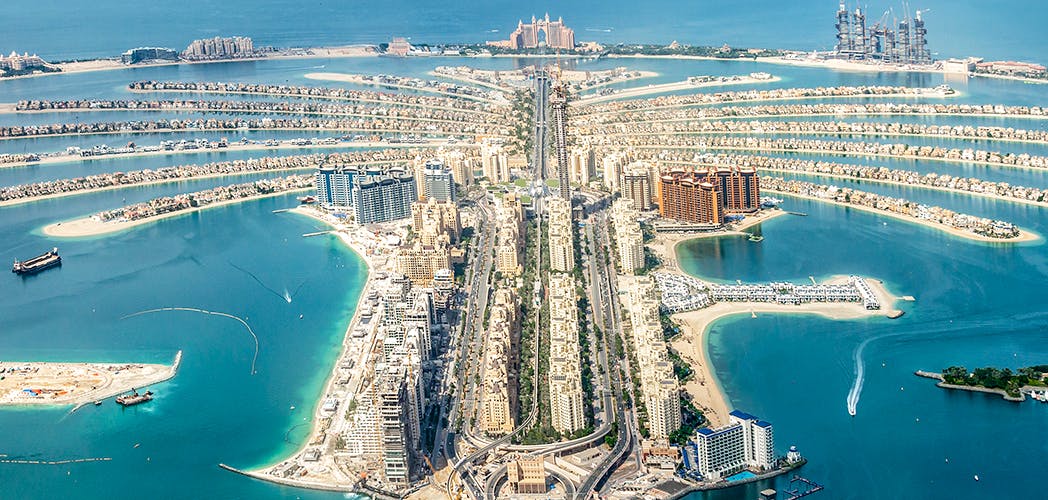 Explore the one-of-a-kind, captivating Palm Tower on Dubai's iconic Palm Jumeirah. Now featuring The View at the Palm Observatory Deck – opened to the public on April 7th, 2021– located on its 52nd floor for you to marvel at breathtaking views of this unique development. Don't wait another minute! You'll be sure to come here and have an unforgettable experience! Perched 240 meters above the Palm Jumeirah, The View at the Palm offers a world-class experience that is sure to both educate and inspire. With breathtaking views of not only the iconic palm island but also its surrounding region including the Arabian Gulf and Dubai skyline, this lofty viewing point will be one-of-a-kind in all of Dubai!
Best Time to Visit
4 pm to 7 pm
Recommended Duration
1-2 hours
Top Highlights of The View At The Palm



52nd Floor Observation Deck and a barrierless viewing platform on the 54th floor known as 'Next Level'.
Indulge in a delicious meal and drink at The Lounge while you comfortably enjoy the magnificent view.
A visit to The View will provide an interactive and informative experience into the engineering marvel of this site, with stories that stimulate all five senses.
Recommended The View At The Palm Tickets


The View at the Palm Reviews
So easy to purchase tickets thru headout with a discount. Instant confirmation. The view at the palm was amazing. Will definitley look for more offers from headout.
- Elma, Headout, February 2023
A vantage point to see some of the famous places in Dubai. Awesome place for a light breakfast, with less crowdduring those times.
- Jema, Headout, May 2022
#4

Dubai Frame
Largest Frame in the World
Tickets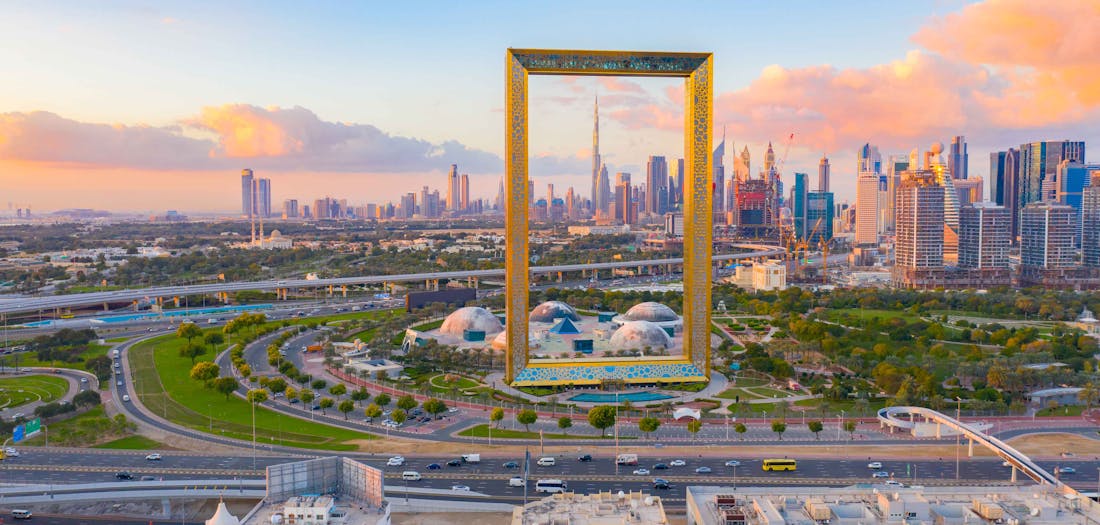 The Dubai Frame is an iconic structure in the city of Dubai, UAE. It has become a popular tourist attraction and one of the most recognizable landmarks in the world. The frame stands 150 meters tall and 93 meters wide, making it the largest picture frame in the world. It was designed by Spanish architect Fernando Donis and built in 2018 as part of an urban regeneration project to promote tourism and culture. The frame offers stunning views of the old and new parts of Dubai from two perspective points - on top at its highest height, or at its ground-level entrance which faces Sheikh Zayed Road. Its unique design allows visitors to experience both sides of Dubai – the old traditional areas combined with modern architecture – all within one viewpoint. Visitors can also take souvenir photos of the iconic backdrop on their phones or cameras. Not only is it an impressive structure, but it also serves as a bridge between two worlds - the past and present.
Best Time to Visit
Morning or during sunset
Recommended Duration
1.5 hours
Top Highlights of Dubai Frame



Get a stunning view of the Dubai Skyline
Indulge in a delicious meal and drink at The Lounge while you comfortably enjoy the magnificent view.
Board a panoramic elevator to the top and be mesmerized by Dubai's past, present, and future beauty in all its exquisite glory.
Recommended Dubai Frame Tickets


Dubai Frame Reviews
Its has been a good experience to see Dubai at the top of the frame. We enjoy it and this site helps us not to be in the long que in taking tickets. Thank you headout, looking forward to book again in another places you offered.
- Vilma, Headout, February 2023
I like from starting that the seens of encient means traditional views and the diciplineary services of the security people. While starting the lift, sight seeing is marvelous. From the top can see and take nice photographes of Dubai. The very attractive thing is Glass fixed on top floor which will happy every visiters. More somany things which can't explainable. Anyway I and my wife enjoy all very well.
- Sindhu, Headout, February 2023
#5

Sky Views Observatory
Known for the unique Edge Walk and Glass Slide
Tickets

The Sky Views Observatory, situated near the epicenter of Downtown Dubai facing Burj Khalifa, is an artfully crafted podium connecting two elliptical towers that are 237.45m and 260.85m tall respectively. 209 meters above ground level in this observatory lies a 25-meter-long glass floor for you to enjoy astounding views of Burj Khalifa and the city below through a panoramic 3-sided elevator as well as at the Sky 52 restaurant! Sky Views Observatory is your go-to destination for an adrenaline rush like no other - introducing a glass slide to the region, located on level 53 at 219.5 m and dropping you off to level 52 at 215.5 m in a transparent tube! Prepare yourself for a journey of epic proportions! Get ready for an exhilarating experience like no other in the region - Edge Walk! Step out onto the edge of Burj Khalifa's perimeter, and enjoy stunning views while you defy gravity. This hands-free walk will give you a thrill like never before!
Best Time to Visit
10:30 AM to 3 PM or 7 PM to 9 PM
Recommended Duration
35 min - 1.5 hrs
Top Highlights of Sky Views Observatory



Soar to the 53rd floor, where you can admire Dubai's iconic skyline and recognize some of the city's most beloved landmarks.
Take the plunge and get your fix of adrenaline by heading down the glass slide from fifty-three floors to fifty-two in an instant!
Dare to defy gravity and take the unforgettable walk of your life at Sky Views Dubai! Feel what it's like to traverse over iconic Dubai with its Edge Walk experience, where you can enjoy a hands-free journey across stunning views.
Recommended Sky Views Observatory Tickets


Sky Views Observatory Reviews
It was absolutely amazing. Edge walk was too good and the panoramic view of the city from above was just breathtaking!! Highly recommended!
- Sneha, Headout, january 2023
Quick and easy booking. Great views. A must for all looking to have a panoramic view of the khalifa as well as adjoining areas
- Ashutosh, Headout, January 2023
#6

Helicopter Tours
The best city views mixed with a bit of adventure
Tickets

Helicopter rides in Dubai are one of the most thrilling and exhilarating experiences you can have. From the stunning views of the city skyline to breathtaking aerial views of its wondrous attractions, a helicopter ride in Dubai is like no other. As you soar through the air on an adventure filled with awe-inspiring sights, you will be able to take in all that this magnificent destination has to offer from a whole new perspective. Whether it's a romantic flight for two or an exciting family outing, your time spent up in the sky will never be forgotten! Experience the incredible splendor of Dubai from high above with a breathtaking helicopter ride. Marvel at the iconic Burj Khalifa and take in the awe-inspiring view of Palm Jumeirah - an experience that cannot be beaten!
Best Time to Visit
Afternoons
Recommended Duration
25 - 45 mins
Top Highlights of Helicopter Tours in Dubai



Revel in the glorious views of Dubai and snap stunning photos of its iconic monuments.
Take a fun private flight of your chosen duration to capture the wonderful sights of Dubai from a whole new perspective.
Set your eyes upon the stunning skyline of Dubai, with its majestic sights such as the Palm Jumeirah, Atlantis Hotel, The World Islands, Burj Al Arab and Ain Dubai to name a few. Don't forget about the exclusive dubai Marina either!
Recommended Helicopter Tour Tickets


Helicopter Tours Dubai Reviews
Awesome experience! I had booked the ticket online and although the team took more than a day to share the tickets, the overall experience was satisfactory.
- Jubin, Headout, December 2022
Very professionally handled, would recommend them.
- Carol, Headout, January 2023
#7

Hot Air Balloon Tours
The best views of the Arabian Desert
Tickets

Embark on a unique, once-in-a-lifetime adventure in Dubai with a hot air balloon tour! Soar to new heights of 4000 feet and witness the awe inspiring Arabian Desert from above. Admire its golden yellow hues during sunrise that cast an enchanting light over the endless sea of sand dunes below you. Feel completely mesmerized by this magical experience as it leaves you spellbound and captures your spirit like nothing else can. Experience the true beauty of nature when you witness desert-dwelling creatures, such as camels, gazelles and oryx (the national animal of UAE) in their natural habitat. Soar high above the Dubai sky in a hot air balloon, and once you have safely landed, indulge in an exquisite Arabian breakfast offered to enhance your morning. With traditional Arabic cuisine served among stunning desert scenery, this delightful experience will be a lasting memory not just for your trip but also throughout your lifetime!
Best Time to Visit
Sunrise
Recommended Duration
40 - 70 mins
Top Highlights of Hot Air Balloon Tours in Dubai



A 40 to 70 minute Hot Air Balloon Ride with stunning views of the Arabian Desert.
Refreshments before your ride.
A Gourmet breakfast after you land.
Recommended Dubai Hot Air Balloon Tour Tickets


Dubai Hot Air Balloon Reviews
Excellent service and fantastic experience! I would highly recommend it it to any family. Car was clean and Zayeed treated us very nicely. Great experience!
- Shital, Headout, December 2022
Tips for visiting Observation Decks in Dubai
---
Always book your ticket in advance. It'll help you skip the long queues in some cases.
Most observation decks involve some amount of walking/climbing. Make sure you wear comfortable shoes and clothes.
Avoid carrying heavy luggage. Stick to a handbag or a backpack at most.
Most observation decks and ski views are the prettiest during sunrise or sunset. Plan accordingly!
Avoid weekends as much as possible, since they're the most crowded days.
FAQs
---
The tallest observation deck in Dubai is the At The Top, Burj Khalifa SKY at level 148. It stands at a height of 555m (1,821ft), making it one of the highest observation decks in the world.
Some of the most popular observation decks in Dubai are Burj Khalifa At The Top, Dubai Frame, Ain Dubai, Sky Views Observatory and The View at the Palm
Yes, most observation decks in Dubai are wheelchair accessible with ramps and elevators provided to ensure that everyone can experience the breathtaking views available from these locations. However, it is always best to check with individual venues prior to visiting as accessibility may vary.
It can cost anywhere between AED50 to AED165 to visit an observation deck in Dubai.
Some of the best times to visit an observation deck in Dubai is during sunrise or sunset.
Best Views in Dubai Guide