Ain Dubai will remain closed for periodic enhancements. Expected date of reopening - To be announced soon!
Meanwhile, here are the other fun things you can do while in Dubai!
2021's most awaited attraction in Dubai is none other than the city's very own Ferris wheel, namely Ain Dubai. And, since the city of superlatives settles for nothing less, Ain Dubai is touted to be the world's largest Ferris Wheel once completed. Located on Bluewaters Island at a staggering height of 210 m, the Ain Dubai Ferris Wheel will showcase Dubai's glittering coastline and the city's impressive skyline.
What is Ain Dubai?
---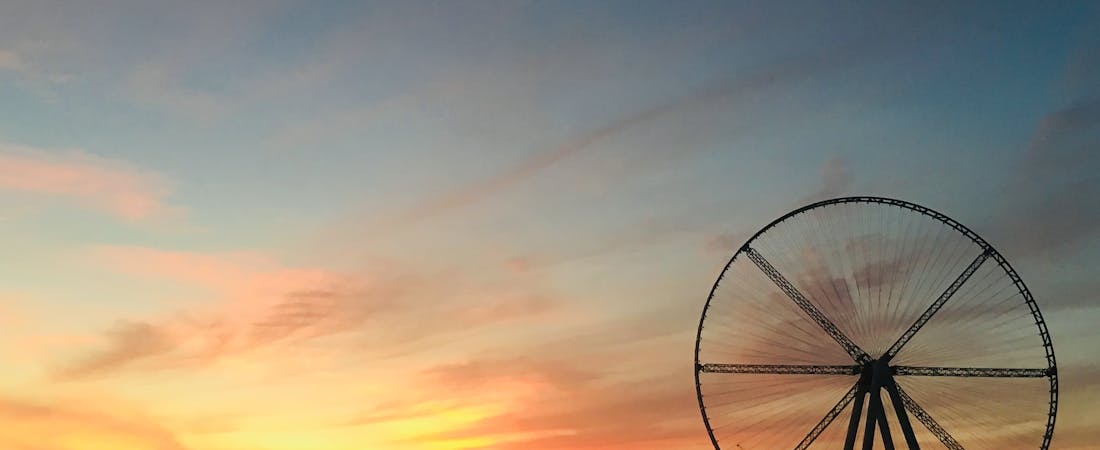 Ain Dubai, which translates to Dubai Eye is Dubai's version of the London Eye. Set to be the largest and highest in the world at a height of 210 m, Ain Dubai promises 360-degree views of the city and its coastline. To put its height to perspective, know that the Eiffel Tower in Paris stands is 300m tall and the London Eye is 135m tall. On your Ain Dubai Ferris Wheel experience, expect sweeping panoramas of Dubai and its iconic landmarks like the Burj Al Arab, the Palm Jumeirah and the Burj Khalifa. This view is said to exceptionally beautiful around sunset when the city is veiled in pink and ombre hues. Make sure to plan your visit around sunset to witness this magic.
Not only is it's height mind-boggling, but so is its weight. Ain Dubai, along with its hub, spindle and other parts is expected to weigh almost 9,000 tonnes total. To put this into perspective, know that the steel laced Eiffel Tower weights only 7,300 tonnes. So, Dubai Eye weighs 25% more than the Eiffel Tower! In order to move the sections of the wheel rim, the engineers have had to use cranes with a lifting capacity of 3000 tonnes.
7 Astonishing Facts about the Ain Dubai Ferris Wheel
---
Towering at 250 m, Ain Dubai knocks out the London Eye and the Las Vegas giant wheel by a significant margin, making it the tallest Ferris wheel in the world once it opens to the public!
The length of each run on the ferris wheel is longer than a full-scale football pitch!
The Ain Dubai is expected to feature the world's highest rope-climbing platform at a height of 150 m.
Ain Dubai can accommodate about 1900 visitors per ride in its 48 capsules.
9000 and counting tons of steel has been used to construct the Ain Dubai
Ain Dubai has used about 25% more steel than what was used to build the Eiffel Tower!
Each leg of Ain Dubai stands at a height of 126 metres and is long enough to fit 15 London buses.
Ain Dubai Ticket Price
---
Tickets for Ain Dubai are priced at AED 130 on Headout and the cheapest on the internet! Use code: GODUBAI for an additional AED 20 off your Ain Dubai tickets.
The Dubai Ferris Wheel Experience
---
What to expect on Ain Dubai
Towering at 250m, Ain Dubai which is also known as the Dubai Eye or Dubai Ferris Wheel is the perfect spot for a bird's eye view of the glittering skyline of the city. From here, you can expect to spot the Burj Al Arab, Burj Khalifa, Palm Islands and the entire stretch of Dubai Marina. Before you hop on to your capsule, visitors will be allowed to take a seat in a 4D cinema that features an impressively portrayal of Dubai's advances & history. The Dubai Ferris Wheel has 48 capsules with a total capacity of 1900 pax. Each capsule is 30 square meters in size and made entirely of glass and about 40 people can comfortably fit in each of these capsules and a complete ride/round takes about 45 minutes. Not to mention, the luxurious cabins of Ain Dubai offer unusually high exclusivitywith magnificent parquet floors, sofas, tables and more.
Like most other projects in Dubai, Ain Dubai one will fall in line with the overriding vision of smart technology driven Dubai. All 48 capsules will feature smart climate control and will be fitted with LED screens offering travellers information on the spectacular views around. The Dubai Ferris Wheel also has VIP capsules with private fine dining that can seat upto 12 people. 6 capsules will also have licensed bars, so you know where to head for the best sundowner in Dubai now.
The View From Ain Dubai Ferris Wheel
---
A bird's eye view of Dubai is not rare, but from the Dubai Eye it's extra special. Here's all that you can view during your 45 minute ride.
Burj Khalifa
It is only natural that from the world's tallest ferris wheel you catch a glimpse of the world's tallest building - The Burj Khalifa! Standing tall at 830 m with over 160 floors, the Burj Khalifa arguably defines the city's skyline and can be viewed from anywhere - including Ain Dubai.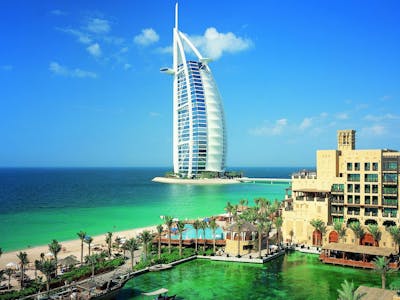 Burj Al Arab
The Burj Al Arab was one of the world's most luxurious hotels and one of the first few hotels that put Dubai on the map among luxury travelers. An iconic structure in the city, the Burj Al Arab's design and construction is inspired by a ship's sail and is surrounded by azure blues all around.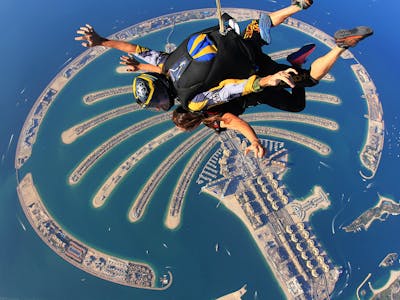 Palm Jumeirah
Part of a man-made island chain called the Palm Islands, the Palm Jumeirah is a uniquely-shaped island like a massive palm tree and is dotted with both commercial and residential spaces. The cherry on top here is the uber-luxurious Atlantis Hotel, which is also home to a thrilling waterpark, Aquaventure.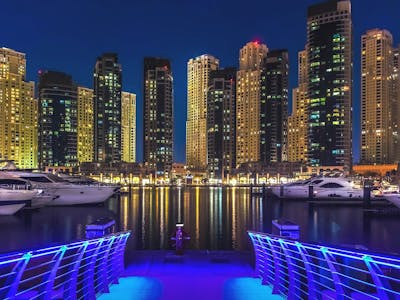 Jumeirah Beach Residences
JBR, is a 1.7 km-long waterfront community that accommodates about 40 beautifully-designed towers with over 15,000 residents. It is dotted with several luxury boutiques, classy cafes and a long stretch of blue ocean, directly in line with Ain Dubai.
Restaurants around Ain Dubai
---
Bluewaters Island has some of the best restaurants in town and it would be criminal to not eat while you're here. Here are our top picks.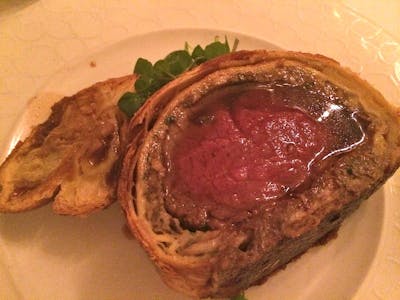 HELL'S KITCHEN
Celebrity chef Gordon Ramsay's Hell's Kitchen is one of the newly opened restaurants in Bluewaters Island. It serves all of Ramsay's signature dishe, including the Beef Wellington!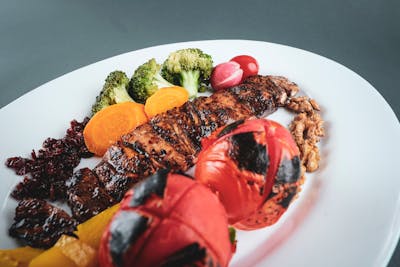 THE SELFISH BULL
This one's for meat and seafood lovers! They massive Canadian lobsters, Tomahawks and fresh French oysters too that are served with side dishes of your choice.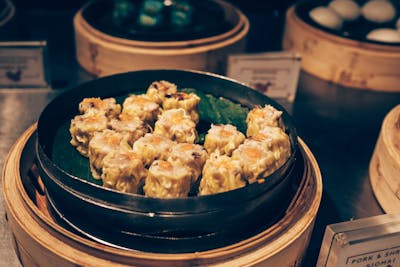 ZHEN-WEI
If you're looking for Pan Asian food, look no further. Combining authentic Asian flavours with a contemporary twist, dinners at Zhen Wei enjoy a unique culinary journey that takes you to Hong Kong.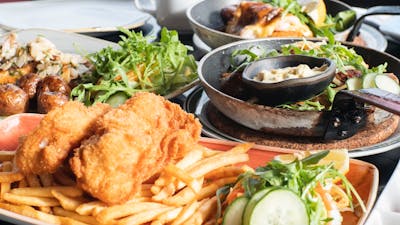 THE LONDON PROJECT
Along with serving quintessentially British dishes, this restaurant features the most eclectic interiors making it worth the visit. Don't forget to try their Champagne Fish and Chips or the Pulled Beef Soft Shell Tacos.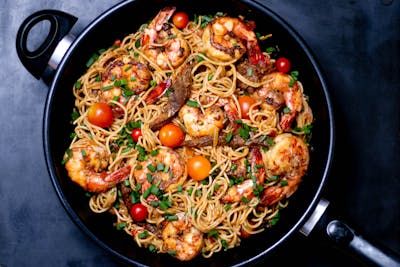 ALICI
Boasting bright white interiors accentuated with blue furniture and equally pleasing Italian thoroughfare, diners here get to enjoy the freshest seafood items in Italian cuisine.
Ain Dubai Rope Climbing
---
For the adventure enthusiasts
The Dubai Eye is not like every other Ferris Wheel. It has an edge to it that no one knows and adrenaline junkies are going to love this! One of the legs of the towering structure will be fitted with the highest rope-climbing platform in the world. At a height of 150 metres, the structure will now be breaking two world records! There's only so much we know about this for now, but sounds exciting eh?
Visiting Ain Dubai
---
Day/Night Experience: 12pm to 10pm
Sunset experience: 6pm - 9pm (Apr-Sep) or 5pm - 8pm (Oct-Mar)
Ain Dubai Location
The Ain Dubai Ferris Wheel is located at Bluewaters Island - Dubai - United Arab Emirates.
How to reach the Ain Dubai Ferris Wheel
The Bluewater Islands where the Dubai Eye is located stands right across Jumeirah Beach Residences and a 20-minute drive from City Walk. Both Dubai International Airport and Al Maktoum Airport can be reached in 30 minutes while Abu Dhabi Airport is just 45 minutes away. the island is connected to the mainland via a direct link from Sheikh Zayed Road, as well as a 265-metre-long pedestrian bridge from The Beach. We strongly recommend the 15 minute stroll on the pedestrian bridge with sweeping panoramas of the azure Arabian waters.
About Bluewaters Island
---
Bluewaters Island Project developed by Meraas is an entertainment project on a reclaimed land, about 500 meters off the JBR coastline. Channelling a zesty vibe that blends island calm with urban buzz, Bluewaters Island brings together residential, hospitality, lifestyle and leisure at a vantage point with stunning views of the ever-dynamic Dubai skyline.

This man-made island is touted ( not entirely complete) to feature ten apartment buildings with world class gyms, swimming pools, landscaped gardens, basketball courts and children's play areas. The island will also have two hotels with direct access to a 450 metre private beach. The Wharf, is the home to all the shopping and eating action, connected by walkways dotted around low-rise boulevards.
The very centerpiece of this mega attraction is the Dubai Eye Ferris Wheel. Madame Tussauds Dubai is also underway construction on Bluewaters Island and is set to open doors in autumn this year.
FAQS
---
No, Ain Dubai is not yet open but is expected to open October 2021.
Ain Dubai is 250 meters/ 754 feet tall.
The High Roller, in Las Vegas is 550 ft tall and is currently the world's tallest Ferris wheel in operation.
Located across Dubai Marina, Bluewaters Island is a man-made island with residential complexes, retail stores leisure and entertainment, hotels and beach clubs and most importantly - Ain Dubai.
The Dubai Eye has 48 pods, each designed to fit 40 people comfortably.
The closest metro to Bluewaters Island is the Damac Metro Station which is a 9 min walk. You can also get down at the
Dubai Marina Tram Station which is a 6 min walk away. Bluewaters Island is also expected to have its own monorail station.
No, the Dubai Wheel is still under construction and is expected to open to the public coming October, 2021.
Unfortunately, Butterfly Dubai does not have a cloakroom service because of which all guests are advised to carry light when arriving at the venue.
No, unless you've purchased tickets for the in-capsule dining, eating inside the pods are prohibited.
Since Ain Dubai tickets have not gone on sale, the prices are currently unknown.
Yes! Bluewaters Island is yet another jewel in the crown of Dubai with a range of famous restaurants, shops, residences, and, of course, the world's largest Ferris wheel. Madame Tussauds Dubai is also expected to open on Bluewaters Island.
The ride is expected to be 45-50 minutes.