If you're planning a trip to Dubai, you're in for a treat. This city is full of amazing sights and experiences that you won't want to miss. One of the must-see attractions is Aya Universe, an interactive art installation that will take you on a mind-bending journey through space and time.
Aya Universe is a one-of-a-kind exhibit that seamlessly blends art, technology, and science. In this blog, we will delve deeper into this fascinating attraction and explore all that it has to offer.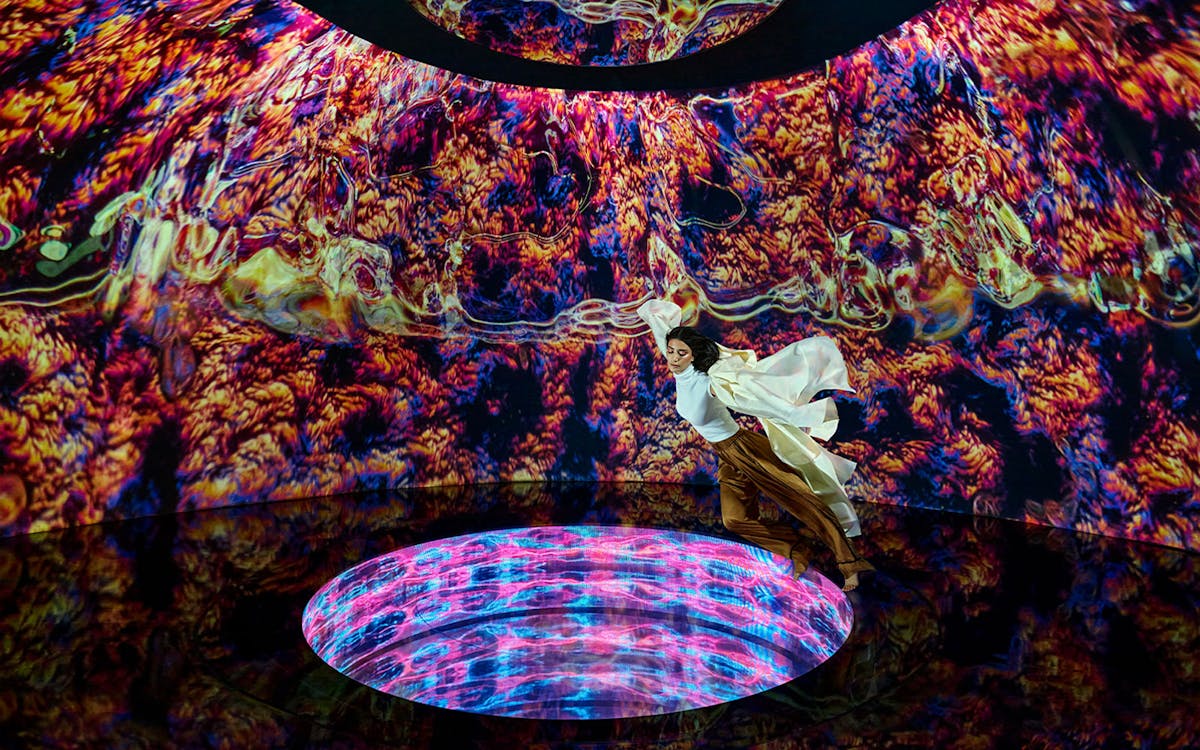 Aya Universe in a Nutshell :
---
Handy information
| | |
| --- | --- |
| ⏰ Suggested Duration: | 2-3 hours |
| ☀️ Best Time to Visit: | November to April |
| 🎟️ Starting Ticket Price | AED 99 per person |
| 🚇 Closest Metro | Dubai Healthcare city |
Must-see
Aurora
Drift
The Pool
Harmonia
Opening Hours And Address
Sun to Thu: 10 AM to 10 PM (last entry at 9 PM)
Fri &Sat: 10 AM to 12 AM (last entry at 11 PM)

Address: Wafi City Mall - Oud Metha - Dubai - United Arab Emirates
Get Directions
Why Visit the Aya Universe?
---
The Aya Universe is a stunning and innovative attraction located in the heart of Dubai at the Wafi City Mall. With its futuristic space-themed experience, it's the perfect blend of technology and entertainment. One of the standout features of this attraction is its state-of-the-art technology that creates a fully immersive and multi-sensory experience. You can enjoy a range of interactive games, and virtual reality simulations that transport them to a world beyond their imagination. Come and experience the wonder of the Aya Universe for yourself and be prepared to be blown away!
Recommended Aya Universe Tickets:
---
It is recommended to buy tickets online for Aya Universe to avoid long queues and ensure availability. Headout offers the added advantage of instant confirmation.
Top things to do at Aya Universe:
---
1

Explore different worlds
Aya Universe offers a range of different worlds and dimensions to explore. From the depths of the ocean to the far reaches of outer space, you'll feel like you've traveled to a whole new universe.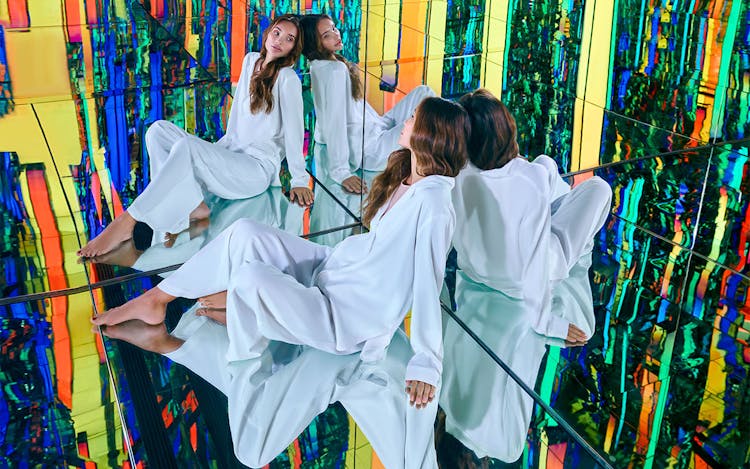 With its stunning visuals and futuristic design, Aya Universe is the perfect place to take some amazing photos. Keep in mind that flash photography is not allowed.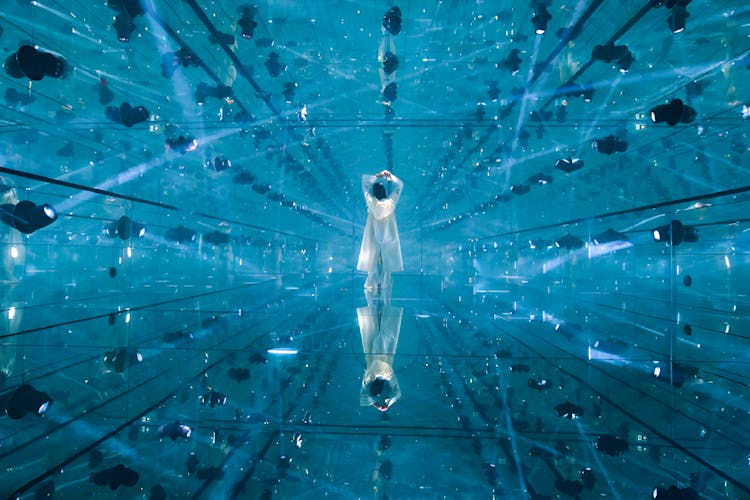 3

Experience the multi-sensory exhibits
Aya Universe's fully immersive experience leaves you feeling like you're part of the exhibits, with sights, sounds, and even smells transporting you to another world.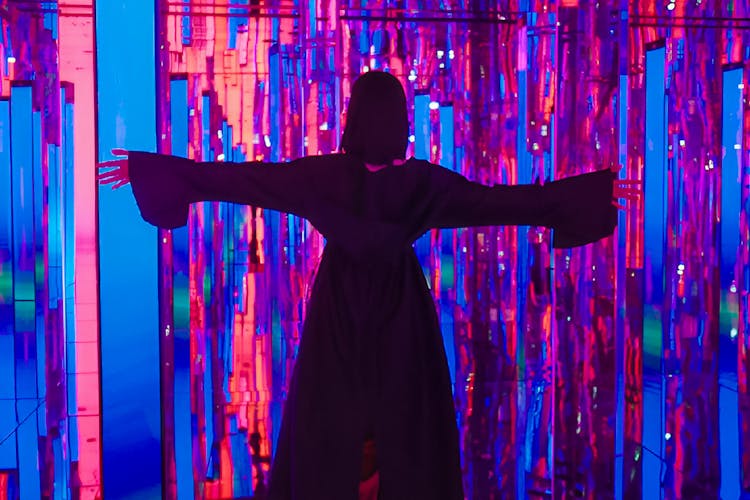 4

Interact with other visitors
Aya Universe is a shared experience and thus, it's a great place to meet other visitors and interact with them.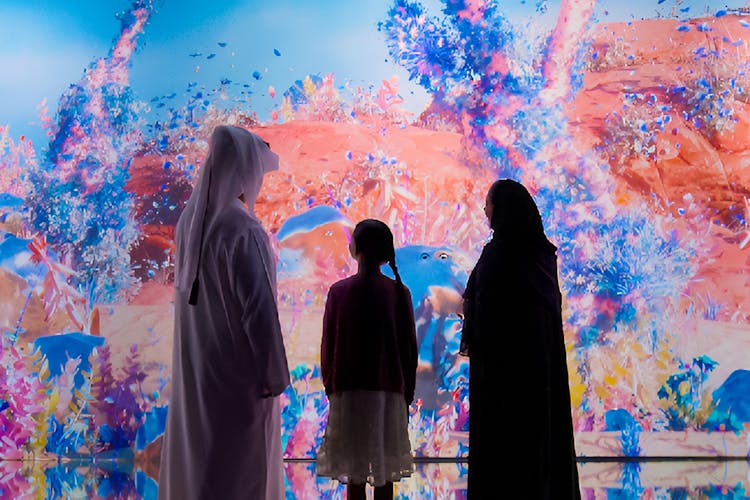 Best time to visit the Aya Universe
---
The best time to visit Aya Universe is during the cooler months from November to April when the weather in Dubai is more pleasant. However since Aya Universe is an entirely indoor experience, you can also visit in the off season. It is recommended to visit during the weekdays to avoid the crowds that flock to the attraction on weekends.
Additionally you can learn more about the Best Time to Visit Dubai.
Aya Universe Timings
---
Sun to Thu: 10 AM to 10 PM (last entry at 9 PM)
Fri & Sat: 10 AM to 12 AM (last entry at 11 PM)
How to reach the Aya Universe:
---
Aya Universe is easily accessible by taxi, metro, or bus. It is just 10 minutes from Dubai International Airport and Sheikh Zayed Road. You can either take RTA Taxis, Careem or Uber services to drive to Wafi City or take Dubai Metro to the Dubai Healthcare City station.
Aya Universe Map:
---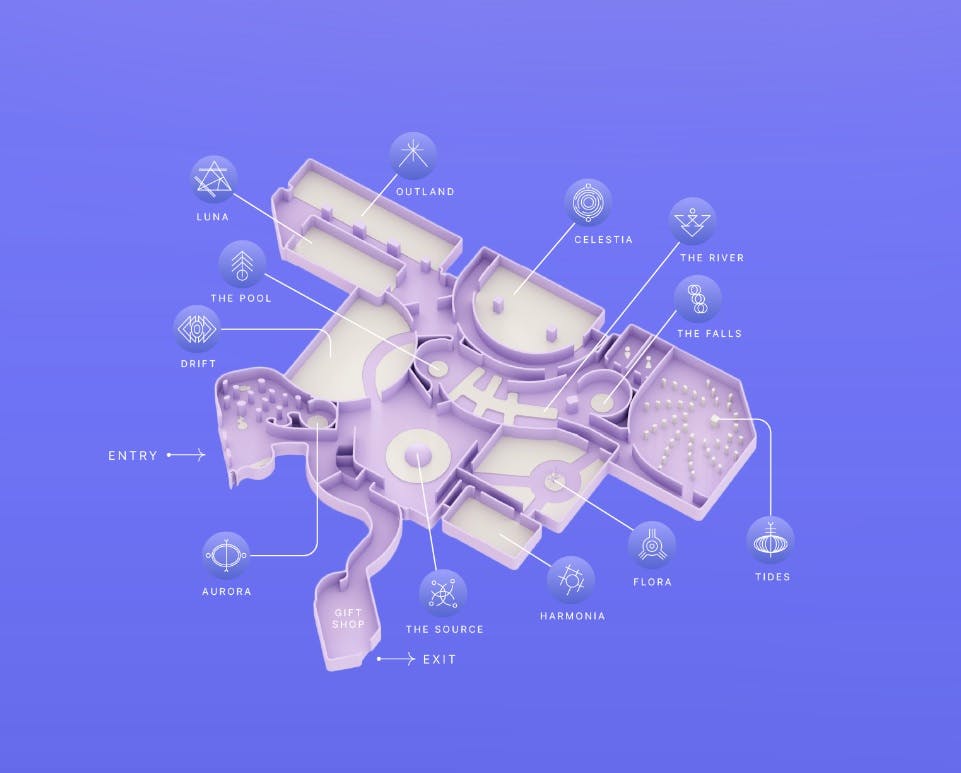 AYA Universe is 40,000 square feet in size and is divided into 12 distinct zones: Aurora, The Source, Drift, Outland, the Pool, the River, the Falls, Celestia, Flora, Tides, Luna, and Harmonia. Each of them has a distinct theme and offers dynamic experiences that transport you to a different cosmos.
At Aurora, you can experience the strength of gesture control as your movements create vibrant artwork. Next, behold a stunning display of colorful LED pools at the Source's mystical chamber. From there, take a stroll through Drift's lush green landscape and travel through the river in the Pool. Enter the world of Outland to meet new people and avatars, view the stars in Cosmos, and stroll through Flora's bioluminescent garden. With LED totems and a monolith in the middle, the mirror-lined hall of Tides is hypnotic. You'll be in awe of the 3-minute robotic light show in the Harmonia finale zone's mirrored infinite expanse.
Insider Tips for Visiting Aya Universe
---
To save time at the queues on site, it's recommended to book your tickets in advance online.
Plan your visit on a weekday to avoid the weekend crowds.
Make sure to wear comfortable shoes to be able to walk comfortably.
Make sure to bring a camera or smartphone with a good camera.
Take advantage of the free WiFi and share your photos and videos with friends and family.
Take sealed water bottles with you.
Restaurants Nearby
---
Aya Universe's location offers a wide range of dining options for visitors. Here are some of the restaurants available in and near Wafi City Mall: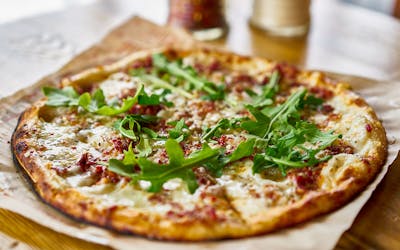 Biella
This bustling and extremely popular Italian café and pizzeria is one of the most highly acclaimed and popular destinations in town, offering the best pizza in Dubai.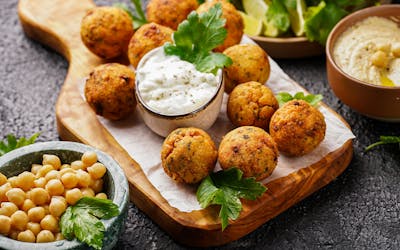 Wafi Gourmet
Wafi Gourmet has established itself as the city's premier Lebanese restaurant. It is a one-of-a-kind restaurant and retail outlet, and is enriched with pure Lebanon-originated products that are distinct in quality, taste, and appearance.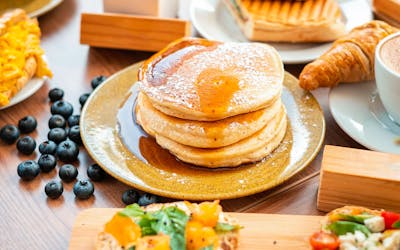 Azur
Overlooking the gorgeous Raffles Garden on the third floor, Azur features a vast collection of international specialties including healthy, vegan, and vegetarian options, as well as locally inspired items.
Top Things to Do Around the Aya Universe
---
If you have some extra time after exploring Aya Universe, there are plenty of other attractions to check out in the surrounding area. Here are a few recommendations:
FAQs
---
Aya Universe Dubai is a brand new attraction and it opened its doors on 17 December, 2022.
HyperSpace, a Future Forward Entertainment company built the Aya Universe Dubai.
Aya Universe Dubai has an area of 40,000 square feet.
It takes about 2 hours to explore Aya Universe Dubai.
You can take the Dubai Metro to the Dubai Healthcare City station.
Aya Universe Dubai is open all year round, including public holidays and weekends. However, it is recommended to check the official website for updates.
Yes, there are restaurants and dining options available at Wafi City Mall where Aya Universe is located.
Yes, there is a gift shop located at the attraction, offering a range of souvenirs and merchandise for guests to take home.
There is no strict dress code to visit Aya Universe Dubai.